Tensky Ionic Hair Dryer
Pros
Dries hair incredibly fast.
Ionization function keeps hair from frizzing.
Automatically turns off when you put it down.
360-degree rotating magnetic nozzle.
Excellent build quality.
Cons
Filter cover can come off by accident.
Only one attachment.
Wet hair is no fun to deal with. If your hair is very long, it can take all day – or longer – to dry naturally. During this time, it's nigh-impossible to style. And if you live in a colder part of the country, you won't want to go outside. Nobody wants to go out in freezing weather with a wet head of hair! A good blow dryer will get your hair thoroughly dried out in just a few minutes.
A blow dryer is also essential for creating many hair styles. Gel, mousse, and many other products only work correctly when you combine them with blow drying. Technology has also given us more advanced blow dryers than we had in the past. For example, today's high-end dryers have precise temperature controls. They may even have smart functions or ionization features.
Note: At no extra cost to you, we may earn a commission for purchases using our links. Learn more.
Today, we're going to review the Tensky High Speed Hair Dryer. This is a compact, yet powerful hair dryer with a built-in ionizer. But is it the best choice for your needs? To find out, we're going to have to take a deeper dive into all of its features and functions. Once we've given it a thorough examination, we'll be able to deliver our verdict. Let's dig in, and see what we find!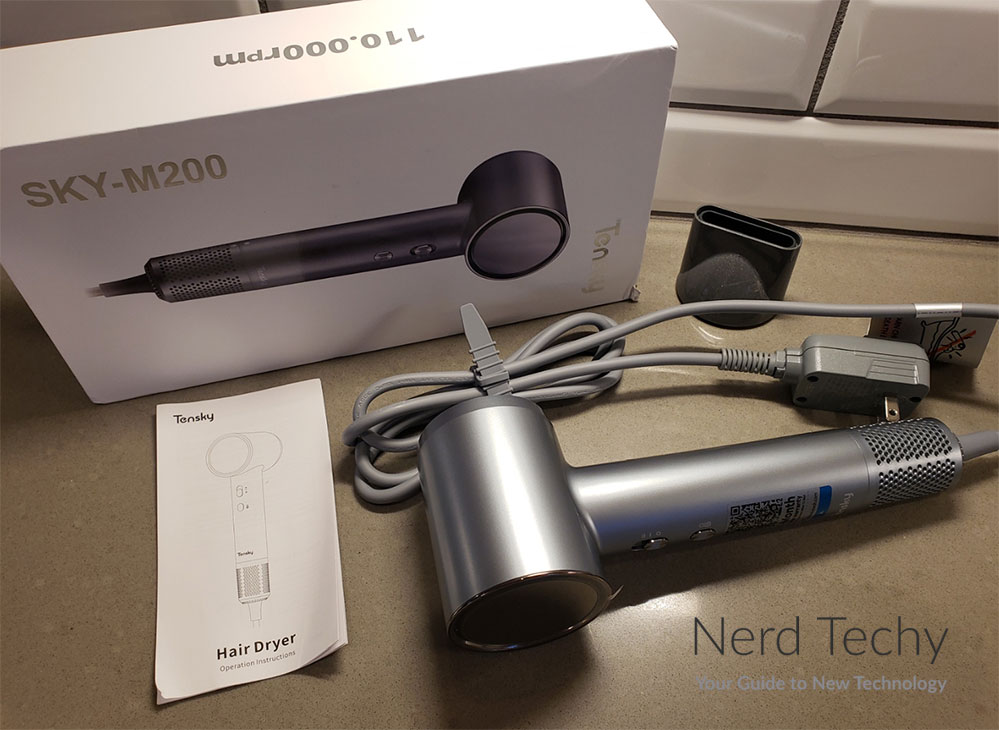 Overall Design
The Tensky High Speed Hair Dryer is constructed from a matte plastic. The material is smooth to the touch, and is easy to wipe clean if it's dirty. Since you'll probably be keeping the hair dryer in your bathroom, this is a valuable feature. The plastic also seems to be reasonably durable. We're not saying you can drive a truck over it, but it's not going to break if you drop it on your vanity. You can order it in two colors: a sleek silver-gray or a warm pink.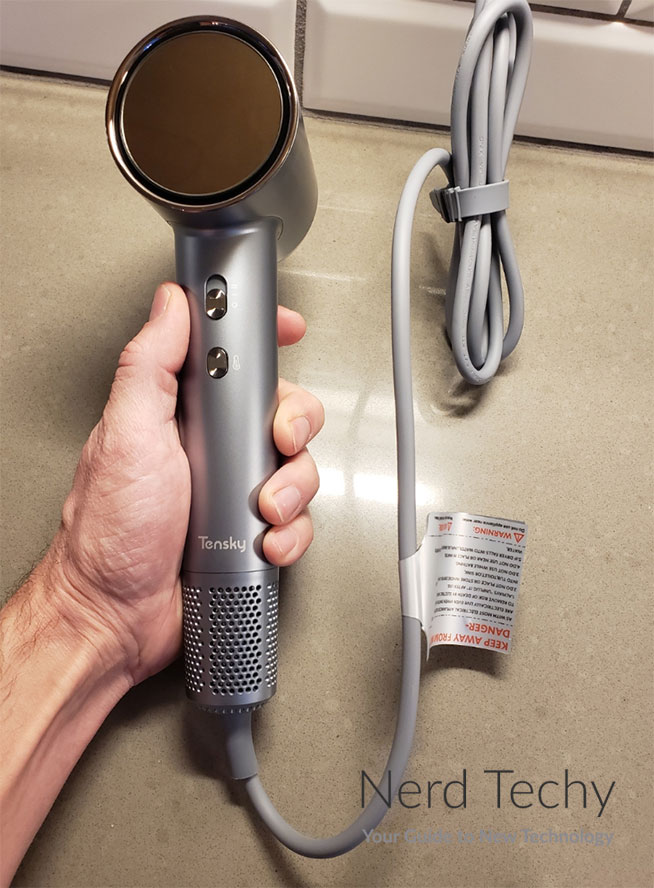 The overall design is pretty straightforward. The handle is round and slightly tapered, with no curves, dips, ridges, or indents. The controls are located near your thumb, and there's a small white "Tensky" imprint near the bottom. The upper housing is a short, fat cylinder that mounts perpendicularly at the top of the handle. It has a flat plate on the back side, with a concave black vent on the front side. All in all, we appreciated the no-frills approach to the device's construction.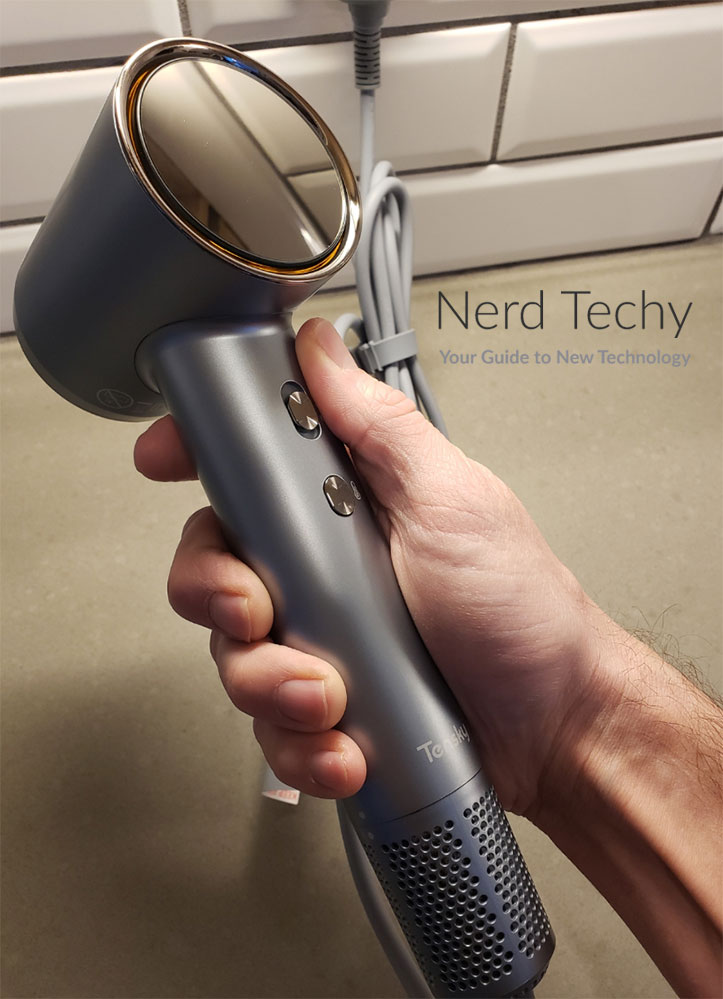 The overall size is less than a foot tall, under four inches long, and less than three inches wide. It also weighs less than a pound, so it's an ideal travel companion. It won't take up much room in your luggage, nor will it weigh you down. It's even small enough to take in a carry-on bag. This saves you from dealing with unpredictable, unreliable hotel hair dryers.
One thing you'll notice is that the intake vent isn't on the back of the housing like on a regular hair dryer. Instead, it's located at the base of the handle, where the cord is attached. There's an outer plastic grille full of small holes, which protects an inner mesh filter. The grille is easy to remove; just give it a twist and it pulls loose. There's a pair of solid dots on the grille and the housing that line up when it's locked in place. Rotate the grille to line up the dot with the hollow circle, and you can remove the filter.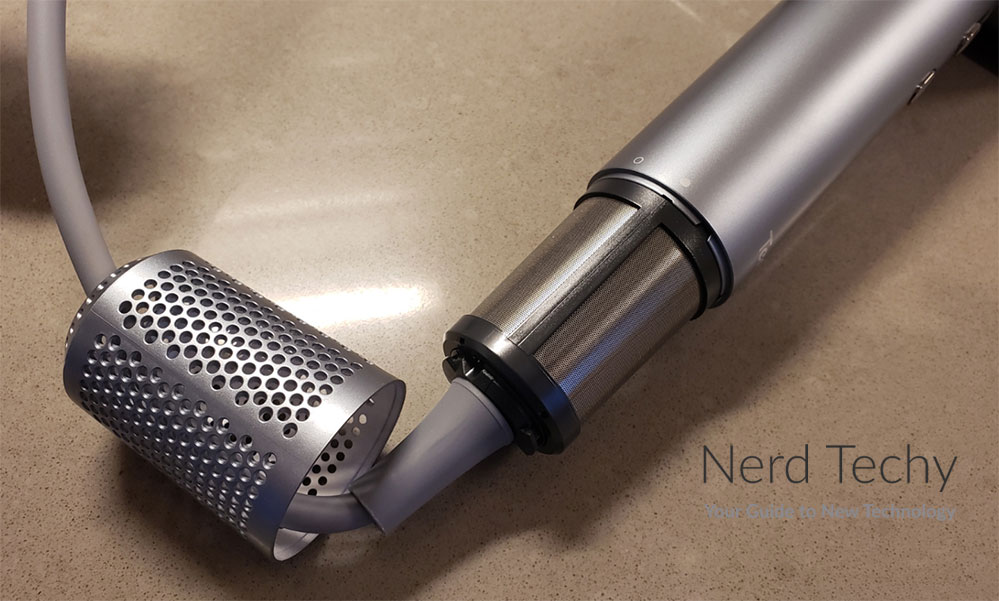 On the one hand, this design makes it easy to access the inner filter. When it gets dirty, you can clean it out in under a minute. On the other hand, the grille is easy to pop off by accident. This is annoying, but it's not a safety concern. The grille will also stay attached to the cord, so it's not like you're going to lose it.
Controls and Operation
The controls on the Tensky hair dryer are pretty straightforward. At the top of the handle is a gray control switch with three positions. The bottom position will shut your dryer off. Push it forward one step, and you'll engage the lower speed. Slide it forward one more time, and the dryer will go to its highest setting. Beneath the switch is the temperature control. This is an oval button that matches the color of the switch. It provides a good tactile response, so you can feel when you've activated it.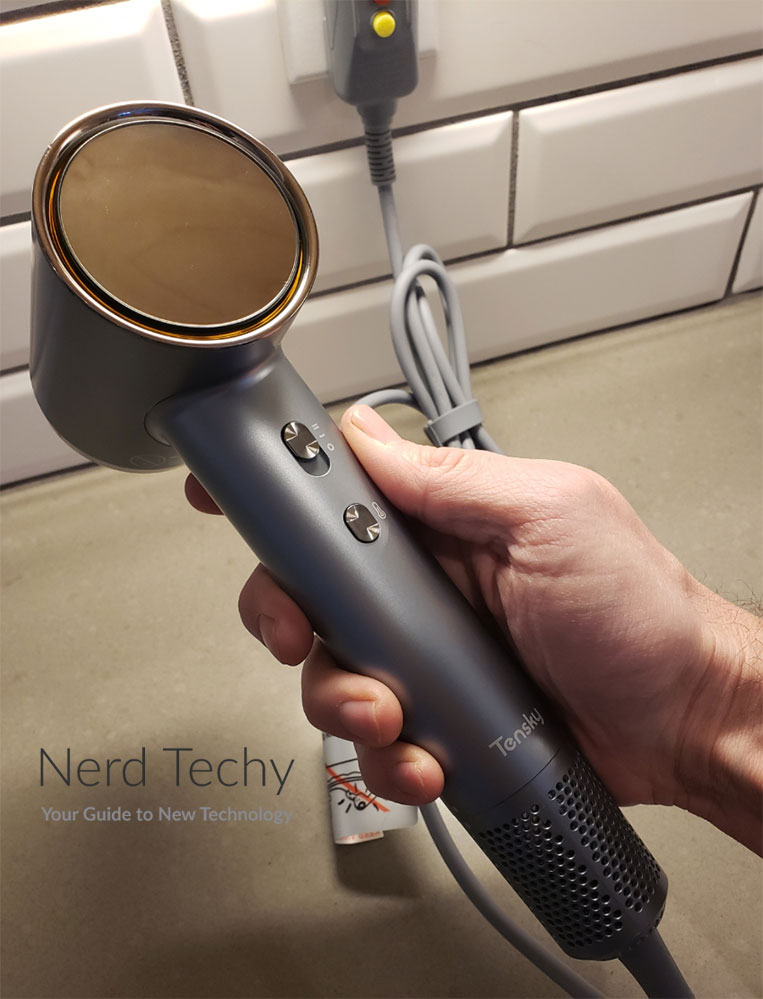 When you first turn on the dryer, it will default to the lowest setting for safety reasons. At its coolest, it will blow 68-degree room-temperature air. Press the temperature button, and it will switch to the middle setting, which blows warm, 122-degree air. A second press will turn the temperature up to the maximum setting of 176 degrees. There's an LED light ring built into the back of the housing that changes with the temperature. It will shine green on the lowest setting, orange on medium, and red on high.
There's also an alternative "cold and hot" mode that alternates back and forth between hot and cold air. This setting is designed to dry your hair as quickly as possible without damaging it. The bursts of cool air will give your hair a short break between bursts of hot air. To activate this mode, you need to press and hold the control button for two seconds. When cold and hot mode is active, the LED ring will turn yellow.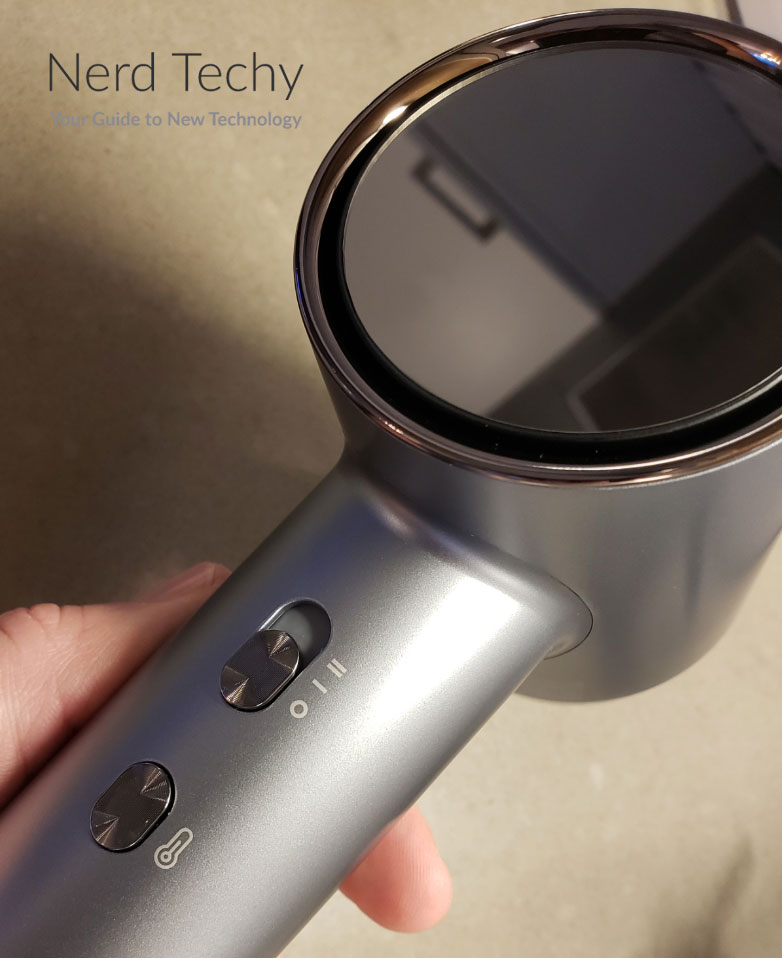 Additionally, on the back, there's a small built-in mirror. This is a pretty cool little add-on that caught us by surprise. It's super-reflective, as it should be, and is excellent to use in a pinch if you don't have a typical mirror at the moment.
The Tensky hair dryer has a 6-foot power cord, which is all the length you need around your home vanity. It has a round profile, and generally does a good job of not getting tangled. At the end is a large block with a GFCI switch. It will shut the power off if anything short-circuits. So, for example, if you knock your hair dryer into the sink, the power will cut off. That way, you won't get electrocuted. The plug is also completely sealed against moisture, so you can handle it safely with wet hands.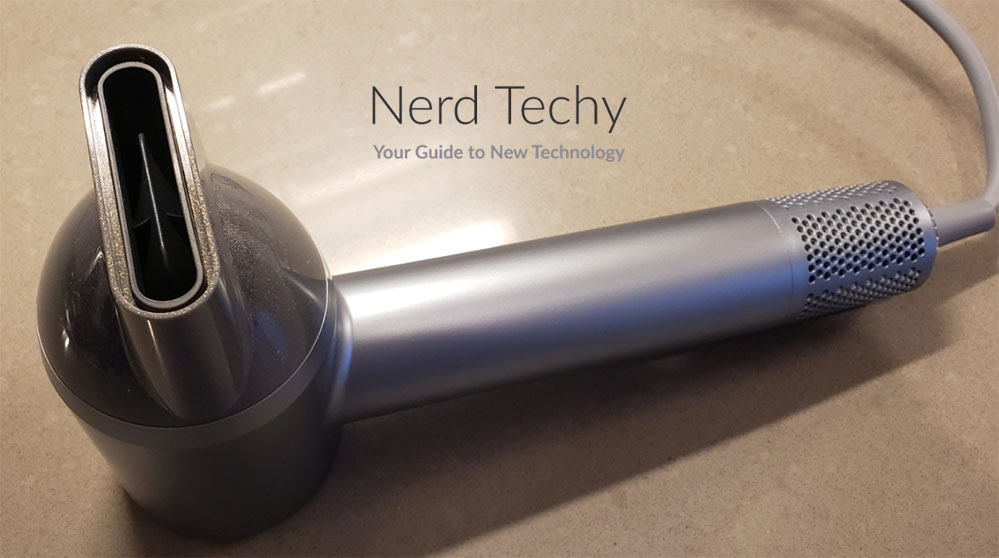 Drying Performance
The Tensky hair dryer boasts an impressive 110,000 RPM motor. When you turn it on, it creates a wonderful flow of air that's extremely effective at drying all kinds of hair in minimal time. It has a brushless design, which means there are fewer parts that could wear out. Provided it isn't abused, it should last more or less indefinitely.
Despite spinning at such a fast rate, the motor is also surprisingly quiet. On the higher speed setting, it produces only 59dB. To be clear, that's not exactly whisper-quiet. It's a hair dryer, and it will drown out most other sounds when you're holding it near your head. But it's not obnoxiously loud. You're not going to wake up the whole family when you're doing your hair first thing in the morning.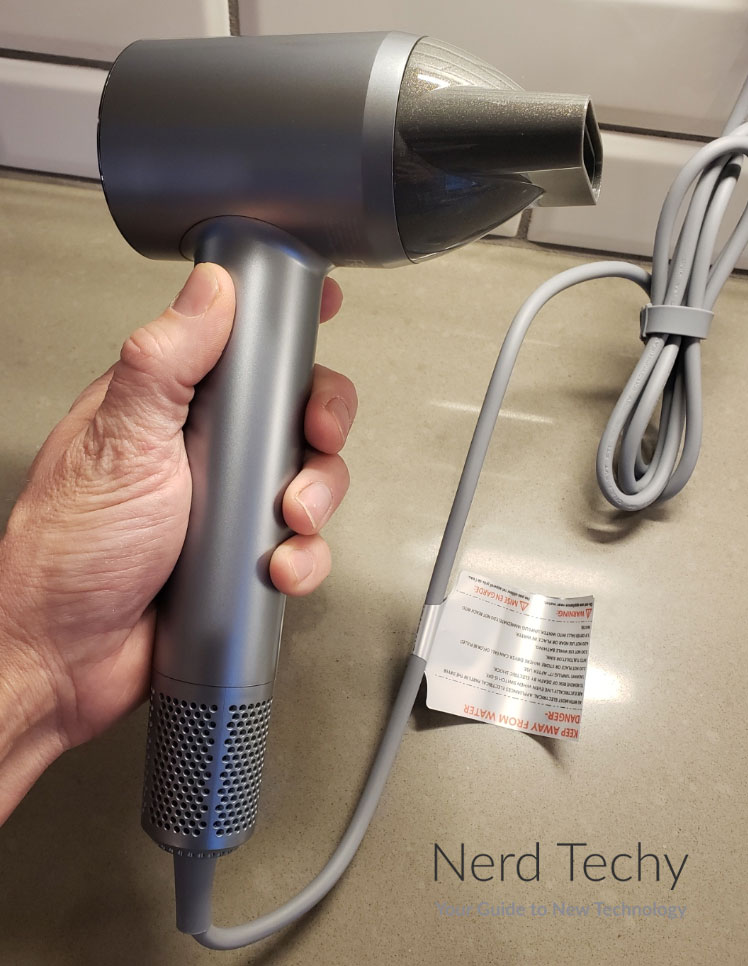 All of that power doesn't go to waste. On the faster setting, this hair dryer can move air at a rate of 70 feet per second. By comparison, the average hair dryer runs at a more modest 35 feet per second. This translates directly into excellent drying performance. Most people will be able to dry their hair in five minutes or less. Obviously, there are exceptions. Longer hair will take longer to dry, as will thicker hair.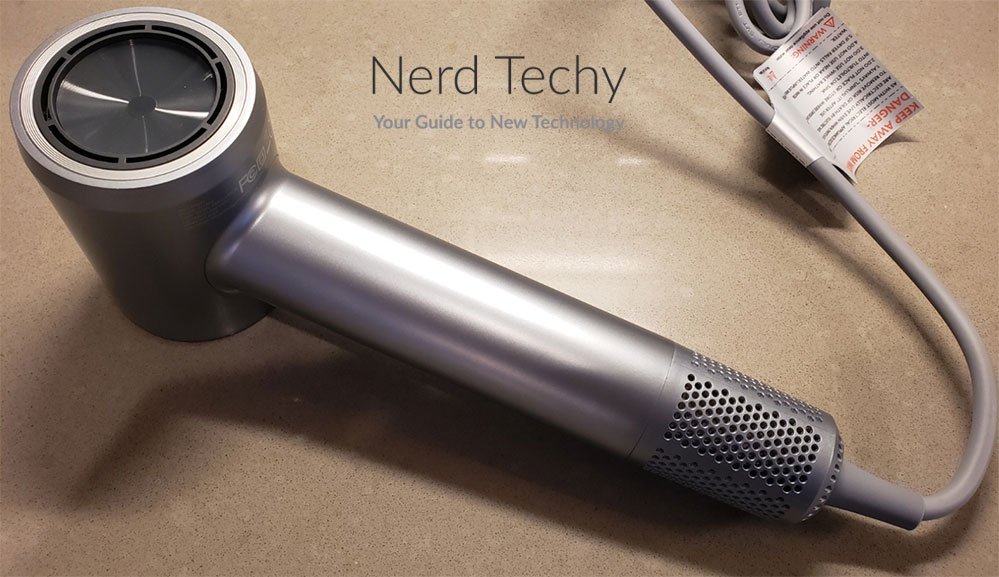 One of the better features on this dryer was the precise temperature controller. Buy a cheap hair dryer from Walmart, and you won't get the same temperature every time. The heating element will receive a given amount of current at a given heat setting. If the ambient air is too warm or too cool, the air from the hair dryer also will be. Tensky's dryer will adjust the heating element on the fly. No matter what the temperature in the room, the air from the hair dryer will always be the same temperature.
Accessories
The opening on the front of the dryer is circular, and releases air in a circular pattern. This is just fine for many applications. But in some cases, you might want a tighter, more directed air stream. In that case, you can use the optional nozzle. This nozzle is round where it attaches to the dryer, and tapers to a flat, narrow opening. It will provide faster drying, and can also be used for layering.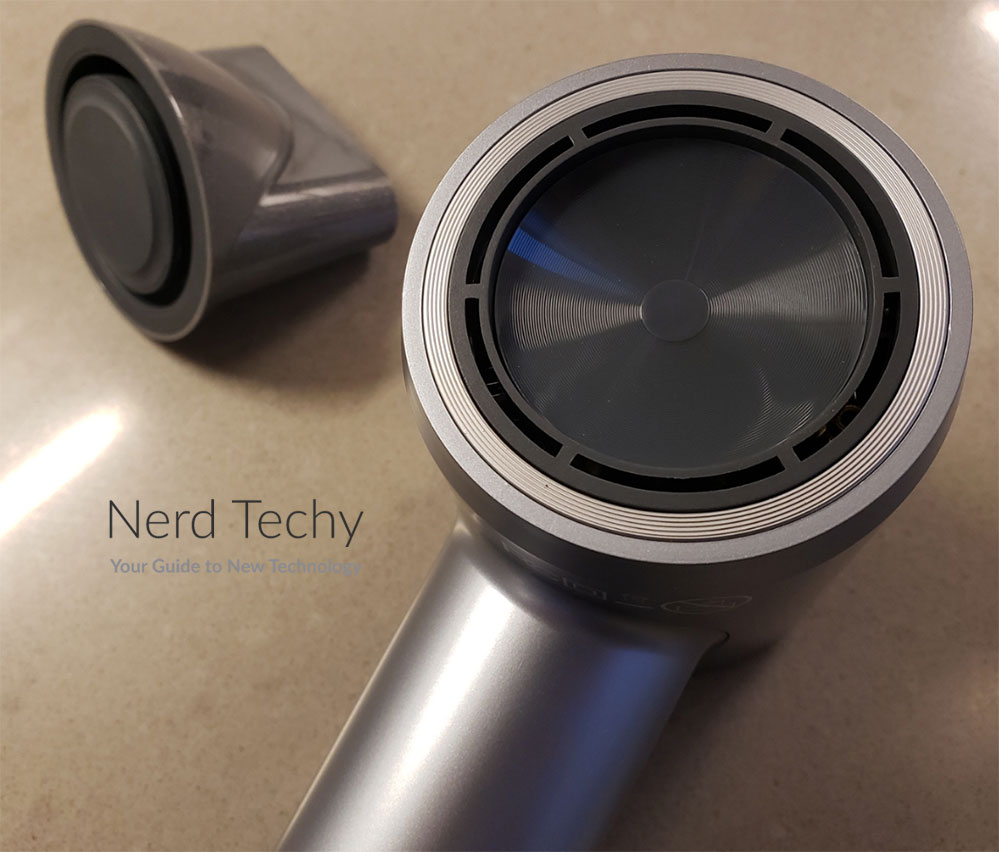 The material itself is made from silver-gray plastic that's similar but not identical to the dryer housing. It seems to be very heat resistant, and can stand up to years of use without warping. It's also magnetic, which makes it very easy to attach and remove. It also rotates 360 degrees. So if you want to angle the air stream in any direction, you can. Our only complaint is that there's no diffuser attachment.
Ionization Extra Features
The Tensky hair dryer has a built-in ionizer in the back side of the housing. The company claims that this ionizer creates 200 million negative ions. They don't say how fast these ions are produced, but the system seems to work reasonably well. The ions are designed to neutralize static electricity and keep your hair from getting frizzy. Depending on your hair type, this may be more or less effective. But it's still a useful feature to have.
The grip also has a built-in sensor. When you set the dryer down, the motor will automatically turn off. This keeps the dryer from presenting a safety hazard if you drop it. It also saves power if you set the dryer down and forget about it. Grab the handle again, and it will resume operating.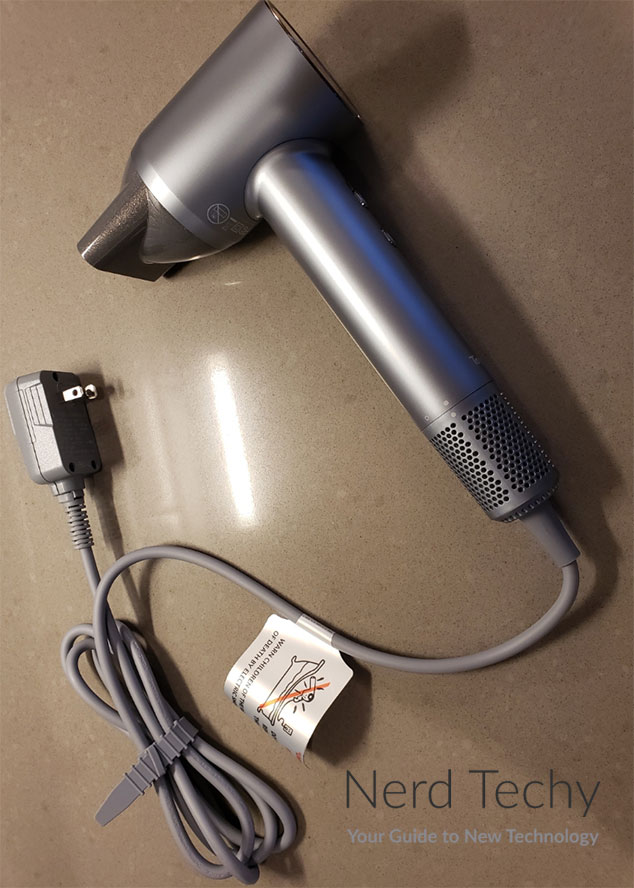 Final Verdict
The Tensky High Speed Hair Dryer is a compact, but effective little machine. It's small and light enough to take with you pretty much anywhere. The controls are straightforward and easy to operate. We particularly liked the temperature settings and intelligent temperature control.
While it would have been nice to get a diffuser, the restrictor attachment works well. The magnetic lock is very innovative, and makes it easy to adjust the nozzle. Meanwhile, the built-in ionizer helps you to tame wild hair. All things considered, you're looking at a solid little hair dryer.
Please consider sharing:
Note: At no extra cost to you, we may earn a commission for purchases using our links. Learn more.