Smartphones have forever changed the way we get our entertainment. Gone are the days of buying physical media in order to enjoy our favorite artists. Chances are, you may even have a giant pile of CD's laying around. Whether it's from a previous decade or you just stumbled upon a massive horde of compact discs, you'll need a good-quality CD player to truly enjoy them.
Luckily, there are still some manufacturers that make portable CD players. However, the recent trend is to combine a portable CD player with Bluetooth. By placing a Bluetooth transmitter inside a CD player, listeners are able to enjoy music without the tangle of wires and/or adapters. In general, you'll get a high-quality listening experience with the ability to transmit the signal wirelessly.
Note: At no extra cost to you, we may earn a commission for purchases using our links. Learn more.
Whether you burn your own music on blank CDs like the early days or if you have a horde of CDs stashed somewhere, having a newly-manufactured CD player is essential.
Today we're going to take a deep-dive and showcase some of our favorite picks for 2022. Sure, a portable CD player with Bluetooth might not be on everyone's list. However, for those with a stash of CD's, it means not having to re-purchase the same albums or songs via a different medium.
Do you NEED a CD Player with a built-in Bluetooth Transmitter?
While many of these CD players support Bluetooth, it's mostly for pairing a speaker or set of wireless headphones. All of the portable CD players that have a Bluetooth feature, most must be manually plugged-in when using it in your car. Just something to keep in mind while you're searching for the best option.
Luckily, there's a work-around for this design flaw. After you purchase a portable CD player, simply plug-in a Bluetooth receiver into the audio-output. This is the same "jack" or "port" that you plug-in your headphones. This way, you can pair any of these CD players to your Bluetooth-supported vehicle, even if you're told it won't work.
Alternatively, if your car doesn't have an auxiliary port or Bluetooth connectivity, you may opt for a Bluetooth FM transmitter to use with any portable CD player you choose.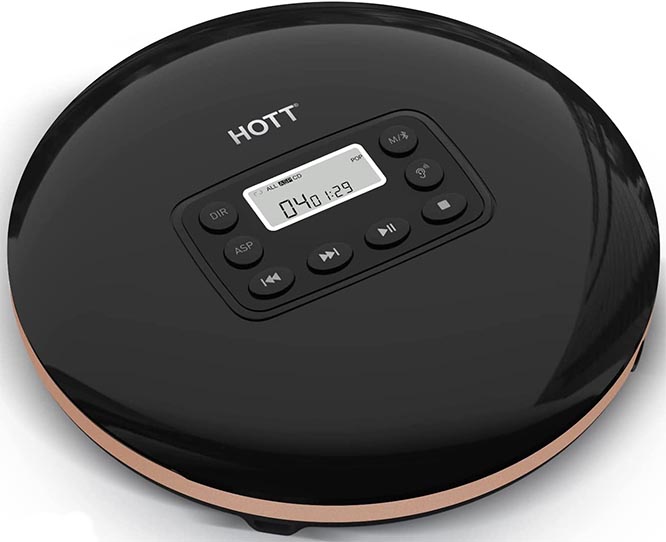 HOTT CD7711T Bluetooth CD Player
Although we just talked about CD players that won't be able to pair with your car's Bluetooth, the HOTT CD7711T is one of the only Bluetooth CD players that actually works very well in most vehicles. With a slim-design and an attractive glossy-finish, it's one of the better looking options on the market, too.
On the top-lid is a small LCD screen that's nested with an assortment of buttons that carry all the functionality you'll need. On the sides are inputs for USB charging, auxiliary and the latch button for the lid. Capable of playing virtually any kind of CD (CD, MP3, CD-RW, CD-R and WMA), it also has a robust anti-skip feature. It offers 45 seconds of anti-skip for CDs and 120 seconds of anti-skip for MP3 file discs.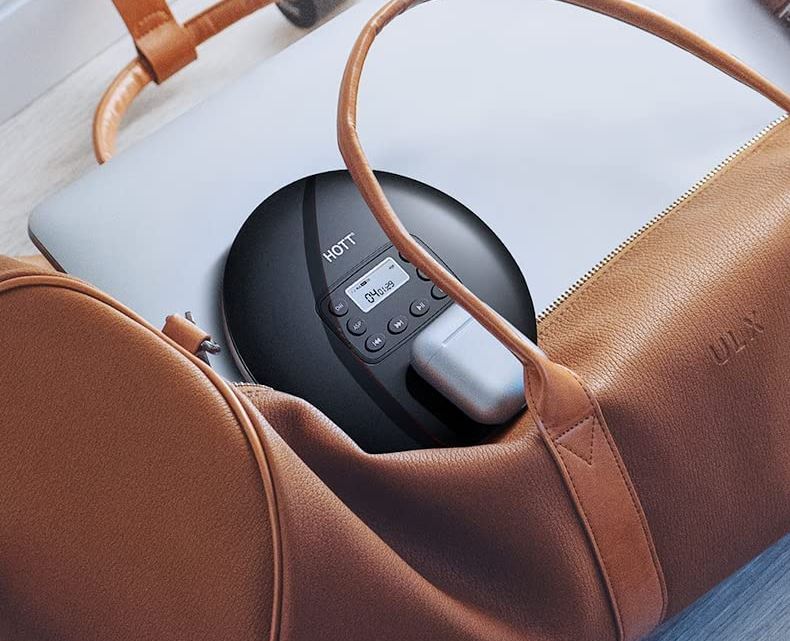 Our favorite feature is the built-in rechargeable battery. With a capacity of 1,800 mAh, it's capable of delivering up to 10 hours of music before it needs to be re-charged. Gone are the days of swapping out expensive alkaline AA batteries when you need your music more than ever. Simply plug-in the supplied USB cable and within 3-4 hours, the internal battery is topped-off.
The Bluetooth connectivity is easy to pair with most newer cars. Just make sure your vehicle supports a Bluetooth connection. Alternatively, you can pair the HOTT CD player with a portable Bluetooth speaker or set of wireless earbuds. This is highly recommended for effortless, tether-free audio enjoyment; combining an old-school CD player with the latest in wireless connectivity.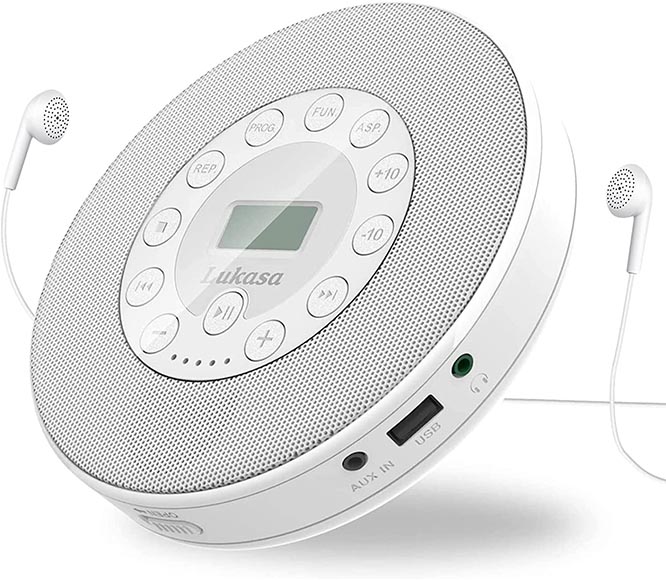 Lukasa Compact CD Player with Bluetooth
Available in either white or black, the Lukasa Compact CD Player was recently upgraded in late 2021 with a more-robust design. It boasts multiple functions into a compact form-factor, measuring 6 inches in diameter with a thickness just under 1 inch. The front-face has a built-in speaker with a large assortment of buttons. These buttons contain all the functionality you could ever need, with a small LCD screen in the center. On the side, there's an auxiliary output, USB port and a auxiliary headphone jack.
The Luksa CD Player is capable of playing all sorts of files and formats; CD/CD-R/CD-RW discs, MP3 CD discs, and WMA audio file CD discs. Best of all, there's a built-in rechargeable battery. This means no more AA batteries to swap-out. Simply plug it into any USB port with the supplied cable, and it'll top-off the internal 2,000 mAh battery within 3-4 hours.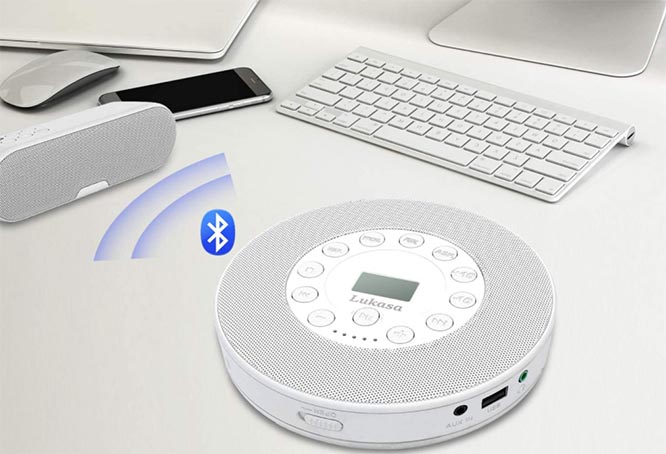 Just like the good ol' days, there's a built-in anti-shock feature. As some of you may know, this keeps the music from "skipping" if you're on a bumpy road or using it in an area with a lot of vibration. The anti-skip protection provides up to 100 seconds for CDs and up to 180 seconds for MP3s. Overall, the anti-skipping does a great job in a variety of scenarios.
Although you cannot use the Bluetooth function to pair it to your car, the auxiliary-output makes it easy to connect to any external audio system. We used the Bluetooth function for pairing a wireless speaker and set of earbuds. Simply put, the built-in speaker is nothing to write home about. It'll work in a pinch, but you're definitely not going to get pristine audio quality out of it. However, the CD player itself works very well and produces fabulous sound.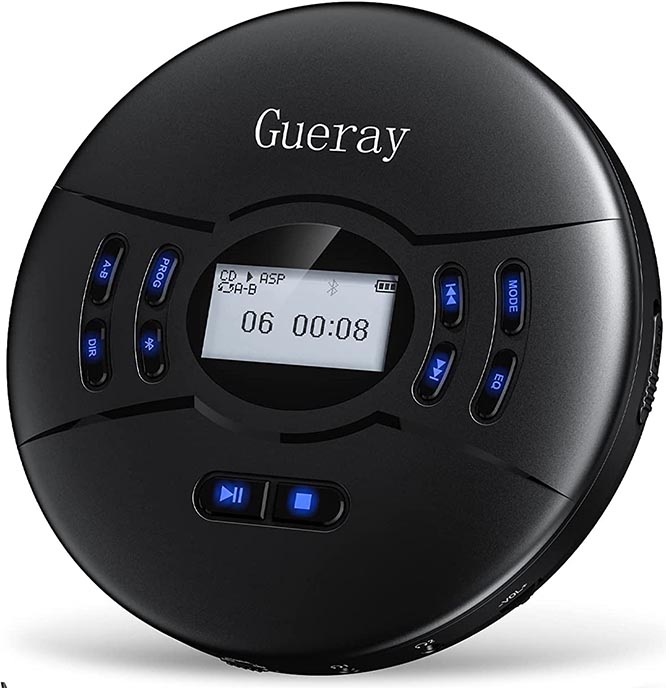 Gueray Portable CD Player with Bluetooth
In many ways, the Gueray Portable CD Player is quite similar to the Lukasa. It boasts the same general dimensions with a compact form-factor. Although it's only available in black, it has a wide range of enticing features. On the top, there's a variety of buttons that carry virtually any function it's capable of.
The sides are even equipped with several additional features. One side includes a TF card input, USB-C charging port with an LED indicator and the power switch. The opposite side continues over with dual headphone (aux) outputs, a volume wheel and the open/close lid switch.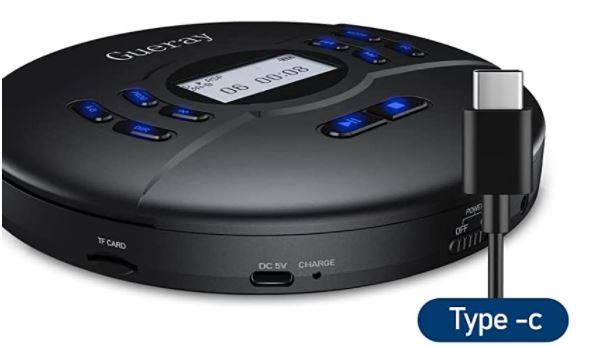 Just like the Lukasa, the Gueray has a built-in rechargeable battery. Although it's only a 1400 mAh capacity, it seems to provide sufficient listening for up to 8-10 hours before you need to charge it. Best of all, the charging port is USB-C, so it's up to the latest charging standards. Simply plug-in the supplied cable to any power source with an available USB-A port, and the CD player will charge-up within 3-4 hours.
As with most, there's an anti-skip feature built-in. Although it's not quite the 100-180 second protection that the Lukasa has, the anti-skip seems to work very well. Although there isn't a speaker built-in, the Bluetooth function makes it easy to pair any external portable speaker in a matter of seconds. It works just as well with a pair of wireless headphones, too!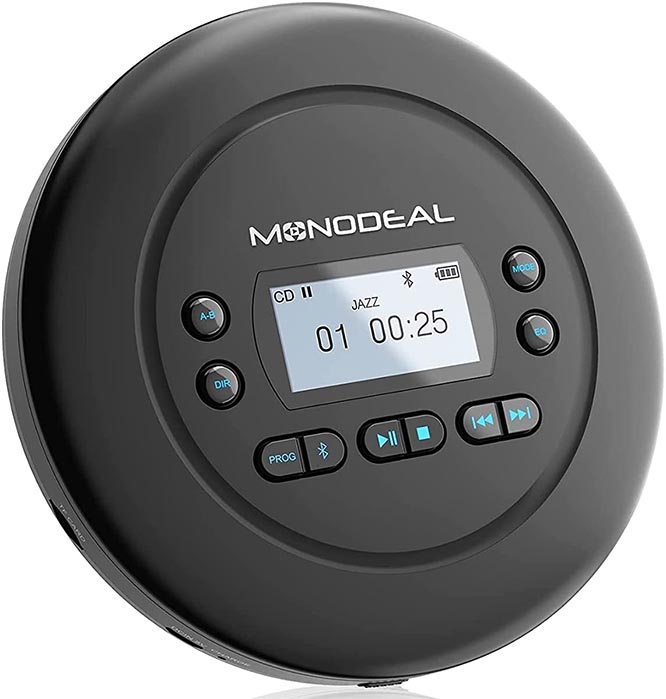 MONODEAL Bluetooth CD Player
The MONODEAL Bluetooth CD Player is another great option. It features one of the larger screens yet has the most battery life out of any portable CD player that has its own built-in rechargeable battery. With a matter black finish, it's attractive in style with an assortment of function buttons on the lid, centered around a larger than average LCD screen. The one thing we noticed about the MONODEAL is the large, well-spaced buttons. Those who find themselves clumsy with small buttons will love the way the buttons on the lid are arranged.
With wide support for CD, MP3, CD-R, CD-RW, HDCD and capable of music formats CD-DA, MP3, WMA, it can play virtually any CD without issue. There's even an SD card slot for loading-in your own music files without the need to burn a new CD. Additionally, the anti-skip feature works very well. Although it's not totally clear how many seconds it provides anti-skip protection for, in our own experiences, it's sufficient for all sorts of travel and movement.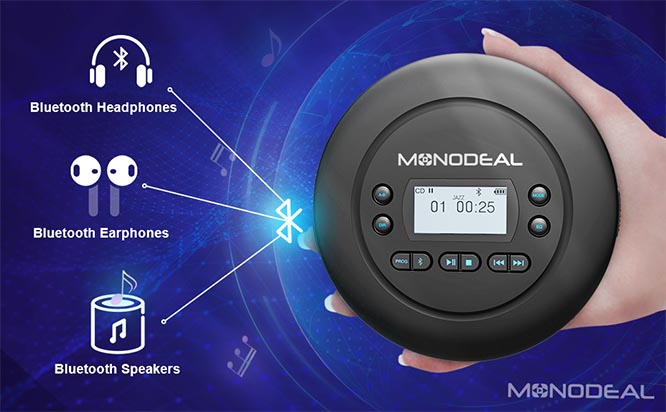 The built-in rechargeable battery is a large 2,000 mAh capacity. This means it's capable of playing music for up to 15 consecutive hours. That's pretty impressive, in our opinion. Charging it up takes around 4-5 hours using the supplied USB cable.
Unfortunately, the Bluetooth connectivity with the MONODEAL CD player is only for connecting your own set of wireless headphones or a Bluetooth speaker. You'll have to manually plug-in the supplied auxiliary cord from the CD player to your vehicles aux input. Alternatively, you could use one of the work-arounds we discussed earlier by plugging-in a auxiliary Bluetooth adapter or use a Bluetooth FM transmitter for your car. Regardless, with some patience and added thought, you can use it in your car without too much headache.
Final Thoughts
As you can see, there are still many manufacturers still producing portable CD players. Although most of the brand names are unheard of, it's good to see a few solid options for those who want Bluetooth connectivity. Whether you want to use the Bluetooth feature in your car or simply combine your collection of CDs with your favorite Bluetooth earbuds or speakers, you're likely going to find a lot of use out of any of these options.
Each of the options we've outlined are fully rechargeable, have an anti-skip feature and are portable enough to bring virtually anywhere. But which stand out among the rest? Let's quickly re-cap to see what we learned.
First, we discussed the HOTT CD7711T. It's our favorite option, with Bluetooth connectivity available for most newer vehicles. It's a highly functional option for those who want a real Bluetooth transmitter that can pair well with almost any audio system.
We then discussed the Lukasa Compact CD Player. Unlike the rest, it has its very own built-in speaker, although the audio quality it emits isn't anything to write home about. However, it's well-built and able to pair with any set of Bluetooth headphones or speakers.
After that, we looked into the Gueray Portable CD Player. It's virtually the same as the Lukasa, with a slimmer-profile and lack of built-in speaker. The Bluetooth connectivity feature works well, but only for wirelessly pairing headphones and speakers.
Last but not least, we examined the MONODEAL Bluetooth CD Player. We love the way it's laid out. All of the buttons are well-spaced, meaning it's ideal for older folks or those who find themselves troubled with small buttons. The Bluetooth connectivity only allows pairing headphones or speakers, but can be used in any vehicle with the right transmitter or simple auxiliary.
Please consider sharing:
Note: At no extra cost to you, we may earn a commission for purchases using our links. Learn more.