There's no denying that watching a movie on a projector brings something special to the experience. For one thing, projectors are inherently nostalgic. They conjure up memories of going to the movies as a teenager and eating buckets of popcorn. For another thing, you can create a truly enormous image pretty much anywhere you want. You can even set up a backyard movie night.
But if you want to use a projector, you typically need a lot of space. If the projector is too close to the screen, the video will be correspondingly small. You also have to be careful about placement. If people are passing between the projector and the screen, they'll get in the way. A short throw projector is the perfect solution to both of those problems.
Today, we'll be reviewing the WEMAX Nova 4K Short Throw Smart Laser Projector. This is a powerful, yet compact projector that's meant to sit close to the screen. It's also capable of producing 4K Ultra HD images, which is unusual for a home projector. But does it meet your requirements? We're about to take a much closer look, and gather all the information we need to make a judgement. Let's get started!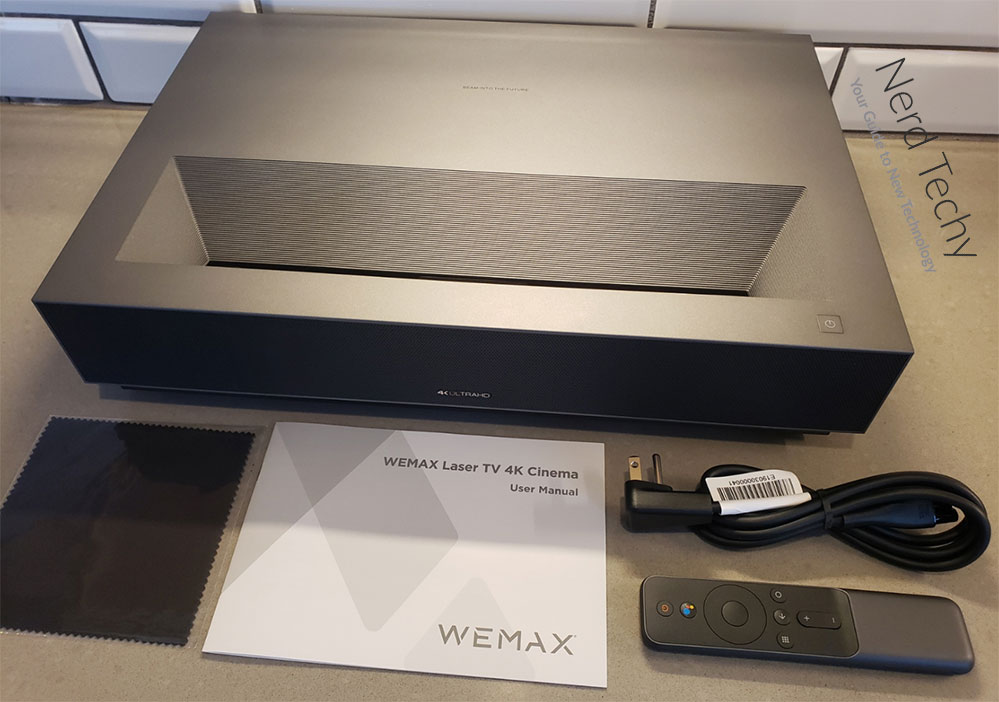 Overall Design
The Nova 4K has a rectangular housing, and is constructed from matte black plastic. It measures 17.95 inches wide, 12.13 inches long, and 3.58 inches thick, similar to many set top boxes. At 16 pounds, it's surprisingly heavy, but it's not unnecessarily difficult to move around.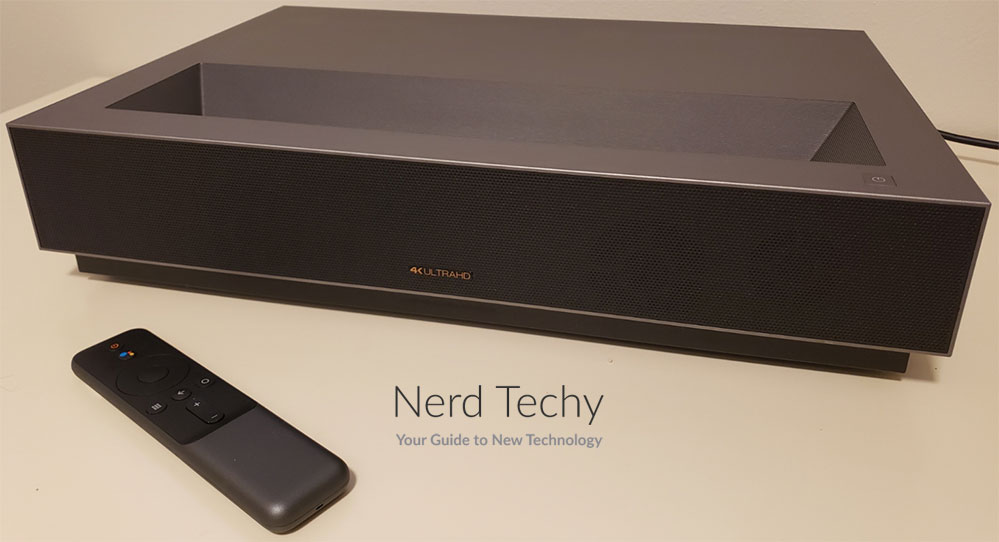 The sides of the housing are perforated with a bunch of little round holes. They're vented to allow air to flow through the inside of the unit and keep it cool. Inside, there's a set of fans to help speed things along. They seem to work well – we didn't have any issues. More to the point, they're fairly quiet. They're not going to get loud and distract you from your video.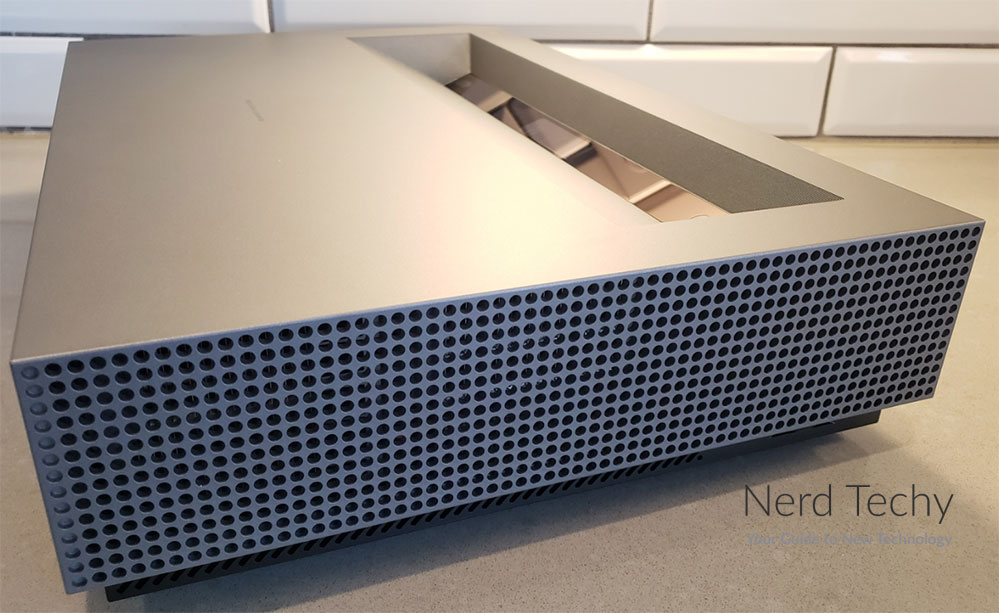 If you didn't know what you were looking at, you wouldn't know it was a projector. There's no lens on the front. Instead, there's a cutout in the top of the unit. The cutout is located near the front of the housing, and is deeper at the front than at the back. The lens is located inside of this area, pointing up and at an angle. That's how the projector is able to function at such a short distance.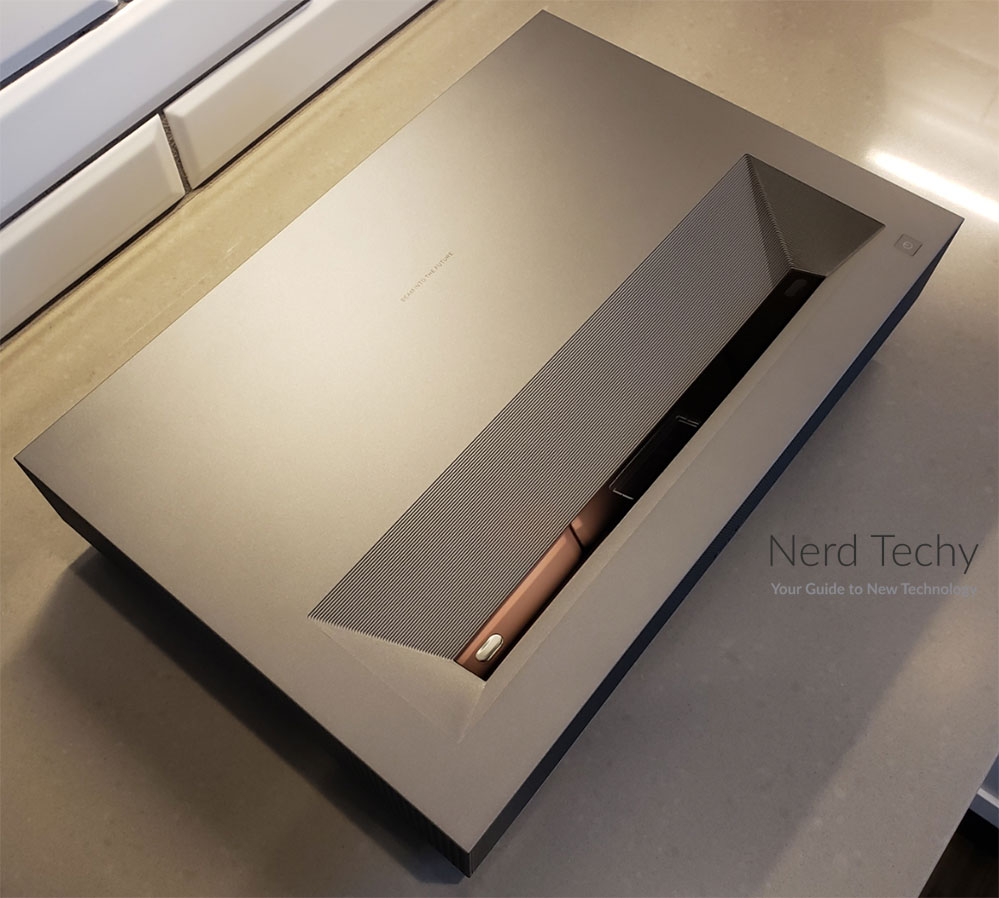 Just in front of the lens cutout, near the right of the unit, is a power button. That's the only on-board control. Everything else is located on the handheld remote.
The lamp itself is rated for 25,000 hours of operation. That's almost three years of continuous, 24/7 use. With more normal use, you should easily get 10 years or more out of it.
You'll notice that the front of the housing is covered in a fine, smooth metal mesh. This covers the built-in speakers, which we'll discuss more in a minute. In the center, at the bottom, are the words "4K Ultra HD", printed in gold plastic letters. It truly looks beautiful, like a work of art.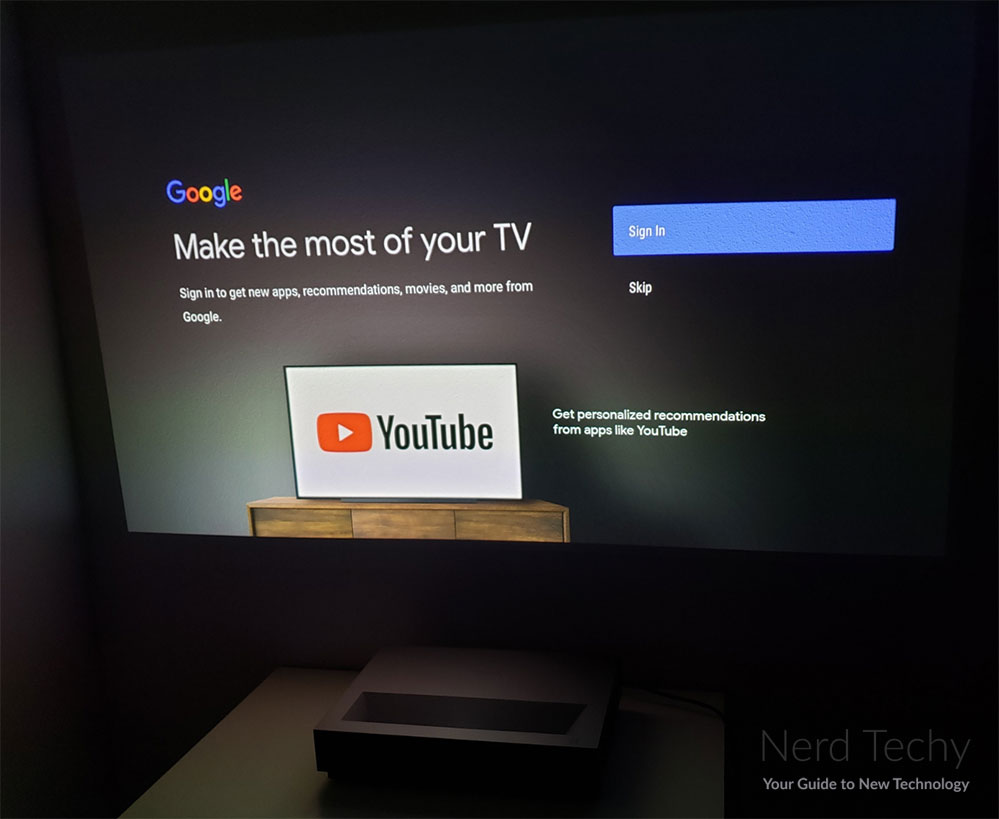 Video Quality
The Nova has a native resolution of 4K, or 3,840 x 2,160 pixels. That's four times as many pixels as a 1080p display. A lot of modern projectors advertise "4K" in big letters, but when you read the fine print, they're 1080p. They take the 4K video input, then downscale it to 1080p. So when you plug in your Blu-Ray player, you're only getting DVD-quality video. That's not an issue here. You'll be able to watch movies and play current-gen games in full quality.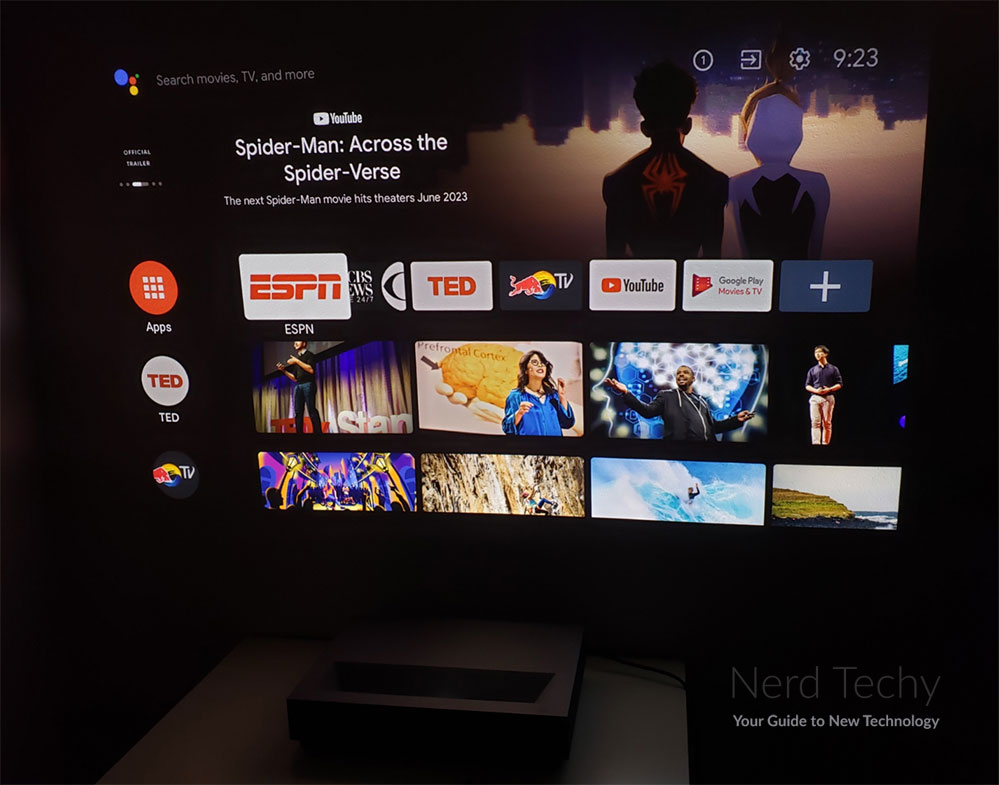 The image is surprisingly bright. The bulb puts out 2,100 lumens, which is bright enough to use under virtually any conditions. Like any projector, it will get washed out if the screen is under direct sunlight. But bright fluorescent lights and other ambient lighting will not be an issue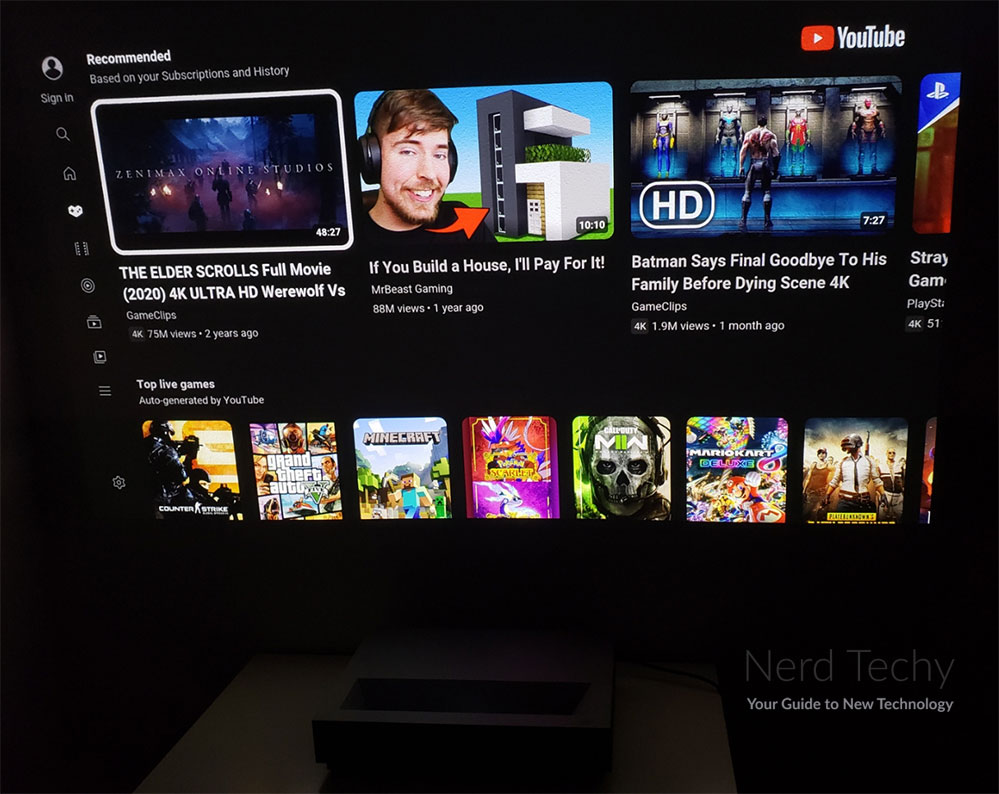 The exact size of the video will depend on your distance from the screen. If the projector is 5.5 inches away, it will create an 80-degree image. At 9.1 inches, it will create a 100-inch image. This expands to 120 inches and 150 inches at 13 and 19.3 inches respectively. Even the furthest distance is less than two feet, and you get a truly enormous display. The auto-focus mechanism will bring the video into crisp focus regardless of distance. It takes just a few seconds to work.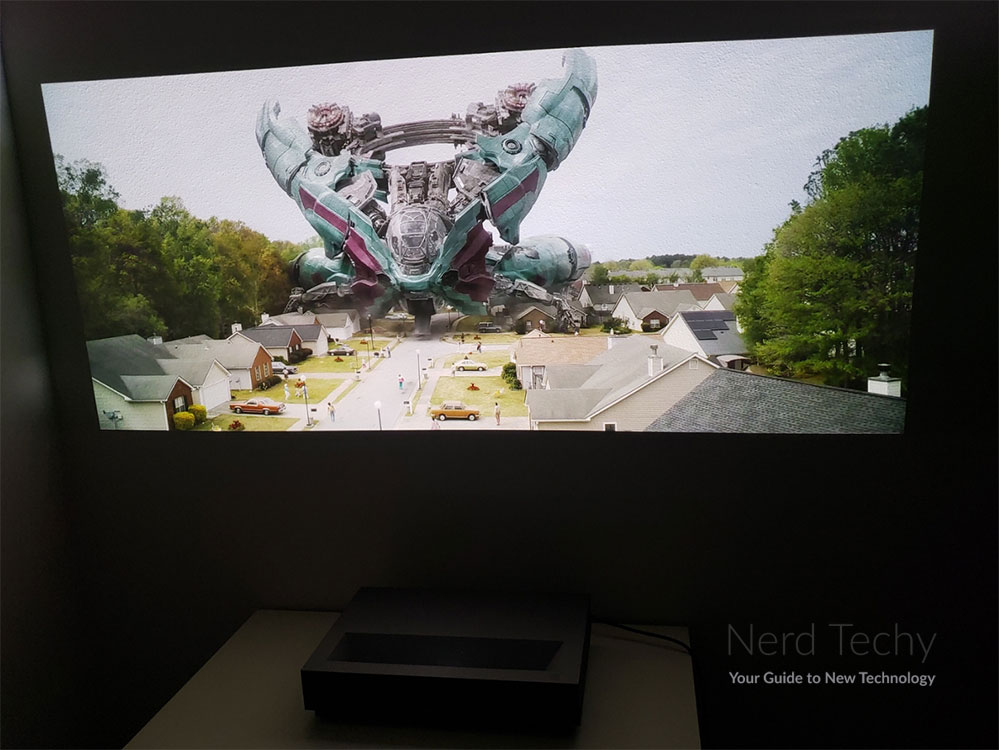 The contrast ratio of the Nova is 3,000:1. This number is the difference between the darkest and lightest shades on the screen. With a low contrast ratio, it can be difficult to make out dark videos. Thankfully, 3,000:1 is pretty high. In fact, it's the highest ratio the average person can see. Anything more would be overkill!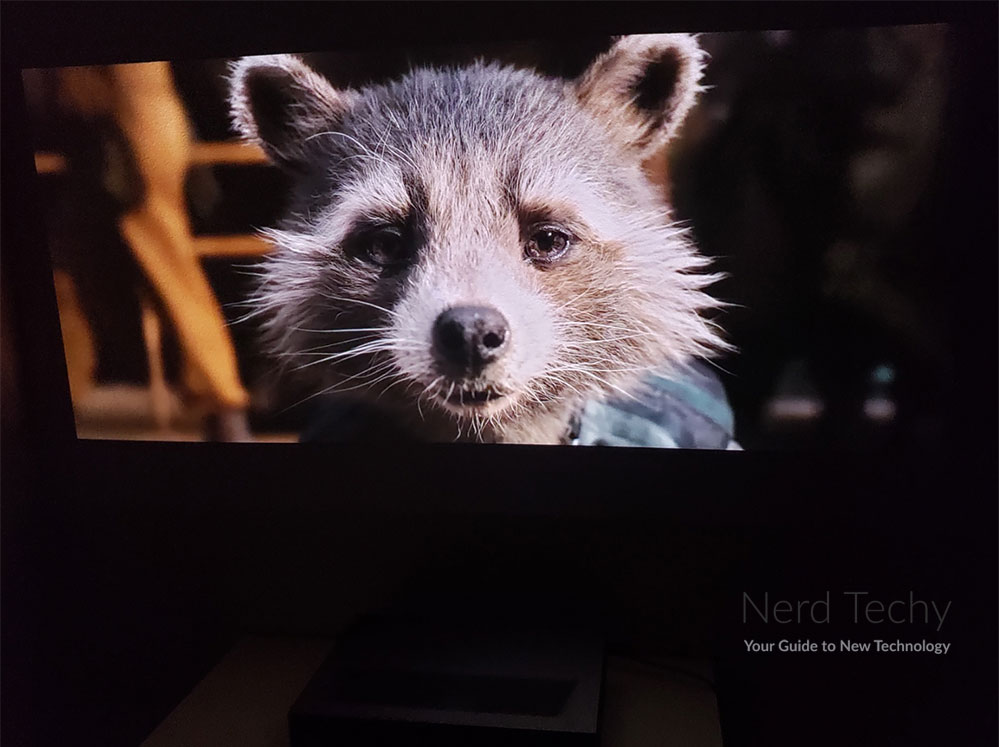 Watching high definition content, whether 4k or 1080p, is visually stunning. The colors are truly vivid and realistic with deep details. We tested it with YouTube content and had an incredible time what it had to offer. The quality of the picture is truly amazing; it makes watching your favorite videos even more enjoyable.
Connectivity
On the back of the housing, you'll find a number of ports and inputs for connecting your various devices. Starting at the left, there's a power input, where the cord connects to your outlet. Following that, there are three HDMI ports. These are probably what you'll use most often, whether for Blu-Ray, gaming, or a set top box. All three ports support CEC and ARC. Without going too far into the weeds, these technologies allow your projector to interface with other devices. For example, you can use the projector volume control to operate your soundbar.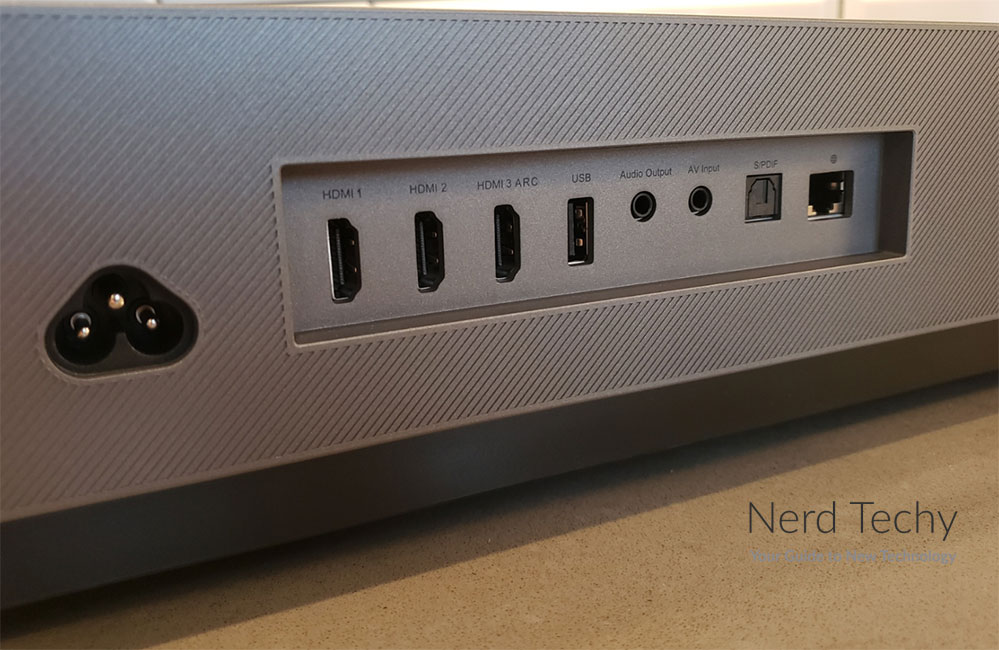 Next to the HDMI port is a USB port. This can be used for plugging in a thumb drive or external hard drive. You'll find an additional port on the side of the housing that can be used to support a second device. You'll appreciate these ports if you have an extensive home video library.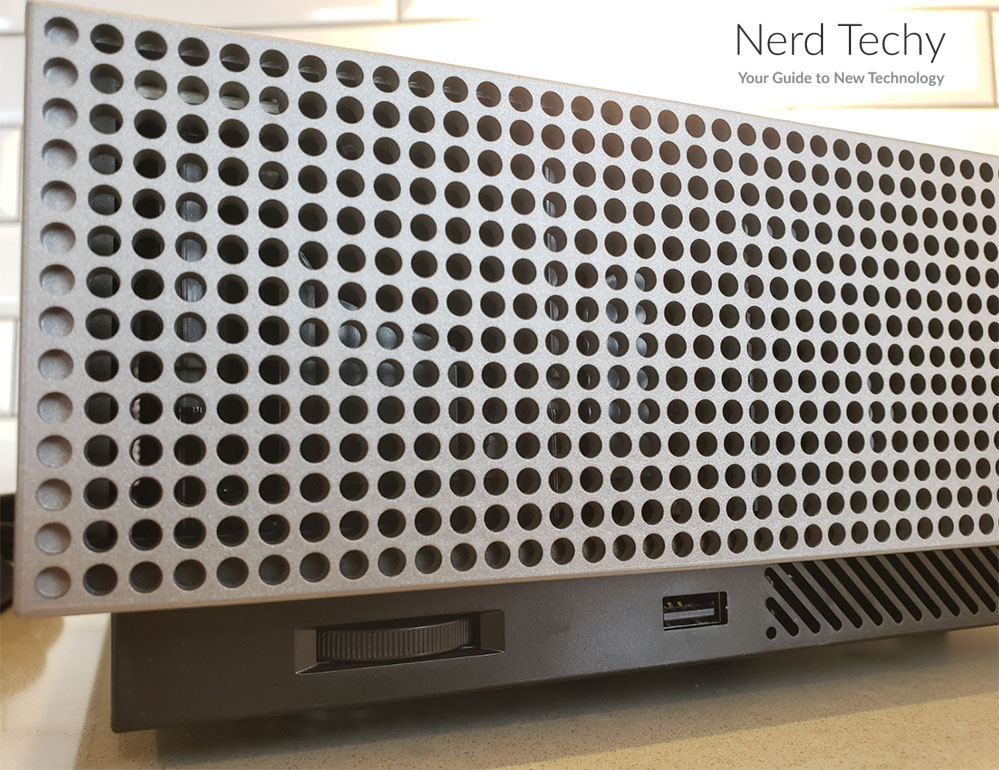 Next in line are a 3.5mm aux port and a 3.5mm AV port. These are often confused, but they're not exactly the same. An aux port is used for headphones and earbuds. You'll find them on smartphones, laptops, and anything else with a standard headphone port. An aux port is the same diameter, but it takes a slightly longer plug. This port is used for connecting external speakers. After that is an S/PDF or a Sony/Philips Digital Interface, used for some consumer audio devices. You can also use Bluetooth to connect to a wireless speaker.
The last port on the back is an Ethernet port. It can be used to connect to the internet, but in practice you'll probably prefer to use the WiFi. When you're online, you can cast videos directly to the projector, or mirror your screen on the display.
Controls
The Nova 4K projector is easy to operate. While the only on-board control is a power button, the handheld remote has plenty of functions. You can easily adjust the volume and change input sources. There's also a system menu where you can adjust various settings. For example, you can modify the brightness, contrast, and color balance. Color balance is especially important if you're using your wall as a screen. Most "white" walls are off-white, which can alter your video's colors. A color balance function allows you to correct for this.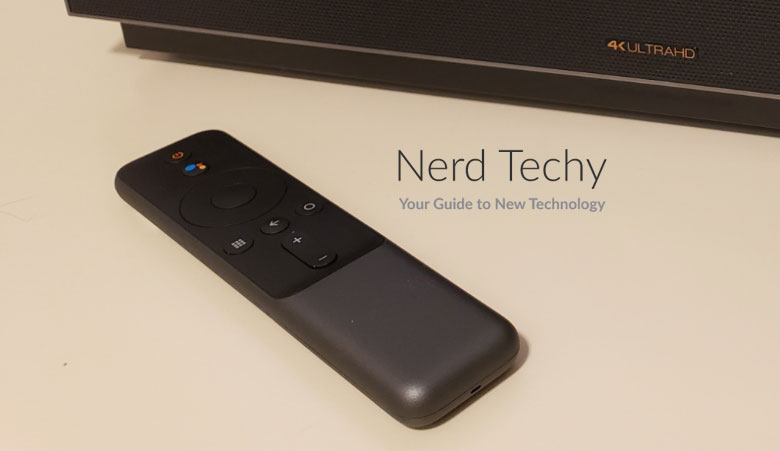 There are no smartphone app controls, and the remote is line-of-sight only. But that should be a non-issue; you'll probably be in the room while you're using it. Moreover, it supports voice controls via Google Assistant. Just push the voice assistant button and tell the system what you want.
One other feature we should point out is the 8-point keystone correction. This allows you to fine-tune your video's angle and get all the corners nice and square. In general, the feature works quite well. But at certain distances, the top of the video can end up with a small ripple in it. You can usually fix this by making a slight adjustment to the projector's placement.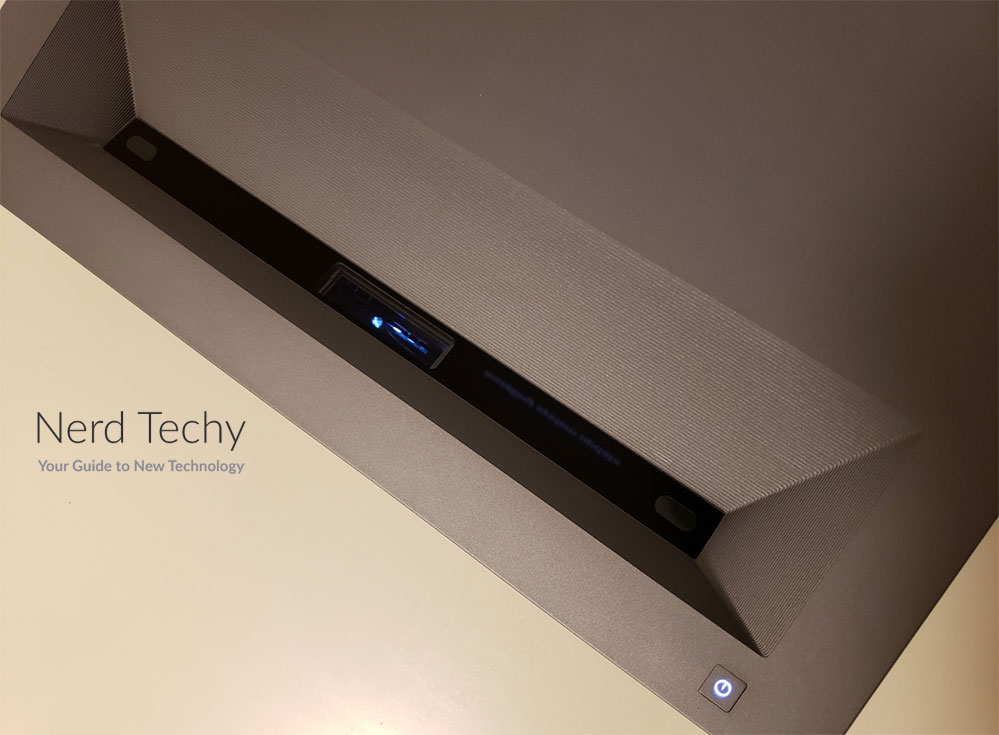 Extra Features
The Nova comes pre-installed with Android TV. This is a special version of the Android operating system that's designed for projectors and set top boxes. It has more than 5,000 built-in streaming apps, including Hulu, Disney+, and HBO Max. That's an absurd number of services, so you can watch pretty much any show you want to. It's really easy to navigate to whatever content you want to watch.
That said, there's one major missing service. For various reasons related to licensing, Netflix is currently unavailable. This is unfortunate, but WEMAX has a workaround. They recommend installing Aptoide TV, which is a free app that will install on the Nova. Within Aptoide TV, you can then run other apps such as Netflix.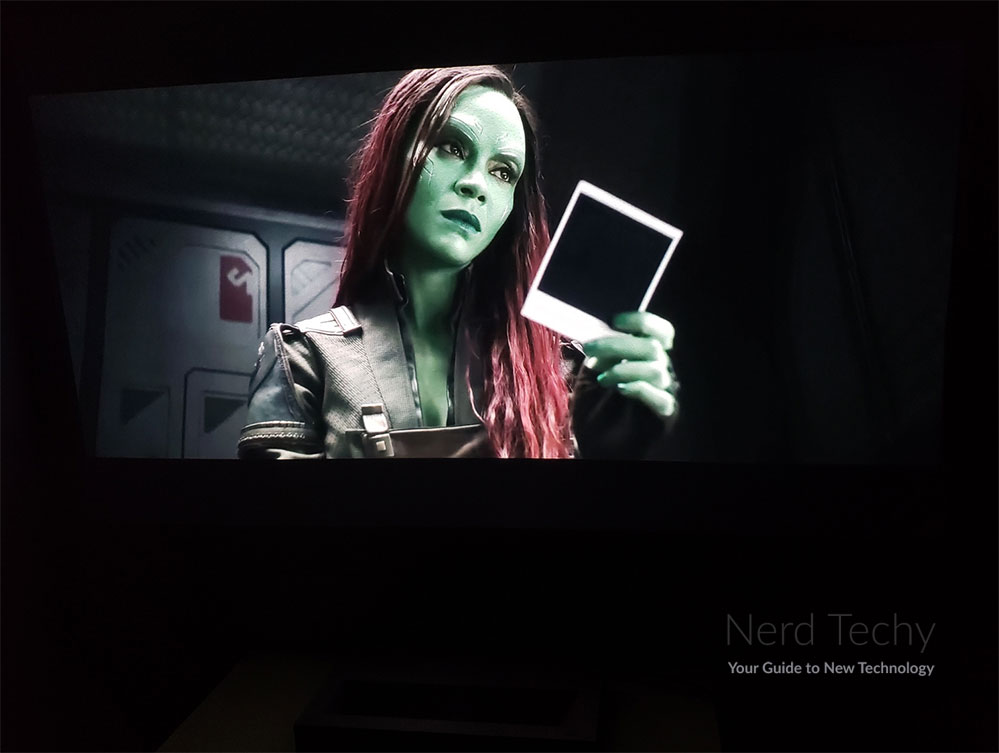 In addition to top-quality video, the Nova also comes with some impressive audio capabilities. A lot of projectors have cheap, tinny speakers, and you need to have an external set of speakers. These, on the other hand, are loud and clear. The 30-watt Dolby HD speakers provide excellent frequency response from the low end to the high end. In terms of volume, they're comparable to a pair of high-end TV speakers. Music, movies, television and more, all sound exceptionally good with rich details and good bass. And with all the connection options, you can always connect an external soundbar.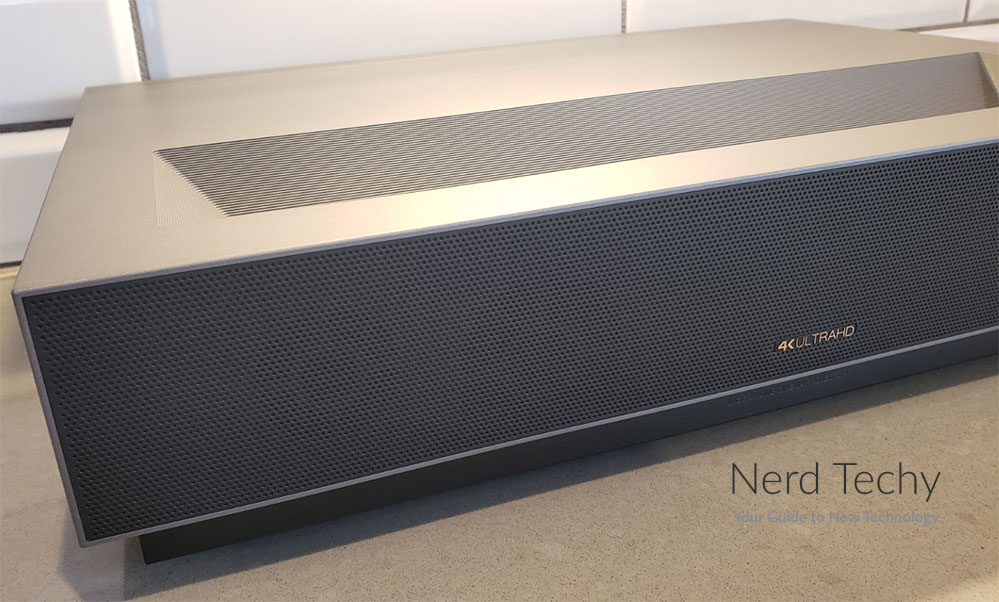 Final Verdict
The WEMAX Nova 4K is a beautifully designed little machine. For one thing, it's a short throw projector. You can put it close to your viewing surface, which is far more convenient than a traditional projector. Despite that, it can create up to a 150-inch image.
The video quality is top notch. Most so-called "4K" projectors are just 1080p projectors with downscaling for higher resolutions. Well, here it is; a real, honest-to-goodness 4K projector. Beyond being incredibly sharp, the video is also bright and vibrant. With a 2,100-lumen bulb, you'll get clear colors under any lighting conditions. And a 3,000:1 contrast ratio makes it easy to see dark scenes.
There are more connectivity options than you'll know what to do with. Three HDMI inputs allow you to connect multiple inputs. And with CEC and ARC support, all your devices will work in concert. You don't even need to have any devices. The Android TV operating system gives you access to thousands of streaming apps. Just connect to the web and start watching.