The Thrustmaster VG features a 'Hands on Throttle and Stick (HOTAS)' configuration, allowing you to enjoy a full gaming experience. An incredible addition to civilian, space, and military flight simulators, this accessory might not bring any revolutionary changes to video games, yet it definitely has what it takes to improve the overall experience and add some extra agility to the process.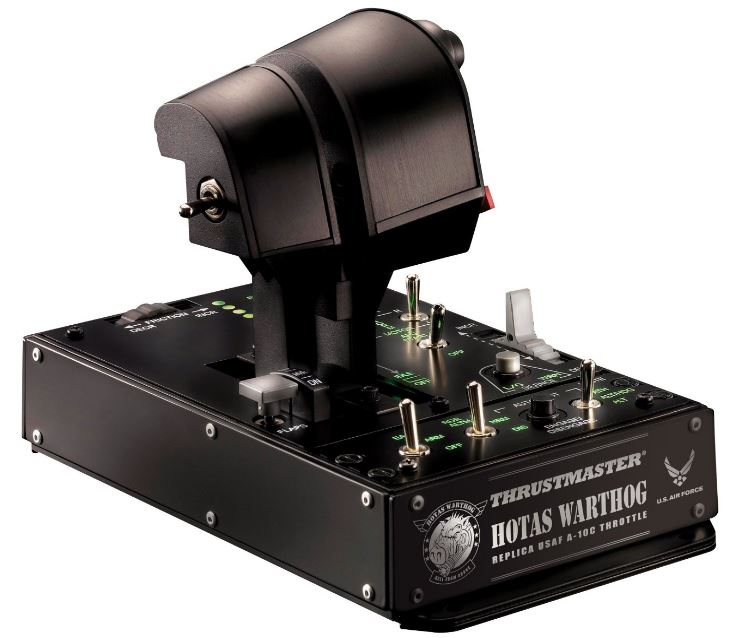 Dual throttles, 3D sensors, 17 action buttons – all of these elements ensure a high degree of precision that can boost your experience. In addition, you can combine it with any other multi-USB joystick. Additionally, it offers a solid and stable control panel with a backlit display that's carefully built to ensure outstanding usability.
Features
The Thrustmaster VG Warthod Dual Throttles and Control Panel is a great gaming accessory for simulator fans. It features double throttles, and each of them is equipped with 3D sensors, ensuring a high level of precision while playing. The combination of throttles and a control panel is a very user-friendly one, allowing you comprehensive game navigation and increased control over the entire gaming process.
Not surprisingly, Thrustmaster runs on Windows – 8, 7, XP and even Vista – which is great news for the users who still have it. Yet, it's incompatible with Mac and Linux. Of course, this is quite a common problem for Apple users – there's little choice when it comes to video games and accessories.
Yet, to be completely fair, it's surprising that some manufacturers still optimize their products for Windows Vista – the system was such a failure that few users would actually care about Vista compatibility these days.
This Thrustmaster controller includes 17 buttons, 1 multidirectional 'perspective' hat, and a two-axis mini-stick. Thrustmaster made a huge effort while working on these control buttons – all of them are extremely easy to use, they manage to create realistic sensations, and ensure great, pinpoint precision results.
However, the question remains – how many will you actually use while gaming? Most likely, a small percentage of gaming addicts will remember which button is responsible for what. The majority of people, though, will probably stick to the throttles while playing. So, the effort is nice, but most likely – excessive.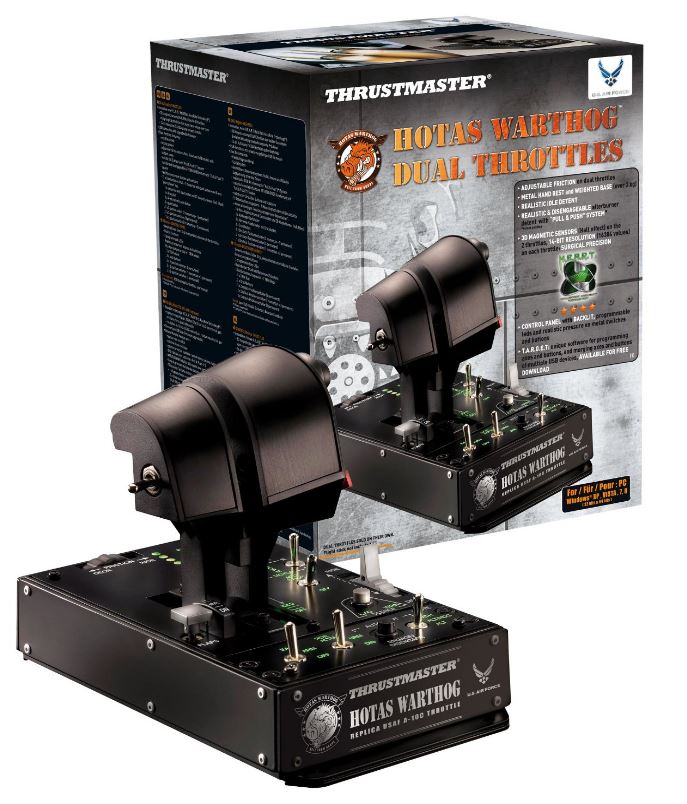 The whole device is designed to ensure maximum comfort while using it. It has a surprisingly cozy metal hand rest, so you can play for hours without feeling fatigue. In addition, to make the gaming process an even more relaxing experience, it features a locking mechanism that allows you attach controllers to a customizable friction system. The idea behind the whole thing is to ensure linear, firm, and smooth tension while playing. The feature also eliminates dead zones entirely.
The Thrustmaster VG Hotas Warthog Dual Throttles and Control Panel connects to your device over USB. No other connection options are available. Like many other things, USB-connectivity has its pluses and minuses. On the one hand, you will not need any batteries. On the other one, USB cords make you 'stick' to a particular distance, which is not always convenient or even possible.
It's quite easy to update it – just plug the USB in, go to the manufacturer's website and simply drag the updates to the relevant folder. It's powered by Thrustmaster's Advanced programming Graphical Editor (a.k.a. T.A.R.G.E.T.). This is an advanced, bug-free technology.
Both throttles and all of the 17+ controls are incorporated into a solid metal base, which is pretty heavy (almost 7 lbs). Yet, this should not be much of an issue – you will not have to carry it around, anyway. Plus, such solid construction accounts for the increased durability of the product.
Thrustmaster has an official license from the U.S. Air Force – replica throttles and replica control panels are officially pre-approved for Windows PCs.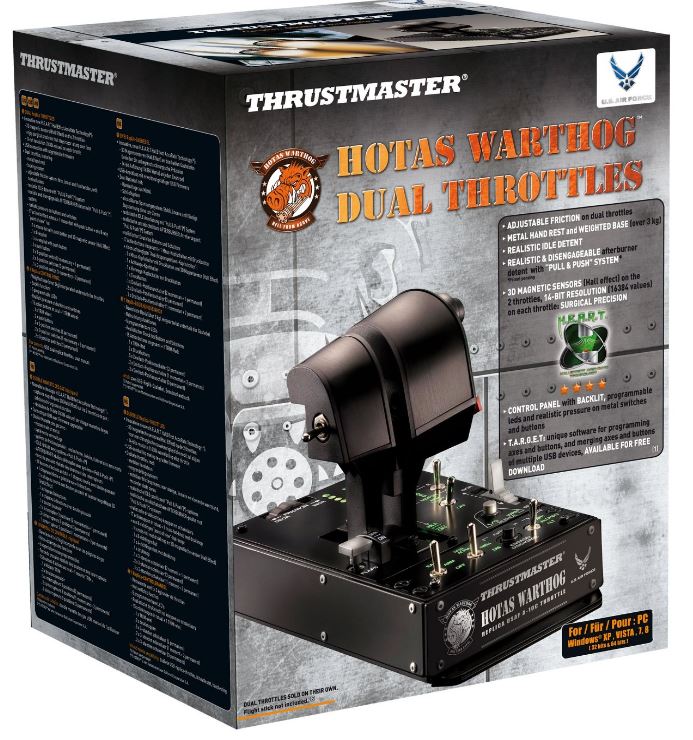 Another advantage is that it features a very realistic idle detent, as well as afterburner detent. In other words, even as you move to the lowest (idle), or the highest (afterburner) point of your throttle, the game will crash or glitch. One should think that all devices should have this feature, but in fact, it's quite rare for PC video games and accessories. Thrustmaster did a really good job with that – plus, the detents can also be customized to your preferred settings.
The Thrustmaster VG Hotas Warthog supports quite a lot of games and features a high definition without standing resolution. The controls ensure very precise, almost surgical precision while gaming. The throttles are equipped with both 2D and 3D sensors, ensuring maximum satisfaction during any simulation game.
Pros
Great for a wide range of flight simulators (military, civilian, space)
Compatible with Windows XP/Vista/7/8
Features high resolution (14 bit, 16 384 values)
Powered by Hall Effect Accurate Technology
Features 2D and 3D sensors
Easy to upgrade
Is placed on a very solid platform
Compatible with other mini-USB joysticks
Easily switches between the fight modes
Cons
Compatible only with Windows
Connects over USB exclusively
Does not support racing games
17 control buttons are a little confusing and you do not actually need all of them
Rather expensive in comparison to other models
Often unavailable in most stores
The Verdict
To be frank, there is nothing wrong with the Thrustmaster VG Hotas Warthog. On the other hand, there's nothing truly extraordinary about it either. No doubt, it ensures a high level of precision while playing the games you love. It's also equipped with several useful features, including delays, realistic detents, and easy updating.
Meet Derek, "TechGuru," a 34-year-old technology enthusiast with a deep passion for tech innovations. With extensive experience, he specializes in gaming hardware and software, and has expertise in gadgets, custom PCs, and audio.
Besides writing about tech and reviewing new products, Derek enjoys traveling, hiking, and photography. Committed to keeping up with the latest industry trends, he aims to guide readers in making informed tech decisions.