Imagine if you could take your favorite TV shows and make them even more immersive, exciting and fun than they already are. Nowadays, television shows are being made with nearly the same production value as some major Hollywood blockbusters, but instead of being consumed in theaters, they are available right in your home.
This can be both good and bad. The ability to watch stunning productions from the comfort of your living room is certainly a nice advantage, but staying home can also limit your ability to enjoy a really great piece of television. Why? Because the quality of what you're watching will always depend on the capabilities of your home entertainment gear.
Sure, you can use Netflix or Hulu on a laptop or a small TV, but it just isn't the same as seeing a big cinematic adventure unfold on the big screen. But things are changing. Technology is becoming more sophisticated, more affordable and more portable, especially when it comes to home theater gear.
Many people are finding that their televisions aren't cutting it anymore, and that projectors are a significantly better, more captivating way to watch their favorite content. Many of these devices are capable of producing images that are positively jaw-dropping, and make you feel like you're actually in the middle of the action. However, like any electronic gadget, it pays to do your research and understand both the downsides as well as the benefits.
In this review we're going to be taking a look at the DR.J 1800 Lumens 4-Inch Mini Projector. The DR.J Mini Projector is a sub one-hundred dollar projector that is tailored to viewers who want to watch their favorite television shows in outstanding detail and with a distinctly theatrical feel. We're going to be examining the design, technical specifications, special features, accessories and any downsides to the DR.J to give you a fully comprehensive view of what this portable home entertainment system can deliver.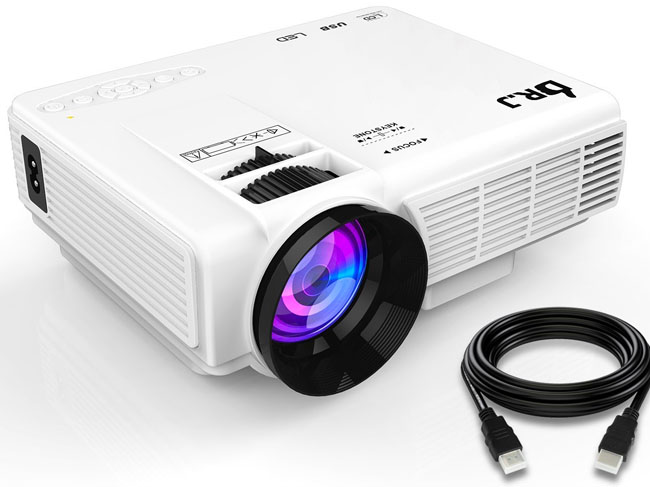 First Impressions
It helps to preface our initial analysis by pointing out that the DR.J is among one of the most inexpensive mini projectors on the market. It's by no means flimsy or cheap, but is lacking some of the robustness of other projectors we've seen. The plastic shell is solid, but it isn't the kind of device you want to drop or bump into.
While the plastic exterior is strong, we didn't feel like it would be thick enough to protect the electronic components contained inside. To the projector's credit, we did find it to be incredibly small and lightweight. It measures at just 2.7 x 7.8 x 6.02 inches and weighs in at just 1.9 pounds. Considering that projectors sometimes need to be moved in order to achieve the right picture quality, we found its convenient dimensions to be a huge bonus.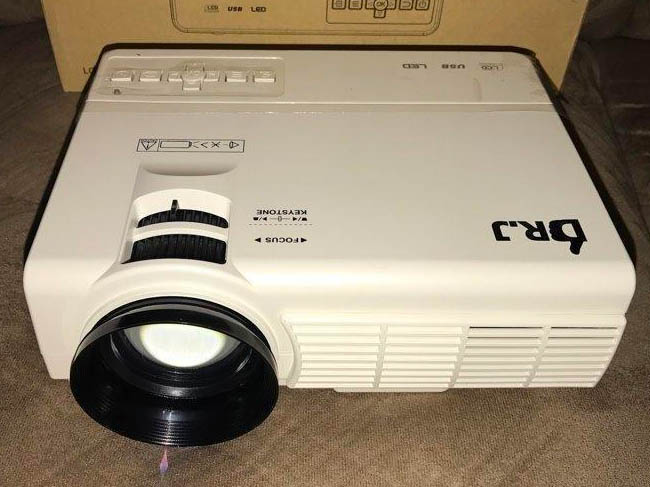 It's worth noting that the projector only comes in white, and at first we saw this as a slight drawback, but we realized that a device like this is typically only used in the dark. This made us think that white was, in fact, the best color for it. A darker color would make it difficult to operate in the dark, so our opinion was the brighter the better.
The exterior of the projector is fairly well-equipped, but not jammed up with buttons or plugs. On the top you'll find some control buttons. Aside from the power button, it wasn't totally obvious to us what each button did, but we did find a manual inside the box, and trusted that it would explain some of the functions. On the top of the projector we found two dials.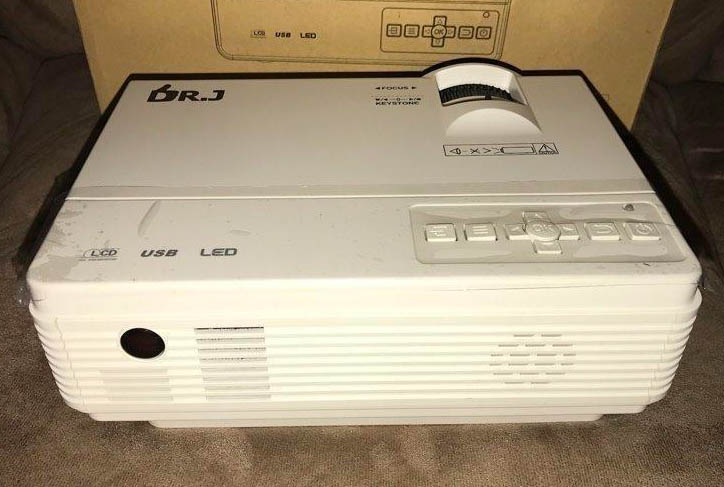 The first dial controls the manual focus of the lens, and the second allows you to adjust the keystone. We were pretty pleased to find the keystone adjustment and focus so readily available. Even before turning the projector on, we felt like the placement of these settings was smart, intuitive and ergonomic.
On the right side there's a VGA port, a USB port, an HDMI port, an SD card slot, an AV plug as well as a headphone jack. The versatility in these ports is certainly a bonus at first glance, but did leave us curious as to how each one would handle certain types of media. For example THZY claims that you can play media from mobile phones, laptops, gaming consoles and tablets, so we were eager to see which one yielded the best performance from the DR.J.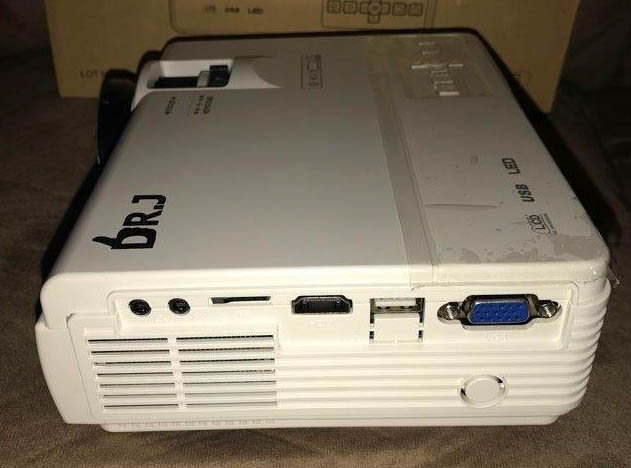 Technical Specifications
On the left side you won't find much except for a port for the included power cord, but it is worth noting that the entire projector is surrounded by a few rows of easily gripped ridges that open up on one side to act as a ventilation system. It wasn't the most stylish look, but for practical purposes we could see why it needed to be a part of it.
The DR.J has pretty standard specifications, but is still a very powerful machine. It's capable of brightness up to 1800 Lumens, which is impressive when compared to competitors with similar price points. However, there are higher limits for brightness in other products such as 2400 lumens, but these come at a higher price. Essentially, you'll get what you pay for.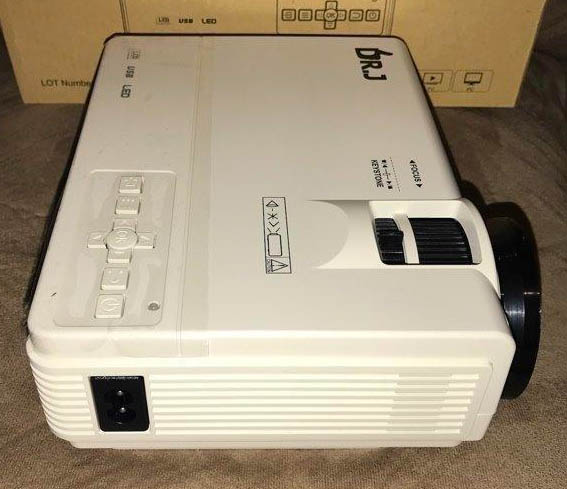 It also has a contrast ratio of 2000:1, which THZY claims is 70 percent brighter than other projectors. If you don't know what contrast ratio is, it describes the brightness of the brightest color, usually white, to the brightness of the darkest color, which is usually black. A high contrast ratio in a projector usually describes how well it can depict both ends of the color spectrum. In the case of the DR.J, 2000:1 is excellent, but we couldn't be sure if it was an accurate description until we turned the projector on.
The DR.J also contains a five-layered well-grinding LCD lens to improve resolution. Furthermore, THZY claims that it uses healthy-diffuse reflection technology in order to prevent direct light emitted from the lens from harming a viewer's eyes. Lastly, the DR.J is highly energy efficient, and can last up to 10 years even if used 10 hours per day. From a technical standpoint, it's well-made, and even though the design wasn't particularly sleek or attention-grabbing, we were confident that it would be able to perform well based on the components.
Special Features
The DR.J is loaded with features that make it extremely versatile for just about any type of media, but primarily we felt that it was best suited for TV and movies. First and foremost, its wide array of capabilities is truly outstanding. It's capable of playing an astounding number file formats. For example, it can play MP3, WMA, ASF, OGG, ACC and WAV audio files, as well as 3GP, AVI, MKV, MOV, MP4, MEP VOB AND MPG video files. And if that's not enough, it can also handle JPEG, BMP AND PNG image files. While we didn't think it was meant primarily for slideshows, the DR.J could easily project images with the same clarity as videos just based on its compatibility alone.
It also came with built-in stereo surround sound. Contained inside the unit are two powerful speakers that project sound out of the bottom portion. We would have liked to see them on the side or maybe in the back so as not to obstruct the sound, but having two on-board speakers was still an excellent feature that made the experience of using the DR.J even more immersive.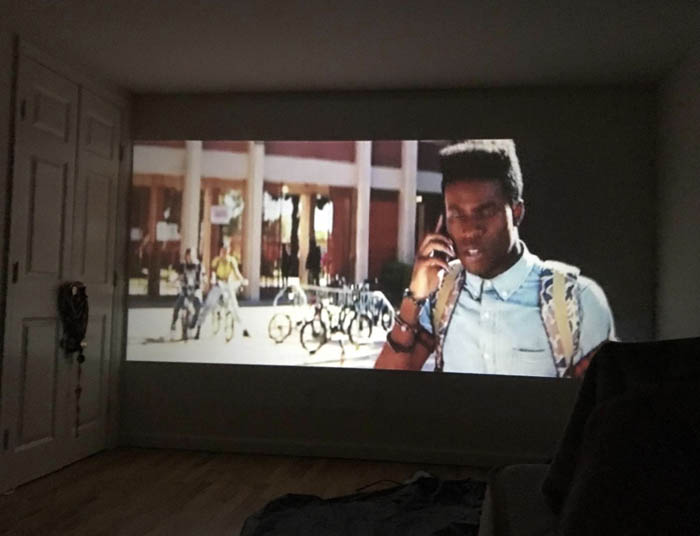 Its projection capabilities were nothing out of the ordinary, but still good enough to get the job done in most living spaces. It has a projection distance from 1 meter to 5 meters and can project an image from between 32 inches to 170 inches in full HD. This feature is great to have on board, because it makes the projector easily customizable to a number of different projection surfaces. You won't necessarily need a projection screen, as long as you have a wall that falls somewhere within the display sizes of the projector.
The most impressive feature of the projector is, without question, its ability to work with Google Chromebook's as well as the Amazon Fire Stick. While it can also handle a variety of other devices, we were very pleased to find that it worked with the Amazon Fire Stick. Because of the wide-variety of content available on media player like the Fire Stick, the ability to use it in the DR.J made the combination of devices an amazing combination for home entertainment. In a way, you won't need much else to stay busy with this feature. That being said, you can still use devices like smartphones, tablets and USB flash drives to play media if you choose.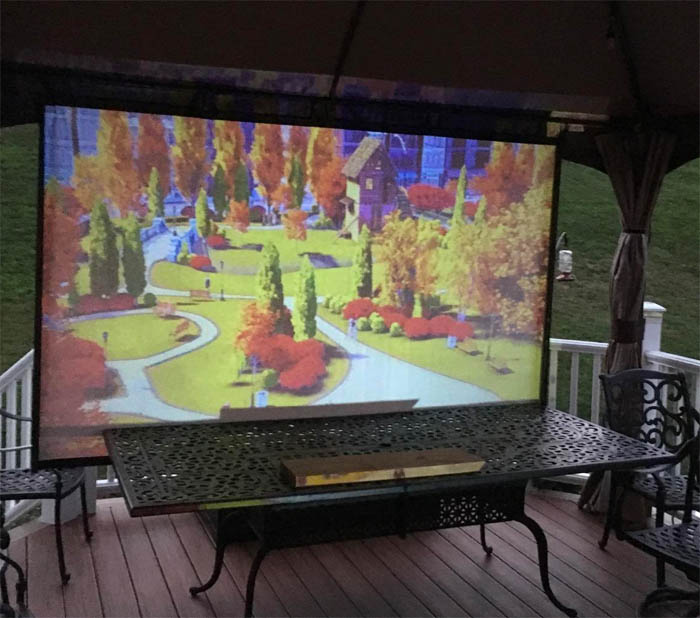 Video Quality
The DR.J does live up to its specifications, but like any piece of home entertainment equipment it came with some limitations. The color ratio did seem pretty close to 2000:1, but was sometimes affected by the brightness in the room. This isn't the kind of projector you'll be able to use in a brightly lit office for a presentation, but in a dark space that is meant for watching movies or TV shows, it works great. In fact, we found that the darker we could make the room the better.
The image itself is bright and crisp, with almost no blurring or artifacts, as long as the focus and keystone are adjusted properly. This took some tinkering on our part, but this isn't atypical of projectors in general. We did find that the size of the projection we choose had some effect on image resolution. For example, the larger we made our image, the lower the resolution. It's a technical flaw in many projectors, and really just comes as a result of the pixels being spread out too far.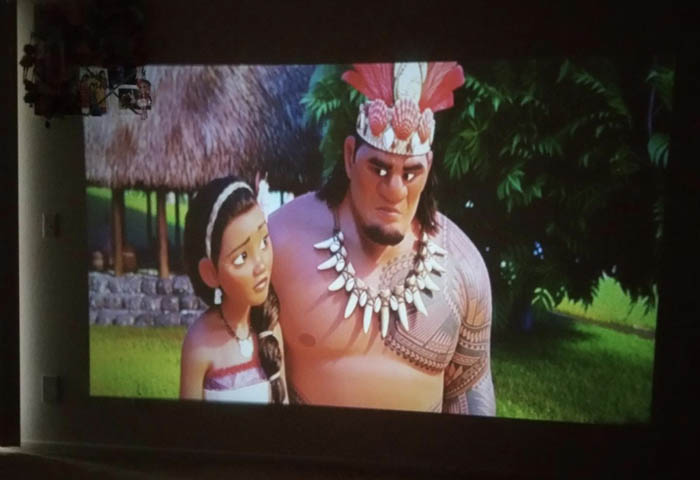 Still, we would have liked for the DR.J to be powerful enough to yield the same resolution in a number of different image sizes. That being said, as long as we set the projector up properly and in the right environment, we noticed that projections were crisp, clear and appeared to be in full 1080p.
Drawbacks
Our two biggest criticisms of the DR.J were the tediousness of using it wirelessly, as well as the limited options for video resolution. To use the DR.J as a wireless projector, you'll need to purchase a wireless HDMI dongle. No one likes having to spend money on extra equipment to have to use a feature of something they just purchased, so we saw this as a pretty big inconvenience. Not to mention, a wireless HDMI dongle can be an expensive accessory.
We also would have liked to see options for higher video resolution. While this is a new device, so many forms of media are now being released in higher resolutions, and soon it'll be the norm. While the DR.J can hold its own today, it may be rendered obsolete when nearly all forms of media are released in resolutions greater than 1080p. Outside of these two shortcomings, the DR.J is still a high-performing projector; we just felt that it could have been a bit better in these two ways.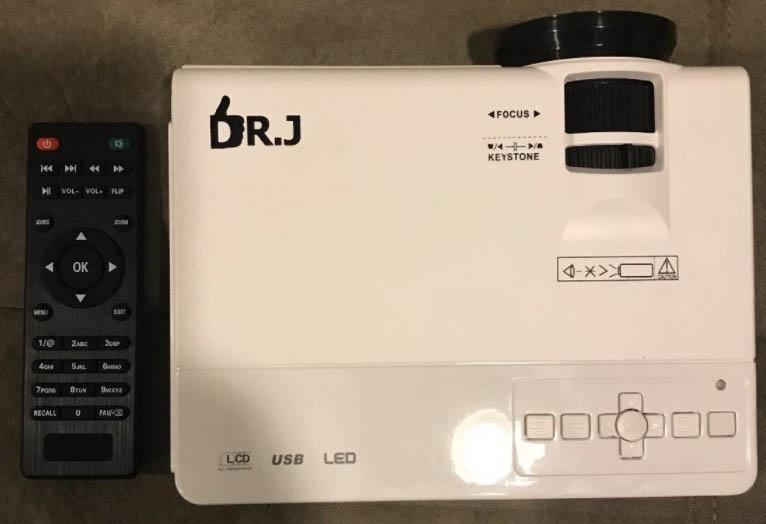 Final Words
The DR.J is a solid home entertainment projector for someone looking to watch movies and TV shows or play video games. It isn't the best choice for offices or for slideshows, but it does have enough power and a high enough resolution to work as a stand-in if need be. The most impressive part about its ability to work with the Amazon Fire Stick.
When using it with a device like the Fire Stick, it became a single, universal entertainment system. It also performed well for its price point but, as expected, came with some limitations. Regardless, if you're in the market for a projector that can give you the experience of being at the movies or give your favorite TV shows a more immersive, live feel, definitely give the DR.J a look.