As a newest release from Transcend, the Storejet Cloud 110 and 210 give you the ability to backup your computer, tablet, desktop or mobile device with ease. As a personal cloud storage device, it's designed to be a huge help to those who need a fast and effective way to securely backup your data without any annoying recurring fees.
We're going to take a closer, more in-depth look to see what it has to offer and give some insight for those who may be interested in learning more about it.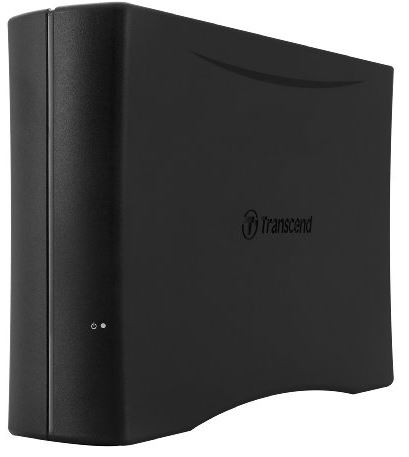 110 Megabytes Per Second of Data Transfer Speed
While the universe of physical media isn't obsolete it seems to be on the way out. For those storing music, movies and other types of streamable content, there are inherent benefits to data transfer speed.
For starters, rather than having to move your media to an appropriate device, it's much more convenient to have quick, wireless access to streaming. Both the Storejet Cloud 110 and 210 provide for that with their impressive performance. Before discussing all of the advanced features, it's worth mentioning the amount of power consumption that's required.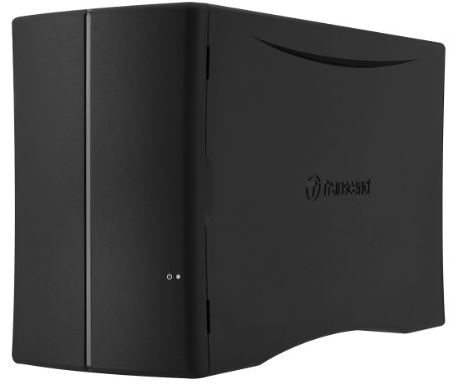 When transferring, backing up or streaming your data, any high performance cloud device will use a considerable amount of power. These require an external 100-240 volt AC power source, at a frequency of 50-60 hertz. That being said, there's also an economic power saving mode that saves a substantial amount of power consumption when it's idling. You can also select a time in advance to automatically activate this feature.
Terabytes Worth of Expandable Storage Space
The Transcend Storejet Cloud 110 and 210 differ in few major ways, being the amount of storage they have, the number of hard drive bays, and their price. While the 110 offers 4 terabytes of capacity, the 210 offers 8 terabytes. It also features two bays for multiple 4 terabytes hard drives being used simultaneously, although you can replace the hard drives you use with either one.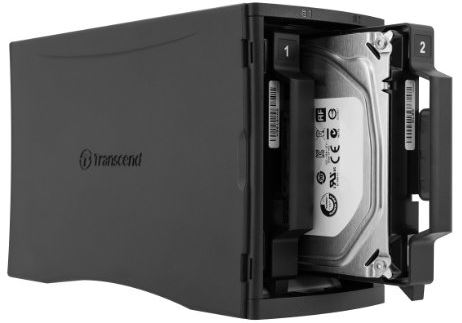 Another feature that the 210 has in this area that the 110 doesn't is RAID 1 technology, which is made possible by its two bays. What this does is allow you to duplicate exact copies of all of your files in real time, so that you always have an active back up in the event that one of the hard drives fails, becomes corrupted or needs to be replaced. You may be aware that there are more advanced versions of RAID technology, being RAID 5 and RAID 10, however RAID 1 is the most advanced version that can be used with a minimum of two bays.
In the event that you require more active space than is made available by either model, there's a USB 3.0 port that can integrate with your network. USB 3.0 is ten times faster than USB 2.0 so you're getting a top-notch way to physically connect it to your PC or Mac if need be.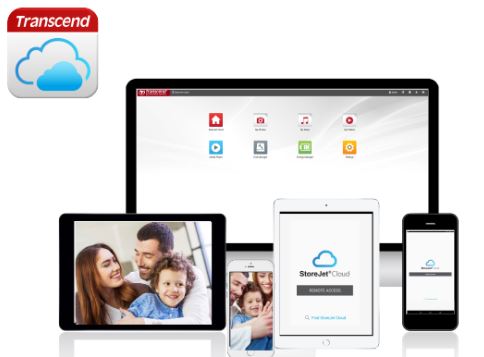 Massive Compatibility with Wireless and Smart Devices
The Storejet Cloud 110 and 210 are compatible with both Windows and Mac as well as iOS and Android devices. There's also a dedicated smart app for both platforms, called Transcend Storejet Cloud App. Getting started with your mobile device is a streamlined process with three steps.
Plug your Storejet Cloud 110 or 210, power it on and connect it to the internet.
Download and start the Transcend Storejet Cloud App on your mobile device, and make sure that you're connected to WiFi.
Create an account with a password.
The app itself has been designed intuitively with the notion that it has a few desirable functions. It provides quick access to set up, upload, backup and streaming features without clutter.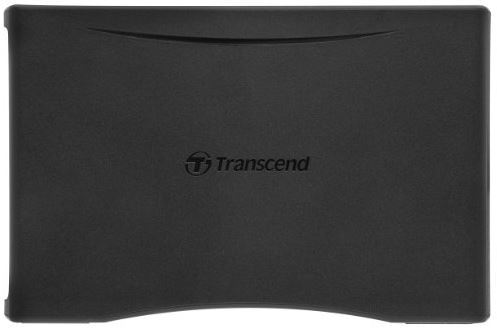 Media Streaming Services and Compatible Hardware
The Transcend Storejet Cloud 110 and 210 have been given certification from the Digital Living Network Alliance. This is an organization of consumer electronics companies that works together to ensure greater cooperation between devices. One of the advantages of this is that you'll likely find that streaming is more stable and consistent.
You can use DLNA compatible smart TVs to stream and playback media files, as well as DLNA compatible PlayStation consoles. There's support for specific brands and services, such as Apple TV, Amazon Fire TV, Chromecast, LG and Samsung smart TVs and Roku devices.
You can also stream media directly to your smartphone or tablet via the Transcend Storejet Cloud App. This is an advantage, since a lot of this functionality would be completely useless if you don't own a smart TV.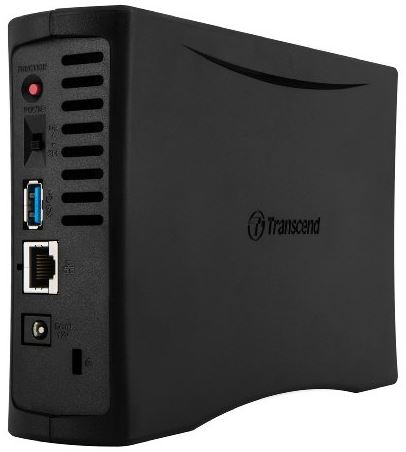 Secure Data Sharing Options and Full Backup Functionality
Families and businesses alike have a desire to store sensitive and valuable data that, if someone were to intentionally hack into it, could potential cause a lot of damage.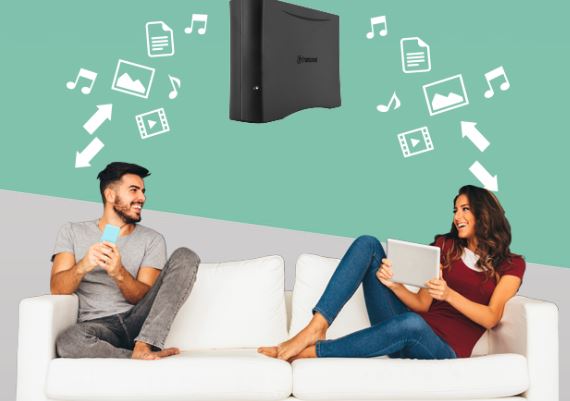 One of the methods that the Storejet 110 and 210 use to provide privacy and security, is by offering multiple personal accounts. This allows you to create individually managed and optimized user profiles, with or without requiring passwords. Each person or profile has their own set of files that nobody can access without the proper authorization.
For files that don't contain sensitive data and information, there's also a public file where you can store all of the media. Some examples include movies and music, that you want quick access to, without remembering and entering passwords or moving through multiple file locations.
Another security measure is the full backup capabilities that can protect you from a potentially more lethal form of safety interference, which is data loss or file corruption. We've already mentioned the RAID 1 dual back up capabilities of the 210's dual bay integration, however there are other things worth mentioning as well.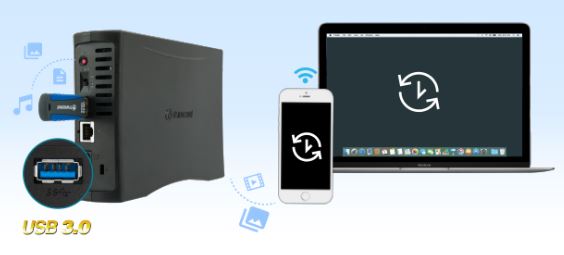 First, whenever a USB storage drive is plugged into the USB 3.0 port, you can press the one touch backup button. It'll then automatically be stored immediately on your cloud network. Additionally, the entire back up process has been streamlined. With functions like Apple Time Machine, all of your files are stored on one device.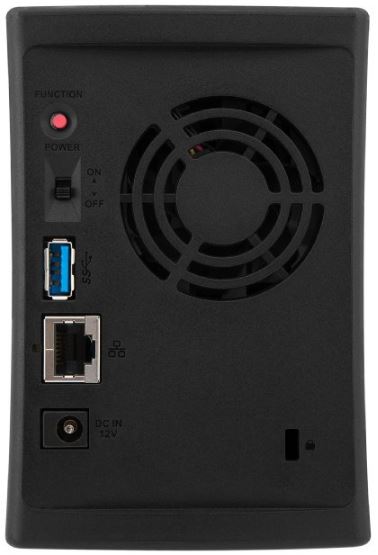 Overview of Hardware, Durability and Economic Value
The Transcend Storejet Cloud 110 and 210 weigh a full 2.3 and 4.6 pounds respectively, and are both 5.1 inches long. However, the 210 is about twice as wide, and overall they're both quite compact and easy to store.
The safety measures of the RAID feature on the 210 do exceed the 110 and help ensure the security of your backed up files, however they're both backed up by a full two year limited warranty.
In terms of economic value, the amount of money you'd spend on a cloud service offering all or even most of the same features, are likely worth it on their own in some regards.
Final Thoughts
Both the Storejet Cloud 110 and 210 are great options. Overall, it's nice to see a new release from Transcend – it's been a while! They're keeping up with the times by offering USB 3.0, up to 8 terabytes of capacity and full compatibility through multiple devices. Best of all, there's no need to spend money on expensive cloud fees that you may have become accustomed to in the past.