We have no choice but to be picky about the headphones we buy. When you calculate all of the time we spend listening to music and podcasts, and then add the amount of time we spend watching movies on Netflix and videos on YouTube, the result is that we wind up wearing headphones about 80% of the day. That is a very significant amount of time. When you're wearing something for 8-10 hours per day, especially something with close physical contact, you're going to want to buy a pair that are super comfortable, full of great features and great sounding.
While earbuds are always an option, we find that prolonged earbud usage causes us to produce excessive earwax. Yes, it's gross, but it's the reality of the situation. Who wants to spend half of their income on cotton swabs? We also aren't huge fans of the massive ear discomfort caused by in-ear headphones. Our sensitive, little ear holes weren't made for prolonged penetration. So with red and irritated ear canals in toe, we began our quest to find the most well-rounded pair of wireless headphones on the market.
The problem you'll encounter when shopping for wireless headphones is the massive number of fake reviews on Amazon. Don't get us wrong; we love the eCommerce giant. We live and die by thier site. Unfortunately, the wireless headphone section is just a bit overrun by fake reviews. As much as it pains us to say it, all of the poor reviews make Amazon an unreliable source of honest and critical feedback. As a public service to our readers, we've decided to make ourselves the reliable option for honest headphone reviews. What is the only way to be a reliable review source? To give the headphones a go ourselves, of course.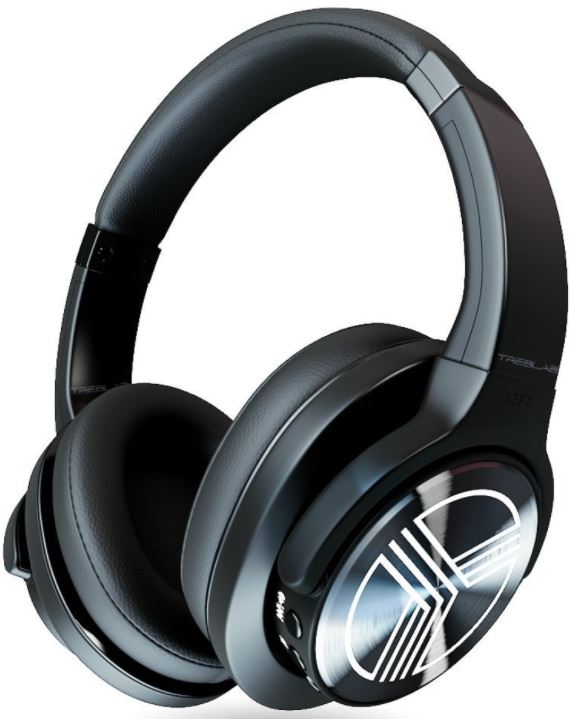 Background
We were able to get our hands on the Treblab Z2 wireless headphones, which gave us the chance to thoroughly evaluate their features. Treblab is a brand you may have never heard of, which is a shame considering the number of people who already use their products. Founded in 2015, they are sort of like the Stephen Tobolowsky of consumer electronic brands; both everywhere and nowhere at the same time. Often seen and never remembered. While their most popular products are their earbuds, such as the J1 and the XR500, the Z2 is a new entry into the active noise canceling wireless over-ear headphone market.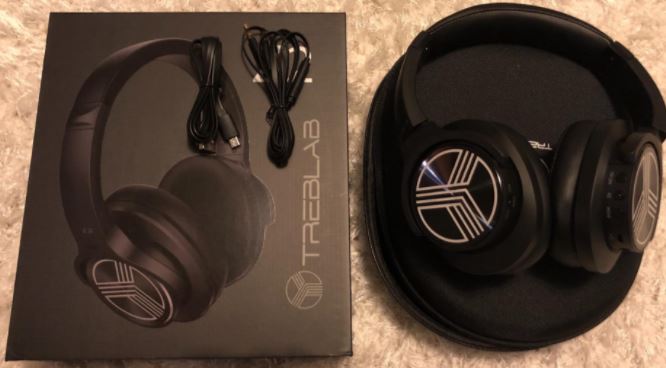 Battery Life
What first attracted us to the Treblab Z2 was its battery life claim. Treblab promises up to 35 hours of playback on a single charge. Anyone who has owned wireless headphones knows that one of the most concerning things about the technology is the battery life. Some wireless earbuds offer as little as 4 to 5 hours of battery time. What are you supposed to do if you use them at work? Buy two pairs? No, that's not how it should work at all. For working out, that might be satisfactory, but just take look at us; when is the last time you think we were at the gym? Trelab's estimate of 35 hours seems to check out. It takes about four to five hours to charge these bad boys back up, but that's very easily achieved overnight.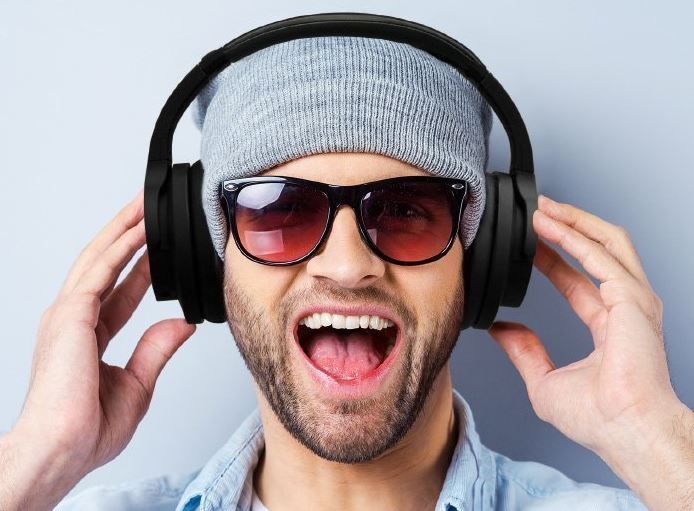 Bluetooth / Wireless Connectivity
Treblab claim that the Z2s have a Bluetooth range of about 38 feet, utilizing the power of Bluetooth 4.2 CSR. During our review process, we determined that Trelab's estimation might have been short-changing their own device. Our review model seemed to get about 40-45 feet of solid connectivity. In addition to the great range, the Z2s performed well when there was a wall between the headphones and the Bluetooth source.
Active Noise Cancellation
The Treblab Z2 uses a hybrid active noise cancellation system, meaning it places a microphone on the inside and the outside of the ear cup, creating a system built on feedforward and feedback ANC technology. They use a very broad range of frequencies to suppress background noise and manage the audio experience of the individual. The active noise canceling feature can be used in both Bluetooth and line-in modes. It can also be used when listening to audio or simply as a noise-isolating device. We tried out the noise cancelling in a variety of different circumstances.
The active noise cancellation worked just as effectively on our daily commute as it did on a long-distance flight. Because of its long battery life, we wouldn't have to worry about charging the Z2s, even if we were flying to Australia. What do you think of that, mate? Speaking of Australia, what kind of music does a kangaroo listen to? Hip-hop, get it? Insert a rim shot, slide whistle or womp-womp sound here, depending on your reaction.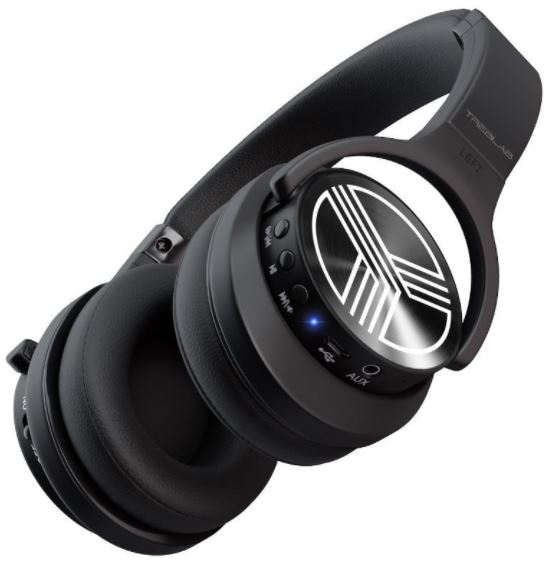 Sound Quality
The Treblab Z2's 40mm neodymium speakers are powered by the aptX low latency HD sound codec, which results in an all-around experience. They feature an impressive level of clarity, with vibrant highs, bright mids and well-balanced bass. They do not sound tinny or muddy, which is probably our biggest pet peeve concerning lower priced headphones. Bluetooth headphones can sometimes result in decreased audio quality, which is where the aptX codec comes into play.
We prefer the clear sound of the Z2s to some headphones that cost well more than double the price of the Z2s. The problem with the Beats and other similarly bass-boosted cans is that the blown-out lows can rubble your ears to the point of distraction. We have eclectic taste. Not every song we listen to needs to sound like an earthquake in our brain. The balanced sound of the Z2s is our preferred experience.
Build Quality and Comfort
The Z2s are very comfortable. They feature a pair of very-soft ear cups that shape to the natural contours of your ears and skull. The ear cups swivel to compensate for weird body positions or oddly shaped skulls. The problem we sometimes have with swiveling ear cups is that they can get a little wonky when we are laying propped up on your side. Since they have a little more give than headphones with a stiff arch, they tend to droop a bit, which results in some audio bleeding. We didn't have that problem with the Z2 headphones. They always seemed to fit comfortably flush against our noggins. Another potential problem is that anytime you add moving parts, there's a potential for mechanical issues. We haven't experienced any problems, but it's something to keep an eye on.
Controls
The Z2s control buttons are compatible with Android, iOS and other operating systems. On the right side, there are three buttons: the play/pause/pairing button and two other buttons which double as skip forward and skip backwards and volume buttons. The button on the left side headphone cup toggles the active noise cancellation on and off. The controls feel well-placed and we didn't experience any unintended button presses, even when we were laying down in bed. Pairing with our devices was super simple and a connection was made without a hitch.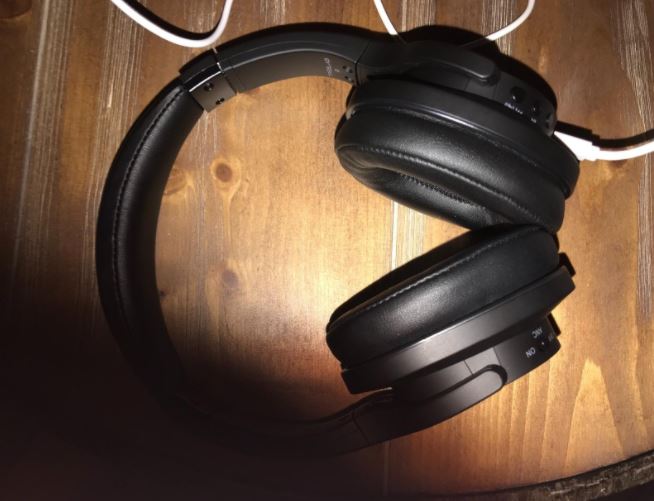 Customer Service
One of our favorite features of the Z2 is Treblab's lifetime warranty guarantee. If there as one thing we would change about the Beats, it would be their warranty and customer service experience. With the Beats, the burden of proof falls on the user. Even if you are experiencing an issue which is clearly due to poor build quality, Apple still tries to make you pay well-over $100 for simple repairs. The last time we owned a pair of Beats we wound up buying a new pair of headphones (a different brand, of course) rather than spending the money to get them fixed. Treblab is known for their excellent customer service. A lifetime guarantee with these headphones actually means a lifetime guarantee. While we haven't had any issues with our pair, we have read nothing but glowing reviews about Treblab's customer service experience.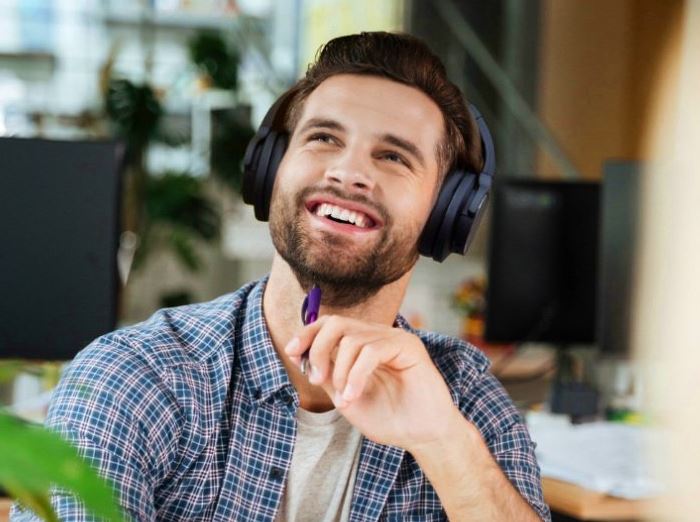 Water Resistance
The Z2s have an IPX of 4, meaning that while they might not be waterproof, they are safe against indirect splashing. We wouldn't recommend shooting it with a super soaker or dunking it in the toilet, but it would be fine if it was splashed while brushing your teeth or washing your hands. While the Treblab says that these headphones are great for the gym, I'd use them with a bit of caution, especially if you are a very heavy sweater. It would be a shame to ruin a perfectly good pair of headphones due to a particularly hardcore cardio sesh.
In The Box
Included in the attractive packing material are the headphones themselves, a nice, sturdy carrying case, and AUX cable for line-in listening, a micro USB charging cable and the user guide. The case features a mesh pocket on one-side, which is perfect for the cables, and a band of fabric on the other side which is for securing the headphones. This way, the Z2s aren't just floating around the case. Not included is a wall charging adapter, but this it's 2018, so you probably have 30 of them strewn across your home.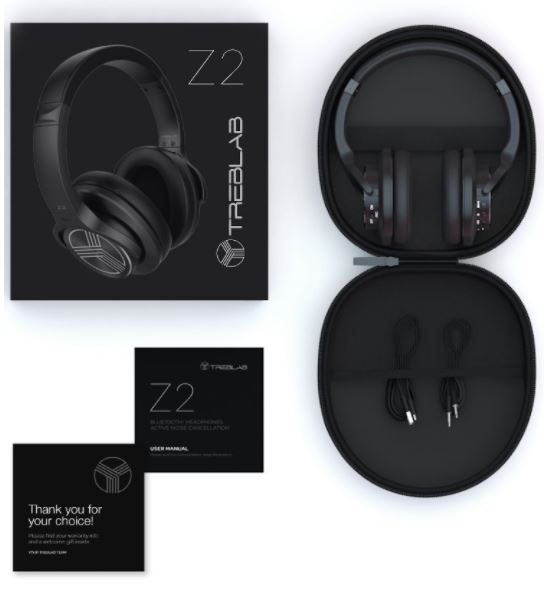 Final Thoughts
The Treblab Z2 headphones are a great wireless option for anyone looking for well-balanced sound and serviceable active noise cancellation. Considering how affordable they are when compared with some of their competitors, buying a pair of the Z2s is a no-brainer. With their long battery life, comfy ear pads and splash resistant design, the Z2s are a versatile choice. They might not be fit for the recording studio or optimized for head crushing bass, they are perfect for lounging around the house, jamming out to music at the gym or listening to a podcast at work.
Most importantly, the Z2s are a pair of headphones which you can comfortably wear all-day long without having to worry about charging them. As we said in the beginning of our review, we wear our headphones practically all-day, and even into the evening. With headphones being such a huge part of our lives, we have the right to be just a little bit picky about what we wear on our ears. The Z2s made us happy, and that's all that matters.
Meet Derek, "TechGuru," a 34-year-old technology enthusiast with a deep passion for tech innovations. With extensive experience, he specializes in gaming hardware and software, and has expertise in gadgets, custom PCs, and audio.
Besides writing about tech and reviewing new products, Derek enjoys traveling, hiking, and photography. Committed to keeping up with the latest industry trends, he aims to guide readers in making informed tech decisions.