Looking to take your online gaming experience to the next level? If you don't already own a high quality headset, now is a great time to get one. Although we prioritize graphics, we often forget how important sound is. But when your game sounds as good as it looks, a whole new layer of realism is added to your experience.
Additionally, a headset is an important way to keep in touch with your team mates. But if you buy a poor quality one, both you and your teammates are in for an unpleasant surprise. You'll suffer through an uncomfortable pair of headphones, while they'll suffer through a harsh and hard to listen to recording of your voice.
Note: At no extra cost to you, we may earn a commission for purchases using our links. Learn more.
We've already reviewed the Turtle Beach Stealth 600, and found them to be above average in all regards. But Turtle Beach also makes a premium version of these headphones, the Stealth 700. Are they worth the extra money? And what additional benefits will you receive? We went hands on to find out.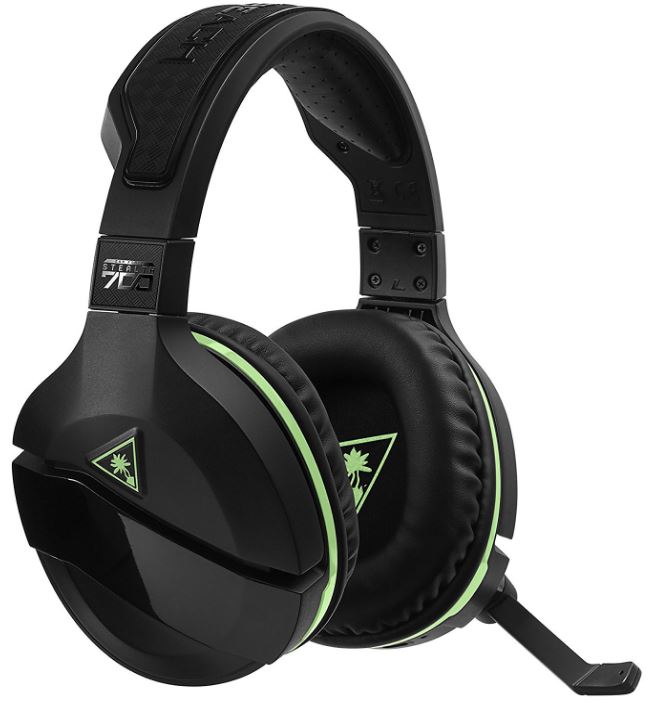 First Look
The Turtle Beach Stealth series headphones are designed for use with the Xbox One, PS4 and PS4 Pro. You won't have any messy wires, and you won't have to use an unsightly or unreliable adapter to get it running. Their man advantage on Xbox One is their support for Microsoft Sonic Surround – creating vivid 3D audio environments instead of the standard stereo audio everyone's used to. But all of these features are available in the 600. The 700 add features such as Bluetooth connectivity, so you can take calls and listen to messages from your mobile phone. They also offer active noise cancellation, letting you tune out everything except for your game.
Design
In our eyes, it's challenging to design a nice gaming headset. The market has a very polarized opinion on what is attractive. For some, a nice professional looking headset with a sleek design and modern appearance is ideal. For others, if it's not aggressive and flashy it doesn't stand out. But the Stealth 700's, just like their little brother, the Stealth 600, seem to strike a perfect balance. The ear cups are large, and feature both a matte finish as well as a glossy side. This provides some eye catching contrast, with the two sides divided through a decorative line etched in the side. Gentle curves are offset with precise lines, and the headphones take on an overall professional tone.
What about that aggressive look that gamers crave? This is provided by the lime green accents on the sides. A long band wraps around the ear cups, while the Turtle Beach icon decorates the size. Overall, these headphones emit style in all directions, and you'll be happy to have them on your head.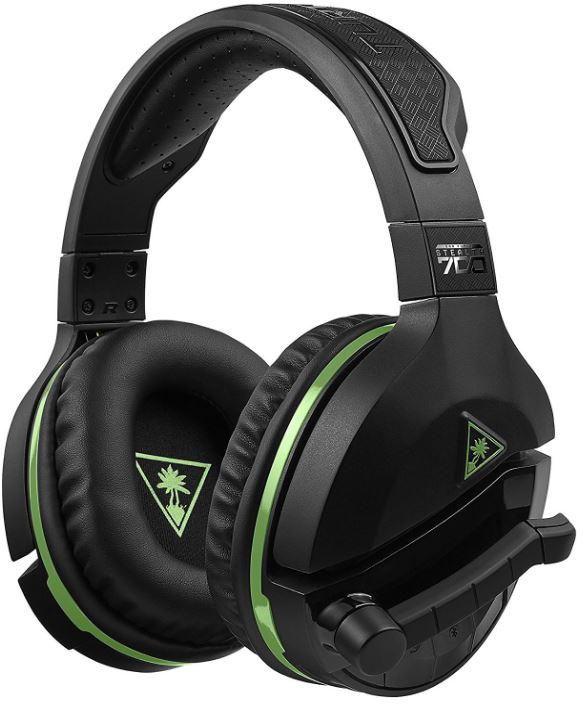 Audio Features
This headset has the same 50mm drivers as the 700's, and the audio quality is identical. You get tight, yet slamming bass, a smooth mid-range, and precise, clean highs. If you want to know more about the sound, you can check out our review here. The sound quality is great, but these headphones have a lot more to offer beyond what the drivers can do. Internally, there is an audio processor that can help enhance your audio beyond what your games were designed for.
The most powerful feature is the Superhuman hearing. At the touch of a button, the subtlest sounds will be brought to the foreground. An enemy reloading his weapon, footsteps approaching, or a gunfight off in the distance all become loud and clear. This gives you a clear advantage over your enemies, and can significantly improve your gaming performance.
Dynamic chat boost is a similar feature, but applies only to in game chat. If you're just winding down after a long day, you might keep the volume a little lower. With dynamic chat boost, you're able to keep the voices of your teammates loud and clear, while turning the gunfire down to a manageable level.
Looking to turn on your game and drown out the outside world for a little while? In that case, you'll be happy to learn that there is active noise cancellation built right in. Active noise cancellation actually measures and records all of the sound in your immediate environment, and creates an equal and opposite movement in the driver to cancel it out. This is significantly more accurate than passive noise cancellation, and the effect is impressive. Your game sounds as if it's coming from a blank canvas, and the second you put this headset on you'll have the would around you seem to melt away.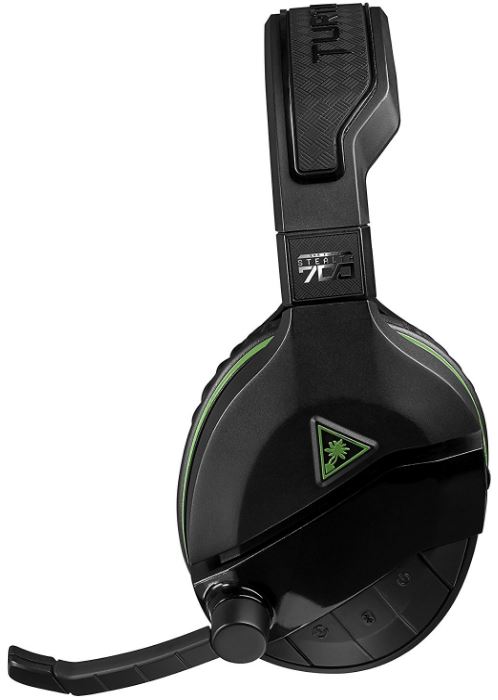 Surround Sound
Windows Sonic Surround Sound is a technology taking the market by storm, offering surround-sound like features in a stereo package. It works by transmitting the individual sound effects to the headphones with special data. By understanding how the sound travels, the timing can be lightly tweaked to produce more special awareness.
It might not be precise as a carefully engineered 5.1 system, but you definitely notice it. You can see in your mind whether audio is coming from in front of you, behind you, or from either side. This helps you react quicker to audio clues, and is yet another edge for the competitive gamers out there.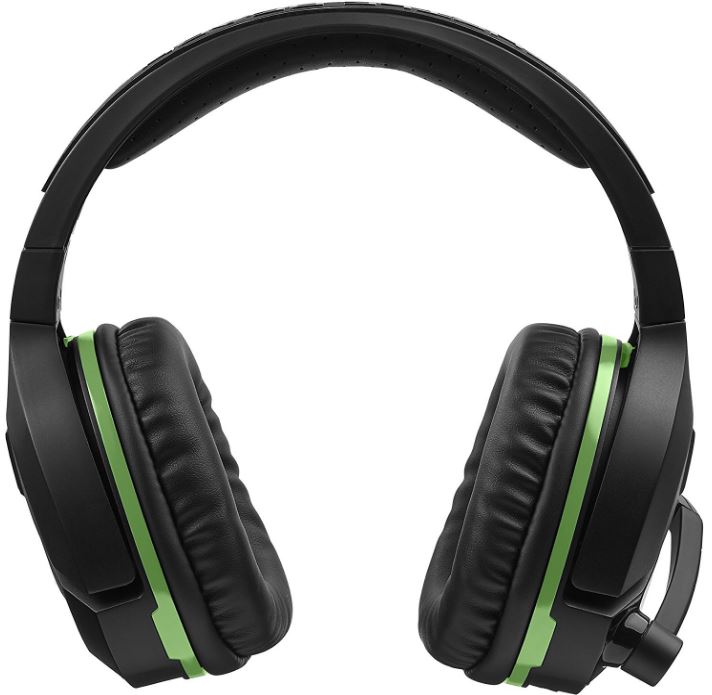 Microphone
The microphone in the Stealth 700 is above average, featuring a unidirectional sensor that is incredibly sensitive. What this means is that it can detect sound from all directions. The same technology is used in teleconference microphones, and is well accepted as the best on the market. Many headphones have directional microphones attached to adjustable arms. The do work well, but only if the arm is in the exact spot it needs to be.
The arm on this microphone is rigid, so a unidirectional mic makes sense. It can be raised or lowered with a flick of the wrist, and there is a helpful little sensor in there. When flipped up, the microphone is muted. If you need to have a brief personal conversation, or somebody is running a vacuum in the room you're gaming in, flipping the mic can quickly silence it so you're not broadcasting anything that you don't want to.
For us, the most impressive feature on this mic was monitoring. You can hear your own voice. This might seem simple, but it makes communication so much easier. You know how loud you should talk, and you don't catch yourself awkwardly shouting or quietly whispering in your teammates ears.
All in-game chat, including that from your team mates has it's own independent volume control. We're not talking about the chat boost feature we mentioned above, which is good for temporarily boosting quit sound. This is a more reliable and semi-permanent solution to boosting quiet or loud chatter over the duration of your entire game.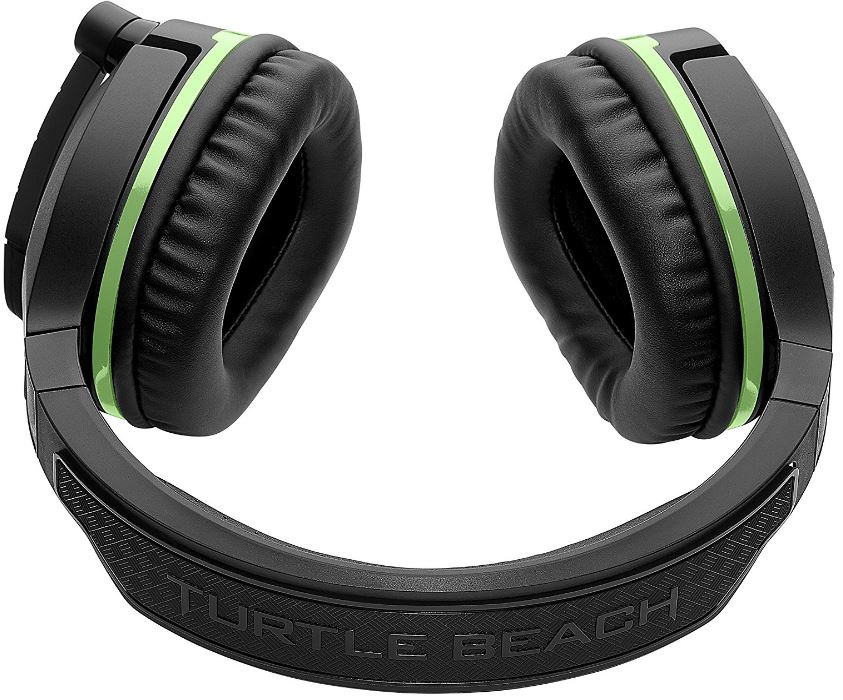 Comfort
One of the main advantages to the Stealth series headsets is their comfort. They fit over the ear, and don't put any pressure on the delicate cartilage. Both the ear cups as well as the headband are cushioned with thick, large padding, and wrapped in a premium synthetic leather. The headband is very wide, which helps to distribute the weight of the headphones across a large area.
The end result? Well, you'll definitely notice them on your head. But you'll never find them uncomfortable. They're suitable for long, extended gaming sessions. If you wear glasses, you'll be happy to know that the unique headband design leaves space for your glasses, so it's not going to be pushing on them too hard. For our bespectacled gamer friends, there isn't anything this good on the market.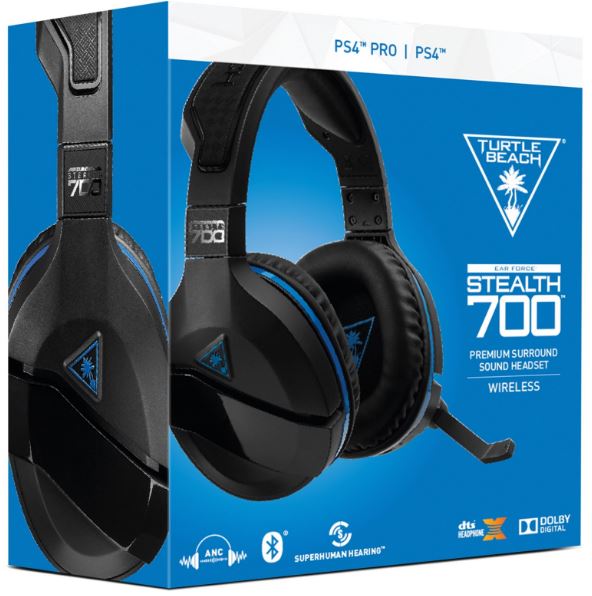 Connectivity
Because these headphones use Microsoft's Proprietary wireless system, their gaming features can only be used with the Xbox One. However, they also offer Bluetooth connectivity. This allows you to pair them with your phone, and use them for listening to music, chatting on the phone, or even watching a movie. This is one of the areas they stand out against the Stealth 600, which are for use exclusively as a gaming headphone.
Disadvantages
Although the Bluetooth feature allows them to perform well as a portable headset, there are still limitations. These are very large, so you're not going to want to use them as commuter headphones. We'd be happy to use them around our house, or while sitting on the couch. But if you're walking around and moving, the size combined with the light fit means that these aren't going to stay firmly on your head.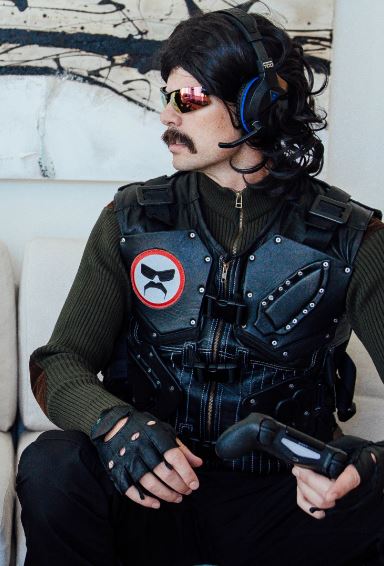 Final Verdict
If you're looking for a premium gaming headset, the Turtle Beach Stealth 700's are a great place to start. It's extremely comfortable, has impressive sound quality, and the audio filters give you a competitive edge you wont' find elsewhere.
Is it worthwhile to pick this model over the more affordable Stealth 600? If you value the noise cancellation and Bluetooth connectivity, absolutely. But if you don't think these features are useful to you, then you might as well save a few dollars and get the other model.
Please consider sharing:
Note: At no extra cost to you, we may earn a commission for purchases using our links. Learn more.