Keeping your stuff safe with locks is often necessary. But old fashioned locks and keys aren't always the right way to go. Needing to have a key with you doesn't sound like much of a requirement… until you realize you can lose keys, you can forget to bring keys, and keys can be taken from you while you're not looking.
That's not a problem you have with your fingerprints. You don't typically lose your fingerprints, forget to take them with you, or have to worry about them being stolen. Which makes fingerprint locks an excellent and pretty elegant solution for a number of different circumstances.
Clearly, it can be pretty convenient to have a lock that operates without a key. But it can also be a minor hassle, depending on exactly what you're trying to lock-up, and who is supposed to get in. Whether it's a convenience of a hassle really depends on a variety of different circumstances. Most notably, precisely how you plan on using the lock, where you plan on using the lock, and how many people will need access.
Uervoton Fingerprint Padlocks
Interestingly, for selecting a fingerprint lock like one of the Uervoton's, you often need to think less about the physical security of the locking mechanism, and more about the security of the software that operates the lock. Which can make choosing the right fingerprint padlock a little bit challenging. Because you can generally see with your eyes whether steel is thick or not, but it's much tougher to gauge digital security with a glance.
Though they've made about two dozen, two of Uervoton's best fingerprint padlocks are the Classic Gym Lock and the 3rd Generation Edition Lock. They're pretty close to being the same device, with a modestly altered form factor. As such, they make use of much of the same security technologies. So if you've used one of their locks before, you already have a good idea of what's in store for you.
App Support
One thing to keep in mind. Both the Classic and 3rd Generation edition version of these locks are available in two separate varieties. One variety supports app control, the other does not. Whether or not you want app support is actually a fairly involved security question, but for those who know what they're getting into, it can certainly be an efficient way to manage a lock.
For the version that uses an app, you've got to download their Nokelock app, which is free on the Google Play app store. Once you're inside the app, it's possible to temporarily grant access to users, at least assuming you've already collected their fingerprint into the lock's database. You can also check out who's been using the lock, in real time. Pretty handy stuff. Though the fact the app support involves an internet connection does complicate things.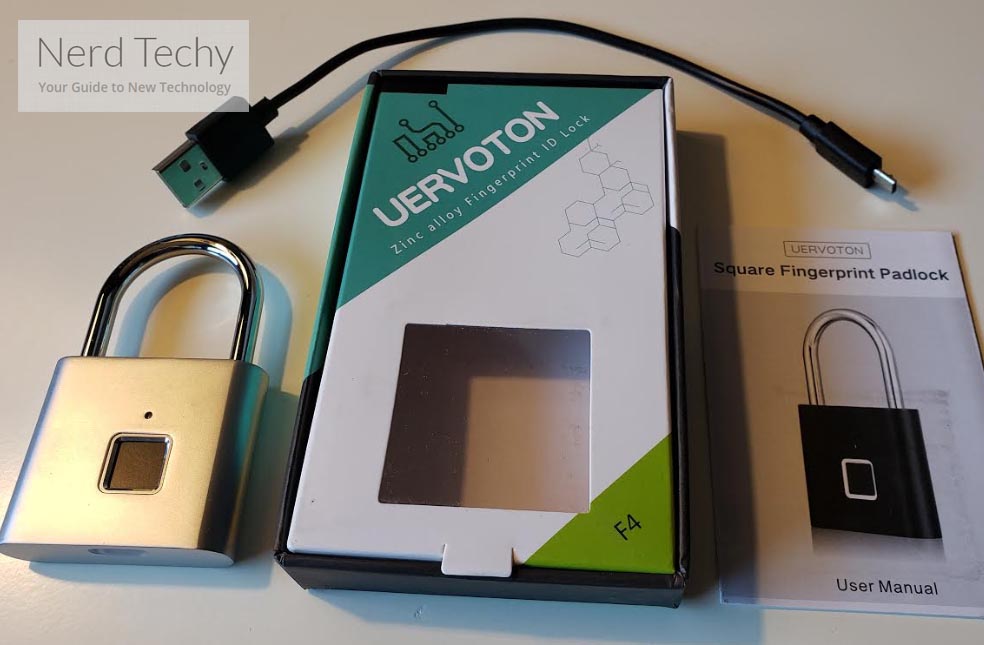 Classic Gym Lock Edition
It's worth pointing out that there are a number of commonalities between these two locks. Again, they're basically built around the same fingerprint technologies. That means they're comparable when it comes to their general security wherewithal. They're also built with a generally similar physical design, which makes them comparable when it comes to looking at the level of physical protection that they're able to provide.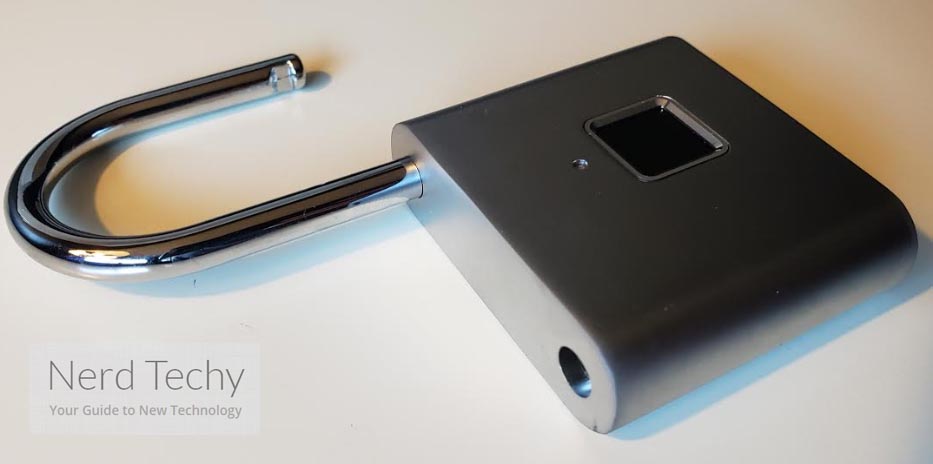 Like any fingerprint lock, the gym lock version of this lock delivers a smart fingerprint pad login terminal, which prevents you from needing keys. Though really, it doesn't aspire to be much more than a generally competent lock.
Design & Toughness
From the perspective of style and form, you'll notice this Uervoton Fingerprint Padlock has a pretty traditional square padlock design. It measures roughly 1.8 x 3 x 0.5 inches, allowing the whole thing to rest comfortably in the palm of your hand. The thickness of the steel wire that latches shut to protect your stuff measures about 0.2 inches.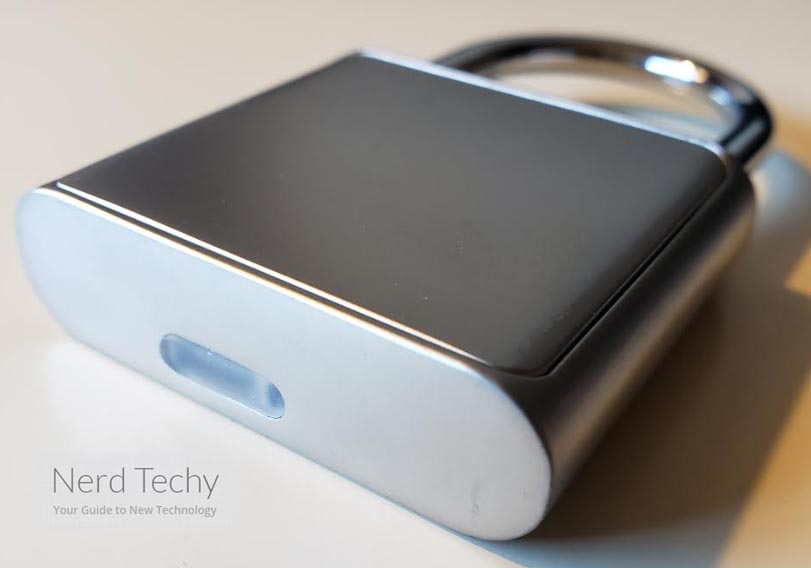 Once again, pretty standard for a lock like this. If you had some very large bolt cutters, you could manage to slice through locks like these. That's exactly why bolt cutters are made. But short of that, you're not going to be able to disable this lock with brute force. Even the locking mechanisms and power port are reasonably well protected.
Though again, just like any other padlock to ever exist, they're not totally invulnerable. With some gum or glue, you could still wreak havoc on these locks by preventing access to the charging port. But unlike a traditional lock, provided your lock still had power, you could still take the lock off at some point before it became a problem. That's not something you can say of any lock that suffers those kind of attacks.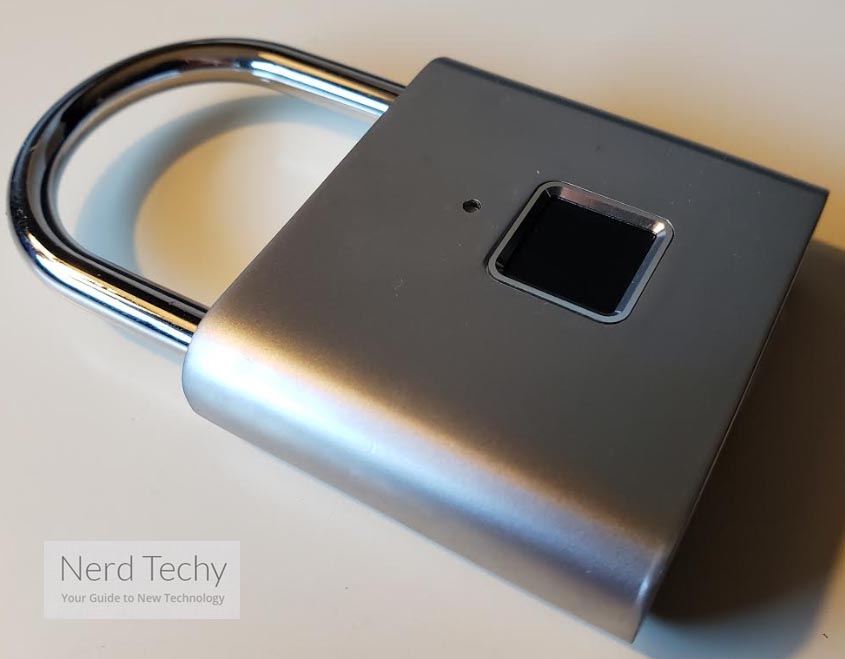 How about surviving though nature? You'll notice this lock is made with an IP65 waterproof design. The body is primarily aluminum alloy, with the locking mechanism made with stainless steel to protect the device against cutting forces. That makes it suitable for a variety of different uses, from bike locks to handbags or school lockers.
Other Considerations
The classic edition of the Uervoton Fingerprint Padlock includes a short USB Type-A to micro USB cable, which runs about 6" in length. The relatively short distance of that cable can make it slightly tedious to recharge the lock under certain circumstances, but it's nothing that can't be overcome with planning.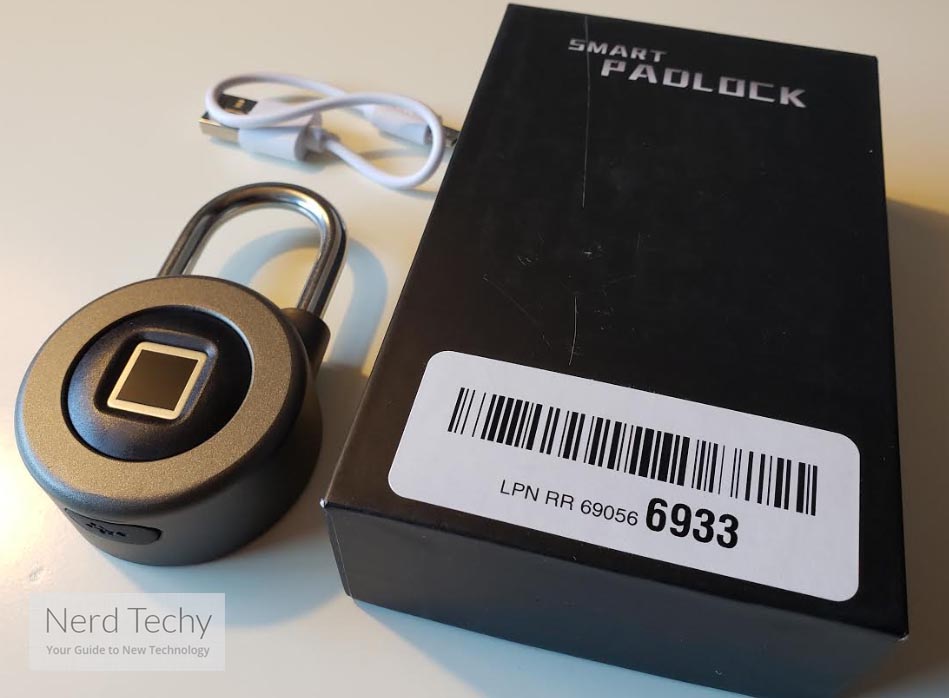 3rd Generation Edition
The third generation of Uervoton's padlocks, for the most part, are really quite similar to the previous locks Uervoton has made, with a few minor changes. Mostly, the 3rd generation was made with a little more emphasis on sharing features. One of the neat things about using a traditional lock is you can share a key with other people. When only a single person can use a fingerprint lock, that provides some pretty stark limits.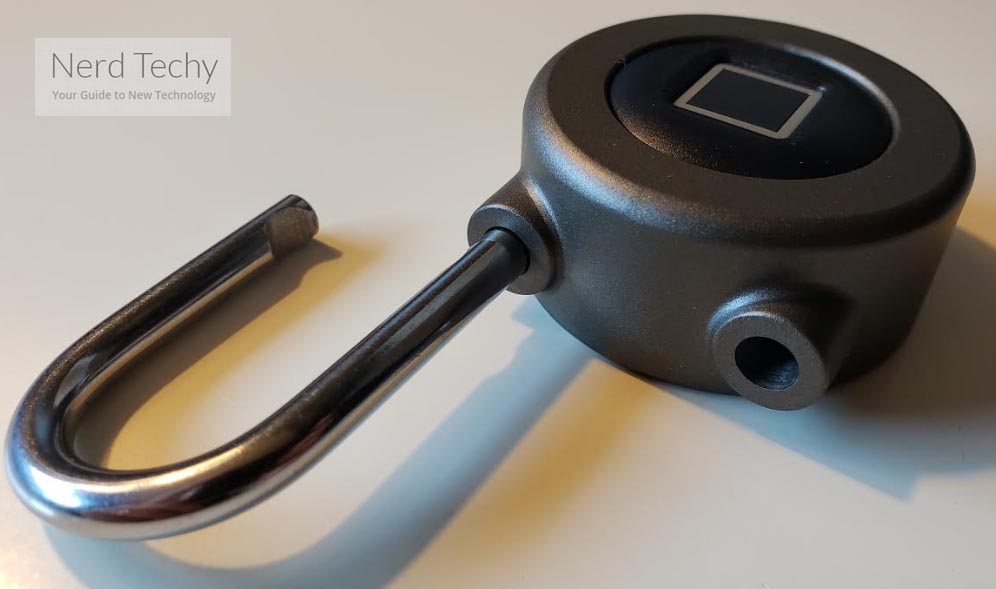 The 3rd generation edition lock was made to help make it a little easier to share without having to give someone combination numbers to memorize, or keys to lose. And because everything is being done on the software side, meaning you don't hand anyone keys, it's possible to revoke access to users as needed. In other words, this lock has a lot of potential for multi-user connectivity. That makes it potentially great for shared lockers, large objects like furniture, and so forth.
Design & Toughness
One of the bigger differences between these two Uervoton Fingerprint Padlocks actually seems quite superficial, the different kind of chassis each lock uses. Sometimes you might have to use a locker system that only accepts square locks, or only accepts round locks. In place of the standard square chassis, the 3rd generation edition of this lock uses a rounded design.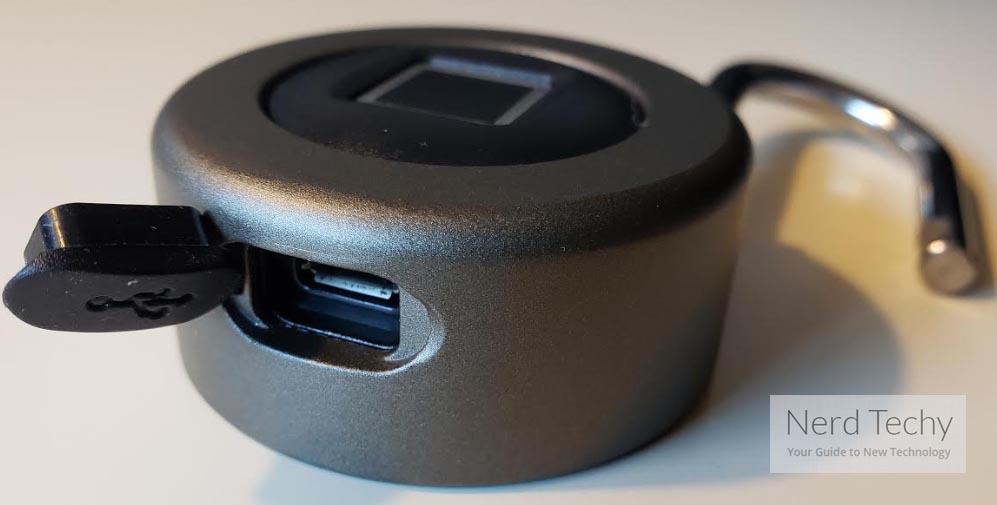 But similar to the other version of this lock, the 3rd generation edition measures about 3.5 x 1.8 x 0.9 inches, with the same 0.2" thickness for its steel latch. That allows the unit to rest comfortably in your hand, and the latch to hold up well against basically anything except a good heavy duty set of bolt cutters. The roundness of the lock also makes it far more pleasant to have to hold or handle.
The outside chassis is made from a zinc alloy, which is about three times as tough as aluminum. But like the classic version of this lock, the chassis is mostly made from more standard materials like aluminum. That's no small part of what keeps this padlock weighing so little. Though once again, the shackle is made from hardened steel, which acts as a counterweight for the top of each lock.
Similar to the classic version of this lock, the device is IP65 waterproof and dustproof. That protects you from basically anything short of submersion in water. The bottom side has a USB port with a plastic cap that helps seal it, and of course the sealing is necessary to maintain the water protection for the port.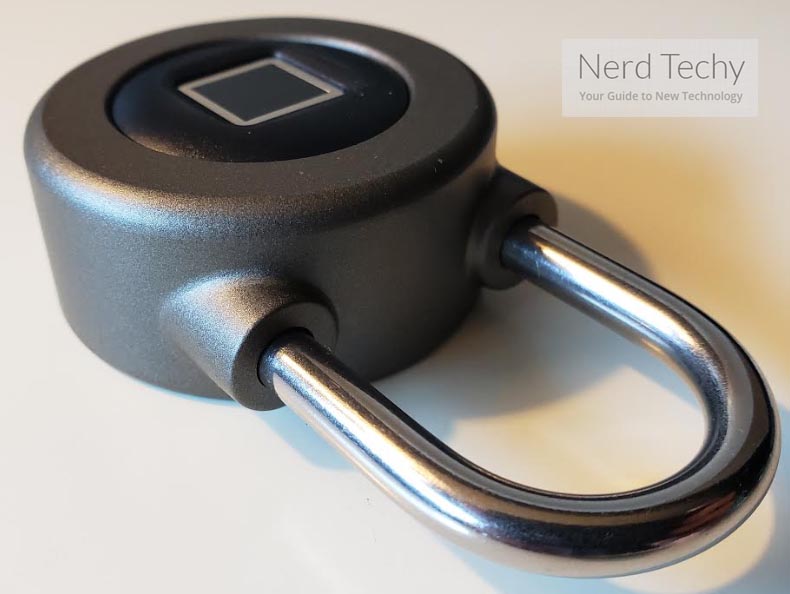 Other Considerations
All in all, the 3rd generation edition can store a total of 15 total fingerprints. That could be every finger on both hands of one person, or 15 different people. It's entirely up to you. Another thing that's worth pointing out is how this lock makes use of a modernized a 360-degree fingerprint acquisition feature. Meaning it can grab your fingerprints from basically any angle that you try and touch the lock, making it very easy to use.
Once the lock is charged, you can get about two months of regular activity before you need to think about recharging it again. That's not one of the more impressive battery lifespans you'll find for a device like this. But when you plan on interacting with a lock on a regular basis, a shorter lifespan like 2-3 months is really what you have to expect. And given that expectation, this lock does hold up reasonably well.
A micro USB charging cable is included. Though this lock doesn't come with a slew of extras, the 3rd generation version of this lock includes a reasonably impressive two-year warranty.
Which Uervoton Fingerprint Padlock Should You Get?
The classic version of the Uervoton lock is a good choice for someone looking for a highly standardized square lock, that just happens to use a fingerprint locking mechanism. It doesn't have a bunch of extra features, but provides all the security you need and expect from any solid lock.
On the other hand, the 3rd generation version of this lock is a good choice for someone who's looking for a slightly stronger physical design. It's also a potentially better choice for someone who's interested in handling the lock on a regular basis. The rounded body isn't going to fit in areas designed for square locks, but it certainly does a good job of fitting everywhere else.
Both the 3rd Generation Edition and the Classic are available in separate versions with app support. Even though it's technically a little less secure to involve an internet connection with your lock, for people who are going to have several users interacting with the lock, it can make a lot of sense to grab a lock with app support.