When wireless mice began gaining traction, gamers mostly found them alienating. Because you could often feel the difference between being wired or going wireless. As recently as 2012, things just felt a little bit too sluggish for many players to enjoy.
But gaming mice have come a long way over the past half-decade or so. Sensors have advanced to a point of general redundancy. Which is why these days, you can find wireless gaming mice that perform essentially as well as any wired mouse. At least, if you know what you're looking for.
GameSir GM300 Gaming Mouse
From a superficial perspective, the GameSir GM300 Gaming Mouse is supposed to contain basically everything you might get from a top-shelf mouse… but at closer to one third of the price. What it certainly has is a wireless design that performs as well as any wired gaming mouse, and is supposed to perform about as well as some of the better sensors on the market.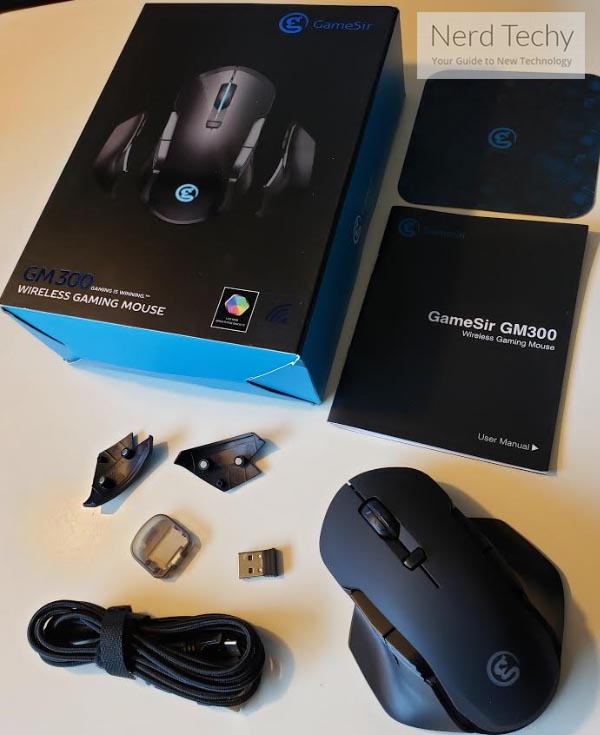 Speaking of sensors, the GM300 was designed to use an optical sensor instead of using a laser. As with all things, going optical has advantages and disadvantages. But for gamers, it's generally the way to go. Because it's a bit cheaper, which is clearly reflected in price, and you don't really need lasers unless you're trying to use a terribly unreadable surface.
From a style perspective, the GM300 has a distinct appeal to gamers. As it should, coming from a gamer-oriented brand like GameSir. The included LEDs are actually quite subtle, which should please people who love LEDs, and shouldn't agitate people who don't like having too many LEDs on things.
But how about its wireless connectivity or its battery lifespan? Those kind of things are much more difficult to think about without looking closer at how you plan on using your mouse.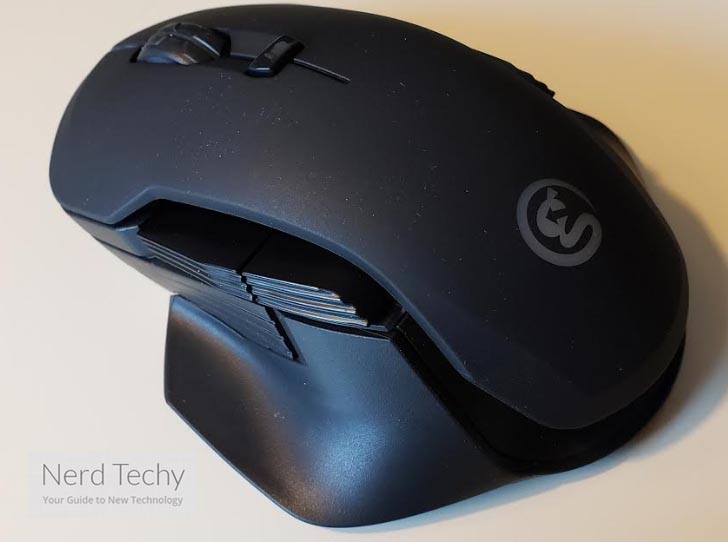 Design & Configuration
The GM300 has a pretty sleek and professional design. The charcoal black chassis isn't really intended to draw the eye, but to serve as a blank canvas to help the LED highlights stand out. Which is probably a good thing. Much of the time, a gaming mouse isn't only about gaming performance, it's also about a gaming aesthetic.
And the LED highlights they've used deliver the kind of customizable appearance that modern gamers tend to be looking to find. Being proper RGB LEDs, these lights are capable of being assigned 16.8 million colors, which can be selected through the GameSir software. But we'll cover that a bit more later.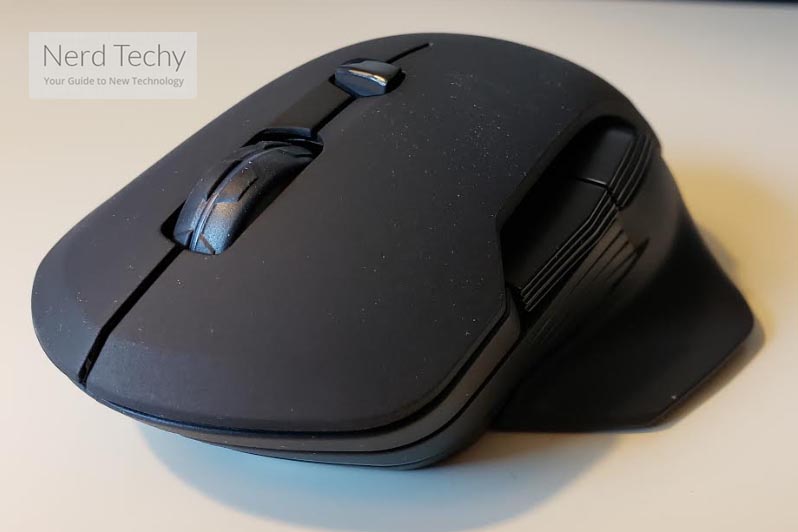 Notably, placing LED highlights on the scroll wheel means they can be appreciated while your hand is on the mouse. That's not something that can be said for every mouse covered with LEDs. It's often the case that they're totally obscured by your hand while using the mouse. Though with the GM300, you'll find one portion of LEDs that does become obscured are the lights near the palm rest.
In addition to the standard chassis, the GM300 includes a pair of magnetic side plates and counterweights. Once attached, they can considerably change the way the mouse feels in your hand, and also can be used to slightly change the grip of the mouse. Quite useful for accommodating different sizes of hands and different preferences with respect to acceleration.
In either case, popping the plates on and giving them a try only takes a couple of seconds. Since they're magnetic, removing them and adding them again is pretty smooth and simple. It also means there's no wear and tear as you add or remove them, unlike plastic locking mechanisms.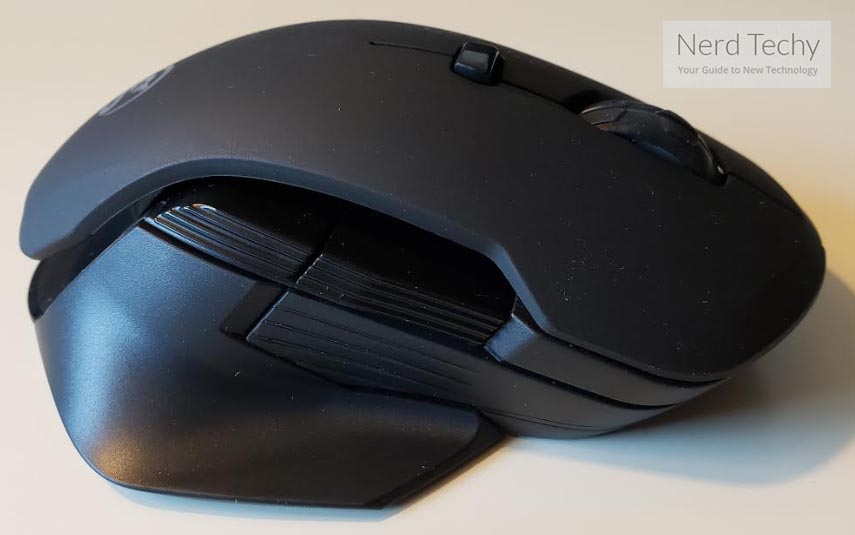 Gaming Accuracy
The PMW3389 gaming sensor can deliver a total 16000 DPI. For gamers, that level of accuracy is frankly overkill. Though it partially depends on the game being played, most professional gamers have a tendency to play around 500 DPI. Having the option to swap up to a higher DPI is great for a variety of different circumstances, especially for when you stop playing a game and start browsing the web.
But being able to go all the way to 16000 DPI? Most gamers are never going to need to go past 3,000 – let alone four times as much. So it would be fair to characterize this sensor as gross overkill for even the most devout gamer. "Gaming grade sensor" doesn't even cover it.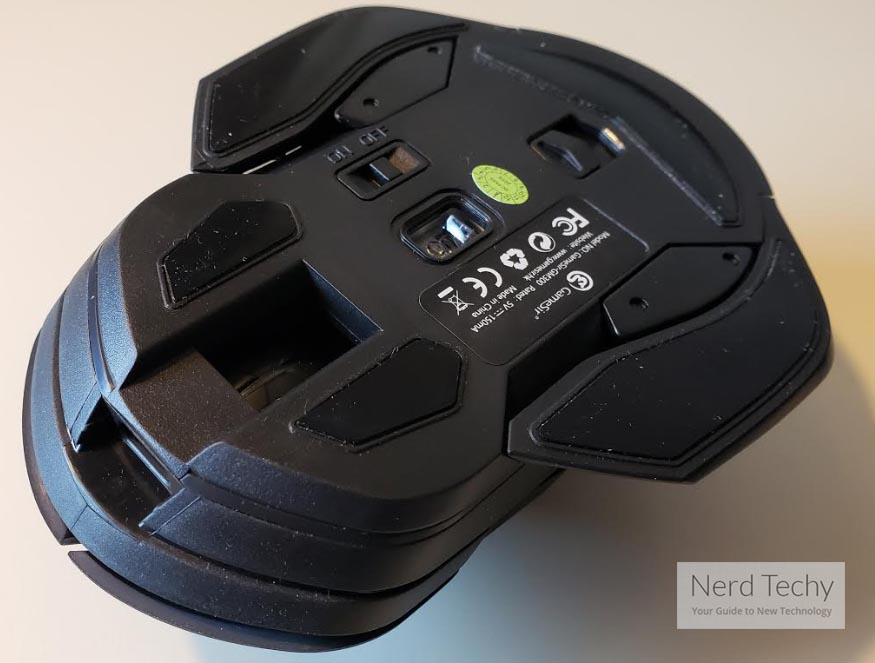 Of course, DPI isn't all there is to a sensor. You've also got to think about how the sensor communicates with other devices through some kind of wireless technology. In this case, you'll find the GM300 Wireless Gaming Mouse is built around GameSir's own proprietary wireless technology — Agility X. They use the same tech on basically all their gaming-grade equipment, including their gaming keyboards.
The idea is to help ensure essentially flawless stability between the motion of the mouse and the pointer on your screen. And they pretty much achieve it with a 1000Hz polling rate and 1ms latency, allowing the GM300 to perform exactly as well as a wired gaming mouse.
There's a total of five DPI presets you can use to move between. Those presets allow you to mix and match your program to better match your needs. For instance, you could set the mouse so that the lowest setting would be 400DPI, and the highest setting would be 16000 DPI.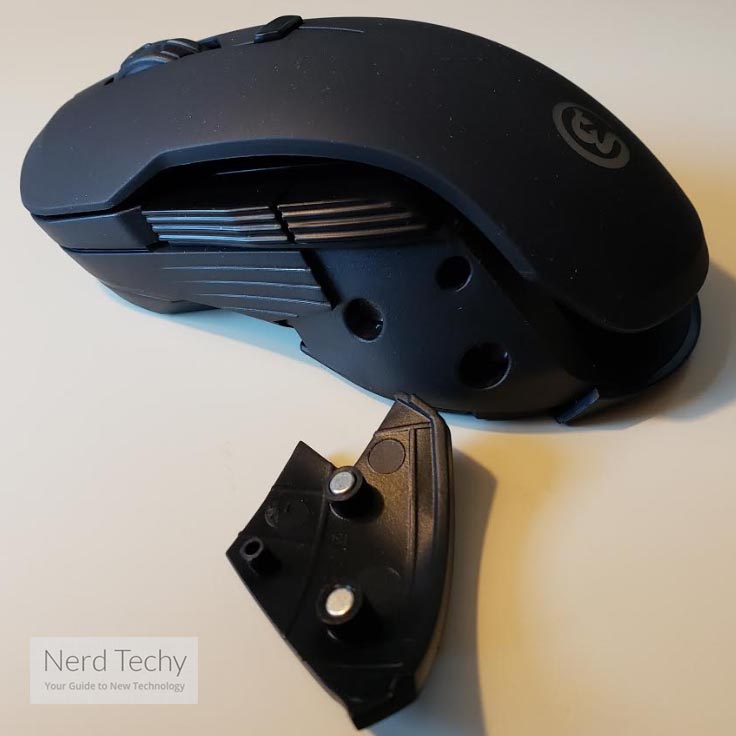 Wireless Connectivity
The Agility X technology works by connecting to Wi-Fi on the 2.4 GHz band. For most people, going to be pretty good news. Because the 2.4 GHz band is great for bouncing signals around in a small room, which ensures you keep good connectivity with your mouse even when you don't have direct line of sight with your USB receiver.
But notably, people who are inside of an area with high Wi-Fi congestion may find their connectivity potentially at risk — especially as their mouse starts to be used with greater distances away from the computer to which it's connected. For someone playing inside of an area with lots of Wi-Fi congestion, it might be more advisable to use a Bluetooth based mouse.
Battery Capacity
The built-in rechargeable battery is a 500mAh lithium ion rechargeable. How long does it last? Well, that actually depends on a number of things. If you keep the polling rate on its maximum setting, up near 1000Hz, then you'll find the battery performance isn't as compelling as if you're running at a polling rate of 125Hz. That's the difference between 1ms and 8ms, basically.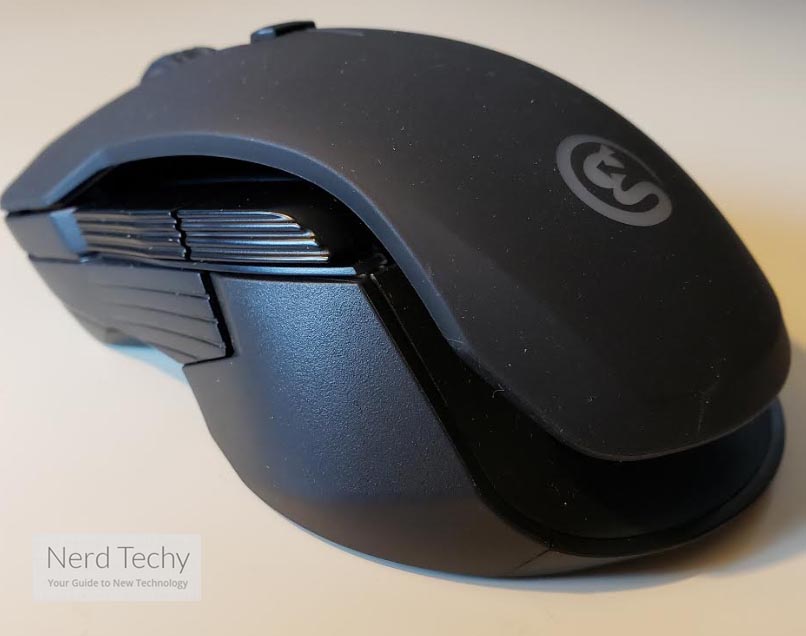 With all said and done, it works out to around 50 hours of battery playtime when you're running at a higher polling rate. If you're willing to drop the polling rate, you can start looking at the battery in terms of weeks instead of hours. Consequently, when you're not gaming, it's better to drop the polling rate.
When it's time to recharge, the GM300 connects to a USB Type-C port. Using a modern standard like USB-C ensures the GameSir GM300 remains a pretty forward-looking device. Another thing that's easy to appreciate is how the included cable has a nice length to it, spanning a total distance of roughly 6ft. It's a shame you can't use the cable to transform the mouse into a wired mouse, that would just about make the GM300 a perfect device.
But having wired/wireless connectivity is actually much more challenging than you might think, and for the time being, it does end up adding a few more dollars to the price tag of whatever mouse you might select.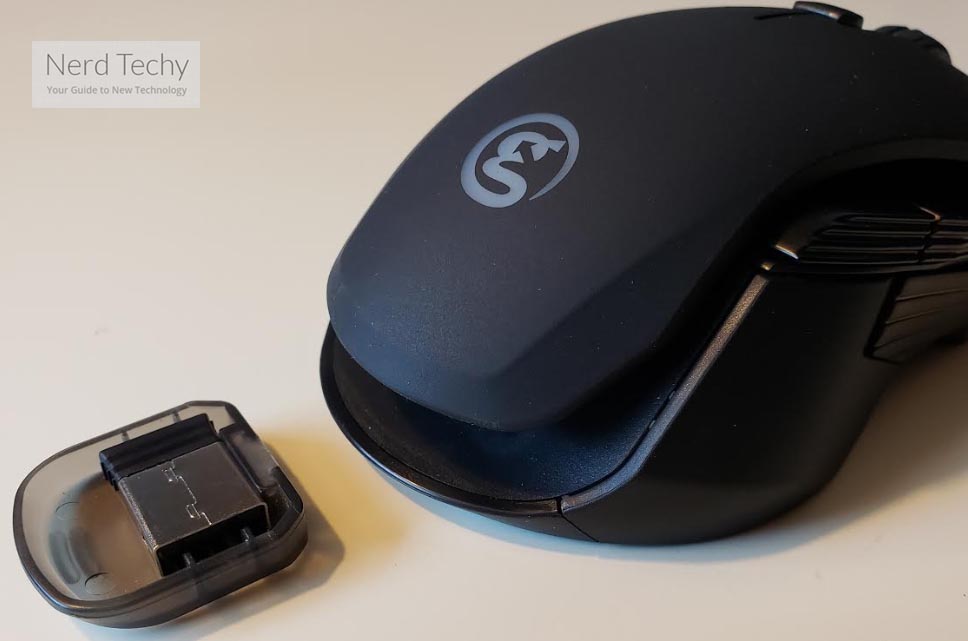 Other Considerations
For compatibility, you'll find things should run pretty smoothly because of the Wi-Fi software infrastructure this mouse is based upon. Consequently, the GM300 Gaming Mouse has support for both Mac OS and Windows PC. Provided you're working with modern versions, like Windows 7 and beyond.
Anytime you're working with a product that's got a built-in battery, you're looking at a device that's ultimately made to be disposable. Especially if that battery can't easily be replaced by someone who's not a technician, like with this device. Sooner or later, the battery performance will dwindle to a point that it's just not going to be acceptable anymore.
In the case of the GameSir GM300, you'll find the battery is supposed to with stand something in the ballpark of 800 recharge cycles. It wouldn't be impossible to change the battery after you've gone through those recharge cycles, but it would be challenging. That means for a heavy user who's using the mouse literally all day long, you might expect something like three or four years before needing to replace the GM300. Certainly not bad, especially for a relatively inexpensive device like this.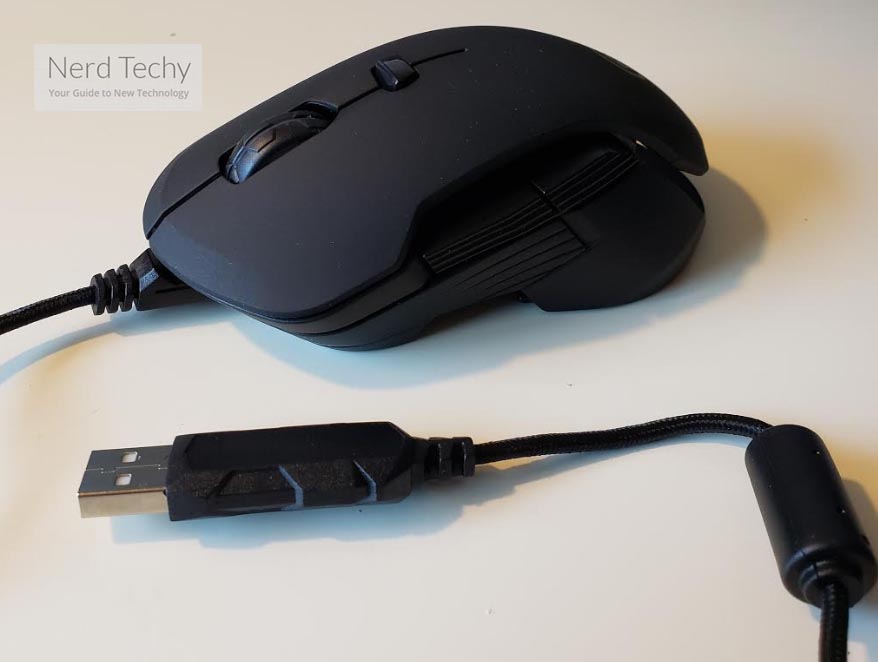 In addition to the GM300 gaming mouse, this kit includes a pair of magnetic counterweights, a pair of side plates, and a pair of enhanced side plates. It also includes an Agility X 2.4GHz wireless dongle and a USB Type-C cable. GameSir doesn't have a lot of name recognition, but they're actually one of the bigger international brands that make game peripherals, so their 1-year warranty is worthy of consideration as well.
Who Should Choose the GameSir GM300 Gaming Mouse?
When it comes to aesthetic, I think most people will agree that the GameSir GM300 is a winner. It looks cool without ever being at risk of seeming gaudy, which is exactly what gaming devices should do. It won't be alienating to people who want something low-key, and it won't be alienating to people who want something flashy.
From an ergonomic perspective, the side plates make this mouse a little more approachable for people who have different grip preferences, or even different preferences with respect to the weight of the mouse. And being able to make those little customizations tweaks can mean a world of difference to how the GM300 feels in your hand.
Likewise, with respect to its performance, the GM300 is basically perfect. The gaming-grade sensor is probably overkill for gamers. And with its relatively inexpensive price, it's clear the GM300 is a great pick for almost any wireless-loving gamer on a budget.