Another day, another Bluetooth speaker, right? It's easy to look at the sea of portable speaker options and feel like they tend to all blend together. Every manufacturer tries to stand out one way or another, but most really just do the same thing. While the form factor and appearance may differ, at the end of the day it's a speaker with a battery that connects to your mobile device.
That said, every now and then we encounter a Bluetooth speaker that truly features something unique. Whether it's particularly compact, especially rugged, or features exceptional sound quality, it's nice to know there are speaker options to fit just about any usage scenario you can imagine.
Today, we're looking at the BLAST and MEGABLAST portable WiFi and Bluetooth speakers from Ultimate Ears. Both options, which only differ by size and sound output, are highly impressive Bluetooth speakers. Not content to stop there, Ultimate Ears significantly steps up their functionality by integrating Amazon's Alexa digital assistant technology.
This marriage of quality portable speaker design and intelligent convenience features results in two Bluetooth devices that stand out significantly from the masses of "one trick" competitors. Let's explore what the BLAST and MEGABLAST have to offer to see if one of these smart speakers might just be the answer you're looking for.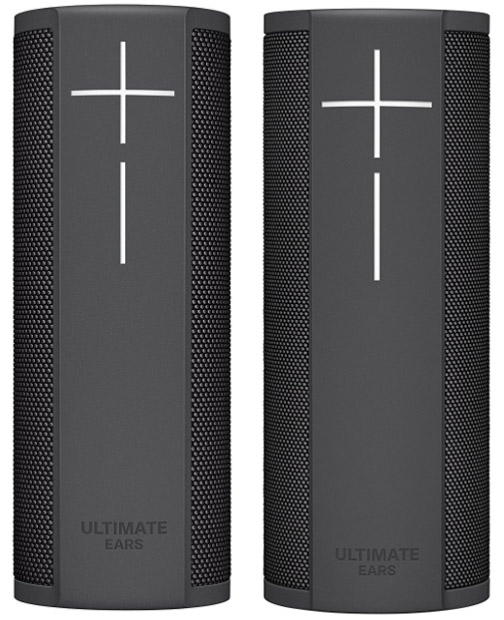 Amazon Alexa
Before we dig into the speaker design and functions, it's important to understand just what Amazon Alexa does given its somewhat controversial nature.
Alexa is a digital personal assistant. Launched with the Amazon Echo device in November 2014, Alexa technology has expanded to a wider variety of devices over the years. Alexa isn't a particular piece of hardware, but the software assistant running the show.
Alexa listens to user's spoken commands to enable hands-free activation of audio playback, reminders and alarms, home automation devices, or delivery of real-time information such as weather, news, sports, or traffic. Amazon allows third party companies to develop what it calls Alexa Skills which can be added or removed by the user. For example, Domino's Pizza developed an Alexa Skill to allow hands free pizza ordering.
While Alexa's ever-growing list of features and Skills may add helpful convenience to your life, some dislike Alexa due to the inherent privacy concerns. By design, the device will "wake up" and obey a command after you speak a keyword. For this to work, Alexa devices must listen constantly to every word you say. Amazon claims it only saves recordings after the spoken "wake word," but some of these recordings are transmitted to Amazon's cloud services under the auspices of improving future performance. There have been documented cases of law enforcement sending Amazon subpoena requests for Alexa audio.
In a best-case scenario, you're still providing Amazon with a tremendous amount of data about your reading, listening, shopping and much more. Perhaps you don't mind if Amazon knows you order a large pepperoni pizza from Domino's twice a week.
However, aside from the personal information you voluntarily give, purchasing any Alexa device means you've elected to place a listening device in your home and choose to rely on Amazon's honor to defend your privacy. It's a personal choice, but if you're uncomfortable with the privacy issue, that may immediately eliminate the BLAST from your shopping list.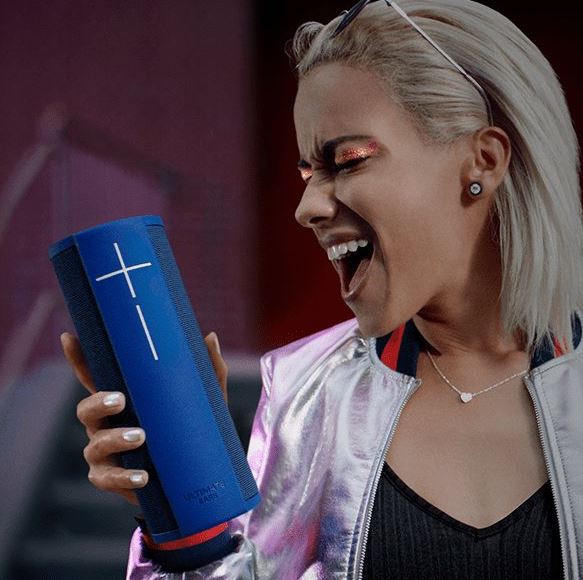 Design and Specifications
The Ultimate Ears BLAST and MEGABLAST are essentially the same devices aside from size and speaker capabilities.
Both variants have a cylindrical shape and come in Blue Steel, Merlot, Blizzard, and Graphite colors. The speakers can either stand vertically or rest horizontally, and an optional tripod mount is located underneath a removable d-ring.
Featuring a simple, straightforward design, the BLAST and MEGABLAST have solid colors with matching speaker grilles on each side. The only exception, the Blizzard color, features a white speaker body with black grilles. Aside from the colors and shape, the large plus and minus signs which house the volume up and down buttons remain the only clearly distinguishing feature. We tend to appreciate simple, clean designs in our electronics. This allows the BLAST to serve equally well at a beach bonfire and an elegant cocktail party without sticking out like a sore thumb of pulsating, colored lights and garish design.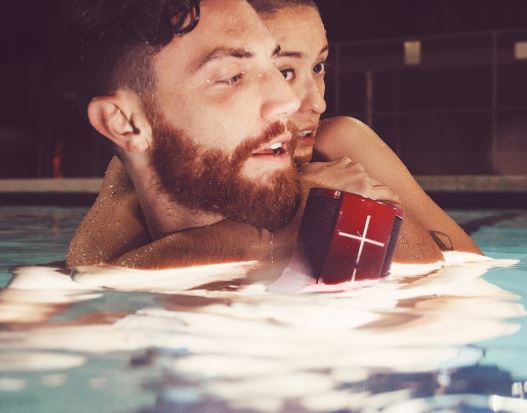 The BLAST measures 7.4 inches tall, 2.7 inches in diameter, and weighs 2.3 pounds. The MEGABLAST increases the size to 9.3 inches tall, 3.5 inches around, and 3.8 pounds. The additional size of the MEGABLAST allows the inclusion of additional speakers. The BLAST houses two 1.4 inch active drivers along with two 3.2 x 1.5-inch passive radiators to help spread your sound in a full 360 degrees. The MEGABLAST improves upon this with two 1 inch tweeters, two 2.2 inch active drivers, and two 3.3 x 2-inch passive drivers.
While each speaker charges standard with a micro USB port, you can upgrade to the Ultimate Ears POWER UP charging dock. This keeps your battery ready to go at all times and gives the BLAST and MEGABLAST a stylish, convenient stand rather than loose cables.
Both devices have very capable battery life with the BLAST rated at 12 hours and the MEGABLAST rated at 16 hours. While real-world results may vary, each speaker can get you through even a very long day before you need to think about recharging.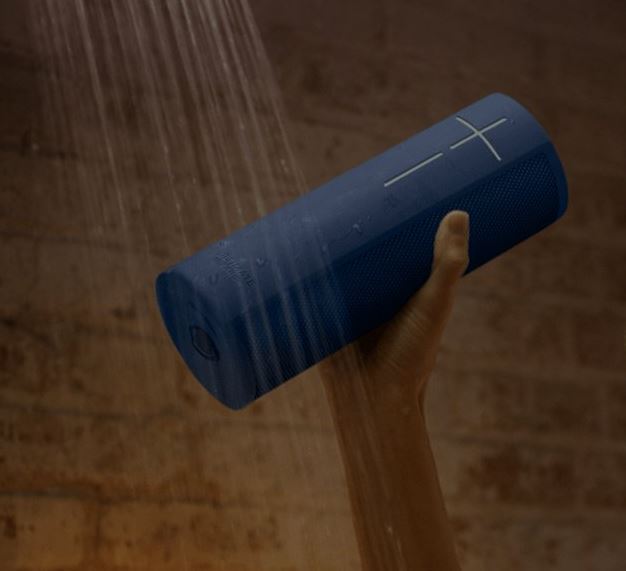 Connectivity and Usage
Many basic portable speakers connect in just one way: Bluetooth. While Bluetooth may have certain advantages, namely convenience and nearly universal compatibility, it doesn't perform as well when you want to use a speaker in a more long-term scenario. Bluetooth has relatively limited range, prevents you from using your device in other ways, and demands a lot of battery power.
By adding Alexa functionality, Ultimate Ears knows that users will want to dock their speakers in a more permanent way that doesn't lend well to a constant Bluetooth connection. Fortunately, by adding WiFi capabilities, Ultimate Ears adds a tremendous amount of convenience and flexibility to the BLAST devices.
Once configure and connected, we found the BLAST and MEGABLAST worked perfectly as standalone devices just like the Amazon Echo. This is an extremely helpful and practically necessary feature. Alexa's convenience would suffer significantly if we first had to ensure Bluetooth pairing and adequate battery. By using the dock, we always knew we could blurt out a command without wondering if we'd receive an answer. Of course, the flexibility of the Bluetooth option also comes in handy as we could simply grab the speaker off the dock and head out the door.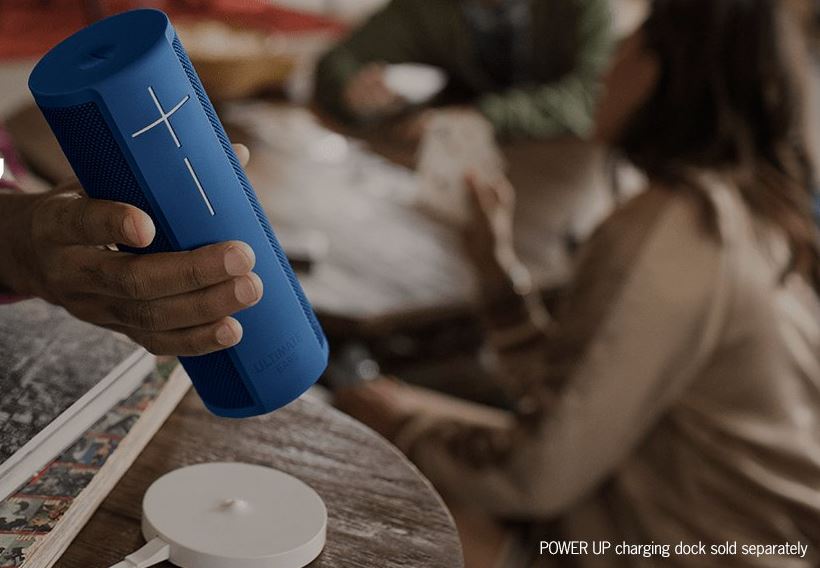 Also adding to the utility, both speakers tout an IP67 waterproof and dustproof rating meaning you can immerse them in liquid up to 1 meter deep for up to 30 minutes. This impressive rating means that, unlike some "water resistant" devices that can't take more than a basic splash, Ultimate Ears engineered the BLAST and MEGABLAST to withstand some serious soaking.
The dual connectivity options and rugged, element-proof design make both the BLAST and MEGABLAST extremely versatile portable speaker options before even considering the inclusion of Alexa.
Performance
In general, we felt extremely impressed with the performance of both speakers. From an audio standpoint, each filled a room with sound much larger than seemed possible given the size of the speakers. The MEGABLAST had a noticeably larger sound with improved bass, but even the smaller BLAST was clear and pleasant to the ear.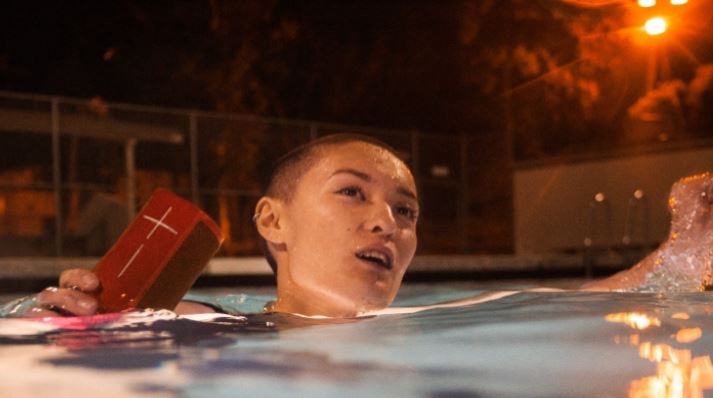 Since we're not merely evaluating audio performance, we had to test the Alexa microphone recognition as well. Ultimate Ears uses multiple microphones with noise cancellation and beam forming to improve their far field voice recognition. We found each speaker was very capable of picking up commands at a normal volume even with music playing.
We did have a few concerns. First, while WiFi connection was solid and stable, we experienced some problems with Bluetooth. Though the connection worked well most of the time, we did have some instances of delayed connection and also some drops, particularly after activating Alexa on Bluetooth. Hopefully Ultimate Ears can clean up these connection issues with a future software update.
Likewise, from a feature standpoint, while everything worked as advertised, we were disappointed to confirm that the BLAST and MEGABLAST don't offer the same options as some other Ultimate Ears devices. In particular, the older BOOM product line, while very similar in appearance to the BLAST line, has the ability to connect up to 150+ BOOM, BOOM 2, and MEGABOOM speakers via the Ultimate Ears App. While each BLAST speaker works well for a decently sized room, the BOOM's party mode allows you to fill a much larger space or louder party by simply bringing more speakers into the mix. It's odd that the newer BLAST line did away with this feature.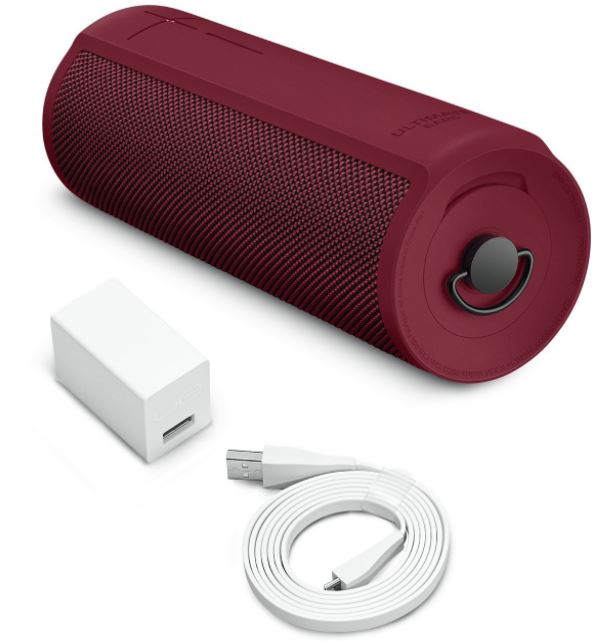 Conclusion
Amazon's Alexa has a tendency to polarize opinions. You might love the hands-free information and convenience or you might hate the idea of intentionally brining in an invasive privacy concern. We'll leave that decision to you, but if you aren't opposed to an Alexa device, the Ultimate Ears BLAST and MEGABLAST make a strong case for being one of the best options.
While they do cost more than Amazon's basic Echo devices, we love the convenience of WiFi and Bluetooth connections wrapped up in a portable, rugged package with exceptional battery life. While some Bluetooth speakers make weak attempts at durability, the IPV67 rating means you can drop the BLAST in a pool, cover it with dust, and hose it off with no concern.
With impressive sound and features, our only significant complaint lies with a slightly less than perfect Bluetooth connection, although that could be fixed with a software update. We do miss the party mode option from the Ultimate Ears BOOM speakers although both BLAST options, particularly the MEGABLAST, seem quite capable for a small or medium sized gathering.
We highly recommend the BLAST speakers over a standard Amazon Echo device. If you own a regular Echo, you'll still need a separate portable speaker. Purchasing the BLAST or MEGABLAST instead means you only need one device to handle all tasks.
As long as Amazon stays committed to individual privacy, the Ultimate Ears BLAST and MEGABLAST add the convenience of the Alexa hands-free digital assistant to some highly capable portable speakers.