Quick Analysis
Pros
Excellent audio quality with vibrant highs and mids and rumbling bass.
ANC feature works very well.
Outstanding comfort with plush padding and plenty of adjutability
Battery life is impressive. Recharging only take 2 hours.
Comes included with a hard protective case.
Cons
Mic cannot be used if utilizing a wired connection.
Controls can be a bit confusing. Buttons are quite small as well.
Only available in one color scheme.
You don't have to be an audiophile to know that over-ear headphones provide an ideal soundstage. The combination of plush comfort, adjustability and audio-enhancing features make them one of the most favorable ways to enjoy your music. It goes without saying, not all are created equal. Top manufacturers like Sony, Apple and Beats are continuously busy releasing top-tier over-ear headphones. However, they have a steep price-tag to match.
If you're like most, you're probably on the hunt for a pair of headphones that perform well but don't cost an arm and a leg. Take a few minutes searching Amazon and you'll see thousands of different options from a wide range of manufacturers. Backed by thousands of reviews, the VANKYO C751 wireless headphones are likely one of the first to catch your eye. As an "Amazon Choice" and a reasonably priced contender, they're currently one of the most popular options available.
Note: At no extra cost to you, we may earn a commission for purchases using our links. Learn more.
Because of this, we decided to order a pair for ourselves to see exactly what they have to offer. On paper, they have a lot going for them; ANC, Bluetooth 5.0, CVC, large drivers and much more. But in reality, do they actually perform as well as they promise? Today we're here to find out. We'll take a deep dive into these popular over-ear headphones and ultimately determine if they're worthwhile or worth passing up.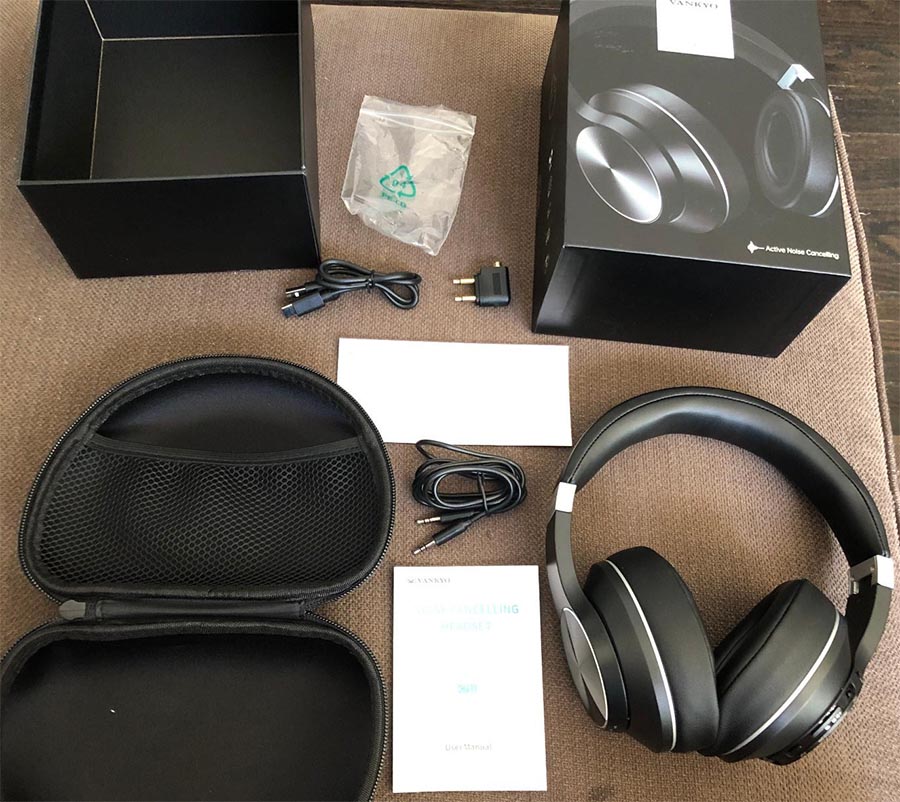 First Look
The VANKYO C751 are a budget-friendly option for those that want feature-rich audio with comfort to match. Comprised mostly of ABS plastic with an aluminum frame, they feel solid and durable in your hands. In matte black with silver accents, we're fans of their appearance given than VANKYO didn't go over the top to make them super flashy.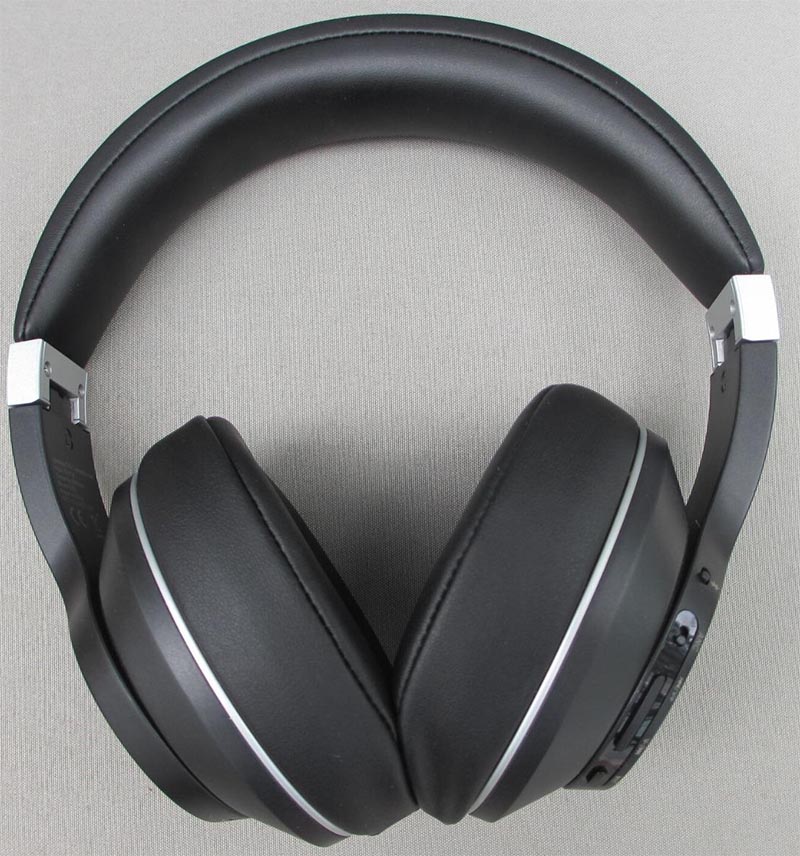 Inside the box, you'll find an included protective hard case with a zippered enclosure. Open it up and you'll see the headphones stowed easily in a folded position. In addition, a few accessories are included; instruction manual, auxiliary cable, auxiliary 1:2 splitter and a USB charging cable.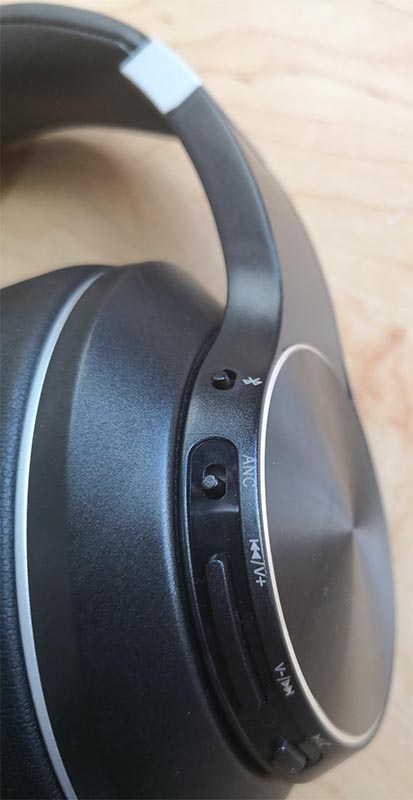 On the exterior of the left earcup you have all of the functionality at your fingertips. Here there are buttons for Bluetooth pairing, play/pause, skip/previous tracks, ANC and an auxiliary input. The right earcup is a bit less busy. It has a micro USB input for charging and an LED indicator light.
Comfort
The first thing we noticed about the VANKYO C751 is the plush earcups. Measuring 3.5 inches wide and 4 inches tall, each cup is over-padded with soft pleather that gives off a cool and comforting effect. These oversized earcups are quite comfortable, but they also do a fantastic job at ensuring your ears are totally encapsulated. Because of this, they assure that your soundstage is completely isolated. More on this later.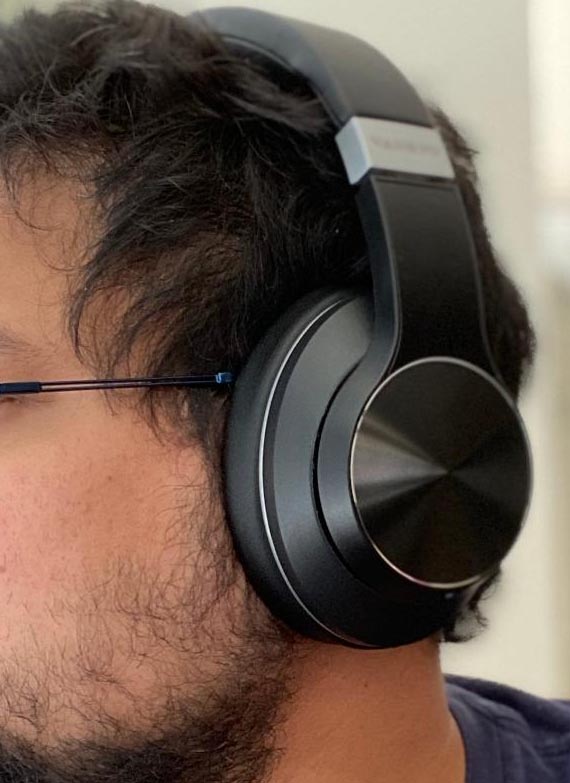 The headband provides a wide range of adjustability. You can extend each cup quite a bit, assuring that no matter how large your head is, you can find a proper fit. The padding on the inside of the headband is quite nice. Carrying the same qualities as the cups, it provides ample plushness for hours on end. Overall, VANKYO seems to have the comfort figured out. We didn't encounter any pressure points or issues with the fit on the headphones.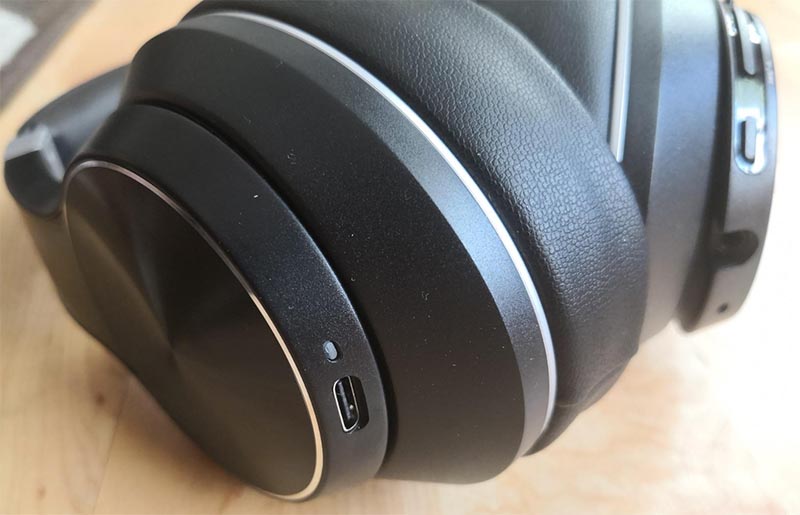 Sound Quality
The main feature that the VANKYO C751 have going for them is the active noise cancellation feature. By switching the ANC on, you're immersed in a isolated soundstage that makes the music much more enticing. ANC utilizes the integrated microphones to cancel out background noise in a unique way. It effectively cancels out certain frequencies that interfere with the audio coming from the headphones. It'll actually listen to your current environment and actively block tones that the headphones understand aren't coming from the music and are coming from your surroundings. It works in conjunction with the oversized earcups to isolate the soundstage in the most favorable way. With ANC, it's just you and your music – nothing else. Keep in mind, however, that ANC has a slightly larger draw on the internal battery – more on this later.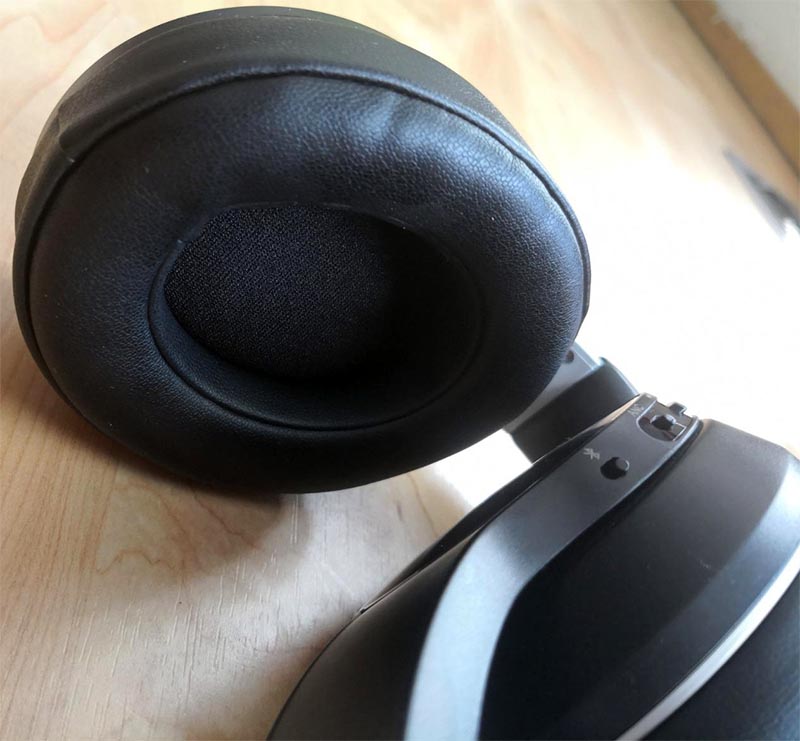 Inside the C751 headphones are dual 40mm drivers that sound fantastic. Although mid and high tones seem to come across nearly perfectly, the bass and low tones are really where they excel. These large aperture drivers are capable of producing deep and resonating bass that's easy to enjoy. It's not overly powerful as to drown-out other parts of the music, but fine-tuned to deliver rumbling bass and thumping beats.
To our pleasure, the bass was very enjoyable. Rap, hip hop and trance music were definitely our favorite, but everything else we threw at it seemed to sound fantastic. Since they're capable of producing a full range of frequencies up to 40 kHz, it's evident that VANKYO put special work into assuring these headphones sound as well as they promise.
The sound quality is definitely nice. Much better than expected, in fact. Most budget-friendly headphones seem to under-deliver whereas the C751's seemed to match all the hype we saw evident in the Amazon reviews.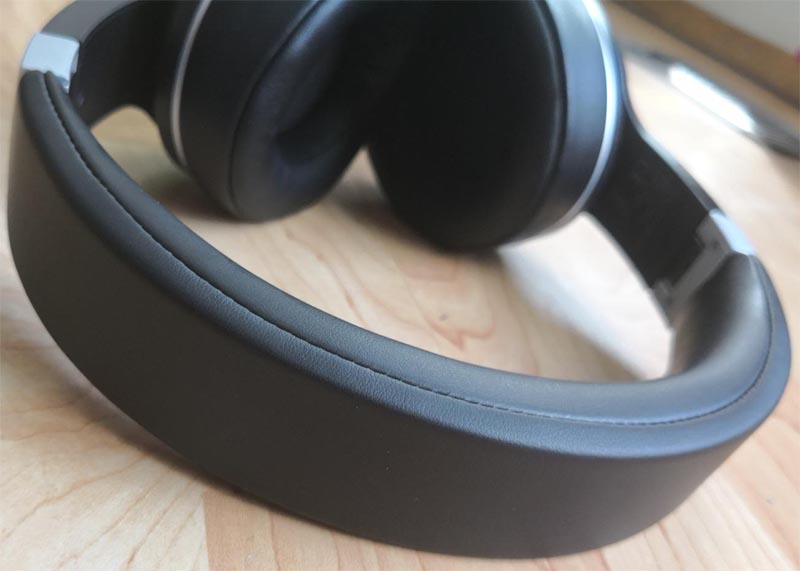 One thing that's worth experimenting with are the five different EQ modes. By double-pressing the volume button, you can select between five different EQ settings: pop, classic, rock, jazz or voice. Each one sounds a little bit different as it fine tunes the performance of the bass and treble.
Battery Life and Charging
Unlike some headphones, the VANKYO C751's utilize a USB-C connection for charging. This is the most recent kind of connection interface, much more desirable than the outdated micro-USB we sometimes still see these days with cheaper makes/models.
VANKYO's USB-C connection is integrated with a "Turbo Charging" feature that's able to fully charge them in only 2 hours. With that full charge, you can supposedly use them for up to 30 hours at a time. Truthfully, most manufacturers overstate their claims, so we needed to see if the battery was as efficient as promised. When we initially received the headphones and opened them up for the first time, we placed them on the charger. Once they were fully charged we began the clock and started listening.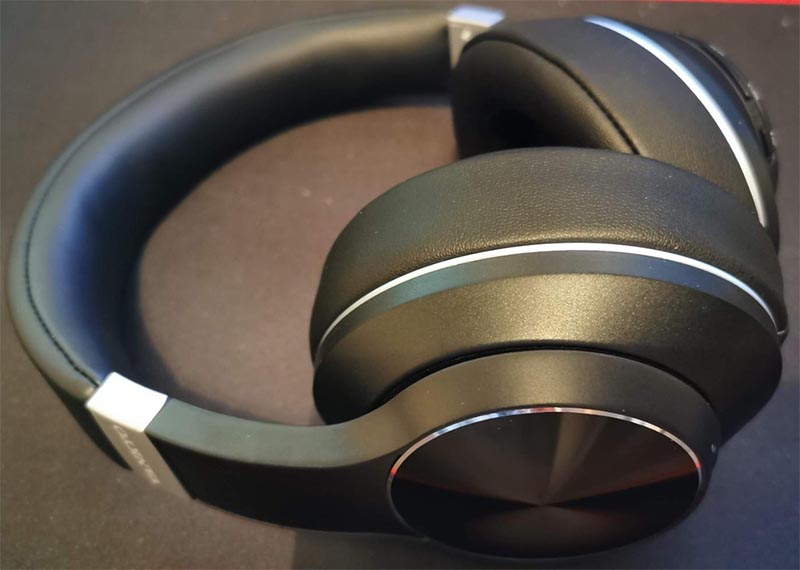 Although most of our initial listening sessions were 2-3 hour intervals, after roughly 25 hours we were notified of a low battery warning. Simply put, the 30 hour estimate is likely accurate, but only if you have ANC turned off and if you're indoors. When you turn on ANC, it'll use as much as 20% more battery life. The same thing holds true with the volume you're playing the music at. Turn up the volume to near its highest setting, and you're definitely going to notice more of a draw than if you had the volume low. Additionally, environmental factors such as ambient temperature can have an effect on the battery performance.
The battery life is impressive, even if it comes in at under the 30 hour estimate that VANKYO advertises. In most scenarios, you'll probably find that the difference between 25 and 30 hours of battery life isn't too big of deal. Just plug-in the USB-C cable and within 2 hours you're good to go.
If for some reason you don't want to use them wirelessly, you always have the option of plugging in the included auxiliary cable instead. You can actually use them plugged-in with a drained battery this way, but the ANC won't function correctly. In addition, the microphone won't work, so keep that in mind.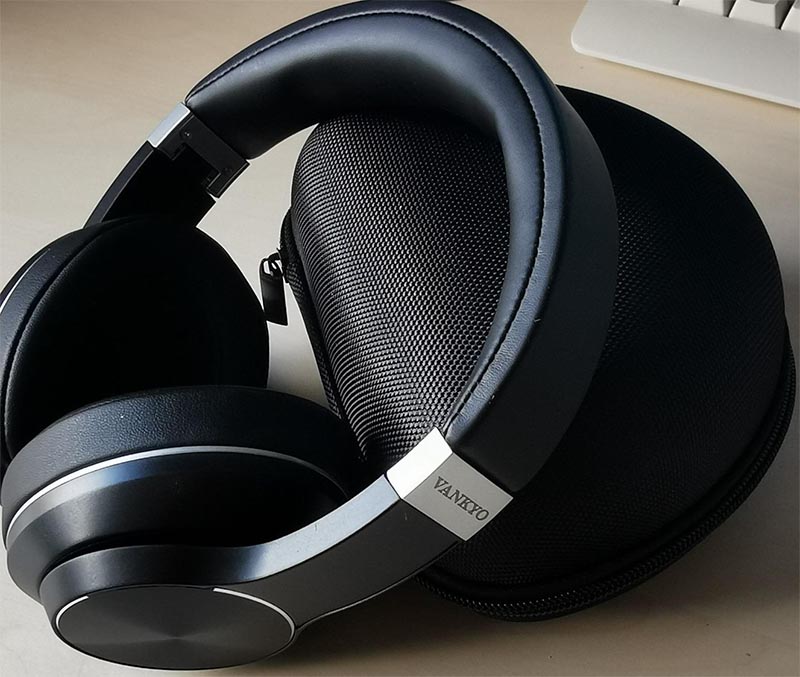 Call Quality
While we tend to ignore phone calls when listening to music, sometimes you have to take an incoming call. If you do, it's good to know that the VANKYO C751's have an integrated microphone. Look closely on the exterior of the earcups and you'll see a tiny pinhole. This microphone picks up your voice when you're on the phone, so you don't even need to take off the headphones when answering.
VANKYO included something called CVC 8.0. Also known as "Clear Voice Capture", this feature automatically reduces noise in the background. It'll understand your environment by disabling any sounds other than your voice in a unique and effective manner. After testing it out on three separate phone calls, we can definitely notice a difference. There's no button to press or switch to activate, it'll work on its own to adapt your phone call to sound as best as possible, even if you're in a busy grocery store or a loud bus driving down the road.
Final Thoughts
The VANKYO C751 ANC Headphones have a lot going for them. They're built with fantastic comfort and a nice plush fit that most can agree provide a cozy experience for indulging in your favorite tunes. Moreover, the ANC feature works quite well and assists on creating the best possible soundstage for the large 40mm drivers to work well. Sound is rich, vivid and all-around fantastic.
These are bass-heavy headphones that don't necessarily accel in one place over another. In our opinion, they're an all-around excellent choice for music-lovers that want an ideal blend of performance and budget-friendliness. You're getting a fantastic amount of value at the price-point they come in at.
Best of all, VANKYO backs the C751 with an impressive 2 year warranty. In that period, if you have issues, simply contact VANKYO at "support@ivankyo.com" and they will work with you to try and find a remedy. If not, they'll replace the headphones without much hassle.
Please consider sharing:
Note: At no extra cost to you, we may earn a commission for purchases using our links. Learn more.