If you've been searching Amazon for an affordable portable speaker, you've probably come across the ELEHOT and Clever Bright brands. Currently, they are both offering very similar Bluetooth speakers that appear nearly identical at first sight. But are they? How do they differ? Which one is better?
Today we're going to take a close look at both of these options. We'll carefully examine all of the worthwhile features and ultimately determine all of the pros and cons you should understanding before picking either one of them.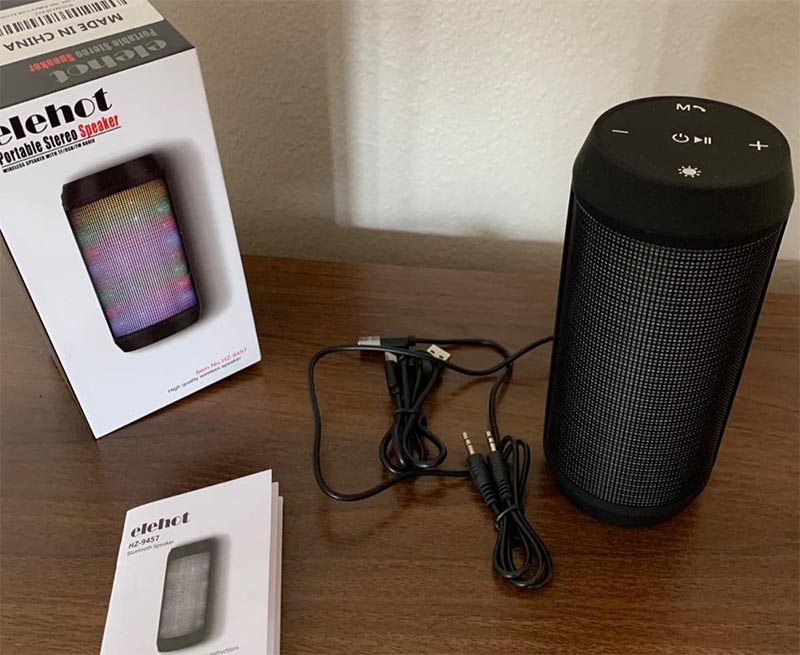 ELEHOT Bluetooth Speaker
Measuring 7.28 inches long, 3.54 inches deep and 3.35 inches wide, the ELEHOT Bluetooth speaker boasts a cylindrical, matte-black appearance. On one end, you have all of the controls, with a touch-panel interface for skipping tracks, adjusting volume, LED controls, playing/pausing music and phone call functions. On the back is the micro USB charging input, SD/TF card slots as well as an auxiliary input. Along the length of the speaker, you'll see a black metal grille with a grid-like design.
Weighing in at just 1.2 lbs, it's the ideal size for carrying along as it fits perfectly in the palm of your hand. The body is comprised mostly of ABS plastic with a soft, rubberized feel. There's no inclusion of a lanyard, strap or carrying pouch, so we recommend extra care while transporting it.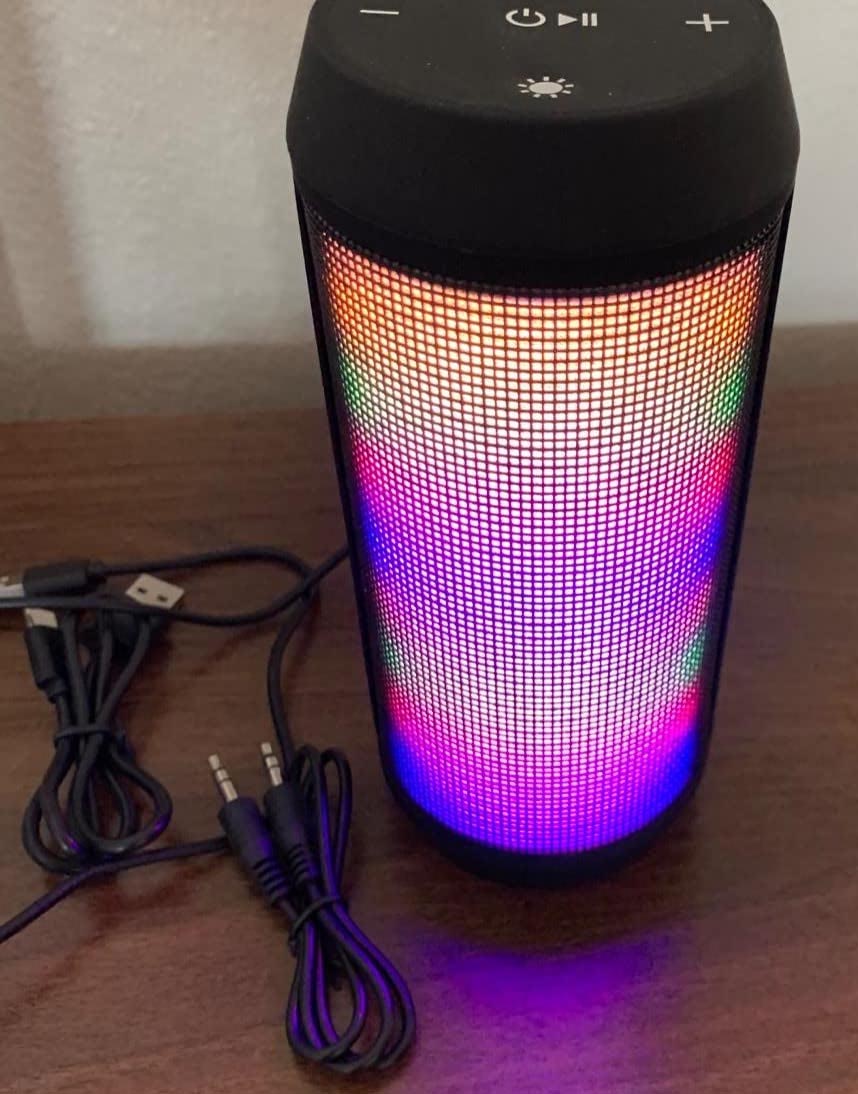 Sound and Bass
The ELEHOT Bluetooth speaker has an integrated 10w driver and dual speakers that deliver decent sound quality. The mid and high tones seem rich and vivid with a bass that resonates well. The bass is quite powerful but we noticed some limitations with it when we cranked up the volume to the maximum level. Once the volume reached around 90%, you could notice a slight amount of distortion. Not a whole lot, but enough to notice if you're one who likes to blast your tunes. Speaking of volume, it's incredibly loud. Realistically, you probably won't need to crank it up all the way for most situations. Rather than that, we recommend taking advantage of the TWS feature.
TWS allows you to use two ELEHOT speakers to pair them both together. With this, you'll have two separate, physical speakers that are both playing music simultaneously. Given this, you can place one on each side of the room for a true-to-life stereo effect. Interconnecting both speakers is simple to do and definitely worth it if you'd like the most vivid sound experience possible.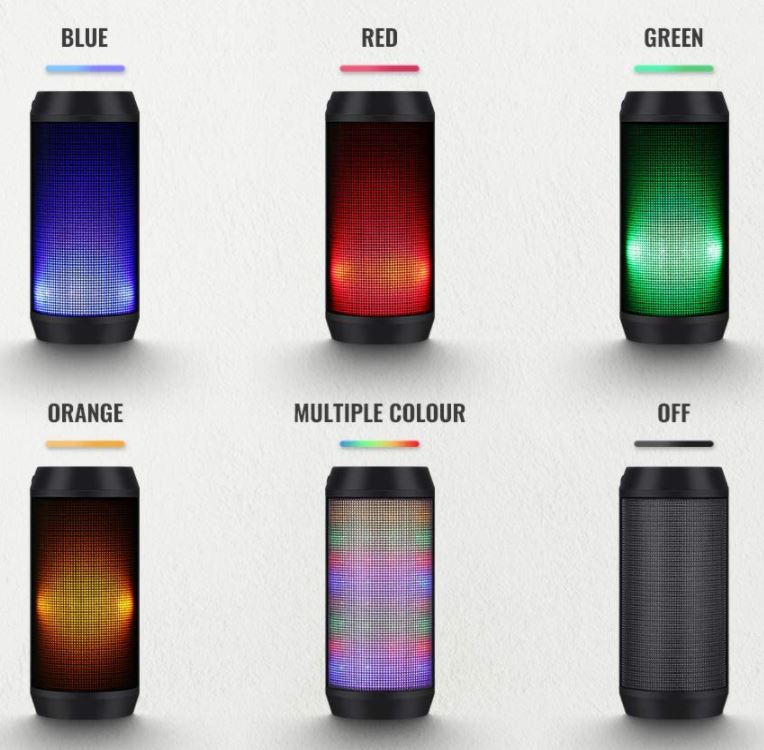 LED Modes
Five separate LED modes are pre-programmed with the ELEHOT portable speaker. By simply tapping the LED button located on the top, you can toggle between various light modes that give a rich glow of multiple colors. Choose between blue, red, green, orange or multi-color. Each one will do more than just let out a bit of a glow, you'll notice that the sound of the music effects the pulsation of the LEDs. In other words, the colors will match the beat and/or rhythm of the tunes, almost as if it's bouncing to your music. Rest assured, if this feature isn't for you, you can always leave it turned off.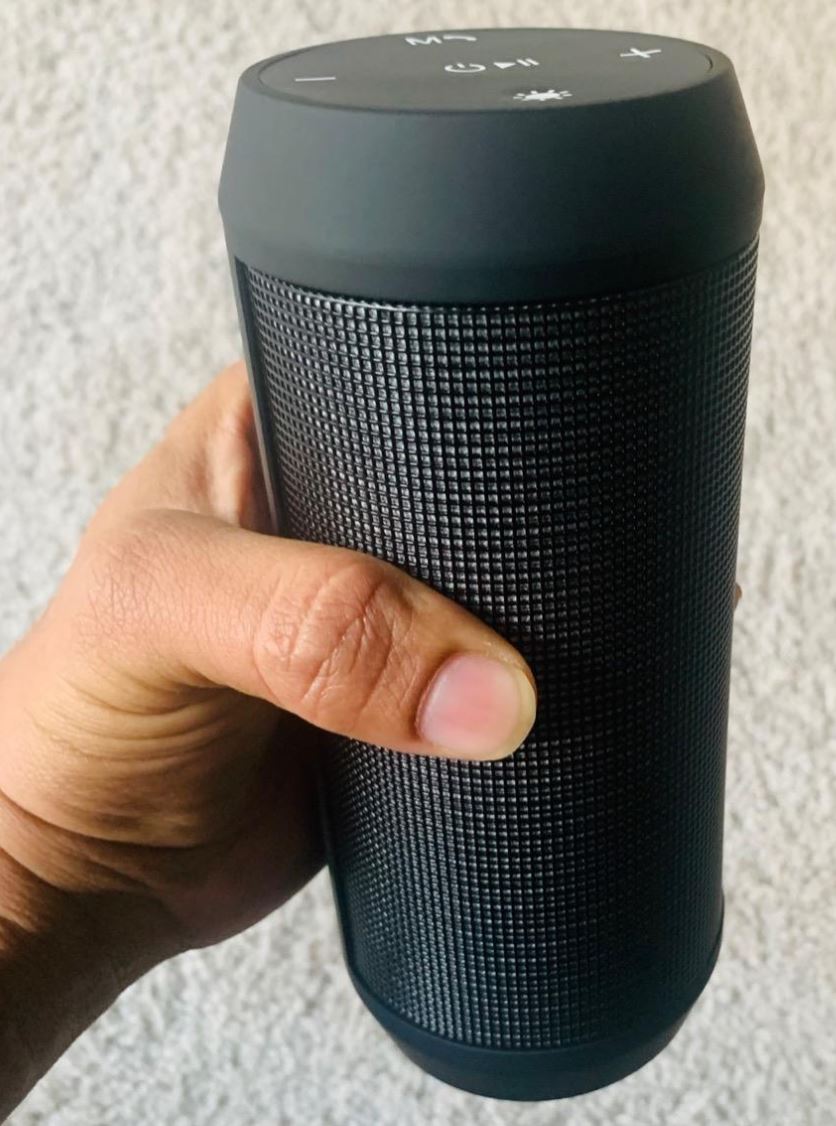 FM Radio
One thing that really sets the ELEHOT speaker apart from the competition is its inclusion of an FM radio. Although some people may never even turn it on, other folks can appreciate having an FM radio. You have the option to select between "Automatic" and "Manual" seeking when scrolling through to find a station. Obviously, it depends on your whereabouts, but we found the FM radio to work quite well. We opted for the "Automatic" mode rather than manual, simply because it worked better. FM bands between 100HZ-20KHZ are supported and dependent on your physical logistics, as with any FM radio.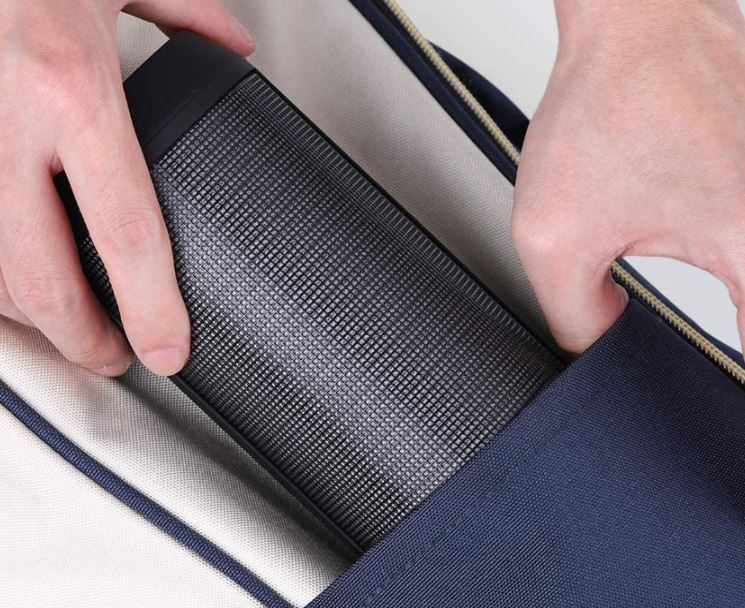 Battery Life
Inside the ELEHOT speaker is an built-in lithium-ion battery. It's fully rechargeable with the included micro-USB cable. Simply plug it in and within about 5-6 hours you can expect a full charge. This full charge will last somewhere between 8 to 16 hours, depending on a few factors. The volume you're paying music at, ambient temperature as well as wireless distance are just a few factors at play. If you're cranking the volume up high or in a cold environment, you're likely looking at around 8 hours of battery life. If you listen at a normal level and exposing it to warm or average temperature, you can easily expect 14+ hours on a single charge.
When we spent a week testing the speaker, we only charged it two times. Both times, we found the speaker to last between 11-12 hours. Pretty good in our opinion, and surely adequate for most scenarios.
Wireless Range
With the inclusion of Bluetooth 5.0, it's apparent that the ELEHOT portable speaker is more future-ready. This is the latest version of Bluetooth that allows for up to 30 feet of wireless range with the best possible transmission. Although the audio quality over Bluetooth 4 isn't significant, it assures less lag, better transmission and a more powerful signal.
We found the wireless range to be better than advertised. In fact, we achieved 40 feet of wireless range on more than one occassion. However, this was with perfect line-of-sight transmission, meaning there were no obstructions between the speaker and the paired device. Simply put, you can expect fantastic wireless range unless you have a few walls or objects in the way.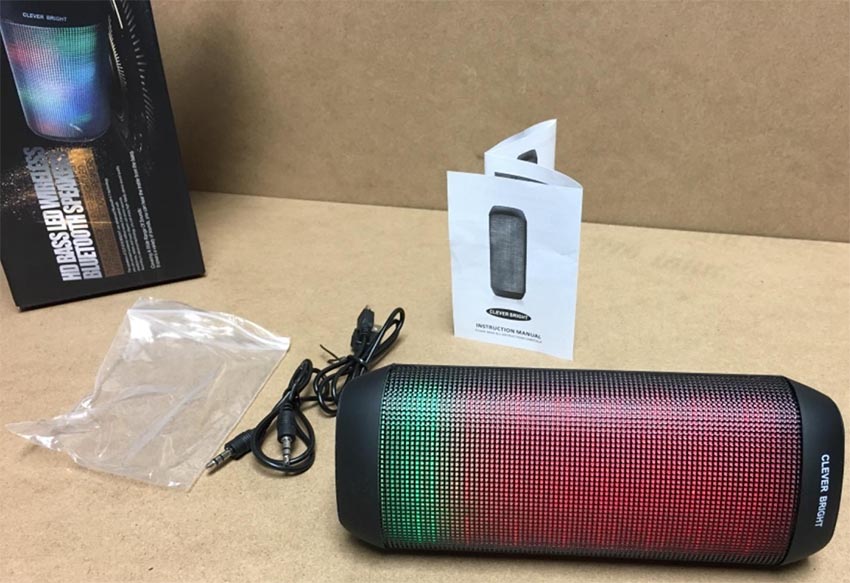 Clever Bright Bluetooth Speaker
Although the Clever Bright Bluetooth speaker is only a few more dollars, it's incredibly similar to the ELEHOT. While it may not have the same exact features, there's areas where it might be better suited for you. First of all, it resembles the same style; a cylindrical body measuring the exact same length of 7.28 inches. However, it's a bit skinnier, at just 2.95 inches deep and 2.56 inches wide. The body is more of a triangular shape, although it's also comprised heavily of sturdy ABS plastic.
Weighing in at just 0.75 lbs, the Clever Bright is much lighter and therefore a bit more portable. Holding it in your hand, you'll notice a very similar texture with a rubberized coating making up the majority of the exterior.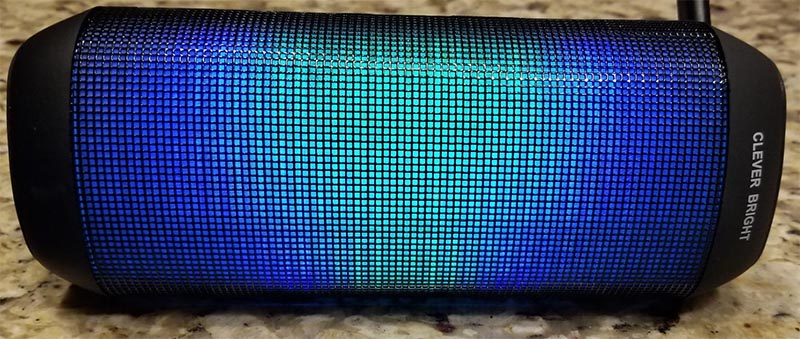 Located on top are all of the controls. From here, you can perform every function possible; power on/off, volume adjust, skip/previous tracks, LED modes and more. The buttons are slightly recessed but textured so they're somewhat easier to press than that of the ELEHOT speaker. Not a big deal but worth mentioning.
On the back you have the micro-USB charging port and a line-out auxiliary port. You'll notice there's a lack of any memory card (SD or TF) reader. This sets it apart from the ELEHOT, which provides both slots for easily plugging-in your music that's on a memory card.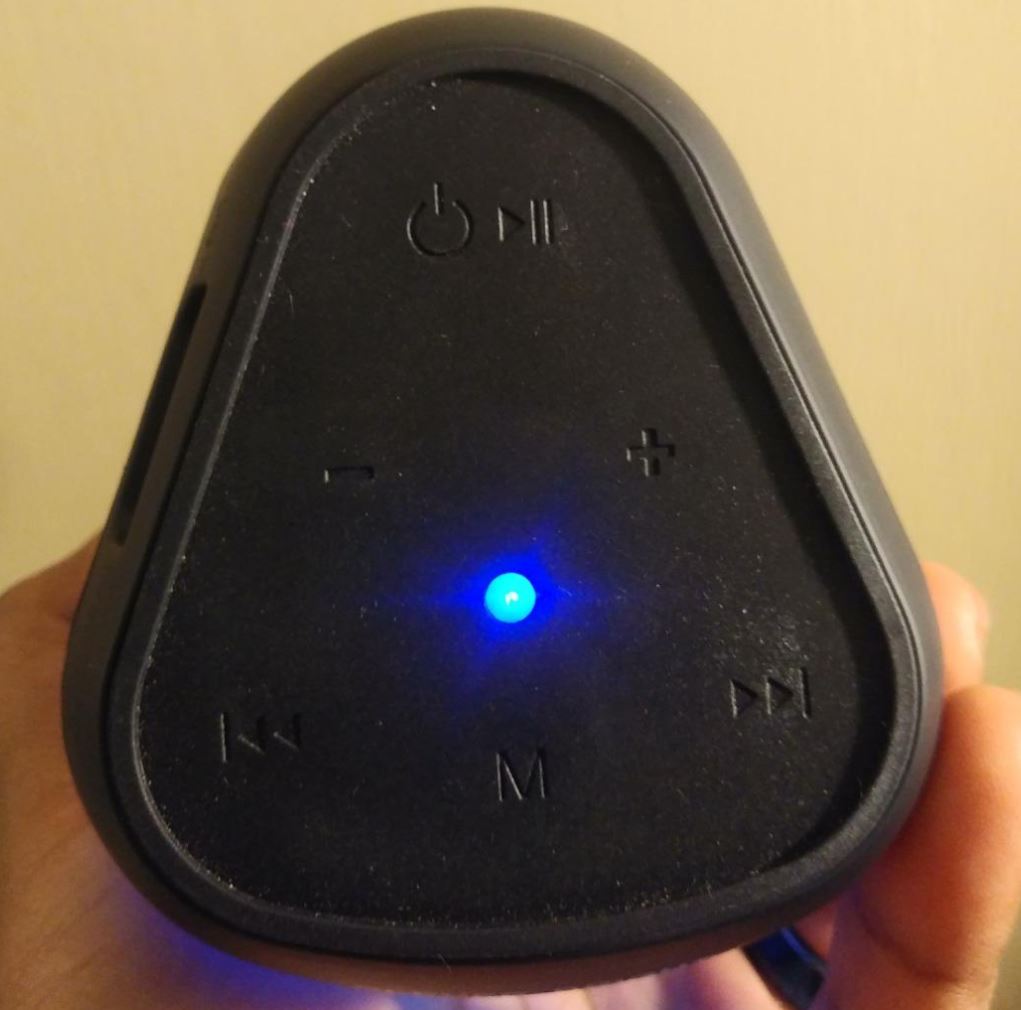 Sound and Bass
Inside of the Clever Bright Bluetooth speaker you'll find a 10w driver. This is the same size of driver as found in the ELEHOT, which provides almost identical capabilities on paper. However, Clever Bright included DSP with their speaker, which seems to give a slight advantage when it comes to audio quality. Mid and high tones are nice, with clear vocals and the ideal amount of treble. The bass, on the other hand, seems to provide a little bit more "punch" than the ELEHOT. It provides slightly deeper resonation with no muffled effects or distortion, even when the speaker is cranked up to its maximum volume. This may have been because Clever Bright has tuned their speaker a bit better by not offering the highest amount of volume possible.
To be fair, it seems as if the ELEHOT speaker can deliver more volume, whereas while the Clever Bright can't reach the same volume, it provides better bass clarity. It's a pretty even playing-field when you compare the two simply because if you don't want to deal with the distortion, turn it down a bit, then the ELEHOT will match the Clever Bright without any discrepancies.
TWS mode is also supported. With this, just like the ELEHOT, you can pair-up two speakers for dual sound. The feature works quite well and provides a better listening experience for those who want stereo sound coming from both sides of the room.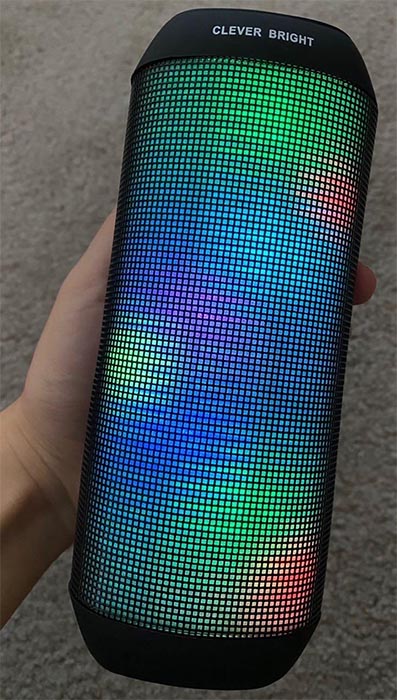 LED Modes
The Clever Bright speaker has an extra 2 LED modes over the ELEHOT. With a total of 7 LED modes, you're given a bit more flexibility. However, the modes are quite different when comparing the two speakers. While the ELEHOT provides solid-color modes, the Clever Bright does not. Instead, the light effects are a bit more unique. The first mode enables the LED to go down from top to bottom. The second mode emits light from bottom to top. Moving onto the third mode, the speaker will glow with an oblique light. Additionally, the fourth mode gives off an effect of "circling bubbles". The 3 remaining modes give off an irregularly beating flash. Each mode, however, pulsates to your specific tunes, giving a warming effect that jumps around with the music you're playing.
We like to see a random variety of lighting modes although some may not care too much. Both of these speakers have LEDs inside the speaker grille, giving them an almost identical appearance. Just keep in mind that you're getting a bit more flexibility with the Clever Bright speaker.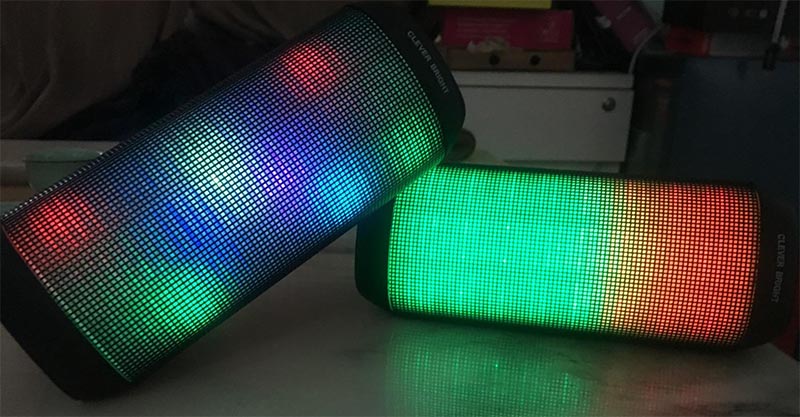 Battery Life
Although the internal rechargeable lithium-ion battery in the Clever Bright speaker is rated for a 2000 mAh capacity, it's only good for about 4-5 hours on a single charge. Obviously, this is nowhere near as impressive as the ELEHOT, but still sufficient for many scenarios. As with any rechargeable battery, so many factors are at-play, but even with the LEDs turned off and the volume around 60%, we were still only able to get around 5 hours before the low battery warning came on. Definitely not as impressive, so something to truly consider.
Wireless Range
The Clever Bright carries a somewhat outdated Bluetooth version 4.1. Although it's not as recent as Bluetooth 5.0, it still seems to work well and provide the same rated wireless range as the ELEHOT – 33 feet. However, the 33 foot estimate isn't quite as accurate in our experience. With pure line-of-sight, we achieved around 25 to 30 feet before wireless transmission issues began to creep in. Don't get us wrong, the connection is stable as you'd expect it, but the range just doesn't seem to be quite there.
Final Thoughts
As you can see, both of these speakers provide a decent value overall. The sound quality is almost identical, although the Clever Bright seems a bit more favorable when it comes to heavy bass-rich tracks. Since they are both equipped with 10w drivers, the amount of power you're getting is quite similar. ELEHOT's speaker doesn't seem as finely tuned for low bass, but the clarity is totally fine unless you leave it at 100% volume.
Both of these speakers lack any sort of waterproof rating, so keep that in mind. You don't want to expose them to rain, moisture or even an excess of dust. An actual IP rating would have been nice, but we're not too bummed out about it.
The ELEHOT utilizes the more-recent Bluetooth 5.0 version which might be the reason it's capable of better wireless range. Although, both speakers seem stable, the Clever Bright simply doesn't have the same amount of range.
When it comes to battery life, ELEHOT is a clear winner. The internal rechargeable battery provides over twice as much capacity, although they never mention the actual mAh capacity in any of their marketing material (or instruction manual).
Selecting between the two will likely come down to your own preferences. In our opinion, we love the ELEHOT speaker just a little bit more. The longer battery life and better wireless range are definitely nice to have. The real deal breaker for us is the battery life. Clever Bright should have included a bit more battery efficiency as it would have been very beneficial for the end-user.
All in all, you can't go wrong with either. Both speakers are capable of producing decent sound quality at an affordable price-point.