Personal training devices can vary immensely in effectiveness based on the user, and thus there is an inherent potential controversy. While having insights into specific workouts, eating regimes and other information is valuable, it's only as worthy as what you apply, where applying 90% of the right actions and habits don't necessarily produce 90% of the results.
One of the fascinating things about Vi's Kickstarter campaign is the massive amount of financial support which has surpassed the one million dollar mark, as well as its reviews on how it provides motivation for its users on a daily basis. With that being said, there is a need for authenticity and expertise. Practicing the wrong things doesn't make perfect, and we're going to break down each of its features to see how effective its AI technology is as a whole.
It's also a workout device that relies on being compact and easy to wear. For this reason, we're going to analyze each feature critically in order to distinguish between well-designed, advanced components, and any gimmicks or poorly designed aspects.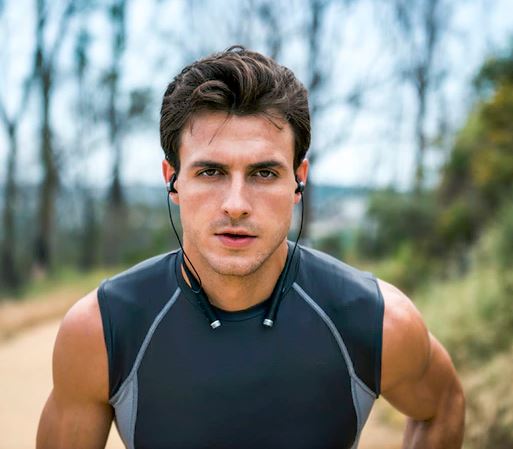 Wearable Technology for Runners and Cyclers
A basic set of earbuds that you can wear during physical exercise, especially running, alone is worth looking into. The fact of the matter is that not only is tracking down lost earbuds and constantly fidgeting with a smartphone interface distracting, but also very detrimental to your workout, due to a lack of consistency and focus.
We'll discuss the smart, hands free AI coaching capabilities of Vi in later sections, but it's worth mentioning that the device itself is designed for human use. For starters, the textured base which the earbuds are attached to is flexible yet sturdy, designed to keep in place comfortably with a gripped surface. It also provides an attachment to the earbuds so that they don't fall onto the ground or wind up in your bike chain.
While the base is designed to fold and conform to just about any body size, you can also choose between three sizes of ear fins and ear gels. The earbuds themselves are fitted with bio-sensing technology, and their touch awareness is quite sensitive, and they also feature magnetic tips. These allow you to store your earbuds into the shoulder mount, so they fold up into a single, compact unit.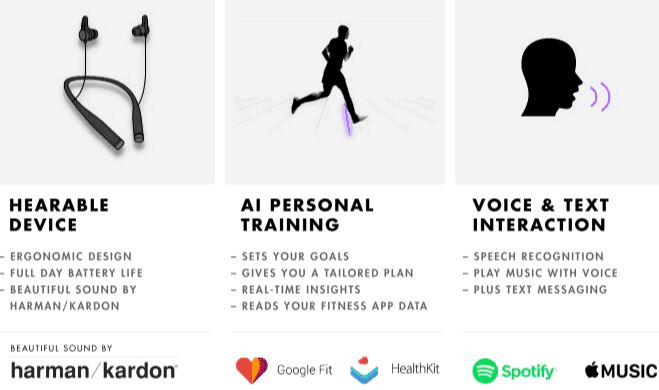 Voice and Text Recognition with Mic and Headphones
While these aren't Vi's most noteworthy features, we mention them here for the inclination that we have to answer calls and texts during a workout. It could be argued that these activities are easily ignored while you're running, lifting weights or out cycling, because there is no requirement to touch or even look at your phone, it's a convenient feature to have overall.
Vi actually translates all of its own communications, as well as texts and voice commands for you, and is capable of carrying out tasks at the same time. The mic is placed directly in front of your mouth, and features noise cancelling fibers and signal-processing algorithms, so that it can understand what you're saying when you're breathing heavily or in a windy area.
In terms of speaker hardware, there's a waterproof mesh between the ear gel and front cover, and a PCB directly behind that. The rear cover has a cable strain relief mechanism and a magnet, and is covered with aluminum. Creators of the Onyx Studio, Harman/Kardon, are responsible for the driver's high fidelity sound, which is located directly behind the PCB. There's also a touch sensor located on the earbud, which allows you to begin giving voice commands without having a smart phone in your hand.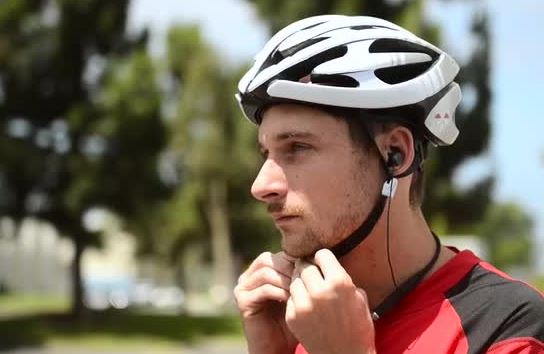 Full Day of Battery Charge
You may not be accustomed to charging requirements for headphones, but you know how frustrating they can be when frequent, especially when your workout technology relies on it for functionality. Vi offers a rechargeable 3.72 volt 2z.9mAh lithium ion battery that, despite some of the advanced features we'll discuss in a moment, provides power for eight hours.
You can increase this lifespan when it's not in continuous use, as well. With that being said, it's designed to provide benefit over an entire day, by inputs that aren't relevant to working out, but could be used to create a more accurate profile for your athletic needs and preferences.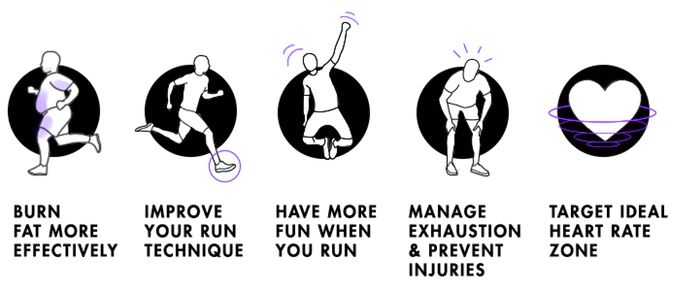 Other Technical Hardware Specs
You can charge the battery via a micro USB cable which plugs into the bottom of the shoulder base. The base also has an LED indicator for power and function indication, a buzzer for silent alarms like phone calls and texts, and a barometer which can be used to detect things like the rate of inclination for running.
Three buttons are located on the right side of the base for simple commands like volume control. Within the base is also an antenna for wireless networking, meaning no dangling cords. However, this could potentially lead to lower audio quality when listening to music or making calls.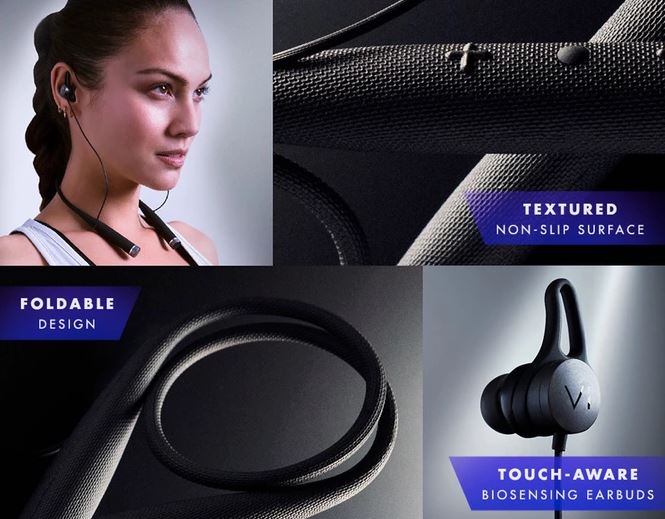 Multi-Faceted Input Analysis
This is one of the areas that Vi does really uniquely, not only in that it has access to more of your physical data via sophisticated sensors, but also its artificial intelligence engine. In terms of sensing capabilities, it tracks and monitors the following information:
Workout Habits (Training History)
Location (via GPS)
The Weather in Your Area
Your Altitude (via the barometer)
Heartrate and Heartrate Variability
Cadence in Your Running Steps
Your Movement Speed
Height, Weight and Other Anatomical Data
HealthKit and Google Fit Synchronized Data
With raw physical data, you can see insights that might otherwise be unknown. However, rather than exercising the endless job of recording and researching that data, Vi's artificial intelligence promises to do this for you, then provides you with real-time instructions.
One of the functions of this is with goal setting. The reason it's effective at doing this is that it can see where you've been and where you are in terms of physical fitness. For example, it sets long term goals that adjust as it gains new data, but also short term goals that you can work toward and feel enthusiastic and confident about.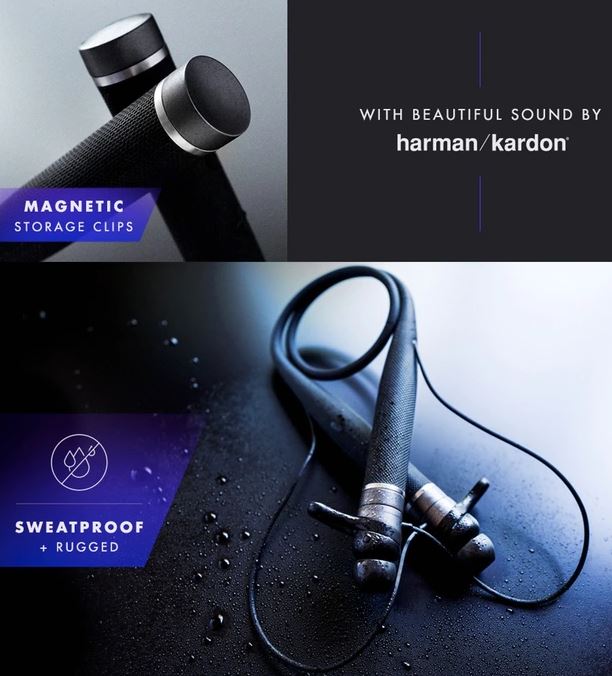 Voice is a major aspect of this, as being able to not only understand what you're saying, but providing a personality that influences you is something that takes time to fine tune and personalize. What Vi does in this instance, is analyze your voice via machine learning and speech recognition technology. Its own voice technology is always constantly expanding in functionality, as well as in being capable of offering relevant prompts based on where you're at, and the specific exercise.
Some of the major benefits of all of this, is the ability to reduce overexertion, burn fat appropriately, motivate you, create a harmonic cadence between your body and your running pattern, and maintain an effective heart rate in real time. In terms of a personal trainer relationships, Vi also pays attention to small details, such as sending text messages about the weather and preparing you for your workout.
Goal Setting and Data Networking
Vi's companion smartphone app is the connecting link between your results and the input/output device that you wear. For example, it's the basic interface where you plan out your daily and weekly goals, personalize your experience and gain detailed insights for yourself.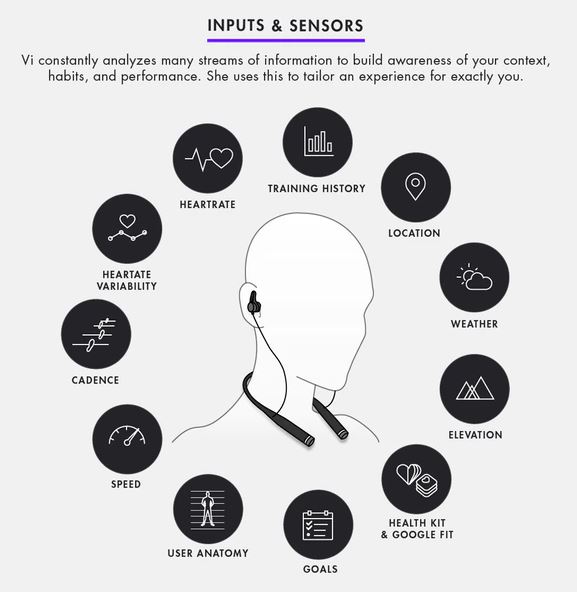 This aspect of Vi is consistent with its approach to simplicity, in that those functions you use during workouts, such as short term feedback on your progress, are designed to be accessible immediately and only require a glance to understand.
Your smartphone also provides streamlined access to the social platform dedicated to runners, called Strava. What this does is use collective and local data to provide further insights into your cardio regime, by recording and analyzing detailed information.
LifeBEAM, the creators of Vi, are planning to provide continued support to all users. In particular, there will be further software updates which you can access wirelessly with your smartphone, which will provide more personalized and specific personal training services. A convenient thing about this additional smart information technology, is that it supports both Android and Apple devices. This also includes a Cycling Mode, which uses time, elevation, speed, heart rate and distance data currently.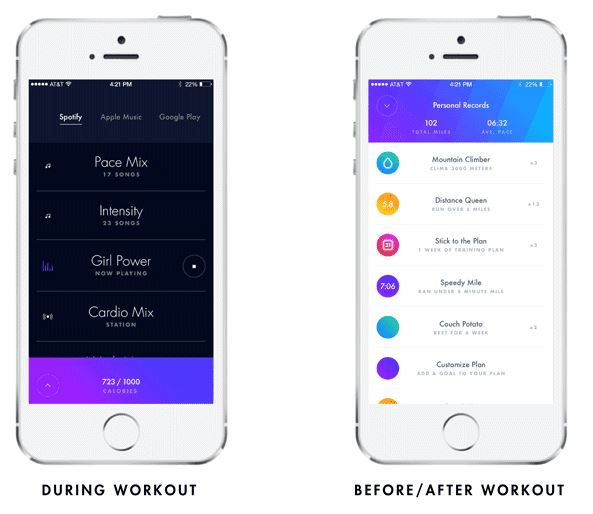 Conclusion
Some very professional firms have been brought in to deliver in the areas where Vi's artificial intelligence technology couldn't on its own. At the face of it, it's a really effective information technology. However, without the design direction from Scott Wilson, leader of an award winning product development firm called MINIMAL, it probably wouldn't have the comfortable, ergonomic fit for all users.
Harman/Kardon play no small part in developing the sound hardware either, as many users find quality music irreplaceable in their workout regime. One of the many insights from the various people who've tested and backed Vi, is how comfortable and easy to manage it is, not to mention how helpful even seasoned athletes found its AI technology. An interesting note is that professional fitness trainers are likely to find this tool helpful, as it would allow them to focus on more advanced areas for their clients, while Vi guides them every step of the way.