Wireless headphones offer tangle-free, mobile use of your favorite audio devices without the requirement of messy cords. We all know that typical wired headphones can become quite frustrating over the course of time.
The challenge associated with durability still exist with Bluetooth headphones, along with a high demand on sound quality and performance, among other advanced features, as technology continues to develop over time.
If your headphones fail to keep up with the times, what you have is something that doesn't work as well as it did only a few years ago, even if it once had a high durability value, or is dramatically less valuable due to new technology being made less expensive. It's also incredibly important that they sit securely and comfortable, and are still portable enough to store them away wherever you'd like when they're not in use.
We had the unique opportunity to test out the popular WiBlasts Bluetooth Headphones and give an honest and critical review. We're going to take all of these qualities, as well as appearance and pricing, to determine what the their true strengths and weaknesses are as well as which problems they solve effectively. We're going this in order to bring you an accurate review, which you can use to form an educated opinion about them.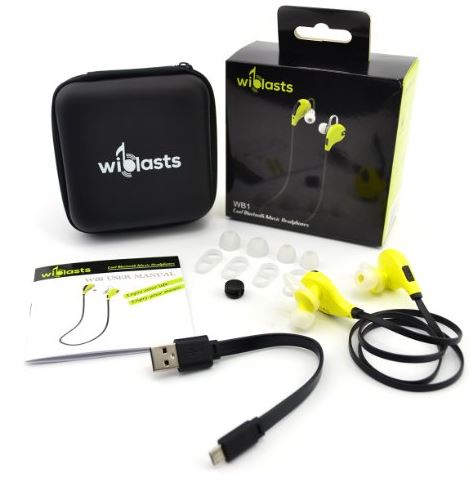 Connectivity and Ease of Use
The main and most popular benefit to any set of Bluetooth ear bud headphones is the ability to enjoy quality sound without a tangle of wires, where otherwise it would be nearly impossible, if not incredibly distracting.
For example, if you're riding your bike with a long cord dangling around, or you're playing a high impact sport like soccer, it's easy to get the wires caught on things or even trip over, resulting in either your headphones being pulled out of your ears, your audio device, or worse – they could potentially be left completely broken.
WiBlasts takes care of all of that effectively with a set of quality-driven wireless headphones that weigh only 16.4 grams, and use Bluetooth 4.0 technology.
Bluetooth 4.0 provides you with fast data transferring so the headphones can achieve a high quality listening experience due to their ability to transfer larger audio files, as well as produce full stereo sound since the data isn't distorted over an unreliable wireless connection.
They're effective for syncing up with all of your portable mobile devices, since they're compatible with just about every single Bluetooth-enabled device, offering a completely wireless range of up to 10 meters or 33 feet.
Charging and travel is easy and secure as well, with an included complementary charging cable and carrying case, so that they fit compact in your pocket without being tangled up or damaged from outside elements when not in use.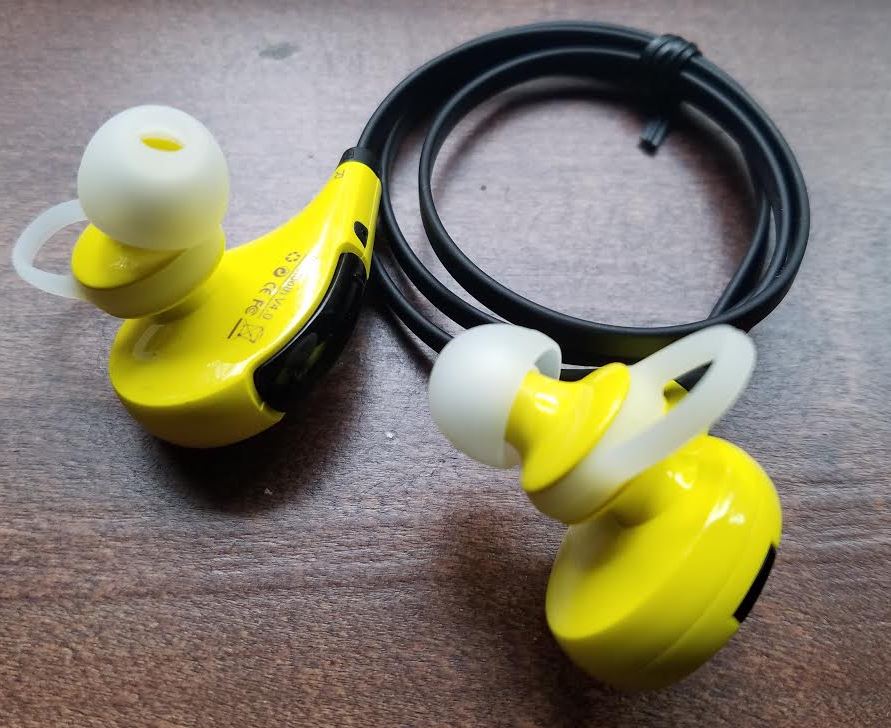 There's also an advanced feature that will allow you to simultaneously connect two devices at the same time, so that you can connect the headphones to your computer for gaming or video streaming, and also receive calls via your smart phone.
Often overlooked by many, but an important aspect nonetheless is how they fit and secure within your ear. Each ear bud is equipped with a small "ear-hook" that enables you to place them within your ear canal and wedge them in without them falling out of position. There's a small silicone curve that provides some resistance to keep them within your ears even when participating in high-action sports or movements that are quick and sudden. Additionally, they come included with three different ear bud tips that you can freely interchange to achieve the best fit possible.
Another performance feature that will be useful to some people more than others, is the integrated microphone. It'll be especially valuable to gamers as well as people who wish to talk on the phone while traveling who don't have a spare hand.
Superior Audio Performance
The WiBlasts Bluetooth Headphones do have some comfort limitations if you're not a fan of the way they secure to your ear. Some individuals may prefer a "hook" that goes around the actual ear, but we found that the inner-ear hook they have actually works quite well and is still comfortable after hours of continuous wear.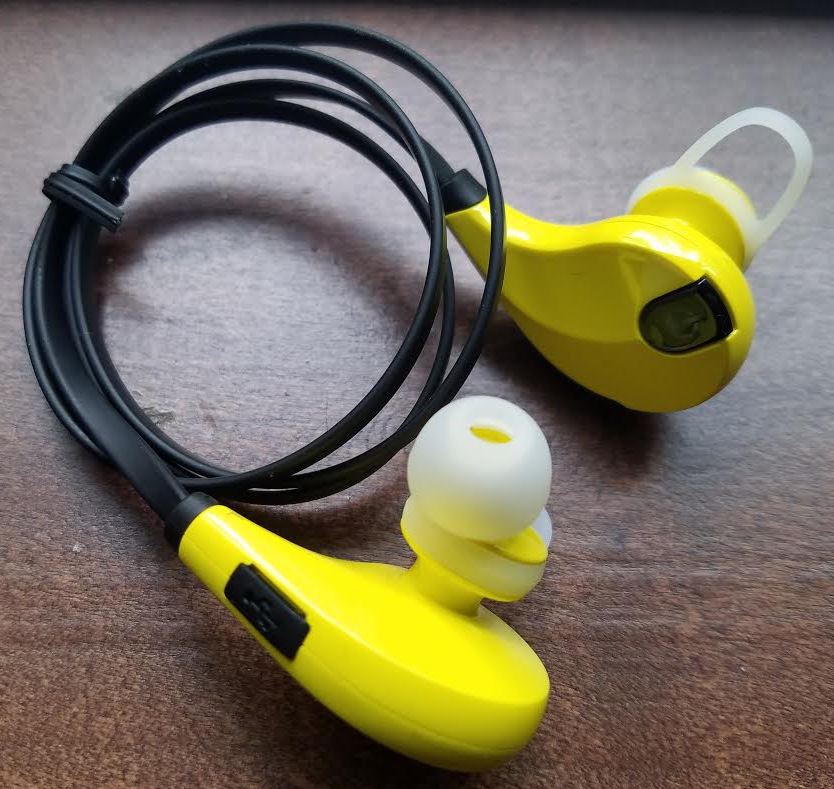 As with any pair of high-end headphones, the audio quality itself was given special consideration, meaning excellent performance due to their HD audio capabilities – many other wireless headphones simply don't offer this.
Since they use Bluetooth 4.0 technology, you get to use the full potential of all of your devices and all of the complex audio media you'd like to enjoy. They're fully capable of producing high quality stereo sound without any distortion or muffled sounds. All of the tones that we experienced were right on point, sharp and precise.
They also feature CVC 6.0 noise cancellation technology, which is specifically designed for headphones to keep out distracting sounds out and also balance the sound coming from the headphones, so you always have a consistently pleasing listening experience.
Another aspect related directly to both performance and comfort, is a standby time of up to 180 hours, meaning you can take them with you on the go, and always have access to them for days or weeks at a time.
Overall Durability and Value
It's incredibly important that a company stands by their product, because it means they're willing to guarantee that it will work as intended, and last a long time, but also for customer service.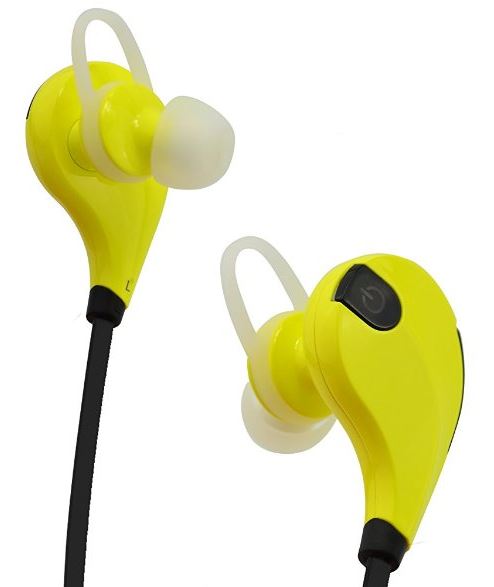 Defects do indeed happen no matter how high of quality a product is. This makes the WiBlasts such an advantage in terms of longevity and durability, because they're guaranteed to work for life, and they have a professional and friendly customer support staff that's always available. This can't be valued enough, since effective customer service and a competent product development team can make the difference between a set of headphones you love, and that serve you for a very long time, and a company you might never buy from again.
They're not only built for comfort, but they also provide for a long life span and are completely sweat proof, meaning you can use them at the gym with total peace of mind.
The battery is something we'd like to make a note on. They have an impressive standby time of up to 180 hours and a 4-6 hour use time when fully charged. This seems right in-line with most other headphones within this same price range.
Pros and Cons
Where WiBlasts really beats the competition is in performance and the overall sound that they output. The sounds never seem to be incompatible with what we'd typically like to hear – a healthy balance between crisp, pure tones, and realistic effects of bass and treble.
You get very good sound out of the HD quality stereo speakers, where other models don't seem to measure up. They're fully capable of playing complex audio with faster data streams and less requirements than older versions of Bluetooth.
One small "con" that we noticed was in the silicone ear hook that rests inside of your ear. It's a tad bit flimsy and it would be nice to see a bit mroe rigidity to it. We feel that potentially over time it may become weaker and not fit properly. But they're lifetime warranty assures this shouldn't ever be something that should hold you back.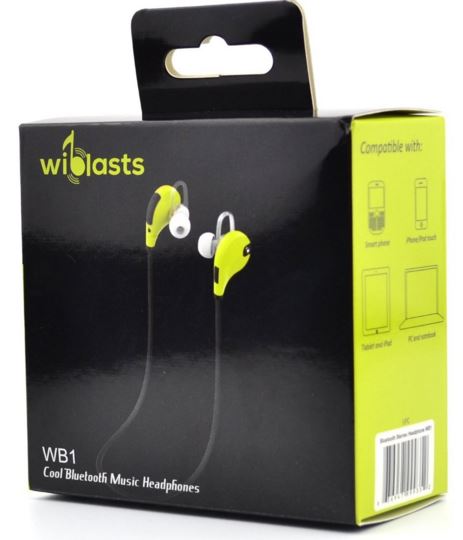 Final Thoughts
The WiBlasts Bluetooth Headphones have great performance and durability, which are very important for any set of headphones at their price range.
In terms of comfort, they seem to fit well and hold in position just fine, even through rigorous activities. However, it's important that you take some time to adjust them properly with the right ear tip size before you rely on them to stay on securely.
Best of all, you can truly tell that the WiBlasts company is confident in their product since they offer such an impressive warranty that covers them for life.
They're inexpensively priced and a great option for those seeking a quality listening experience with matching build-quality and a lifetime warranty to back it up.