Technology is often very black and white. The difference between a 120 GB hard drive and a 240 GB hard drive is easily quantifiable. When deciding whether to choose one or the other, you simply need to look at the numbers and see what best suits your needs. The same can be said for computer components, cameras, televisions, and many other types of consumer electronics.
Audio is an exception. Sound is subjective, and what sounds good to one person might not sound good to another. Unfortunately, we often treat audio gear the same way we'd treat another piece of technology. Consumers like to draw clear lines in the sand claiming that X is better than Y.
Note: At no extra cost to you, we may earn a commission for purchases using our links. Learn more.
Active noise cancelling is better than passive noise cancelling. Satellite speakers are better than laptop speakers. 5.1 surround sound is better than a sound bar.
Sometimes, these sentiments are true. There are full-size speakers out there that will blow away any sound bar on the market. But this isn't a rule. With a little creative engineering, manufacturers have managed to produce high end sound bars that outpace competing speakers, regardless of the form factor.
There aren't many companies that are equipped to produce an audiophile grade sound bar, but Yamaha is one of them. Yamaha has been at the forefront of audio innovation as long as there's been a market. Their studio speakers are considered by many to be industry standard, and their amplifiers are second to none. With the release of the YAS-107BL Sound Bar, Yamaha promises audiophile grade sound in a compact package.
Is this the next generation of sound bars, or just another entrant in an already competitive marketplace? To find out, we decided to try it out for ourselves.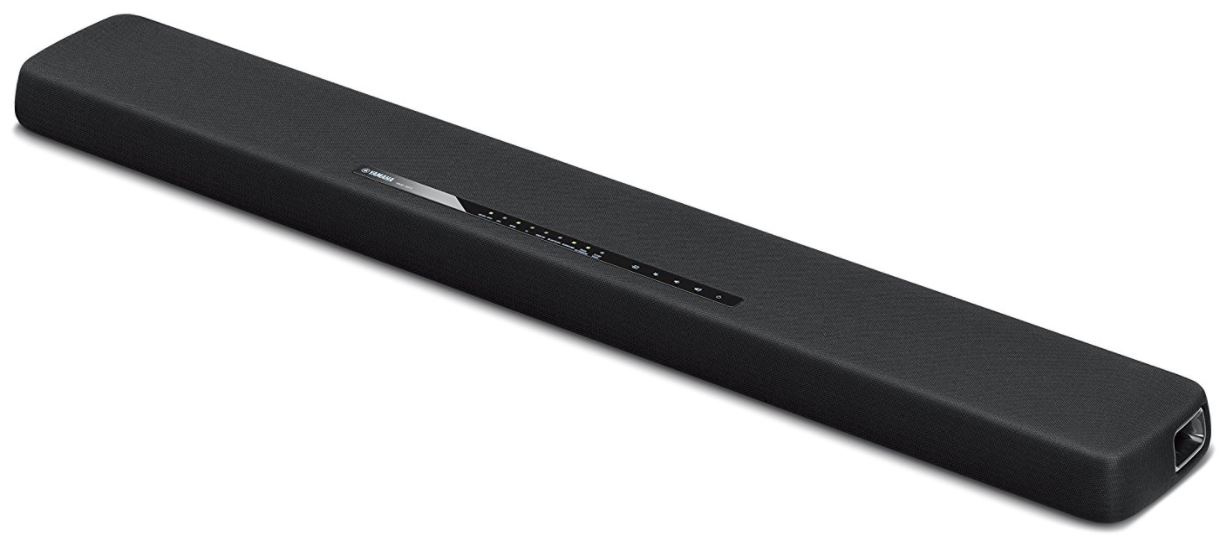 First Look
The YAS-107BL looks like your everyday, ordinary sound bar. But there is a lot more to it than meets the eye. This is a three-way speaker, meaning that the highs, mids, and lows are split between three different drivers. The 1-inch metal dome tweeters and 2-1/8-inch woofers are similar to the ones used in other sound bars, but the 3-inch active subwoofers are what really sets this sound bar apart. It's a stereo speaker, so there are two of each driver present. Separate amplifiers are used for the high end and low end frequency, pumping out a total of 120 watts of power.
Yamaha markets this sound bar as both a home theater speaker as well as a home stereo system. Music can be played back over Bluetooth or through the optical connection. HDMI audio is also supported, one of the key things we look for in a home theater speaker. Yamaha also includes several audio processing systems designed to make the speaker sound better, so we were definitely curious to see how it sounds.

Connectivity
When audio equipment is made to be compact, the first thing to go is the port selection. If you've been shopping for a sound bar for a while, the first thing you check will be the connectivity. For a sound bar to be functional, it needs to connect with all of your audio sources you intend to use. This is one of the few examples where no corners were cut.
Yamaha provides you with passthrough HDMI audio. This comes in the form of two ports, one to be used as an input and the other as an output. These ports support HDCP 2.2, so you can use it with a 4K video source. CEC is also supported, so the volume control for your Blu-Ray player can also control the sound bar.
For Audio-only input, you've got a lot of options. Your best choice would be the optical input, and Yamaha includes a high end cable free of charge. A 3.5mm analog stereo input is also provided, and Bluetooth 4.2 is supported for wireless audio.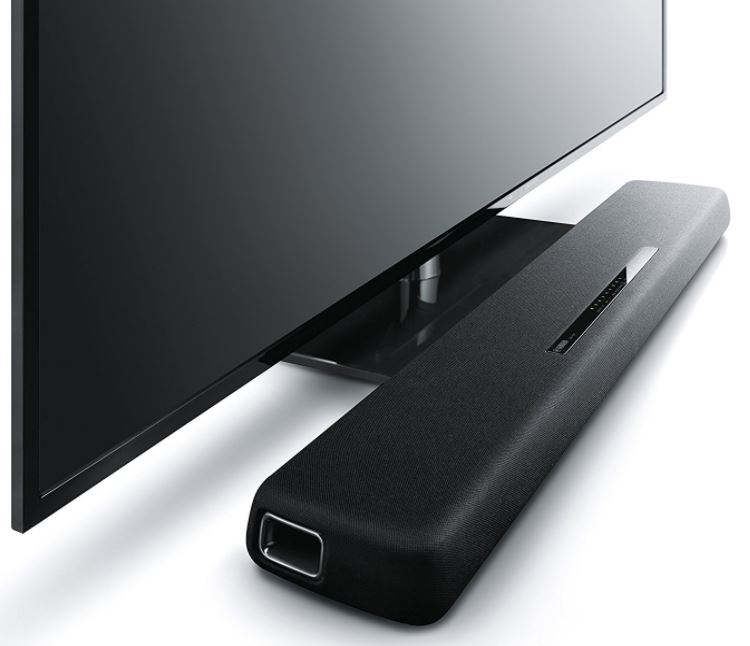 Design
This speaker does it's best not to draw any attention to itself, and the design manages to compliment virtually any environment you place it inside. Sleek and shiny plastics are becoming a common trend in the sound bar market, but Yamaha took a different approach. The vast majority of the enclosure is wrapped with acoustic fabric, making it seem as if the bar is really just one big driver. Plastic is only visible in two separate locations: on the button bar, and around the port holes.
The button bar is centered along the top, oriented just towards the front of the speaker. The butons are very small, but cover almost every function on the speaker. This includes file navigation, volume, mute, source selection, filters, and more. The same features are available on an included remote, or you can take advantage of the free app to control the sound from your smartphone.
It measures roughly 2 inches tall by 5 inches deep, and is 35 inches long. This makes it roughly as tall as two bowling pins. It will fit nicely in front of any television 24 inches or larger, making it fairly versatile. You can place it on your TV stand, or you can use the included keyholes in the back to mount it to a wall.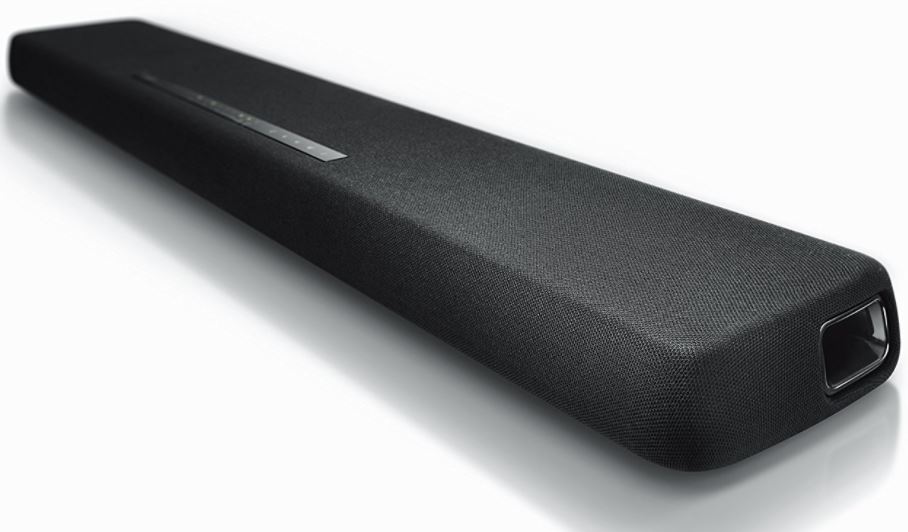 Sound Quality
So far, we've found this sound bar to be just a little above average in most categories. Ultimately, we'd be willing to make sacrifices if the sound quality is worthwhile. Even before we turned it on, we knew that we had high standard for this sound bar. Not only do we expect it to perform well with music, but it should make a decent home theater speaker. These two features tend to conflict with one another, and creating a speaker that performs well in both categories is somewhat uncommon.
For music, we tried out a variety of samples. From Dave Brubeck to the Dire Straits to Diplo, we tried to get representation from every genre out there. Considering Yamaha's history, what we found wasn't surprising. All styles of music were delivered with a high level of articulacy, remaining true to the original form. The high end sounded incredibly precise and detailed, capable of sounding sharp when necessary but never shrill. The bass was very airy. It had impact, and notes were delivered accurately. But you don't get that room-filling, bone-rattling bass you'd expect from a sub. The bass served to underscore the other musical elements, but never once over powered them. The mid-range was where the speaker really stood out. It was delivered with a cohesive tonality that seemed to bring the whole track together.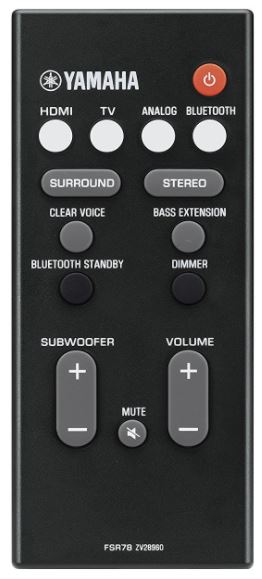 While this doesn't have the flat response curve of a true studio speaker, the sound signature is comparable. At first, you might find that it sounds a little underwhelming. But after you listen for a while, you'll realize that you're hearing details in your music you never knew existed. A high quality recording will sound better than anything you've heard before. On the flip side, with a low quality recording the flaws will be obvious and frustrating. The detail was definitely better presented than the Bose SoundTouch, although the bass wasn't quite as pronounced. But if you prefer an accurate speaker, this is the clear winner.
This unique sound signature has one key advantage: it's totally neutral. It doesn't color or modify the sound, and this is exactly what we look for with a home theater speaker. The audio from movies was clear and precise. Voices were easy to understand, and you could almost hear the emotion in the actors voices. Meanwhile, loud sounds like explosions and gunfire was delivered with both power and volume. There were some situations where we felt that the speakers could benefit from a subwoofer, but in almost every aspect the 107 was more than adequate.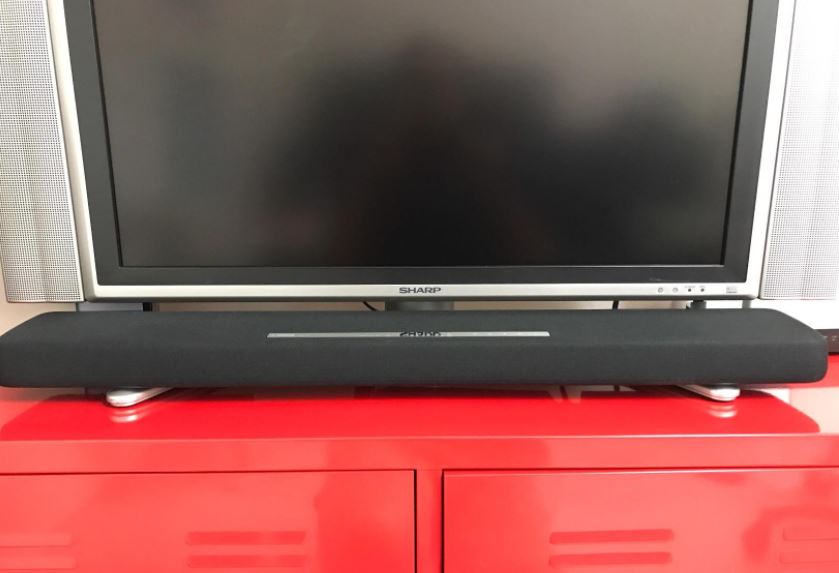 Audio Filters
Speakers with a neutral sound signature can be very polarizing to the consumer marketplace. Those who prefer this style of speaker tend to be more critical listeners, and would never consider anything else. On the other hand, the vast majority of consumers want something a little more playful. Technically, neutral speakers are more accurate. But we can't help but admit that other sound signatures are downright fun to listen to.
To compensate for this, Yamaha has a number of filters available that can change the response curve. "Music" mode increases the bass a little bit, and makes the mid-range a little warmer. This creates a peppy sound that is much more engaging than the standard mode. Movie mode gives the bass more impact, and highlights the treble. This creates a very cinematic experience, giving sound with a more aggressive presentation. Both TV program and Sports modes enhance voices, but Sports mode removes background noise much more aggressively. Game mode is similar to Movie mode, with higher emphasis on detail.
These modes all help you to get the sound you want, but we did feel that they took away from what the speaker is designed for. You lose accuracy, putting it back in line with most consumer hardware. The one exception is the ClearVoice filter. This is enabled with Bluetooth audio. Since Bluetooth audio is compressed, noise is introduced. Because the speaker is so detailed, these flaws are glaringly obvious. Clear voice reduces sensitivity, making the nose less obvious.

Final Verdict
If you want audiophile grade sound in a compact package, Yamaha has the sound bar for you. No other sound bar has as much detail or precision as this model. This means that it sound great with virtually style of music on the market, as well as movies and TV. This is a truly versatile product that would suit any audio buff, whether you're a serious audiophile or simply an experienced listener.
Unfortunately, the YAS-107BL Sound Bar is not for everyone. Bass heads will find themselves disappointed with the reserved nature of the small 3 inch subwoofers. Instead, we'd recommend that you check out a sound bar and subwoofer combo.
Note: At no extra cost to you, we may earn a commission for purchases using our links. Learn more.