A dash cam is certainly not going to be the most expensive component in your vehicle, but it could be the most valuable. In the event of an accident, a dash cam provides the documentation you need to ensure that the insurance company properly processes your claim. If your car is vandalized, a dash cam can act as a security system. If you witness an accident, your video testimony can be infinitely valuable to anyone involved. Even if none of those things happen, at least you can make a cool time lapse video for your next road trip!
You can think of a dash cam like a first aid kit. With luck, you'll never need it. If nothing else, the peace of mind it offers is worthwhile.
Dash cams have been on the market since the 80s. The reason they've only recently started to become popular is the price. At their current market value, almost any consumer can afford one. Ten years ago, dash cams were so expensive that they were generally only found in Police vehicles. Even over the past year, we've seen a pretty sharp decrease in their price. Lately, manufacturers have hit a plateau. Instead of working to make their cameras cheaper, they've focused their energy on adding better features.
Recently, we reviewed the most feature-rich dash cam on the market – the Waylens Secure360. If that product is a little too over the top for you, the Veckle Dual Dash Cam might be the perfect compromise. Like Waylens, Veckle's unique design addresses the most common issue with modern Dash Cams: limited range. By pairing a set of image sensors this camera lets you record footage from two angles. Is this a better system than single-sensor dash cams? To answer this question, we decided to try it out for ourselves.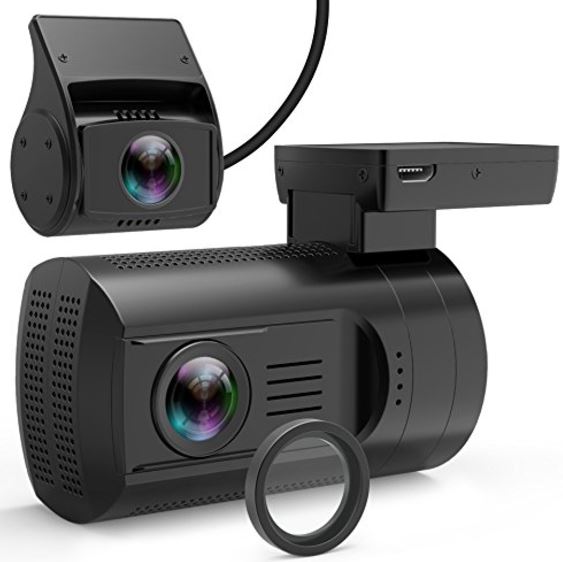 First Look
The Veckle Dual Dash Cam is similar in design to many other all-in-one dash cams. It mounts to your windshield, providing you with a compact LCD display to review your footage. A second camera is mounted to the rear of your car, and doubles as a reverse camera. When the LCD display is turned on, shifting your car into reverse will give you a live camera feed from the rear unit.
Veckle records all footage to a standard Micro-SD card, and supports both day and night vision. Like many modern models, it's designed to automatically detect collisions and save these video files for easy access. If no collision occurs, it automatically manages the video files removing old ones to make space for the new ones.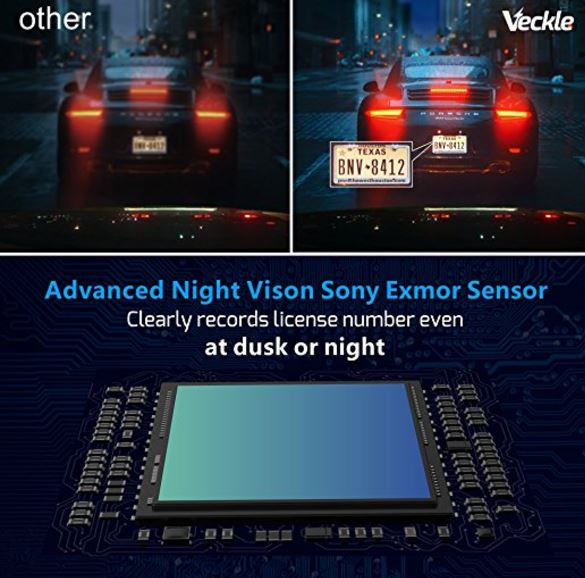 Design
The visual appearance of Veckle's Dual Dash cam isn't particularly appealing. It's got a very functional look to it, similar to your rear view mirror. You can tell that it's not designed for fashion, but rather for functionality.
The camera has a compact foot on the top of it that is used to mount it to your window. A semi-circular camera is attached at the bottom, and can swivel up to 180 degrees. This allows you to position it exactly where you want, compensating for different window angles.
On the back of the camera you'll find a small 1.3 inch display. This is fine for parking, but the smallest size display we'd want to see on a camera like this. The rear camera is much more compact, but also features a swivel mount and a wind guard. The cable is hard-wired into the rear camera, but connected with a Micro-USB port on the front model.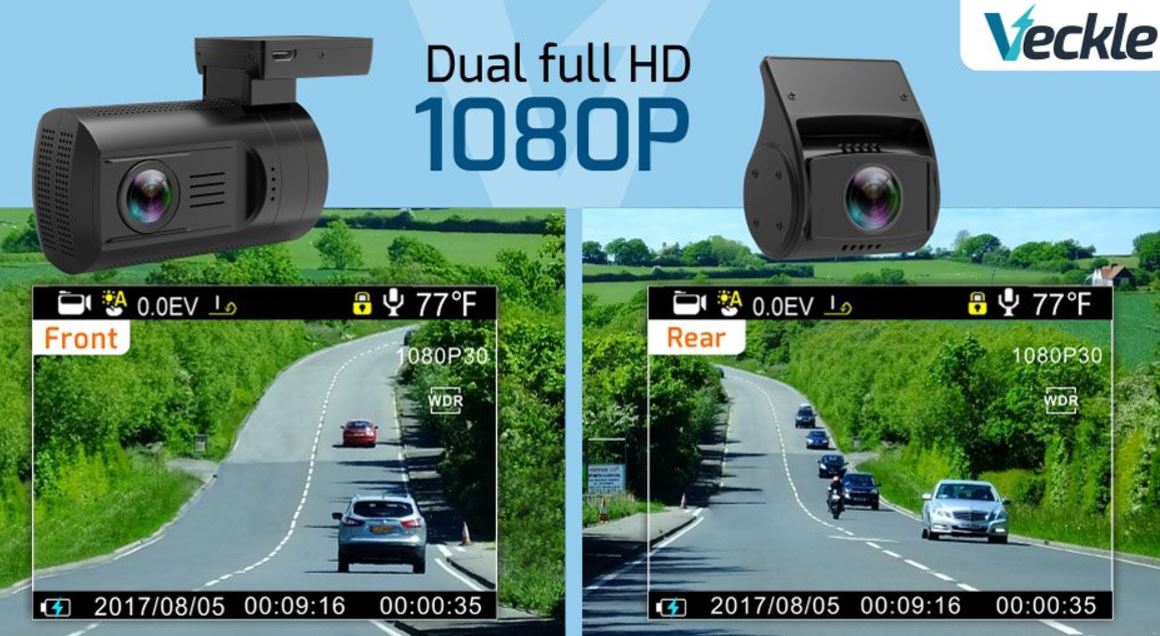 Installation
The included manual provides a surprisingly comprehensive guide to installing the dash cam. If you've done this before, the process will be straightforward. Upon opening the box, you'll find several key components. The first thing you'll find is the front and rear cameras, as well as a long 19-foot cable to wire in the rear camera.
Both cameras are mounted to your car with 3M VHB sticker pads. These pads are small, but they are extremely powerful. VHB tape is the very same adhesive used to mount solar panels to RVs, as well as install skyscraper windows. It's very important that you install these pads carefully. Once they're on, they aren't coming off. You'll damage the camera housing before you break the bond. All you have to do to install them is wipe down the area you're mounting it to, then hold the camera in place for 60 seconds. If you need to remove it, you'll want to do so with a razor blade.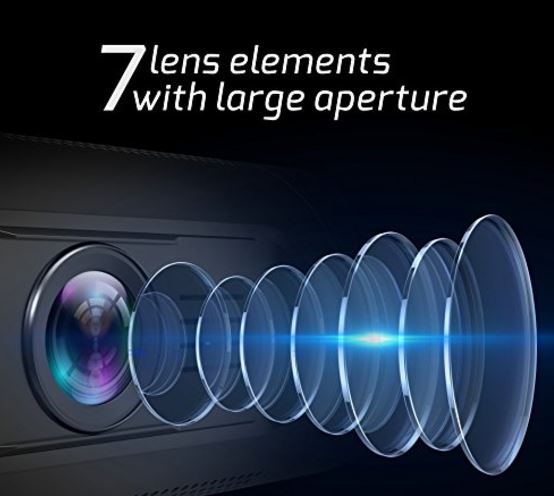 The front camera includes two mounting wedges (both six and four degrees) that allow you to adjust the mounting angle. This makes the camera suitable for a variety of vehicles, regardless of your window orientation. We installed ours at the top-center, just above the rear view mirror. The rear camera can also be installed using screws, if you don't want to use the VHB pads.
The hardest part of the job was routing the cable to the rear camera. We ran it in the door sills, just on the side of the car. This keeps the cable out of the way, although you could leave it loose if you wanted. You then need to power up the camera, which can be done by connecting the Micro-USB charger to your vehicles cigarette lighter. This charger provides 2A of current, which can run both the cameras as well as charge your phone. Adhesive-backed cable clips are provided to route this cable along your dash while keeping it neat.
Although the process is similar to that of other dash cams, the inclusion of shims, cable straps, and other accessories ensure that you can do a professional grade installation without any trips to the hardware store. For such an affordable camera, this is something we like to see.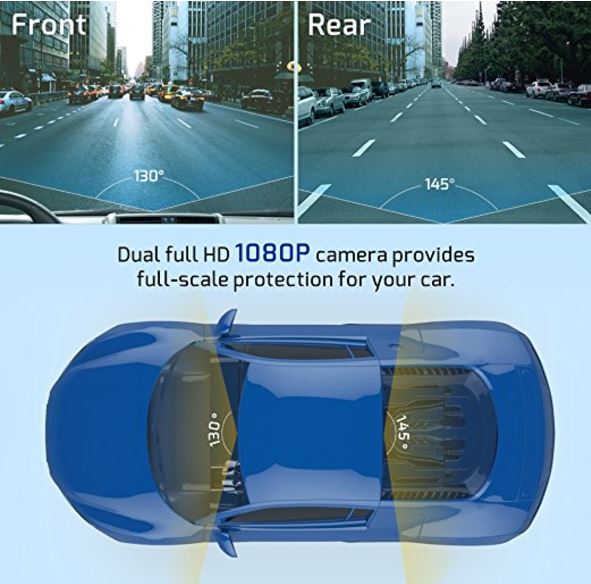 Video Quality
The video quality differs between the front and rear cameras. The front model uses a Sony IMX290 image sensor, while the rear uses an IMX322. These are both square pixel CMOS sensors, and both support 1080p. However, the front camera has a little less digital noise, producing a clearer image. Meanwhile, the rear camera performs better in low light.
The optics also differ from one camera to another. In the front, a seven lens optical system with a 130 degree viewing angle is used. This is a wide enough view to capture all traffic across a six lane highway. The front camera produces a crystal clear image, allowing you to see details like license plates – even when they're off in the distance. At night, the video does have a little grain to it, although it's still perfectly visible. The main difference you'll notice is range, as you'll be limited by your light source.
In the rear, an optical system, with an F/2.0 aperture is used. This gives you a much shorter depth, but a wider angle. This is perfect for seeing vehicles coming up into your blind spot, or keeping an eye on traffic while you're parallel parking.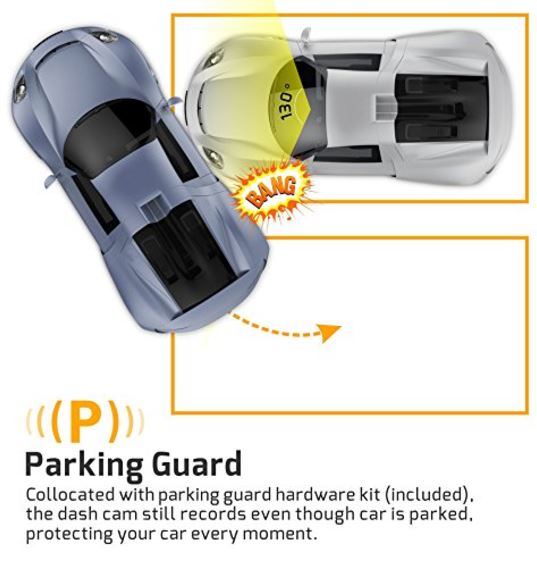 Functionality
Not only does this camera have a lot of built in features, but most of them can be triggered automatically. You're not going to have to use the manual interface to change settings, as a pair of advanced sensors can detect what's going on.
The most obvious example of this is the parking aid. As soon as you throw your car into reverse, the display turns on and shows you a live video feed from the rear camera. Since this camera doesn't need to be wired into your reverse lights like some models, the accelerometer is used. You'll find that any time you come to a complete stop, the reverse camera turns on. If you find this distracting at stop lights, you can disable that feature.
Because you're saving 1080p video from two separate cameras, your video files can be quite large. Veckle gets around this by reducing the frame rate during normal video capture. Video is 15 frames per second, which is half that of a standard video feed. Because accidents happen fast, this frame rate isn't really adequate. What they do is quickly increase the frame rate to 30FPS any time a large amount of G-force is detected. Taking a tight turn at high speeds, slamming on the brakes, and of course an impact can all instantly result in an increased frame rate. This solution means that the video sizes are generally halved, allowing two video feeds to occupy the same amount of space as a single sensor dash cam.
Disadvantages
There are two main disadvantages to this dash cam. The most noticeable is the heat sensor. At high temperatures, the components of this dash cam can malfunction. To address this problem, Veckle uses a high-head shut down to disable it when it's very warm. If you leave your car closed on a hot summer day, you'll likely need to wait a few minutes for the car to cool down before it will work. A good rule of thumb is that if it's uncomfortably hot, the dash cam isn't running. A workaround for this problem is to let the car cool for a few minutes before driving away.
The second disadvantage is the lack of any internal memory. Until you purchase a separate SD card, you won't be able to store any video files. Because it's saving data at such a high rate, if your card is too slow you'll get errors. We suggest using anything Class 10 or higher. Our recommendation is the Sandisk Ultra 64GB SD Card. 64 GB of storage is enough for 24 hours of driving, giving you time to review the footage before it's erased. You can get away with cards as small as 32GB, and the camera supports up to 128GB if you want more storage space.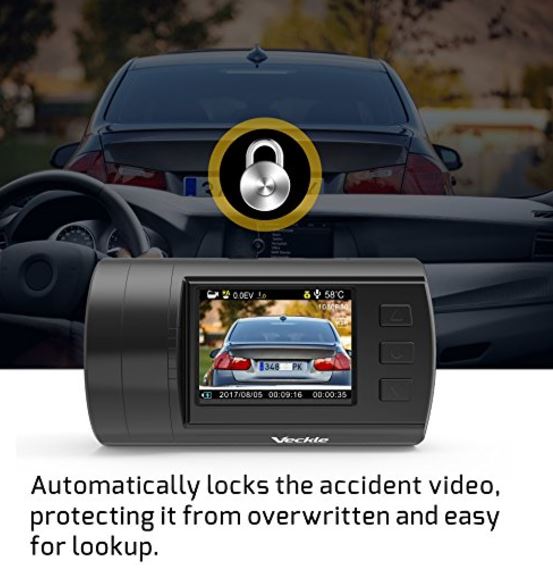 Final Verdict
If you look exclusively at the front-facing part of this dash cam, this model is pretty competitive with similarly priced models. The video quality is acceptable, and it automatically detects accidents to isolate the video files you need. It's a great purchase, but the video quality and core functionality aren't inherently better than any other model we've tried.
What sets this model apart is the inclusion of a rear-view camera. This means that it functions not only as a dash cam, but also as a parking aid. You'll be protected if you get rear-ended, effectively doubling the value. If a rear-view camera is something you're after, we highly recommend the Veckle Dash Cam. If you only want a front-facing model, there are other options on the market.
One thing to keep in mind is that this camera is only operational while your car is running. If you're looking for something that doubles as a security system while the car is off, check out our review of the Waylens Secure 360. This camera is unlike anything else on the market, and many consumers will favor it over others.