Last spring, we had the opportunity to try out a unique product. The Jack by Podo Labs was an adapter that turns your wired headphones wireless. The simple design and elegant execution earned it two thumbs up from us, but it's not going to be the right choice for all consumers.
If you were to look at the Jack and the AQUA+ wireless amplifier side by side, you'd see a lot of similarities. Both models connect to your audio source via Bluetooth. Both models are designed to be used with wired headphones. Both models are designed with portability in mind. But that's where the differences end.
People buy the Jack because they want to turn their headphones wireless. But the AQUA+ is designed for the people that would never buy wireless headphones. Once you get into Audiophile grade hardware, Bluetooth just doesn't cut it. You need an external amplifier that can pump out tons of clean power, and you need a high-bitrate audio format that Bluetooth didn't support.
Today, things have changed. By combining cutting-edge wireless standards with a little creative engineering, Nexum believes they've developed the perfect audiophile-grade wireless music platform. Some people consider this technology to be groundbreaking. Others see it as more of a gimmick. To find out where we stand, we decided to give this little amp a closer look.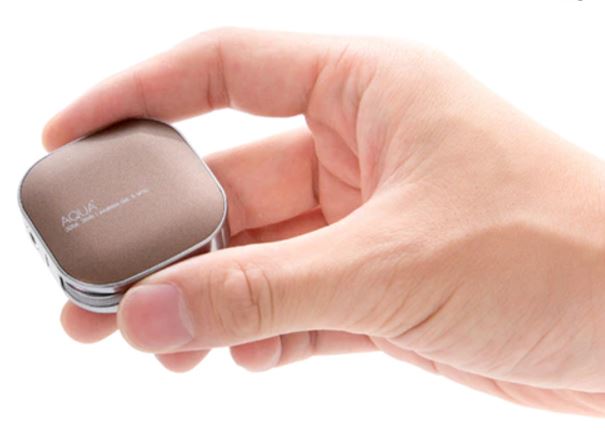 Overview
Using the AQUA+ is simple. You pair your phone to it just as you would a standard Bluetooth audio device. Then you plug in any pair of headphones that will work with a 3.5mm audio jack. Your phone (or any other Bluetooth audio source) streams the sound wirelessly to the Aqua, which then plays it back on your headphones. There are many adapters that do this, but there are two components that separate the AQUA+ from a standard adapter: The DAC and the amplifier.
The DAC is capable of producing analog audio with higher levels of detail, and the amplifier improves the power and accuracy of the sound – something that's needed with larger headphones.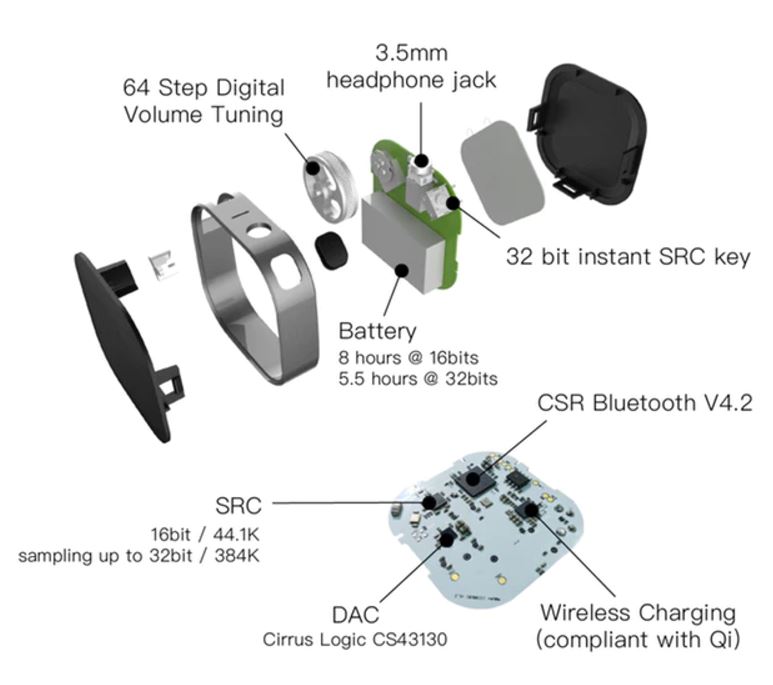 Design
As with any premium product, the appearance plays a major role in how we perceive it. The AQUA+ takes this to the next level with its premium styling. At 4.5 x 4.5 x 1.2 centimeters, it's about the size of a key-fob. But the materials used are top notch, and it feels very good in the hand.
The side is made from stainless steel, and you have three different choices for end caps. The White model is made from a buffed and polished plastic, giving it a very smooth and reflective feel. The black model is made out of the same material, but features a more matte-like finish. Our personal favorite is the sublime gold, which has a coloring reminiscent of oak.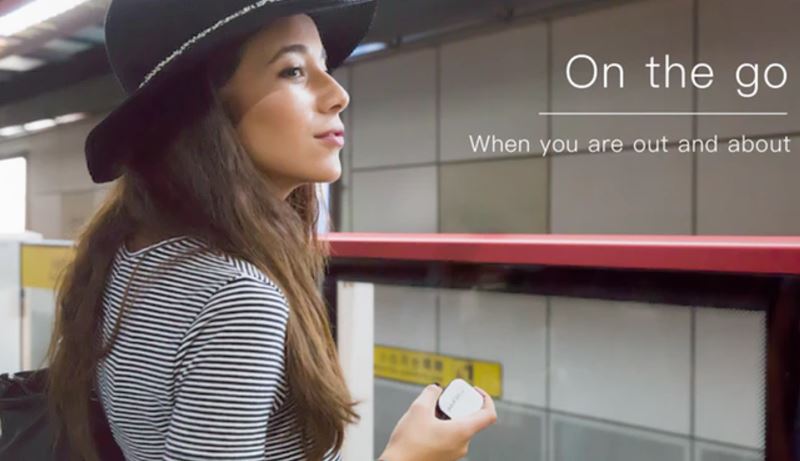 Codecs Supported
When you stream an MP3 over Bluetooth, you're not actually hearing an MP3. Audio has to be encoded with a new codec that is compatible with your Bluetooth receiver. The AQUA+ supports Bluetooth 4.2 and four different codecs: aptX, aptXLL, AAC, and SBC codecs are all supported. When you pair, it selects the best possible codec that your audio source supports. So, just how good are these codecs?
SoundExperts did a test comparing all of the most popular codecs available. Their tests had millions of participants and allowed them to grade all codecs based on how different the sound file was from the source. We're using their test scores along with the specifications to compare the codecs available in the AQUA+
SBC (sub band coding) is the very first audio codec Bluetooth supported. Every single Bluetooth device on the market supports SBC to ensure compatibility. It has a bit rate of 372.1Kbps and received a score of 7.31, indicating noticeable audio degradation. SBC encoding delays your audio by 250ms, and is commonly accepted as being the worst option. If you're on an older device that only supports SBC, you won't be taking advantage of what the AQUA+ had to offer.
AAC is Apples codec. Bitrate can vary, but most files are 256Kbps. Despite the low bitrate, SoundExperts gives this codec a rating of 9.81. This is the same exact codec used in the iTunes store, so most consumers can agree that it's acceptable.
AptX has a variable bitrate that tops out at 384 Kbps, but averages closer to 350 Kbps. This might make it seem like it's much better than AAC, but most uses find that it is almost indistinguishable. The main advantage is that AptX is fast, with only 150ms of delay. If you use AptX LL, the latency can be cut to only 40ms. SoundExperts didn't rate aptX as its proprietary, but it shares a lot of similarities with AAC.
Amplification
After your digital audio is encoded and transmitted wirelessly, it goes through a DAC, or Digital Audio Converter. This turns all of the bits and bytes into an analog wave form that your headphones can understand. A DAC is an extremely important part of the process, because it creates the signal that you'll ultimately hear. Audiophiles often buy external DACs so they don't have to use the low-end models in their phones and laptops.
The DAC used in the AQUA+ is certainly impressive. It's made by Cirrus Logic (a very well respected manufacturer) and supports 32bit 384Kbps audio files. This DAC drives a highly efficient amplifier that can handle headphones up to 300 ohms.
What does this all mean? The signal that actually moves your headphones is extremely high quality. It produces audio with an incredible amount of detail, and can handle extremely high end headphones. These 'high impedance' headphones have a large internal resistance, making it hard for an amplifier to push electricity through the coils. If you plug them into an iPhone, they'll sound terrible. But with the right amp, you can really make them sing. The end result will depend on the headphones you have. But if you tend to carry a dedicated headphone amplifier around with you, this will do the trick.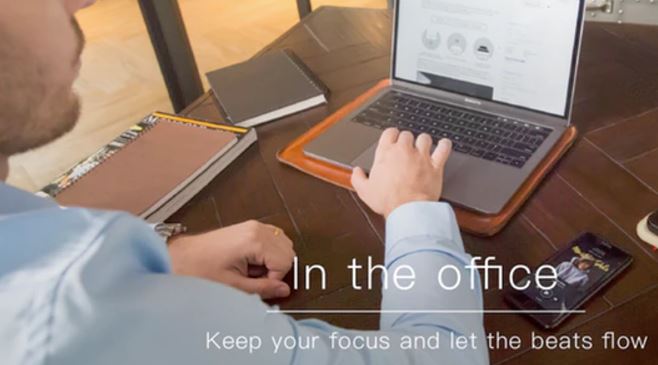 Functionality
There are a few neat features that make this amplifier fun to use. The first is the volume wheel. This wheel is digital, and supports 64 different volume points. This might seem excessive, but serves a good purpose. Since this is amplifying the sound, compact earbuds can get loud very quickly. This lets you finely tune the output to get the sound you want, even if your headphones quickly become louder than you'd like. On large headphones, you'll have to crank the dial all the way up to make it loud. This amount of flexibility gives the amp the ability to work with many different types of headphones without forcing users to compromise.
The AQUA+ also supports Qi compliant wireless charging. You can just slap it next to your phone on your existing Qi charger and you'll never have to worry about plugging it in again.
Disadvantages
The 32 bit sample rate is a major selling point for this wireless amp. Nexum Audio's official statement is:
"While 24 bit audio is considered "high resolution", AQUA+ takes a further step to bring Sample Conversion Rate to 32 bit depth. With less information loss during the process of conversion, the HiFi DAC are able to capture more accurate data and reproduce these values to play them back in the same order and at the same rate at which they were captured for you to accurately hear the complete recreation of the original sound source."
Directly above this statement is an image showing the ugly, choppy sine wave of a 16 bit 44.1 Khz audio file next to the smooth gradient of a 32 bit 384 K audio file. While their statement isn't wrong, this is fairly deceptive.
This amp will not allow you to play back 32-bit audio files. You won't even be able to play back 24 bit FLAC files. Remember, the first step of the process involved feeding your audio file through a Bluetooth audio codec. All of those codecs are 16-bit, and none of them are lossless. No amount of fancy upscaling is going to completely compensate for the data loss when the files were first encoded.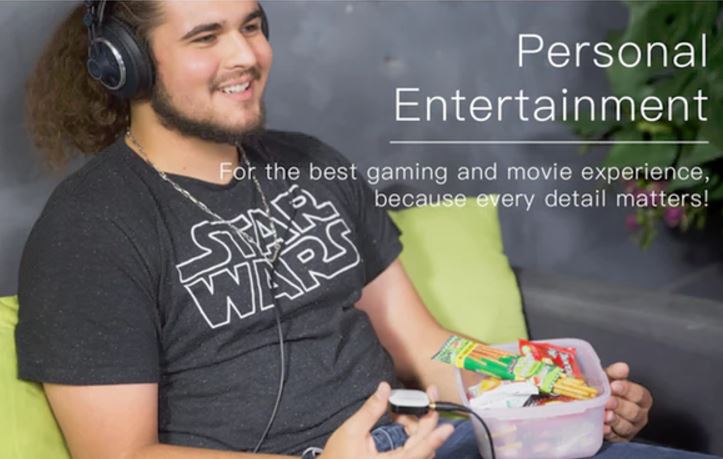 Final Verdict
The AQUA+ Wireless Amplifier isn't everything it set out to be. If you listen to audio files that are higher quality than the AAC files Apple puts on the iTunes store, this amplifier will cause some loss of audio quality. The concept of a 32 Bit wireless audio system is appealing, but it just doesn't exist yet.
That being said, there is still a good reason that you might want to pick one up. The AQUA+ supports headphones with impedances up to 300 ohms. This allows you to cut the cord and take those high end headphones wireless, something that no other amplifier has done.
Is this right for you? To decide, you should look at your audio source. Do you stream music online? Do you have an MP3 collection? Most of us aren't listening to lossless audio. For us, the loss from Bluetooth streaming isn't even noticeable. In this case, you'll be happy with the AQUA+. But if you're getting excited about it's support for 32-bit audio, we'd recommend that you stay away.