Different types of dash cams are made for different purposes. Most of them are great for recording video evidence of accidents. But some are made specifically for those kinds of tasks, while others are made to support a variety of creative endeavors.
Not all of them are equally suited to the tasks you want to do. Choosing the right dash cam is really about understanding what you expect from your equipment. Measuring up your expectations also gives you a better sense of how much you'll need to pay to achieve those goals.
Z-EDGE T4 Dual Dash Cam
The Z-EDGE T4 is a mid-ranged dash cam. Aiming for the middle, this camera performs considerably better than an entry-level dash cam. It's supposed to provide absolutely everything the average person would need from a dash cam. Consequently, the T4 was made rather specifically for recording roadside incidents.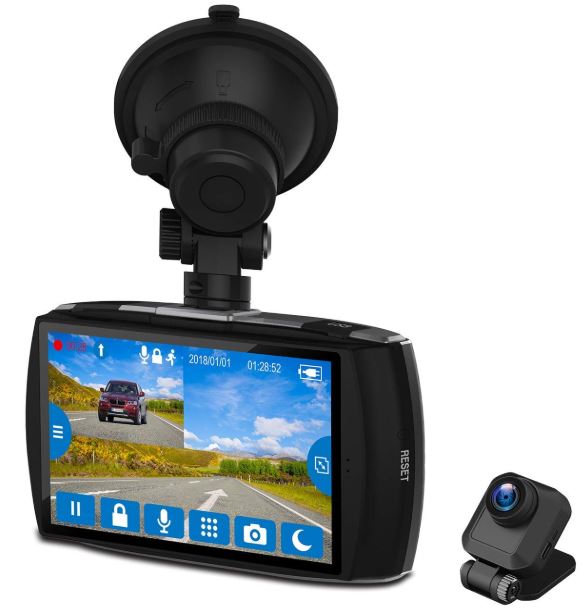 But don't let that fool you, this camera has a slew of different recording modes. It's not the sort of equipment you would use for professional cinematography, but that's really not what it's trying to be. Combining a touch screen display with two powerful cameras, the T4 is nothing if not capable, especially compared to its price.
Build & Design
Sticking the Z-EDGE T4 onto your vehicle takes a couple of minutes. The windshield base for the T4 stand is about two inches in diameter. That's pretty much the typical amount of space required to stick a dash cam onto your car. Once you've got it stuck to your windshield, and you get used to it being there, it's almost as if the T4 becomes invisible.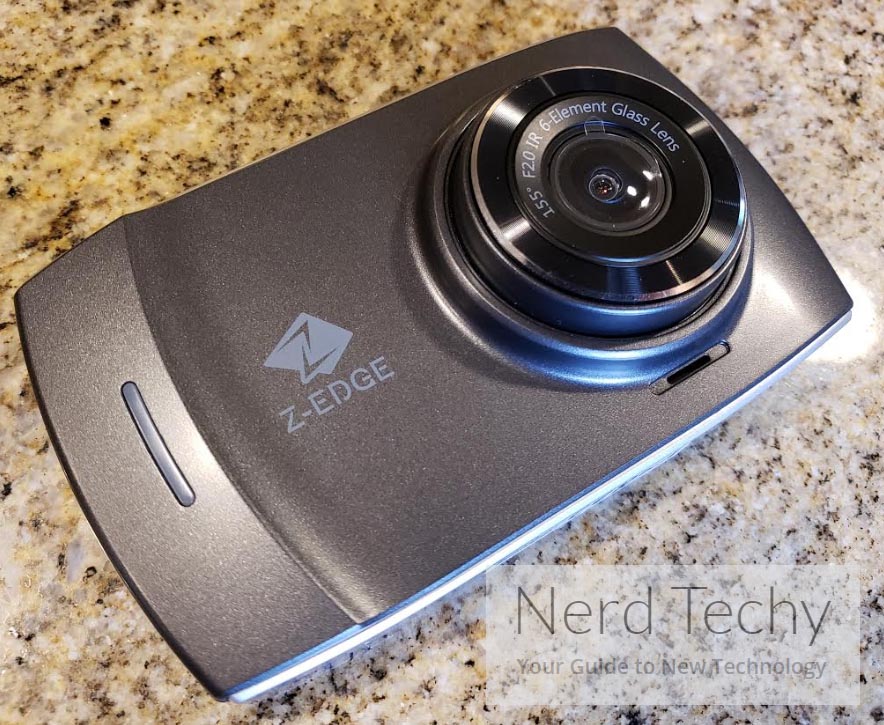 The rest of the unit doesn't get in the way of your view of the road, either. The biggest portion of the device is actually the 4" LCD, which is a scratch-resistant touch screen display. On the outer edges of the display there a couple of analogue buttons, but you can mostly ignore them during operation because all the most important controls are accessible through the touchscreen display.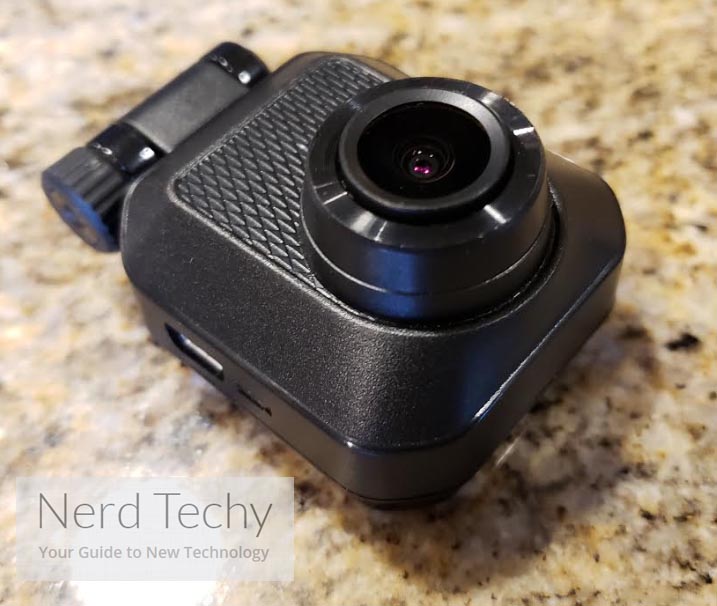 The primary camera is placed with the viewing screen, while the second camera is an independent unit, measuring about one square inch. It's certainly small enough to be placed next to your rear windshield without disturbance. You'll need to run a cable clip to connect the camera to the display, but cable clips are included.
Touch Screen Display
At the heart of the T4 is a colorful touchscreen display. Its color vivacity and resolution compares with a smartphone. But its four-inch size means you may have to lean-in if you want to view things clearly. You can get a little more out of your screen space with picture in picture mode.
If you want to view both cameras at the same time, PIP isn't terribly useful. Turning that mode on during regular operation will make the display look rather crowded. However, the picture-in-picture mode is incredibly useful for viewing playback of your recorded footage. Want to make sure the files you're about to erase aren't important? You can tap through your recordings and find out.
Perhaps most important of all, the touchscreen display means you can take advantage of one-hand operation. If you hope to use the T4 Dual Dash Cam while you're mobile, that can be an essential feature. Like most any touchscreen these days, the display is highly responsive, and it makes navigating through the Z-EDGE T4 a very simple process.
But you will have to get your face pretty close to the screen to use it, at least until you have memorized the relative position of each button. It doesn't take long to get a feel for the interface, but there is a small learning curve while you do.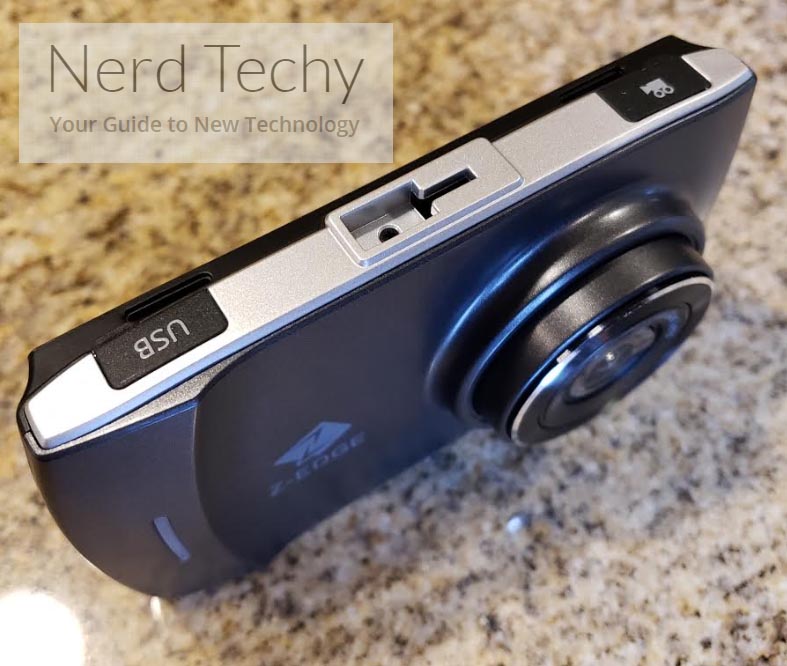 Recording Modes
The Z-EDGE T4 Dual Dash Cam allows you to select between a couple of preset modes. Each mode is really intended to encapsulate every reason why a person might want to use a dash cam. The first mode is called Drive. It's essentially made for ordinary dash cam usage, and instructs the T4 to work like any other dash cam.
The second mode is called Scenic. It's intended for longer video clips, especially wide dynamic resolution content. If you're trying to get recordings with better light balance during the day, or capturing video during the darkest nights, the scenic mode can help balance your shots. When you're not driving in extreme lighting conditions of one sort or another, you can think of this as a "make it prettier" mode.
The third mode is called Parking, which works by drastically increasing the sensitivity of the G-sensor within the Z-EDGE T4 Dual Dash Cam. In other words, the T4 will start recording whenever it experiences a bump. If someone rear-ends your vehicle, the camera will flip on to see what's happening. Using this mode is great for battery efficiency, especially if the camera is hiding in your vehicle at night.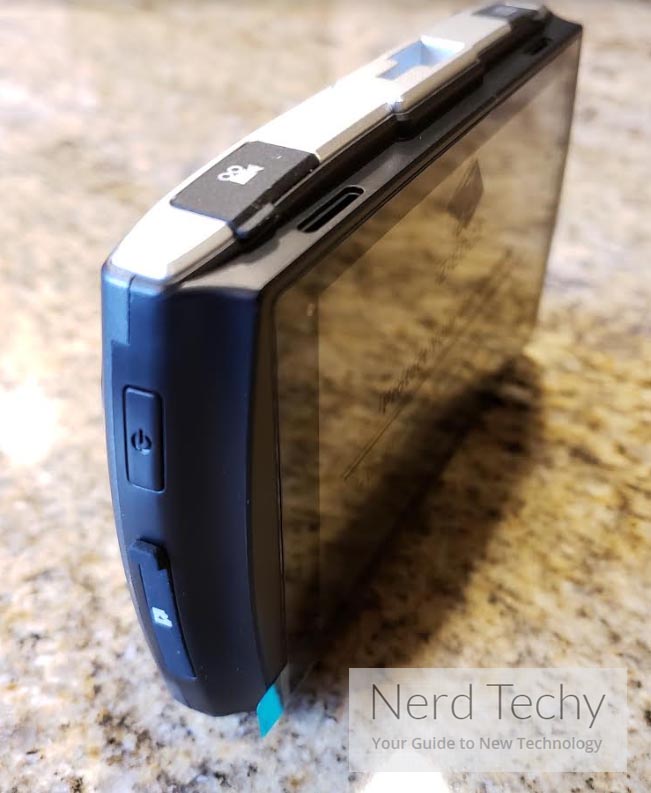 Dual Cameras
The T4 Dual Dash Cam earns its name by making use of two cameras. The first camera is installed along with the touchscreen display, near the center of your windshield. The second camera is placed near the backside of your vehicle, and then connected with a wire. Typically, people run that wire over the topside of their vehicles, and keep it in place with small clips.
It's not uncommon for even entry-level dash cams to have front-and-rear recording capabilities. But typically, the rear camera records at a reduced resolution. With the T4, both lenses record in full 1080p. Being able to record both front-and-back 1080p has plenty of interesting advantages. For certain, you'll be able to get a better look at license plates in your rear camera if you're not dealing with 720p.
Though the difference between 720p and 1080p is not gigantic when it comes to enjoying a movie, it can be significant when it comes to recording the motion of fast-moving vehicles. Some people think of the rear-footage as an unnecessary extra. But if you actually expect the rear footage to perform as well as the front footage, you really want both cameras to be on even footing. If you're primarily interested in observing auto accidents, why would you only want to have eyes on half of the road?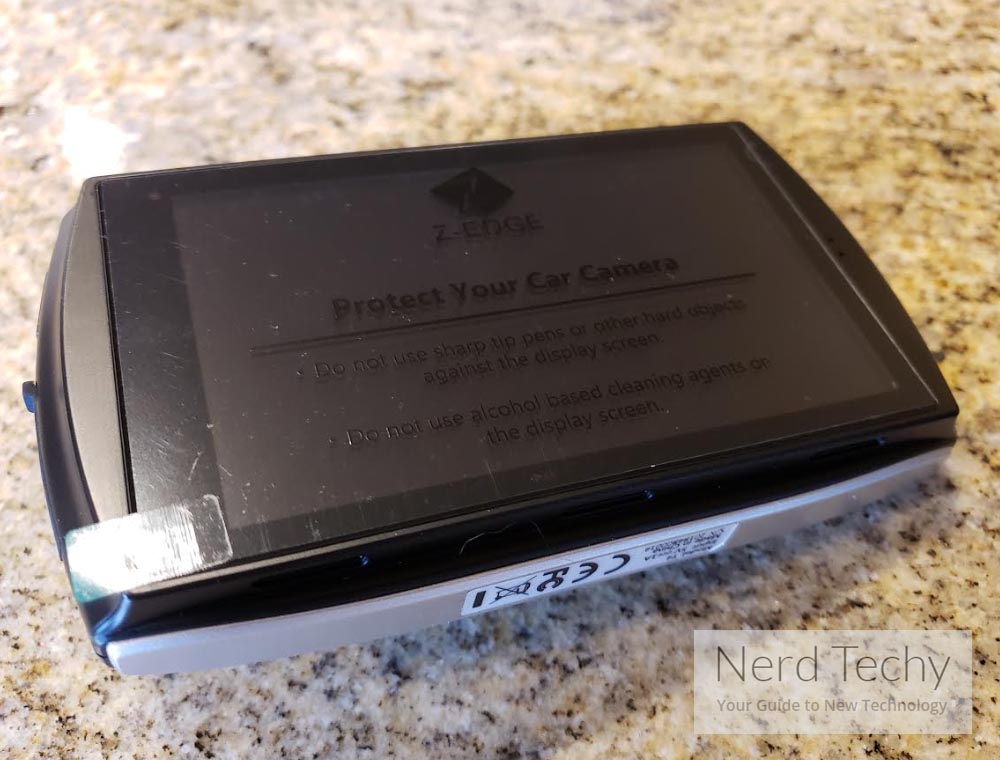 Video Quality
Both cameras use a wide-angle lens, designed to provide a 155° field of view. That translates into roughly four lanes of traffic. It's actually six-layer lens is built specifically to capture details, making it ideal for spotting road signs and license plates. That's what allows it to provide a virtual panoramic view of the road, which is ideal for recording evidence of accidents and events.
People who are recording for creative purposes won't complain about the beauty of these widescreen shots, either. Whether you're interested in clarity or beauty, you're certain to agree that it's great the T4 uses wide dynamic range technology. The general idea behind this tech is to compensate for bright spots and dark spots, offering greater clarity for both night and day.
And you can see the difference pretty easily. As opposed to infrared recordings, you also retain the true color of objects. That can be particularly important for shots that need color to help distinguish objects against each other. Once again, this is excellent for a variety of different license plates for night driving.
Both cameras record at 30FPS, which is a little bit smoother than broadcast television. Unfortunately, it's not possible to greatly raise this to higher frame rates. Fortunately, you can record at 1440p if you decide to disconnect the rear camera. That's a pretty good trade-off by any measure.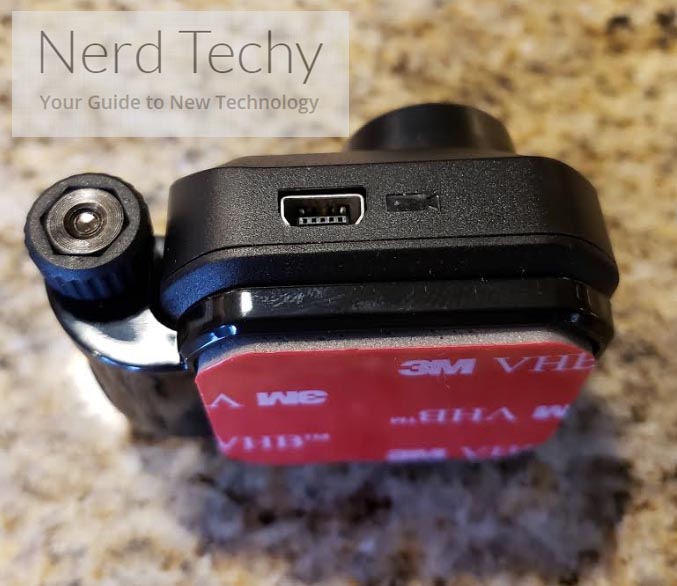 Top Shelf Dash Cameras
The Z-EDGE T4 Dual Dash Cam doesn't have high-end dash camera features. If you were looking to do artistic work, or you were trying to record at incredibly high speeds, you might have a reason to switch to a top-shelf dash cam.
Those cameras can support even higher resolutions, or record more frames per second. Top-shelf dash cams often feature integral app support, as well. App support is typically used to allow you to access and manage your footage wirelessly. That's a feature bound to be useful to someone.
Other Considerations
The T4 includes a mini USB cable, a pair of micro USB charging cables, a car charger, 3M adhesive mount, six cable clamps, a fitting tool, and a 32GB Micro SD card. Because the device has no internal storage of its own, the 32GB Micro SD card gives you everything you need to get started with the T4. But if you plan on using the T4 in a more active capacity, you'll almost certainly want to get a larger SD card.
Z-EDGE recommends endurance SD cards, like the Kingston Micro SD or SanDisk High Endurance Micro SD. High endurance cards are always worth picking up over generic alternatives because of how often dash cameras have to make small data recordings. If you decide to switch to a larger SD card, you'll want to note the maximum supported card size is 128GB.
In addition to the earlier mentioned collision detection, the Z-EDGE T4 uses loop-recording to help manage your storage. If your car is struck while it's parked, and the camera's storage space is full, the loop recording will begin to overwrite your oldest non-protected footage. It's pretty easy to flag-and-tag the footage you want to protect from being overwritten, you can manually protect recording by hitting the emergency button on the camera.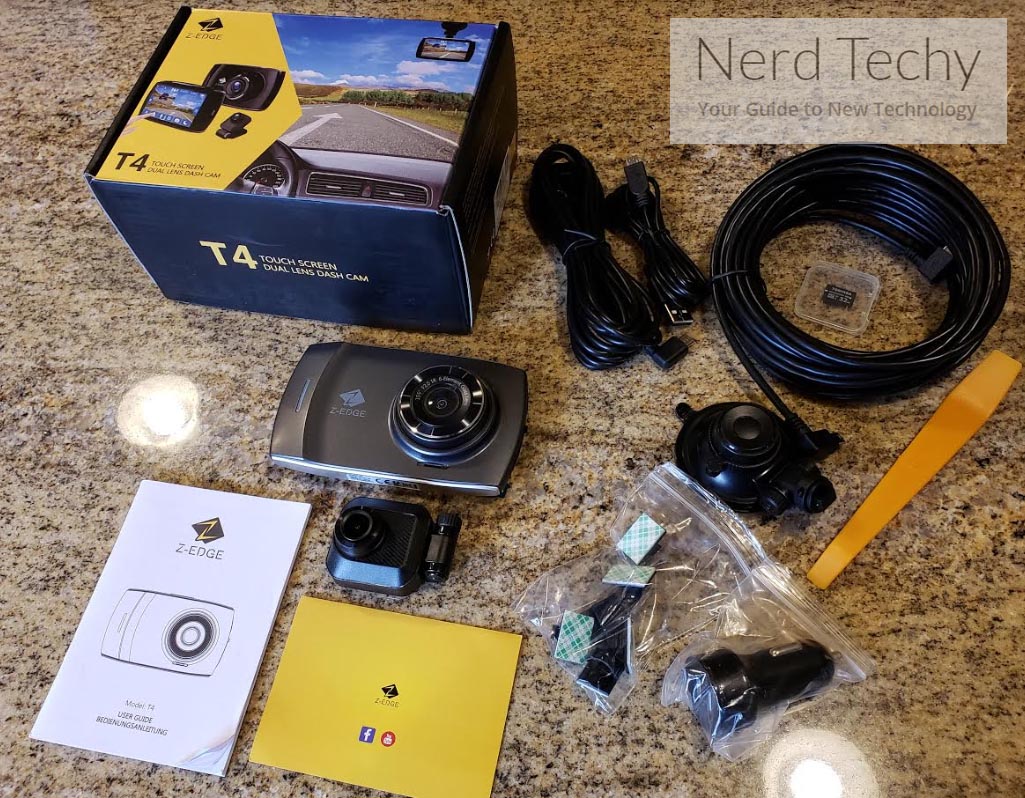 Who Should Choose the Z-EDGE T4 Dual Dash Cam?
For most people in most situations, top-shelf camera features aren't going to be necessary. The T4 is really everything a person could want out of a competent dash cam. The 155° view of the lens is ideal for recording the road, and makes this camera clearly intended to be used for recording roadside accidents and similar events.
Its front-and-rear cameras both perform marvelously. The T4's night vision puts to shame many other dash cams, especially older generations with heavier reliance on IR technology. All in all, the Z-EDGE T4 occupies a pleasant medium position between entry-level equipment and top-shelf equipment. That makes it an excellent choice for anyone who needs more than the bare essentials from their dash cam.
Meet Derek, "TechGuru," a 34-year-old technology enthusiast with a deep passion for tech innovations. With extensive experience, he specializes in gaming hardware and software, and has expertise in gadgets, custom PCs, and audio.
Besides writing about tech and reviewing new products, Derek enjoys traveling, hiking, and photography. Committed to keeping up with the latest industry trends, he aims to guide readers in making informed tech decisions.