If you're a fan of music and entertainment on the go, you'll likely want to think about investing in a quality, portable Bluetooth speaker so you can take it with you wherever you find yourself. One such that many are considering is the ZealSound Magic Cube. It provides high fidelity sound quality with powerful internal components to emit a massive amount of sound in a tiny package. We were lucky enough to receive a Magic Cube from ZealSound so we could test it out and see what it exactly it has to offer.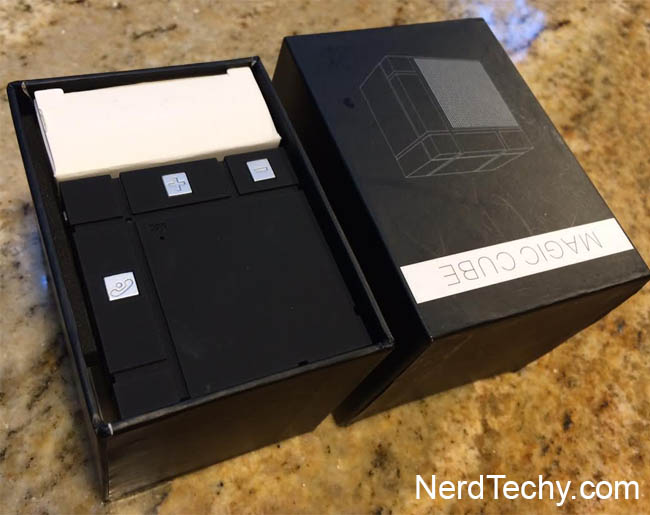 Getting Started
Upon arrival, unboxing and setting up the Magic Cube for the first time is a piece of cake. It comes in a small box about the size of the cube itself, and is paired with a micro USB cable and auxiliary audio cable as well. At first glance you'll notice a few silver external buttons, an integrated microphone, and a micro USB and auxiliary input located on the back. There's volume up/down buttons, a phone button, and the on/off switch.
Setting up the Connection
Once you switch the Magic Cube to the on position, it will say "Hello" and there will be a small blue LED indicator that rapidly blinks. At this time, you'll need to turn on whichever compatible device you'd like to pair the speaker with. Keep in mind that any device that supports Bluetooth will have the ability to be paired. This includes smartphones like the Apple iPhone, Samsung Galaxy, Android devices, tablets, etc. Simply go to the "Bluetooth Settings" and you'll see the "MagicCube" listed as an available connection. Once selected, the speaker will say "Device Connected" and the blue LED will blink, but not as rapidly. At this time, you're free to play whatever you'd like through the speaker.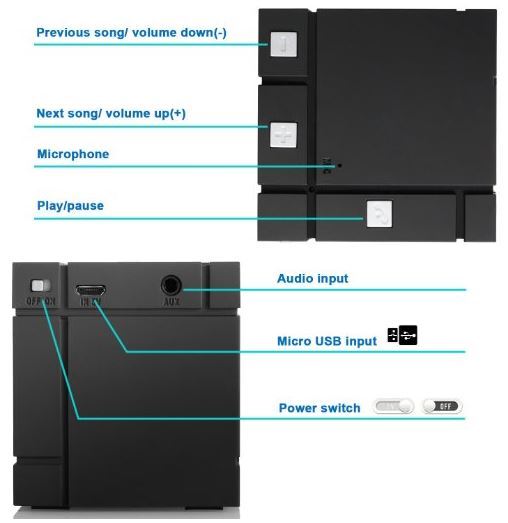 Hands-Free Calling
Since a smartphone is often the device of choice for many who use the ZealSound Magic Cube, they've integrated a hands-free calling feature right into the speaker itself. When you're listening through the cube and a phone call is incoming, you have the option to answer it with a single touch to the "Call" button. If you hear your phone ring, just press the little button on the speaker that shows a phone icon. This will automatically pause your tunes and let you speak through the Magic Cube without having to touch your cell phone at all. Additionally, this button acts as a play/pause button even when a phone call isn't necessarily connected at the time. A hands-free calling feature brings a whole new element to the table by including simplicity in a single package as it gives the Magic Cube another great purpose.
Compact Size
When it comes to portability, the Magic Cube by ZealSound has a lot going for it. Weighing in at just 5.8 ounces, and measuring in at 2.3″(L) × 2.4″(W) × 2.6″(H), it boasts a compact size for ultimate portable enjoyment wherever you find yourself. The exterior is covered in a rubber oil-plated ABS material that gives it a rugged feel with a bit of added grip. The finish has a nice feel and seems to hold up with durability quite easily. Although it's not necessarily a "rugged" speaker, it's not a fragile piece of equipment either.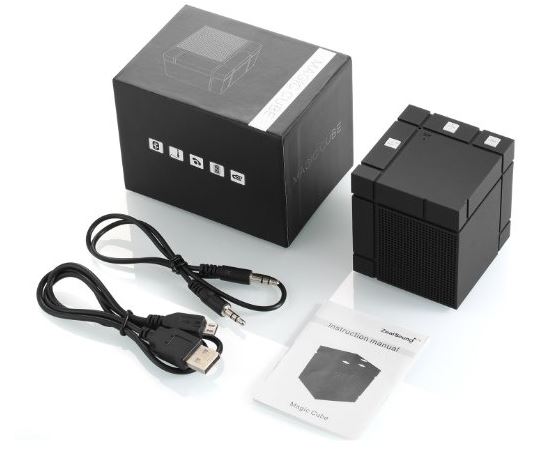 Sound
Quite honestly one of the most important features when you're looking into a Bluetooth speaker is the sound quality. What good is a portable speaker if it doesn't even sound good? Luckily, the Magic Cube is built with excellent sound quality and an amazing amount of volume in such a small package. Although it's true that the sound quality isn't to be compared with a $100+ Bose speaker, it's sufficient for most people's tastes and is definitely above average than other wireless speakers in the same or similar price range.
When we tried out the ZealSound Magic Cube for the first time, we were honestly blown away by the amount of power and volume it had. With a huge range from ultra-quiet to extremely loud, this little speaker packs a punch. Internally there's a small 3 watt, 1.6 inch driver with a passive radiator and a class D amplifier. These internals work hard to produce high fidelity sound at a high volume without any over-distortion when you put it to the maximum output. Needless to say, a lot of power is packed into the small size of the Magic Cube.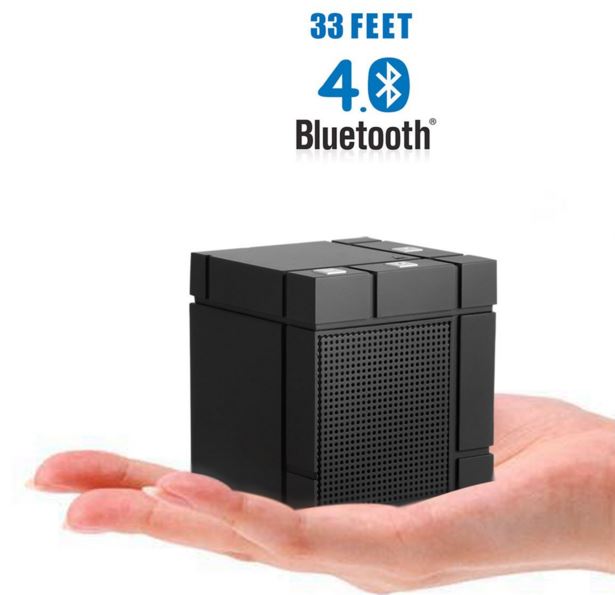 Charging
Internally, there's a DC-5V power supply that's powered by an integrated 400 mAh lithium battery. It comes shipped with a partial charge so you can use it right out of the box, but with a charge time of 1.5 to 2 hours and a battery life of 5 hours, it packs a lot of efficiency so you can enjoy your tunes for extended periods. Simply plug in the included micro USB cable and connect it to an available USB outlet or port.
Conclusion
With a working wireless range of 33 feet, and a great amount of portability, the ZealSound Magic Cube has a lot going for it. Utilizing the latest in Bluetooth 4.0 technology, it's battery life is substantially impressive considering the amount of power and volume this thing can emit. For audio lovers and those who enjoy portable entertainment on the go, there truly couldn't be a better option for most individuals that are looking for a portable wireless speaker for under $20. Overall, we're very impressed with the sound quality, portability, and wealth of features that make this a top choice and excellent gift for the upcoming holidays.
Meet Derek, "TechGuru," a 34-year-old technology enthusiast with a deep passion for tech innovations. With extensive experience, he specializes in gaming hardware and software, and has expertise in gadgets, custom PCs, and audio.
Besides writing about tech and reviewing new products, Derek enjoys traveling, hiking, and photography. Committed to keeping up with the latest industry trends, he aims to guide readers in making informed tech decisions.