Monitored home security and awareness has evolved quite a bit over the last few years. Transforming your home into a "Smart Home" is the next big step that many families are now considering. Many people want to be connected 24 hours a day, 7 days a week, with the ability to check-in, view, and manage from any location in the world.
Zmodo, a Global provider of Smart Devices has recently announced their latest product, Pivot. It's known as the Smart Home Solution that acts as a robotic centralized hub to provide you with an all-in-one answer to home security. Set to officially release within the next few weeks, we had a chance to check it out and see what it has to offer.
What Does It Do?
Zmodo makes a whole lineup of Smart Home products that can all be connected and synced to work with the Pivot 360° Robotic Camera & Smart Home Hub. Some of these include their smart doorbell, smart lighting, door and window sensors, and air quality sensors. Now even if you don't plan to add-on any of those devices, Pivot is a fantastic piece of equipment on it's own. Think of it as an all-in-one device for monitoring your home.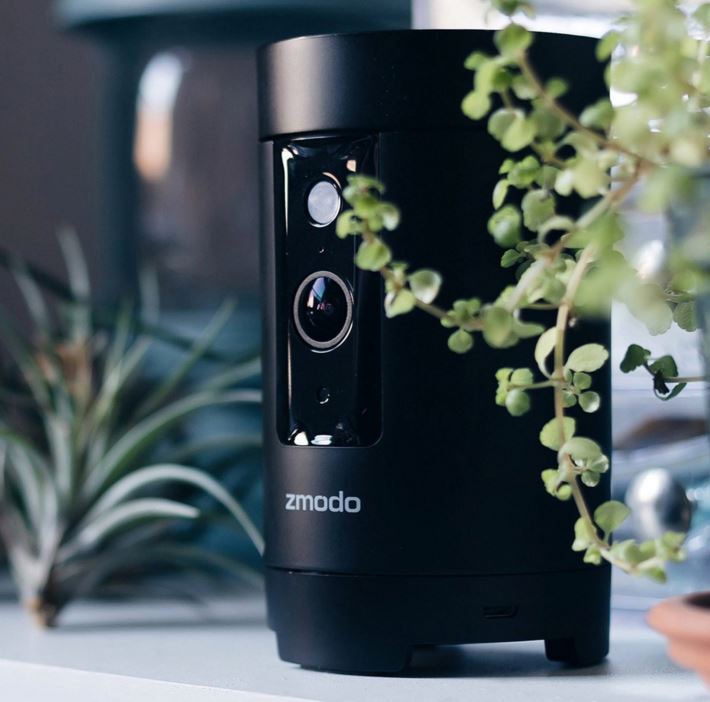 Motion Detection Camera
It has a 360 degree motion sensor that detects movement anywhere in the room, then rotates to the correct position to capture it all at once. With a 4x digital zoom, 135 degree angle of view, and recordings in full 1080p high definition, there won't be any issues with quality or overall clarity. Once movement is detected, the recording will automatically begin.
Storage & Cloud Service
One thing that we really like is that it's equipped with internal storage. Inside, there's 16 Gigabytes of storage space for saving up to 2 days worth of footage. You can even set it up to save on the cloud for increased protection or additional storage. Details on the cloud service are quite limited right now, but we anticipate that there will soon be more information regarding the actual features of the cloud. So far, Zmodo has said that you'll be able to make clips, share them, and/or save them. Also, no word on the cost of this service (if at all).
Smartphone Access
Having the ability to check in on your home from your smartphone is a priceless feature to have in most cases. With the Zmodo Pivot, controls can be access right from your smartphone, no matter how far away from home you are. View a live feed, pivot the camera, configure alerts, or adjust settings can all be done in a matter of seconds. This offers a fun yet very useful way to get live insight into your home to check on pets or sitters while you're on vacation or away on a business trip.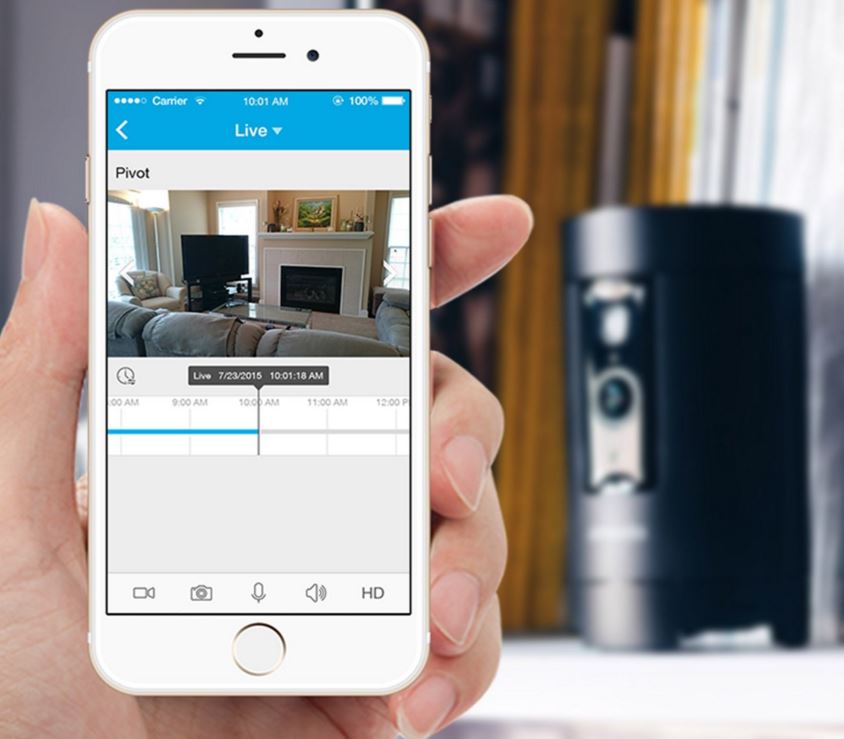 Two Way Audio
When you're at work or not at home, speaking to and from the device can easily be done. The two way audio feature enables you and your children or family members to speak directly through the device. Since it's equipped with a speaker for this, Zmodo made it possible to use it as a Bluetooth speaker for playing your favorite music or songs.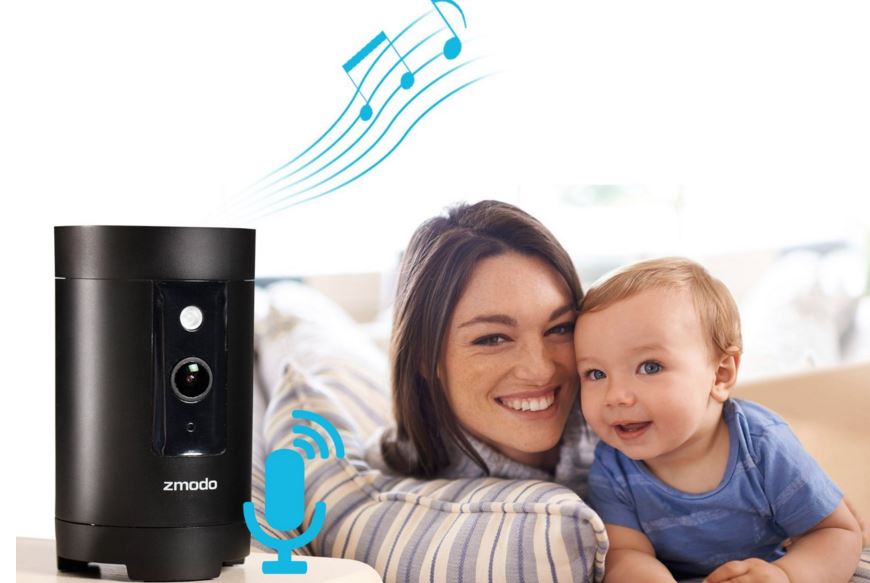 Night Vision
With infrared night vision built-in, Pivot can see it total darkness for up to 32 feet. The infrared will turn on and turn off automatically when it detects that it's needed. We feel that the 32 foot range is quite good, considering most rooms in most houses are probably not any further than this length.
Your Home's Health
One of the nicest features that keeps you in-touch with home is the temperature and humidity readings. It'll give you instant insight on the current humidity and temperature and also let you view trends for the past so you can see how it fluctuates over time.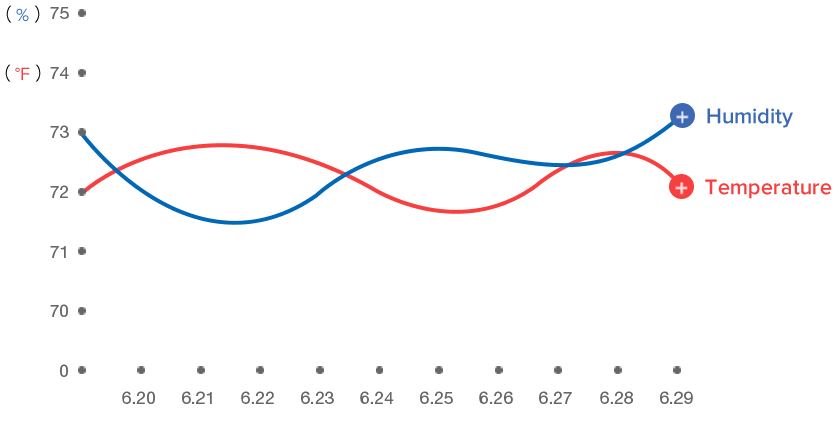 Full Features & Specifications
Camera – 1080p HD, full color, 135 degree angle of view, 4x digital zoom, 2.1mm lens.
Rotation – 360 degree motion detection, 360 degree pan range, automatic 360 degree pan when motion is detected, manual control via app.
Sensors – Temperature and humidity.
Audio – Two way audio, internal microphone, Bluetooth speaker.
Storage – 16 gigabytes built-in.
Connection – WiFi, iPhone, iPad, iPod touch (version 7 or newer), Android (version 4 or newer)
Night Vision – Up to 32 feet with automatic infrared cut.
Size – 75 millimeter diameter, 135 millimeter height.
Power – DC 5V power supply, micro USB, battery pack coming soon.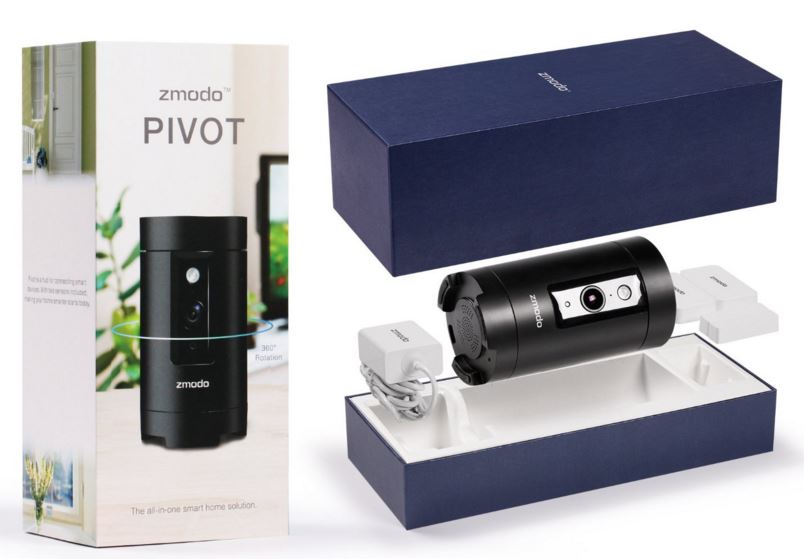 Overall Thoughts
With all of the great features that the Zmodo Pivot 360° Robotic Camera & Smart Home Hub showcases, it offers a total solution for anyone looking to improve their home security and overall awareness. With full 1080p high definition recordings, movement unlike any other security camera, and the ability to sync with an assortment of additional Zmodo Smart Home Products, there's plenty of usefulness for it.
Priced at $199 and available to pre-order on Amazon.com, the demand for the Pivot is already steadily increasing. Originally announced at CES 2016, it promises to provide an all-in-one solution to homeowners around the world. We'll update this article as more information and details regarding the Zmodo Pivot are available. Have you used it? Do you own it? Do you plan on purchasing it? Let us know in the comment section below! We'd love to hear from our readers.
Meet Derek, "TechGuru," a 34-year-old technology enthusiast with a deep passion for tech innovations. With extensive experience, he specializes in gaming hardware and software, and has expertise in gadgets, custom PCs, and audio.
Besides writing about tech and reviewing new products, Derek enjoys traveling, hiking, and photography. Committed to keeping up with the latest industry trends, he aims to guide readers in making informed tech decisions.