Scoping out an affordable yet high quality wireless speaker isn't quite as easy as it may sound. The market seems to be flooded with literally thousands of different makes and models, with so many variants among them. Needless to say, you'll need to spend a bit of time researching before committing to a specific one.
If you're like most people, you don't want to spend an arm and a leg, but you still want decent sound and a quality build. If that's the case, you've likely heard about the new ZOEE S1 Bluetooth Speaker. It's an outdoor-oriented portable speaker that's fully wireless, backed by hundreds of positive reviews. Question is, is it too cheap to be considered a quality choice? Today we're going to go hands-on and take a closer look at what exactly it has to offer. We'll run through each feature and give an honest conclusion on whether you should consider it or keep looking.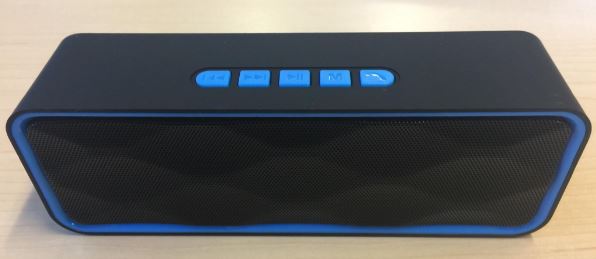 First Look
From first glance, the appearance of the ZOEE S1 doesn't look entirely unique, but it actually has a lot going for it. Measuring 7 inches wide, 2.5 inches tall and 1.7 inches deep, it's definitely quite portable. With a total weight of 12 ounces, you can tell that ZOEE wanted to keep it light and manageable for "on the go" use. It's something we can appreciate as it makes it easier to carry around and use at a moments notice.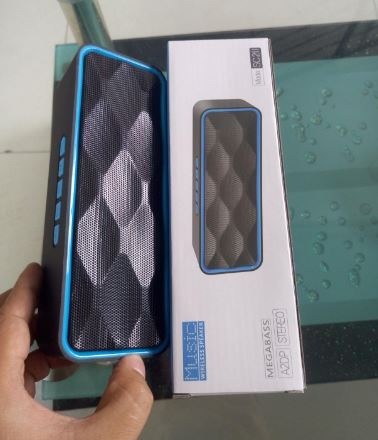 The actual feel of the speaker is pretty basic. A lot of plastic was used throughout, but it's not necessarily a bad thing. When manufacturers use metal or a higher-grade material, the cost is typically driven up. You could tell they wanted to keep the cost low, but don't let that turn you off completely. It still has a very "solid" feel to it. Nothing rattles or shakes when it's handled, so that's what's most important.
On the front, you have the metal grille, with a cool, wavy effect that you can immediately notice. On the top are five functional buttons that let you connect to your phone, switch modes, play/pause, skip tracks and adjust the volume. Located on the back is a USB port, micro USB port, auxiliary port, TF card slot and the on/off power switch. The layout is pretty simple and there doesn't seem to be an influx of unnecessary buttons like other speakers that we've reviewed in the past.

Setup
Like any Bluetooth speaker, you'll initially need to manually pair it with your smartphone, laptop or MP3 player. Simply turn on the speaker and it will immediately look for an available Bluetooth signal to connect with. Simply select "ZOEE S1" on your list of available Bluetooth connections and you're good to go. Alternatively, you can utilize the auxiliary port, TF card input or USB input on the back if you want to play from any of those formats. Older smartphones, MP3 players, laptops, etc. will be able to connect this way if the device(s) don't support Bluetooth.
The entire setup procedure is pretty easy and mostly self-explanatory. However, there are easy-to-follow instructions in the user manual if you need to resort to that. In addition, ZOEE has included a free 3.5mm auxiliary cable to make things simple if you want to go with a wired connection.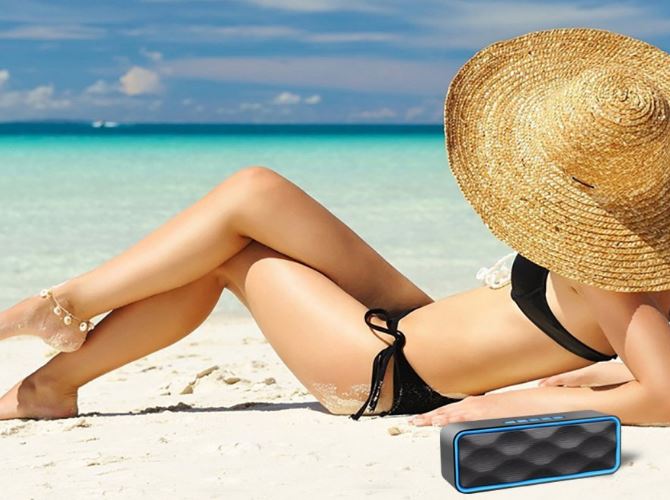 Sound
Quite obviously, the most important aspect of any portable speaker is the sound. With the ZOEE S1 we didn't have terribly high expectations since it's such a budget-friendly option. To our surprise, we were amazed at how much "oomph" and acoustic flow it was capable of. With two 40mm drivers, the S1 was able to crank up to a pretty substantial level of volume without much effort. When we reached the maximum level, we did notice a very slight amount of distortion, but it was only apparent with a few tracks.
The majority of music sounded phenomenally well with crisp tones and lifelike realness. The only time it struggled was with audio tracks that weren't recorded at a high bitrate. Every single well-known song we played sounded just like it was supposed to. The treble and bass aren't adjustable, but they seem to be set at the ideal balance between too much and too little. Overall, the sound was well-rounded and didn't seem quite as strong as more popular (and expensive) models like the Archeer A320 or the Treblab HD55. Overall, we thought the sound quality was pretty darn good – but not incredible. We'd say an 8 out of 10. Not bad!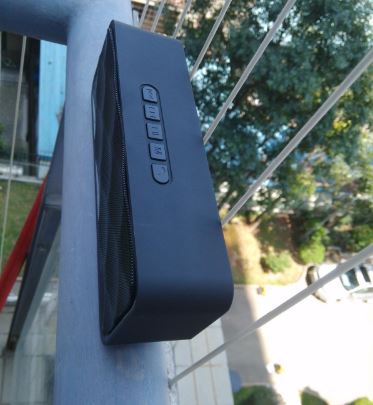 Wireless Range
If you're like most people, you'll be utilizing the ZOEE S1 as a wireless speaker via the Bluetooth connection. While you may already know, Bluetooth does have its limitations where wireless range can be affected. We found that it's best to keep within 30 feet (line of sight) distance between your paired device and the speaker itself. The moment you walk away from the available range, you'll hear skipping and distortion – there's no way around it.
A 30 foot wireless range is actually quite acceptable. Even $200+ name-brand Bluetooth speakers are limited by Bluetooth and what it's capable of. With this in mind, we couldn't ask for anything more. After all, most listeners will always be right by the speaker when they're playing music.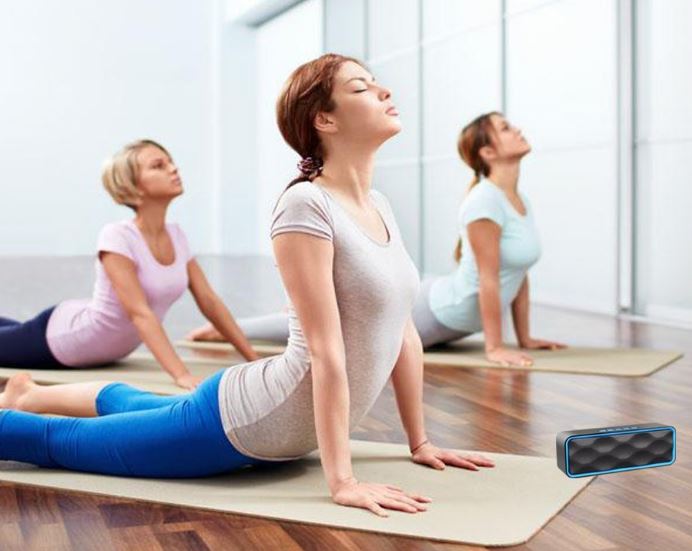 Battery
Another important feature that we looked into was the battery life. Built with an integrated 1800 mAh battery, you can expect around 4-6 hours of continuous playtime before it needs to be charged up. While ZOEE advertises a 6 hour battery life, we found that only to be the case if you keep the volume low and keep the paired device close-by. The louder it is and the further the paired device is, the harder the S1 has to work.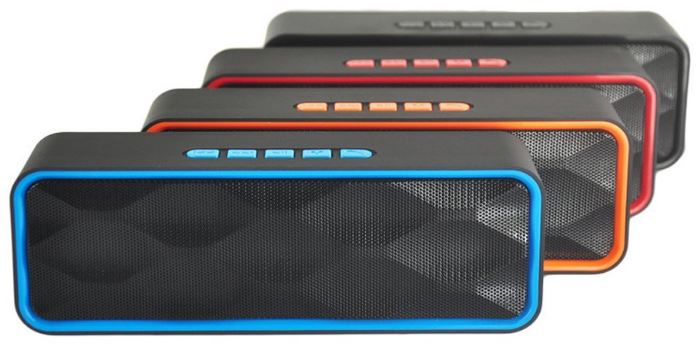 If you're really trying to save battery life, a wired connection is a good idea. Use the included auxiliary cable or the TF input/USB input on the back to play your tracks. Because the speaker doesn't have to communicate wirelessly, you'll be putting less strain on the battery, thus making it last longer.
Something to keep in mind is that the battery can never be changed. It's built into the speaker so you should take good care of it. To do this, never keep it plugged in longer than it needs to be. Also, don't store it with an empty battery. Keep the battery topped off and it should perform well for many years to come. To charge it, simply connect the micro USB cable to any USB or wall outlet.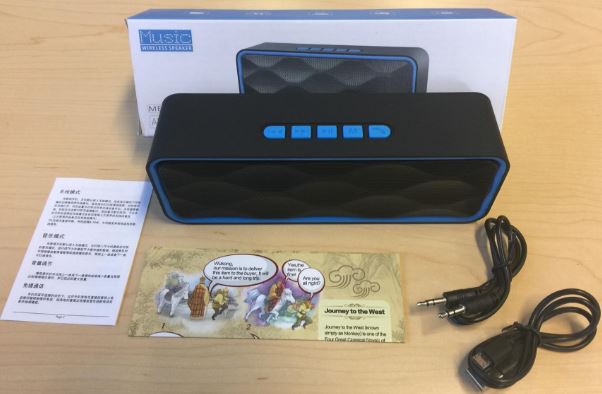 Final Thoughts
For the price, it's truly hard to beat the ZOEE S1 Bluetooth Speaker. It's packed with a lot of great features and seems to compete with other models we've reviewed that cost twice as much. Whether you use it for the casual weekend listen or constant daily use, it seems to have no trouble producing high-quality music that everyone can appreciate. Sure, the bass isn't the most incredible we've ever heard, but it's readily available with a negligible amount of distortion.
We're big fans of the portability that the S1 offers. The lighweight and compact design makes it easy to included at just about any event or occasion. In addition, the volume range is quite incredible, considering how small it is.
If you're an audiophile and looking for world class sound quality, don't look at the ZOEE S1 as an option. It's simply not built that way. Affordability and great sound for the average listener is exactly what it's catered for.