With Bluetooth technology becoming commonplace, it's never been more affordable to cut the cord. Wireless earbuds are popular among commuters, sports enthusiasts, and anyone who wants to enjoy a little music without being physically tethered to their phone. There was a time when the convenience of wireless headphones came at the expense of sound quality, but those days are behind us. Today, you can pick up an inexpensive pair of earbuds and still be pleased with the sound.
Unfortunately, it's not easy to decide if a pair of headphones is good or bad. Sound quality is subjective. The type of headphones you'd use to listen to a classic concerto are very different from something you'd use to enjoy the latest pop hits. In this review, we'll be taking the Anker SoundBuds Slim for a spin. After finding out what they can do, we'll help you decide if these affordable buds would make a good addition to your next workout.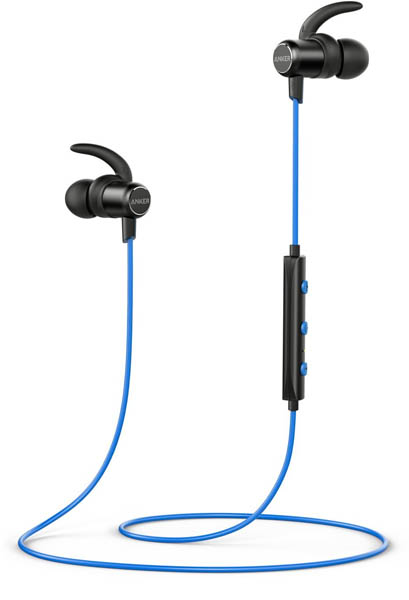 Design
These aren't "True-Wireless" earbuds. What this means is that there is a single cable that connects one to the other. This cable sits comfortably behind your head, and a three-button inline controller is provided for your convenience.
The cable itself is thick enough to be durable, but thin enough that it won't get easily tangled up. A rubber grommet is provided at each end, which prevents the cable from fraying or the insulation from cracking.
The earbuds themselves have a modern appearance to them. They're made from anodized aluminum. The black coating is smooth, but won't chip or flake off like paint. The sides of the earbuds are beveled, providing a metal highlight that gives the earbuds a premium feel.
The earbuds themselves are very compact, and don't rest against the cartilage of your ear. Instead, they use a combination of rubber wings and ear tips to support themselves. They're the kind of headphones that, when you give them a close look, are easy to appreciate. From a distance, they don't stand out too much.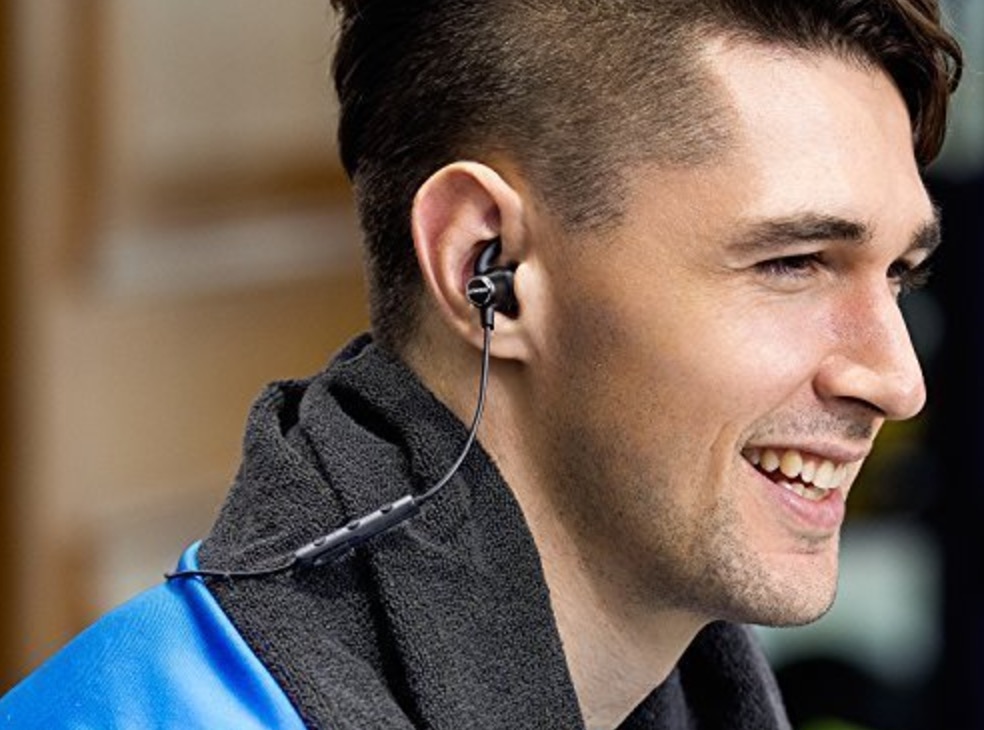 Ergonomics
Let's face it: earbuds are somewhat invasive. They stick inside your ears, and if the fit isn't correct you'll be uncomfortable. For long periods of listening, comfort is extremely important.
The issue with Bluetooth earbuds is that there is a lore more to them. They have batteries, receivers, and electronic hardware. All of this adds weight. When there is a lot of weight on your ear canal, movement can knock them loose.
Anker addressed this problem by using a wing to hold them in place. The wing fits up inside your outer ear and rests against the cartilage. Since everyone's ears are different, they provided a number of tips to make sure everything is comfortable. You've got three wings, and three tips. Just because you use the small tips doesn't mean that you'll use the small wings. It's best to experiment with them one at a time to see what works best.
Once we found the size that worked for us, we were impressed with how comfortable the SoundBuds Slim were to wear. Even during extended periods of physical activity, they didn't shift or fall out. They aren't the only earbuds using this type of fitment, but their application was excellent.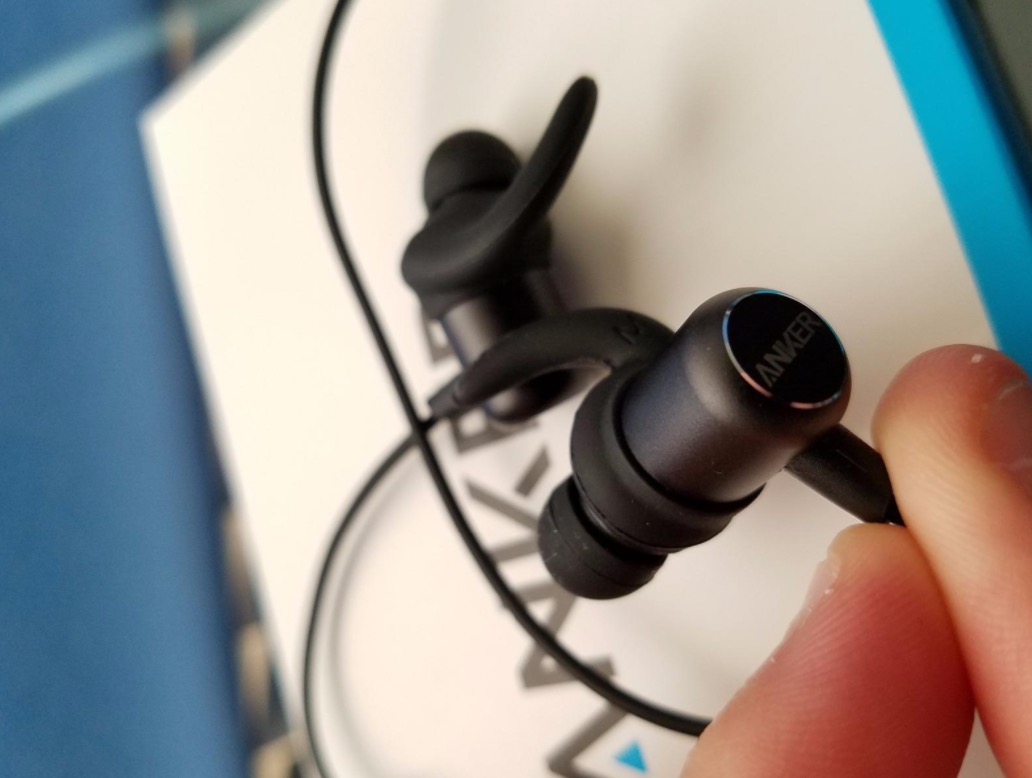 Sound Quality
Where sound quality is concerned, it's not easy to impress us. We've tried headphones from almost every manufacturer, with some priced many times what these are worth. When we're doing our reviews, we try to keep our expectations realistic. We're not asking "are they good?" but rather "are they good compared to others in this price bracket?"
Still, the SoundBuds Slim impressed us. It's not easy to find something this good at this price. Most importantly, they've got a sound signature that makes them suitable for all kinds of music.
The bass, for example, was perfectly balanced. It was definitely heightened a bit, but didn't overpower the music. Whether we were listening to rap with a powerful kick at the start of ever bar or an acoustic jam with a well tunes bass-line, these headphones kept up. They were powerful when needed, but could still remain subtle when needed.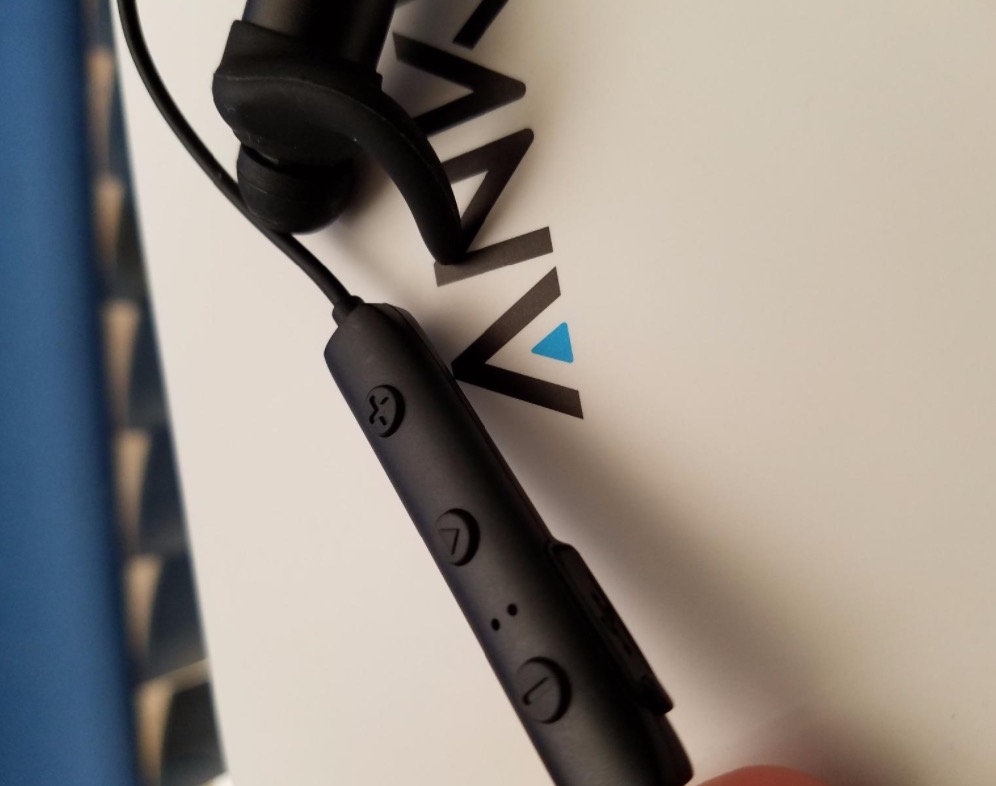 For the mid-range and treble, the two main qualities that stood out was their definition and clarity. It's common to have headphones distort when there is too much going on. But even during a ripping guitar solo, they kept producing a sound that was clear and well defined.
No, these aren't the type of earbuds that you put on and go "wow!" They're fairly middle of the road, and there is no singular element that stands out from every other pair of headphones on the market. But they are well tuned and proficient. No matter what kind of music you listen to, these earbuds will help craft an enjoyable listening experience.
Durability
Regardless of the price, headphones are an investment. Purchasing something that's only going to fall apart in a few weeks is a waste of both time and money. Not only are we looking for headphones that are going to stand the test of time, but we also want something that can endure a variety of environments.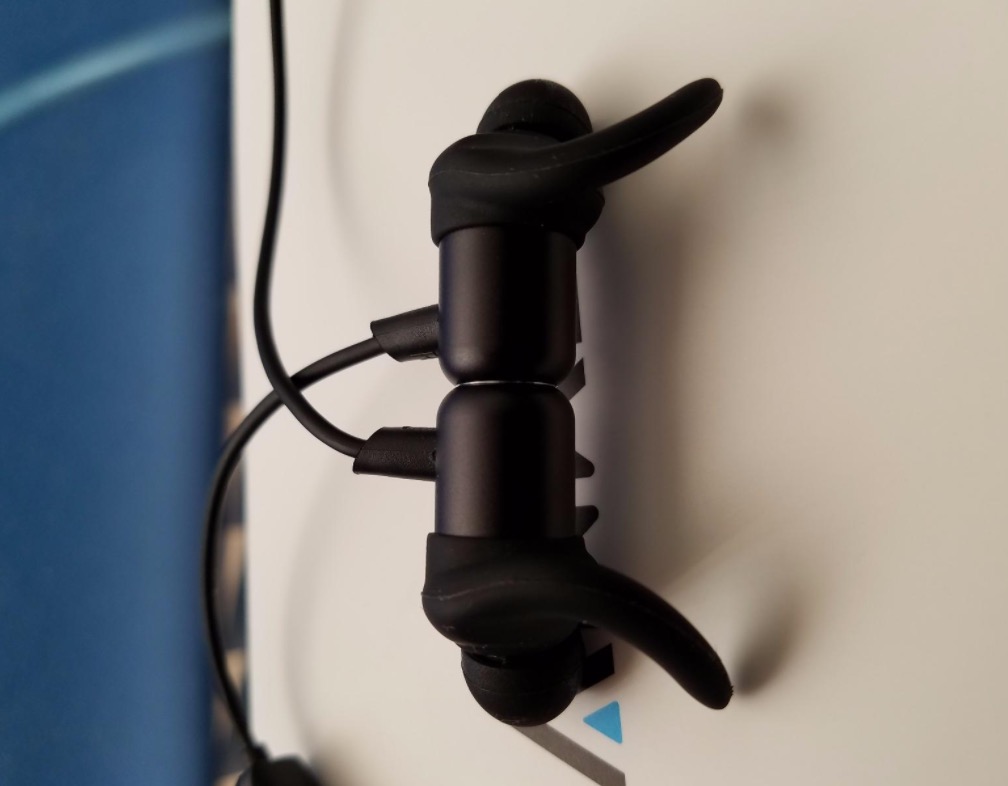 In terms of basic durability, the SoundBuds Slim have everything we could ask for. The enclosures are made from metal, and the cables are properly reinforced at all of the stress points. For those of you that are buying a pair of fitness headphones, you'll appreciate the IPX4 certification. This means that they are resistant to both moisture and dust. A little sweat while on a run, or a little dust in the air isn't going to damage them. This is a fairly entry-level rating, but does give us confidence regarding their use in athletic environments.
Functionality
The most important feature of wireless headphones is the battery life. If the battery is dead after two hours, you run the risk of having dead headphones for the second half of a long commute. Fortunately, this is one of the key advantage of this style of earbuds. True-Wireless earbuds only last an hour or two, while these ones last for seven hours. In our tests, this measure was fairly conservative. At low volumes, they can last more than 8 hours. When you've got them cranked, 6.5 hours is a realistic expectation.
They charge using any standard Micro-USB cable. One is included, but you can use your phone charger in a pinch.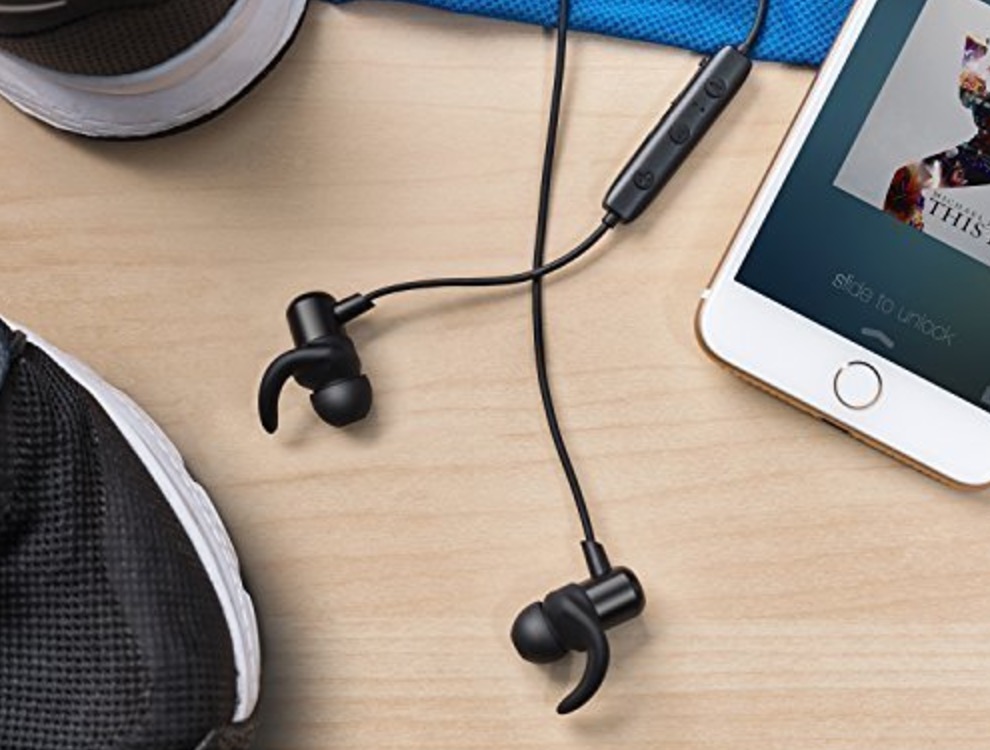 The next noteworthy feature is the inline controller. On a basic level, this provides some navigation through your music library. Long hold the volume up button, and you can skip forward. Long press the volume down, and you'll skip backwards. The third button serves to start and stop your music, and can also be used to answer calls when they come in. A compact omnidirectional microphone is embedded in the remote, which makes hands-free calling easy. The microphone is very high quality, and produces a clear voice recording thanks to it's build in noise suppression.
Lastly, one simple usability feature drastically improves the ease of use. The back of the earbuds are magnetic. Place them together, and they'll hold firmly. This allows you to keep them around your neck, even when they're not in your ears. This simple feature prevents them from falling off, so you don't feel compelled to stuff them in your pocket.
Disadvantages
The range on the Bluetooth isn't fantastic. If you have your phone in your pocket or in a backpack, they'll be fine. But if you try to leave your phone on the table and walk around the home, you'll find that they may frequently cut out and disconnect. Keep within a 30 foot range to avoid this.
Battery life is also proportional to range. The further your audio source is, the harder the amplifier has to work. When it's draining a lot of power, you'll find that they don't last as long. Our recommendation is to keep your phone on you if you want to completely avoid these potential issues.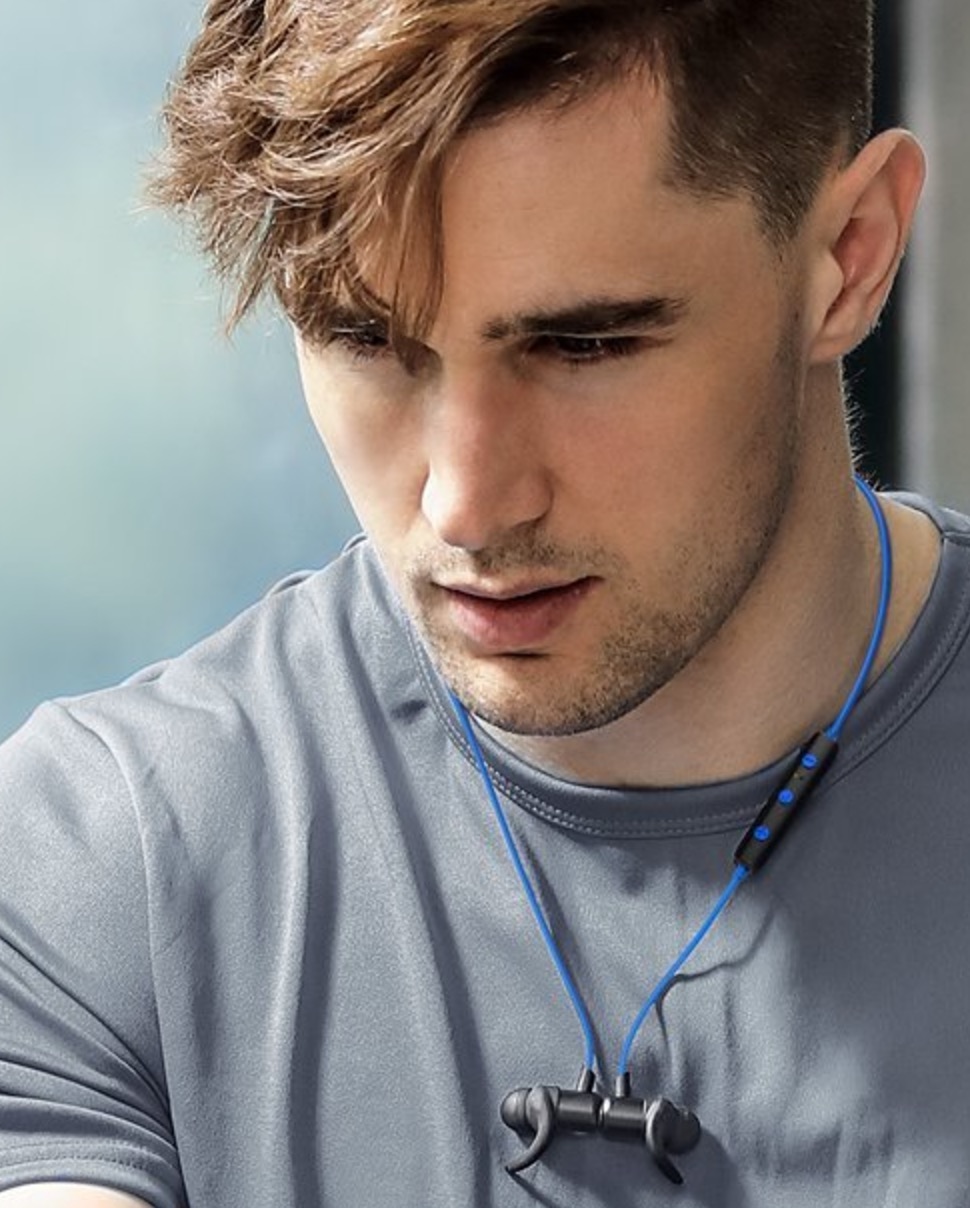 Final Verdict
At this price point, it's hard to expect anything other than entry level headphones. The Anker SoundBuds Slim have all the basic features, including an in-line remote and hands-free calling. There are many headphones on the market that provide this.
What makes them stand out is their sound quality. You don't find many comparably priced headphones that deliver such a good experience. Sure, they might not compete with your Beats that you spent half a pay check on. But if you're upgrading from the headphones that can with your phone, you're sure to notice a significant improvement. In our eyes, that's all we can ask for.