From lounging on the beach to powering through a 12 hour shift at work, virtually every activity can be made better with music. In many cases, our home stereo serves this purpose. But when you're on the go, you need something portable. This is where a Bluetooth speaker comes in.
It's easy to understand why Bluetooth speakers are so popular, and manufacturers have had no problem keeping up with demand. To set themselves apart from the competition, many models come with a number of unique features. Some have fancy lighting; others excel in style. There is no doubt that the cosmetics of a device are important, but durability is even more important.
This is because durability directly impacts how functional a device is. Electronics are sensitive. If you don't feel comfortable getting a device wet or leaving it out in the sun, you're unlikely to bring it to an event where damage is likely to occur.
Alternatively, you could simply purchase a Bluetooth speaker that can survive all kinds of conditions. We've already taken a look at a few of these speakers, but when we discovered the Apie Portable Wireless Speaker we knew we had to give it a shot. Not only is it affordable, but it offers a level of durability that is rarely found in compact speakers. Is this a speaker that looks good only on paper, or can the real world performance keep up with its impressive specifications? To find out, we went hands-on.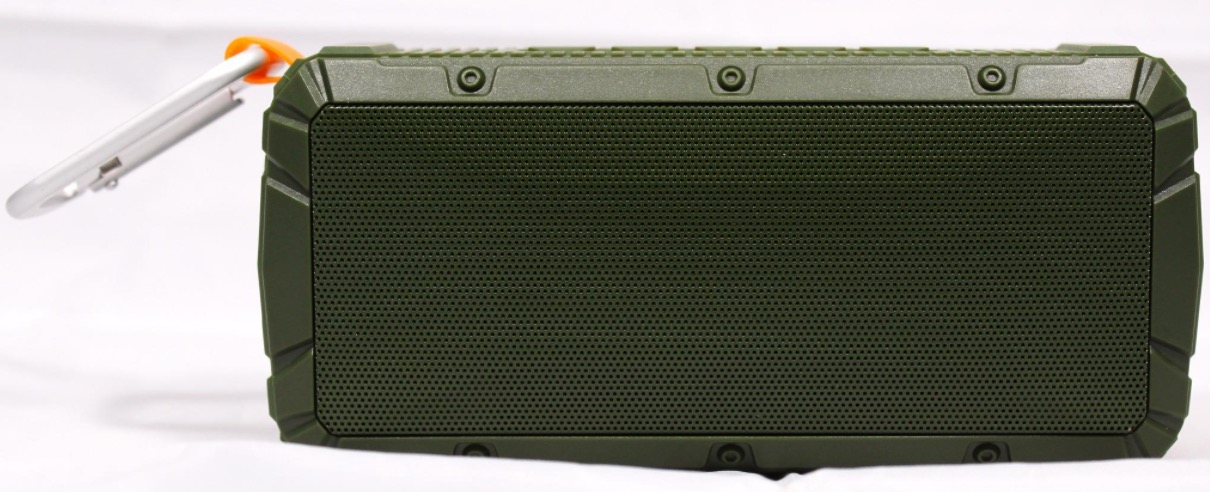 First Look
The very first thing you notice about Apie's speaker is that it's extremely small. Measuring roughly 6 inches by 2.7 inches, it's roughly the size of two snickers bars stacked upon each other. From a visual standpoint, it definitely looks like a durable speaker. The green speaker grille and orange highlights have a very military-esque look to them, highlighting the aggressive design.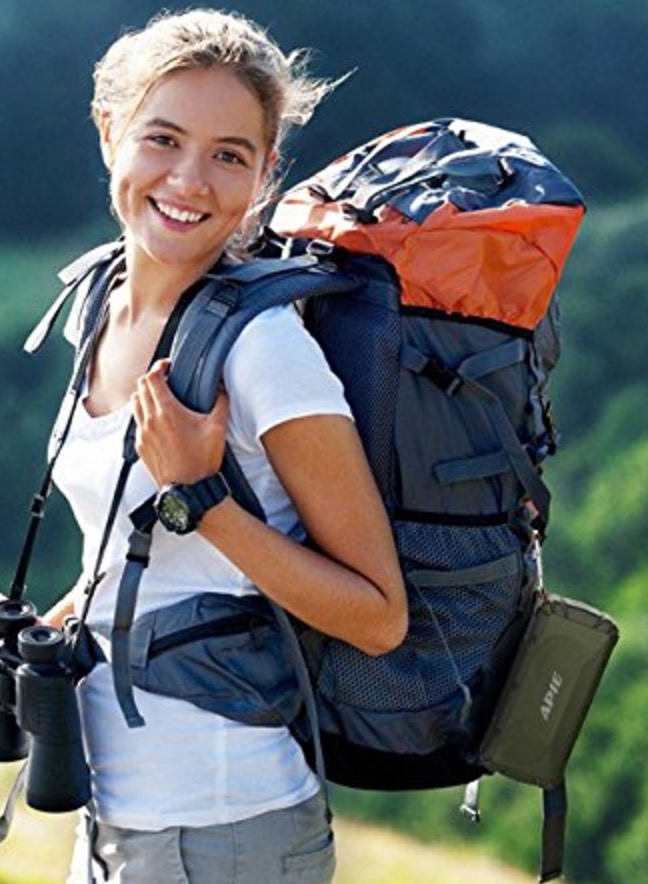 The combination of metal and rubber provides the perfect balance of rigidity and flexibility. It features a clip that allows you to attach it to your bag or bicycle, and a large 2200 mAh battery that provides hours of entertainment. Despite its compact size, it still provides plenty of sound through its dual 5 watt drivers and passive radiator. Looking at the specifications alone, this is definitely an impressive looking speaker. But to find out more, we had to put it to the test.

Sound Quality
From the moment we turned it on, the sound quality is what impressed us the most about this speaker. For starters, it produces stereo sound. Most Bluetooth speakers on the market are Mono. Using mono audio is a great way to save money, as manufacturers only have to use a single driver. In the event they do use two drivers, most cases warrant that they are split between the bass and the treble rather than the left and right channel.
Instead, Apie decided to use full range drivers. The advantage of this is that you don't miss any of your sound. If you've ever heard a Bluetooth speaker and found that the guitars, backup vocals, or percussion was missing, this is because many songs fade one of these elements to a specific channel. There is always a chance that elements will be lost with a mono speaker. In this case, it's a non-issue.
Our initial concern was that the full-range drivers would be of a lower quality than a split tweeter / woofer system. But these speakers have plenty of clarity, and don't distort at high volumes.
You do lose a little bass, which is to be expected at this size. Thanks to the passive radiator, relatively compact drivers can still produce high sound pressure levels. This results in a sound that has plenty of kick, and can be heard over a long range. In our tests, we found that it works best with peppy upbeat music. Music has a lot of drive and energy. Most importantly, it remains clear. Even when you've got the volume cranked, your music is still crisp. If you've ever found yourself disappointed with a Bluetooth speaker that starts to crackle the second you touch the volume button, you know exactly how important this is.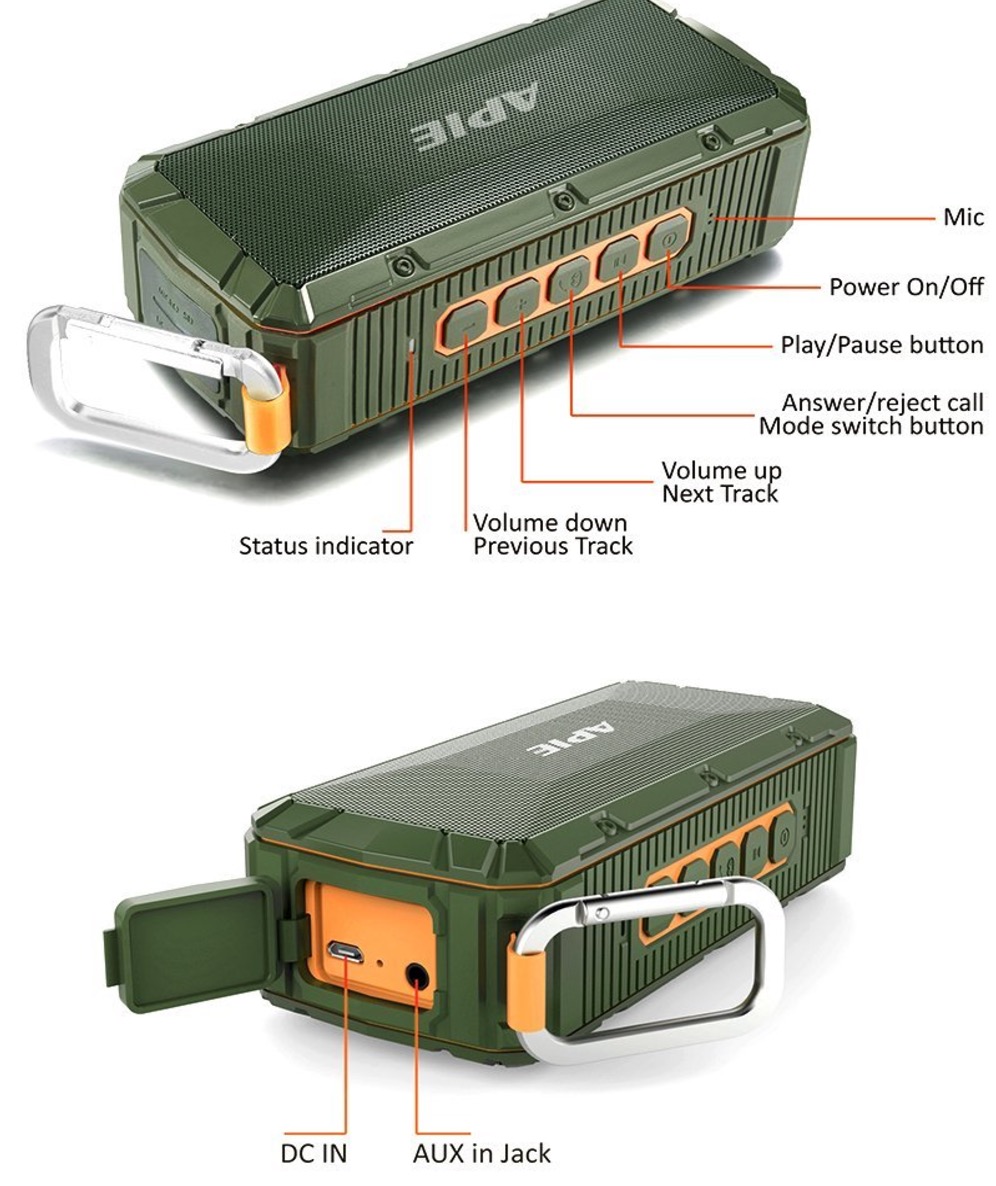 Durability
Apie made this speaker from a combination of plastic, metal, and rubber. The metal is used exclusively for the speaker grills. This keeps it lightweight, but protects the most delicate part of the speaker from bumps and scrapes.
The core of the enclosure is made from plastic. Typically, plastic isn't a particularly durable material. But in this case, it's significantly stronger than we expected. It's very thick, and plenty of structural support is added at all the weak spots.
With plastic, the main issue is the enclosure cracking. To prevent this, the entire thing is shrouded in rubber. This acts like a bumper and diffuses the force from any impact that may occur. Another benefit of the rubber is that it creates a seal around the speaker. This makes it water resistant.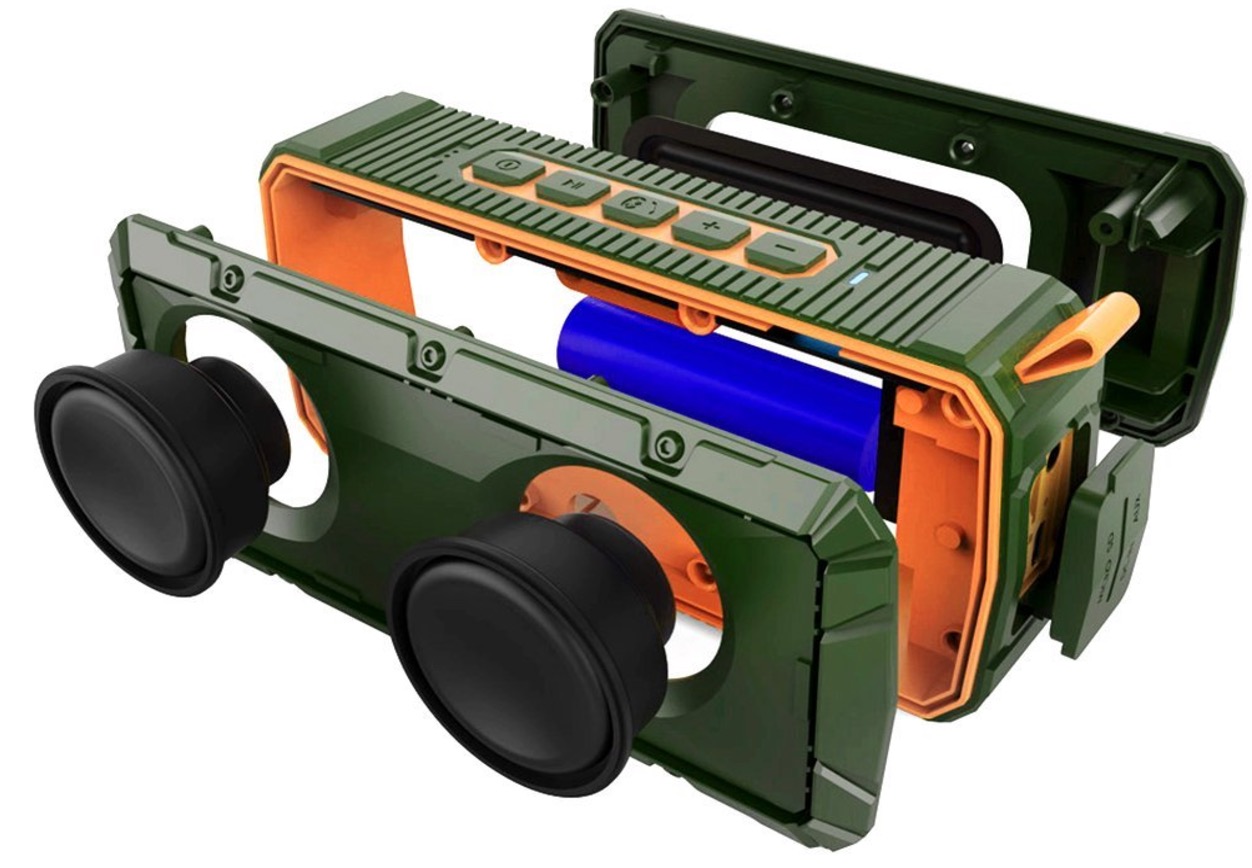 It's received an IPX6 rating for water proofing. It's important to look for this rating anytime you purchase something sold as waterproof. This means that it's been independently tested in a lab to determine how much liquid it can handle. IPX6 isn't the highest rating possible, but it's pretty darn close. This means that it can withstand anything except complete submersion. You can take it to the beach, use it in the kitchen, or even enjoy music in the shower without having to worry about it.
What happens if you do accidentally knock it into the pool? If you get it out quickly, it should survive. But every second it spends completely submerged increases the chances of water leaking into the enclosure.
Battery Life
The 2200 mAh lithium battery provides you with up to 10 hours of music playback. However, this is heavily influenced by volume. In our tests, the manufacturers official rating is possible up to half volume. If you've got it cranked all the way up, you can expect about 6 hours maximum. Fortunately, recharging is quick. There is only a single lithium cell which can be fully recharged in just under 3 hours.
Although a charger is provided, Apie uses a standard Micro USB cable and standard 5V input. This means that you can charge it from any charger you have laying around, or from the USB port in your computer.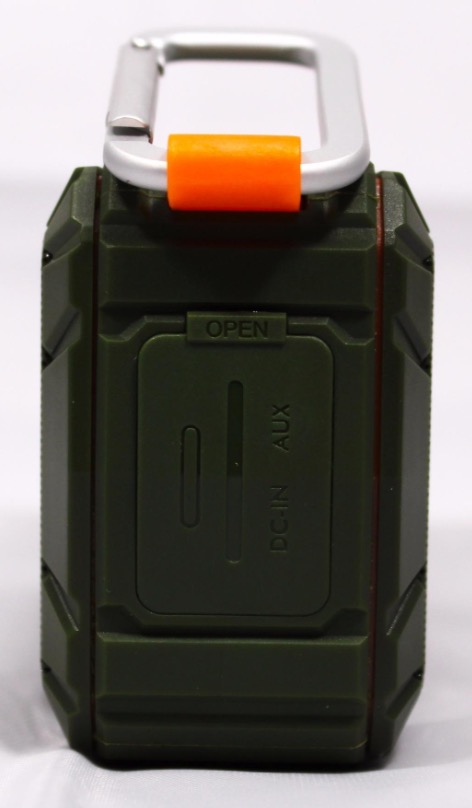 Functionality
Aside from playing music, this speaker has a few handy features we liked. It supports three popular Bluetooth communication standards: A2DP, AVRCP, and HFP. A2DP allows the speaker to be used as a remote control for your phone. You can use the buttons on top to pause the music, skip a track, or navigate through your favorite playlist.
AVRCP is used to facilitate two way communication between the speaker and your phone. If a call comes in, you can press the button and use the built in microphone to facilitate hands-free calling. Alternately, you can hold the call answer button to start Siri. This makes the speaker a bit like an extension of your phone, rather than an isolated accessory.
Finally, all of these protocols allow you to strike a balance between superior sound quality and compatibility. On a modern phone, audio will be streamed uncompressed. Older hardware doesn't support this. In that case, the speaker will revert to the older style of communication. This does drop the sound quality a little, but allows the speaker to function in an environment where it otherwise wouldn't.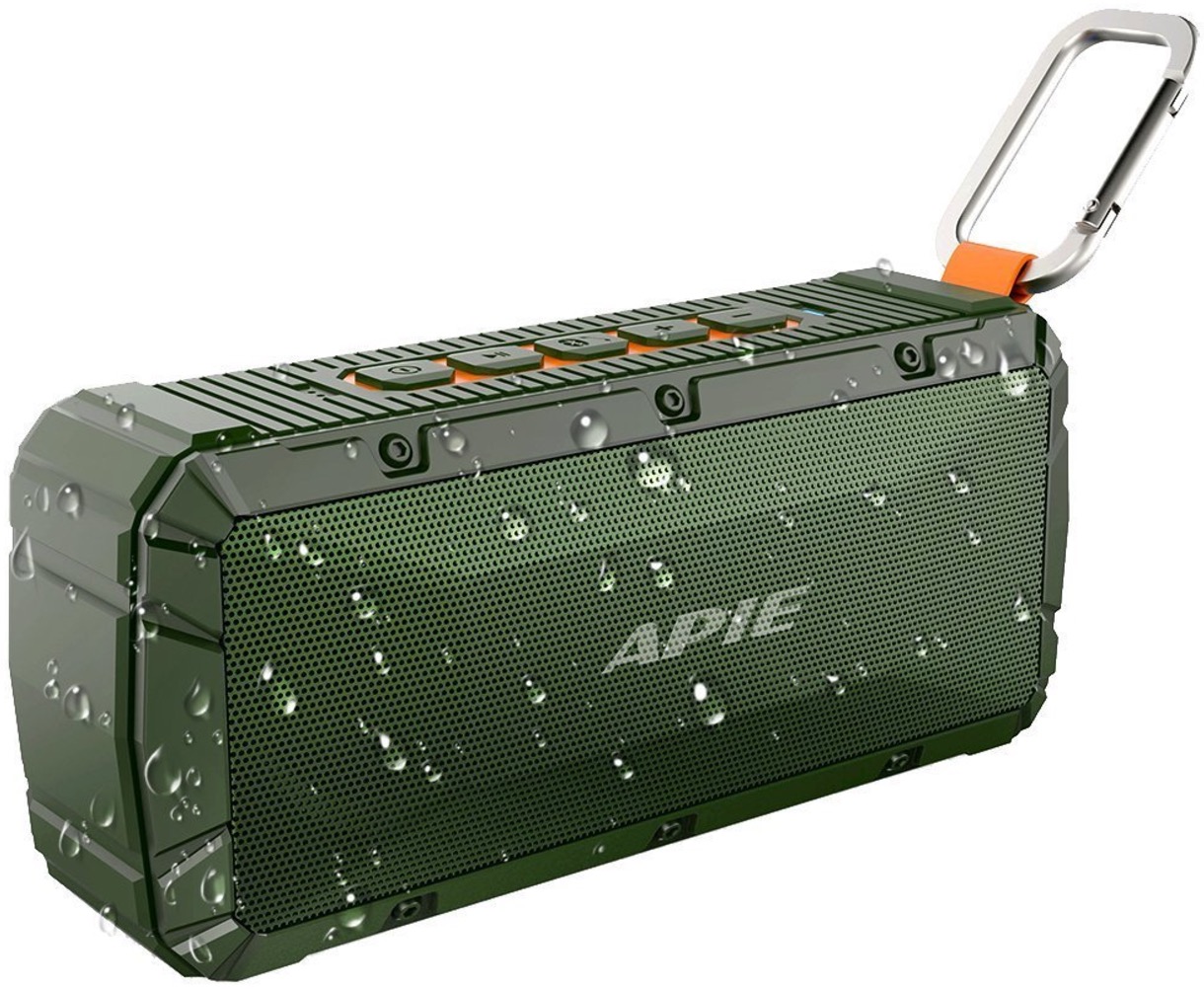 Disadvantages
For the size, this speaker is surprisingly bass-rich. However, you're not getting the same type of bass that you would with a larger speaker. With drivers that can move a lot of air, bass feels much tighter and precise. There is an audible difference between one tone and another. On this speaker, the tones are a little less complex. You still hear the bass, but you don't get the definition you would with another. If you like the size of this speaker, then this is as good as you'll find. But if you are more concerned with sound quality, selecting a model that is physically larger would be a good option.
Final Verdict
Overall, there is a lot to like with the Apie Portable Speaker. Despite being incredibly compact, it still produces a sound akin to speakers twice it's size. It's extremely durable – the kind of thing that you can take with you camping, mounting biking, or anywhere else your feet can take you. Although this isn't the only durable Bluetooth speaker that advertises waterproofing, it's part of an elite group that has received IPX certification. This means that you're not gambling. There is no question about the quantity of water it can be exposed to, so this truly is a worry-free device.
If you want a little more bass, you might want to take a look at the Doss Traveler Bluetooth Speaker. It's much larger, but we found it to be just as durable as this model. For bass lovers, this is a fair tradeoff.