Recently, more and more modern smartphones have been eliminating their 3.5mm earphone ports in favor of requiring you to use wireless earbuds. This eliminates one route of water infiltration, as well as cutting down on hardware, so there's more room inside for larger hard drives, enhanced cameras, and other features we all know and love.
Of course, even if your phone has an aux port, wired earbuds can get in your way, particularly during athletic activities. If you've ever snagged an earbud wire on your elbow while you're jogging, you know how irritating this can be. Wireless earbuds are also a great choice for other devices. Want to stream a podcast from your tablet while you're doing household chores? Just leave your tablet in the middle of the room, and you can walk around freely.
Today, we'll be looking at two of the most popular pairs of wireless earbuds on the web: the BEBEN 5H and the Raycon E25. We've ranked these earbuds across five different areas: the overall physical design, the battery life and charging speed, the quality of the connection, any accessories that are included, and, of course, sound quality. Let's see how they stack up!
Overall Design
The first category we'll be looking at is the design. This includes the fit, appearance, and ease of operation, as well as water-resistance. Any other intangibles will also factor into this category.
BEBEN 5H
The BEBEN 5H weighs only 4.7 grams a piece, or about an eighth of an ounce. This is equivalent to a piece of standard printer paper, so you'll hardly notice there's anything in your ears at all. The buttons on the earbuds protrude and are a little clicky. On the one hand, this means that you'll have to press a little harder than you would with some soft touch earbuds, but on the other hand, it provides great tactile response.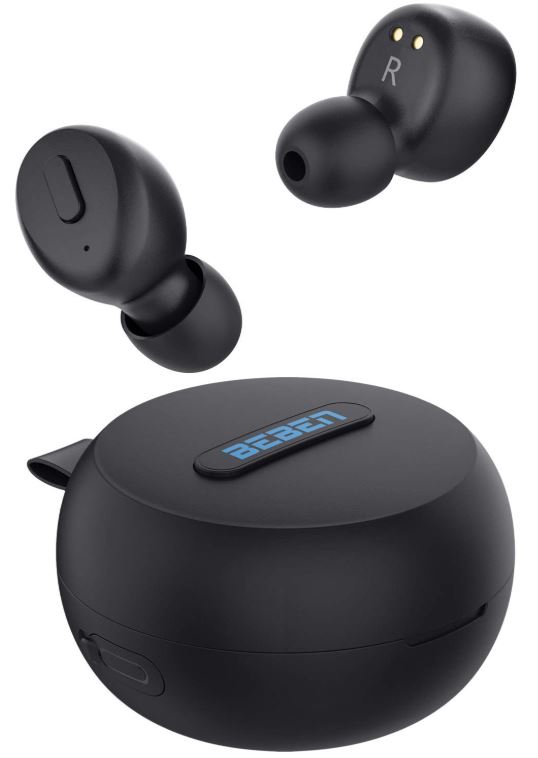 They come with a small charging case that has a clamshell-style design, with an invisible hinge on the back. The earbud charging wells are magnetized, which allows the buds to slip easily into place. This averts the need to worry about your buds misaligning and failing to charge. Once the magnets grab on, the earbuds aren't going anywhere. The front of the clamshell is also magnetized, which allows for easy, one-handed opening and a secure closure. Four LED lights in the back of the case display the current battery level, with each light indicating approximately a single recharge for the earbuds.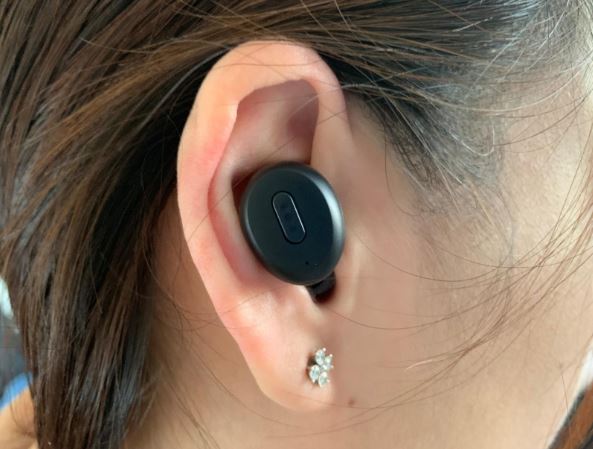 Both the earbuds and the case are IP68 resistant to water and dust. This means they're completely impervious to dust, even ultra-fine particles like cement dust that seem to get everywhere. In addition, the water rating of 8 is the most powerful you can get. Not only will the 5H stand up to sweat and heavy rain, it's rated for full submersion. While the manufacturer doesn't specify an exact depth, the rating indicates a depth of deeper than 1.5 meters (4.9 feet) for at least half an hour. Not that you'll need to worry about submersion; both the earbuds and the case will float in the water, so if you drop them in a pool or a lake they'll be easy to retrieve.
Raycon E25
Like the BEBEN 5H, Raycon E25 earbuds are also very light. The manufacturer doesn't specify – and we didn't have a gram scale – but they feel about the same, and won't feel excessively heavy like some sets of earbuds. These earbuds have standard, soft touch buttons that are easy to operate, but offer no tactile feedback.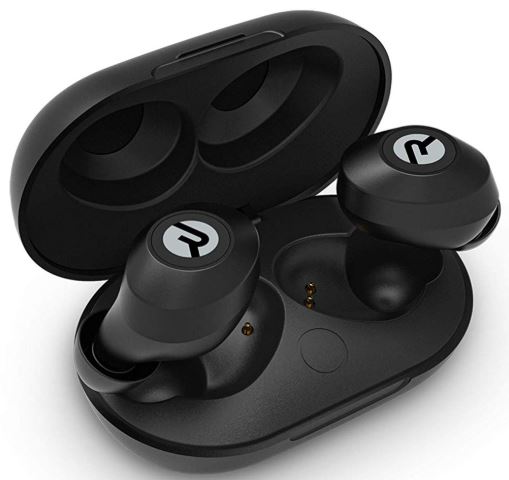 The case is smaller than the case for the 5H, with a short, wide design that's barely large enough to hold the two earbuds. It's also magnetic, both in the charging wells and along the front edge of the clamshell. The magnets are fairly powerful, and protect you from the case getting opened by mistake. One feature that's cool about these earbuds is that they're available in five different colors: black, blue, red, white, and rose gold. No matter which color you order, the charging case will match.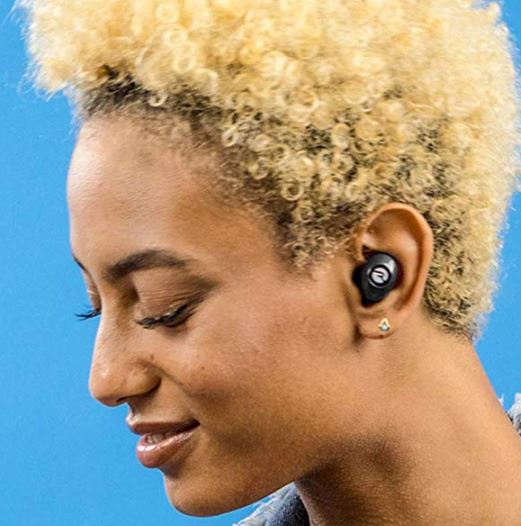 The Raycon E25 earbuds and case are IPX4-rated for water resistance. This means they're resistant to sweat and rain, but not to immersion. That said, for normal, everyday uses, even for heavy exercise in a rainstorm, they'll get the job done.
Winner
The BEBEN 5H takes an early lead, with its powerful, IP68 water and dust-resistance and the battery meter, both of which outperform the E25. Then again, if you like your earbuds with a splash of color or prefer soft touch buttons, the E25 might be a better choice for you.
If you prefer an earbud with an over-the-ear wing for extra security, check out our review for the Mpow Flame 2. These buds offer excellent quality and a secure, customizable fit.
Batteries and Charging
Next, it's time to look at battery life and charge time. This is an important consideration, since it tells you how long you can go without needing to charge the case itself. Obviously, battery life is variable, and depends on a variety of factors including the bit rate and depth of your audio, as well as the volume. So consider these numbers more of a guideline than a hard-and-fast rule.
BEBEN 5H
The 5H can operate for 5 hours on a single charge. The charging case itself holds 600mAh of juice, which is sufficient to recharge the earbuds four times, giving you a total battery life of 25 hours. The case can be recharged in two ways, either via Micro USB or a wireless charging pad. Either way, a full recharge takes only 90 minutes, so you can easily top off your batteries in less time than it takes to watch a movie.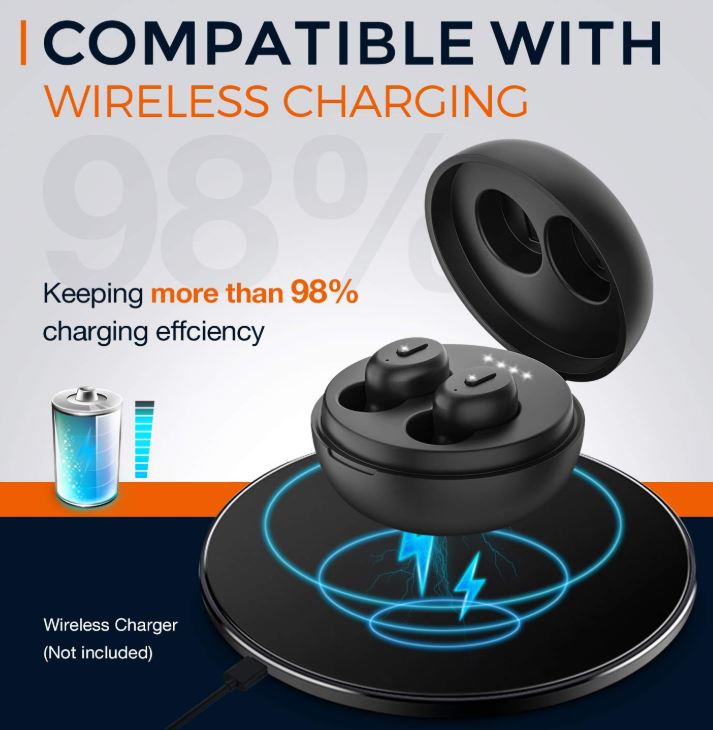 Raycon E25
Raycon E25 earbuds last slightly longer on a single charge, providing 6 hours of play time. The charging case holds an additional 388mAh of power, which provides an additional 3 recharges as needed. In total, that's 24 hours of power. The case recharges via Micro USB, and you can top it off in about an hour.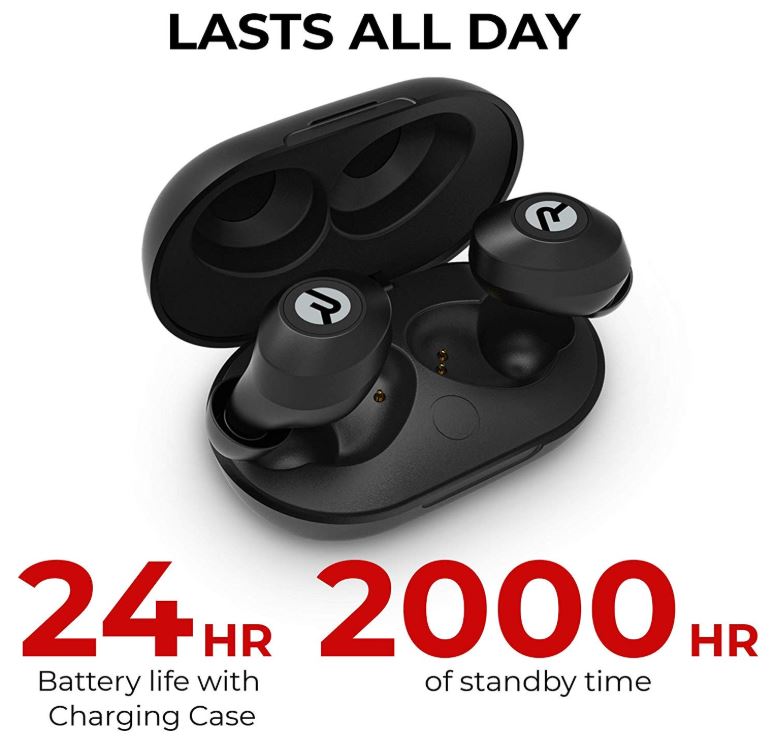 Winner
The Raycon E25 earbuds win this round. While the 5H offers wireless recharging and an hour more of total capacity, the E25 buds offer more use without the need to put them in the case. And the case itself recharges significantly faster.
If you want even more battery life, the Soundcore Spirit X2 might be right up your alley. Not only do they offer a base charge of 9 hours with an additional 27 hours from the charging case, but they're also submersible.
Connectivity
Our third criteria is connectivity. This means not just the connection method, but also the ease of connection and other related features.
BEBEN 5H
The BEBEN 5H utilizes the latest Bluetooth protocol, Bluetooth 5.0. This provides for a crystal clear, low-latency signal even when you're listening to high-bitrate audio or watching a movie. The overall range is 33 feet, which is all you reasonably need with a pair of wireless earbuds. Syncing is easy. Simply remove the earbuds from their case, and they'll automatically turn on. From there, just open your phone or tablet and select them from the Bluetooth menu.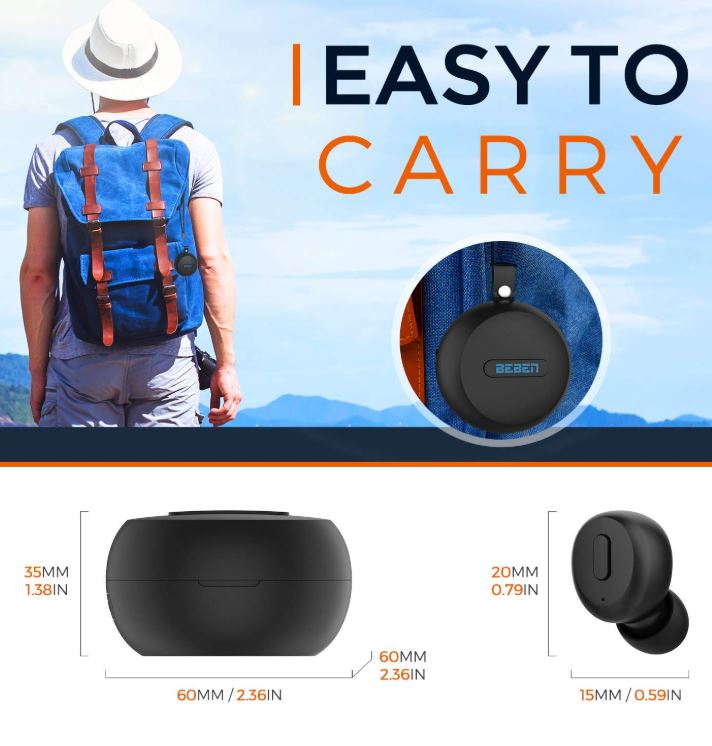 You can also connect with the left earbud by itself if you want to keep one ear free. To re-pair with both earbuds, simply replace the left earbud in the case, press down the buttons on both earbuds until the lights flash 3 times, then reconnect. These earbuds are compatible with Siri, so you can also use hands-free calling options or even run a Google search hands-free.
Raycon E25
Like the 5H, E25 earbuds use Bluetooth 5.0 technology. The connection is equally stable, and is just as easy to make. However, there's no option to use a single earbud, and you'll have to jump through some extra hoops to use hands-free options.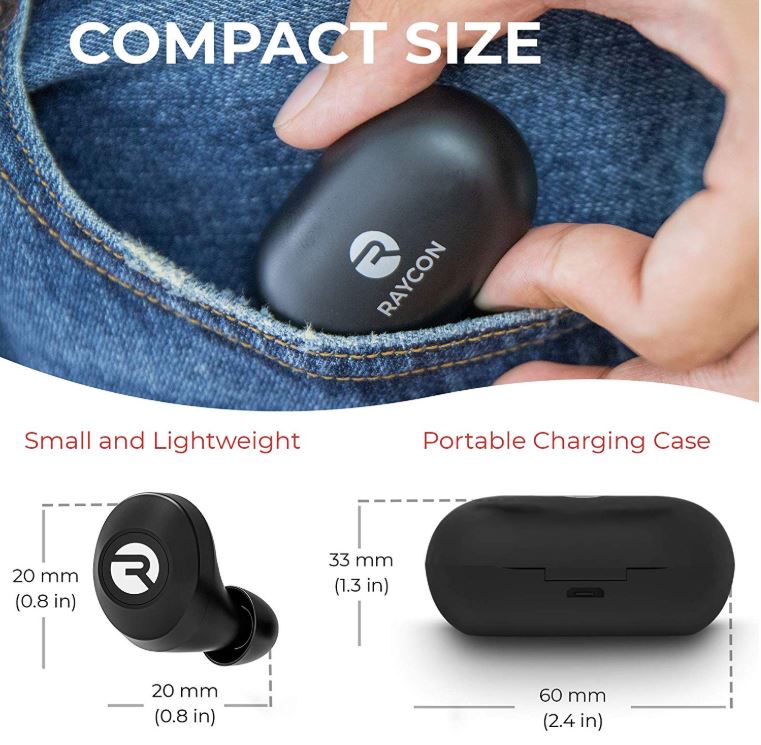 Winner
The BEBEN 5H edges out the Raycon on connectivity. While they both use Bluetooth 5.0, the BEBEN offers more extras.
Accessories
Like the vegetables and garnish on a good steak, earbud accessories are also part of the equation. Charging cords, extra ear tips, and other extras are an important.
BEBEN 5H
Beben 5H earbuds come with a Micro USB charging cable, as well as five extra pairs of ear tips. The ear tips come in three sizes, so you can fit them to just about any ear canal.
Raycon E25
Raycon's E25 earbuds also include a Micro USB charging cable. They come with six extra pairs of ear tips instead of five, available in three different sizes.
Winner
In this regard, there's not really much difference between the 5H and the E25. We're calling this one a wash.
Sound Quality
If accessories are the garnish and the vegetables, sound quality is the steak. It's why you come to the restaurant – or our website – in the first place. So let's compare some steak!
BEBEN 5H
BEBEN 5H earbuds provide quality sound across the highs and the mids. The highs are clean, crisp and clear, with the right amount of shimmer where you'd expect it. For classical, country, and other genres that rely on strings for much of their mix. Vocals come through very well because of the quality mids, which makes them exceptionally well-suited for rap, hip-hop, and other vocal-heavy genres of music. The bass is clear, and doesn't muddy the rest of the mix, but it doesn't offer much punch. This is understandable on a pair of wireless earbuds, but it's something to take into consideration if you like dance music or heavy metal.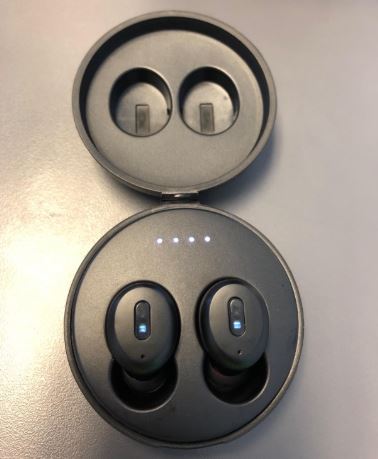 One thing we appreciated was the 3D Sound and Binaural Stereo. This makes for an excellent sense of space, so you can hear the mix just the way the original artists intended. If you're an audiophile who puts a lot of stock into quality stereo, you'll enjoy this balance.
Raycon E25
Raycon E25 buds offer similar quality mids and highs to the 5H. However, we noticed a distinct increase in the punch from the bass. This isn't to say that the bass is exceptionally powerful – remember, we're talking about a small pair of wireless earbuds – but it does mean you'll get a little more response in that range. For music with a strong, driving bass, we definitely prefer the E25.

In addition, the E25 offers two features that are uniquely suited to making clear, consistent phone calls. The first is a protocol called Digital Signal Processing (DSP). This improves audio quality not merely during phone calls, but also when you're listening to music with an iffy Bluetooth connection. The other feature, even more significant to us, is Clear Voice Capture (CVC). CVC is designed to key in on your voice in particular, and to filter out background noise when you're talking on the phone. This is great if you're using your phone in a crowded, noisy environment.
Winner
While the BEBEN 5H and the Raycon E25 both offer great sound quality, the E25 is slightly better on the low end. In addition, the CVC technology offers a much clearer phone connection that the 5H can't match. This last round goes to the E25.
One thing both of these earbuds lack is deep, punchy bass. That's nearly universal among earbuds, and it's not terribly disappointing. But if you want powerful bass in a wireless package, the AUKEY T10 is a great choice.
Final Verdict
So, what's our final tally? The BEBEN 5H wins on overall design and connectivity, while the Raycon E25 wins on battery charging and sound quality – accessories were a draw. At the end of the day, it depends on what you need. If you want more connection options or a submersible pair of earbuds, go with the 5H. If you want clearer phone calls and better battery life and charging, the E25 is our top pick. They're your earbuds. Choose the pair that works best for you!