If you're an Apple user, you're probably a fan of multiple connected devices. Indeed, their convenient ecosystem is one thing that makes iPhones so popular. You can use them seamlessly with your MacBook, or control your other devices with Siri. But all too often, this convenience has ended where the Apple ecosystem begins. For instance, cars use their own on-board circuitry for GPS, radio controls, and other applications. So while you could use your smartphone to control pretty much anything in your house, automotive control remained elusive.
This started to change in 2014, with the introduction of Apple CarPlay. CarPlay is an automotive application that's designed to pair your car with your smartphone. It uses your car's dashboard for call controls, voice-to-text, and other features. You can also call up music, or even ask for directions. Supported apps even have larger buttons and a specialized automotive interface. Now, you can use many phone apps in your car, something that used to be impossible. But how well does this work in practice, and which cars does it work on?
Note: At no extra cost to you, we may earn a commission for purchases using our links. Learn more.
In short, it depends. But as with many applications, a wireless adapter can come in handy. We've looked at Bluetooth FM car transmitters in the past, which is a related, but different concept. Today, we'll be looking for the best Apple CarPlay wireless adapter. We'll begin by reviewing the Carlinkit 3.0. This adapter has near-universal compatibility for different models, but only covers certain model years. Next, we'll examine the Carlinkit CPC200. This adapter is compatible with several model years, but not all vehicles for those years. Finally, we'll look at the OTTOCAST U2-Air. This adapter has two color options, and works with many vehicles. Which one is going to be best for you? Let's dig a little deeper, and see what we uncover!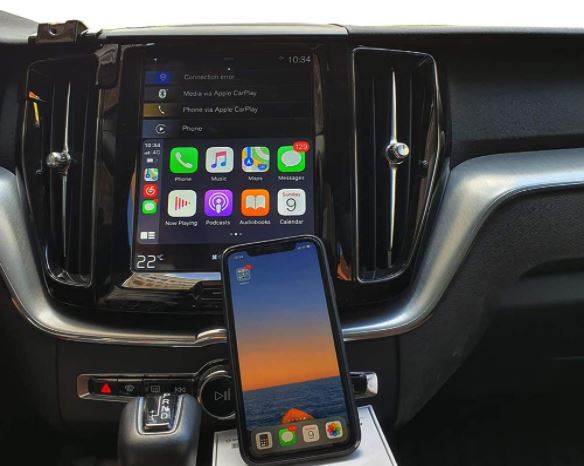 Why Use a Wireless Adapter For CarPlay?
Before we begin, let's talk a little bit about CarPlay compatibility. How do you know if this is even going to work? The good news is that Apple has supported CarPlay since 2014. You can use it with literally every iPhone starting with the iPhone 5. Unless you're using a decade-old iPhone for some reason, you won't have any issues there.
On the vehicle side, things are a bit different. Almost every major manufacturer, other than Tesla, supports CarPlay on at least some models. However, many only offer limited support on a handful of vehicles. If that's not already confusing enough, it may or may not be standard on a given model. In most cases, you'll have to choose a particular dashboard model if you want AirPlay to work. Thankfully, Apple maintains an online list of compatible vehicles. If you're not sure if your car supports AirPlay or not, that's the best place to start.
One other wrinkle of the CarPlay app is that it's largely dependent on your vehicle's controls. Some manufacturers favor touchscreens, while others prefer to use buttons or knobs. As a result, if you're using CarPlay in a rental car, you may find you have to relearn most of your controls. Finally, when CarPlay is active, your phone screen will be locked out. This is to discourage you from texting and driving.
For most vehicles, you have to physically plug your phone into the car in order for it to work. This requires a Lightning to USB cable, and it can be a pain. You have to fiddle around with your phone every time you get into your car. Once it's connected, your phone will then search for updates, and CarPlay will start working.
Starting in 2017, some manufacturers began offering support for WiFi connections. The first company to do this was BMW, with their 2017 5 Series. Since then, several other manufacturers have jumped in, mostly with luxury vehicle models. More support is slowly being added on more vehicles, but for now, a wired connection is still the norm. If you want to connect wirelessly instead, you use a wireless adapter. That way, you won't have to plug your phone in every time you enter your vehicle.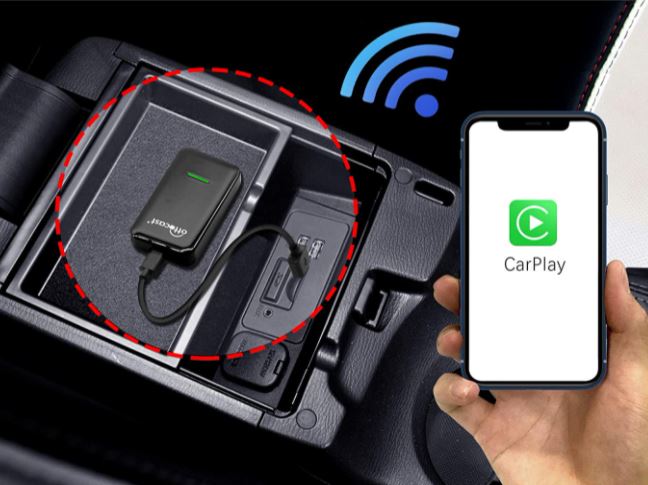 How Does CarPlay Work?
One of the conceits of Apple CarPlay is its safety. Because it's meant to be used while you're driving, many apps, like games, are intentionally blocked. Others are optimized for driving, such as messages defaulting to voice-to-text. In total, you get access to a handful of first-party Apple apps, with support for around 20 third-party apps. Apple apps include Phone, Messages, Apple Music, Maps, Podcasts, and Audiobooks. Third party apps include Spotify, Pandora, iHeartRadio, Audible, and the NPR app. All of these apps share one thing in common: they support Siri controls for 100% hands-free operation.
As you might expect, Siri is central to using CarPlay. If you don't already use Apple's virtual assistant, you may as well start now. You'll be talking to her a lot, whether you're choosing which songs to listen to or trying to find directions. Siri will also deliver special content tailored to the automotive experience. She'll focus on things like directions and traffic, and avoid giving lengthy answers on other questions. If you like to hear Siri read Wikipedia articles, you'll be disappointed. This is yet another safety feature, to keep drivers from getting distracted. That said, you won't be limited to Siri alone. You'll still be able to use your car's regular controls, such as the volume buttons.
In fact, there are some features you won't be able to use CarPlay for at all. For example, if you're listening to ordinary terrestrial radio, you'll use the car for that. The same is true if you're using a satellite radio unit that's installed in your vehicle. The air conditioning, odometer, and other similar functions will also still be operated by their normal controls. Moreover, CarPlay will sometimes prioritize certain vehicle functions over your CarPlay functions. For example, some cars have collision avoidance systems that sound an audible alarm. In that situation, CarPlay would actually mute your music while playing the alarm.
Sometimes, different displays can cause quirky issues with CarPlay's performance. On many touchscreen vehicles, the CarPlay display replaces whatever is normally on the screen. If you want to adjust your radio or climate control, it can sometimes be tough to find your way back. To use one example, on Hyundai vehicles, there's a Hyundai logo within the CarPlay display. If you touch that logo, you'll get sent back to your car's home screen. Some manufacturers now utilize a split-screen format to prevent this from happening. On newer Volvo models, the car menu appears on one side, and the CarPlay app appears on the other. This way, you still have all your controls at your fingertips.
One thing to be aware of regardless of your vehicle is that Siri relies on an active wireless connection to function. All of the work is actually done in the cloud, so your voice assistant is useless without a mobile signal. Whether or not this is a problem depends on where you live. These days, mobile coverage is so widespread that it won't be a major issue in most areas. But if you live in a rural area, you may run into some issues. In most areas, any issues will be limited to a delay of a few seconds when you'd driving at high speeds.
Because of this limitation, most cars that support CarPlay still come with their own navigation system. The theory is that you can fall back on the car's native GPS if you don't have a mobile signal. For this reason, you'll often see CarPlay support bundled with an automaker's navigation option.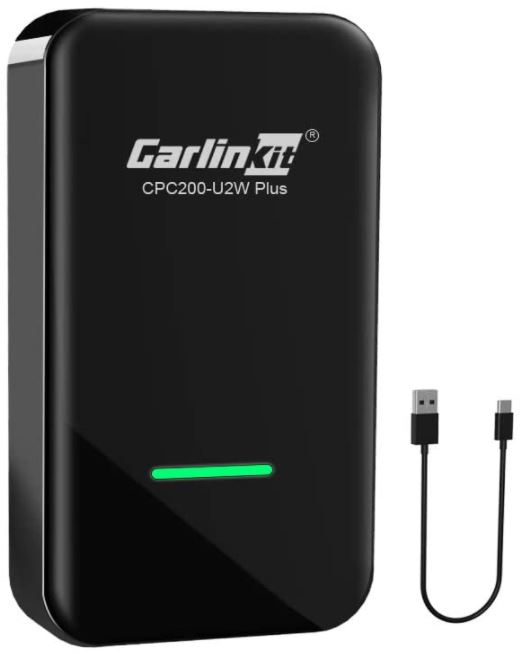 Carlinkit 3.0
The Carlinkit 3.0 is a small, smartphone-sized fob that's plugs directly into your car. It has a satin black housing, with rounded edges that provide better shock resistance than sharp corners. The housing itself measures 3.14 inches in length, 1.81 inches in width, and 0.51 inches thick. It comes with a short USB tether, which can be easily removed. It's also easily replaceable if it gets damaged, unlike a built-in tether or pigtail. There's also a bright green LED bar on the front of the housing, which lights up when it's plugged in.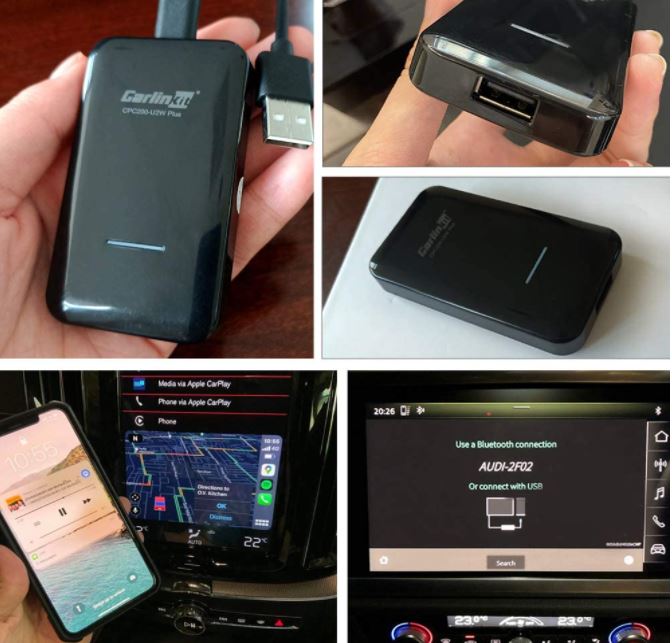 When you buy the Carlinkit 3.0, it's important to order the correct version. First, make sure your vehicle is on the list of cars it supports. This shouldn't be too hard, since it supports most cars with CarPlay support. However, there are two versions: the 2017-2018 version, and the 2019-2020 version. Each one is designed for cars from those model years. Even if you have a supported vehicle, you may have issues if you buy the kit for the wrong model years.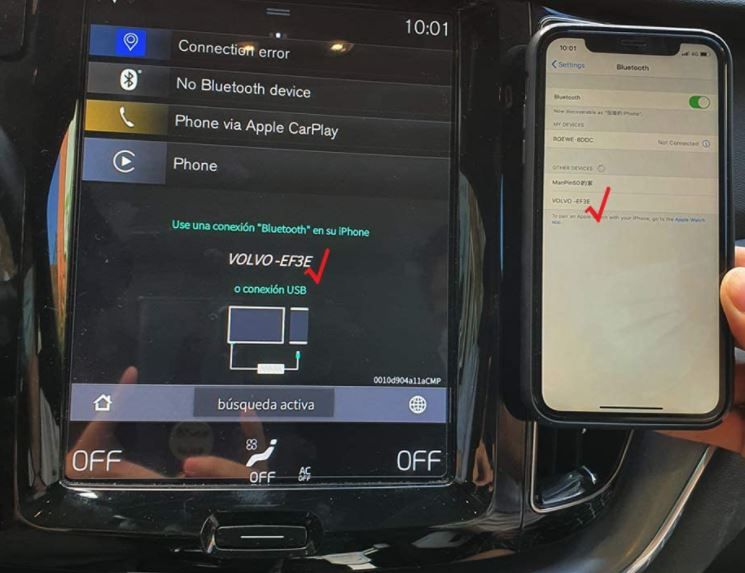 The Carlinkit 3.0 works only in vehicles that already come with CarPlay from the factory. It will work with any smartphone, and requires both a Bluetooth and a WiFi connection. The first time you pair it, you'll need to select tie adapter from your phone's Bluetooth menu. After initial pairing, it will utilize the WiFi connection from then on. The wireless signal has a bandwidth of 866Mbps, not quite as close as residential wireless, but close. It also reconnects easily whenever you return to your vehicle.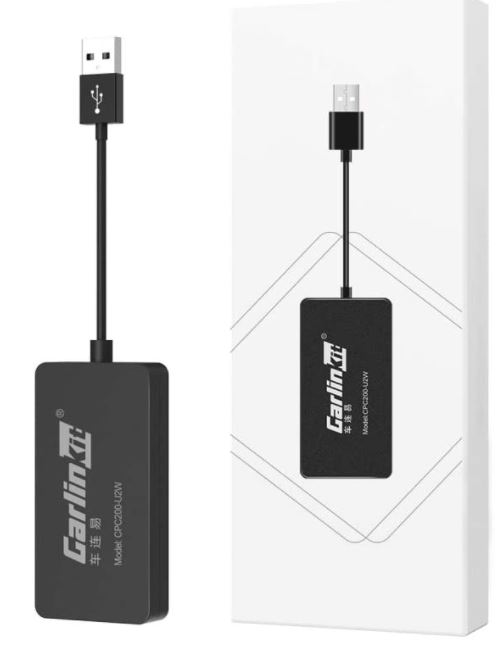 Carlinkit CPC200
The Carlinkit CPC200 is a smaller version of the 3.0 that has a slimmer profile and no LED indicator. The housing has a similar rectangular shape, albeit with a matte finish instead of a satin one. Even so, it's easy to keep clean, and it's reasonably durable. On the downside, the tether is built-in, not a separate cable. If it gets damaged, you'll have to replace your entire adapter. It's covered by a 12-month warranty, though, so you're at least protected from premature failure.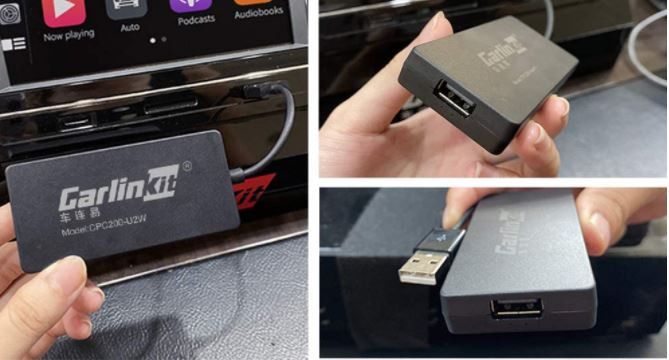 The CPC200 has been upgraded for 2022, which means it supports a wider range of vehicles. However, this doesn't mean it covers the same vehicles as the 3.0. You'll want to look at both lists to make sure your car is on the compatible list. In terms of connection quality, it's about the same. You plug the CPC200 into your car's USB port, and wait for it to turn on. Then, you connect from your iPhone's Bluetooth menu. You follow the prompts, and eventually the connection switches to WiFi. At that point, you're all set up and ready to go.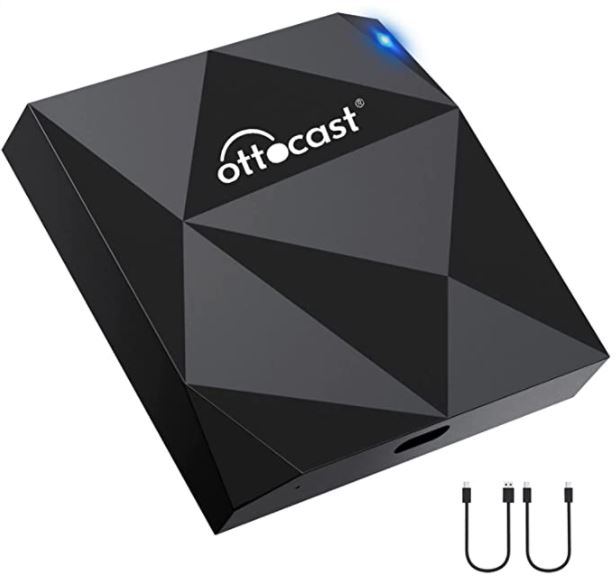 OTTOCAST U2-Air
The OTTOCAST U2-Air is closer to the Carlinkit 3.0 in terms of design. It's mid-sized and rectangular, with a satin finish and an LED indicator on the front. It can also be ordered in black or blue, to match any number of vehicles. The tether cable is removable, so you can replace it easily if it gets damaged.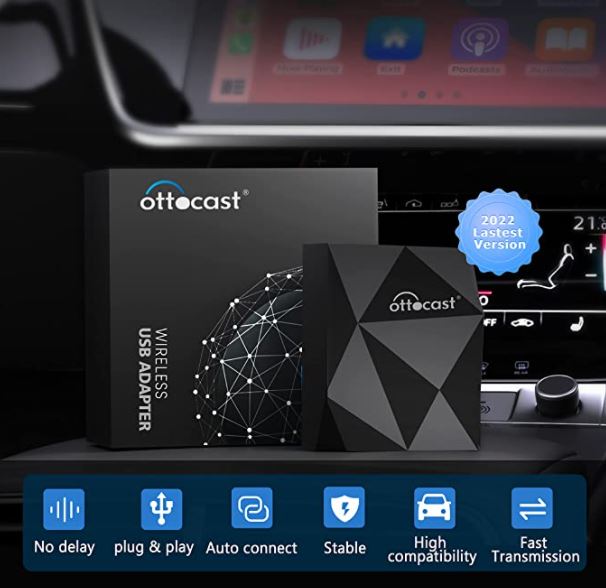 In terms of vehicle compatibility, the U2-Air is a bit of a mixed bag. It supports many years' worth of models, but only from 2016-2022. It does, however, support over-the-air updates. If you're running into glitches, they can usually be fixed by updating to the latest software version. The main benefit of this adapter is that it operates on the 5GHz WiFi channel. This provides a faster rate of data transfer, for a slightly lower latency connection. It's also covered by a 12-month warranty.
Final Verdict
Which one of these wireless adapters is best will depend largely on what vehicle you're driving. In terms of signal strength alone, the OTTOCAST U2-Air slightly outperforms the others. It's compatible with many vehicles from 2016-2022, although it's by no means universal. That said, all other things being equal, it's the best choice on any compatible vehicle.
The Carlinkit 3.0 and Carlinkit CPC200 are both roughly equivalent in terms of performance. The CPC200 is a bit smaller, and the 3.0 has a removable tether cable. That said, their lists of supported vehicles are also a bit different. The "best" choice is going to be the one that works seamlessly with your make, model, and year.
Note: At no extra cost to you, we may earn a commission for purchases using our links. Learn more.