You have an awesome computer setup that you built yourself and customized every part of it. The last piece of the puzzle is picking out a keyboard. The problem you face is that none of the options on the market go well with your style.
You don't want something that everyone else has – you want it to be special. You probably also like building with your own two hands, taking pride in your work. That's where keyboard kits come in. These kits are just the barebones needed to build from, giving you tons of opportunities to customize.
Reasons to Build Your Own Keyboard
Pick your favorite materials: These kits come in all different kinds of metals and plastics. They have varying levels of durability, size, weight, and overall feel. By building your own, you can choose what material is right for you.
Pick your switches: Switches are one of the most personal preference pieces that a keyboard has. Available in varying sounds, speeds, clickiness, and more it's tough to find the exact option you want right off the shelf. When you build your own, you can use whichever ones you want.
Pick your keycaps: Stock keyboards will typically come with basic keycaps. If you want something more durable or a different color, you have to go buy a whole different set. Instead, you can pick what you want from the beginning and not waste time.
Program the way you want it: Are you someone who likes to customize what various buttons do on your keyboard? If you are, when you build your own, you can often do this right from the beginning. This makes them completely custom to your gaming or work-related needs.
It's a fun experience: Perhaps the best reason to build your own is for pleasure. You use a keyboard every time you use your computer. By building your own, you get to take pride in your work every time you log on.
Best Overall: Glorious Gaming GMMK PRO Barebones Keyboard Kit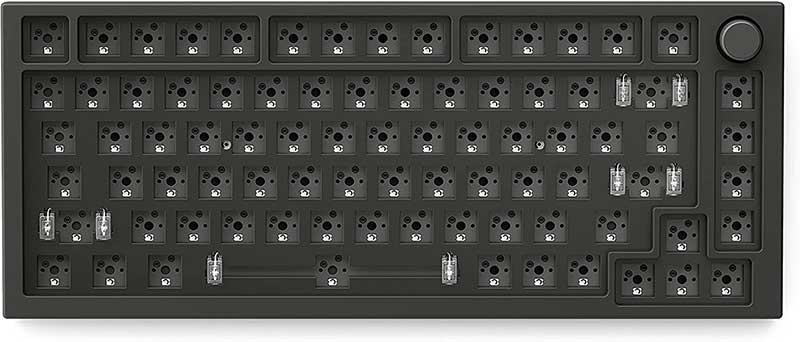 Key Features:
75% keyboard
Available in US and ISO layout
13.07 x 5.31 x 1.26 inches
The GMMK Pro is a 75% keyboard made out of aluminum. It comes in both black and white to fit your overall style. Each switch slot is backlit with RGB, and the sides have RGB features as well. It has two layers of foam between the PCB, the switch plate, and underneath to help reduce sound. The bottom of it has four soft feet, but they are not height adjustable.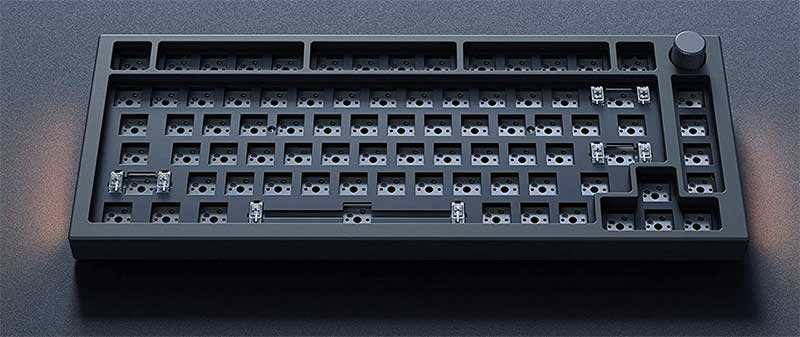 It's designed to take Cherry MX style switches, with options available from Glorious as well. The switches are hot-swappable so changing them down the road is simple. Being a 75% size, you'll have to do your research on which keys you want. Glorious has options for both PBT and Aura keycaps, but any standard set will fit. One "switch" that it does come with is a knob in the top right. This knob is used to control the volume on your device.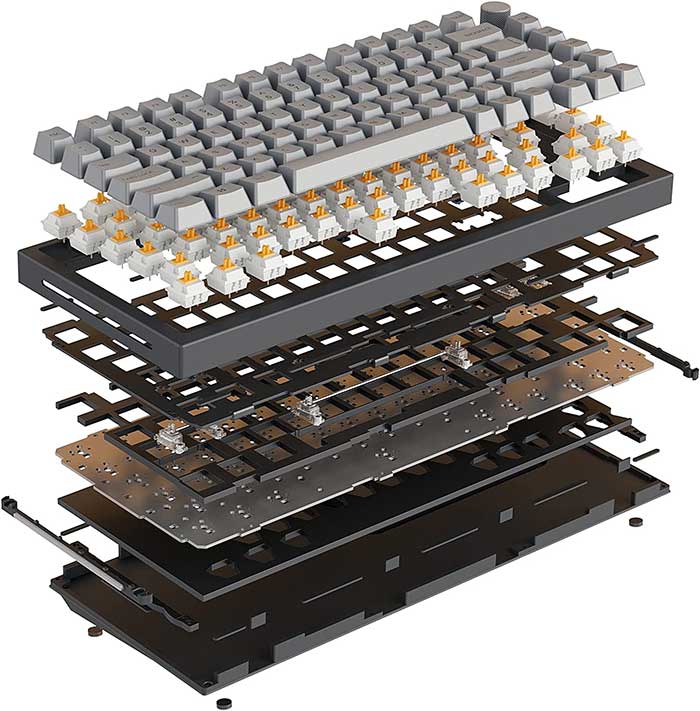 Putting the GMMK Pro together is designed to be an extremely easy experience. This build simply requires you to pick your keyboard kit, pick your switches, and pick your keycaps. From there, you simply pop the switches into place and put keycaps on all of there. It requires no extra programming to work right out of the box (once constructed). Best of all, it can be purchased in both a US and ISO layout.
It's able to be used with a variety of different operating systems. Windows, Mac, Linux, PS4, and Xbox are all compatible. All you need to do is make sure each device has a USB-A port to plug into. It uses a USB-C connection to plug into the board itself.

One great feature of the GMMK Pro is the whole ecosystem of Glorious products. If this is your first time building a keyboard, Glorious has designed a simple way to get started. They also have all the additional components available. This reduces any amount of research you would have to do if you aren't quite sure what you're doing yet.
Pros:
Simple to construct
High-quality product
Hot-swappable capability for keys
Cons:
Best Alternative: keydous NJ80-AP Wireless Mechanical Barebones Keyboard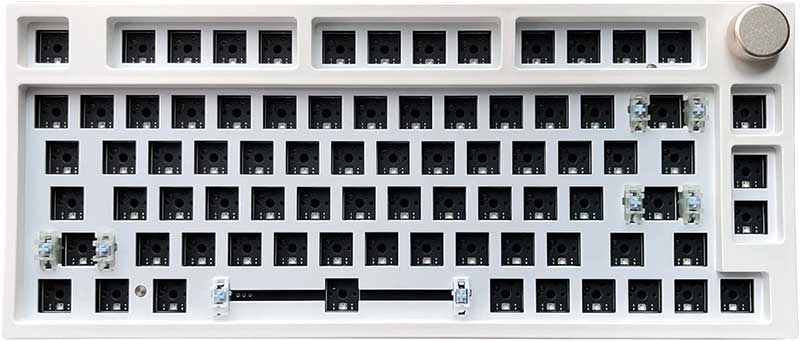 Key Features:
Multiple materials available
Bluetooth compatible
75% keyboard
12.8 x 5.6 x 1.7 inches
The keydous NJ80-AP is the first and only on our list to feature multiple material choices. It's available with either a brass or a steel plate. The brass option has a case color of either white or transparent black. The steel option only comes with a white case. Each case is made from durable ABS plastic. Sound-dampening foam is used throughout the kit, and it also comes with backlit RGB. 14 default light effects are available by default, and each key is customizable beyond that.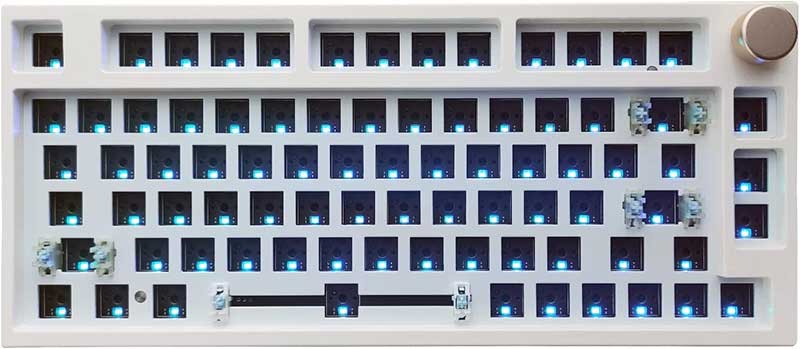 Similar to the KINESIS option, the NJ80 has a hot-swappable PCB for 3 and 5-pin switches. Any MX-style key will work on it. It's a 75% size, similar to the GMMK Pro. Because of this, you'll want to look for keycap sets for 75% sizes that are compatible with the keys you choose. Additionally, it comes with a rotary knob used for adjusting or muting the audio. However, this can be adjusted in programming.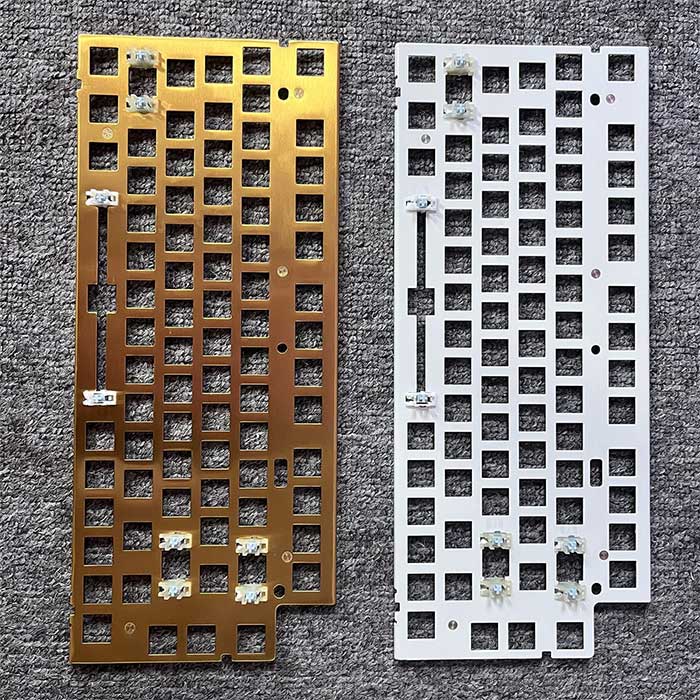 Similar to the other options on this list, construction is simple due to the hot-swappable PCB. It's also possible to completely program it to your preferences. The onboard memory can store multiple profiles. The included function key lets you program two layers of functions.

The NJ80 can be used on Windows, Mac, Linux, IOS, and Android devices. It can be connected with a USB-C cable to computers. What makes it special is its Bluetooth capabilities. Coming with Bluetooth 5.0, a 2.5 G connection lets you connect to devices up to 49 feet away. It can connect to three different Bluetooth devices at the same time, and switching between them is simple. The wireless connection features low latency between 5 and 20 MS, while wired latency is 1 MS.
Pros:
Can connect to 3 devices at the same time
Simple programming
IOS and Android compatible
Cons:
Steel plate only has one case option
Best for Gamers: KINESIS Gaming TKO Mechanical Keyboard Barebones Kit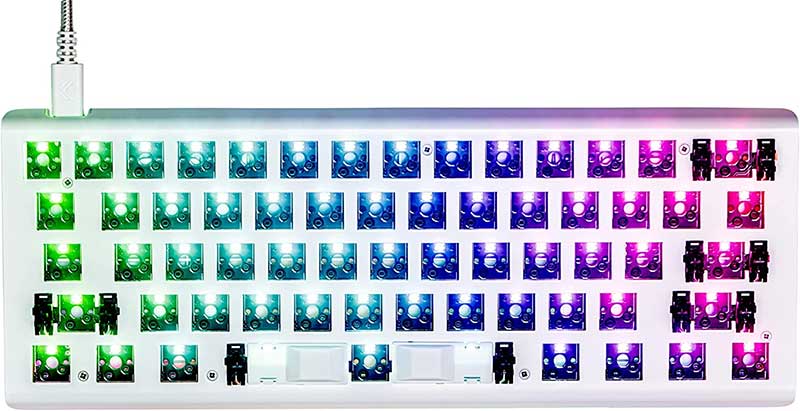 Key Features:
60% keyboard
Dual-zone RGB
Optional split space bar
11.61 x 4.53 x 1.3 inches
The KINESIS TKO kit is a great option for any hardcore gamer out there. It's made from a plated metal and only comes in white. It features a dual-zone RGB with multiple modes pre-programmed to respond to various switch presses. There's additional RGB along the sides to provide even more lighting effects.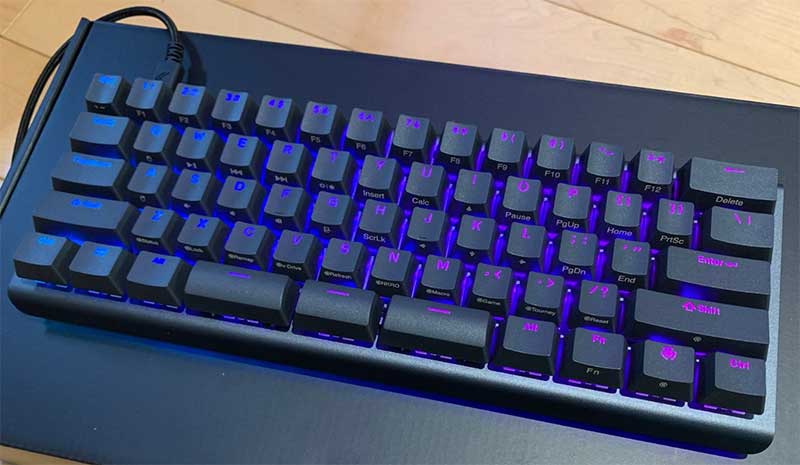 Any MX-style switch is compatible with it. Options from Cherry, Gateron, Zealios, Kailh, NovelKeys, and Hako are all available. Additionally, the PCB is hot-swappable so you can change them at any time. Keycaps are a similar story. Once you find any 60% kits that are compatible with your choice of switch you'll be good to go. That said, there's one different optional feature. The space bar in the KINESIS has a split design. This turns the space bar into three separate keys. If you decide to use that, you'll have to find keycaps that accommodate it.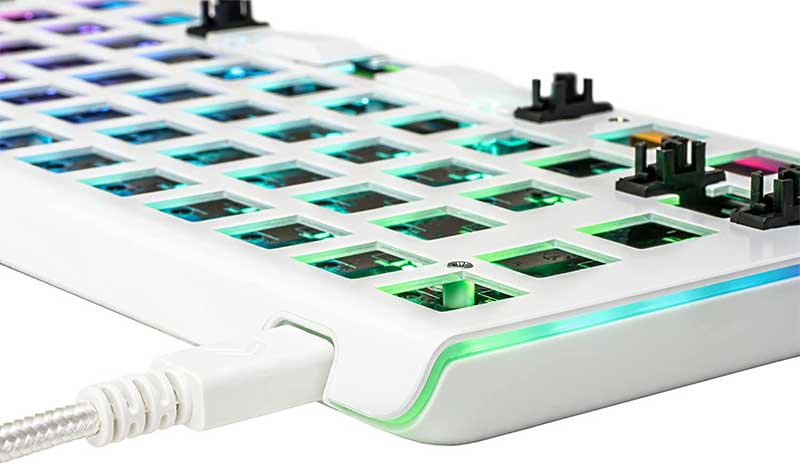 Similar to the GMMK Pro, construction is easy. Just pop your switches and keycaps in and it's good to go. However, it differs when it comes to programming. Each key is programmable to whatever you would like it to do, offering complete customization. It also has 4 MB of onboard storage. This allows you to save up to 9 profiles for keys and 12 custom RBG effects using downloadable software.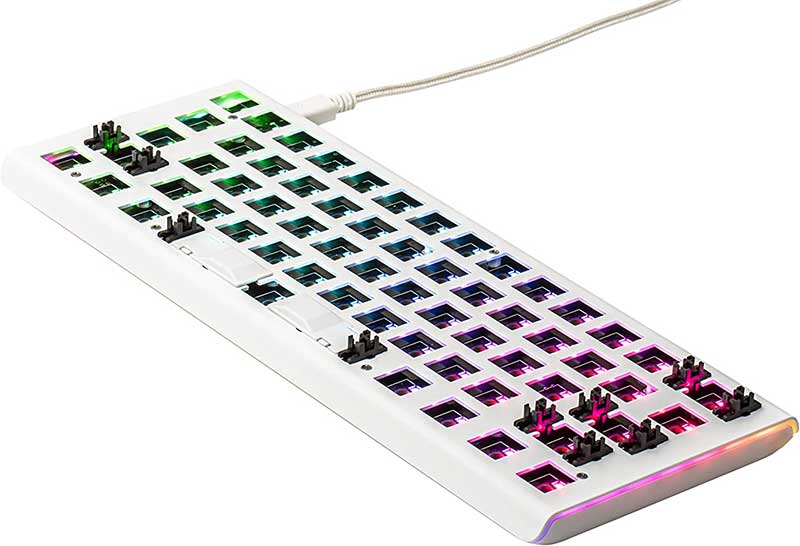 The KINESIS is both connected and powered using USB-C. It's designed to be used on computers, with the ability to work with Linux, Mac, and Windows. It's designed with gamers in mind. The 60% design makes playing with your board vertically simple. It also has four feet that can be raised to varying heights to give you the exact angles you're looking for. Its most unique feature (as mentioned above) is the split space bar. Each of the three buttons is programmable to a different action. This is sure to give you a leg up on your opponents.
Pros:
Split space bar
Completely programmable
Onboard storage for 9 macro profiles
Most affordable option
Cons:
Best for Creators: Keychron Q3 Wired Mechanical Keyboard, Barebone Version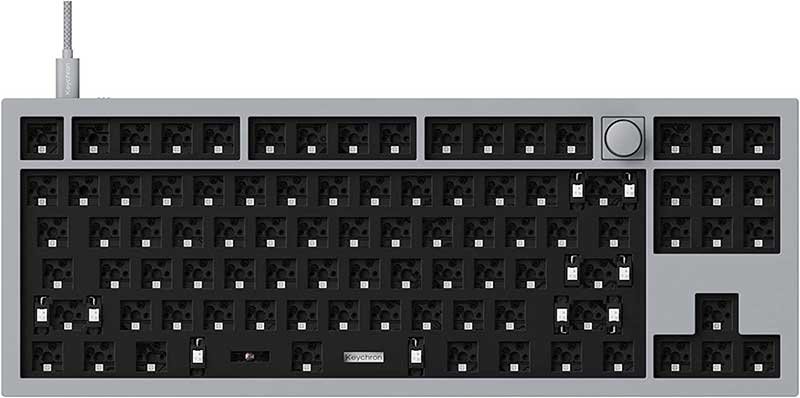 Key Features:
Aluminum construction
Double-gasket design
87 keys
15.55 x 7.56 x 2.72 inches
The Keychron Q3 has a fully CNC-machined aluminum body. It also features a double-gasket design to help reduce sound from metals within the board. You can get it in either a grey or blue case color.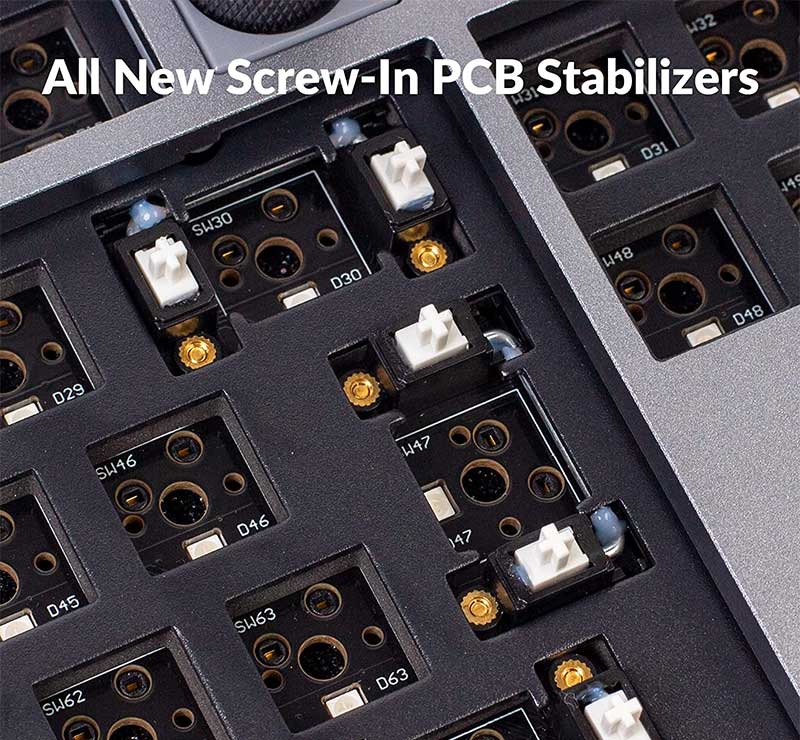 3 and 5-pin MX-style switches can be used with the Keychron Q3. Cherry, Gateron, Kailh, and Panda are all highlighted brands to choose from. Just like the rest of the options, you can choose any keycaps you like that are compatible with your switches. One thing to note, this is the largest option on the list with 87 keys. When purchasing switches and keycaps, make sure you find sets with enough to fill the board. Screw-in PCB stabilizers are included to help make typing on the larger keys a more stable experience. It also features a fully customizable rotating knob.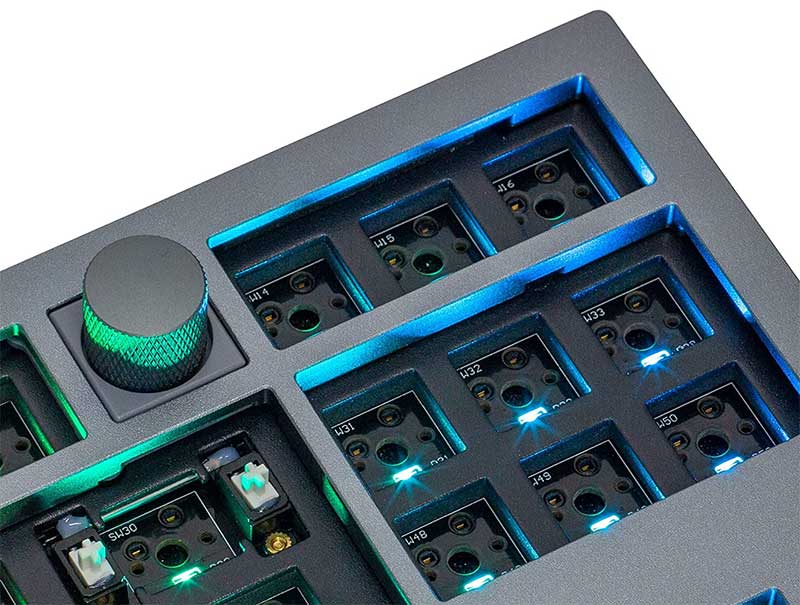 Construction is just like the rest of the options on the list since it's hot-swappable. It comes with a switch puller, keycap puller, screwdriver, and a hex key right in the box to help your build go easier as well. For programming, this is a great option. Each key is programmable to any action you want it to do. Using QMK/VIA you can simply drag and drop different actions to each key.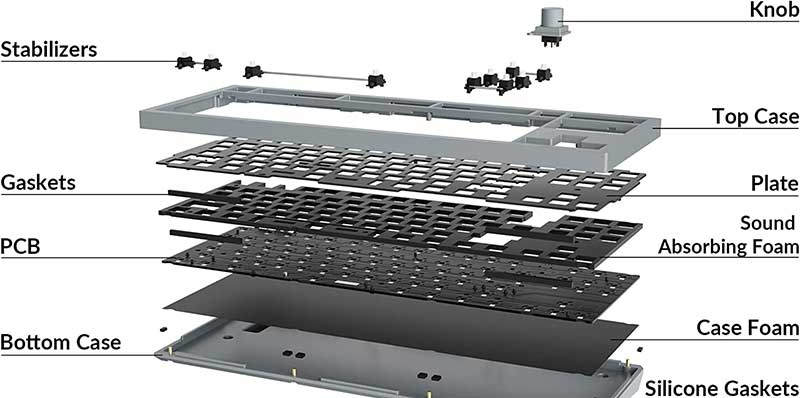 The Keychron Q3 is compatible with fewer systems than some of the other options on this list. Mac, Windows, and Linux are all compatible. It doesn't feature Bluetooth connectivity, instead, it uses the standard USB-C connection. Included in the box are both USB-C to USB-C and USB-C to USB-A cables. This should give you more options to connect to your computer easily.
Pros:
Soundproofing is extensive
Comes with extra screw-in PCB stabilizers
Easy drag-and-drop programming
Cons:
Highest cost on the list (if you buy grey)
RGB isn't quite as noticeable as other options
Meet Derek, "TechGuru," a 34-year-old technology enthusiast with a deep passion for tech innovations. With extensive experience, he specializes in gaming hardware and software, and has expertise in gadgets, custom PCs, and audio.
Besides writing about tech and reviewing new products, Derek enjoys traveling, hiking, and photography. Committed to keeping up with the latest industry trends, he aims to guide readers in making informed tech decisions.