When it comes to celebrations, people love cake. Weddings, birthdays, graduation parties and other special events cry out for a giant frosted pastry. But when you bake a cake, you have to decide how to decorate it. Some people keep things simple. Spread some frosting around with a spatula, and call it good. Others are veritable home cake masters. They add fancy rosettes and decorations that you'd expect to buy from a bakery. But you don't have to be a cake master to make an edible ink cake. All you need is the right equipment, and a cake you want to decorate.
So, what makes an edible ink printer different from a normal printer? Strictly speaking, there's no such thing, except for very large printers for commercial bakeries. Edible ink printers are simply normal printers that have been repurposed for printing with edible ink. That said, there are a couple of things that make some printers better than others. To begin with, they need to be able to accommodate thicker sheets of paper. Even the flimsiest edible sheets are thicker than your average office paper. Secondly, they need to have wide ink nozzles. Edible ink is a bit tackier than normal ink, and needs to be able to flow freely.
We're about to look at two of the best edible ink cake printers on the market. We'll start by reviewing the Canon PIXMA TS9520 with Icinginks Cake Ink & Frosting Sheets. This is a standalone printer, along with popular edible paper. We'll follow up by examining the IcingImages Platinum Plus Edible Printer System. This is an all-in-one edible ink printing kit that comes with everything you need to get started. We'll compare both options, and look at all aspects. We'll start with the printer quality, and how they're designed. We'll look at the paper they can use and the printing capability. We'll also talk about the inks and the papers. After that, we'll know whether you're better off buying the kit or outfitting the Canon printer. Let's begin!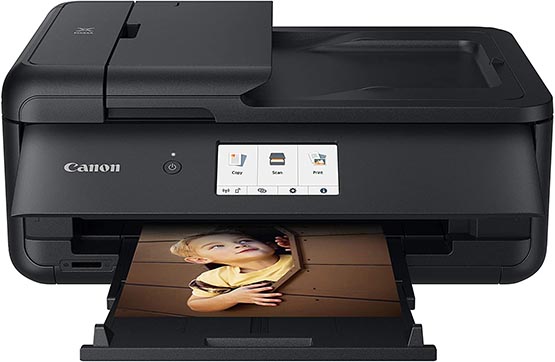 Canon PIXMA TS9520 with Icinginks Cake Ink & Frosting Sheets
Canon is a well-known manufacturer that needs no introduction. Their PIXMA TS9520 printer is one of the more popular icing printers on the market. Like most edible ink printers, it's also perfectly-suited for office printing. But due to their design, the entire PIXMA series has seen use in kitchens. The size of the unit is 18.5 inches wide, 14.5 inches deep, and 7.6 inches tall. That's a bit larger than the printers in the IcingImages printer, and it's correspondingly heavier. In total, it tips the scales at 21.3 pounds.
The design is otherwise nearly identical. On top, there's a copier/scanner assembly, rather than a fax/scanner. Functionally, it's the same, since you wouldn't be sending faxes anyway. There's a rear paper tray that holds 100 sheets, or about 20 sheets of edible paper. There's also a matching front tray, with an identical capacity. Printing is relatively brisk, at about 10 pages per minute. Your exact speed will vary based on the image complexity, but it's reasonably fast regardless.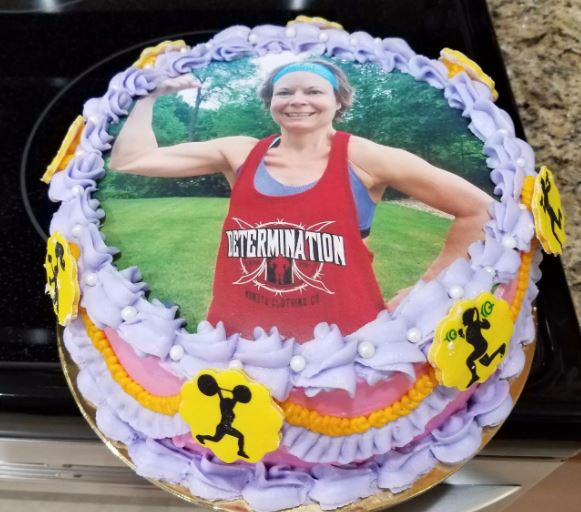 That said, there's a huge difference in the sizes of paper you can use. The IcingImages package includes only printers that support up to legal sized paper. The TS9520 is far more versatile. It can print on paper from 3.5 x 3.5 inches all the way up to oversized 11 x 17-inch paper. This gives you a ton of flexibility, whether you want to print very large or very small cakes. You can even print small circular wafers for cupcakes.
As for your printing source, you have plenty of options. The TS9520 supports both WiFi and Ethernet connectivity, and is ready to be a network printer out of the box. This makes it easy to use with your desktop, laptop, tablet, or smartphone. You even get access to a handful of different online printing services. You can use AirPrint or Mopria, both of which make it easy to set up your image printing the way you like. If that's not enough, there's even an SD card slot built into the front of the housing. You can take pictures directly from your digital camera and print them onto your cake.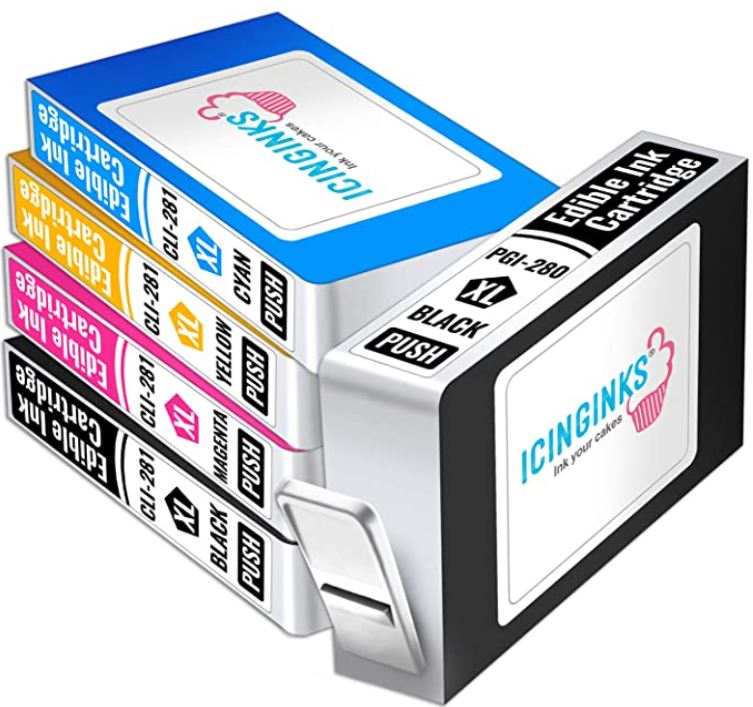 The Icinginks Ink
The Icinginks ink cartridges are a five-piece set of refillable XL-sized cartridges. You get black, cyan, magenta, yellow, and a second black. Like the IcingImages cartridges, these are rated for up to 50 prints, but your mileage may vary. Regardless, they're refillable, and the filling process is simple. Not only that, but these cartridges are certified as Kosher. They're also warrantied for 12 months in the event that you have any issues.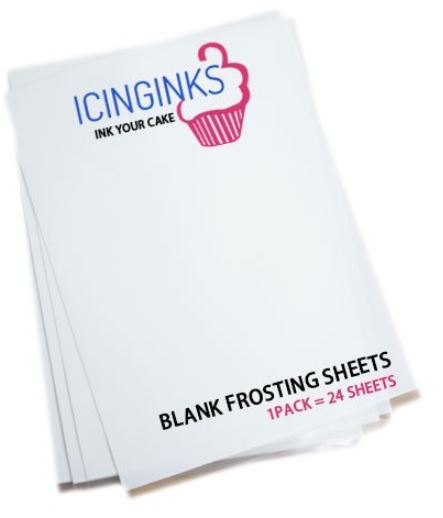 The Icinginks Paper – Frosting Sheets
The Icinginks paper we looked at was a set of 24 blank frosting sheets in international standard A4 size. The paper is good quality, and runs through the PIXMA TS9520 printer without any trouble. We didn't run into any jams, and images came out nice and clearly. The paper also cuts easily, and falls apart in your mouth. Like the Icinginks ink, their paper is also certified Kosher. Not only that, but it's also egg, gluten, and nut-free. This makes it safe for people with many different types of food sensitivity.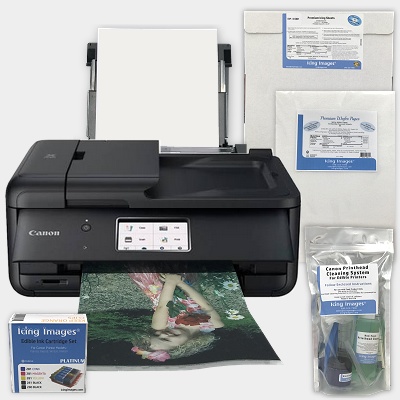 IcingImages Platinum Plus Edible Printer System
The heart of the IcingImages Platinum Plus Edible Printer System is a Canon printer. This can be either the TR7520, TR8520, or the TR8620. All three models are virtually identical, more or less impossible for the average person to distinguish. For what it's worth, we're reviewing the TR7520. If you end up with one of the other models, you'll receive some very minor upgrades. But don't expect any game-breaking improvements in performance.
The Canon TR7520 printer measures 17.3 inches wide, 14.4 inches deep, and 7.5 inches tall. This height does not included the rear paper hopper, which is purely optional. You can always take it off if you're working under a low counter. The whole printer weighs 17.3 pounds, which is hefty for the size. That said, it's not too heavy for most people to carry around under their arm.
The housing is black in color, with a scanning and faxing assembly on the top. You probably won't be using the fax function much in your kitchen. However, the scan function allows you to instantly create prints from your favorite photographs. Scan whatever you want for your cake, and you can print it off without needing to use your computer or smartphone. The main controls are located on a front LCD touchscreen. This allows you to perform all of the printer functions, and the menu is easy to understand. You won't have to spend the first afternoon fiddling around and trying to figure out how it works.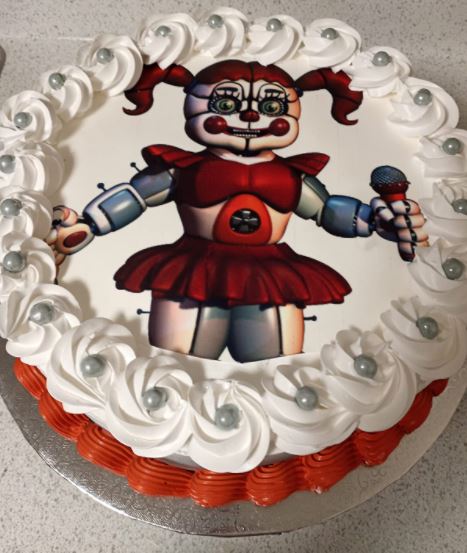 When fully extended, the rear paper tray has a capacity of 100 ordinary sheets. However, a better estimate for edible paper is closer to the envelope rating of 20 sheets. The front paper tray also holds the same amount, so you've got a reasonable amount of capacity. You'll certainly have plenty of paper to cover a large sheet cake. Besides which, you don't want a tray with tons of capacity. You should be removing unused paper every time so it doesn't go stale or start to decay.
There are three ways of connecting to the printer. The first is to use a USB cable, which is what you'll want for printing from a desktop or laptop. That said, wiring isn't always convenient. If you're not in the same room, you're going to want to go wireless. For that, you'll have two options. The first is to connect to your WiFi network. Provided you've got good coverage, you'll have no issues setting this up. Finally, you can print via Bluetooth. This is the simplest option if you're trying to print from your mobile device.
Along with the printer itself, the kit includes a 30-day trial version of iDesigns. This is an online service with hundreds of graphics and premade templates. You won't need it if you're printing basic family photos or other simple images. But if you want to create something more complex, it's a great starting point. For a commercial shop, it's at least worth looking at, since you'll need some kind of design software.
The printer is covered by a 12-month manufacturer's warranty, which covers you for any defects. This is limited to 30 days for the print heads, so make sure to do a test run within the first month. Otherwise, you won't find out in time if there are any print head issues. You'll also get lifetime technical support to walk you through any difficulties.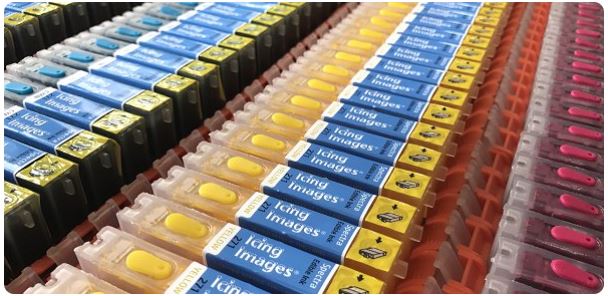 IcingImages Ink
The IcingImages kit includes a set of five refillable ink cartridges. These are XXL-sized, which is sufficient for printing between 40 and 50 sheets. In practice, a lot depends on color density and what colors you're using. As with any printing system, you're liable to run out of one color before the others, sheerly by chance. That said, when you do run out, refilling the ink is easy. Replacement ink comes in bottles with long spouts, through which you squeeze it into the cartridges.
Cleanup is also easy, since you're washing edible ink and not ordinary printer ink. Not only that, but the package includes a non-toxic cleaning kit. This makes it easy to manage any drips, and to keep your heads clean between uses.
Keep in mind that edible ink tends to flow and leak over time. It can end up flowing over the print heads, where it dries and clogs up the works. As a result, you should run the printer at least once a week to keep this from happening. If you use your printer only occasionally, take out your ink and use the cleaning kit after each use.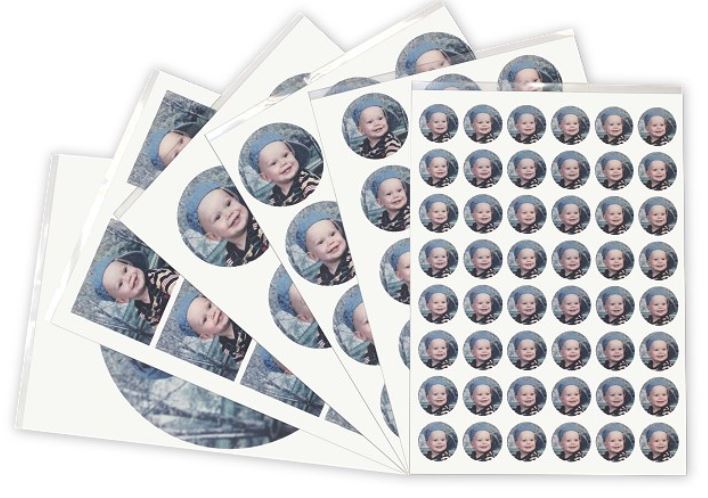 IcingImages Paper
No edible ink printer is complete without edible paper. The IcingImages kit includes 24 sheets of standard letter-sized 8 ½ x 10 ¾-inch edible paper. These are lightweight, semi-transparent sheets that blend seamlessly into your icing. In addition, there are 25 sheets of international standard A4 8 ¼ x 11 ¾-inch sheets. These are of similar quality, but the larger size can be better for some images and cakes.
In addition to these sizes, the printer will support all icing sheets up to full legal size. This includes sheets from all brands, so you're not limited to just your IcingImages sheets. It will also print on wafers if you want a more solid piece of artwork. That said, you'll need to combine multiple sheets if you want to create a very large image. For example, the printer won't support the large, extra-wide A3 format paper from IcingInks.
Final Verdict
So, which of these options is best? The standalone kit, or the do-it-yourself collection? Let's start with what we learned about the IcingImages Platinum Plus Edible Printer System. This is a reasonably complete kit, with a standard-sized printer and oversized print cartridges. You can't print on oversized paper formats, but you can print on everything up to legal size. Not only that, but you get a robust warranty, and the cleaning kit is a great added touch. All in all, it's a great value for beginners, or even for intermediate bakers who want a reliable kit.
The Canon PIXMA TS9520 is a high-quality printer that's popular with bakers. Combined with Icinginks Cake Ink & Frosting Sheets, it allows you to create almost any sized image you want. It's easy to use, and it comes with several online printing app options. It also works as a network printer, which is great for commercial use. This might be a bit more involved than ordering a pre-defined kit. But you get a great value, as well as some high-quality equipment.