As many as eight million Americans are affected by carpal tunnel syndrome every year. Nearly half a million of those affected will suffer badly enough to seek relief from surgery. Most of these injuries originate with people working an office job, lurched over their computers for hours on end. The price of enduring carpal tunnel is weeks of rest, a wrist that may never fully recover, and the possibility of significant surgery. But this can all be avoided.
In a resting state, the forearm is in a thumbs up position, but an ordinary mouse pushes your wrist into a palm-down position. As a result, forearm bones tighten around the joint space. Vertical mice solve this problem because a vertical mouse keeps you in an anatomically rested position, and don't lead to compression of the wrist. The result is neutral state that won't lead to tension, damage, or lead to carpal tunnel.
Note: At no extra cost to you, we may earn a commission for purchases using our links. Learn more.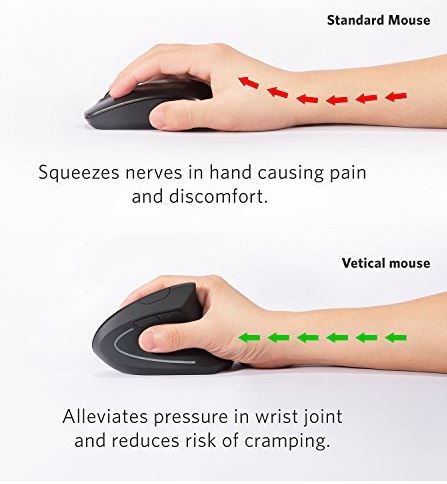 Regular Mice Can Injure the Body
Using a standard mouse for hours on end will damage your body, and that's reflected in the huge portions of people who suffer from carpal tunnel every year. Ergonomic designed mice are better than their non-ergonomic counterparts, but most still have a fundamental flaw by suspending your wrist in a non-neutral position against a flat surface.
But the wrist isn't the only place that suffers. Strained mouse positions also engage your shoulders. Take a moment to rest your elbows at your sides, with your forearms wrist-side up, as though you were trying to strike a traditional meditative pose. Entering this pose, you should immediately feel a difference in pressure on your shoulders and wrists. This is a restful position for your both types of joint, and long-term violations of this position can lead to pain.
Alternatively, pretend there's a steering wheel in front of you and grab it. Pay attention to how your shoulders are positioned when your hands are placed at 10-and-2 on the wheel. After holding this position for a moment, glide your hands around to the bottom of the wheel, and you'll feel the pressure from the rotation inside your shoulder as the joint internally rotates. That rotation feels uncomfortable, but holding the standard mouse position is even worse. Carpal tunnel syndrome and similar injuries are the result of these minor agitations being applied to your joint day after day, forming a pattern of repetitive abuse.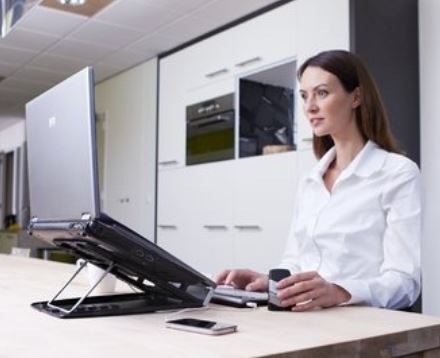 Choosing the Right Mouse
Just because your mouse is the right shape doesn't mean it's the right mouse for you. At the end of the day, vertical mouse or not, you still want your mouse to do all the things you expect it to do. That may mean having extra buttons you can program, DPI configuration buttons, and even the quality of the build used by the device itself.
In other words, every vertical mouse should help you avoid hurting your wrist, but not every vertical mouse will have everything you want. The vertical mice market is still fairly empty, and that lack of competition has led to a plethora of unremarkable mice being offered from many manufacturers. For example, most people are right handed, and most mice are manufacture red for right-handed people. But if you look hard enough, you can also find strong ambidextrous mice out there, even for vertical mice.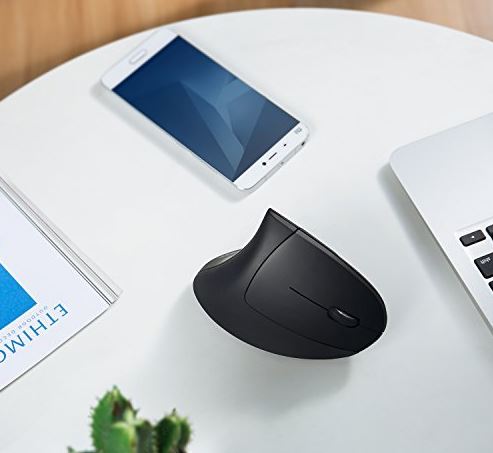 Wired vs Wireless
Another thing to consider is whether or not you want or need a cord. Early generations of wireless mice were significantly worse in terms of responsiveness, but modern wireless mice are almost indistinguishable from wired mice now. Many people will prefer a wireless mouse for the convenience of one less wire in their lives and on their desks. But wired isn't without merits, they tend to be less expensive, never need to recharge, and are still marginally more responsive than wireless mice because they're directly wired in.
Optical Sensors vs. Laser Sensors
Most people won't notice a difference between laser sensors and optical sensors. Each differs slightly in terms of how they track motion. Optical mice use LEDs to illuminate your desk's surface for reading, while lasers use a laser beam to see what's below the mouse in great detail. Lasers tend to read more dots per inch (DPI), which means they're capable of being more sensitive.
But these sensitivity differences will generally only be observed or appreciated by people working in pixel-perfect precision, such as graphic artists or gamers. Another difference that mostly concerns artists and gamers is acceleration. Laser mice view deep into a surface, which can result in jittery movement when you're going at very slow speeds.
Optical mice work well on surfaces that aren't glossy, while laser mice work pretty much anywhere. If you've got a glossy desk or you're going to be using your mice on several different surfaces, you might want to go out of your way for a laser mouse. But if you don't specifically need a laser, you'll be perfectly happy with optical sensors, which tend to be less expensive.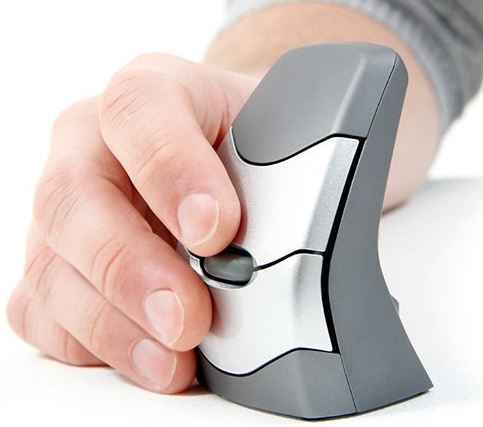 Kinesis DXT 2
Using a stylish vertical design, the Kinesis DXT 2 keeps your hand in the appropriate neutral resting position as you navigate the web. It's built with a comfortable precision grip that's capable of being switched between your right and left hand at will. And making use of a compact design that's suitable for most hands, the DXT 2 is great for anyone, but especially suited for people who have smaller hands. If you're looking for a simple mouse, you'll find it here, with scarcely more than two buttons and a scroll wheel on deck.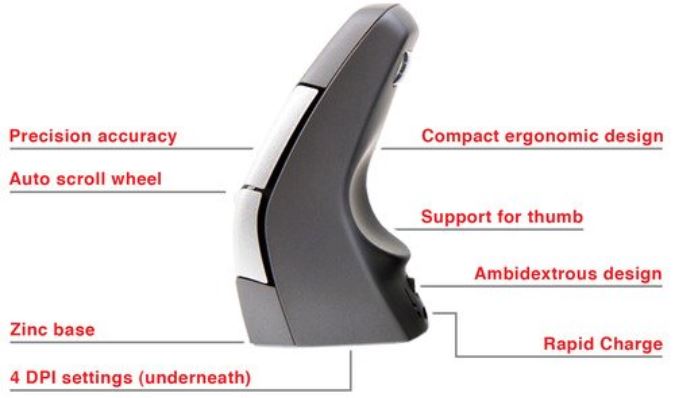 Technical Features
Using an optical sensor, this mouse can be toggled between 500, 1000, 1500, and 2000 dpi. Typical computer users will find that range more than sufficient. The included wireless connectivity extends a reasonably distant 30-feet, which should also be enough for most people looking to go wireless.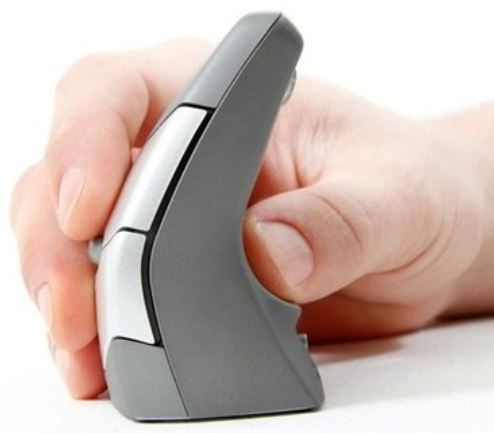 People who despise having their mouse run out of battery will appreciate Kinesis has included a rapid-charge system that can apply two hours of juice to your mouse with a 30-second charge. But you won't end up needing the rapid charge feature often because a full 90-minute charge will keep you going for two weeks of uninterrupted normal use.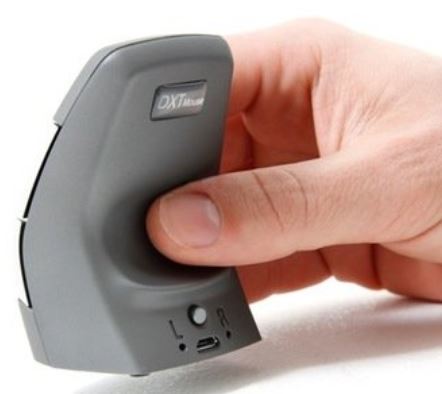 Special Notes
The DXT 2 has a natural feel that's like not totally unlike holding a pen, which may provide relief for people suffering with chronic pain. The grip remains comfortable even after hours of use, and the gripping material doesn't seem to collect sweat like many grip-oriented mice are prone to do. In terms of weight, this mouse is a tad light at 2 ounces, although typically sized at 4.1 x 3.9 x 2.5 inches.
It connects with a micro-sized USB adapter. The low-profile design of the adapter ensures it can fit anywhere without blocking other USB slots, or without encumbering you when you're on the go. Designed to be compatible with both Windows and Apple operating systems, you won't have a problem getting your mouse and all its buttons working.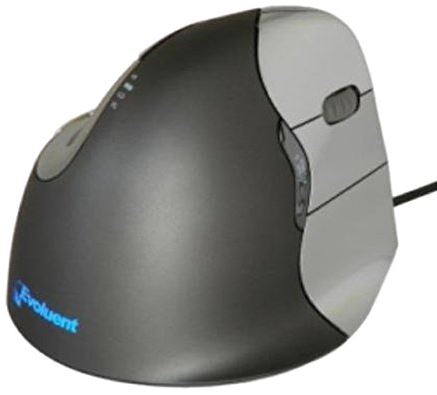 Evoluent VerticalMouse 4
For years, Evoluent was the only serious player in the vertical mouse market. As a result, they offer some of the very best vertical mice you can buy. On the other hand, they haven't been shy about making the most of their near-monopoly over the production of high quality vertical mice. In other words, you'll have to pay for what you're getting.
Like you want, Evoluent uses an ergonomically correct design that helps you avoid twisting your forearm to keep your joints healthy even if you're spending most of the day using your computer. And as you'd hope from the fourth generation of this device, the shape has been designed for perfect vertical comfort.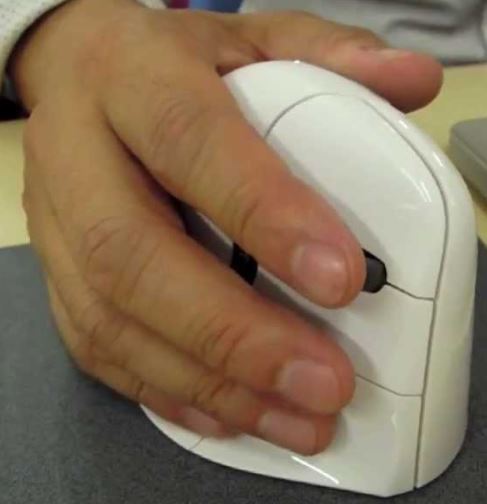 Technical Features
People who need more than the standard two-button layout will appreciate having two additional programmable buttons that are easy to reach and operate while holding the mouse. You can toggle between 800-2,400 DPI. That isn't a particularly impressive range for a laser mouse, but once again will be more than enough for just about everyone apart from some professionals working in graphic design. For added convenience, the topside LEDs will keep you informed about the speed you're currently using.
As the fourth generation from this brand, many aesthetic and ergonomic improvements have been added over the years. Small details in the build are what make this mouse stand out in a way that's hard to describe without holding it. But those details exist in things like the lip of the bottom edge of the mouse which prevents your finger from impacting on a desk when you use the mouse.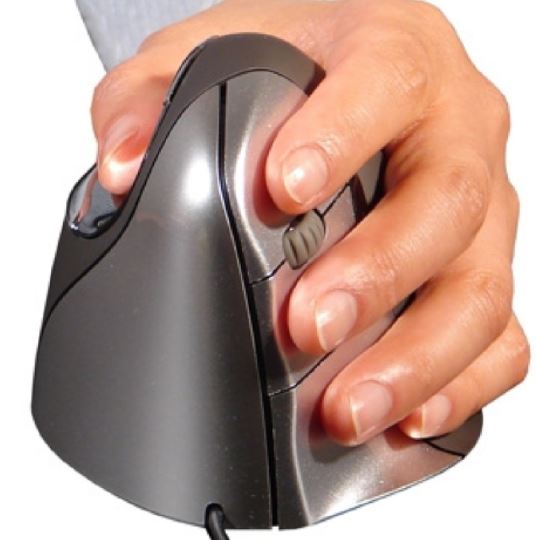 Special Notes
In addition to the two standard mouse buttons you'll find a scroll wheel and five programmable buttons. The device itself weighs a hefty 8.8 ounces, and uses a slightly-larger 5.4 x 3.6 x 3.6-inch build. That weight increases again when you put in the required two AA batteries.
Although this right-handed mouse was designed specifically for Windows operating systems, it offers basic functionality in OS X and Linux. It's also worth noting that this mouse lacks support for Windows 8. In other words, don't expect to use those programmable buttons if you're not on Windows at all, or if you're using Windows 8.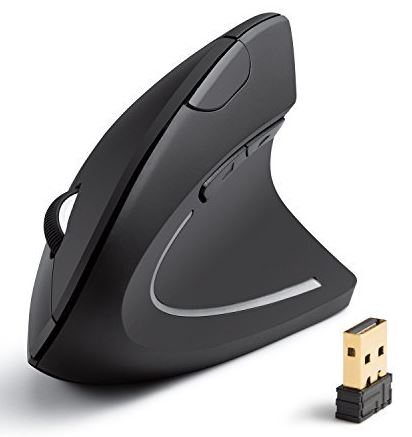 Anker Wireless Vertical Ergonomic Optical Mouse
Anker is one of few brands that stands up to Evoluent in terms of quality in the vertical mice market. In this device they've made use of the vertical design you're looking for to keep your wrist in a neutral positon and minimize strain, and they've managed to steer clear of a design and material that looks like the cheap junk that so many vertical mice end up looking like. Inside the classy black design, you'll find a capable optical mouse.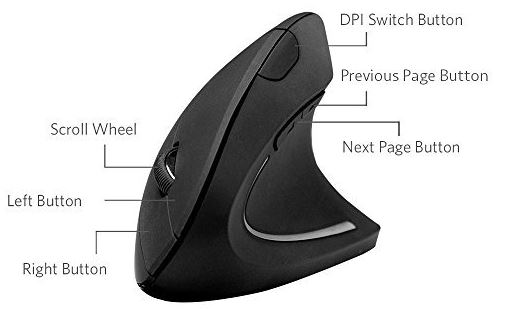 Technical Features
Unlike the rechargeable Evoluent, this Anker runs off 2 AAA batteries. The good news is you won't have to worry about recharging your mouse, and the batteries should last 12-18 moths depending on use. The bad news is you'll be burning through two AAA batteries annually for the lifespan of the device, which marginally affects the actual price you're paying, and can be far more inconvenient when it actually comes time to change the batteries.
This mouse makes use of optical sensors that work great on just about any surface, provided it's not too glossy. It also allows you to toggle between 800, 1200, and 1600 dpi resolution tracking. The top button on the device changes DPI mouse settings between those three sensitivity defaults, and where your thumb rests you'll find two additional buttons useful for skipping forward or backward while browsing the web.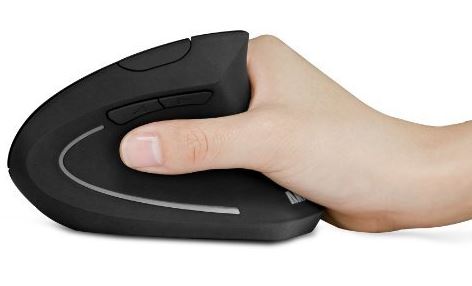 Special Notes
This is another right-handed mouse that's good for just about anyone's hands. The design is a lightweight 3.36 ounces, and form-fitting to the hand with a sleek 3.23 x 3.98 x 3.15-inch profile. After eight minutes, Anker's mouse dives into power-saver mode, which is what allows them to offer such a substantial battery life. However, that also means you'll find a 2-3 second "wake up" period every time you start using the mouse after it's gone to bed.
Anker's mouse is compatible with all three major operating systems, though the thumb buttons aren't recognized for Apple products. The mouse connects with USB 2.0 receiver, and includes a reasonably long 18-month warranty.
Choosing Between 3 Strong Vertical Mice
If you're looking for a mouse that doesn't lose its luster just because it's been designed vertically, then Evoluent is your best bet. This fourth generation design has been built and rebuilt for comfort. It looks professional, makes use of the right ergonomic design, and makes use of an optical laser that will give you the most control over sensitive of any mouse on this list.
If you're looking for rechargeable, then you want the Kinesis DXT 2. Between the 2-week standard charge and the 30-second rapid charger, you'll never have to worry about running out of juice at the wrong time. This is also the best choice for a left-handed or ambidextrous person, and the design is slightly bulkier for that reason.
If you don't care that much about extra buttons or special features, and you just want a vertical mouse with a comfortable grip, then you'll be satisfied with Anker's optical competitor. It's comfortable without too much flair, inexpensive without looking cheap, and powerful without costing too much.
Please consider sharing:
Note: At no extra cost to you, we may earn a commission for purchases using our links. Learn more.