Diagnosing your car isn't as straightforward as it used to be. Prior to the days of advanced computer controls, everything was manual. These simpler, entirely manual cars were simple to diagnose, but they weren't very efficient. Computerized controls allow modern vehicles to fine-tune their performance on the fly. You'll always have the perfect fuel-to-air ratio, for example.
Unfortunately, electronic sensors can fail, or can trigger cryptic error codes. Most manufacturers leave their customers to rely on OBD II scanners to decipher these codes. Ford has gone the extra mile, and created their own app, called FORScan. However, you still need a Bluetooth adapter to use the phone app, or a USB adapter for the PC version.
Today, we're going to review four of the best FORScan USB OBD2 adapters that money can buy. If you're in a hurry, here's a quick overview:
Want to learn more about these adapters and FORScan in general? We're about to go into more detail about each one before we deliver our verdict. Let's get started!
OBDMONSTER ELM327 FORScan OBD2 USB Adapter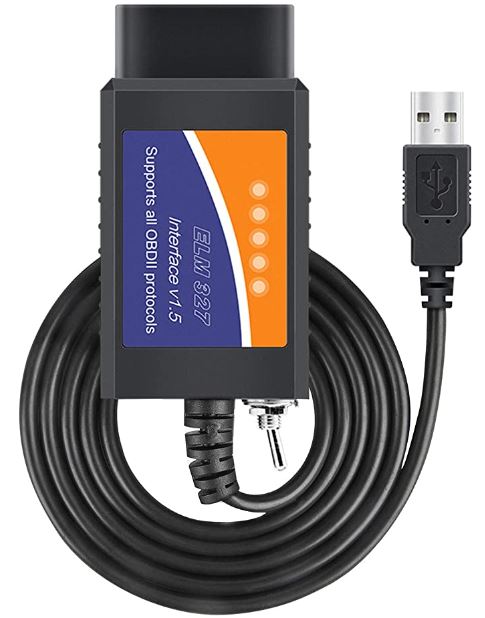 Key features:
46" long cable.
Manual MS-CAN/HS-CAN switch
The OBDMONSTER ELM327 FORScan OBD2 USB Adapter is a straightforward device. The cord itself is black, with a smooth rubber shell and a length of 46 inches. This makes it easy to reach around under your steering wheel without disturbing your laptop. At one end is an ordinary USB Type-A plug with a set of rubber reinforcement rings. At the other end is the plug that connects to your OBD II port. This end of the cord is more heavily reinforced, which makes sense since it's liable to see the most abuse.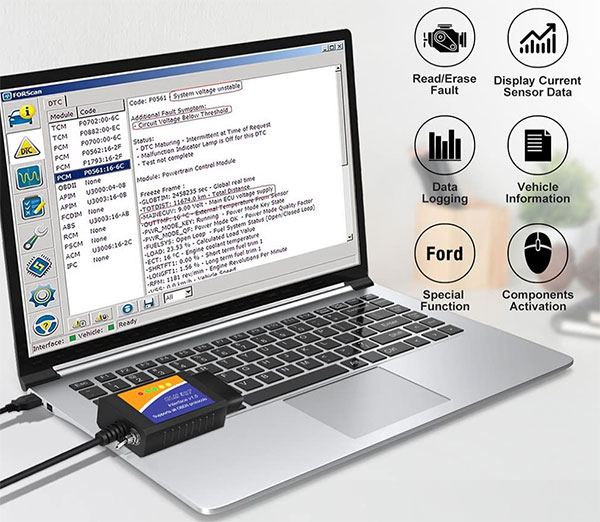 The plug is ribbed on both sides, which is meant to make it easy to plug and unplug. There's an orange and blue sticker on the top, so you can easily see which way to orient it. You'll also notice a little metal toggle switch on the back end. This is used to switch between MS-CAN and HS-CAN connection types. We'll talk more about both connection types in a minute.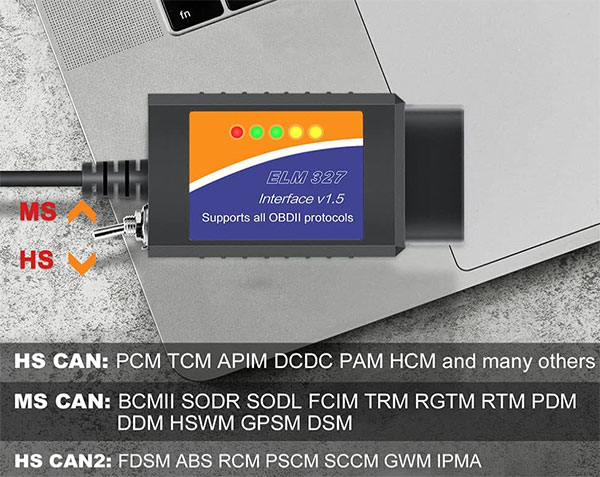 To use the OBDMONSTER adapter, you'll first have to download the driver from their website. This is necessary because the driver is constantly being updated to keep up with Ford's standards. Once the driver is installed, you can connect it to your car. Start with your car powered off, and open your diagnostic software on your computer. Verify that the selector switch is set to "HS-CAN," and turn on your ignition. This will begin the diagnostic process.
As you probably guessed, this adapter is designed for FORScan. As such, it's suitable for scanning Ford, Lincoln, Mercury, and Mazda vehicles. However, you can also use it with other software, including ELMconfig, FF2, and FoCCus. This will allow you to diagnose other vehicle makes, as long as they have an OBD II port. The adapter will not work at all on trailers or semi trucks.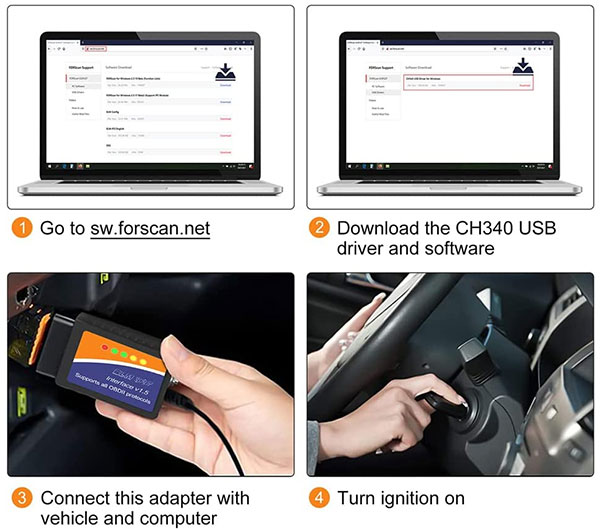 As with all FORScan adapters, this one is only compatible with Windows systems. This is probably because there's no Mac version of FORScan, so compatibility would be pointless. On the plus side, you can use it with any version of Windows starting with XP. Even if your garage computer is older than dirt, you'll still be able to use it.
OBDLink EX FORScan OBD Adapter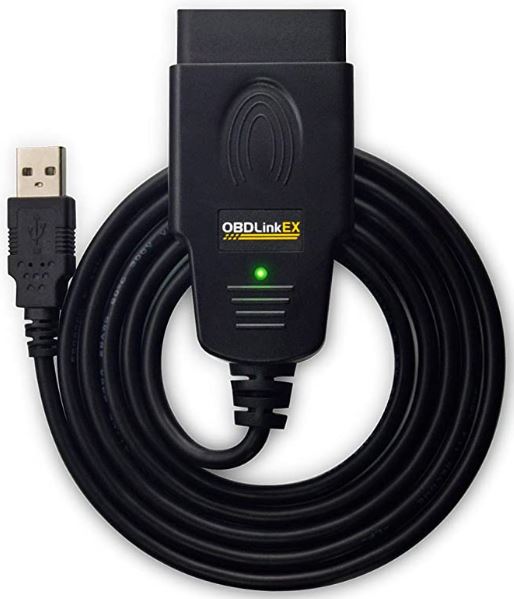 Key features:
42" long cable.
Automated MS-CAN/HS-CAN switching.
The OBDLink EX FORScan OBD Adapter has a slightly fatter cord that's also slightly shorter. The black cable has a total length of 42 inches, which should still be plenty. The USB tip is well-reinforced, as is the base of the wire where it meets the OBD II plug.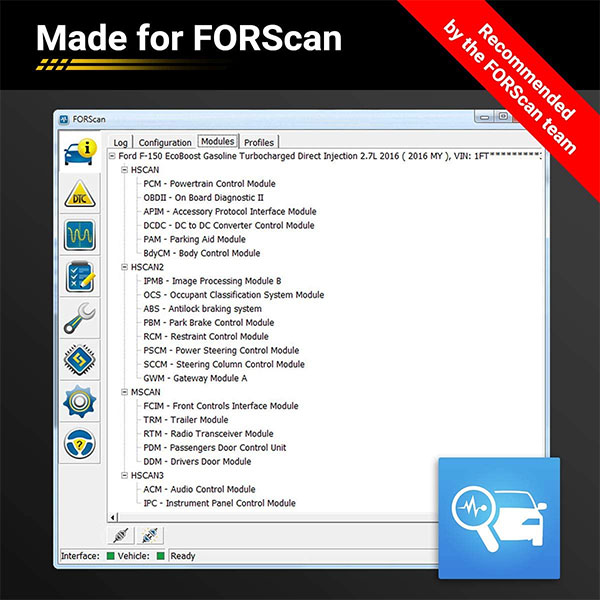 The plug itself has a well-thought-out design. Instead of a simple rectangle, it has a dimple in the top and bottom, with ribbing inside. This makes it very easy to hold on to while plugging it in and unplugging it. You won't end up getting tempted to pull on the cable. On top of the plug is a green indicator light, which lets you know when it's connected and active. One thig you won't see is any kind of toggle switch. This adapter supports automatic MS-CAN/HS-CAN switching.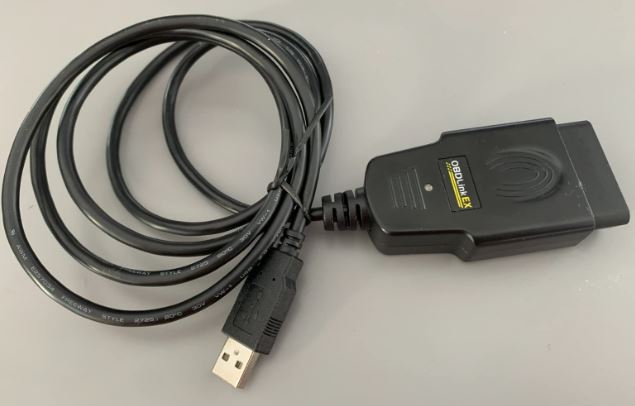 The OBDLink adapter works with Windows Vista and later. On Windows 10 machines, your computer should automatically recognize it. On older Windows versions, you may need to manually download the drivers.
A FORScan adapter only really makes sense if you're working on a Ford car. If you work on many vehicle makes, it could be smarter to invest in an OBD II scanner. The INNOVA CarScan Advisor is a great choice, since it will work on any post-1996 US vehicle. Then again, you won't get the benefits of FORScan's advanced features for Ford vehicles.
Vgate vLinker FS OBD2 USB Adapter for FORScan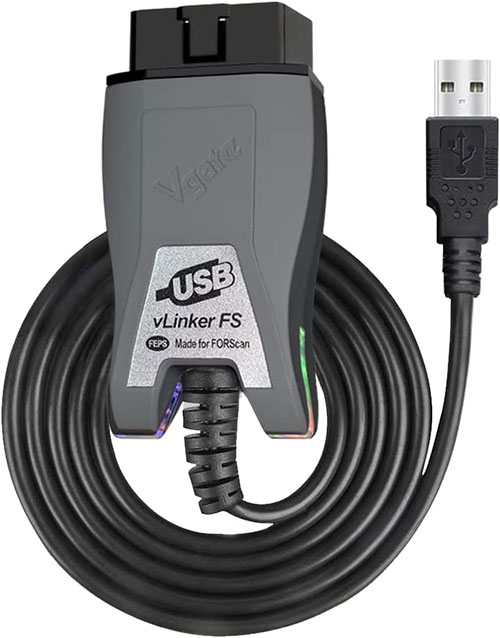 Key features:
65" long cable.
Automated MS-CAN/HS-CAN switching
The Vgate vLinker FS OBD2 USB Adapter for FORScan is a much longer cable, at 65 inches in length. That's a bit excessive for cars. But if you're trying to work on a full-sized pickup like the F150 or F250, the extra length can be helpful. The USB end of the cable is very sturdy. The supporting rings are nearly as wide as the plug.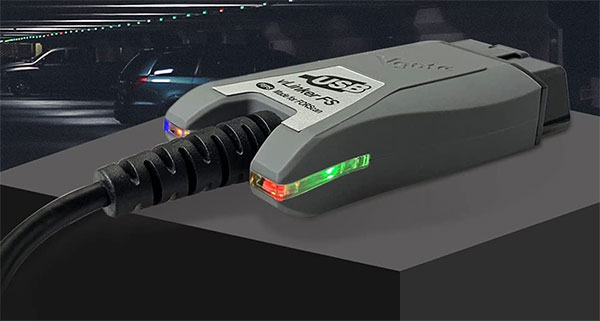 The OBD II end is also very beefy. Not only is the connecting cable reinforced, but the whole plug is flared. The flare has a cutout in the back which leaves plenty of room for the cable. This design doesn't just protect the cable. It also leaves dips in the sides which make it easy to manipulate. An LED light bar runs along the back edge, and illuminates when the cable is active.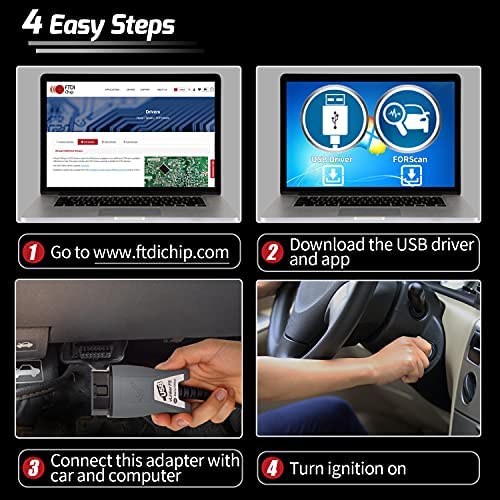 The vLinker FS will support Windows 2000 and later, but not Windows XP or Windows 11. It's plug and play on any of these operating systems, and no new drivers are required. Just download FORScan and you're ready to go. That said, the factory firmware doesn't provide full support for pre-2006 vehicle models. If your car is from 2005 or earlier, you'll need to download the latest firmware.
ELMconfig FORScan ELM327 OBD2 USB Adapter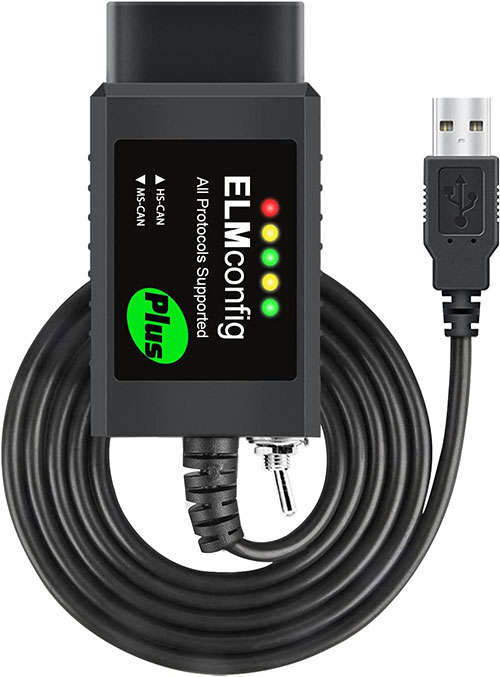 Key features:
15.7" long cable.
Manual MS-CAN/HS-CAN switch.
The ELMconfig FORScan ELM327 OBD2 USB Adapter is a short 15.7-inch cable that's designed to be easily portable. The USB end has a fairly standard design, while the OBD II end of the cable sports additional reinforcement. The plug itself is a simple rectangular block with a sticker on the top. That said, a series of ribs along the sides provide a bit of extra grip. A metal switch at the back allows you to quickly toggle MS-CAN and HS-CAN modes.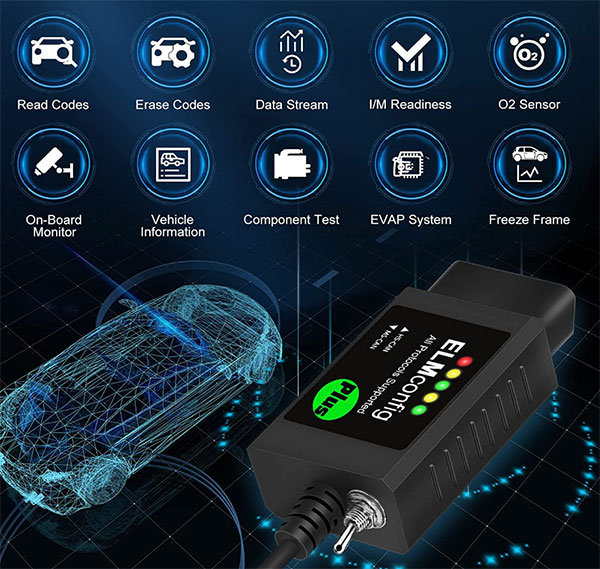 This adapter is compatible with all versions of Windows, starting with Windows XP. You don't have to worry about any issues with your older PC. You also don't need to worry about what type of OBD II protocol your car uses. It supports ELM327 and J1850 PWM, as well as high-speed HS-CAN2 and HS-CAN3 connections. You can even use it with non-Ford OBD II software. That said, you'll have to manually install the drivers no matter what software you're using.
What is FORScan?
FORScan is a special OBD II scanning app for Ford, Lincoln, Mercury, and Mazda vehicles. The main advantage of this app is that it allows you to perform tasks that ordinary OBD II apps can't. It's made by Ford, so you can access systems like your horn and windows. For example, you can set your horn not to honk when you lock your vehicle. You can even reprogram your vehicle for bigger or larger tires.
FORScan works with Ford, Lincoln, and Mercury vehicles from 1996 to the present. Models from 2021 and later may still have some bugs. Mazda vehicles will be compatible up through the 6G system. 7G models such as the CX and MX series and Mazda 3 aren't compatible.
HS-CAN vs. MS-CAN
If you're new to FORScan, you're probably wondering what HS-CAN and MS-CAN are. These are communication protocols that are on OBD II connections. "CAN" is short for Controller Area Network. This is the network of your car's computers and sensors which are all connected. It's a lot like your LAN at home, with computers and other devices all on the same network. When you plug into your OBD II port, you're accessing your vehicle's CAN. Ordinary OBD II sensors also use HS-CAN and MS-CAN – they just do it seamlessly behind the scenes.
It's worth noting that the HS-CAN and MS-CAN protocols were only released in 2004. They came about the same time as digital displays. Prior to 2004, OBD II ports used the J1850 PWM protocol. This protocol will still work with FORScan – just make sure your OBD II adapter supports it.
HS-CAN is short for "High Speed," while MS-CAN is short for "Medium Speed." HS-CAN is used for vehicle-critical systems. For example, your anti-lock brakes and engine control module communicate using this protocol. MS-CAN is a lower-priority protocol used for things that aren't important in an emergency. Your climate control, radio, and door light sensors use MS-CAN.
Starting in 2013, the standard changed to improve performance across all sensors and systems. Modern vehicles come with four CAN buses – three HS-CAN, and one MS-CAN. Think of a system on your vehicle, and it's probably computerized. If it is, it uses CAN. Your window controls, seat adjustments, climate control, headlights, and TPMS system are all networked in. This enables you to scan virtually every part of your vehicle. If you're trying to diagnose a problem, you now have troves of information at your fingertips.
The HS-CAN and MS-CAN buses are connected, so information can be shared across them. Some FORScan adapters can automatically detect which protocol is being used. In that case, you can set FORScan's CAN mode to Auto. If your adapter has a manual switch, you'll have to toggle the software as well. Always start with HS-CAN – it's the protocol you need for scanning most systems. If your scan requires MS-CAN, FORScan will prompt you to make the change.
Final Verdict
So, which one of these FORScan USB OBD2 adapters is the best choice? As you can see, a lot comes down to the length, and whether MS-CAN/HS-CAN switching is automatic or manual. That said, there are other features to consider. Here's what we've learned today.
We began by looking at the OBDMONSTER ELM327 FORScan OBD2 USB Adapter. This 46-inch cable is straightforward, but it seems durable enough. The manual switch could be a pain for frequent users, but it's not that big of a deal. Meanwhile, Windows XP support is good news for shops with old laptops.
Next on our list was the OBDLink EX FORScan OBD Adapter. This is a shorter cable than the last, but 42 inches should be fine for most people. We definitely appreciated the automatic MS-CAN/HS-CAN switching. The ergonomic plug is also well-designed, and you won't have to worry about installing drivers on most PCs.
After that, we examined the Vgate vLinker FS OBD2 USB Adapter for FORScan. This long cable gives you plenty of length for working on larger vehicles. The driver-free setup is very convenient, although you'll still need a firmware upgrade for older vehicles. Meanwhile, the sturdy cable and durable plugs are tough enough for years of regular use.
Finally, we reviewed the ELMconfig FORScan ELM327 OBD2 USB Adapter. This short little adapter may present some ergonomic issues. But if you want one you can throw in your toolbox, it's a great choice. It also offers wide software compatibility, so it's good for more than just FORScan. And with J1850 PWM support, you can use it with older vehicles.