If you're looking for something captivating or mesmerizing for your home or office, a levitating moon lamp might be just what you need. Whether you're adding unique style to a room or simply desiring something a bit quirky, a moon lamp that floats and spins will surely turn heads.
A levitating moon lamp uses the power of magnetic force and wireless induction charging to magically float in the air. Similarly to a star projector, their first purpose is ambiance; adding a cool effect to any indoor area. However, being that they're actually a lamp, they also add illuminance to any dark environment.
Today we're going to look at the best levitating moon lamps that are readily available today. Each one adds nice décor while giving a unique bit of quirkiness to your room. No matter your age, location or style, it's easy to see why more and more people are adding a floating/spinning moon lamp to their space. Simply put, they're awesome!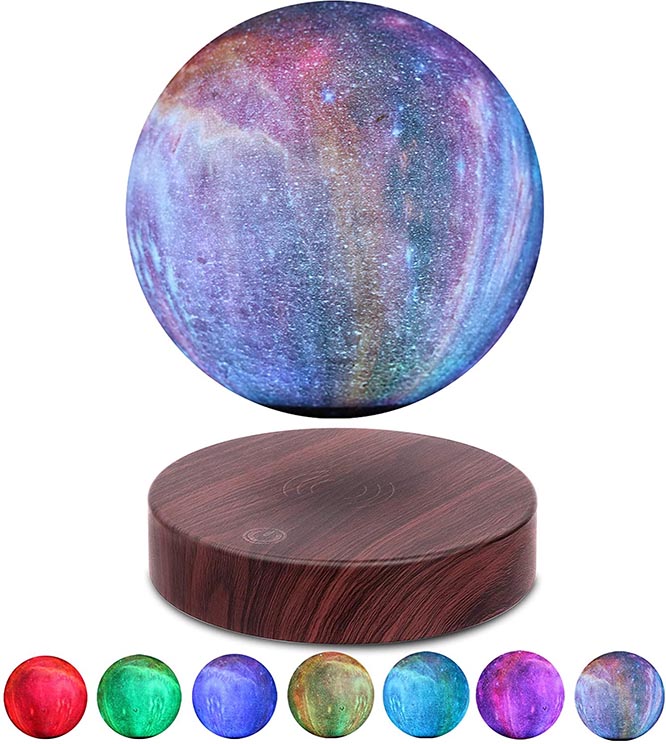 VGAzer Levitating Moon Lamp
As an all-around great option, the VGAzer Levitating Moon Lamp is well-featured choice. Available with either a round or square base, users are able to toggle between 7 color options. Each color option appears as a galaxy-like surface on the moon lamp, displaying a mesmerizing effect with a nice blended pattern. Although we can't truly say it's "realistic" to the actual moon, the surface looks more like a cosmos rather than a crater-ridden moon surface.
The base offers a faux wood pattern with a touch-activated power button. Once you push it, align the base of the globe with your hands directly above the marked center point. Immediately, it'll levitate and spin about an inch above the base. Regardless of whether you choose the round or square base, the functionality is the same.
The VGAzer Levitating Moon Lamp is quite compact, measuring around 6″ wide with a total height under 1′. Comprised of plastic, it seems to be well-built. That said, it plugs directly into an outlet; it isn't battery powered. However, the moon itself is completely untethered, as it should be.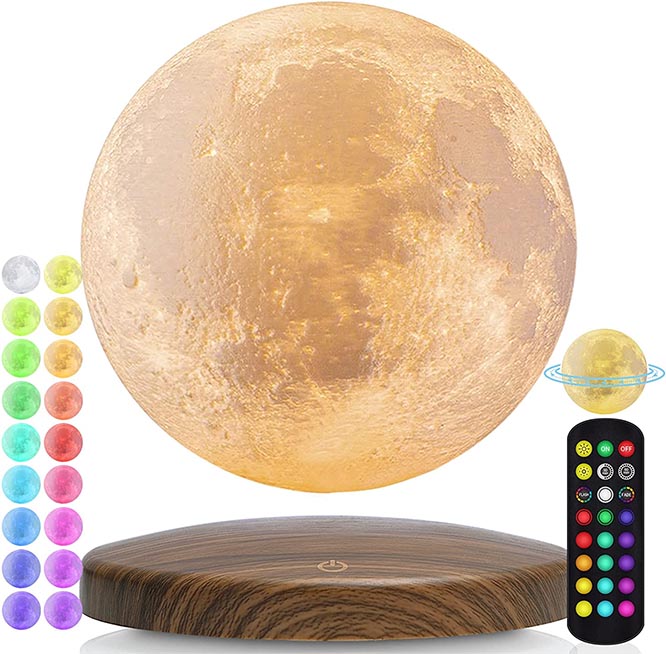 GDPETS Levitating Moon Lamp
With a more-realistic moonlike appearance, the GDPETS Levitating Moon Lamp offers a bit more than the previous option. Included is an IR remote, letting users swap between 18 different color options. There's 16 solid colors and 2 RGB color choices, enough to add a bit of uniqueness with the push of a button.
As you can see, the surface appears moon-like, with craters and a more realistic approach. Taking one glance, it appears as an actual moon rather than a superficial galactic orb. The base of the lamp is rounded, convexed upward towards the spinning moon. Getting started with it is just the same as the VGAzer. Simply plug the base into a wall outlet, hold and position the moon over the center, and let it free. It'll immediately float and spin freely.
We love the fact that there's an included remote. Not only does it let you choose between colors, you can add a 30 or 60 minute timer. That way, it can be used for falling asleep without the need to manually turn it off in the middle of the night. In addition, the remote gives the ability to increase or decrease the brightness, which we find to be quite useful.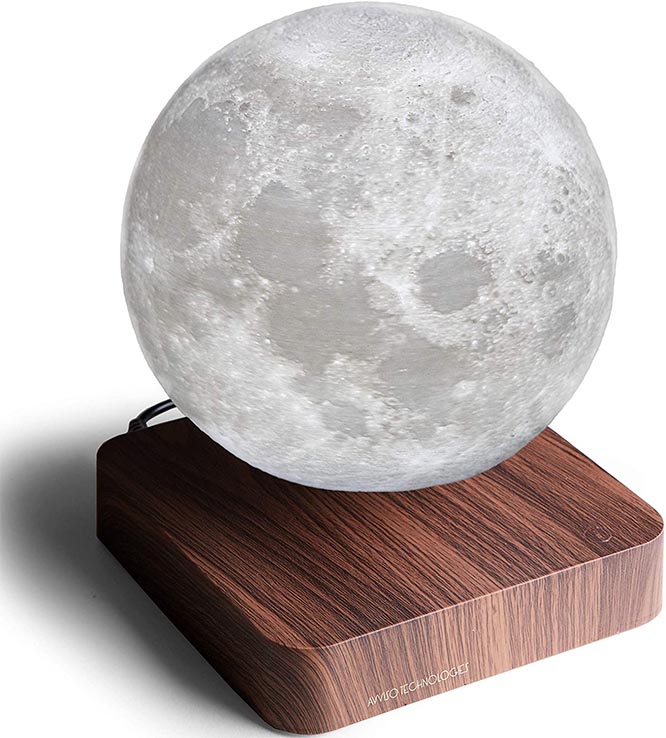 Avviso Floating Moon Lamp
As another great choice for those looking for a realistic-looking moon, the Avviso Floating Moon Lamp is very similar to the VGAzer. Priced slightly lower, it has a faux-wood rounded corner base that's just under 6″ x 6″. Although there's not a variety of colors to choose from, most will be perfectly happy with the white glow it emits. It's one of the more-realistic offerings with visible craters and striations, just like the actual moon.
The spinning effect is slightly slower than others. That said, it's easier to see the fine details in its appearance. Overall, it's very bright but luckily, you can toggle through three different brightness settings. This way, you can make sure it won't emit too much light in a small environment or too little light in a large environment.
Although there isn't a remote control included, functionality is easily altered by the single power button on the front-right corner of the base. Multiple taps let you toggle between light modes and pressing/holding the button will power on/off the lamp. Since this is a white lamp without much color, it might not be the best option for you. However, this is one of the only levitating moon lamps that's packed with a warranty. Within 1 year of purchase, you're covered in case anything malfunctions or doesn't perform as expected.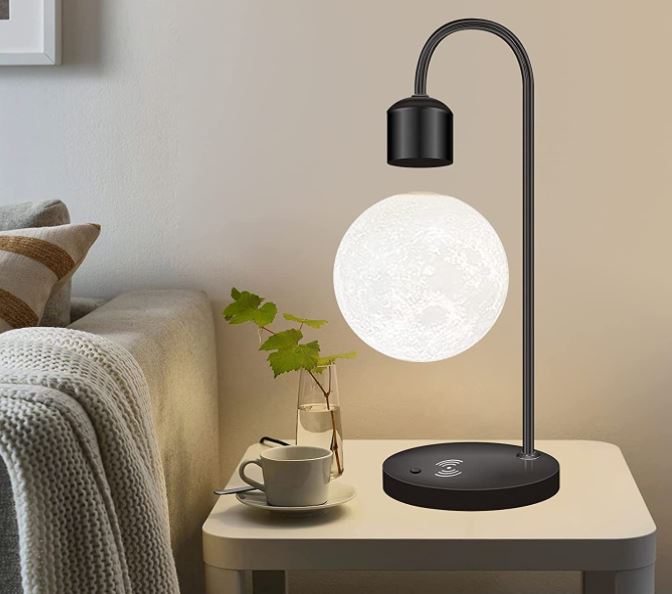 Floatidea Magnetic Levitating Moon Lamp
Offering a bit more of a unique take, the Floatidea Magnetic Levitating Moon Lamp is another great choice. In the style of a table lamp, it features a rounded circular base with a curved black rod protruding from it. At the end is a socket-like cylinder that isn't actually a socket at all. At first glance, you might think this is where you screw a lightbulb in. However, beneath it, this is where the moon levitates.
While it levitates just like the others, the Floatidea Moon Lamp doesn't spin. This isn't a deal breaker for most but something that you should be aware of. In addition, there isn't an array of colors to choose from. The moon glows white and is set to a rigid brightness. In other words, you can't dim the glow of the moon or increase it's brightness. In our opinion, it's really not that big of deal. It seems to provide plenty of brightness but not too much.
The rounded base offers sturdy positioning. However, it also offers something a bit more enticing; wireless charging. Built into the top-side of the base, located directly behind the power button is a wireless charging pad. With it, you can place your smartphone on it and charge it up while sleeping or lounging around. This is a 10W wireless charger compatible with pretty much any Android or iOS powered device. Even Airpods or other earbuds with wireless charging capabilities can be placed on it for a steady charge.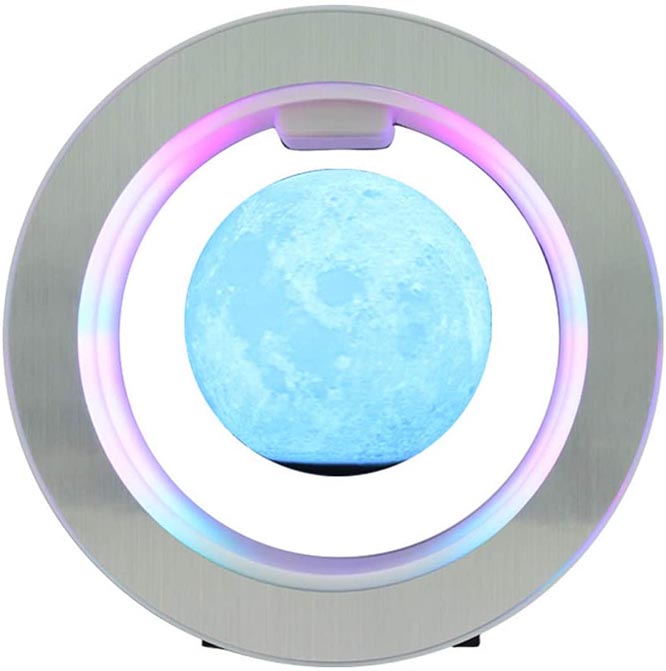 FUGEST 3D Floating Moon Lamp
As another unique option, the FUGEST 3D Floating Moon Lamp boasts an entirely different design. Rather than having a base that's below the floating moon, it has a ring-like, circular base unit that fully encapsulates the moon. It features a sturdy base with a hollow center-area that spins and levitates the moon with ease. Although the moon is slightly smaller than other offerings, the entire lamp is roughly the same size as most.
Built in are several LEDs that are capable of emitting a wide range of colors. Since there's no remote and only a power button, users aren't able to select their own colors. The lamp will cycle through a wide range of colors and fade in and fade out while it changes. To be clear, the moon changes colors, but the circular base unit emits a pinkish, bluish and white hue.
The appearance of the moon within the FUGEST lamp is based on realism. In fact, it's a perfect representation of the surface of the moon. We really like the way it looks, although the lack of adjustability can be a bit frustrating for some.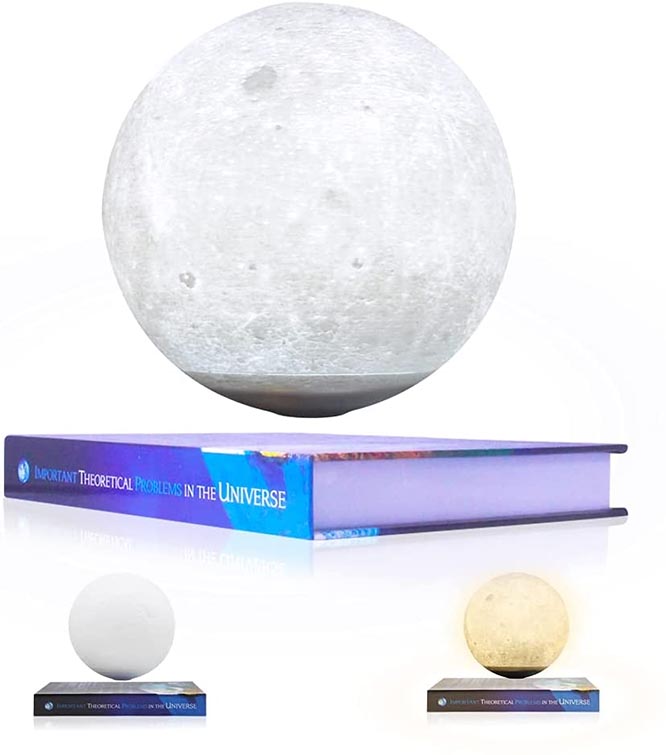 Adyic Levitating Moon Lamp
The Adyic Levitating Moon Lamp offers most of the same effects as others but floats above a book, instead. Although the book isn't actually a real book, it's a realistic representation that's titled "Important Theoretical Problems in the Universe" – perfect for the glowing moon.
While it doesn't offer an assortment of colors, it does offer 3 different glow settings. Notably, users can pick between 3 levels of brightness. There's a setting that's as bright as possible with a white glow. Next, is a setting that's slightly dimmer and almost gray in appearance. Last but not least, you're able to turn the moon a glowing yellow color. Each option is a bit brighter than the other, meaning you can use it for a variety of rooms.
Unlike most others, the Adyic Levitating Moon Lamp comes with a 6 month warranty period. While it may not be quite as long as the Avviso, it's still nice to see this included. All in all, it spins and floats just like the others; but it's paired with a astrology-related "book" instead.
Final Thoughts
As you can see, there are quite a few levitating moon lamps currently available. Although many share quite a bit of the same features, the differences among each other are what make each one a bit unique. Let's quickly re-cap what we learned.
The VGAzer Levitating Moon Lamp offers 7 color choices and an attractive faux-wooden base. The surface doesn't appear identical to the moon, rather it appears galactic, with stars and the cosmos. It's very easy to use although a remote isn't included.
The GDPETS Levitating Moon Lamp boasts 16 different color choices with RGB modes for a fun and geeky flare. The appearance of the moon is realistic that mimics the way the actual moon looks. Best of all, a remote is included that lets you toggle between settings, color choices and brightness levels. There's even a built-in timer!
For those who don't need an assortment of colors, we reccomend the Avviso Floating Moon Lamp. It's very similar to the VGAzer lamp, but a bit less expensive and very well-built.
If you're looking for a more traditional table-lamp style, look no further than the Floatidea Magnetic Levitating Moon Lamp. Although it doesn't levitate above the entire lamp, it floats beneath for a unique effect. In addition, the base doubles as a wireless charger for your smartphone or earbuds; pretty sweet!
Another unique offering is the FUGEST 3D Floating Moon Lamp. Instead of levitating above a base unit, the entire moon is right in the center. This unique style keeps the moon floating and spinning while cycling through a large assortment of colors. Best of all, it's the least expensive offering that we've been able to find. Priced less than half as others, it's perfect for those on a budget.
Last but not least, we examined the Adyic Levitating Moon Lamp. Rather than a standard base, the base is actually a book. While the book isn't real, it gives off a nerdy flare that we love to see.