Nintendo Switch users everywhere are used to the joy cons that come with their device. These controllers are another addition to the long line of unique controllers from Nintendo. They can be used on the device or taken off and used wirelessly in a variety of ways.
However, they don't have the same look or feel that some hardcore gamers enjoy from other consoles like the Xbox or PlayStation. For those gamers, a whole new controller is needed. Nintendo does have its own pro controller. However, it has the potential to develop one main flaw: stick drift. To fight this, you'll need a controller with a built-in hall effect.
Quick-view of the Top 6 Picks:
What is a hall effect controller?
A hall effect controller looks pretty similar to your standard gaming controller. It has all the functionality buttons you'd expect, as well as two joysticks for various movement controls. These joysticks aren't your average option, though. They have built-in magnetic sensors that serve the purpose of never creating stick drift.
Why would I use a hall effect controller?
You would want to use a hall effect controller so that stick drift never happens. Stick drift is a common issue that many controllers have over their lifetime. After a good amount of hours of use, your controller will think that the joysticks are being pointed in a certain direction, even though they actually aren't. This gives your controller a mind of its own and messing with your gaming experience.
How do I connect a hall effect controller to my Switch?
There are two main ways to connect a hall effect controller to your Switch, either wired or wireless. Wired is pretty straightforward; just plug the cord into a USB port on the Switch dock. Wireless can be done in a few different ways. Some controllers have Bluetooth internally that can connect to your Switch. Others come with a wireless dongle that plugs into a USB port on the Switch dock and communicates the signal that way.
What games are hall effect controllers ideal for?
They're honestly great for pretty much any game you want to play on your Switch. Stick drift may not be a huge issue if your main games are more laid-back and relaxing. It can be a huge issue for those who like competitive FPS games or massive open-world games like Zelda. For those games, a hall effect controller is especially useful.
Best Overall: NexiGo Hall Effect Switch Controller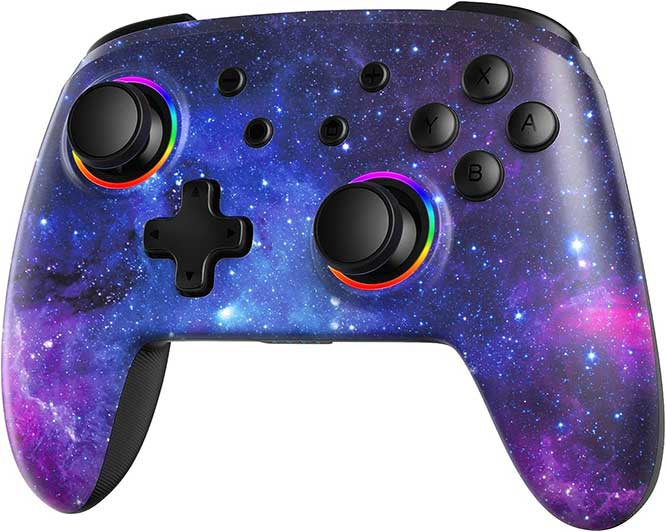 Key Features:
Galaxy print design
Wireless connectivity
8-hour battery life
If you're a gamer looking for the best hall effect controller, then go with the NexiGo Switch Controller. It looks amazing, featuring a galaxy print on the front and a black textured material on the back for improved grip. It also has RGB lights around each joystick that has seven different colors and modes to cycle between.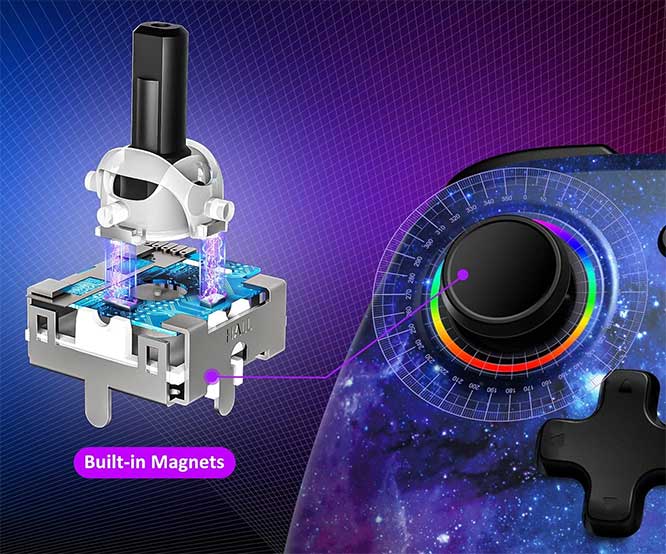 As for connectivity, the NexiGo uses Bluetooth. This doesn't require the use of any additional dongles, so you can use this controller without the docking station of the Switch. While connected, you can expect it to work from up to 16.4 feet away from your Switch without any issues.
The battery inside the controller is able to keep it connected for 8 hours of continuous playtime. Once the battery is fully depleted, it can fully recharge in only four hours. This is a solid amount of time for a single gaming session but may require that you remember to charge it in between each time you play.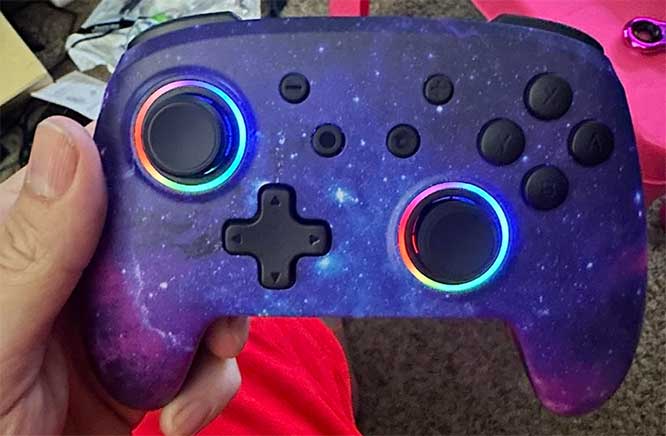 One of the coolest features of this controller is the motion controls. Internally there are six-axis gyroscopic sensors that allow you to control various games simply by tilting your controller in different directions. When paired with the high-quality hall effect joysticks, this is one of the best controllers on the market for your Nintendo Switch.
Pros:
Gyroscopic controls
4-hour recharge time
RGB around the thumbstick that can be customized
Cons:
8-hour battery life is a bit on the lower end
Best Runner-Up: GuliKit KingKong 2 Pro Wireless Switch Controller
Key Features:
Two color choices
Wireless connectivity
25-hour battery life
An awesome runner-up choice is the GuliKit KingKong 2. This hall effect controller has an extremely clean aesthetic and comes in two different colors. The first is a black controller with silver buttons and accents. The second is a completely white design. Neither of these have any RGB lighting, so they're meant to be a bit more minimalistic.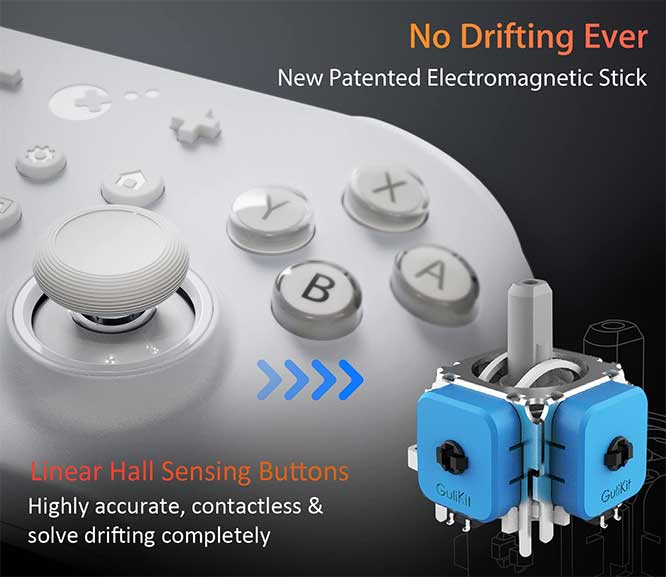 The GuliKit connects to your Switch using wireless technology. While this is the main way to use it, you can also plug in the included charging cord and play wired if you prefer that way or if your controller dies in the middle of a gaming session.
When used wirelessly, this controller has an amazing battery life. On a single charge it can last for up to 25 hours of continuous gaming. This is probably plenty for most people to play for multiple sessions on one charge. Additionally, it has a standby mode that kicks in whenever buttons haven't been pressed in the past ten minutes. This mode shuts off the controller to help further extend battery life.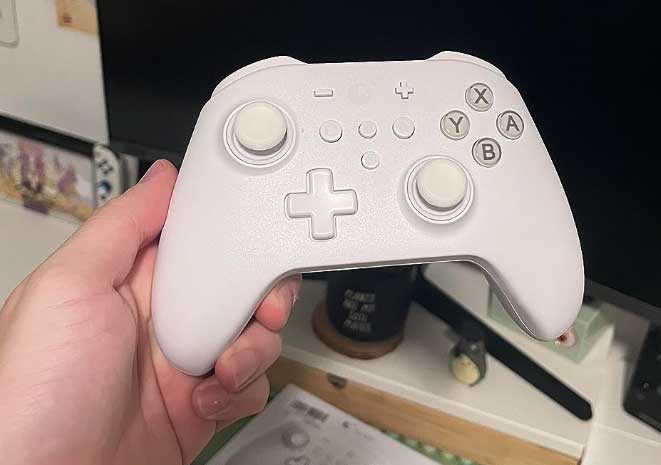 There are a few cool functions the GuliKit is capable of as well. The first is a patented button that lets it record and learn repetitive functions on your favorite games and then does them on auto-pilot. This lets you keep gaming and grinding out tasks without actually having to sit there and do them. You can also control your games with motions and interchange buttons to get a fully customized look and feel.
Pros:
Auto-pilot button to do repetitive operations for you
25-hour battery life is plenty for multiple gaming sessions
Power saving standby mode
Cons:
Some reviewers note that some buttons can feel stuck after a while
Best Alternative: TERIOS Switch Controller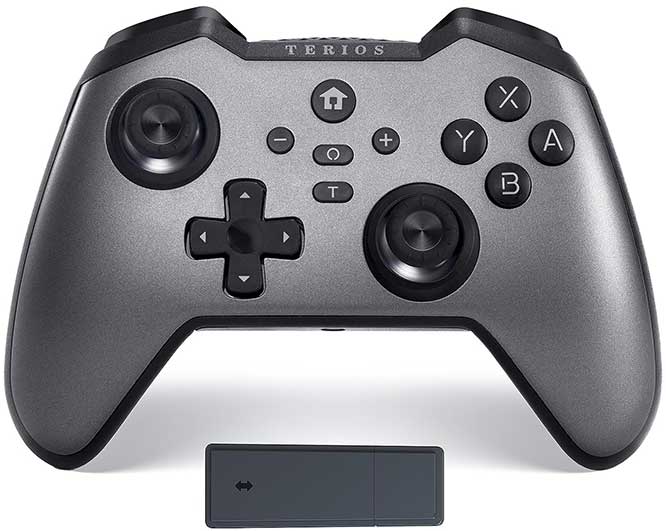 Key Features:
One color option
Wireless connectivity with a dongle
12-hour battery life
A good alternative is the Terios Switch Controller. This device is only available in one colorway. It has a gunmetal grey main color along with black buttons and accents. There isn't any RGB used, so overall, it's a pretty simple and minimal looking controller.
To connect this to your Switch, you'll use wireless technology. However, it isn't Bluetooth like the previous options. Instead, it uses a 2.4g adapter that plugs into the Switch dock and receives the input signal from your controller. This limits your usability to only those times when you're gaming on your TV with the Switch.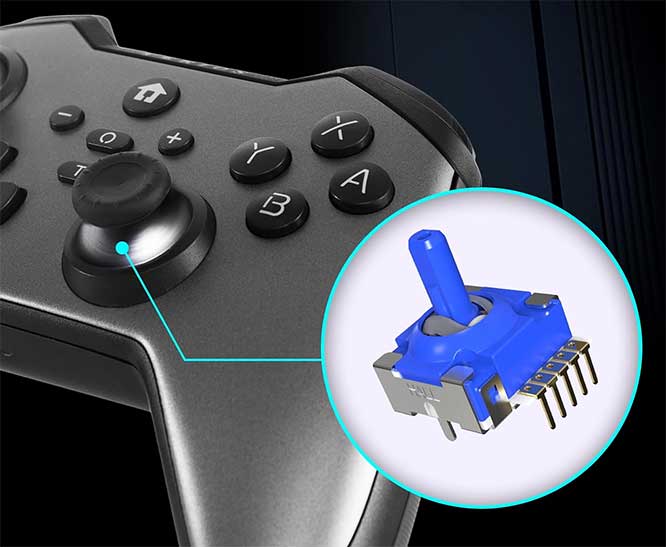 Internally, this controller has a 1000mAh rechargeable battery. This keeps your controller powered for up to 12 hours of continuous gaming. It also has a standby mode that shuts the controller off after 5 minutes of no buttons being pressed.
One great extra feature on the TERIOS is the NFC functionality on the back. This allows the controller to work flawlessly with your Amiibo collection and use your favorite characters in various Switch games. Overall, while this controller has a simple look, it has great functionality.
Pros:
Works with your favorite Amiibos
Wireless connectivity with a dongle
12-hour battery life is a good amount for most people
Cons:
Lack of options for colors
Best with a Charging Dock: 8Bitdo Ultimate Bluetooth Controller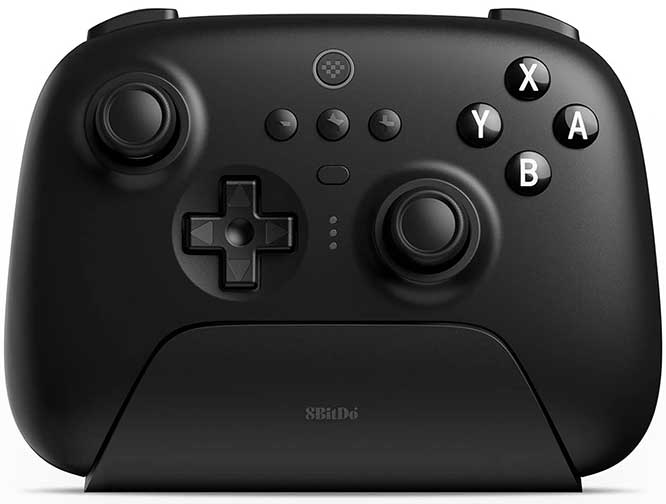 Key Features:
One color option
Multiple wireless connection options
22-hour battery life
If you want a controller that comes with its own charging dock, then the 8Bitdo controller is a great choice. This is another minimalist-looking controller, only available in a black colorway. However, the shape of the controller is more rectangular than others, so it does stand out from competitors in that way.
There are a couple different ways you can connect this controller to your Switch. The first is via Bluetooth. This is easy to do and will work no matter how you want to use your Switch. The second is via the included 2.4g wireless adapter. This is able to plug into your Switch dock when playing on a TV or monitor.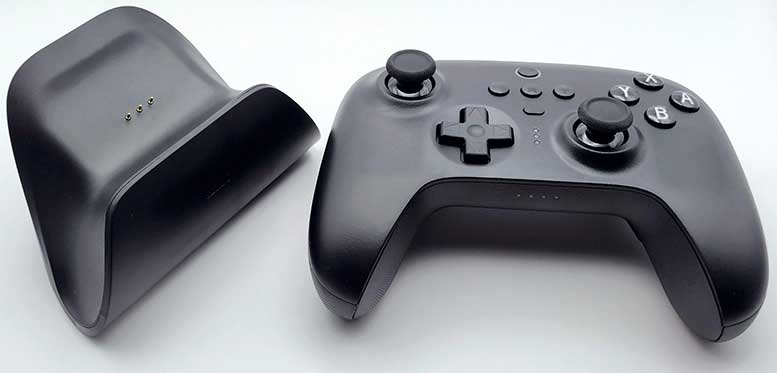 The 8Bitdo has a great battery life. It can last for up to 22 hours on a single charge. This is enabled by the internal rechargeable 1000mAh battery. Once fully depleted, it can be charged back to 100% in only 3 hours.
The best extra feature this controller has is the included docking station. This station has the primary function of being a great place to charge the controller when not in use. However, it can also be used with your displays for additional functionality. The docking station really sets this controller apart from other options and makes it a solid pick.
Pros:
Awesome, multi-purpose docking station
22-hour battery life that can recharge in only 3 hours
Multiple ways to wirelessly connect to your Switch
Cons:
The rectangular shape may not feel great to some people depending on hand size
Best Wired: GameSir T4 Kaleid Wired Switch Controller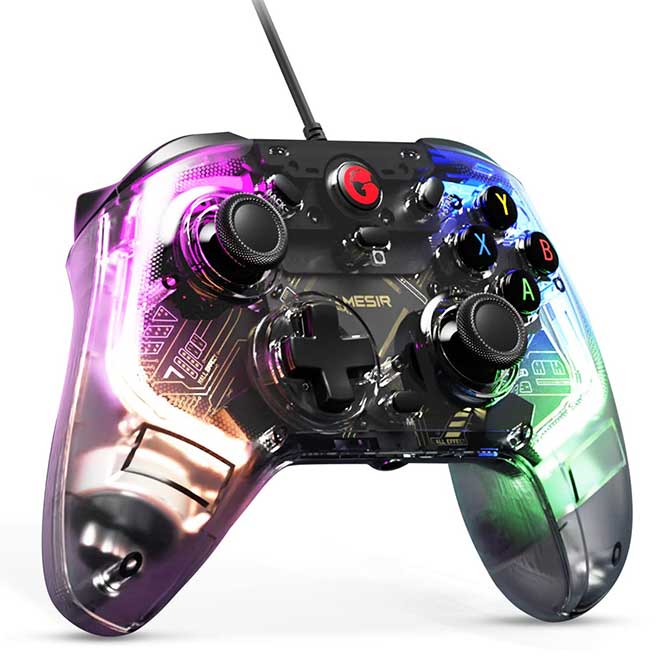 Key Features:
Unique RGB design
Wired only connection
Extra buttons on the back
By far, the most unique-looking option on our list is the GameSir T4 Kaleid. This controller is made from a translucent plastic material, so you can see all the internal components. This is paired with some great-looking RGB lighting internally as well. You can also customize the lights, controlling their speed, brightness, colors, and effects.
The GameSir is the only option on our list that only has wired connectivity. This does limit the ways in which you can use it with your Switch. However, the cord is removable, so you can replace it with a USB-C to USB-C cable and allow it to plug into the USB-C port on your Switch device, giving it a bit more versatility.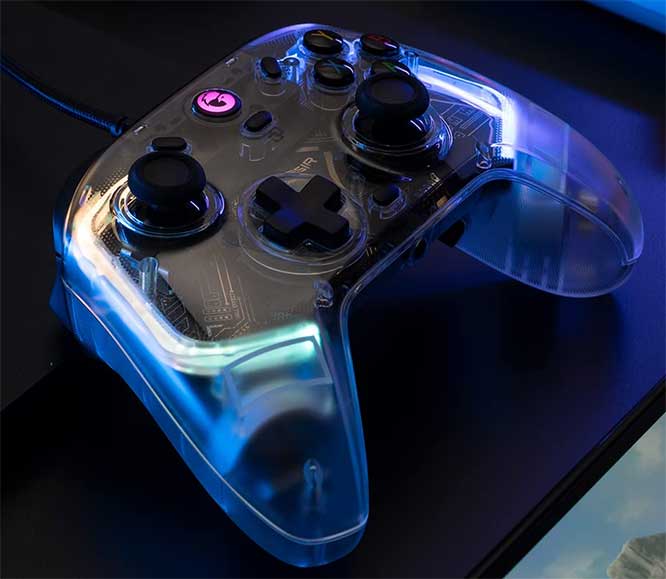 One cool aspect of the GameSir is the companion software. This software can be used to fully customize multiple aspects of the controller. Some examples are the lighting modes, button mapping, vibration settings, and trigger zones.
Another cool feature of this controller is the two macro buttons on the back. These buttons can be customized to do whatever you want them to do on your favorite games. This helps you take control of your gaming experience even further, making it so you don't have to take your thumbs off the sticks as often to interact with the front buttons.
Pros:
A wired connection so it will never die while gaming
Software to customize various features
Macro buttons on the back
Cons:
Best Budget: NYXI Switch Controller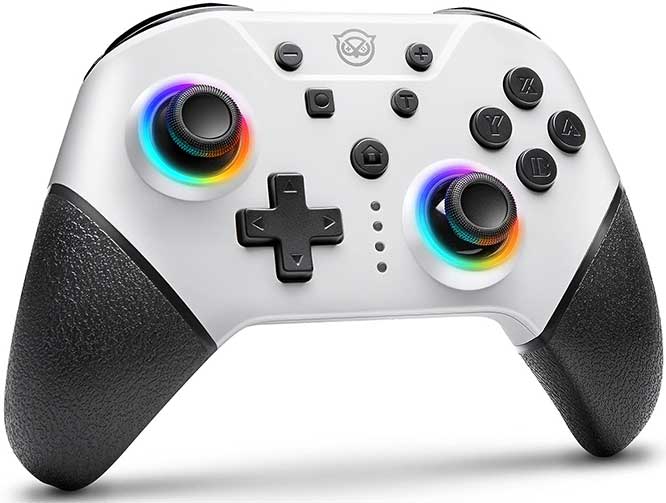 Key Features:
Two color options
Wireless connectivity
10-hour battery life
The best budget hall effect Switch controller out there is the option from NYXI. This controller comes in two different colors, including an all-black option and a black-and-white option. Each also has RGB lighting that surrounds the joysticks. This lighting can be set to one of nine different lighting effects, as well as three different light modes.
This controller is primarily used in wireless mode. Connecting to your Switch is super simple, making it easy to play your favorite games quickly.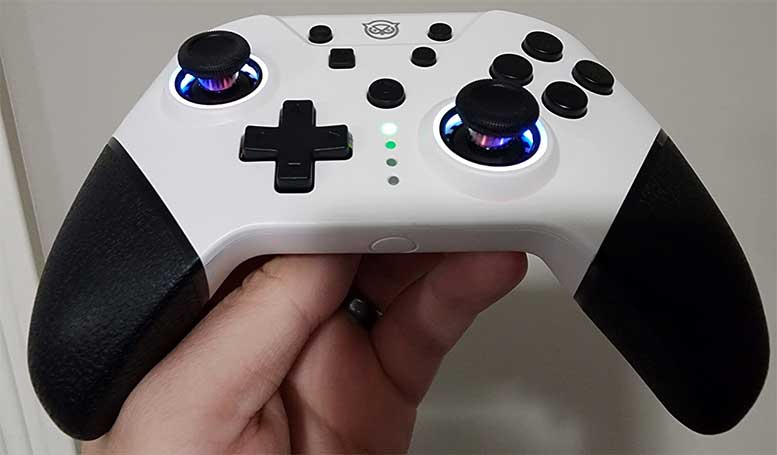 Internally, there is a 500mAh battery to keep the controller powered. On a full charge, you can expect it to last for 8 to 10 hours, depending on the settings you use on the controller for lights, vibration, and more.
One great addition to this controller is the four customizable macro buttons on the back. Similar to the GameSir controller, these buttons are located in a super easy-to-access spot and can be mapped to whatever buttons you want them to be. This makes gaming even better, so you can be the best in the lobby with ease.
Pros:
Four macro buttons on the back that can be fully customized
RGB lighting with nine different effects and three modes
10-hour battery life
Cons:
Some reviewers have experienced input lag at times
Meet Derek, "TechGuru," a 34-year-old technology enthusiast with a deep passion for tech innovations. With extensive experience, he specializes in gaming hardware and software, and has expertise in gadgets, custom PCs, and audio.
Besides writing about tech and reviewing new products, Derek enjoys traveling, hiking, and photography. Committed to keeping up with the latest industry trends, he aims to guide readers in making informed tech decisions.