PC gamers everywhere know the importance of the right pieces of gear in their setup. Whether it's the perfect mechanical keyboard or the best wireless mouse, you need to have great equipment. However, one of the most important pieces to make everything work correctly is the right PC case for high airflow. When picking the right case, here are a few things to consider:
Size and Aesthetics:
Getting the right size case for the amount of space you have on your desk is important. After you determine that, then you need to find one that suits your style. Some are minimalistic, while others are full or RGB goodness. Whatever your preference, there's a case for you.
Cooling Features and Capabilities:
With high airflow cases, cooling features and capabilities are arguably the most important aspects. Having great cooling ability allows you to keep your internal components as cold as possible (without having to liquid cool).
Cable Management:
When building your own PC, finding a case with great cable management features is a must. Some have dedicated channels for cables, while others come with velcro ties to keep everything tidy. Without these features, your build can get extremely messy really quickly, and future upgrades are that much more difficult to do.
Internal Features:
Internally, there needs to be plenty of space for your hardware. This is particularly true with cases that have high airflow capabilities since they are going to be able to keep even the most heat-producing graphics cards and other components cool.
Best Overall: NZXT H9 Flow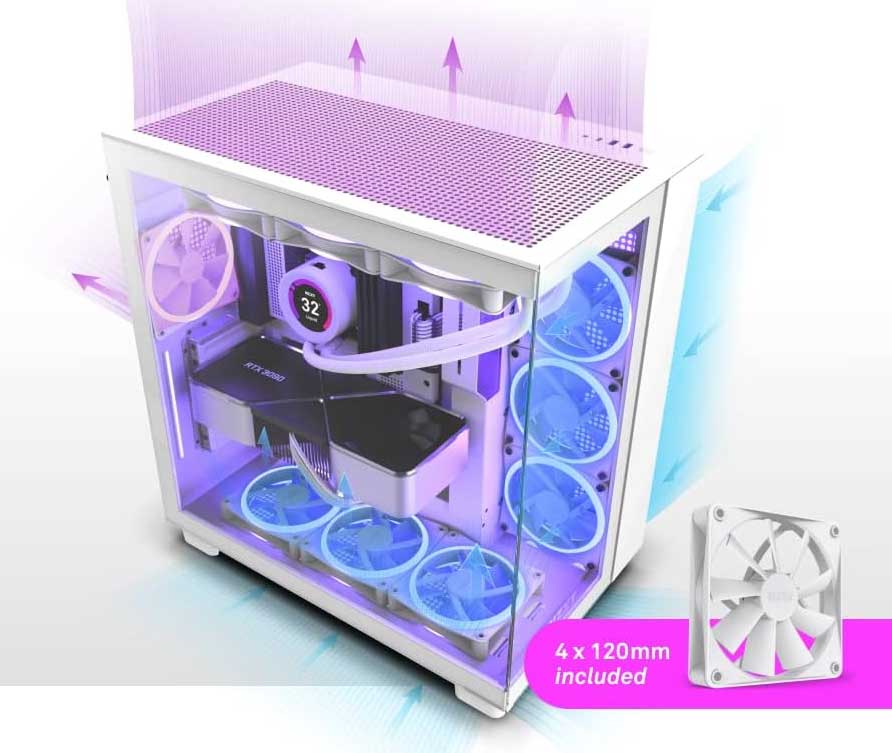 Key Features:
High airflow perforated top panel
Two color choices
Dual chamber design
The NZXT H9 Flow is the best overall choice for a high airflow case. It's a larger choice, coming in at 23 x 23 x 15 inches. As for colors, you can choose between either black or white. To further enhance the look, it has a seamless glass panel on the front and side. This allows an amazing view of the internal components of your PC.
This case was designed and manufactured with airflow in mind. Both the top and side panels are made from perforated materials. This allows filtered air to flow through the case and provides cooling. Additionally, there are four 120mm fans included within the case to help kickstart your cooling experience.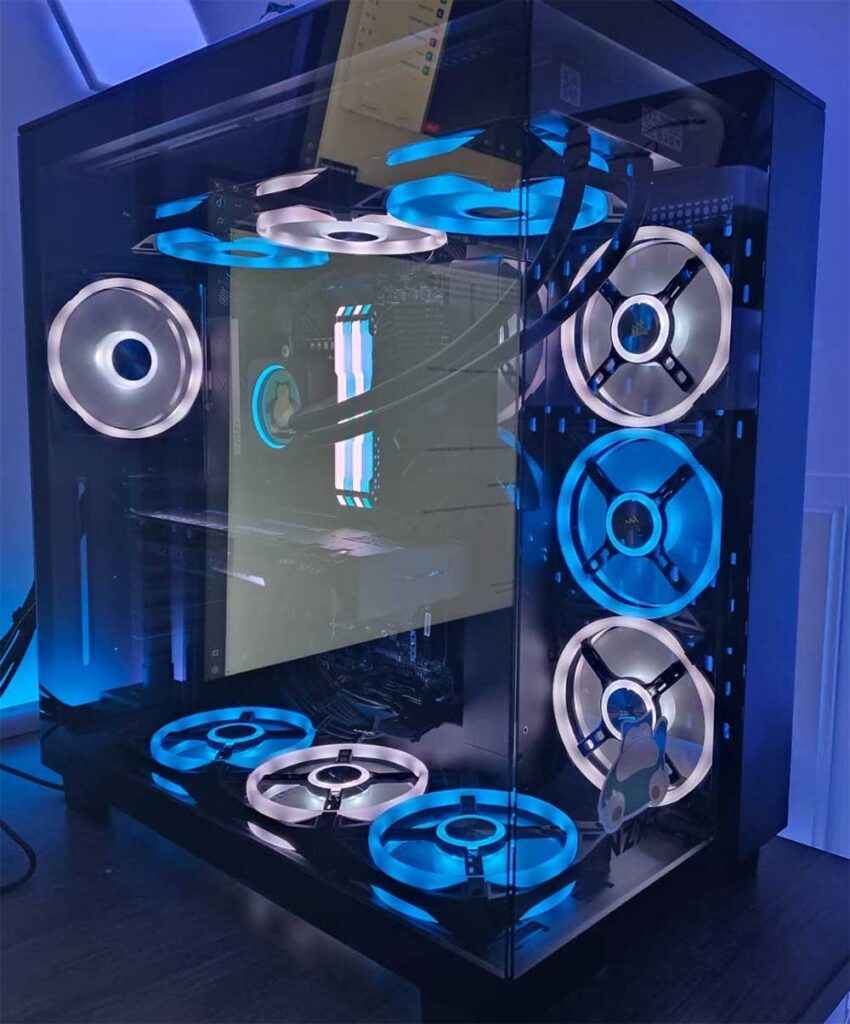 Cable management is always an important factor, and NZXT does it well with the H9 Flow. With its dual chamber design, all the cables and components you want to hide can be put out of sight. In their chamber, there are great ways to route your cables to keep everything neat and organized.
As for the compatibility of various components, there is a ton of space in this case. For cooling, it can hold 360mm radiators on the top, bottom, and side panels. It can also hold up to 10 120mm fans or 6 140mm fans. Most standard-sized graphics cards shouldn't have any issues being used either. For storage, there is a dedicated SSD side panel that swivels out, with compatibility for up to four SSDs.
Pros:
Tons of room for 360mm radiators
Perforated top and side panels
Seamless glass panels
Cons:
Some reviewers note large graphics cards (like 4090s) have issues fitting
Best Alternative: Lian Li Lancool II Mesh RGB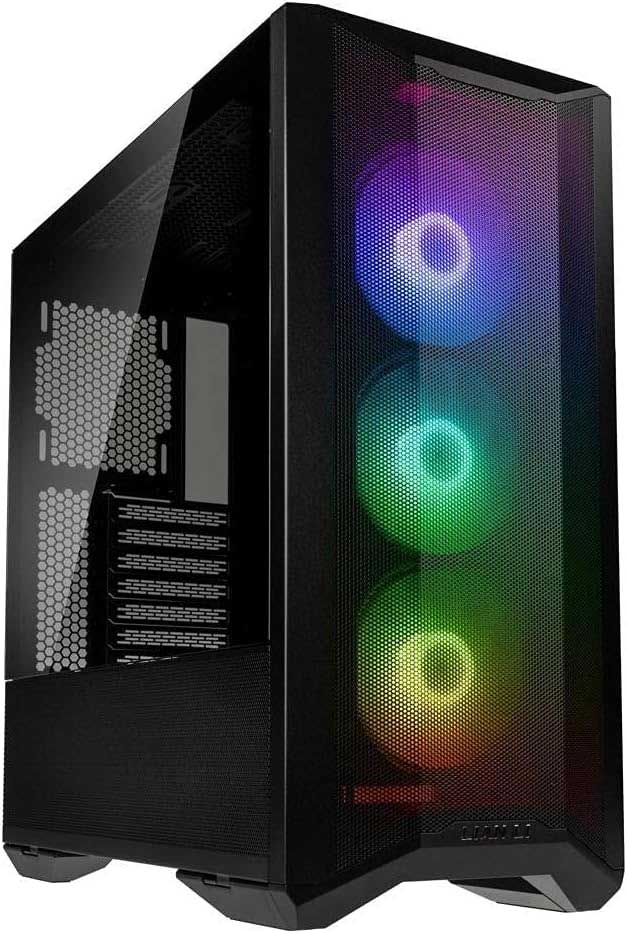 Key Features:
Mesh front panel
Three RGB fans included
Two swivel glass panels
The Lian Li Lancool II Mesh RGB is another awesome choice if you're looking for a high-airflow PC case. It's an eATX model, coming in at 9 x 19.4 x 18.8 inches. Currently, it's available in both black and white. Additionally, there are two glass panels on both sides that swivel outwards.
There are multiple cooling features built into this case. The first is a large mesh front panel with three pre-installed fans. These fans have the added benefit that they are RGB enabled. Additionally, the bottom 25% or so of each side of the case is also made of a mesh panel that swivels downwards. These mesh panels allow air to be filtered as it flows through your PC.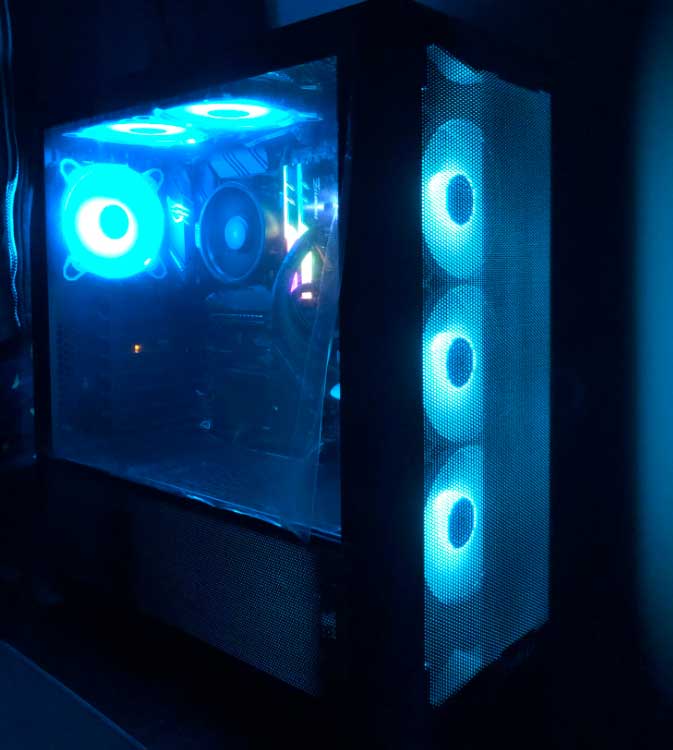 There are some great ways to cable manage this case as well. Behind the motherboard tray, you will find hidden cable organization space. Within each of the bottom mesh panels, you can easily hide components like your power supply and keep the cables going to it out of the way of everything else.
As for internal size and compatibility, there is a lot of opportunity. It's compatible with E-ATX, ATX, M-ATX, and ITX motherboards. The front of the case can hold 360mm total of fans or radiators, the top can hold 2 120 or 140mm fans, and the rear can hold 1 120mm fan. As for storage, there is space for nine total 2.5-inch SSDs. Overall this is a great case to build in.
Pros:
The included RGB fans
Wide range of motherboard size compatibility
Great side panel design
Cons:
RGB cannot be controlled by software
Best Minimalist Design: Fractal Design Meshify 2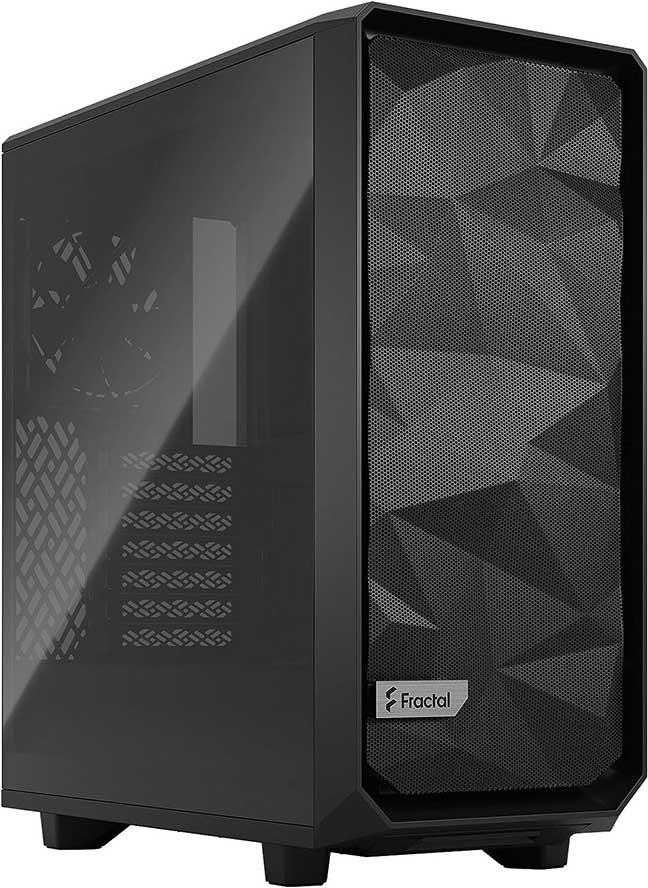 Key Features:
Geometric mesh front panel
Tinted tempered glass side panel
The Fractal Design Meshify 2 is a great-looking case for those who want a minimalist build. It's available in either black, grey, or white, with each choice having a tempered glass side panel. As for size, this case is 16.7 x 8.3 x 18.7 inches.
This case has a great-looking front panel with an angular design. This front panel is made of mesh and doubles as a full air intake area to maximize airflow. Additionally, it has a removable dust cover to help filter out the air as it's drawn in. As for fans, it can support seven 120mm fans on the front, top, and sides or four 140 mm fans instead. If you prefer to go with radiators, it can hold up to 240mm options on the top and up to 360mm options on the front.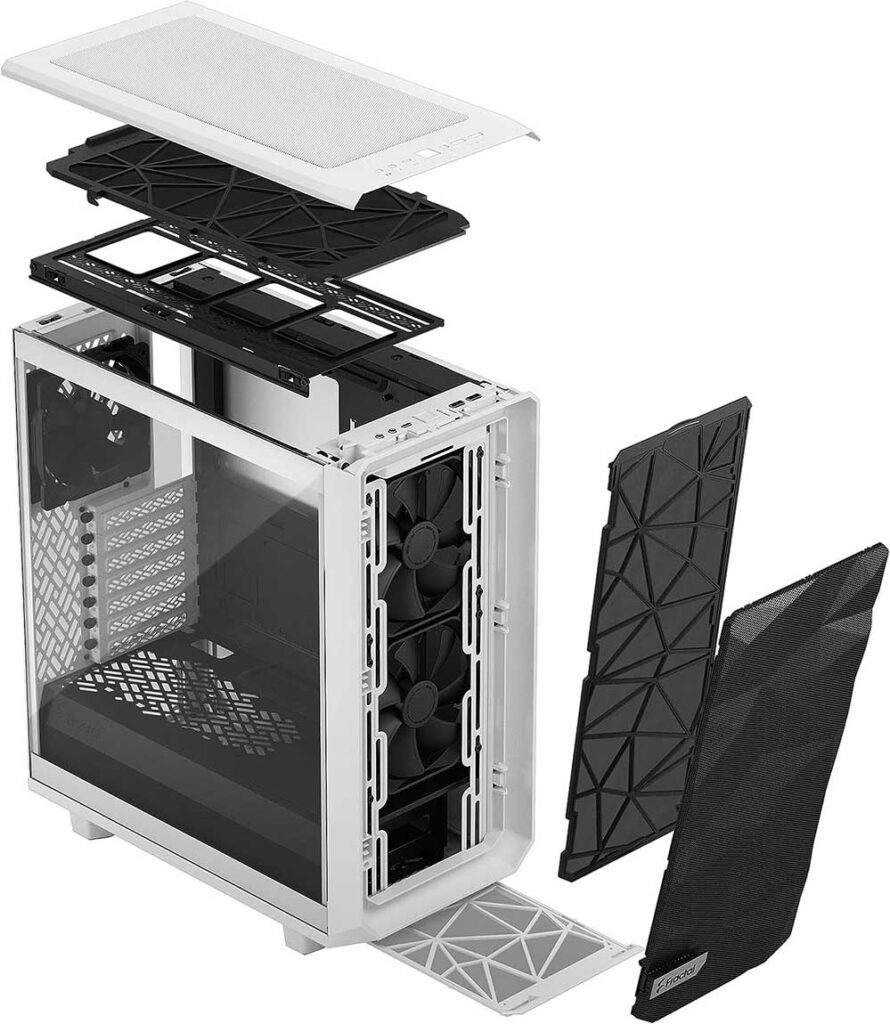 Cable management is a breeze with the Meshify 2. It has multiple rubber grommets that go from the motherboard to the back of the case, allowing you to easily route your cables. Once cables are behind the motherboard, there are three cable alignment clips and six Velcro straps available to keep everything organized. There is also a full PSU shroud to help hide cables from the front.
It's designed to feel and function just like larger cases. For motherboards, it supports Mini-ITX, Micro-ATX, and ATX. The design also allows it to hold graphics cards horizontally, maxing out at 13.4 inches with a front radiator or 15 inches without one. It can also hold up to four 2.5-inch SSDs or a mix of two 3.5-inch HDDs and two 2.5-inch SSDs straight out of the box.
Pros:
Great minimal design
Cable management features
Ample cooling ability
Cons:
Not easy to find all three color options
Best Budget: Corsair 4000D Airflow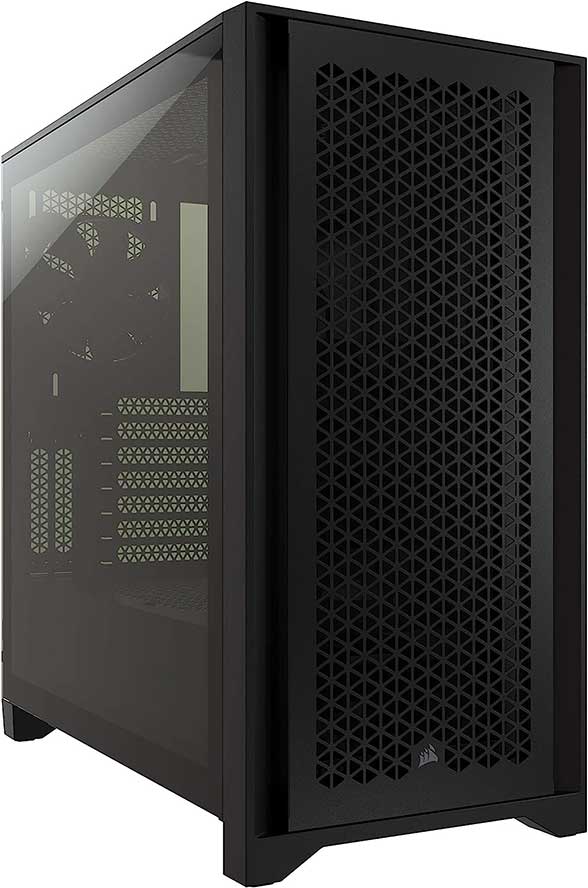 Key Features:
High airflow front panel
Available in black or white
Vertical and horizontal GPU mounting compatibility
The Corsair 4000D is an awesome high airflow case at an amazing price point. You can find it in both black and white. Additionally, it has a fully tempered glass side panel, with the remainder of the case being constructed with a steel frame and front panel to ensure durability. As for size, this case is 17.8 x 9.1 x 18.4 inches.
Airflow is done really well in this case, so your components shouldn't have any overheating issues. It's designed using anti-vortex vanes to help direct and concentrate airflow. Additionally, the front and top panels are mesh to help with air intake and exhaust. The front panel can house two 120mm or 140mm fans, the top can house two 120mm or 140mm fans, and the back can hold one 120mm fan. Additionally, two 120mm Airguide fans are included. As for radiators, the 4000D can house one 280mm or 260mm radiator on the front and one 240mm or 280mm on the top.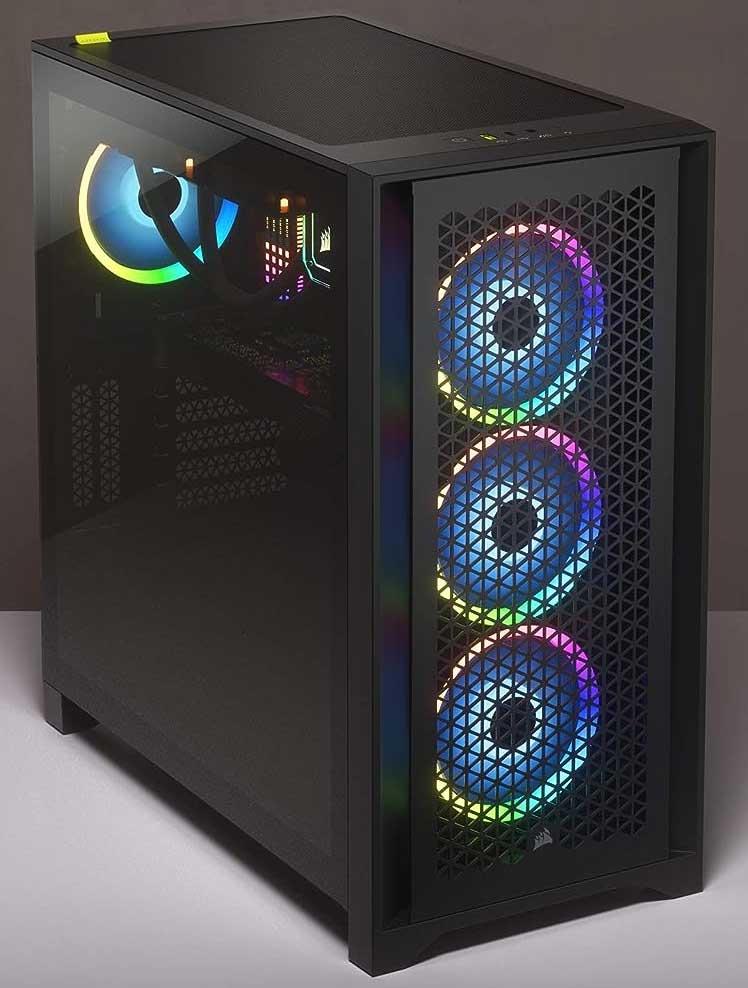 The 4000D comes with the Corsair rapidroute cable management system. All major cables can be routed through a single channel to keep your cords out of the way and well organized. The back panel has additional space behind the motherboard, and velcro ties are included within the cable channel.
This case is compatible with Mini-ITX, micro-ATX, ATX, and E-ATX motherboards. Along with your fans or radiators, you'll have plenty of room for your graphics card with the ability to mount it horizontally to the motherboard, as well as on an included vertical mount bracket. However, the cable for this is sold separately. For storage, you can mount two 2.5-inch SSDs behind the motherboard and two 3.5-inch HDDs in trays next to the power supply housing.
Pros:
High airflow top and front panels
High-quality construction
Multiple ways to mount the GPU
Cons:
Vertical mount cable isn't included for the GPU
Best Budget Alternative: DeepCool CH510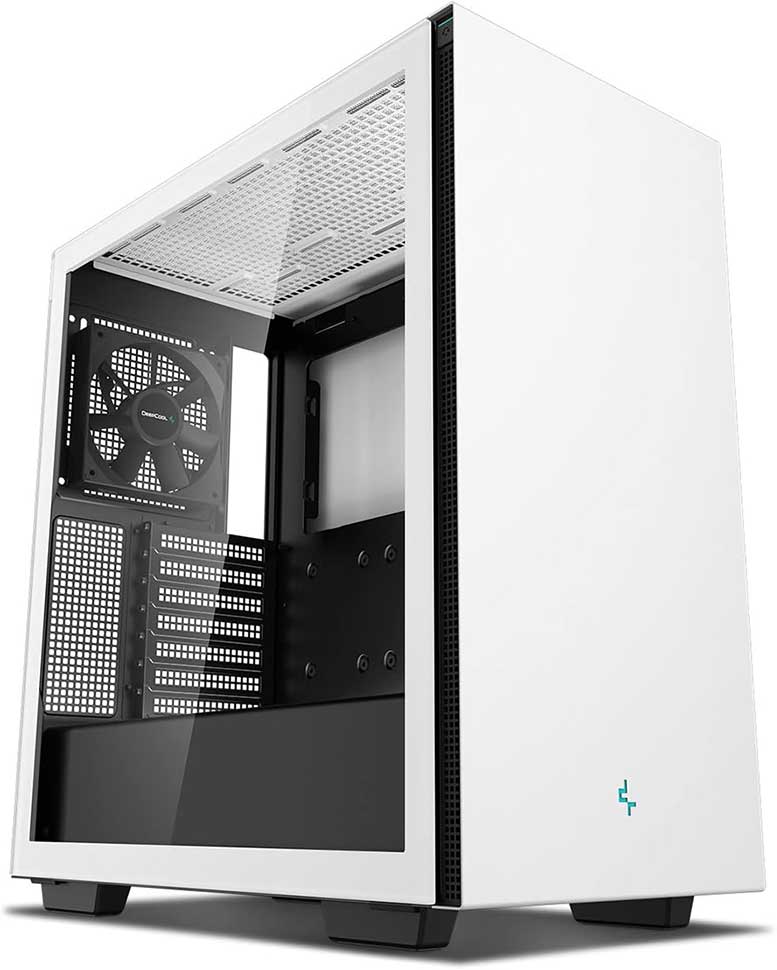 Key Features:
Side vents for airflow
Solid front panel
Built-in headphone holder
The DeepCool CH510 is another great budget choice for your high-airflow PC case needs. It's only available in white but still looks fantastic. As for size, it's 17.1 x 9.1 x 18.6 inches. Additionally, there is no included RGB, so the overall out-of-the-box design is minimalistic and basic.
Cooling, in this case, is done a bit differently than other options out there. Rather than having large mesh vents on the front of the case, it opts for a solid panel. However, behind that panel, on either side is a mesh area for air intake. This should still allow your PC to get the air it needs. Internally, there is plenty of room for your cooling components. It can fit a total of 9 120mm or 5 140mm fans, as well as a 360mm radiator on the front or top.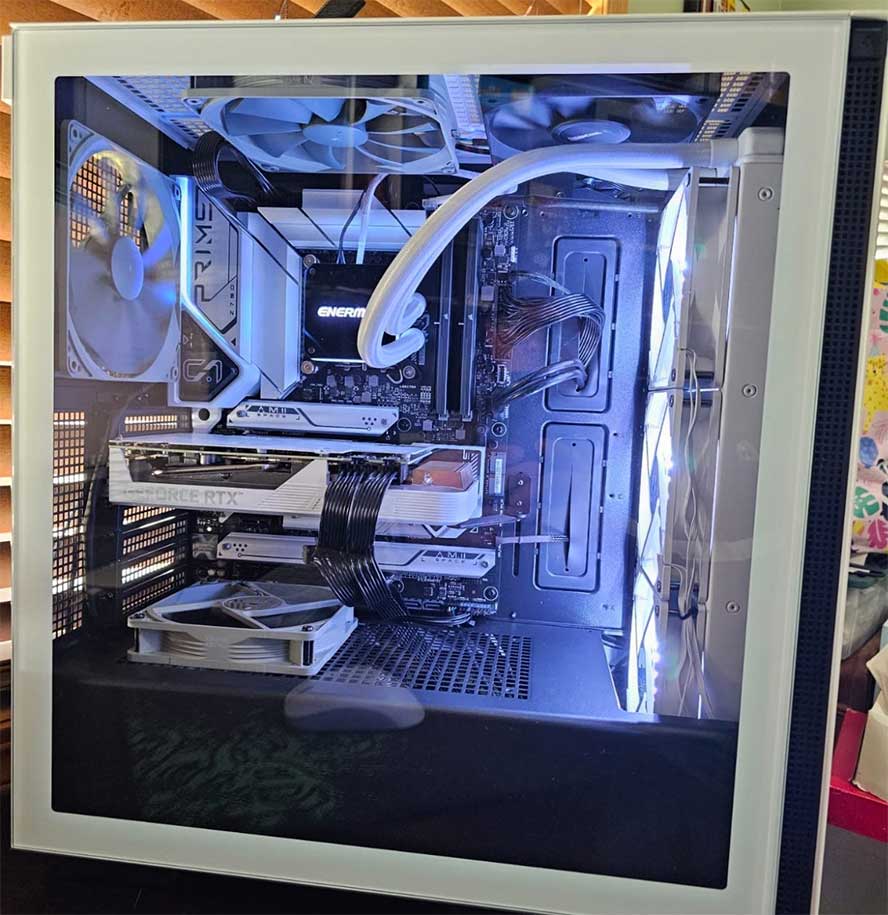 Two rubber gaskets are used to route cables from the front of the case to the back of the case. This helps keep things neat while building. Additionally, there is space on the back side of the case for routing and organizing your cables. Best of all, the exterior of the case has a fold-out headset holder to help keep that organized as well.
The DeepCool CH510 can support Mini-ITX, Micro-ATX, ATX, and E-ATX motherboards. As for graphics cards, it can hold options up to 380mm in length and comes with an adjustable built-in GPU bracket for additional support on larger cards. When it comes to storage, there is space for either three 2.5-inch SSDs or two 3.5-inch HDDs.
Pros:
The headphone holder is a nice touch
Sleek side vents for airflow
Still has a tempered glass side panel at its price point
Cons:
Best RGB: Phanteks Eclipse G360A Ultra-fine Performance Mesh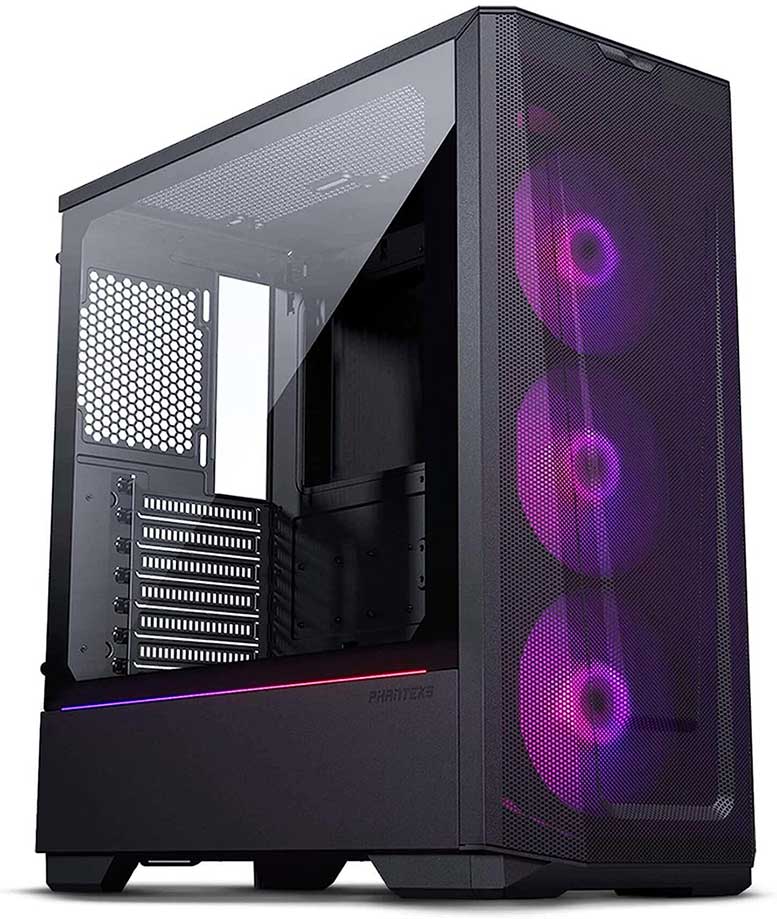 Key Features:
Airflow feature: Three pre-installed RGB fans
RGB light strip
Holds up to 400mm long GPUs
Let's be honest; most gamers out there want RGB in their setups. For those people, the Phanteks Eclipse G360A might be the best option for a high airflow case right out of the box. This case is available in either black or white. Additionally, it comes with three pre-installed RGB fans and an RGB light strip above the power supply cage. As for size, it's 17.9 x 7.9 x 18.3 inches.
The three pre-installed fans are a great start to help with cooling. Additionally, it has a full mesh front panel, mesh top pane, and mesh in the back panel. This allows air to easily be drawn in, through and pushed out. It can hold a total of 7 120mm fans, 4 140mm fans, 1 360mm radiator, or 1 280mm radiator, so cooling shouldn't be an issue at all.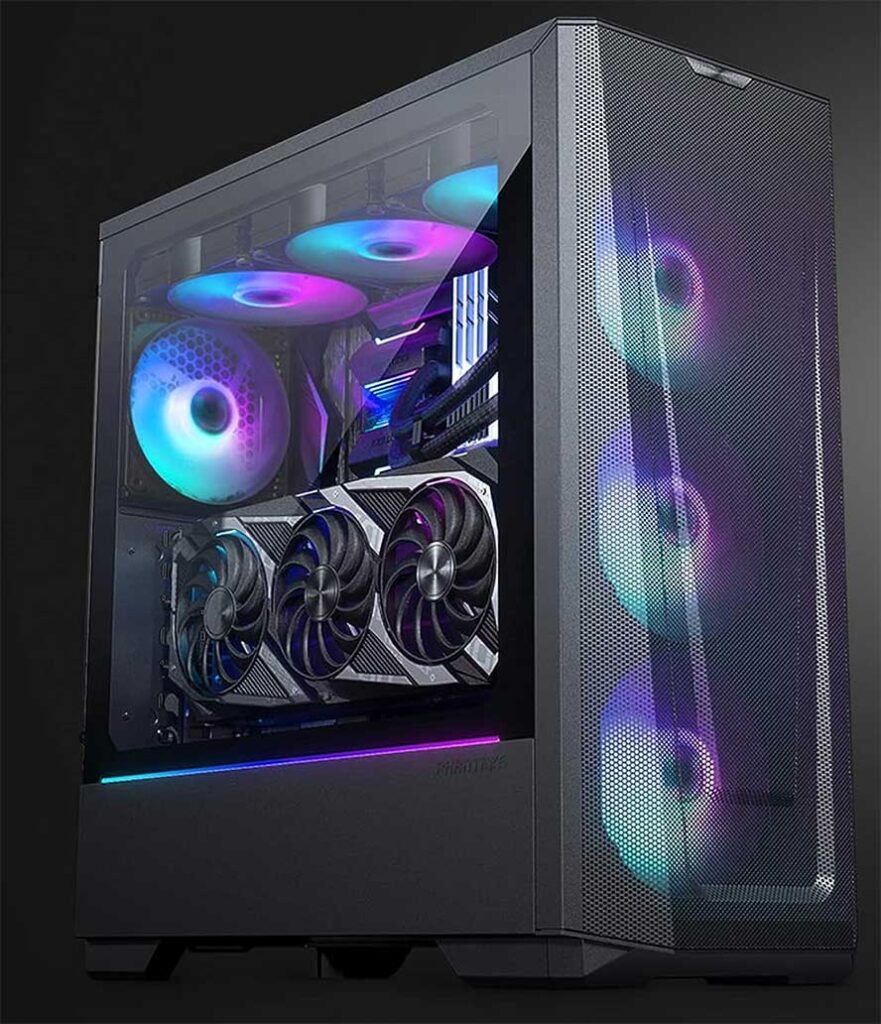 As for cable management, there are some great features. It can easily route all cables from the front to the back. Once in the back, there are pre-installed cable ties to keep everything together and organized. Additionally, the bottom of the case is fully enclosed to help keep PSU cables hidden better.
The G360A can support ATX, Micro-ATX, Mini-ITX, and E-ATX motherboards. Additionally, it can hold graphics cards up to 400mm in length, so most current-gen options shouldn't have any problems fitting. As for storage, there is space for a total of 3 2.5-inch SSDs and two additional 2.5 or 3.5-inch hard drives next to the power supply.
Pros:
Multiple RGB features included
Plenty of great airflow design choices
Supports most graphics cards
Cons:
Can either control RGB with the in-case controls or software, but not both