Not long ago, the average home might have a handful of connected devices. Most people would have a family PC, and little else. If you worked from home, you might have a second computer or a network printer. That was about it. But as technology has moved on, we've all started to rely on more connected devices. For instance, many people save money on phone data by connecting through a home WiFi network. You're already paying for home internet, after all. Why pay extra for a phone plan when you're at home?
The advent of smart home devices has further increased our need for connectivity. Fridges, smoke detectors, and even washing machines are all going online. This makes our lives easier and more convenient, since you can now monitor your home from your phone. But smart home devices require power. This means you'll either need to charge a battery, or have some way of plugging them in. Depending on the device, this may be easier or harder to manage. To simplify things, many devices are powered via Power over Ethernet (PoE). This allows you to install your connected devices without running a second wire or charging a battery.
But a PoE system is only as good as its power supply. If the PoE switch or cables are malfunctioning, your devices aren't going to work. An inline PoE tester can help you isolate where the problem is in your system, and repair it. We're about to review three different PoE testers, and see how they compare. We'll start with the PoE Texas Inline PoE Voltage and Current Tester. This is a PoE tester that can also test the power supply from DC barrel adapters. Next, we'll look at the TRENDnet TC-NTP1 Inline PoE Tester. This is a slick, modern inline tester with an easy-to-read LCD display. Finally, we'll review the KOLSOL PoE Checker. This tester has a secondary unit that works for continuity testing. Which one is best? We're about to dig a little deeper, and find out.
How Does PoE Work?
Before we review any testers, let's take a minute to learn about PoE and how it works. Ethernet cable, like any copper cable, is capable of carrying an electrical current. While it's primarily designed to transfer data, it can also power a low-voltage device. PoE allows you to do just that. Instead of your device requiring a separate power cord, it'll run directly from your Ethernet cord. This allows you to run a single cable, instead of running two. In and of itself, using a single cable saves money on installation. However, since you don't have to worry about plugging into AC power, outlet locations are also not a concern. This means you can position your devices, such as security cameras, exactly where they're needed.
Now, there are some inherent limitations to PoE technology. A Cat 5 or newer Ethernet cable has four pairs of wires inside. However, for speeds up to 500Mbps, only two of these wire pairs are actually used. Only when you reach Gigabit speeds are all four cable pairs actually required for data transfer. At 500 Mbps, the two "empty" cables can be used for electricity. This means that PoE devices can only connect at up to 500Mbps. Any faster, and they won't be able to receive power. That said, a Gigabit connection is the current standard for home networks. Most devices won't need anywhere near that much capacity, at least not individually. 500 Mbps will be just fine for security cameras, credit card readers, and other commonly-used PoE accessories.
PoE is used for a wide variety of devices. Security cameras and WiFi signal boosters are among the most common applications. Because Ethernet wires are already isolated inside the cable, interference is not a concern. That said, you'll need a PoE router or switch. Ordinary networking hardware won't deliver any voltage along your cables. But if you're using PoE-compatible hardware, it's easy to set up and install. Just run your Ethernet cable and everything should work immediately. And if you do run into any issues, you don't have to worry about a separate power cable.
You just need to test your Ethernet cable and networking hardware. That's where a good inline PoE tester comes in!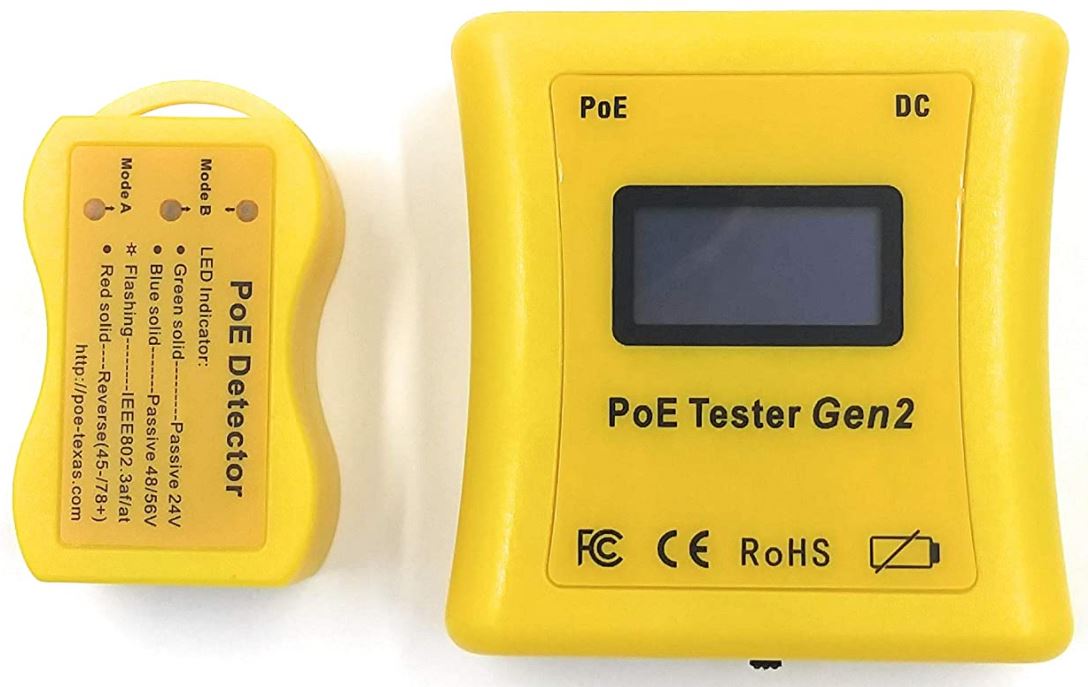 PoE Texas Inline PoE Voltage and Current Tester
PoE Texas is an established manufacturer with a long track record, although they now have a new name. They used to be known as WiFi-Texas, and they produced some high-quality Gigabit PoE injectors. Since their injectors worked beautifully, we were eager to have a look at their Inline PoE Voltage and Current Tester.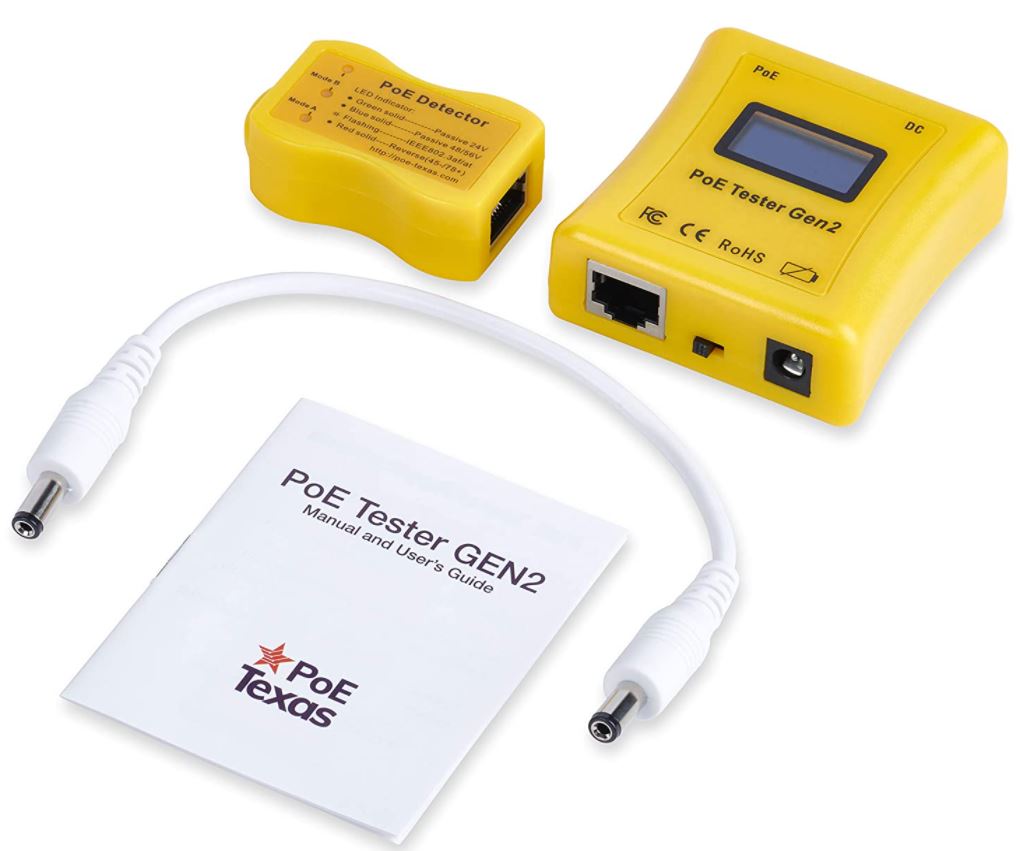 The PoE Texas tester is actually generation 2 of the same product. It's more finely-tuned, and can test VoIP phones and WiFi cameras without interrupting the signal. The Gen 2 tester can also test four-pair PoE cables, which are starting to become available. If you don't need these abilities, you can save a few bucks by ordering the older Gen 1 version, which is cheaper. That said, the Gen 2 has a lot to bring to the table!
The kit consists of two units, both of which are housed in durable construction yellow shells. The larger unit is the PoE tester and DC tester.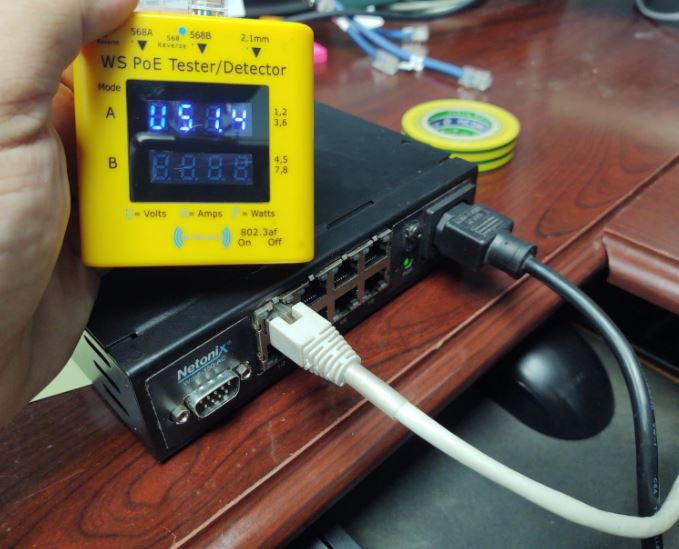 The smaller unit is for continuity testing. However, the large unit has a built-in LCD display that tells you the current voltage it's receiving. It also has two different input ports: PoE and DC. With the flick of a switch, you can go between the two. There's also a barrel-style DC adapter in the kit, for easier testing.
There are also two additional output ports, one Ethernet and one DC. This allows you to place the inline tester in line with your equipment. So not only can you read the voltage supplied, you can also see how much is consumed. You'll be able to easily work out compatibility issues. For instance, if your PoE supply is pushing out 3.5 volts and your device draws five, you've found your problem.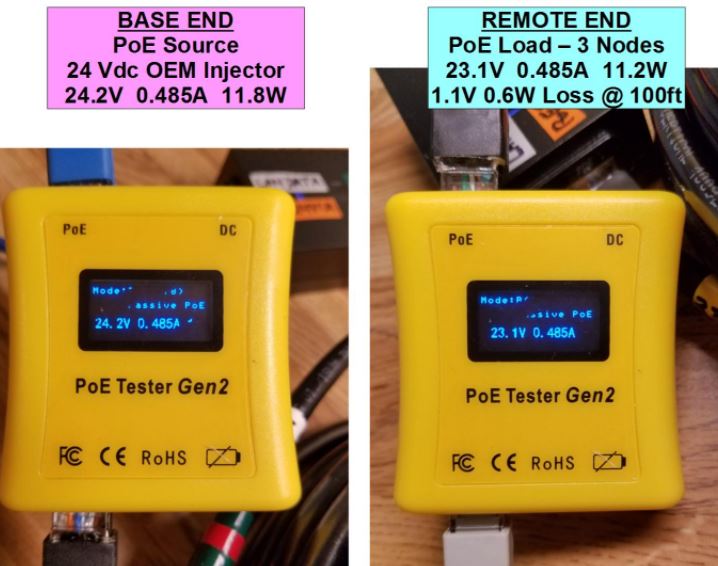 The PoE Voltage and Current Tester can detect power supply in any range from 3.5 to 56 volts. It'll also detect up to a 280-watt current on a DC power supply. On a PoE line, it's a bit more limited, with a sensitivity of up to 28 watts. Even so, this covers anything you're liable to receive either from PoE or an ordinary DC charger.
Using the continuity tester, you can go a bit further. You can check the voltage at the end of a PoE line, and detect the amount of current lost. Both units are covered by a twelve-month manufacturer's warranty. If there are any defects in material or workmanship, you'll receive a full refund or replacement.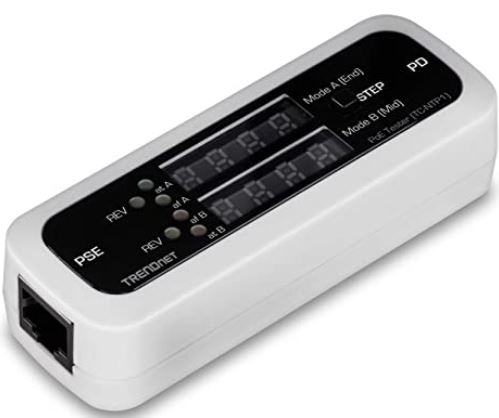 TRENDnet TC-NTP1 Inline PoE Tester
TRENDnet is yet another established manufacturer of networking equipment. In addition to other offerings, they make the TRENDNet TEW-821DAP Wireless Access Point. Based on their previous experience with PoE equipment, we were excited to try the TC-NTP1 Inline PoE Tester.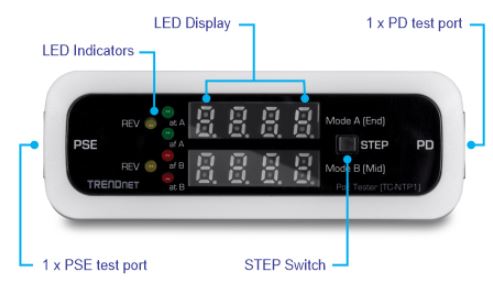 The TC-NTP1 has two ports, one on either end of the device. One is for connecting to your PoE device (PD) while the other connects to your Power Supplying Equipment (PSE). Put it in between the two devices, and you can diagnose any power issues, as well as connection issues. If you only need to check connectivity, there's a cheaper version that tests data only.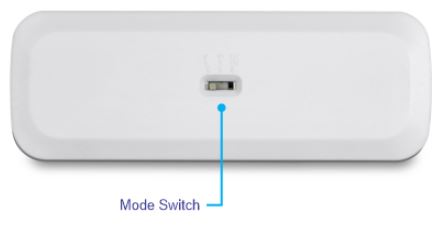 The LCD display is big, bright, and easy to read. It's also powered directly by PoE, so you don't have to worry about any batteries. There's also a Step button, which allows you to change testing units. You can switch between voltage, wattage, and amperage with a single tap. The same button can be used to lock the display into one mode, to monitor a real-time situation.

You can also switch between three different modes. The first is "T-mode," which gives you the total voltage output of your PoE switch or injector. "N-mode" will test the power draw from your PoE device. It's useful for determining the voltage of a non-standard device. Finally, "I-mode" is used for ordinary inline testing. In this mode, you'll see the voltage, wattage, and amperage active on the current cable.
In terms of compatibility, the TC-NTP1 will work with the latest Ethernet protocols. It supports 802.3af, at, and ab. For standard PoE devices, it will support testing of up to 100 watts. Non-standard currents can be detected between 11 and 60 volts. Unless you're using some very unusual equipment, you'll have all the testing capacity you'll ever need.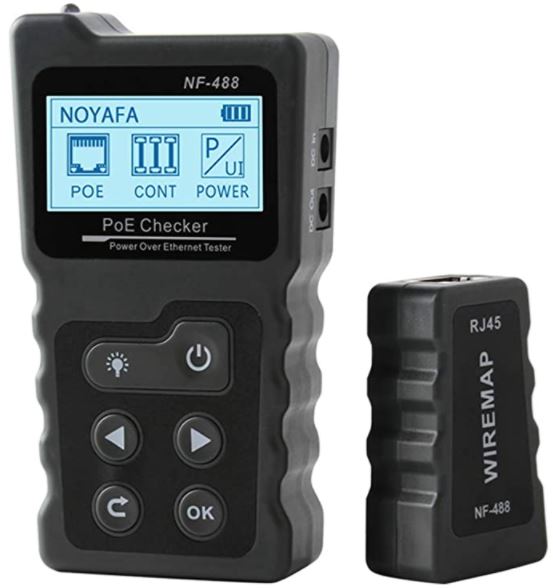 KOLSOL PoE Checker
The KOLSOL PoE Checker is a beefy device that's designed for frequent use. With a molded grip, it's easy to hold on to. The buttons are also large and easy to operate. This makes them easy to manage, even if you're wearing gloves. The KOLSOL tester is also well-designed for working in the dark. There's an LED lamp on the front, which can be activated with the touch of a button. Because of this feature, this tester can't be powered solely by PoE. It requires three AAA batteries, which are installed easily in the back of the unit.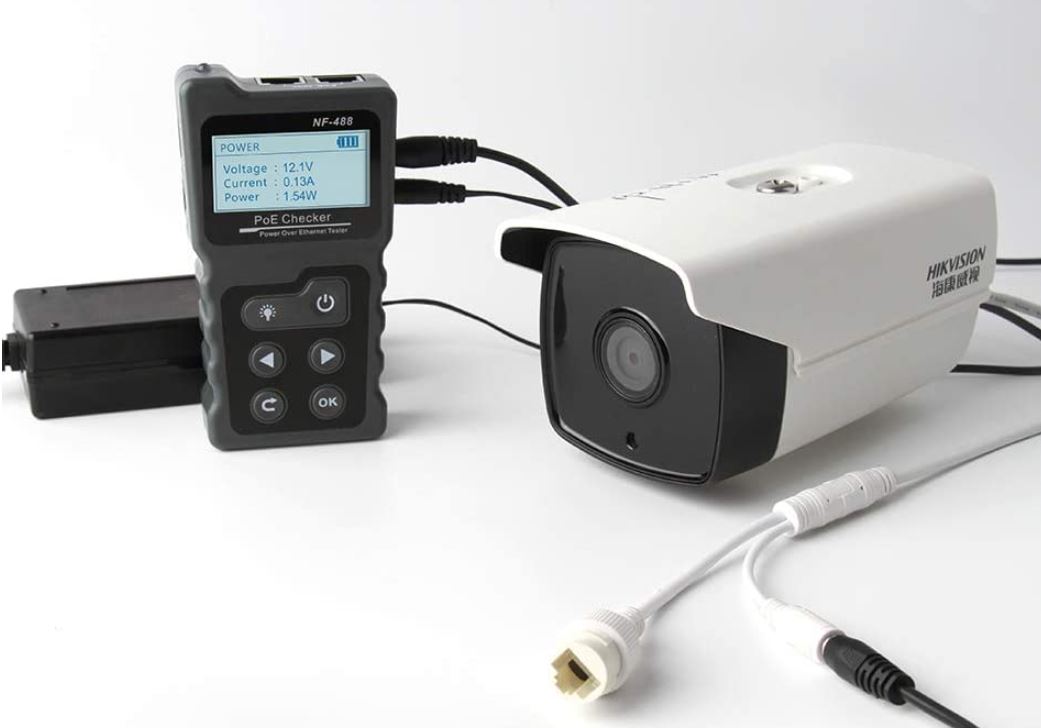 In addition to the main tester, the KOLSOL kit includes a small continuity checker. This can be placed on the other end of a long line to test continuity. All other functions are performed on the main unit, via the two Ethernet ports on the top. You can use both ports for inline testing. In this mode, you'll see how much voltage is consumed by your device, and how much is left over. You'll also see if your power supply is insufficient to the task. In addition, you can also perform testing on individual ends of the connection. You can use standard mode to determine voltage, power standard, and polarity on normal PoE devices. Last but not least, you can also perform non-standard testing, to determine relevant information on non-standard PSEs.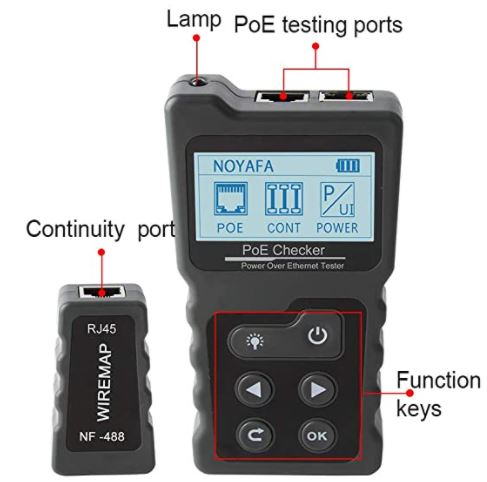 Additionally, the KOLSOL tester is suitable for looback testing. In this mode, the signal is sent from one device and looped back to the same device. This is useful for performing testing on individual network nodes, to pin down the source of a problem. Some loopback tests require a specialized wrap plug, which is not included in the kit. That said, a short testing cable is a small additional investment if you want to use this feature.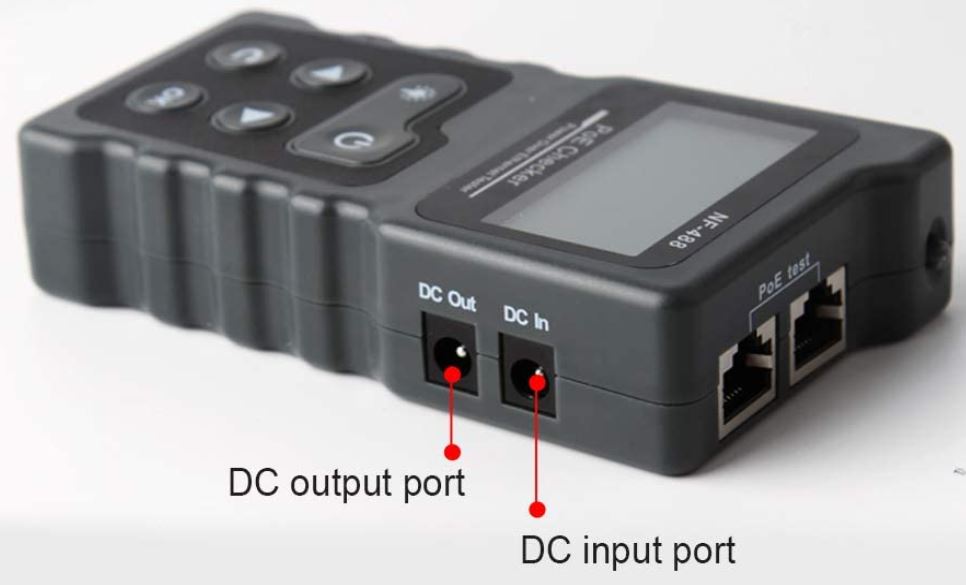 Final Verdict
Clearly, each of these inline PoE testers has some value to bring to the table. But which one is right for your needs? We started out by reviewing the PoE Texas Inline PoE Voltage and Current Tester. This is a powerful tester that can check both PoE and DC currents. It has an LCD display, so you can clearly read all of your information. It also allows you to check continuity as well as current. This can be incredibly helpful on long runs, since you can quickly check both ends. A trio of LED lights on the continuity tester makes it almost as easy to read as the main display. The PoE Texas tester is a great choice if you want to check DC power supplies or work with Cat 7 cable.
The TRENDnet TC-NTP1 Inline PoE Tester doesn't have the same continuity testing capabilities as the PoE Texas unit. However, the display is very easy to read and understand. With the Step button, you can measure a variety of metrics, all by tapping the button. You can test a wide range of voltages and wattages, covering a wide variety of equipment. This is an excellent choice if you want a future-proof tester that's also easy to use.
The KOLSOL PoE Checker is ideal for loopback testing, since it's one of the few testers to support that feature. If you need to isolate individual network nodes, it's the best choice of the bunch. It also has a built-in light for working in the dark. The only downside is that it requires batteries, which aren't included in the box.
Meet Derek, "TechGuru," a 34-year-old technology enthusiast with a deep passion for tech innovations. With extensive experience, he specializes in gaming hardware and software, and has expertise in gadgets, custom PCs, and audio.
Besides writing about tech and reviewing new products, Derek enjoys traveling, hiking, and photography. Committed to keeping up with the latest industry trends, he aims to guide readers in making informed tech decisions.