In the distant past, sound capabilities weren't a standard feature for motherboards. These days, just about any motherboard you buy will offer onboard sound, just like most motherboards offer onboard graphics. Those free graphics capabilities are widely known to be too feeble to drive Blu-ray content, or to play the latest graphically-intense games. What many people don't realize is that their free sound capabilities aren't any better. That's why lacking an adequate sound card is one of the most common bottlenecks for any entertainment PC.
Humans are visual creatures. In our rush to prioritize video we often forget the importance of sound. Yet it's been said 80% of the emotion of a movie or game is carried by sound. And the difference between great sound quality and average sound quality is just as obvious to the casual listener as the difference between an old CRT television to a modern HD-TV.
Truly High Definition Content Requires a Sound Card
If you've got high-quality speakers or headphones and you don't have a sound card to match, then you're not really hearing your own equipment. That's like purchasing a 1080p monitor, but never bothering to set the resolution higher than 720p. It may sound absurd, but countless people do it. Just because you're mostly capable of playing high-definition content doesn't mean you're necessarily doing it.
Just about any video card made in the past five years will be good enough to play Blu-ray films, which make use of super-massive amounts of data to provide a better picture. But video isn't the only place where bitrates have increased in the past 30 years. Clearly not as much consideration has been given to the audio side of this equation.
As many as 50% of people are now using Blu-ray drives in their computers, many of them also own high quality speakers or headphones. And after having paid hundreds or thousands of dollars, they're still not getting truly HD sound without a sound card.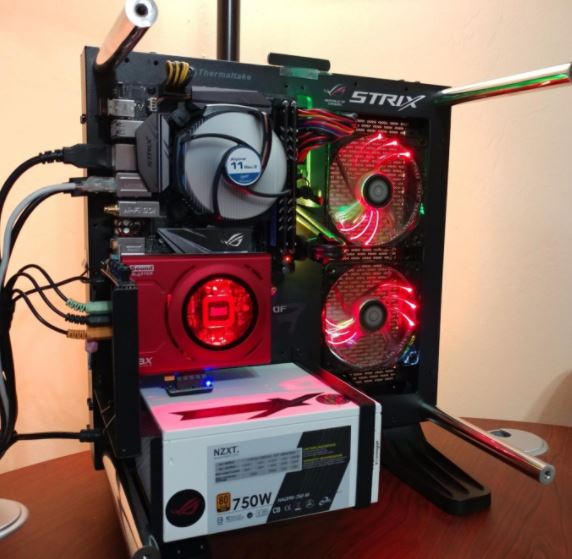 HD Audio Improvements
Just what kind of differences in audio quality are we talking about? High definition audio content is perhaps best exemplified by Blu-ray, which has approximately two to four times greater quality than a CD. Blu-ray discs support 5.1 audio channels with 96kHz sampling, or 7.1 channels with 192kHz sampling. In other words, they're capable of sending lots of data very quickly to surround sound setups.
But here's the catch. The content of Blu-ray discs, including the audio, has been protected by anti-piracy technology. As a result, the disc's content is sent through a protected channel that ensures even if pirates manage to make copies of the disc, they're unable to make perfect copies using downgraded audio content.
That protected channel also ensures anyone who plays Blu-ray content from a sound card without 5.1 or 7.1 support will end up disappointed with the results. They'll soon find the audio content gets down-sampled to approximately the same as sound quality as a CD. In other words, whether you have a high quality audio source or not, you're locked behind technology that's three decades old.
Gaming Audio
Gaming is another realm filled with high-quality sound sources. Major studio game releases make use of multi-million dollar budgets, and part of those massive budgets involves the developers placing considerable time and resources into meticulously crafting immersive audio for the game.
Things like positional audio effects to move sound around you in a three dimensional space, making games more immersive, and giving a competitive edge to those with the right sound setup. Major franchises like Mass Effect and BioShock routinely make use of this technology, but only for people who have the right sound card.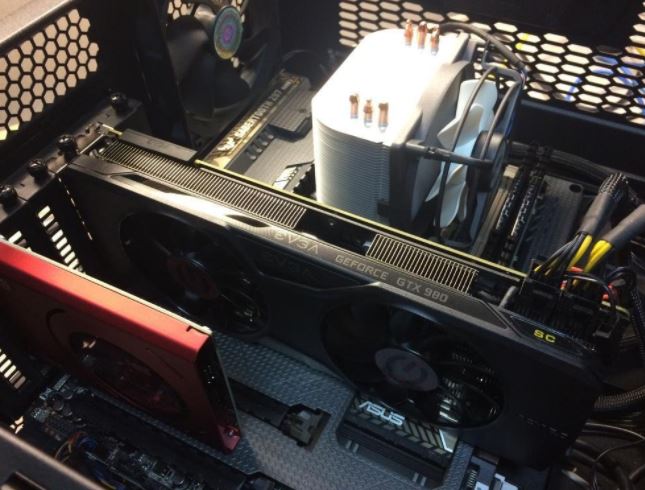 Choosing a Sound Card
Clearly a sound card is an essential part of any home entertainment PC, but what makes for a great soundcard? And how do you choose the right card for you? A good place to begin is to understand a few of the technical specifications that manufactures' will throw at you.
For example, the dynamic range of the card refers to its ability to recreate a range of audio voices for vocals and instrumentals. Dynamic range is measured in decibels, and great cards can provide 109dB or more. Another metric to watch for is frequency response, the range of tones the card can produce. Most humans can hear between 20Hz to 20kHz, any good card should cover this full range.
Noise, Bit Depth, and Microphone Quality
At some point in time, you've probably been using your PC microphone and received complaints about the quality of your mic, or heard someone else complain about the sound despite using an expensive headset. When mic quality drops, people tend to blame the VOIP program or their microphones, but microphone quality can be torn-up by your motherboard, too.
That's because audio components don't necessarily feel at home tucked inside of a computer. Great sound cards have their components shielded to be protected from the other electronics in your computer, reducing the chance distortion or noise will affect your sound. Signal to noise ratio (SNR) is a measure of the strength of the signal relative to background noise. In other words, higher SNR ratio results in less noticeable noise and interference in your sound. You're looking for cards running 105dB or more.
And then there's bit depth, which relates back to audio sampling. If the digital data you're listening to was a pie, greater audio sampling is like slicing off a larger piece. Bit depth relates to the density of the slice. For 5.1 or 7.1 audio, you're looking for as 24-bit card that will support 192 kHz sampling. In other words, a card that can handle a large, thick slice of rich audio data.
Sound Channels & Amplifier
A 5.1 channel stereo system involves 5 speakers and a subwoofer. The two extra speakers involved in a 7.1 system adds depth and precision, but also requires considerably more strength on the part of your sound card. If you don't plan on using a 7.1 sound system, you'll be able to save by buying a slightly leaner 5.1 card.
All speakers need an amplifier, even headphone speakers. Most high-quality audio equipment draws more power than your computer can send through a 3.5 aux jack, or a USB port. That's why many sound cards offer an amp, which pulls enough juice from your computer to properly drive high end headphones. Fortunately, the size of the amp isn't something you need to pay attention to unless you have very specific needs for your equipment.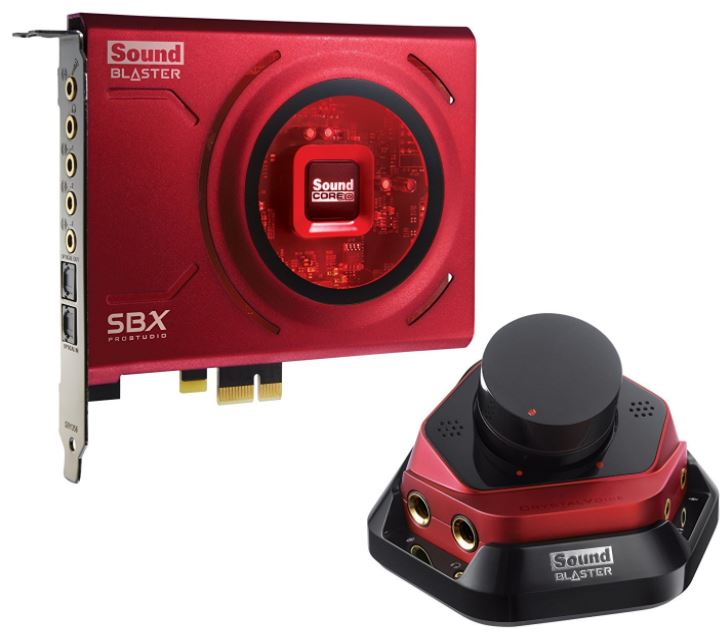 Creative Sound Blaster Zx
If you want a solid sound card for enjoying sound-rich media, you can get the essentials with Creative's Zx card. From a glance, you'll notice the sleek aesthetic, as the card is totally covered with bright red EMI shielding. The beautiful red design isn't just for show; it keeps your sound protected from electronic interference from inside your PC. However, the red LEDs illuminating the card are definitely just for show, and provide an aesthetic that will be at-home in any entertainment PC.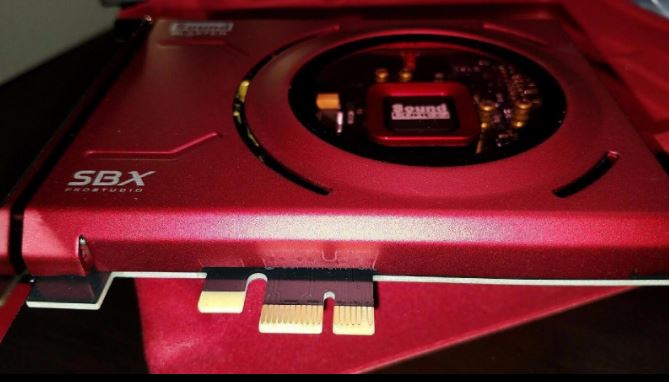 Features & Specifications
Like any good modern card, this Zx uses a quad-core audio processor to keep your PC performance from taking a beating while producing read audio. The red plating holds the Zx to an extremely high standard of 116db signal-to-noise ratio, which is about three dozen times better than what you'll get from motherboard audio. The supported 24-bit 96kHz audio resolution is ideal for 5.1 channel sound, though you won't find 7.1 support if that's what you're looking for.
As a nice little bonus, Creative uses Crystal Voice technology will help you clean up echoes and background noise from your voice, ensuring your communications are clear. That helps keep your voice level better maintained as you get closer or further from your microphone, ensuring call clarity doesn't depend on you remaining rigidly placed in front of your mic.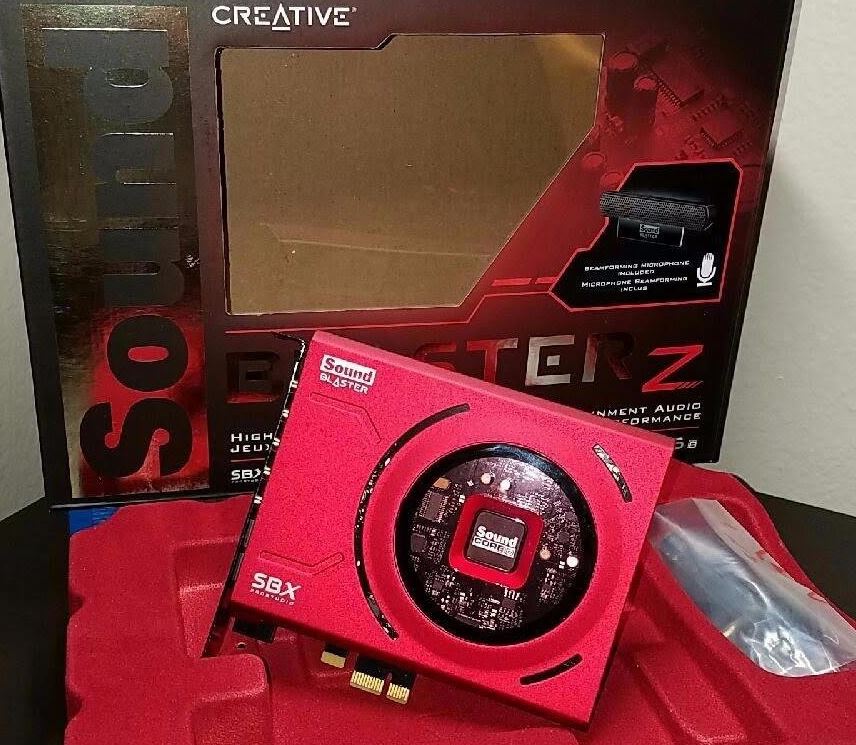 Connectivity
The 3.5mm headphone jack is backed by a reasonably strong Maxim amp, suitable for mid-grade audiophile-tier headphones. On the back of the card you'll find a 5.1 channel connection, a microphone jack, and TOSLINK port. The traditional audio jacks make use of gold-plated connections to ensure the signal stays strong and doesn't suffer from corrosion with time. And for a little more control, the connectable audio panel includes a built-in knob that lets you adjust headphone levels without having to load up software and toggle between windows. What more could you ask for out of a 5.1 card?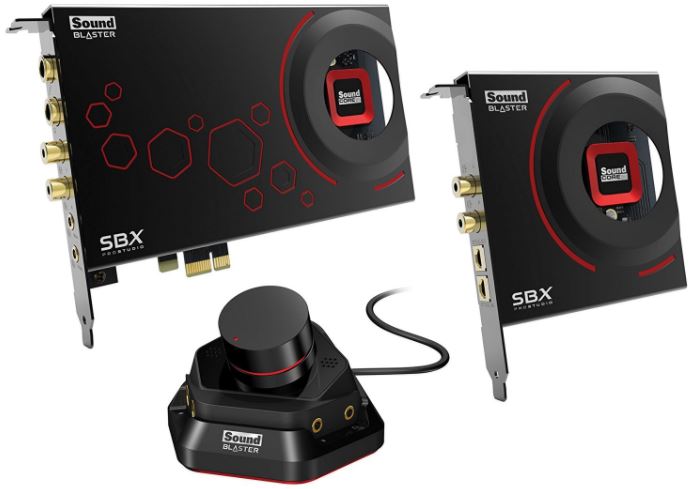 Creative Sound Blaster ZxR Audiophile Grade Gaming Card
Equipment for sound recording is held to a higher standard than anything your typical consumer will ever care about. If you're not just listening to audio but trying to create it, then you need a card that's built to audiophile specifications. You also want that card to be strong enough to play the sound it's creating back to you, so you can do in-studio sound monitoring.
Creative's ZxR is exactly that – the high quality sound of a Zx card that's also provides studio-quality sound recording. In addition to a robust 5.1 channels, you'll find support for Stereo allowing you to listen to lossless 24-bit 192 kHz audio.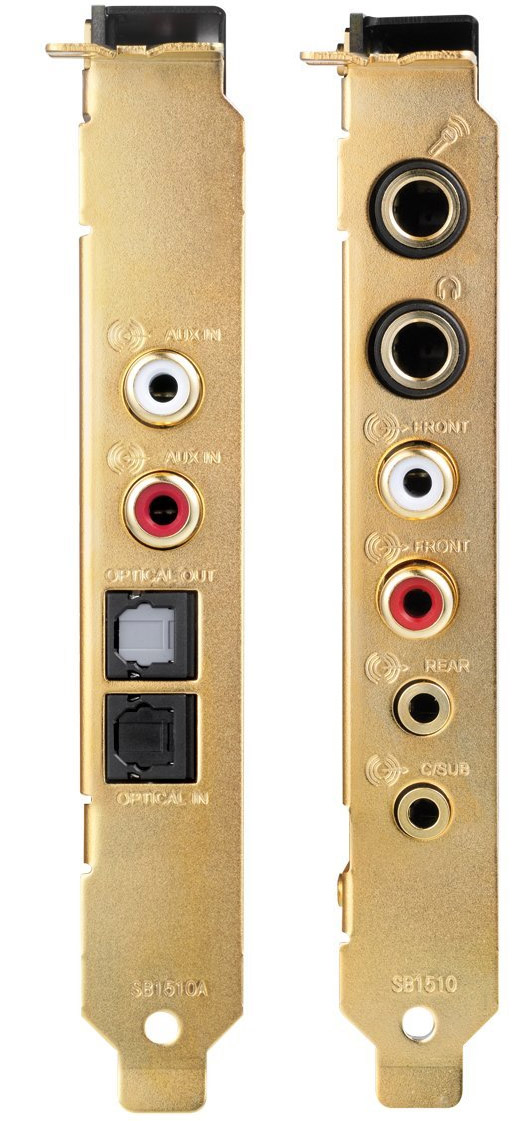 Features & Specifications
Like the Zx, the ZxR uses the same CrystalVoice technology to ensure you get clear audio calls. Whether you're making an important business call on Skype or you're shouting at teammates in a game, this card can keep your voice clear. Another neat feature is what they call "scout mode", which alters the audio sensitivity threshold in games to help you hear enemies before they can hear you. That's a fairly strong advantage in countless competitive games.
As mentioned above, you'll find studio-grade audio recording with 123dB analog-to-digital converters. Uses a SNR of 124dB which is strong enough for even commercial use. And the powerful 600-ohm headphone amp is ready to drive whatever high-end audio equipment you can throw at it, so you'll be able to power studio monitoring headphones with ease.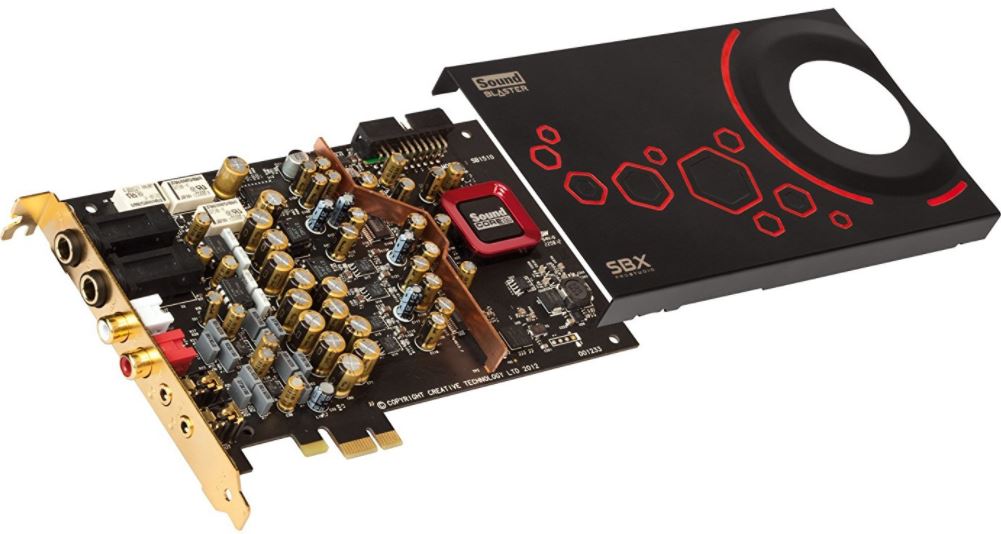 Connectivity
The ZxR makes use of quality audio cabling designed to hold up, along with copper plating for shielding. It includes a DBpro cable, an optical cable, RCA aux-in port, and optical inputs for recording. With a single cable, you'll be able to connect to 5.1 sound.
While the Zx has an amp that will work fine for nearly anyone, the ZxR has a slightly stronger amp that's more suitable to driving world-class headphones. And like the Zx, you'll find the connectable audio panel that makes swapping between headphones and speakers as easy as flipping a switch.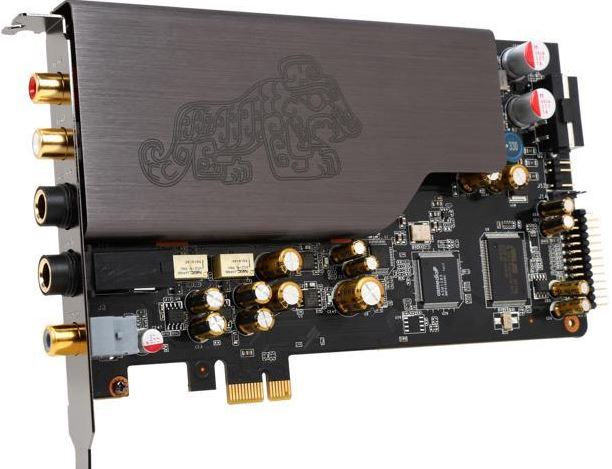 ASUS Essence STX II
Just like there are a wide range in the power of graphics cards, there's a wide range in sound cards. Sometimes you need more than a sound card that sounds good, and sometimes you need a sound card that's strong enough to take on the challenge of feeding audio through 7.1 channels.
The ASUS Essence STX II was made for audiophiles who absolutely must have top-notch sound, and who demand flawless support for 7.1 channels. Using the 24-bit 192 kHz architecture you're looking for in a 7.1 card, this card offers one of the most immersive sound experiences you can get at home.

Features & Specifications
In this card, ASUS makes use of 124SNR for a clean sound, and a powerful 600ohm headphone amp that won't stutter to drive powerful headphones with a rich, full voice. With Dolby headphone technology, even if you're not taking advantage of stereo surround sound, you'll find that this card reshapes two-channel audio to create surround sound for systems operating on two speakers. It's a passable imitation for people who want potent sound but don't want to get six or seven separate components involved.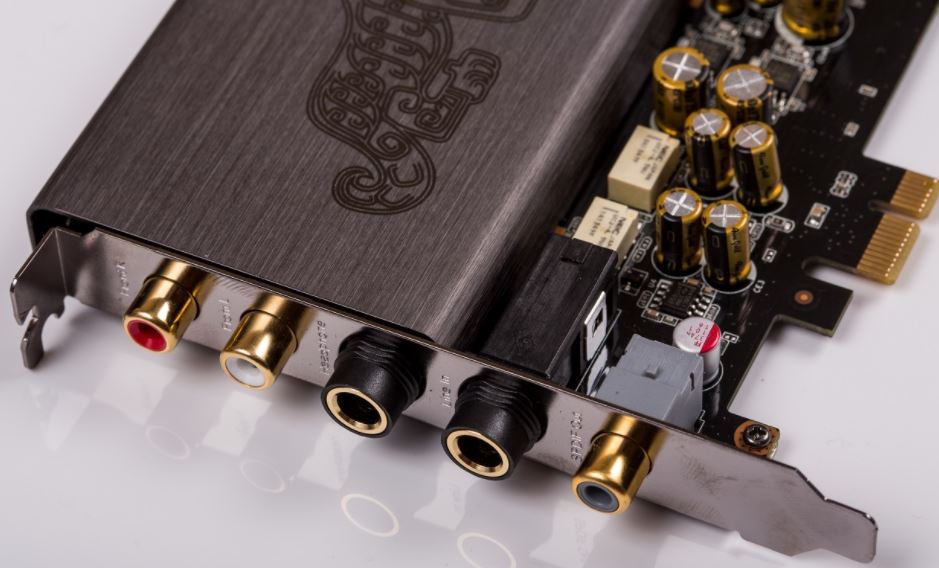 Connectivity
Along the back of the card you'll find a ¼'' aux-in and a ¼'' mic-in port. There's also one SPDIF cable port and two RCA ports. On the front panel, a ¼'' headphone jack. In other words, you'll find all the support options you need to take full advantage of 7.1 sound. The absence of standard 3.5mm aux jacks will alert some people, but if you absolutely must connect through 3.5mm ports, it's easy to find a ¼'' to 3.5mm adapters.
Some minor notes regarding compatibility. If you're using a EVGA motherboards you won't find any support for this card. Additionally, Windows 10 support still has a number of problems, but this card runs extremely well on Windows XP, 7, and 8.
Choosing Between 3 Top Quality Sound Cards
If you're looking for excellent sound quality as well as excellent sound recording, you can't do better than Creative's ZxR. It's been specifically built with audiophile-grade components to emulate studio-quality recording, from the quality of the parts to the features themselves. Relative to the Zx, the ZxR has a stronger SNR ratio, more options for connectivity, and heavily features options for recording artists.
But maybe you don't care about recording audio. In that case, you'll be better off with the Creative Zx, a mid-tier 5.1 audio card perfect for someone who wants to escape the basic sound they're getting from their motherboard. It's got a quality build, will improve the sound quality of your calls, and can make just about any home entertainment setup sound better.
But if you're looking for the very best sound possible, or if you're looking to make use of a full 7.1 surround sound system, then you want the ASUS Essence STX II. In terms of providing top-quality 5.1 and 7.1 support, this card has no competitors. Anyone working with high-end speakers or headphones needs a sound card that can keep up, and this is that card.