Over the past couple of decades, we've radially changed how we light our homes. In the early 2000s, most people were still using old-school incandescent bulbs. These were energy intensive, burned out frequently, and got hot while in use. When we transitioned to CFL bulbs, many people rejoiced. These were more energy efficient, and lasted significantly longer. On the downside, they took some time to "warm up." When you first turned them on, they were very dim, which limited their utility. If you needed instant illumination, you were inevitably going to be disappointed.
Then, LEDs hit the scene. LED bulbs last even longer than CFLs, and they turn on instantaneously. If that's not enough, they also last longer, and they're much harder to break. Furthermore, LED bulbs haven't just taken the place of traditional light bulbs. Because LED emitters are so small, they've taken on all kinds of shapes and forms. There are LED light bars, panels, and all-in-one light fixtures. And if you want something more minimalist, there are also LED light strips.
Note: At no extra cost to you, we may earn a commission for purchases using our links. Learn more.
These strips can be a single color, or you can use a controller to provide a color-changing effect. They're great for accent lighting, or even for room lighting in a club or restaurant. On the other hand, they're inherently ugly, with exposed circuitry and diodes. As useful as they are, you don't want the strips themselves to be visible. That's where an LED diffuser channel comes in handy.
We're about to review three of the best LED diffuser channel system's available today. These channels will keep your bare light strip covered, while still allowing you to light your space. To find out which one is best, we'll need to look at a number of features. We'll have to talk about the form factor, and how the channel is designed. We also need to discuss the covers, and how they affect your light's appearance. We'll go over the installation process, as well, along with any included mounting hardware. Once we've considered all of these things, we'll have a clear understanding of what we're dealing with.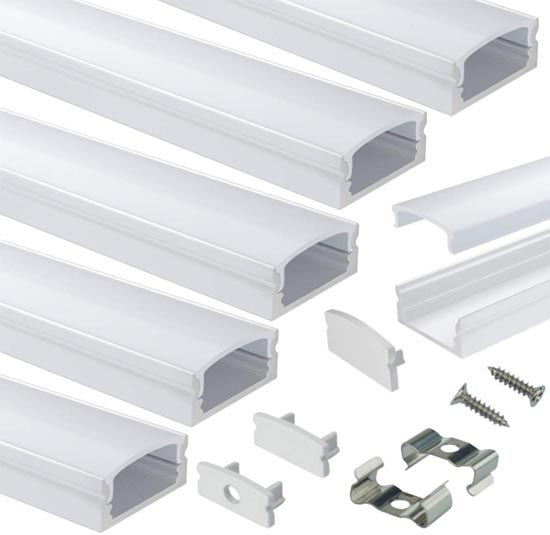 Best Overall: Muzata U-Shape LED Aluminum Channel System
The Muzata U-Shape LED Aluminum Channel System comes in three different versions. The first is a wide profile aluminum with slightly concave sides. The other is a more blocky version with scalloped sides, available in plain silver or white aluminum. The wide profile has a total size of 11/16-inch wide and 5/16-inch tall, with interior dimensions of 15/32" x ¼". The blocky profile is a bit larger, at 23/32" x ½", and interior dimensions of 5/8" x 15/32". Both form factors have a milky cover, which is great for most cosmetic applications.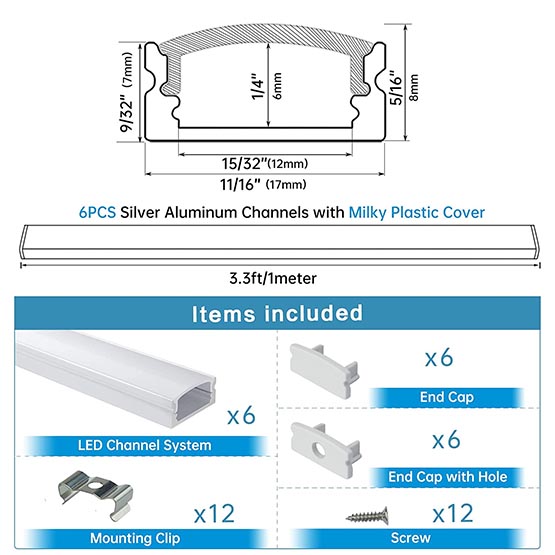 This system consists of six separate 3.3-foot channel sections. These can be joined together with straight and corner adapters, which are sold separately. Or, if you're handy, you can miter cut your channel sections as necessary to achieve the desired shape. The kit includes 12 endcaps. Six of these are solid, and the six others have a hole to admit your light strip's power cable. You also get 12 screws and 12 metal mounting clips. Screw the clips into place, snap your channel system in, and you're ready to go.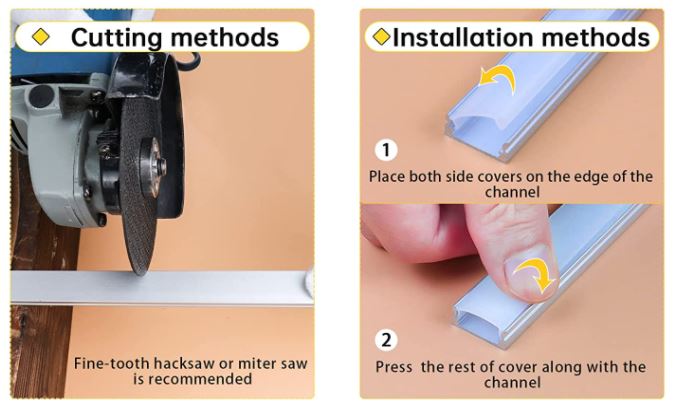 In addition to that, the Muzata channel is designed to be weather-resistant. This won't make much of a difference for indoor applications. But for outdoor use, this channel is a great companion for waterproof LED strips.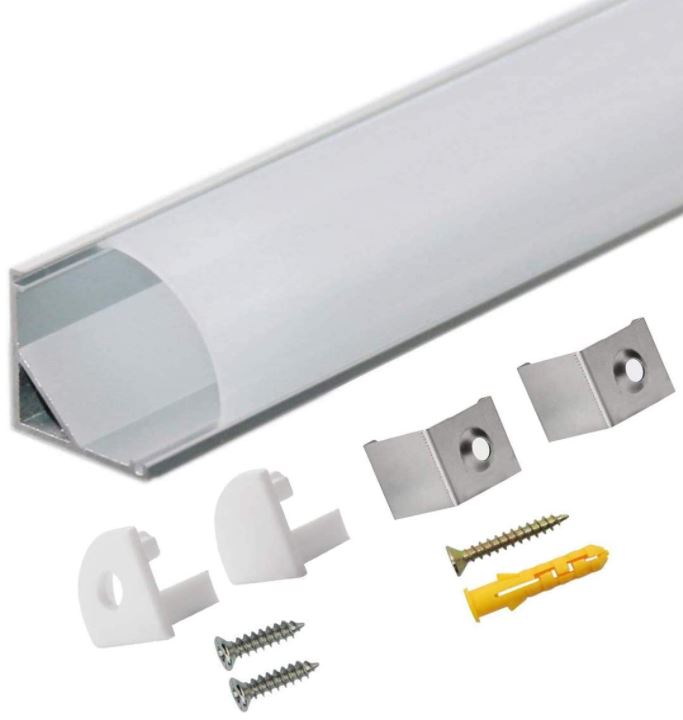 Best for Corners: StarlandLed V-Shape LED Aluminum Channel
The StarlandLed V-Shape LED Aluminum Channel is a corner-mount LED diffuser. The main housing is a brushed silver aluminum, with little flanges that retain a milky polycarbonate cover. The radius is 0.63-inch, and there's a diagonal internal portion of the frame. This forms a flat surface 0.41-inch wide, which is where you lay your LED strip. As a result, your diodes will be pointing at exactly a 45-degree angle. The cover snaps easily into place over top, and assembly is a breeze.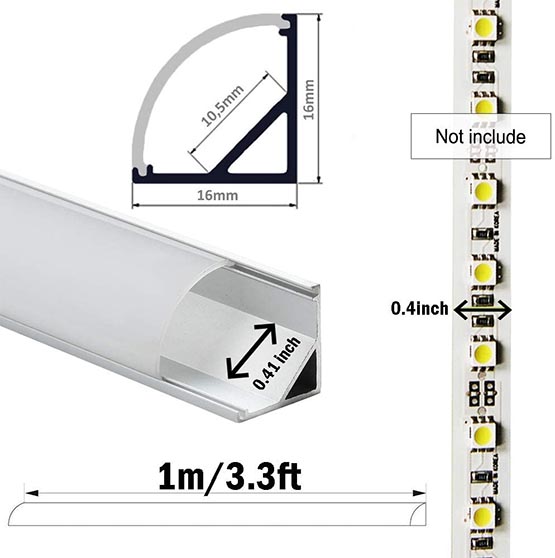 There are two different lengths available: 3.3-foot and 6.6-foot. The 3.3-foot version comes in 6-, 10-, 20-, and 40-packs. The options for the 6.6-foot version are a bit more limited. It comes in 6-, 10-, and 18-packs. Even so, you'll be able to tackle very large or very small projects with ease.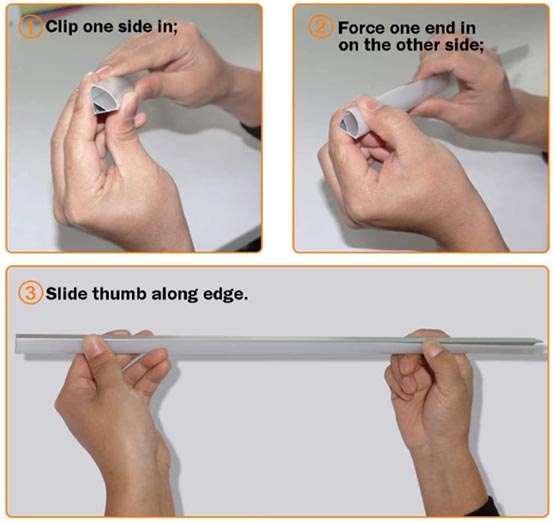 The aluminum itself is lightweight, and easy to cut with a non-ferrous metal blade. Each individual length of channel comes with everything you need to install it. There will be a pair of rubber end caps, one solid and one with a hole. There will also be two screws and two mounting brackets.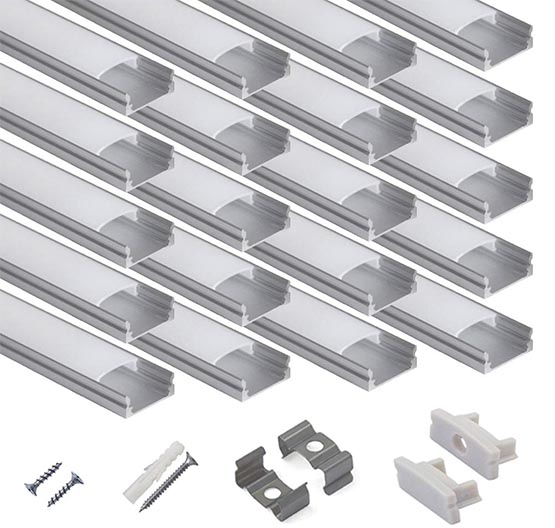 Best Runner-Up: hunhun U-Shape LED Aluminum Channel System
The Hunhun U-Shape LED Aluminum Channel System is designed for surface mounting. It has a wide, flat profile, at 0.69-inch wide and 0.28-inch thick. The inside is a bit narrower than you might expect, but it can still accommodate a reasonably large light strip. The inner channel has a width of 0.48-inch, which should be more than enough. The outer portion of the aluminum track has a slight indent in the sides, but is otherwise smooth. A milky white cover sits inside, and provides excellent light diffusion and dispersal. These channels come in a 20-pack, in lengths of 3.3 feet.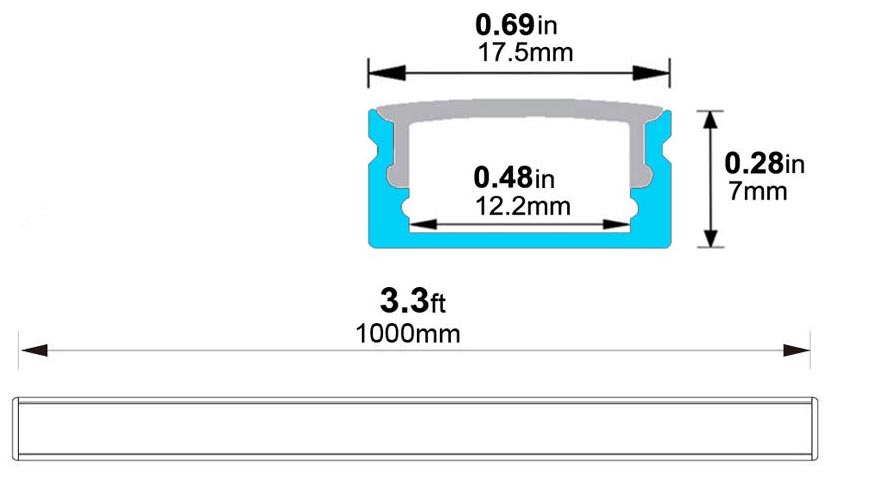 One thing we particularly liked were the end caps, which have a wide flange that keeps light from leaking out. 48 end caps are included in the package, 24 holed and 24 solid. That way, you have a few extras in the event that you lose any. In addition, you get all the mounting supplies you need. There are 50 metal mounting clips, 50 wood screws, 50 drywall screws, and 50 drywall anchors. L-connectors and straight connectors are sold separately.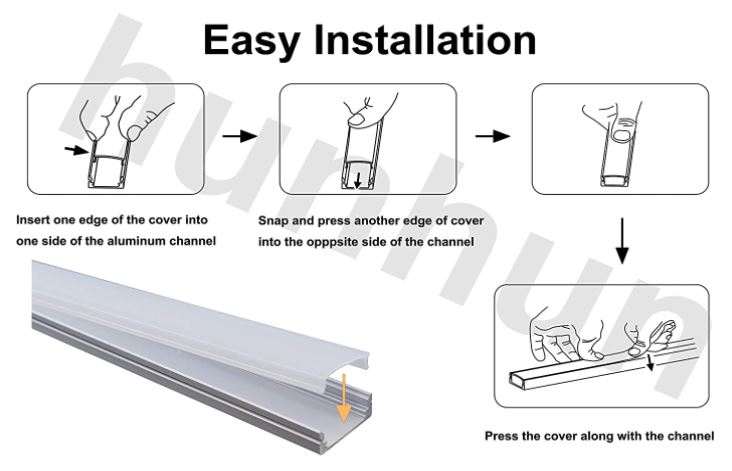 LED Diffuser Basics
An LED diffuser channel is an aftermarket housing that's designed to enclose an LED light strip. Typically, it consists of a metal track for the LED strip, and a transparent or semi-transparent cover. But why would you use one, and what features should you be looking for? Before we look at any specific channel systems, let's go over some of these basics.
What Are LED Diffusers Used For?
LED diffusers are used to make an LED light strip more visually appealing. To be fair, light strips don't require a diffuser, and there are many times where using one wouldn't make sense. For example, if your accent light strip is concealed behind a piece of bar trim, there's no need for a diffuser. Diffusers are used in applications where the light strip itself would otherwise be visible. With a diffuser, an LED strip can be used as a ceiling light, or a lighted rail on a wall or ceiling.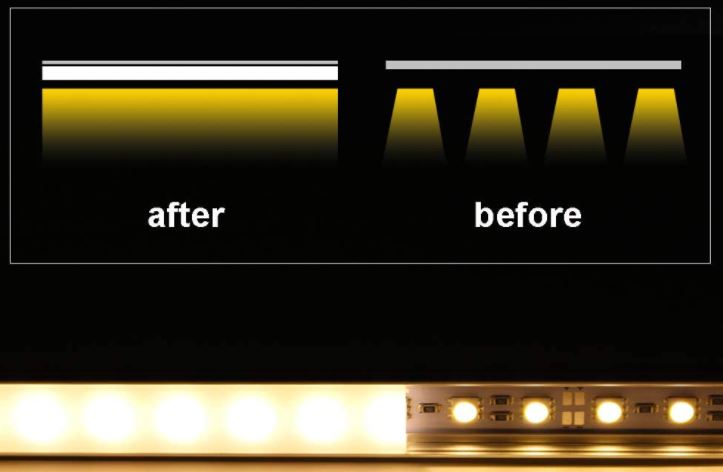 This has a number of benefits. Besides concealing ugly circuitry, a diffuser also diffuses the light from each diode. As a result, you see a smoother, more even lighting pattern, instead of a bunch of individual spots. The light spreads around the room more uniformly, and doesn't create as much glare. In addition to the cosmetic benefits, there are also more practical reasons to use a diffuser. For one thing, even a cheap diffuser is more durable than a light strip, and provides a lot of protection. For another thing, a diffuser is much easier to clean than an exposed LED strip.
Opacity and Form Factor
In terms of physical design, there are a couple of things you want to look at. To begin with, you want to think about what kind of form factor you're going to need. LED diffusers come in two basic form factors: surface mount and corner mount. Surface mount diffusers are designed to shine at a 90-degree angle from a given surface. They can be attached to a wall or a ceiling, and run in any direction.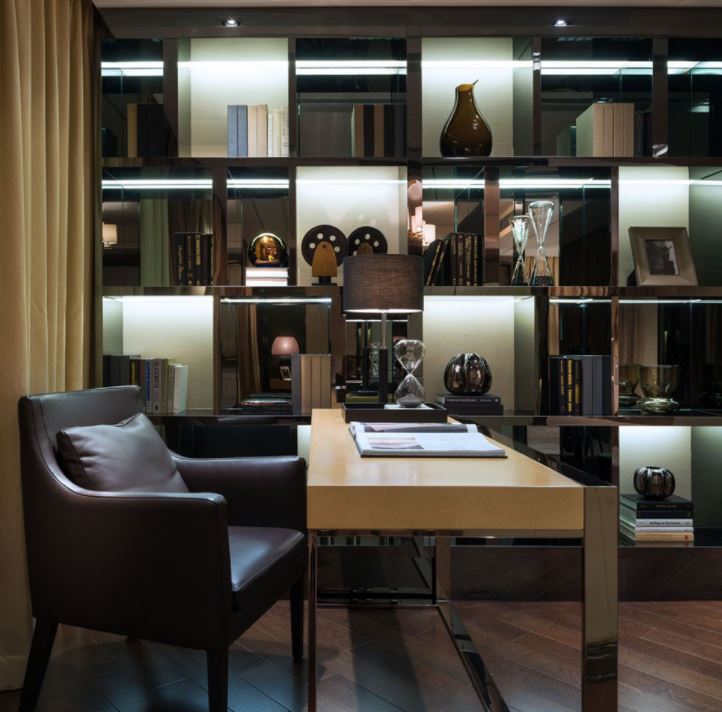 Corner mount diffusers, on the other hand, mount in the 90-degree junction between a wall and a ceiling. They can also be mounted between two walls. Either way, the light strip is pointed at a 45-degree angle between the two surfaces, to provide maximum visibility.
Another important thing to look at is the type of cover the diffuser has. In general, covers fall into three categories: clear, frosted, and opaque. Each one has its own unique qualities and applications.
Clear LED diffusers are entirely transparent. This is an unusual choice because the cover doesn't actually conceal the LEDs. As a result, a clear diffuser doesn't really provide many cosmetic benefits. That said, there are some more practical applications that make them viable. Because the cover is clear, you're getting the full brightness of your LED bulbs. Meanwhile, you're still getting the protective benefits of a diffuser.
Opaque LED diffusers, often called "milk" or "opal" diffusers, are entirely opaque. You can't see under the cover at all, and the LED light is completely diffused. There are no hot spots, and if the diodes are different colors, the colors blend together seamlessly. Light output is entirely uniform, so it functions much like a traditional light fixture. This is the most common type of diffuser, and all three of today's choices are milk diffusers.
Frosted LED diffusers fall in the middle between a clear and opaque diffuser. Much like a frosted light bulb, the frosted cover distributes light more evenly and helps to cut down on hotspots. There's less color blending than there is with an opaque diffuser, and the hotspots are still faintly visible. On the other hand, you also get a little bit better brightness.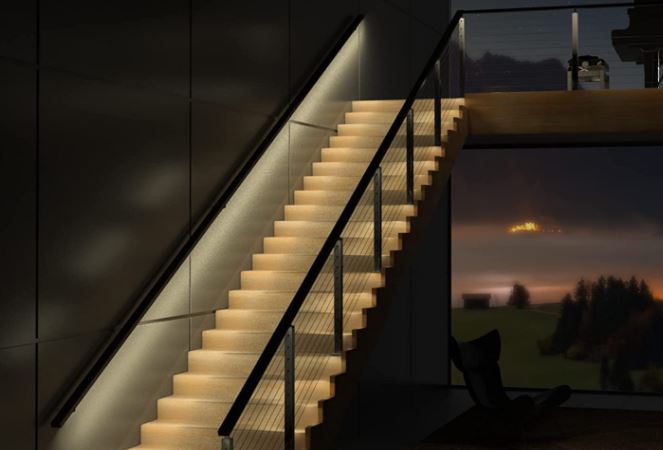 LED Diffuser Installation
LED diffusers are usually easy to install. That said, there's no universal standard. If you're trying to expand an existing diffuser, you'll want to use the same brand and style. The same goes for replacement parts. If you need to buy a new cover or more mounting brackets, make sure you're buying the right model.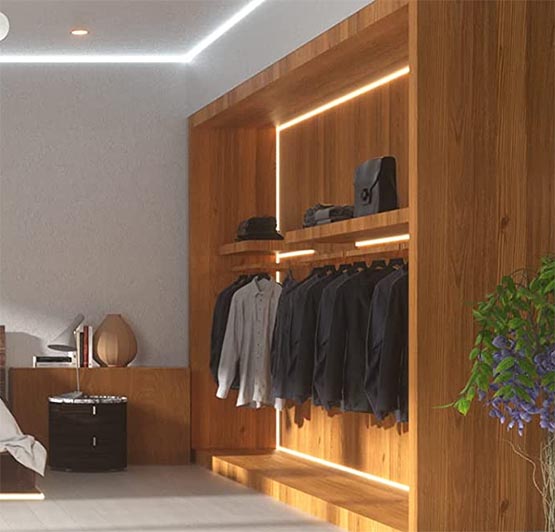 In most cases, you'll need to cut your diffuser to size. This will require a different technique for the channel and the cover. The channel will normally be aluminum, so any hacksaw will do. A mitered hacksaw can be used to make angled cuts if any are required. For the cover, use a sharp utility knife, and apply smooth, even pressure. Avoid pressing too hard, and don't worry about making many passes if necessary. Better that than to crack your brand new cover.
Once you've cut your diffuser, all that's left to do is mount it. Different diffusers mount in different ways, depending on their design. Some have holes directly in the channel, for setting your screws. Others use metal clips that screw to your wall or ceiling. Still others are magnetized, for use on appliances and electronics. There's no universal rule, so make sure to read and follow the instructions for your particular diffuser.
Finally, remember that the diffuser is only part of the equation. Don't forget to put some thought into the LED strips themselves. For example, do you need motion-activated LED strips? Color-changing strips? Any other special features? Take your time to find lights that are at least as good as your diffuser.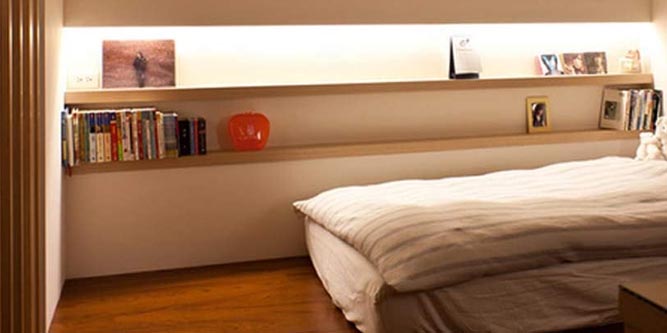 Which LED Diffuser is the Best?
Which one of these LED diffuser channel systems is the best? As with so many things, a lot depends on what you need. The Muzata U-Shape LED Aluminum Channel System comes in three different varieties. The white aluminum version in particular looks really sharp, and is a great alternative to bare aluminum.
The StarlandLed V-Shape LED Aluminum Channel has a corner mount design. This has a ton of accenting applications, from room lighting to shelving. It's easy to install, and you can order it in very large multi-packs for larger projects. And the aluminum is easy to cut, which saves labor.
The hunhun U-Shape LED Aluminum Channel System has an attractive, low-profile design. The cover is very opaque, and disperses light very well. And with flanged end caps, you don't have to worry about light leakage at the ends.
Please consider sharing:
Note: At no extra cost to you, we may earn a commission for purchases using our links. Learn more.