When you run a physical business, you want people to know when you're available. In today's tech-savvy age, people put a lot of emphasis on online visibility. Read any internet guide, and they'll tell you to list your business – and your hours – on Google Maps.
That's certainly a great way to capture a certain type of customer. If someone is actively seeking out your type of business, they'll be able to find it and get your hours. But in all this internet activity, it's easy to lose track of other, more tangible ways to promote your business. We're talking about visibility.
Note: At no extra cost to you, we may earn a commission for purchases using our links. Learn more.
Drive past a highway exit in any rural area, and it's not unusual to see a McDonald's logo the size of a billboard. They do this to advertise to hungry motorist that after 100 miles of driving, there's somewhere to eat. In a more everyday situation, businesses like to have light-up signage in their storefront to attract customers. Your business may be only one in a long line of similar storefronts. Anything you can do to catch people's eye – anything at all – is going to be a net benefit.
An LED "OPEN" sign meets both of these needs. If someone wants to know whether you're open, it's clear as day. Either the sign is lit up or it isn't. At the same time, it's a seamless way to provide visibility.
A bright or flashing sign is going to capture more eyeballs than a plain cardboard sign. Of course, you want to choose one that's the right style for your business. That's why it's good to look at several options, and figure out what's right for you.
Choosing the Best LED OPEN Sign
Today, we'll be reviewing five of the best LED OPEN signs for your business or store front. All of these options are bright and colorful, designed to be highly visible. They also provide simple, straightforward controls. This makes them easy to turn on and off at the beginning and end of the day.
Then again, we'll also have to discuss the differences between the signs. We'll need to look at the size, colors, and font style. We'll have to talk about how they're constructed, and what kind of power they require. We'll also need to discuss installation, and how you operate them. After that, we'll have a more complete picture of what we're working with.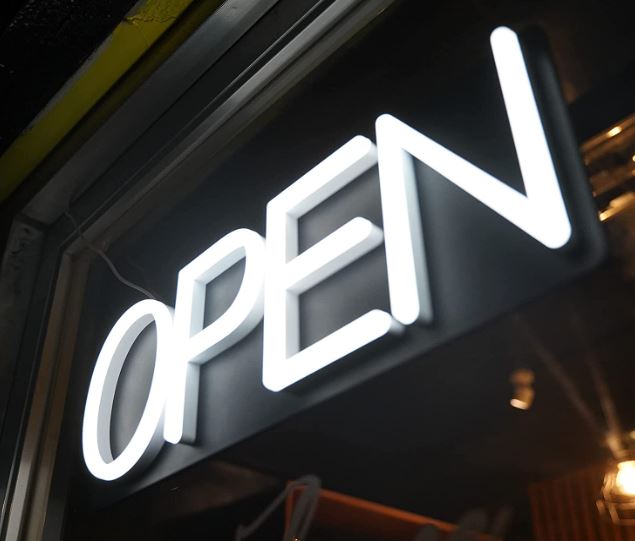 HiNeon Neon Open Sign
The HiNeon Neon Open Sign consists of plain light-up letters on a black rectangular background. The font is simple and unassuming, with straight, narrow lines. You can choose from six different colors: white, green, blue, purple, red, or rainbow. All of them are easy to read, and provide a pleasant, welcoming glow when powered on.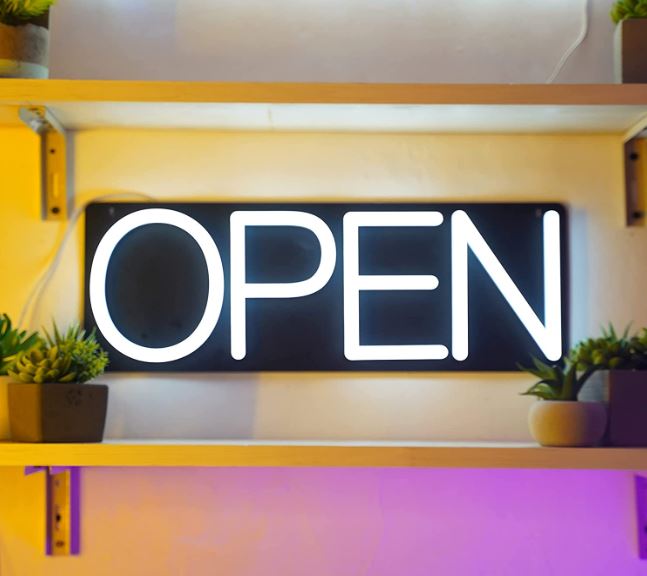 The backing is constructed from a matte ABS plastic that doesn't reflect a lot of light. It measures 20 inches wide and seven inches tall, with a thickness of 1.5 inches. The letters are six inches tall, so there's a bit of spacing at the top and bottom.
The power cord is 10 feet long, with a blocky AC adapter at the end and a two-prong plug. This gives you enough range to find a suitable power outlet. The kit also includes a hanging chain, that attaches to the top of the sign. Connect it to a hook in the ceiling or the top of the window frame, and you're ready to go.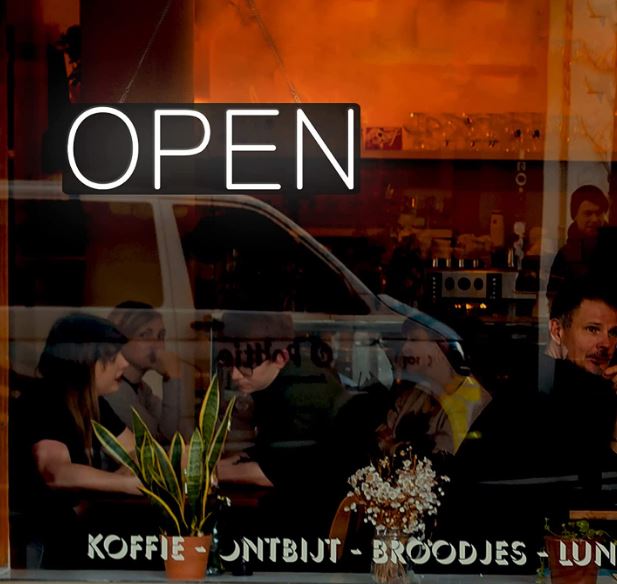 There's no in-line control on the power cord. Instead, all of the controls are located on a handheld wireless remote. Using the remote, you can turn the neon light on or off, as well as adjust the brightness. If you don't want a static open sign, you can choose six different dynamic lighting modes. These include flashing, fading, and scrolling. You can also adjust the speed of the animation.
Of course, an "Open" sign is just one of the signs you'll want for your business. If you want more attractive, dynamic signage, check out our list of the best programmable LED scrolling signs. You can program your own animations, scrolling text, and other creative ideas.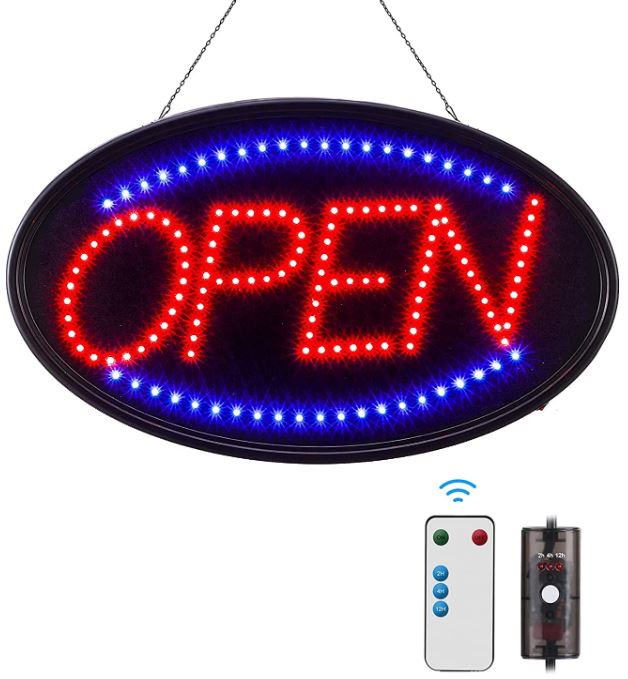 FITNATE LED Open Sign
The FITNATE LED Open Sign has a classic oval design. The main housing is black plastic, and measures 23 inches wide and 14 inches high. On the surface is an array of large LED pips that light up when the sign is turned on. The word "OPEN" is written in big, red italic letters that take up most of the surface. There's also a blue arch over the top, and an inverted blue arch underneath.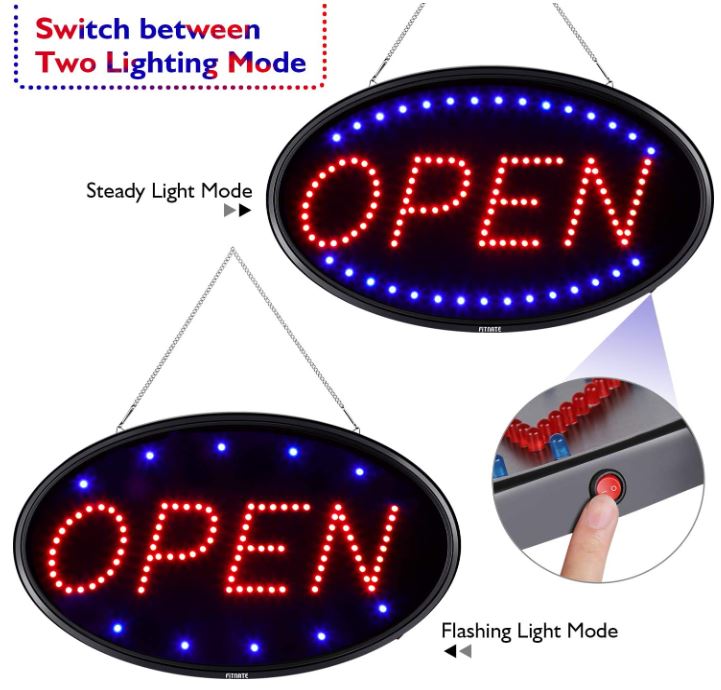 The kit includes a wireless remote, with a line-of-sight range of 18 feet. The remote is a bit simpler than the HiNeon remote, with no dynamic options. Instead, there are on and off buttons, and buttons to control the timer. You can set the timer for 4, 9, 12, or 24 hours.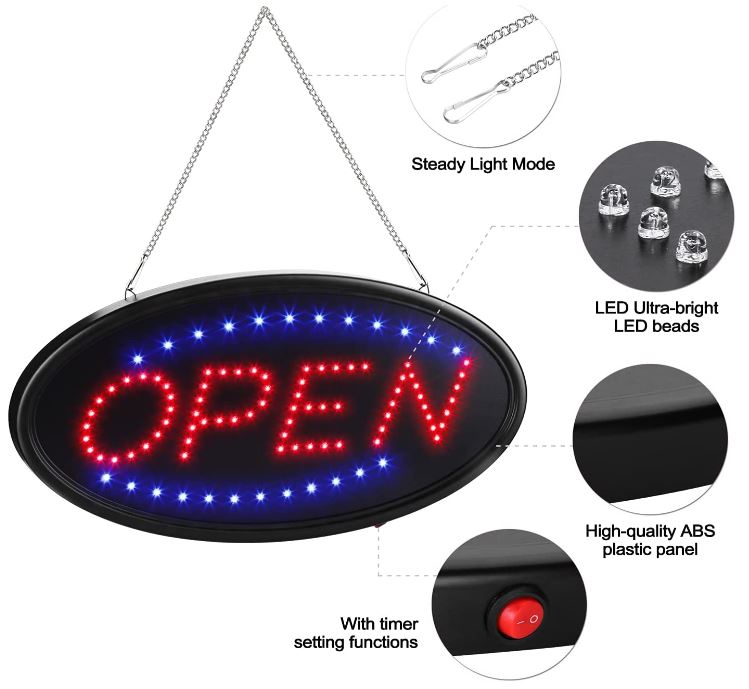 Alternatively, you can use the in-line controls on the fob in the middle of the power cord. The cord has a total length of just under 11 feet, so you'll have more than enough reach. You also get a stainless steel hanging chain, which makes the sign easy to position.
The last control you should be aware of is a switch on the bottom right edge. This toggles the sign between a steady shine and a blinking pattern.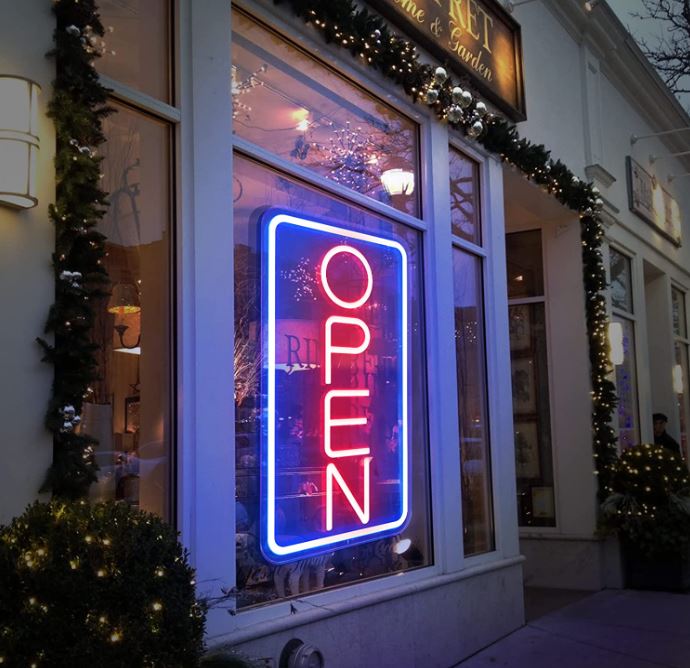 Sugarneon LED Neon Open Sign
The Sugarneon LED Neon Open Sign has a more formal look to it. The clean, neon letters are arranged against a clear acrylic background. This allows the background to bleed through, albeit with some distortion. You can order multiple versions of the sign. It can be small or large, horizontal or vertical. We ordered the small vertical option that's 16.9 inches high and 9.5 inches wide. The lettering is bright red, with a blue border around the outside. You can also order it with gold lettering and a white border.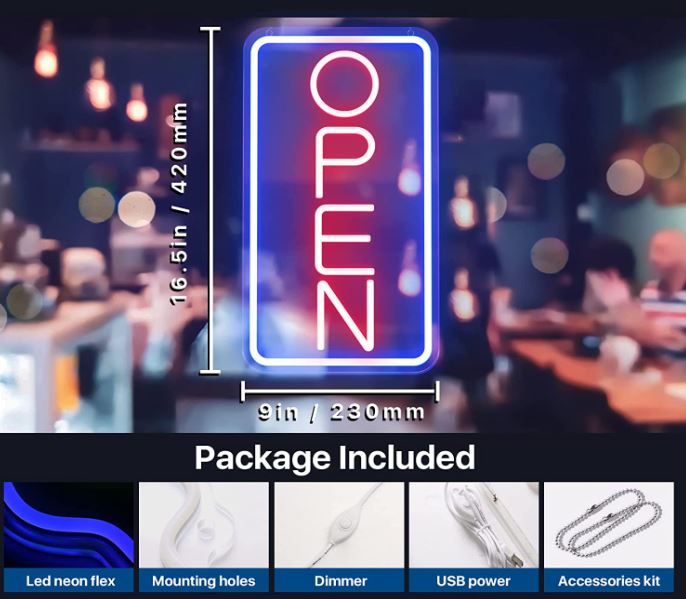 There are two different options for mounting this sign. To begin with, you can hang it from your ceiling or window frame with the included mounting chain. In addition, there's a set of holes in the acrylic backing. You can use these to screw-mount it to your wall, so it can be positioned just about anywhere.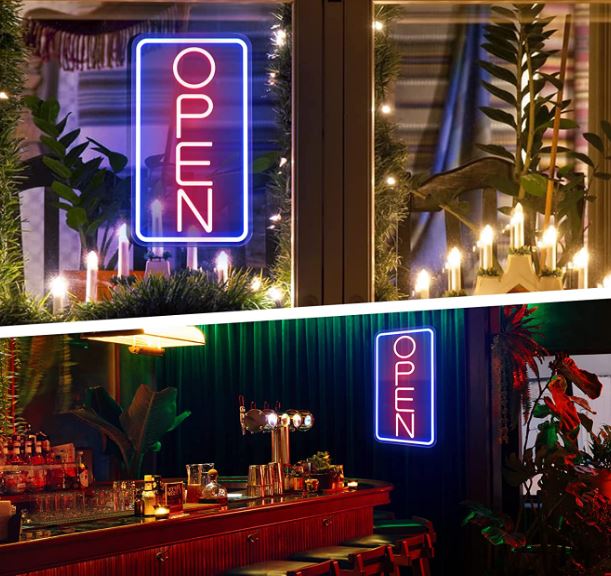 The cord is nice and long, and gives you plenty of reach. About halfway down its length is a curved white fob with a single button in the center. When you press this button, it turns the light on and off. Hold it down, and it can adjust the brightness between 10% and 100%. On the downside, this is a USB cord, not a standard AC power cord. You'll need a USB power supply in order for it to work.
If you're outfitting a new business, you don't just need an "Open" sign. You also need signage to comply with building regulations. For example, you could get in big trouble if you don't have proper exit signage. Thankfully, we've already reviewed the best LED emergency exit signs.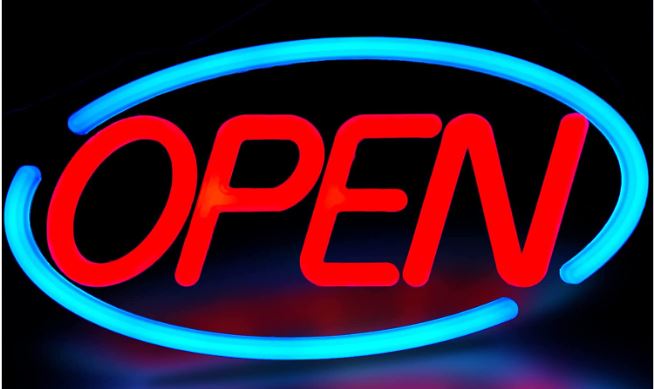 SnailGo LED Open Sign
The SnailGo LED Open Sign is another traditional oval sign, similar to the FITNATE sign. But that's where the similarities end. Most importantly, this isn't a solid sign. It's mostly skeletonized, and is primarily see-through except for the letters. The word "Open" is displayed in red italic letters, with a blue oval surrounding the entire thing. It measures 24 inches wide and 12 inches tall, so it's suitable for almost any window.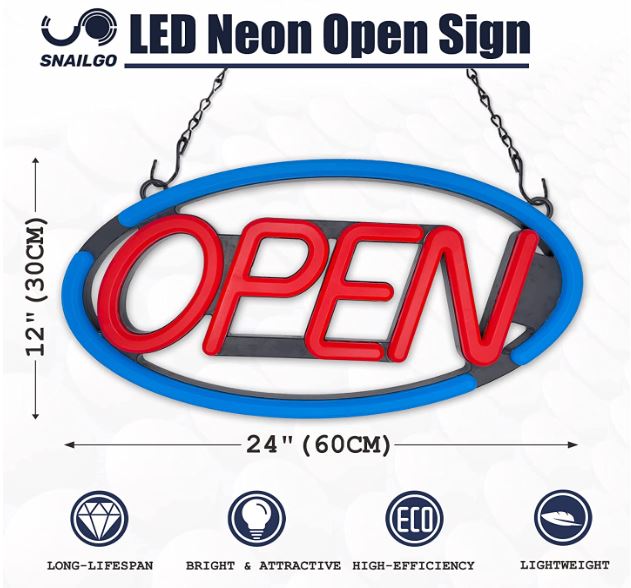 Mounting the SnailGo sign is easy. There's a pair of rings in the top of the housing, and a three-foot mounting chain. This chain is on the short side for ceiling mounting. However, it's perfect for attaching to a suction cup hook.

The sign is powered by a six-foot cord, which plugs into an AC outlet. There are no in-line controls However, there's a switch on the back of the sign for alternating between steady and flashing modes. There's also a button for syncing the sign with the handheld remote. The remote is a little keychain fob, with a key ring attachment clip. It has a single red button, which toggles the sign on or off. You can literally carry it with you and turn the sign on or off when you arrive at and leave your business.
SnailGo backs their sign with a 12-month manufacturer's warranty. If it fails prematurely, you'll get a refund or a free replacement. In addition to that, they provide a 30-day no-questions-asked return window. If the sign isn't up to your expectation, you can just send it back for a full refund.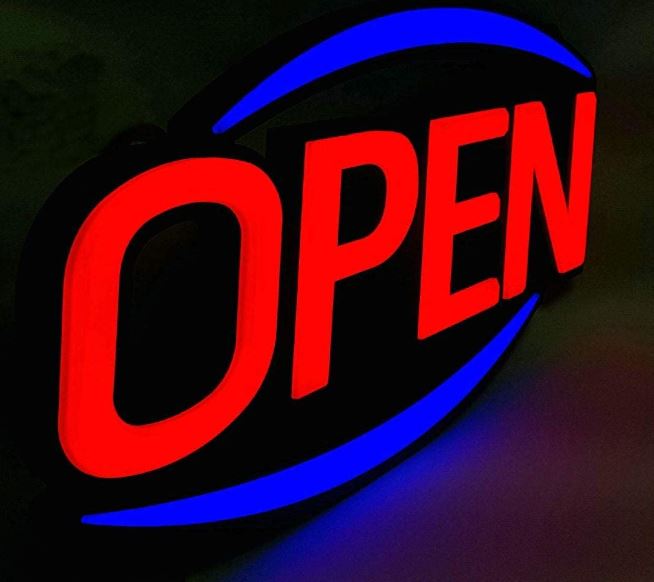 MaxLit Jumbo LED Open Sign
The MaxLit Jumbo LED Open Sign looks a lot like the SnailGo sign at first glance. It has the word "Open" printed in red italic letters, with an overall oval shape. It's even skeletonized, so people can see through it. That said, there are some noticeable differences. To begin with, the letters are noticeably fatter and bolder. For another thing, there's no blue outline.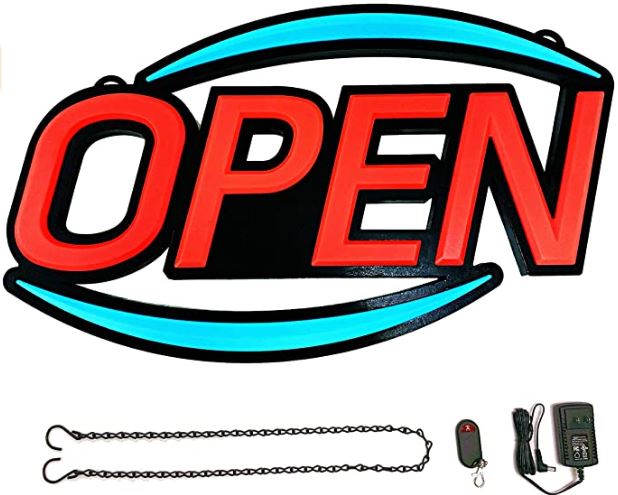 Instead, there's an arch over the top and an inverted one underneath, similar to the FITNATE sign. Finally, it's much larger. It measures 32 inches in width and 17 inches high, so it works well in bigger windows.
In terms of functionality, this is basically a larger version of the SnailGo sign. It has the same type of switch on the back, with steady and flashing options. There's also a syncing button for the remote. The remote even has a similar style, with a key fob-style design. It's easy to operate, and you don't have to be a rocket scientist to figure it out.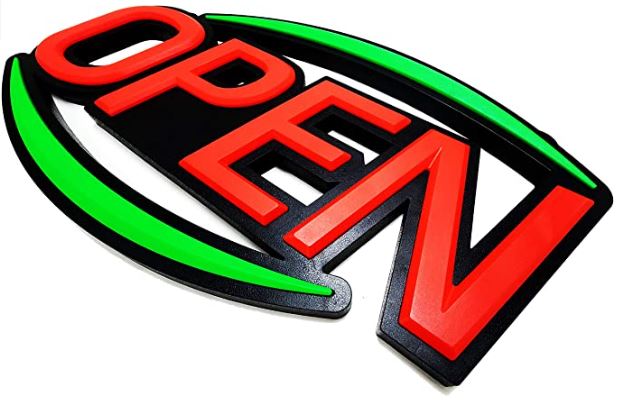 Along with the sign and controller, you get a pair of mounting chains. The AC power cord is five feet long, and can plug into an outlet or an extension cord. That way, you don't have to mess around with any USB adapters. Not only that, but the LEDs are rated to last for up to 50,000 hours. That's over five years of round-the-clock operation!
Final Verdict
So, what distinguishes these LED OPEN signs from each other? Let's take a minute to break down what we've learned.
We began by looking at the HiNeon Neon Open Sign. This sign is the most straightforward of the bunch, with simple lettering on a black background. However, you can choose several different colors to suit your needs. The 10-foot AC cord is easy to plug in, and the controller offers plenty of customization.
Second on our list was the FITNATE LED Open Sign. This sign is a more traditional oval-shaped sign, with large LED pips. The big pips give it an old-school, lower-tech appeal, but the lettering is less clean as a result. The timer function is very straightforward, and you can choose between steady and blinking options. It also has a long power cord, which makes placement easy.
After that, we evaluated the Sugarneon LED Neon Open Sign. This sign has a more formal, elegant appeal, with a transparent acrylic background. It's also designed for easy wall-mounting, so you can install it pretty much anywhere. Add to that a 10% to 100% dimming function, and you have a very capable light.
Next, we reviewed the SnailGo LED Open Sign. This is a nifty skeletonized sign with a classic oval shape. It's easy to set up and simple to operate. You can choose from steady and flashing modes with a switch on the back. And we really liked the key fob remote, since it's so convenient to carry.
The last sign we reviewed was the MaxLit Jumbo LED Open Sign. This sign has comparable controls to the SnailGo sign, as well as a generally similar design. That said, the letters are bigger and bolder. And at 32 inches in width, it's visible from a long distance.
Please consider sharing:
Note: At no extra cost to you, we may earn a commission for purchases using our links. Learn more.