If you're trying to carry your gear with you on the go, there's no substitute for a good backpack. Sure, your pockets are fine for your wallet and keys. And you can get away with carrying your laptop in a simple laptop bag. But if you want to carry notepads, pens, a water bottle, and other everyday supplies, a small bag won't suffice. You need a full-sized backpack with enough space to carry all of your stuff.
But a backpack is more than just a practical tool. It's also something you wear on your back a lot of the time. In other words, it's part of your fashion ensemble. You want a backpack that fits with your own individual look. The most basic example of this is the wide variety of backpack colors and styles. Whether you're looking for a rugged black nylon or a fashionable leather, you have plenty of choices.
If you want the ultimate in personal expression, though, there are even more versatile options. We're talking about backpacks with built-in programmable LED signs. These signs let you update your look with each passing day. Wear a different outfit? No problem. Just change up the image on your backpack. Want to celebrate a special event? You can update your bag for birthdays, holidays, and other occasions.
Of course, LED backpacks are more than a simple fashion accessory. They're also great for advertising and promotions. Let's say you run a local sandwich shop, and you offer a bicycle delivery service. A delivery cyclist with a bright, animated backpack is sure to garner some attention. A light-up backpack is even a good way for teams and business groups to find each-other. If you're having a company picnic at an amusement park, matching light-up backpacks are easy to spot.
Choosing the Best Backpack with Programmable LED Sign (Screen)
We're about to review three of the best backpacks with programmable LED screens. These options are all reasonably durable, and they're all well-engineered. All of them can also be programmed with your choice of colorful image. But there are also significant differences between all three, which we'll need to discuss.
To begin with, different backpacks have different capacities and storage solutions. Depending on what you want to carry with you, you'll likely prefer one to another. Not only that, but the different screens have different programming methods and capabilities. Do you want pre-loaded images? Animations? A blank slate you can draw on? It all depends on what you want. Let's take a closer look at all three options, and see what we learn!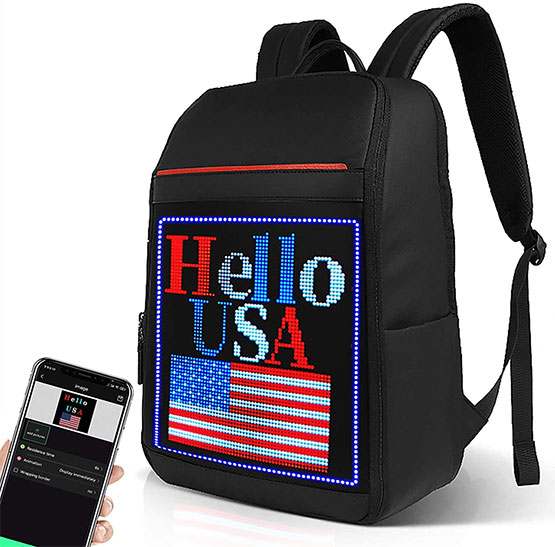 Welaso Smart Bluetooth LED Backpack
The Welaso Smart Bluetooth LED Backpack is constructed with a durable polyester outer shell. It has a dual-layer design for added durability, and the shape is blocky and rectangular. The overall size is 16.9 inches high, 11.9 inches wide, and 7.1 inches thick, and it's mostly plain black. The only cosmetic feature other than the screen is a red horizontal stripe just above it. Above the stripe, the front of the pack slopes back slightly, somewhat reducing the blocky appearance.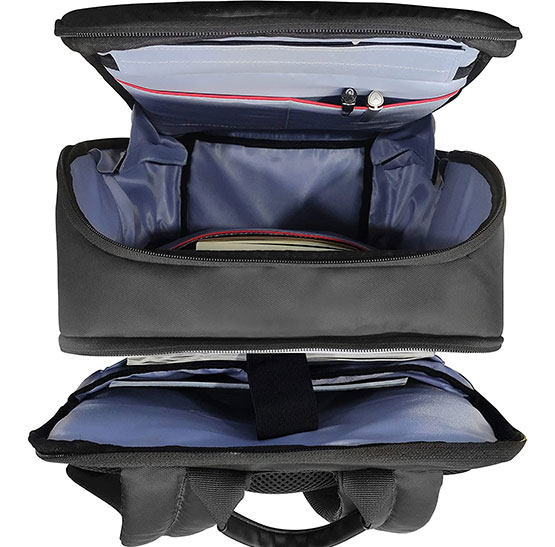 The back of the pack is padded, so it won't dig into your back. The straps are also well-padded, and both the straps and the back have a breathable mesh outer layer. This keeps sweat from building up, keeping you cool and dry even in hotter weather. On each side of the shell, you'll find a water bottle pocket. These are big enough for even larger bottles such as Nalgene bottles. At the same time, they'll still secure a standard 20-ounce water bottle just fine.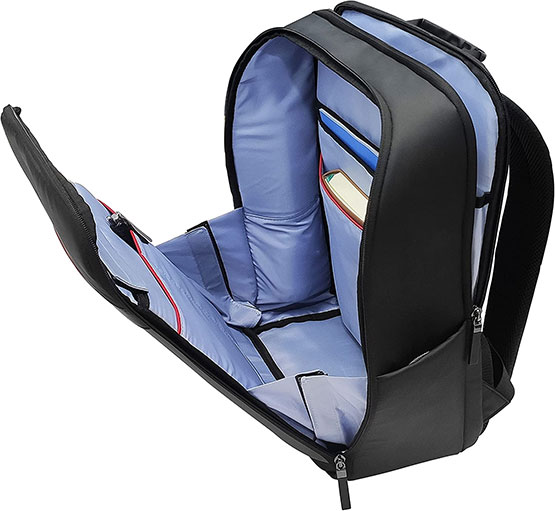 The front panel has a zipper around the outside, which starts below the bottom corners. This allows you to open the backpack's front compartment all the way, and swing the flap open 180 degrees. When you open it up, you'll see a smooth blue inner liner, which is easy to clean and reasonably durable.
The total capacity of the Welaso backpack is 25 liters, with most of that located in the front compartment. In this compartment, on the back panel, there's a series of wide pockets on the back for notebooks and papers. On the inside of the front panel, you'll find a series of smaller storage sleeves for pens and pencils.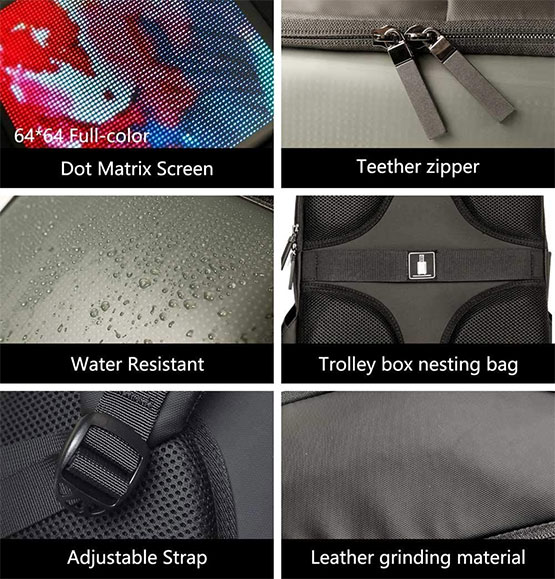 The back compartment is smaller, and only opens from the top. There's enough in here for a laptop, along with a charger and a few accessories. The built-in laptop sleeve will accommodate up to a 15.6-inch machine, secured by velcro on an elastic strap.
Lighting and Programmability
The screen on the front of the backpack is flat black when it's turned off. In its un-powered configuration, it blends right into the laptop shell. The screen is totally square, and measures 9.84 inches to a side. Within this area, there's a grid of 64 x 64 pixels, with bright, vivid colors. This is low-resolution by display standards. But for a programmable backpack, it's plenty of space for simple images.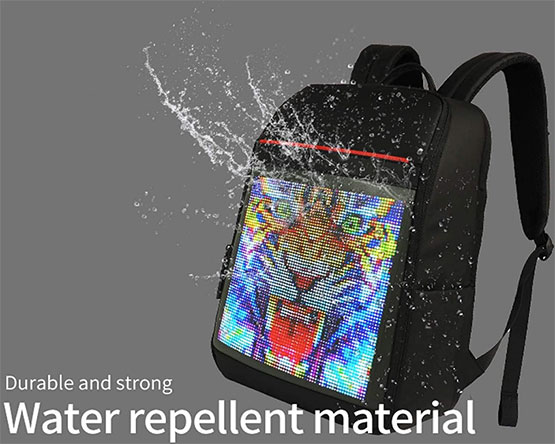 As you might expect, running the LED screen requires a supply of power. Unfortunately, there's no built-in battery; you'll have to supply your own power bank, instead. You can use any power bank, as long as it has a USB Type-A output. Of course, you'll obviously get longer-lasting performance the higher your power bank's capacity. There's a USB Type-A connection cable inside the front flap, just behind the screen.
Once your power bank is plugged in, the next step is to program your image. To do this, you'll need to install the smartphone app. This app is free on iOS and Android, and it installs in just a couple of minutes. Open the app, connect to the backpack via Bluetooth, and you'll be able to access the controls.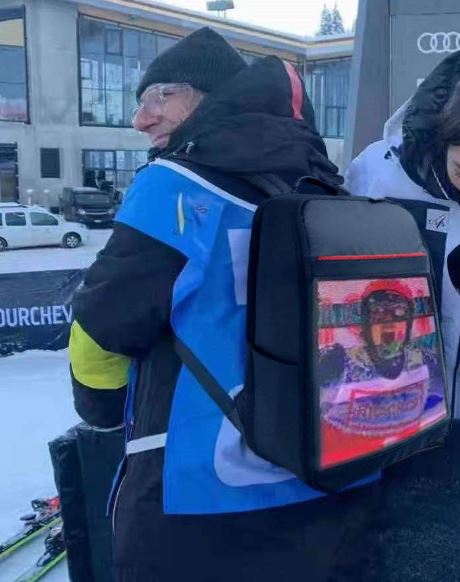 Within the app, you can upload images and even short animations. These will then be displayed directly on the backpack. You can also enter text, and even create a scrolling text. And if English isn't your only language, no problem. The app also works in French, Spanish, Chinese, Japanese, German, Portuguese, and Russian.
An LED image is only one way to customize your backpack. Another great choice – especially for kids – is to add customized audio. A recordable sound button is affordable, and easy to add to just about any backpack.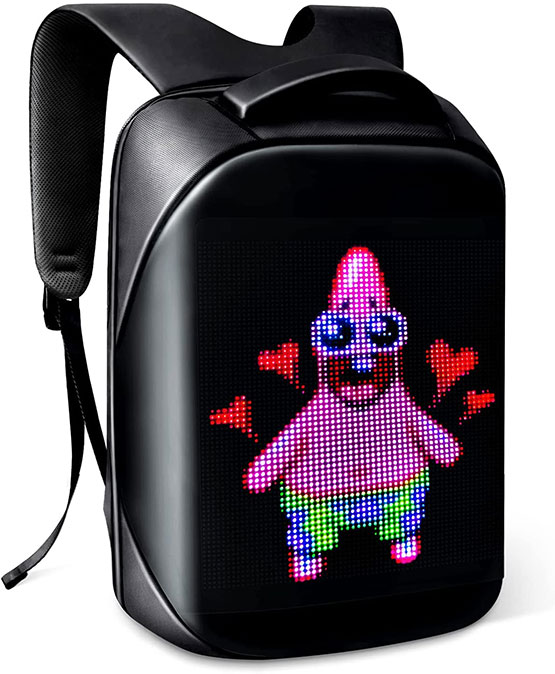 Tesinll LED Backpack
The Tesinll LED Backpack has a semi-rigid outer shell, which is softer at the top and the tops of the sides. It's matte black in color, and it's made from a durable nylon material. It's roughly rectangular, measuring 15.53 inches high, 13.4 inches wide, and 6.5 inches thick. The corners are rounded off for better durability, and the back and straps both have a mesh outer layer. The pack of the pack, while semi-rigid, is also reasonably well-padded.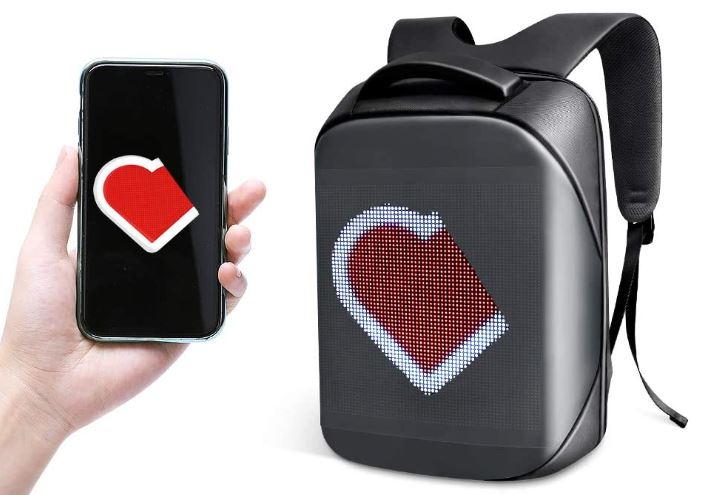 Tesinll doesn't say how many liters of capacity their bag has, but it's pretty spacious. The inside is just one big compartment, without any dividers or sub-compartments. It has a smooth white inner liner, which is easy to wipe down if you've had any spills.
In the back part of the compartment, there's a large laptop sleeve that fits up to a 15.5-inch laptops. In front of this, there's a tablet sleeve with a thick, quilted padding on the front. Both are secured by elastic and velcro retaining straps.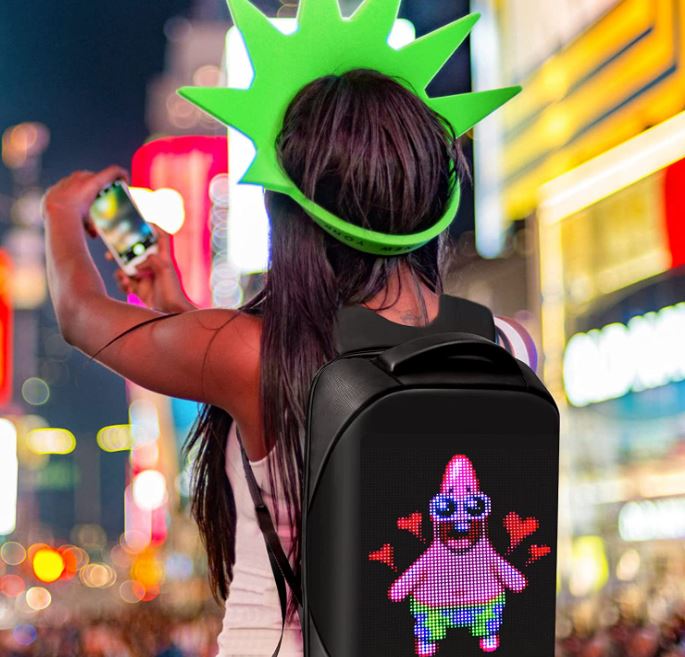 Inside the front panel, there's a broad mesh pocket, with an elastic top that keeps it partially secure. Just above this, there are two small sleeves big enough for a smartphone or similar-sized object. To the sides, there are even smaller sleeves for pens.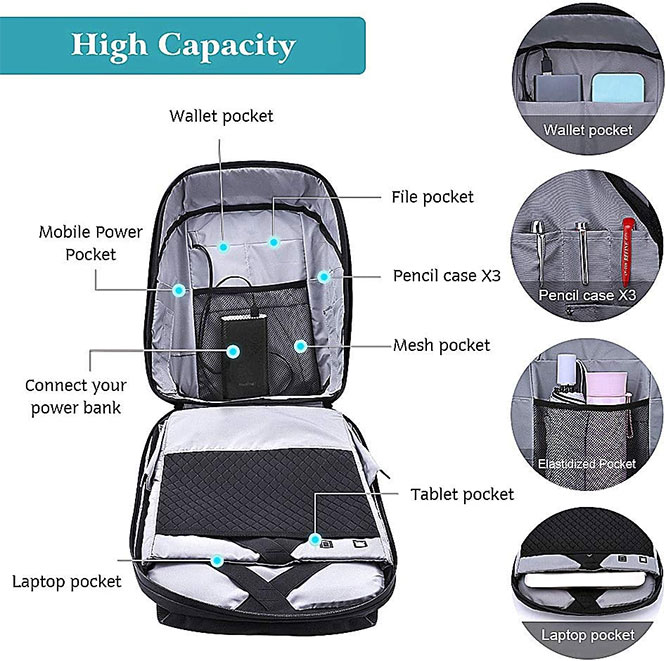 Lighting and Programmability
The display on the back is a smooth black, and looks like a solid panel when it's turned off. It measures 9.8 inches square, with a resolution of 64 x 64 pixels. That's close enough to the Welaso screen that they might as well be the same thing.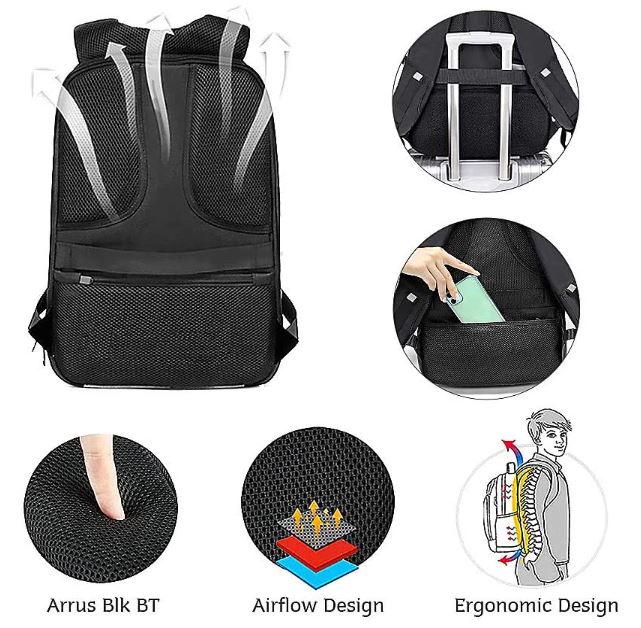 To use the screen, you'll need to provide your own power bank, with a USB Type-A power port. There's a connection cable inside the cover, and the mesh pocket is a great spot to keep the power bank. Once it's plugged in, you can download the app and pair with your phone. This backpack acts as its own WiFi network, and you connect to that when you're in the app.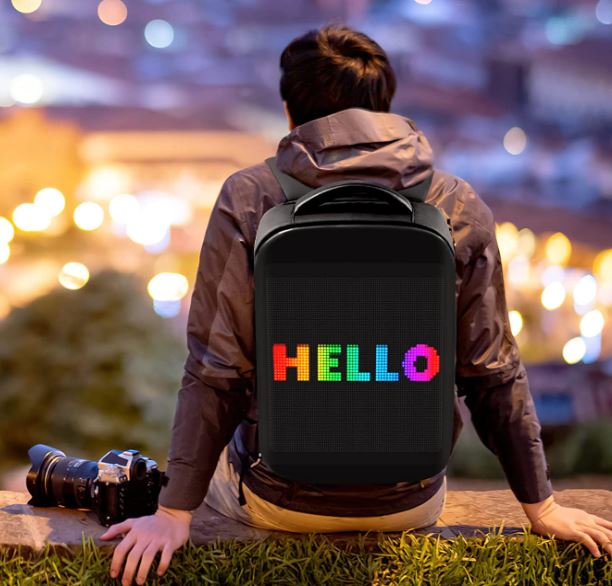 There are a few different ways to upload images to your display. To begin with, the app comes with its own gallery of pictures and animations. You can also upload your own image, or even upload a GIF file you've downloaded from the web. Finally, there's a built-in editor where you can create your own custom images, right from the app.
If you like LED images for advertising, why stop with light-up backups? When customers come to your business, you can wow them with a programmable scrolling LED sign.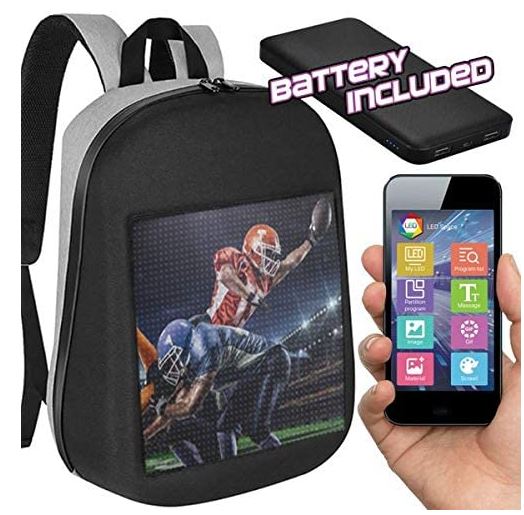 POPAR Luminous Backpack
The POPAR Luminous Backpack has a flexible shell that's made from a soft, yet durable nylon. It's tall and slim, measuring 17.32 inches high, 13 inches wide, and only 5.12 inches thick. The shell has a two-tone design, with a black front panel and a grey top and straps.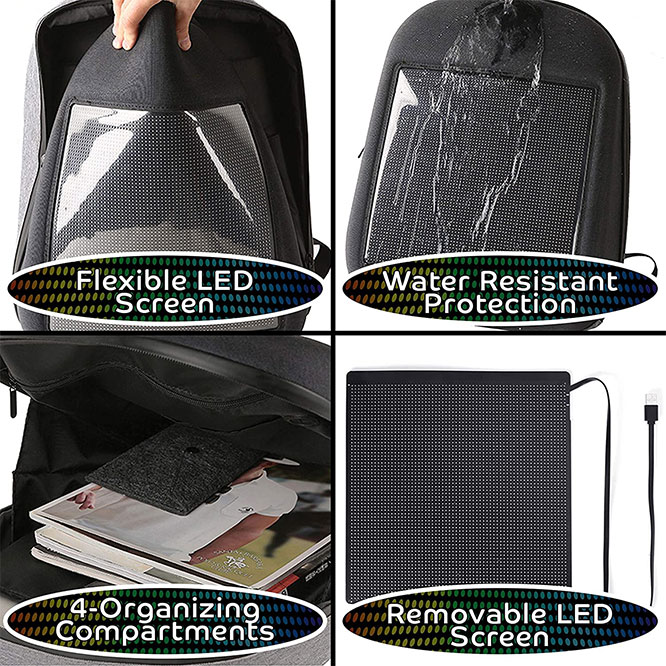 The inside of the backpack has a capacity of 20 liters. This is a bit less than the last two backpacks, but it's also slimmer and easier to carry. Even so, there's a good-sized laptop sleeve inside, with enough room for a 15-inch laptop. There's also a little sub-compartment inside the front flap, which opens at the top with a zipper.
On the outside, the back and straps are thickly padded, which makes it comfortable and easy to carry. We also appreciated the quality of construction. The metal zippers are fat and sturdy, and even the buckles are made from thick, heavy-duty plastic.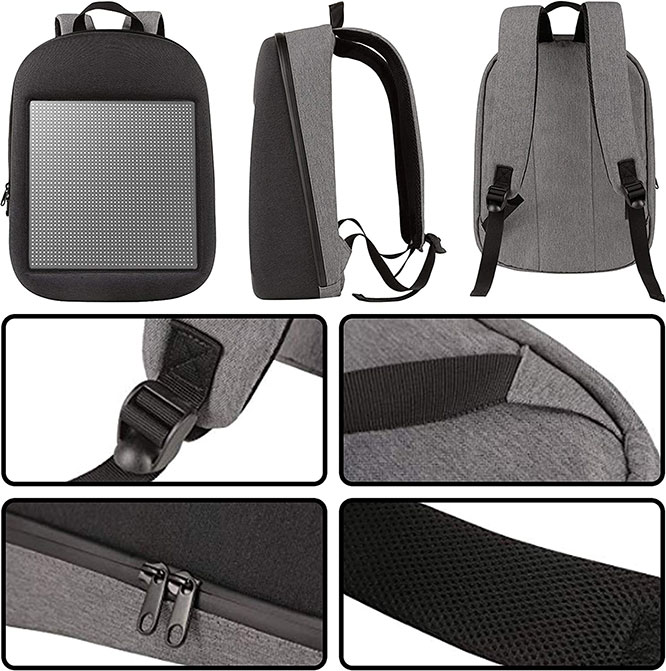 Lighting and Programmability
The front LED panel has a glossy finish, which makes it stand out a bit when it's powered down. That said, it can be removed and used separately, which is a nifty feature. It measures 9.5 inches square, with a resolution of 64 x 64 pixels.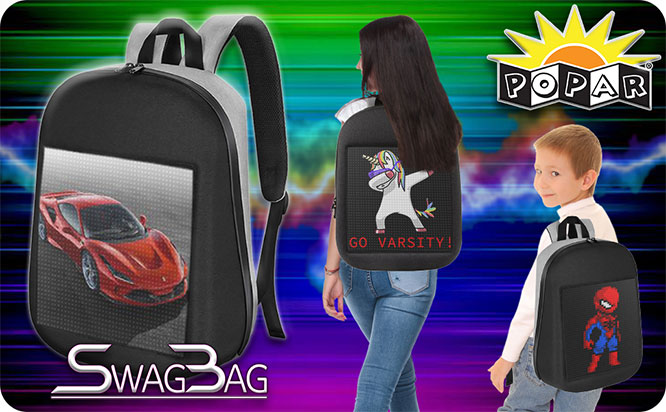 The kit includes a 10,000mAh power bank, which you can plug the screen right into. In addition, the power bank has a second USB port, which can be used for charging your phone. You interface with the backpack via a smartphone app and Bluetooth connection. It has dozens of pre-loaded pictures and animations, or you can upload or draw your own.
Final Verdict
All three of these programmable LED backpacks have something to offer. In some ways, it's impossible to go wrong. But which one is the right choice for you? Let's recap what we've discussed.
We began by reviewing the Welaso Smart Bluetooth LED Backpack. This backpack has the best storage if you like to keep your stuff compartmentalized. It's also great for water bottles, with not one but two side pockets. We also liked the fact that the screen blends in well when it's not in use.
The Tesinll LED Backpack is a better choice if you want a semi-rigid design. It only has one big compartment, so it can be a bit tougher to organize. That said, the laptop sleeve, tablet sleeve, and other small pockets help keep small objects separate. Meanwhile, the single large compartment is great for carrying larger objects.
The POPAR Luminous Backpack is mostly notable for its built-in power bank and ability to charge your phone. However, the removable screen is also a great touch, since it adds to the screen's versatility. Not only that, but the attractive, two-tone design makes it sharp-looking even without the display.
Meet Derek, "TechGuru," a 34-year-old technology enthusiast with a deep passion for tech innovations. With extensive experience, he specializes in gaming hardware and software, and has expertise in gadgets, custom PCs, and audio.
Besides writing about tech and reviewing new products, Derek enjoys traveling, hiking, and photography. Committed to keeping up with the latest industry trends, he aims to guide readers in making informed tech decisions.