Huion Kamvas 24 Plus
Pros
Large display with built-in stand.
Bright, vibrant colors.
Compatible with most devices.
Sensitive, fully-laminated display.
Excellent build quality.
Cons
Not a standalone device.
Few added controls.
Somewhat expensive.
Computer technology has changed a lot about how people do graphic design. If you were a graphic designer at the turn of the century, you were working with physical media.
At most, you might scan something into a digital format to post an image on the web. But nowadays, graphic design is almost entirely digital. Instead of starting with the physical, we do everything in a program like Adobe Photoshop. Only at the end of the process do images get printed onto posters, tee shirts, and other physical media.
This digital revolution has made graphic design far more efficient, but it's also had its downsides. Most importantly, a mouse and keyboard are a terrible way to create art.
In fact, it's almost impossible to draw a smooth, steady line using a mouse. Even if you're an expert, it can take an inordinate amount of time even to do a simple sketch.
An art tablet is a perfect solution to that problem. With a tablet, you aren't using a keyboard and mouse. You're using a stylus, which is designed to recreate the feeling of working with paper and markers.
Instead of using awkward controls, you're creating art in the same tactile way you're already used to. This way, you can create beautiful, unique digital art faster than ever before. But you don't want just any tablet. If you want to get the best performance, you want to shop around for the best option.
Huion Kamvas 24 Plus
Today, we'll be reviewing the Huion Kamvas 24 Plus. This is a big, broad tablet that's designed to create a large working surface. The fully-laminated screen provides precise, responsive brush strokes, and the colors are bright and clear. It also has a sturdy built-in stand that can be used to hold the screen at an angle.
Of course, we'll need to look at a lot more features if we're going to make a fair evaluation. We'll start with the engineering, and the physical construction of the tablet. We'll look at the control scheme, and how it connects to your computer. Additionally, we'll discuss setup and compatibility. And of course, we'll evaluate the image quality of the display itself. Let's get started, and see what we learn!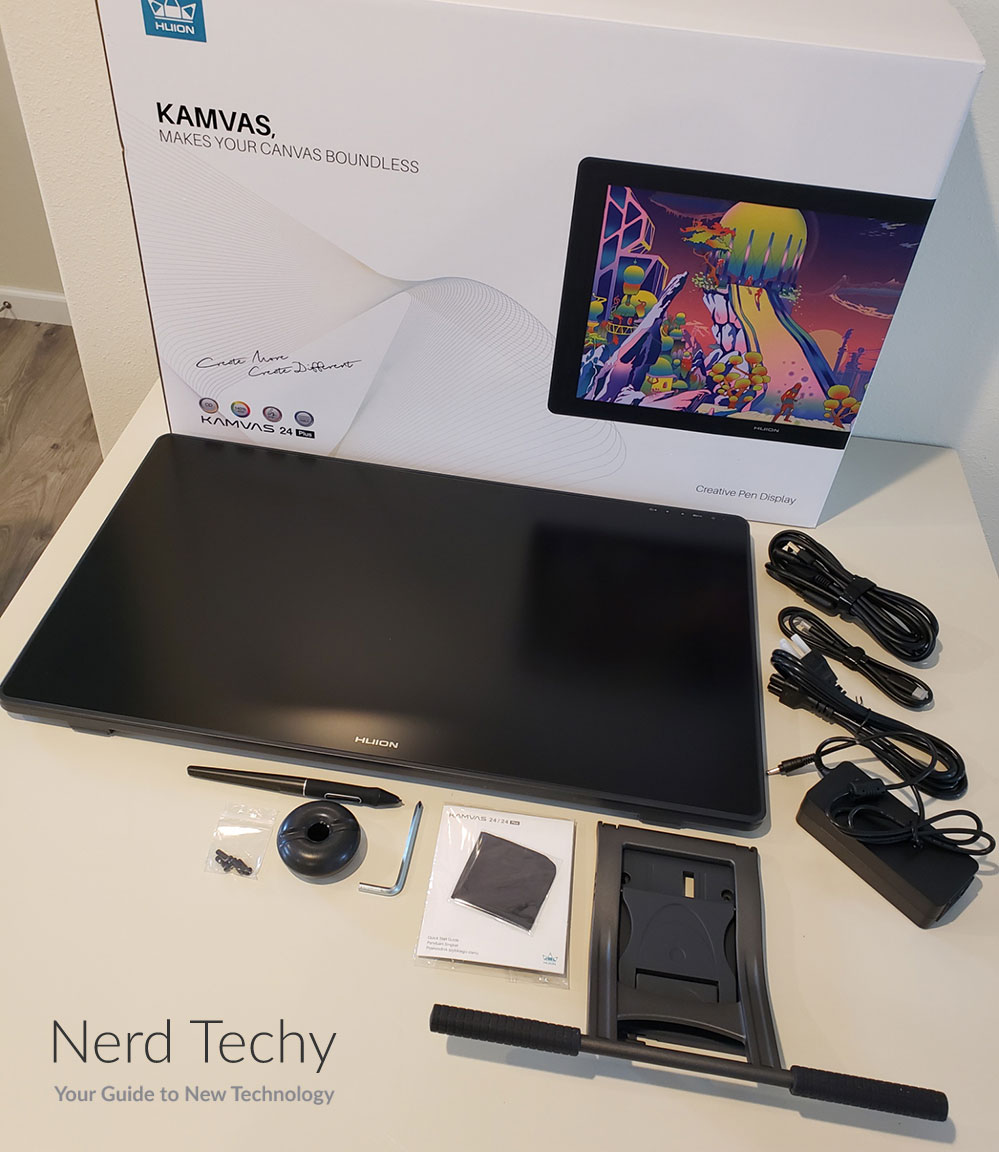 Overall Design
The Huion Kamvas 24 Plus has a wide frame with a black front ring and a charcoal grey back plate. It measures 23.8 inches wide and 14.1 inches tall, so it's definitely on the large side. It's designed more for use as a stationary tablet than for something truly portable. Even so, it's very slim, only 1.1-inch thick without the stand attached. So if you do have to carry it anywhere, it's not a big deal.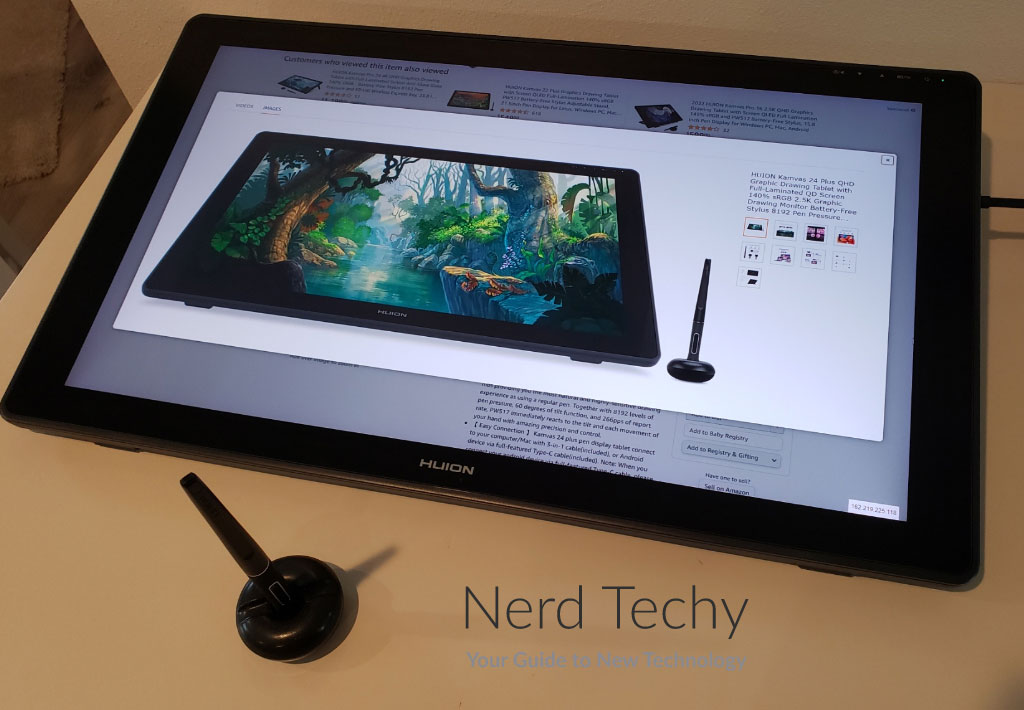 The sides are gently curved, and the bezel on the front is very narrow. If you have to rest your wrist on it, it's not going to be uncomfortable like some wider bezels. Meanwhile, there's a wide black border around the 23.8-inch display. This makes colors appear more true, with less interference from backlight.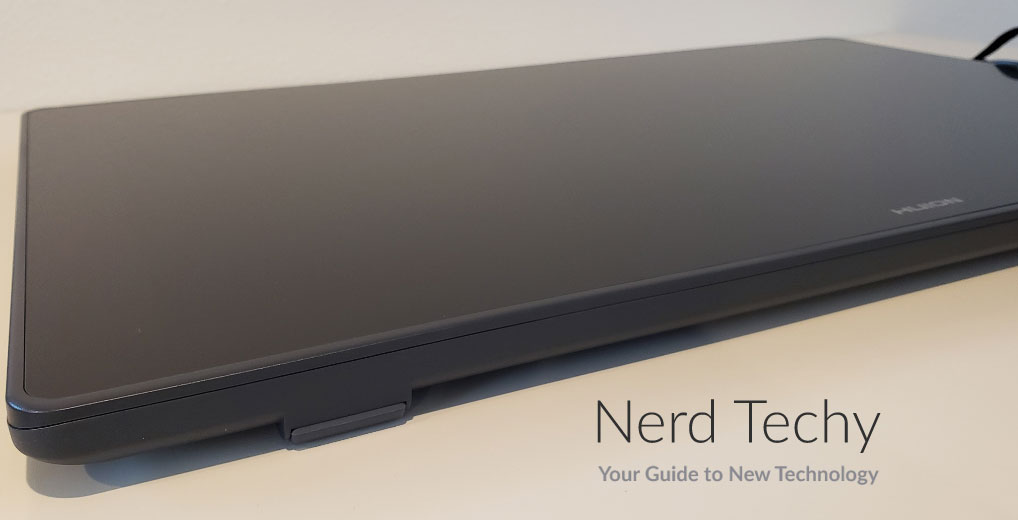 Cut into the side of the frame at the top of the right edge, you'll find the ports needed for connection. There's a USB Type-A port at the top, with a pair of USB Type-C ports just beneath it.
On the back of the housing, there's a built-in stand. This stand is made from black aluminum, and it's shaped like an upside-down set of handlebars.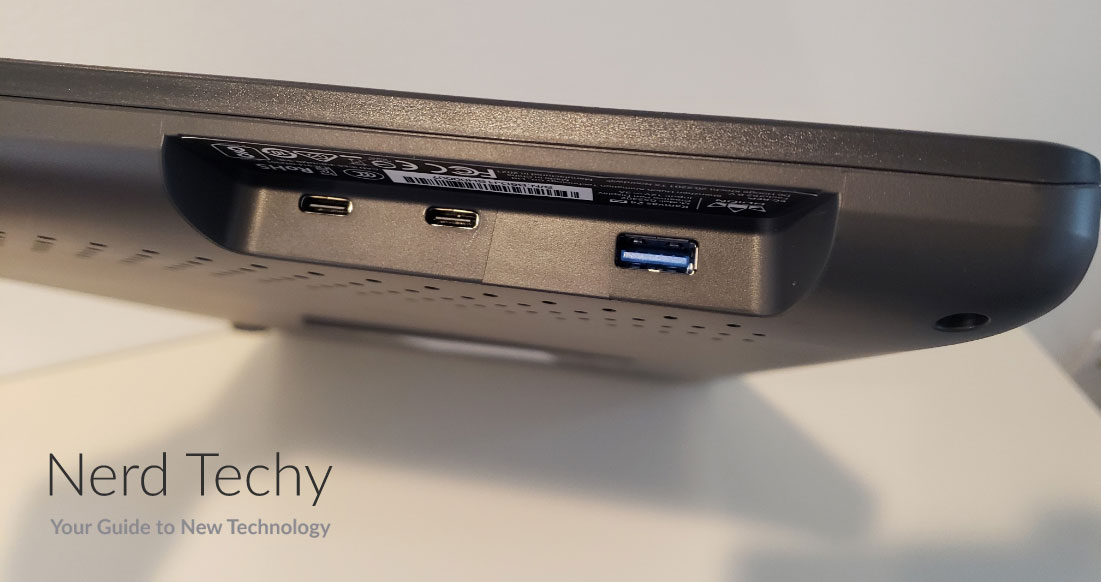 The "handles" in this scenario act as feet, and have a protective rubber coating. Using a catch on the mounting point, you can easily adjust the angle of the stand. Depending on its orientation, it can support the screen at an angle of 20 to 80 degrees. Or, you can remove the bracket entirely, and lay the tablet flat on your desk. Rubber bumpers on the back ensure that it won't scratch your desktop.
Along with all this, the kit includes a black, pen-sized stylus, which is used for creating your art. It's fat at the base for a comfortable grip, with a plastic nib that's gentle on your screen.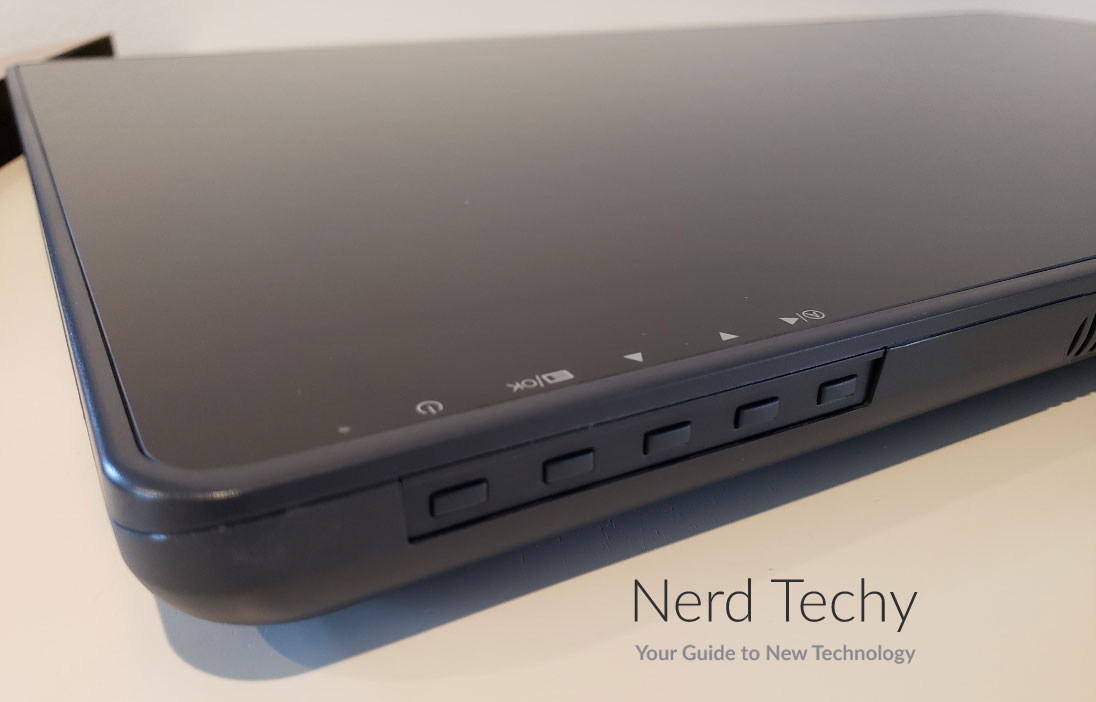 Controls and Interface
One thing we appreciated about the Kamvas 24 Plus was the fully-laminated screen. Many screens have an air gap between the glass and the touch-sensitive surface underneath. This leads to parallax – meaning that your stylus doesn't register exactly where you press. This screen has no such air gap, so you can make extremely fine adjustments to your artwork.
On the side of the stylus, you'll find a pair of small buttons that are operated with your thumb. These buttons are fully programmable. For example, you could set one to shrink your marker size, and another to expand it.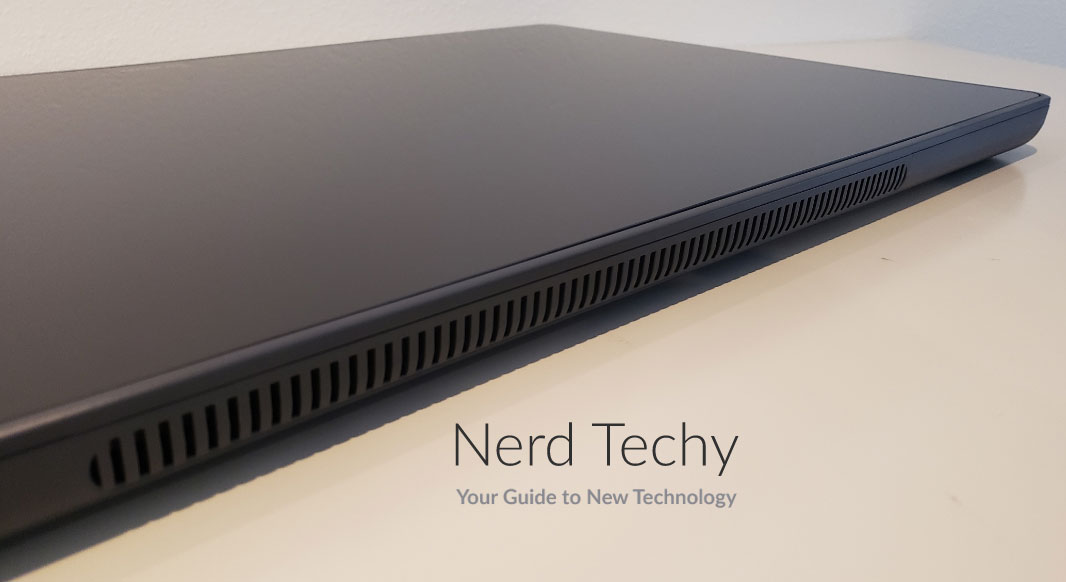 This is all well and good, but there are no other controls on the tablet. By contrast, a lot of tablets have several built-in buttons, so you can keep your hands off your keyboard. The GAOMON PD156 PRO is an excellent example. It has nine programmable buttons, along with a customizable scroll ring. Then again, it has a smaller screen than the Kamvas 24 Plus, with lower resolution.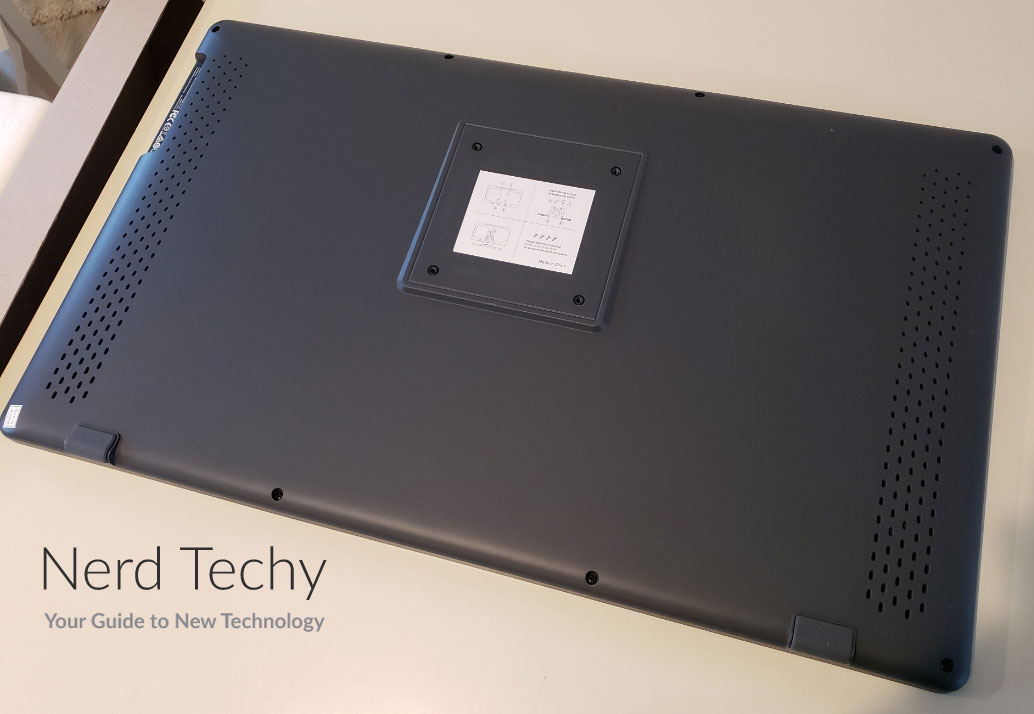 The screen has 8,192 levels of pressure sensitivity. Press harder for a bolder line, and lighter for a fainter one. With that many pressure levels, it may as well be seamless. This is great news if you're applying any kind of shading.
Not only that, but the display is sensitive to the tilt of the stylus, up to an angle of 60 degrees. This allows you to draw narrower and broader lines, just like tilting a real pencil or marker. All in all, it has a very natural feel, and there's not much of a learning curve at all.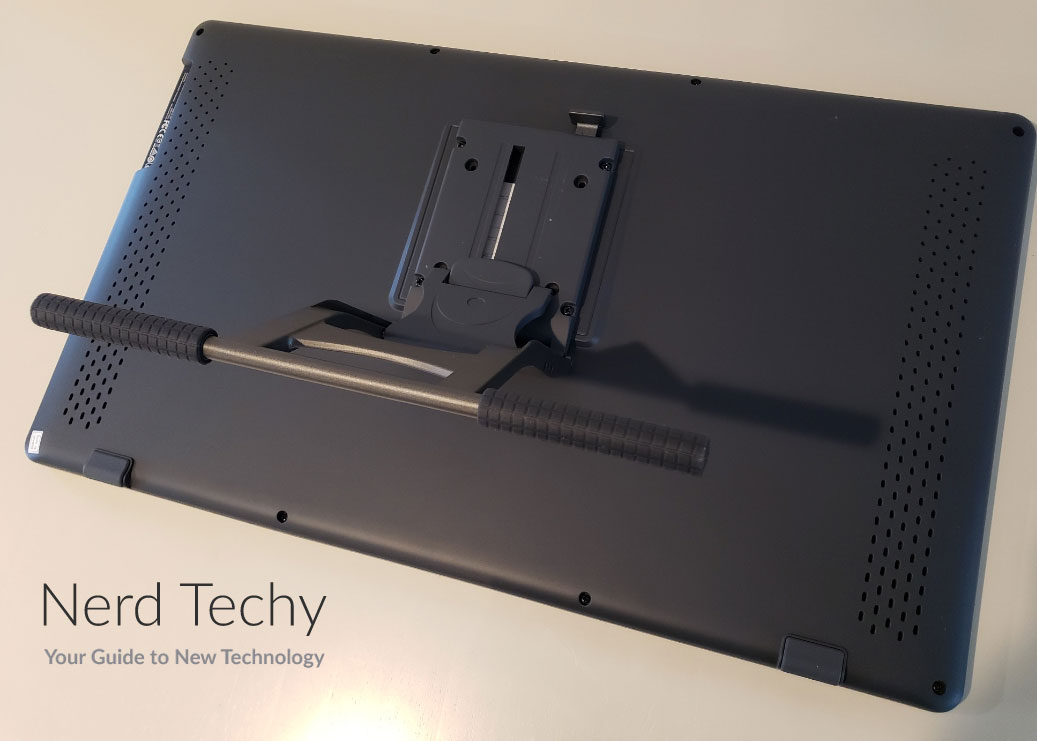 Connectivity and Compatibility
The Huion Kamvas 24 Plus is not a standalone tablet. It's designed to act as a display for another device, such as a computer or tablet. It works with Windows, Mac OS, Android, and Linux systems.
However, you'll have to install the drivers in order for it to work. These are available for free on Huion's website. Just make sure to choose the version that's appropriate for your operating system! Similarly, you can expect seamless compatibility with most popular digital art programs. This includes both Photoshop and GIMP.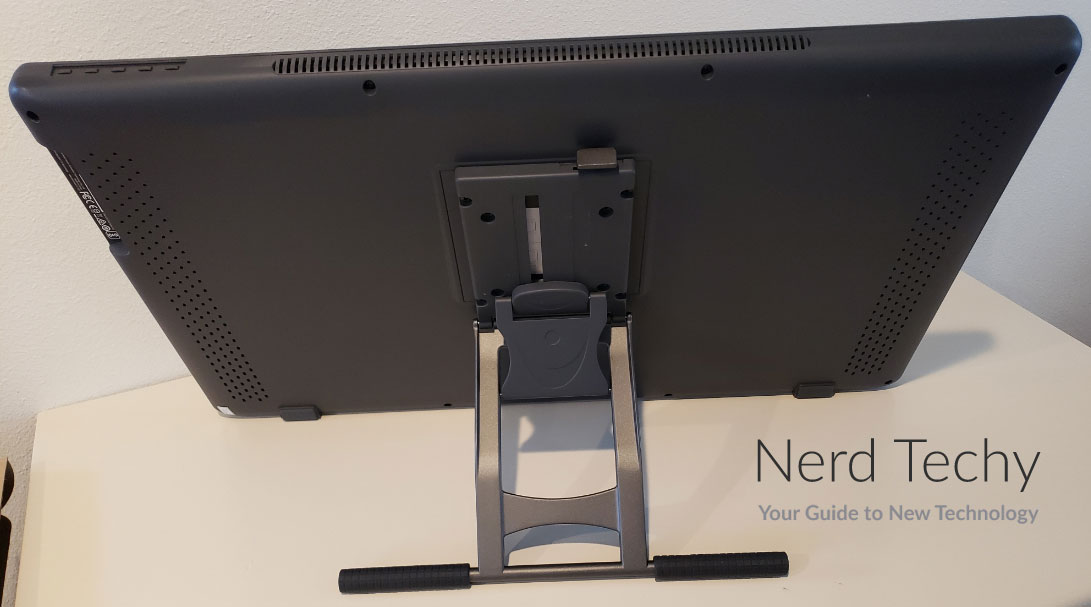 There are two different ways of connecting to your device. If your device has an HDMI output port, the process is simple. Connect the single end of the 3-in-1 cable to the top USB Type-C port. Then, plug the HDMI plug into your computer's HDMI port. Connect the USB Type-A plug into one of your computer's USB ports. This will provide a data connection, but it won't provide sufficient power. To power the tablet, connect the USB Type-C plug to a power bank or AC adapter.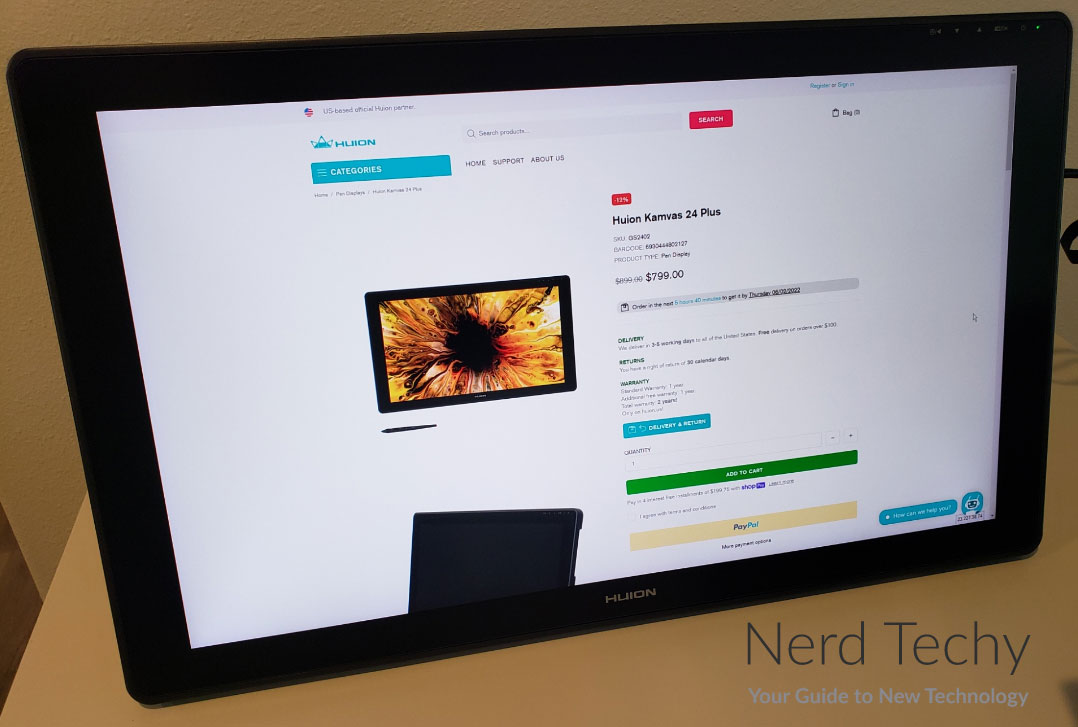 If your device doesn't have an HDMI port available, it may still support USB Type-C video. In that case, connect the Type-C cable from the bottom port on the tablet to the appropriate one on your device. Then, plug the 3-in-1 cable into the top port, and connect the USB Type-C end to a power supply. Both the USB Type-C cable and the 3-in-1 cable are included in the package.
If you're looking for a different design altogether. Check out the Panasonic TOUGHBOOK G2. It's not made for artists, but like its name implies, it's exceptionally rugged. It's also built as a standalone device, with its own OS and apps, so it's great for on-the-go use.
Resolution and Refresh Rate
The display has an ultra-sharp resolution, at 2,560 x 1,440 pixels. This makes it 1440p, or 2K, which is more than enough resolution for the size. There's no actual documentation on the refresh rate, but it seems to run at 60Hz. Honestly, refresh rate isn't much of a concern here, since you're not using the tablet for gaming or movies.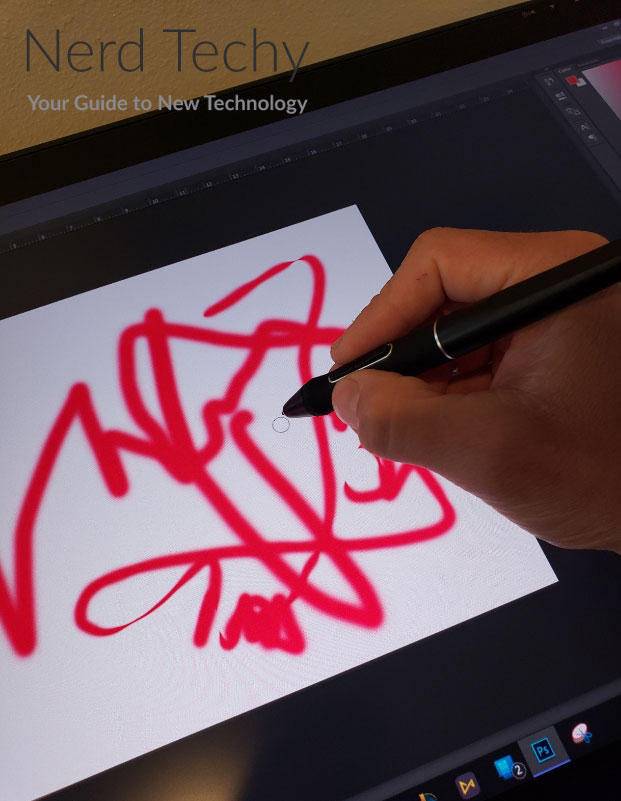 If you want a higher resolution, consider the XP-Pen Artist Pro 16TP. It has full 4K resolution, so you're getting the ultimate in crispness. It's also more compact and portable than the Kamvas 24 Plus, but at the expense of a much smaller screen.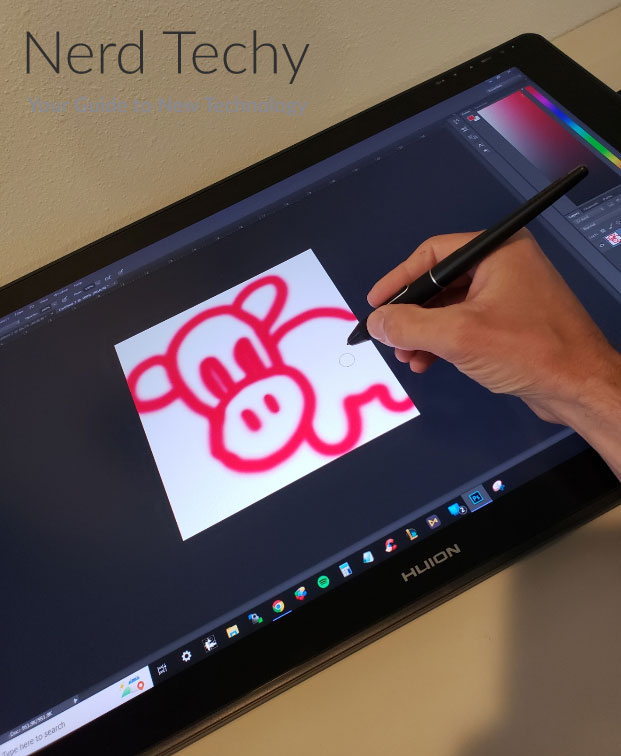 Brightness and Color Quality
The screen on the Huion Kamvas 24 Plus has a maximum brightness of 220 nits. That's just fine for most lighting conditions, but you'll want to avoid using it in direct sunlight.
Meanwhile, the 1,200:1 contrast ratio is superb. That's the difference in brightness between the lightest and darkest colors on the screen. You won't notice this with bright, vibrant images. But if you're working with a lot of darker tones, the colors are going to be far easier to distinguish.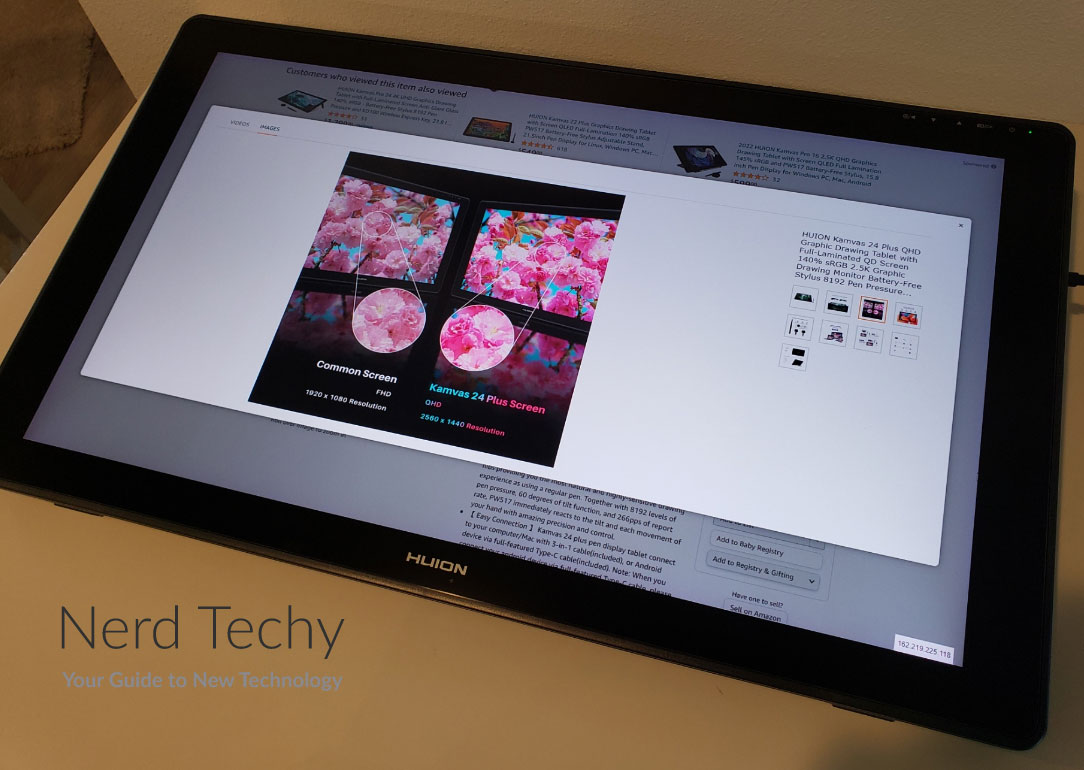 The display itself uses QLED technology. Without going too far off track, these LEDs use quantum technology to produce crisper, sharper images. You also get better color clarity and a longer-lasting display than traditional LED. If that's not enough, there's less blue light, which means reduced eye strain.
Color accuracy is excellent, with a color gamut of 140% of the sRGB color space. That's equivalent to 97% of the NTSC color space. With 16.7 million total colors, you'll have more than the human eye can even detect. Even if you're trying to use an extremely precise color, you'll be able to do that.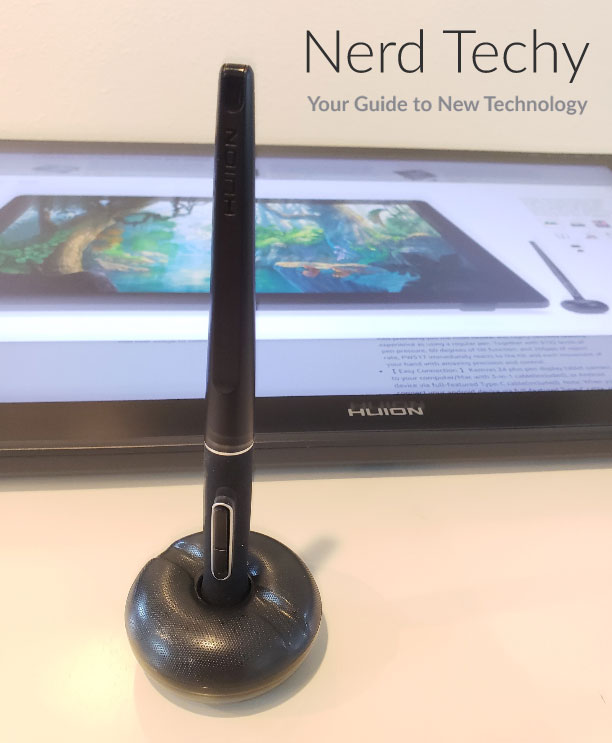 This is an IPS display, designed for an ultra-wide viewing angle. You can view it at an angle of 89 degrees to either side, and the colors will still be true. Everything won't turn blue and black like it will on many displays
Final Verdict
The Huion Kamvas 24 Plus is a very well-designed tablet. The display is perfect for artists, with a sensitive, fully-laminated surface and a wide color gamut. The OLED panel looks gorgeous, and setting up the display is quick and painless. Perhaps most importantly, this is a huge display. It's not just a compact travel tablet; it's great for permanent use at a workstation. And with that much real estate, you can zoom in and perform fine detail work with ease.