If you want to relieve muscle pain – or just relax at the end of a hard day – it's tough to beat a massage. Many people end their day with a visit to a masseuse or the massage bed at their local gym. If you've got sore muscles, a massage will relieve tension and tightness. Massages are also great for your mental health. There's nothing like the sense of relaxation that washes over you as you enjoy a good massage.
But visiting a masseuse or a gym isn't always practical. Maybe there's no convenient location and you'd have to drive well out of your way. Or maybe you spend a lot of time on the road for work, so there's no consistent location for you to visit. In either of those cases, using a personal massage gun can make more sense. A massage gun can go with you wherever you travel, so you can relieve stress and tension anywhere you go.
Today, we're going to review four of the best mini massage guns for travel under $100. These are the Bob and Brad Q2 Mini, the OMK Mini, the Air Tube Mini, and the Kebor Mini. All of them are compact, affordable, and effective. But which one is the right choice for you? To find out, we'll have to take a closer look at all four of today's options. We'll dig into the features, benefits, and even the drawbacks. After we've gotten a clear picture, we'll render our final verdict. Let's get started!
Best Overall: Bob and Brad Q2 Mini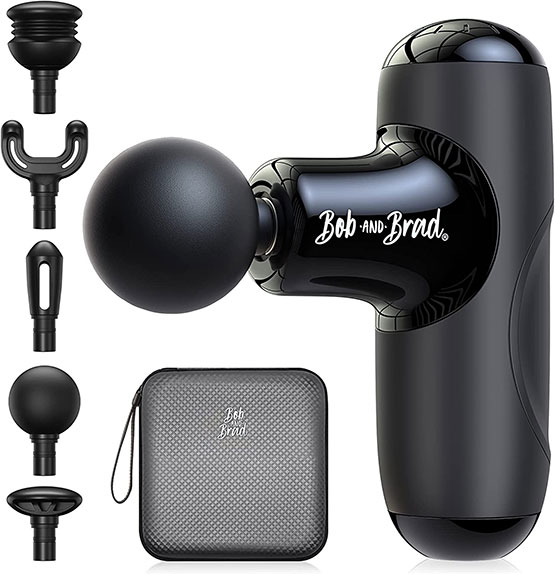 Key features:
Five speeds.
Five massage heads.
1,800 to 3,000 RPM.
32-pound stall force.
7mm range of travel.
The Bob and Brad Q2 Mini has a smooth, T-shaped housing that's available in black or blue. The main portion is coated with a silicone layer that provides an anti-slip grip. The rest is a glossy plastic, which is reasonably easy to keep clean. On the back edge of the housing, near your thumb, is a power button. Not only does this turn the massager on and off, but it cycles through the various speed levels. The total size is 5.7 inches long, 3.4 inches wide, and only 1.8-inch thick. And at only 0.95-pound, it's very easy to manage.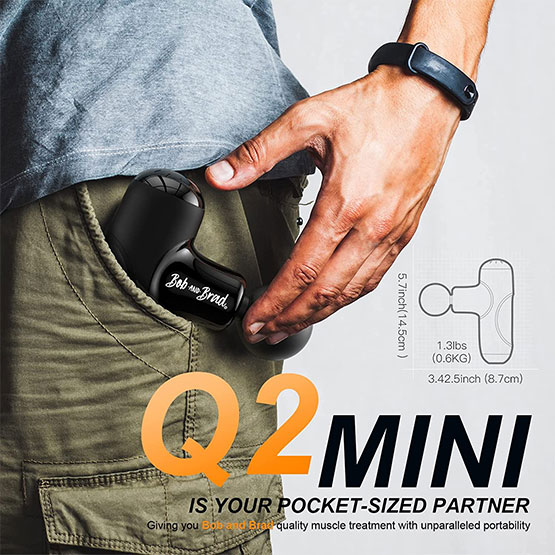 Using the button, you can select five different speed settings. The slowest is 1,800 RPM, and the fastest is 3,000 RPM, so you get a reasonably wide range. The massage head, meanwhile, has a 7mm range of travel. This is fairly short, but can still provide a good massage under most circumstances. And with a 32-pound stall force, you can apply a reasonable amount of pressure without locking up the motor.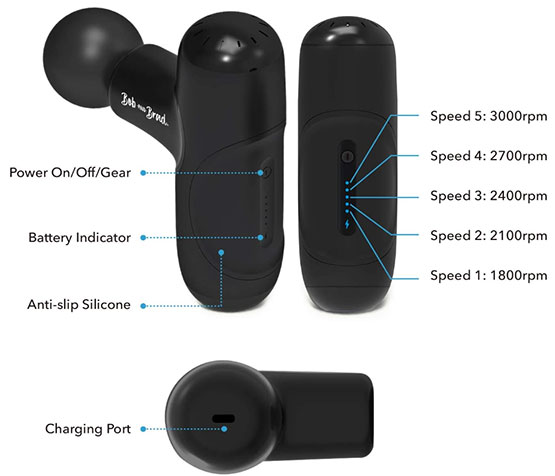 The package includes five massage heads, which you can use to achieve different effects. First is a broad, slightly-curved tip with a built-in shock absorber that makes it very gentle. The second is a forked plastic tip for working on the sides of your spine or other areas. The hard, bullet-shaped tip is designed to dig deep into muscles and joints and reach targeted spots. Fourth, you get a spherical tip, which is softer than most of the others and good for general use. The final, broad tip is designed for a broader massage that's not targeted to a specific pain point.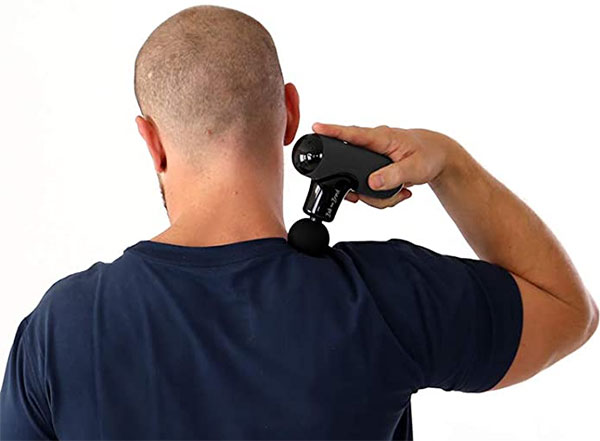 The internal battery will last for around two hours of continuous use. This is highly variable, depending on your speed setting and how you're using the massager. It charges quickly, via a USB Type-C port at the end of the housing. It also has a 10-minute automatic shutoff function. This ensures that you won't inadvertently leave your massager running and drain your battery.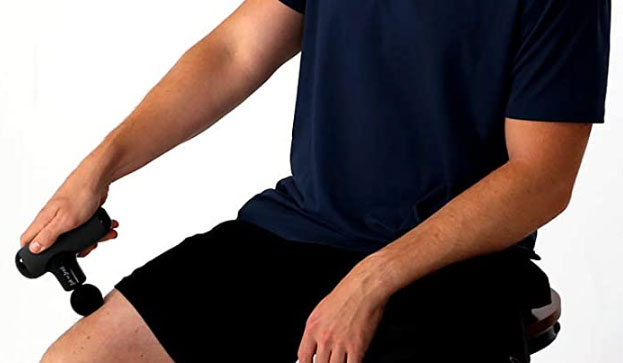 Along with the massager and heads, you also get a carrying case. It's a durable nylon case with a handle on top and a zipper closure. Inside, molded foam padding keeps your massager, heads, and charging cable organized and safe.
If you're familiar with massage guns, you've probably heard of Bob and Brad. They've released a number of quality massagers, including the D6 Pro, which we recently reviewed. It's a high-end massage gun with various speeds and seven massage heads, along with a quiet, brushless motor. So when we were looking for compact, affordable massagers, it made sense to pick something from their catalogue.
Best Runner-Up: OMK Mini Massage Gun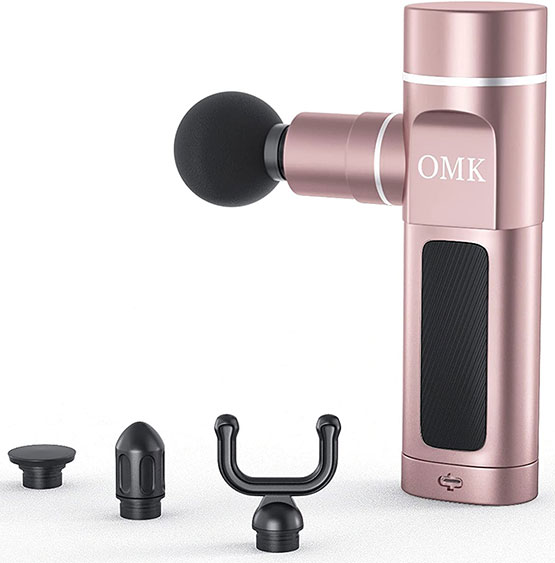 Key features:
Four speeds.
Four massage heads.
1,700 to 3,500 RPM.
30-pound stall force.
6mm range of travel.
The OMK Mini Massage Gun also has a T-shaped design. It's available in three colors: pink, blue, or green. The housing is mostly matte plastic, with rubber grip pads on both sides. This makes it easy to grip and operate. It measures 7.36 inches tall, 6.38 inches long, and 1.93-inch thick. And it weighs only 1.32 pounds, so transporting and carrying it is no big deal. The control is a single button on the back, which turns the unit on and off and adjusts the motor speed.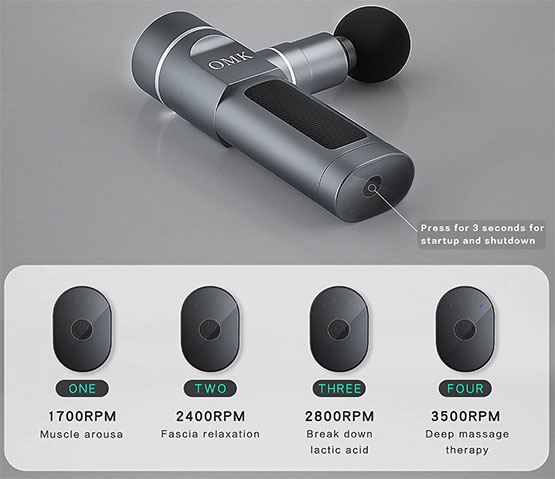 There are four speed levels in total, ranging from 1,700 to 3,500 RPM. This gives you a good selection of intensities, across a reasonably broad speed range. The 6mm range of travel is on the short side, but still works well for most issues. You also get the benefit of a 30-pound stall force. Again, it's not incredible, but it's enough for lightweight use and everyday massages.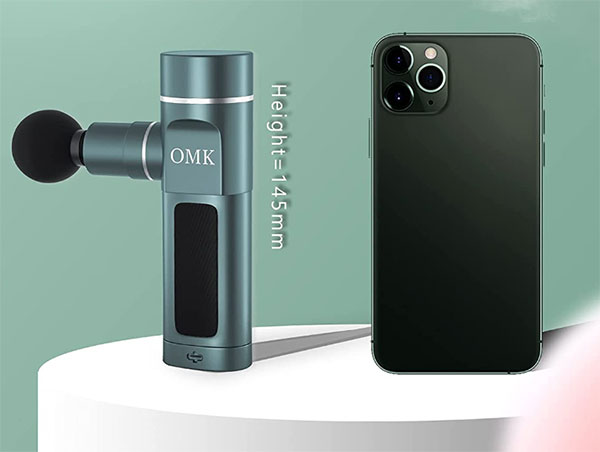 To go along with those four working speeds, you get a set of four massage heads. The first is a foam sphere for general use, which is the most common type of massage head. The second is a forked head made from hard plastic, used for your spine, shins, and similar areas. Third, you get a bullet-shaped head for reaching targeted areas. Finally, there's a broad, flat head that's useful for larger muscle groups.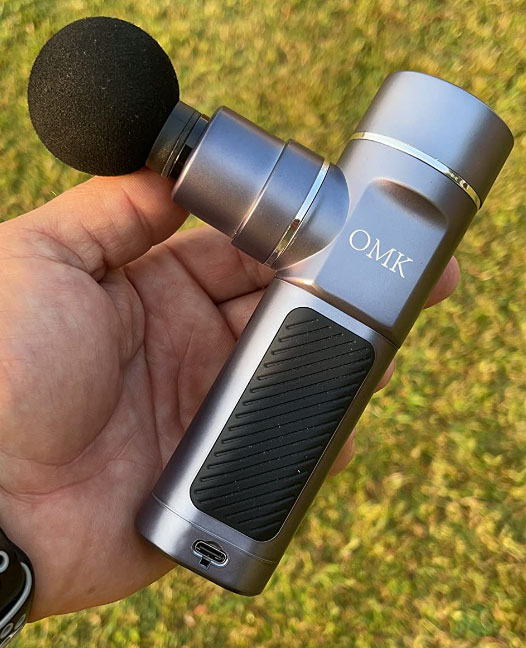 The battery is rated for six hours of use, but that's a rough estimate. If you're constantly running it at maximum power, it will last for a shorter period of time. Charging takes less than two hours via USB Type-C. And with a 10-minute auto shutoff timer, you won't drain the whole battery by accident.
Best Entry Level: Air Tube Mini Massage Gun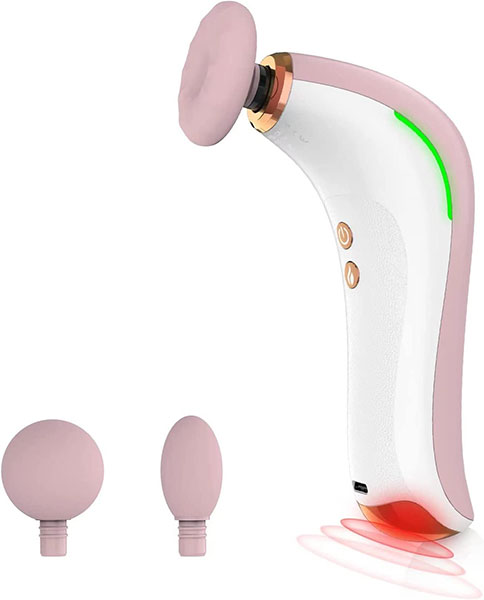 Key features:
Six speeds.
Three massage heads.
1,700 to 2,900 RPM.
35-pound stall force.
8mm range of travel.
Built-in heating element.
The Air Tube Mini Massage Gun has an altogether different design. Instead of a right-angle shape, the pink and white housing has a swooped, curved profile. The grip is ergonomic and tapered, with a smooth base at the bottom. At the front is a massage head, which protrudes at a shallow angle. The total size is 6 inches tall, 5 inches long, and 2 inches wide. And at 15.52 ounces, it weighs less than a pound.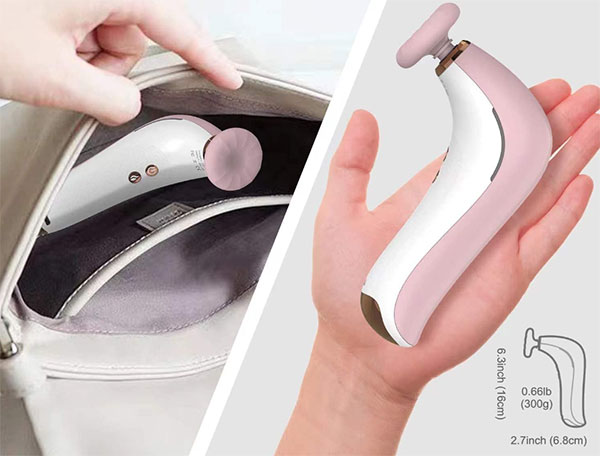 The controls are simple and straightforward. On the front, you'll find two buttons to control the power and heating functions. Pressing the power button repeatedly will cycle through six speeds from 1,700 to 2,900 RPM. This is a relatively narrow range, but with plenty of settings within that range. The 8mm range of travel is respectable for a mini massager, as is the 35-pound stall force.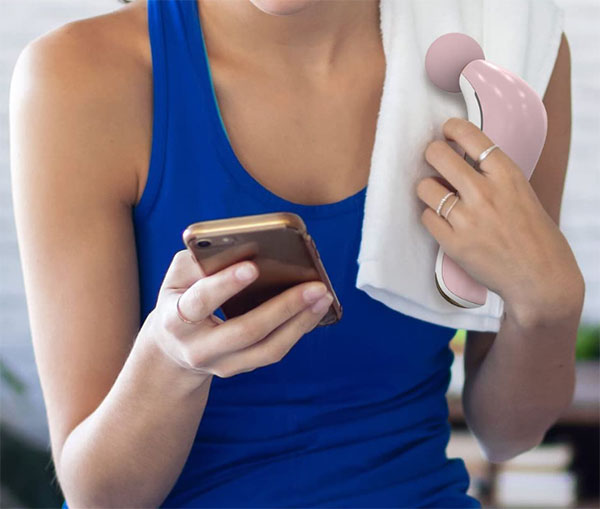 The package comes with three massage heads to provide different types of massage. First is a foam ball, which you'll probably use most often. There's also a flat rubber head and a bullet-shaped rubber head, for broader and more targeted massages respectively. In addition, there's a heating element built into the base of the housing. You can move it over sore muscles to relieve cramping, then follow up with a massage.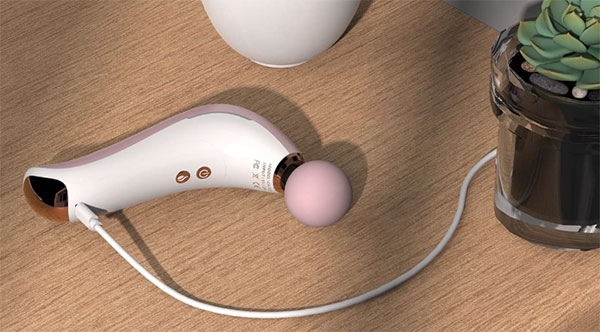 The built-in rechargeable battery will work for approximately four hours on a full charge. As with all massagers, this will vary based on your usage. You'll also run down the battery much faster when you're using the heating element versus massaging. On the plus side, there's a 10-minute auto shutoff function to keep you from draining it inadvertently.
Air Tube backs their massage gun with a 12-month manufacturer's warranty. If it fails due to a defect in parts or labor, you'll be fully protected.
Best Alternative: Kebor Mini Massage Gun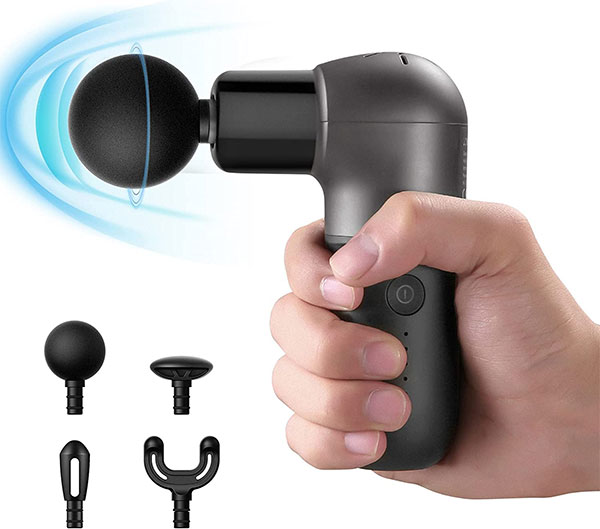 Key features:
Five speeds.
Four massage heads.
1,800 to 3,000 RPM.
35-pound stall force.
14mm range of travel.
The Kebor Mini Massage Gun has an L-shaped housing, constructed from a matte black or white plastic. It measures only 5.75 inches tall, 3.3 inches long, and 1.89 inches thick. At 1.54 pounds, it feels very solid for the size, and there's a built-in wrist lanyard to make it easy to hold.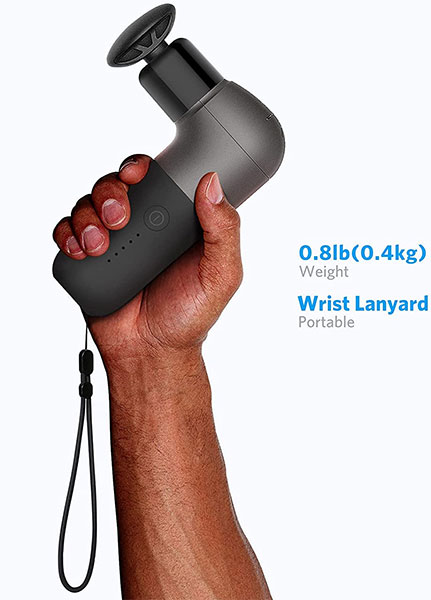 On one side is a power button, along with a row of LED indicators. These will light up to show which of the five speed settings you're currently using. The speeds range from 1,800 to 3,000 RPM, providing a reasonable range of intensities. The 14mm range of travel, meanwhile, is exceptional for such a small massage gun. In fact, the same is true for the 35-pound stall force, which is tough enough to dig deep into your muscles.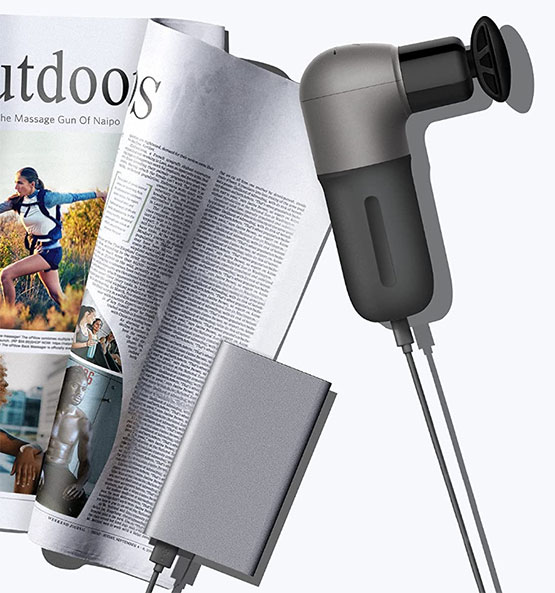 Along with the massage gun, you get a set of four heads that can be changed in and out for different massages. First, there's a standard ball-shaped head that's suitable for most purposes. The flat, round head is better for large muscle groups where you want to spread out the impact. The bullet-shaped tip has the opposite effect, targeting your massage to a specific spot. And the split head is good for working around your spine.
The 2,000mAh battery will last for up to four hours, depending on your settings. And when it comes time to charge, the USB Type-C port will allow you to top off in under two hours.
Massage Gun FAQ
How long do you use a massage gun?
For pre-workout muscle activation, 30 seconds. For mid-workout reactivation, 15 seconds. For post-workout recovery, you can work each muscle group for up to 2 minutes.
Can I use a massage gun for neck pain?
In most cases, yes. However, if you apply too much pressure, it can actually make the pain worse.
Can I use a massage gun while I'm pregnant?
There's no reason you shouldn't be able to use a massage gun to relieve lower back and pelvic pain. But as with anything you do when pregnant, talk to your doctor first.
Final Verdict
All four of these mini massage guns can be the ideal choice under the right circumstances. But which one is the best choice for you? Here's what we've learned about each one.
We started out by examining the Bob and Brad Q2 Mini. This massager has both five settings and five heads, which provides plenty of versatility. The battery life is on the short side, but will still be more than sufficient for personal use. We particularly liked the carrying case, which is convenient and well-constructed.
Next, we checked out the OMK Mini Massage Gun. This massage gun is also T-shaped, but it has a slightly different design. It has flat sides instead of curved, with rubber padding to provide a better grip. There are only four speed settings, but they cover a pretty wide range of intensities. And with four massage heads, you'll be able to work on most muscle groups with no issues.
After that, we tested the Air Tube Mini Massage Gun. This massager's ergonomic shape makes it very comfortable to hold and operate. It only has three massage heads, and the speed range is fairly narrow. But you get a built-in heating element that loosens up muscles in no time. You also get a four-hour battery life, which is enough to last through most vacations.
Finally, we reviewed the Kebor Mini Massage Gun. This is the smallest of the bunch, which makes it incredibly useful for travel. It has four massage heads and five operating speeds, so it's reasonably versatile. Best of all, it has a 14mm range of travel, so it can work deep tissues that other massagers can't reach.