Sylvox 32" 12V Smart TV
Pros
Beautiful 1080p display with rich colors.
Easy to install in RVs and campers.
WiFi and Bluetooth connectivity with WebOS.
Very lightweight for the size.
Can be powered by 12V or standard AC power.
Cons
Requires a Fire Stick or other accessory for Hulu streaming.
Smartphone app is a little janky.
Built-in speakers are just OK.
RVing can be an incredibly rewarding experience. You get all the benefits of life on the road. You can visit national parks and other highlights, and sleep wherever you want to. If you've ever wanted to live a nomadic lifestyle, an RV is the best way to do it.
At the same time, you get all the comforts of home. Instead of taking a birdie bath with cleaning wipes, you can take a real shower. Instead of preparing freeze dried food over a campfire, you can cook a real dinner in a real kitchen.
Out of all of home's comforts, a TV is one of the most important. Once you've taken your shower and eaten your dinner, you probably want to relax and watch a movie. But installing an ordinary TV in an RV can be problematic.
The power requirements are different, which makes wiring a pain. Ordinary TVs also tend to be heavy, which can be a problem when you want to hang one on an RV bedroom wall. Fortunately, there are TVs that are made specifically for RVs.
We're about to review the Sylvox 32" 12V Smart TV. This is a lightweight TV that's made to run on RV power. It also has a beautiful 32" 1080p display.
But is it the right choice for you? To find out, we're going to have to take a deep dive into its features, benefits, and drawbacks. We'll look at the video quality, installation process, and more. Let's take a closer look, and see how this TV performs!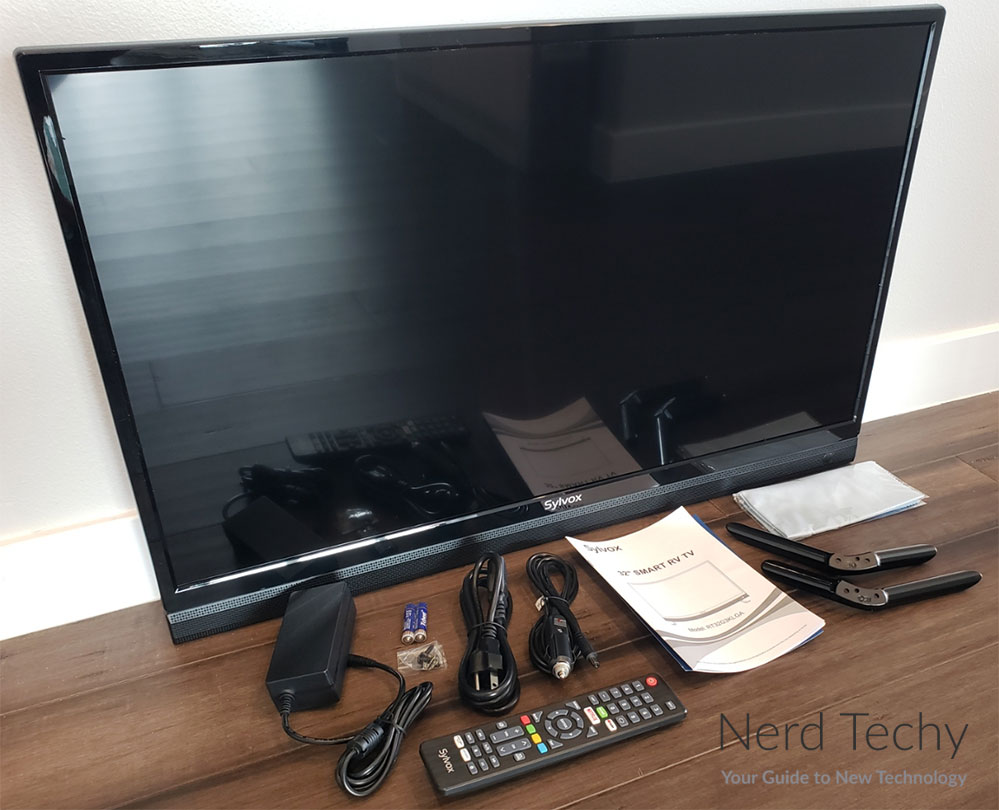 Overall Design
The Sylvox 32" 12V Smart TV has an all-black housing, like most modern TVs. There's a narrow bezel around the screen, with a wider bar at the bottom. This area has a set of speaker covers, along with a power button at the bottom right.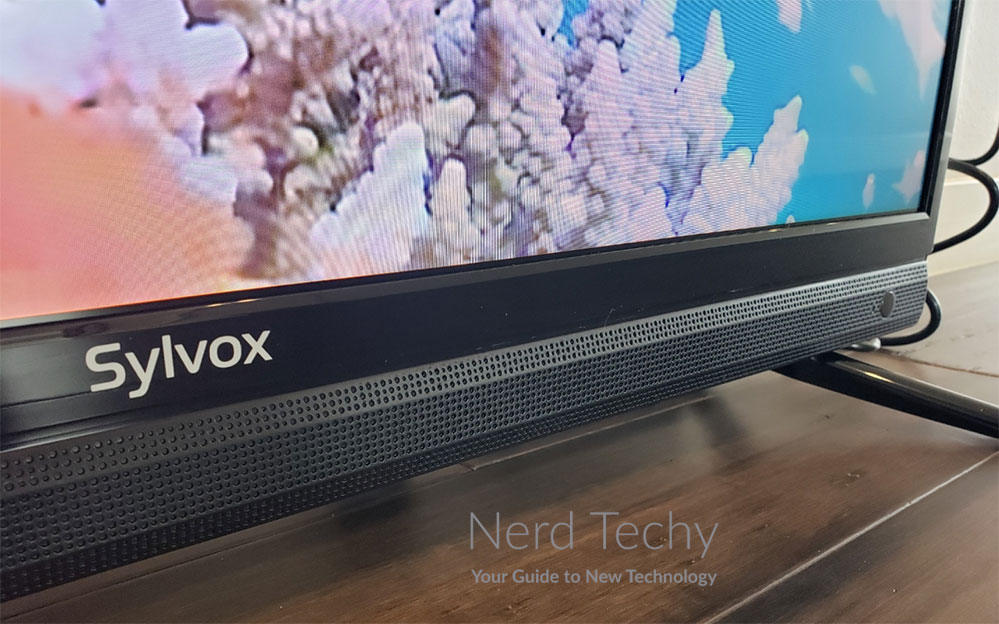 The total size of the TV is 28.8 inches wide, 20.2 inches tall, and 7.7 inches thick at the fattest point. There's a set of holes on the back for mounting, arranged in a rectangular pattern. These holes are designed to attach to a 200 x 100 VESA mount, so you can use your stand of choice. And at only 9.1 pounds, the TV is light enough to mount to a lightweight RV wall.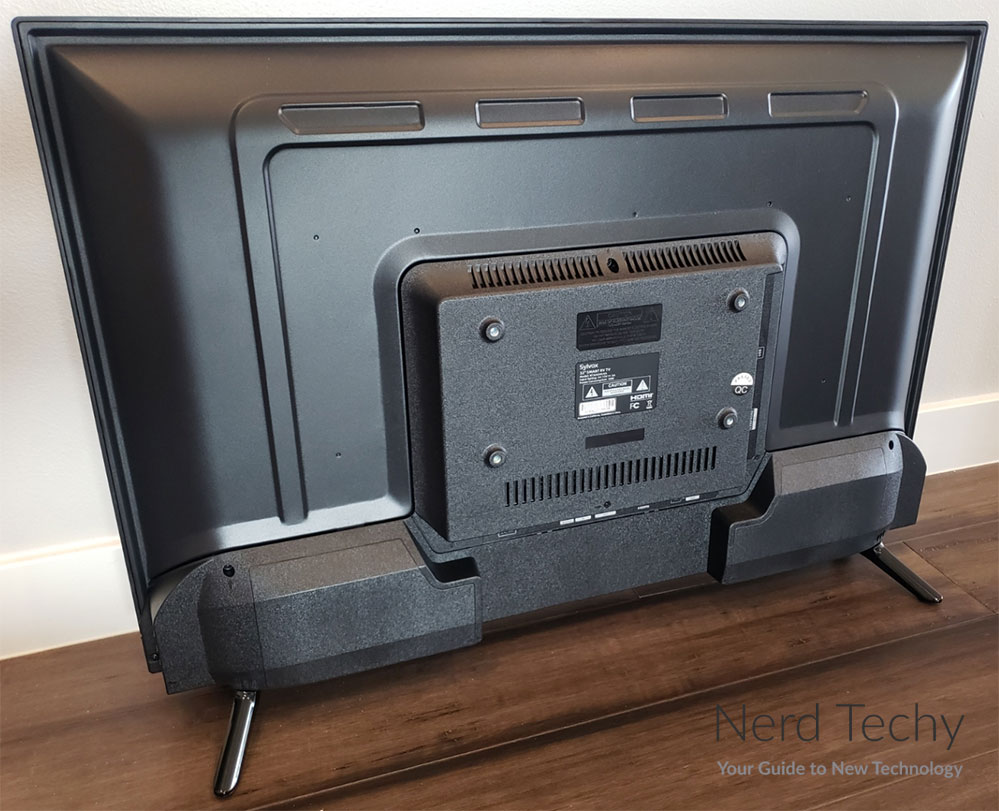 By default, Sylvox ships their TV with a set of standard plastic feet. These are fine for setting the TV on a dresser or other flat surface. Although if you're in an RV, you'll want to zip tie the base or otherwise secure it to prevent tipping. Alternatively, you can order the TV with a wall mount that's specifically engineered for RV walls. The mount has a sliding set of brackets that allow you to quickly adjust the height. You can also tilt the screen up or down, or angle it from side to side for better visibility.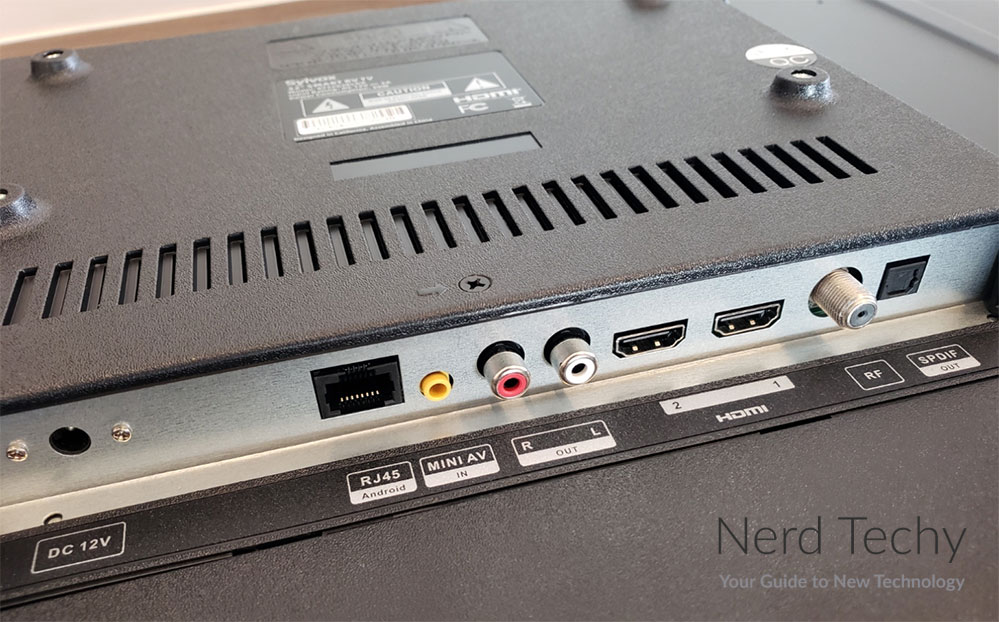 All of your input and output ports are located on the back of the TV. To begin with, there's a 12-volt DC power input at the right end, which takes a barrel-style plug. Next in line is an Ethernet port for connecting directly to your router. After that is a Mini AV port, along with a digital optical audio out port for soundbars and other similar devices.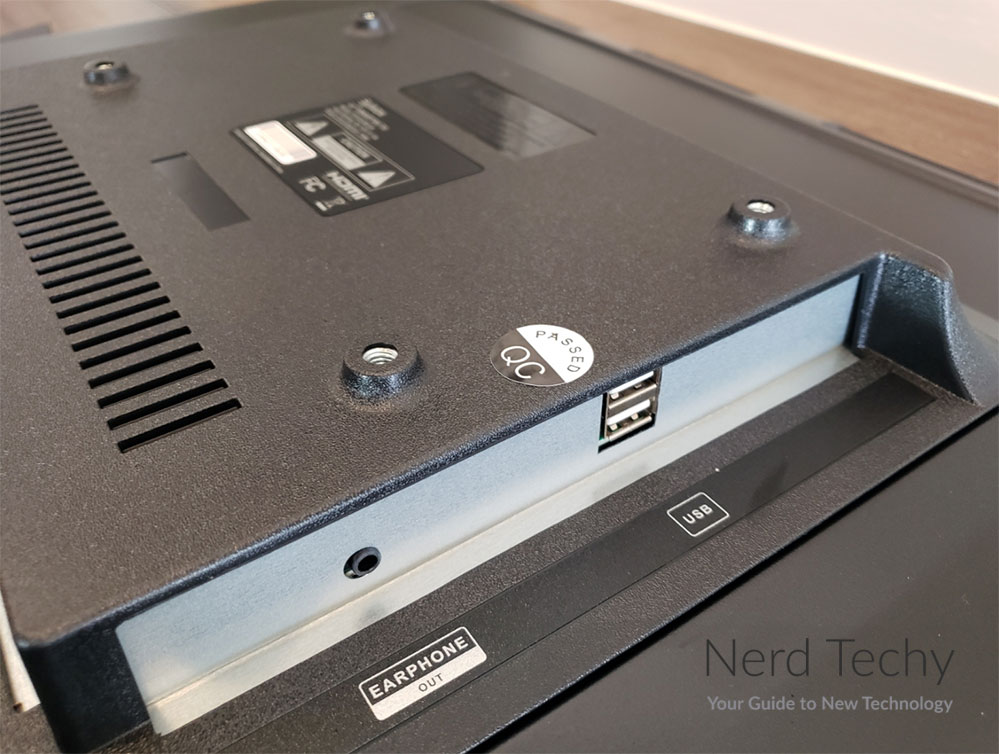 Next is a pair of HDMI cables for connecting set top boxes, game consoles, and computers. There's an RF port for connecting older devices, as well as a headphone jack for discreet audio. Last but not least, you'll notice a pair of USB Type-A ports. These can be used to plug in thumb drives, external hard drives, and streaming devices like the Fire Stick.
The kit includes both an AC adapter power cord and a simple DC power supply. It accepts a wide range of voltages, from 10.5 to 28 volts. As a result, you don't have to worry about voltage fluctuations ruining your viewing experience. There's also built-in reverse connection protection, so getting your positive and negative contacts backwards won't cause a problem.
In addition, you'll get a handheld remote with a pair of AA batteries. This is a standard line-of-sight TV remote with volume and channel controls. You can use it to navigate the TV menu and adjust your picture settings. You can also use the shortcut buttons to instantly access streaming services like YouTube and Netflix.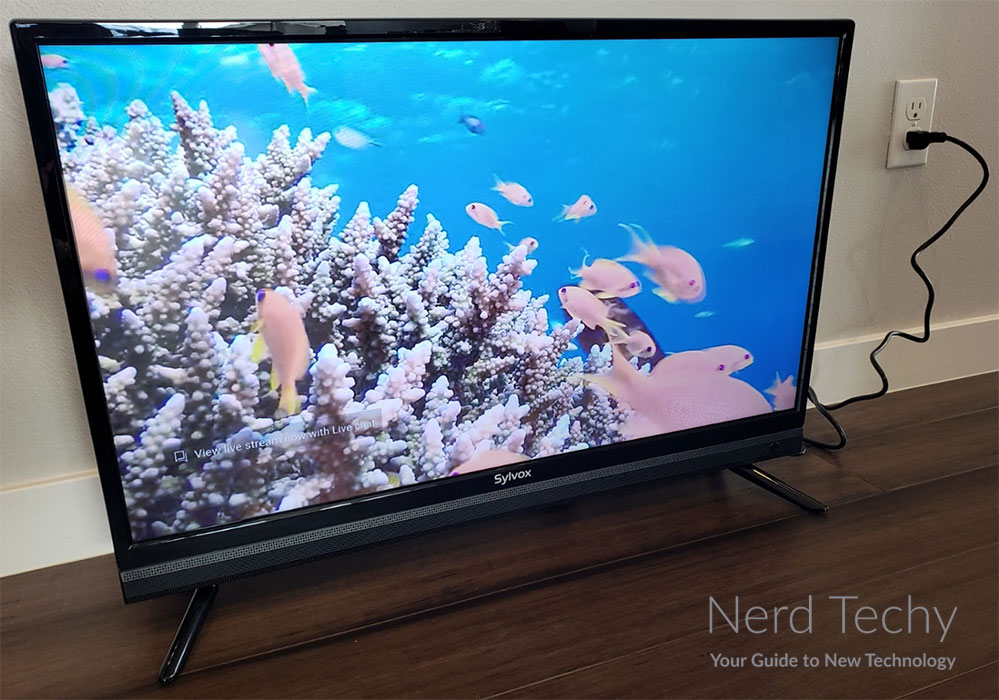 Picture Quality
The display measures 32 inches from corner to corner, which is the standard way for measuring TV sizes. This is slightly on the small side as TVs go, but consider the application. We're talking about an RV TV, which means you'll be watching in a small space. The shorter the viewing distance, the smaller the screen you need. So for a small RV living room or bedroom, 32 inches is a great size.
The screen has a resolution of 1,920 x 1,080 pixels, or 1080p. This is a full HD TV that will provide the maximum quality from most video sources. For streaming media, 1080p is still the maximum due to bandwidth limitations.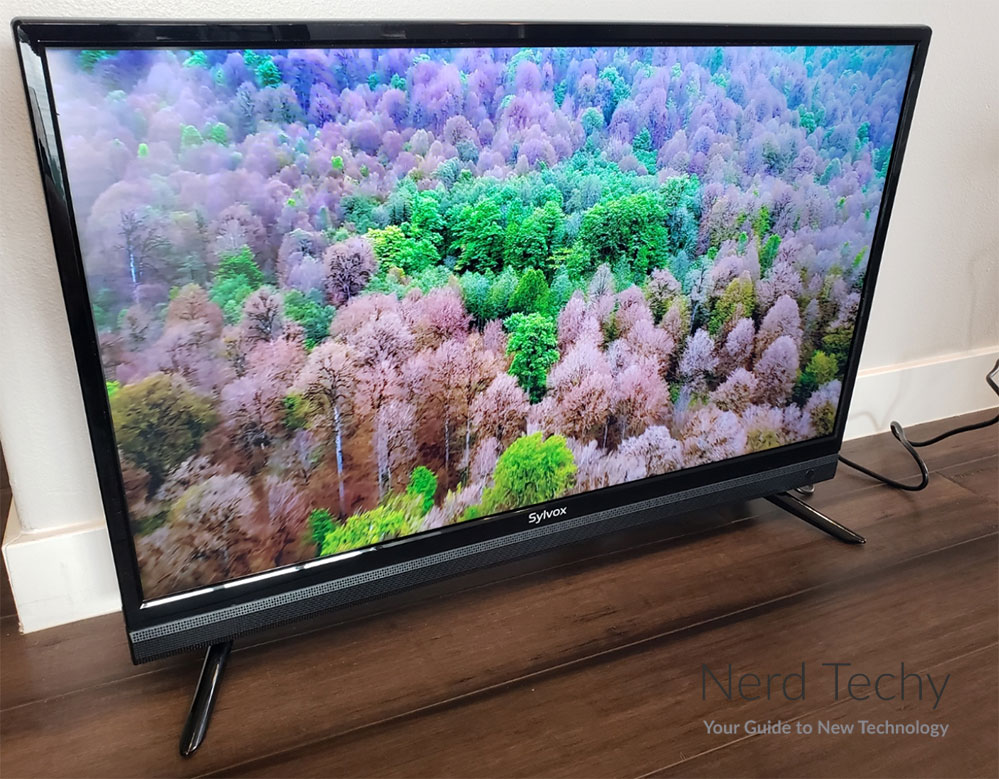 If you're watching movies on Blu-Ray, you won't get the benefit of their 4K resolution. But at 32 inches, that's not as big a downgrade as you might think. Unless you're sitting inches from the screen, you won't be able to tell the difference.
The screen panel uses IPS technology, which allows for an ultra-wide viewing angle of 178 degrees. Even if you're sitting far off to the side, colors will be accurate and bright. They won't fade to black and white or become negativized like they will on some TVs. You can pack the whole family into your little RV living room and everyone will be able to see clearly. And with a 60Hz refresh rate, you're even reasonably well set up for gaming.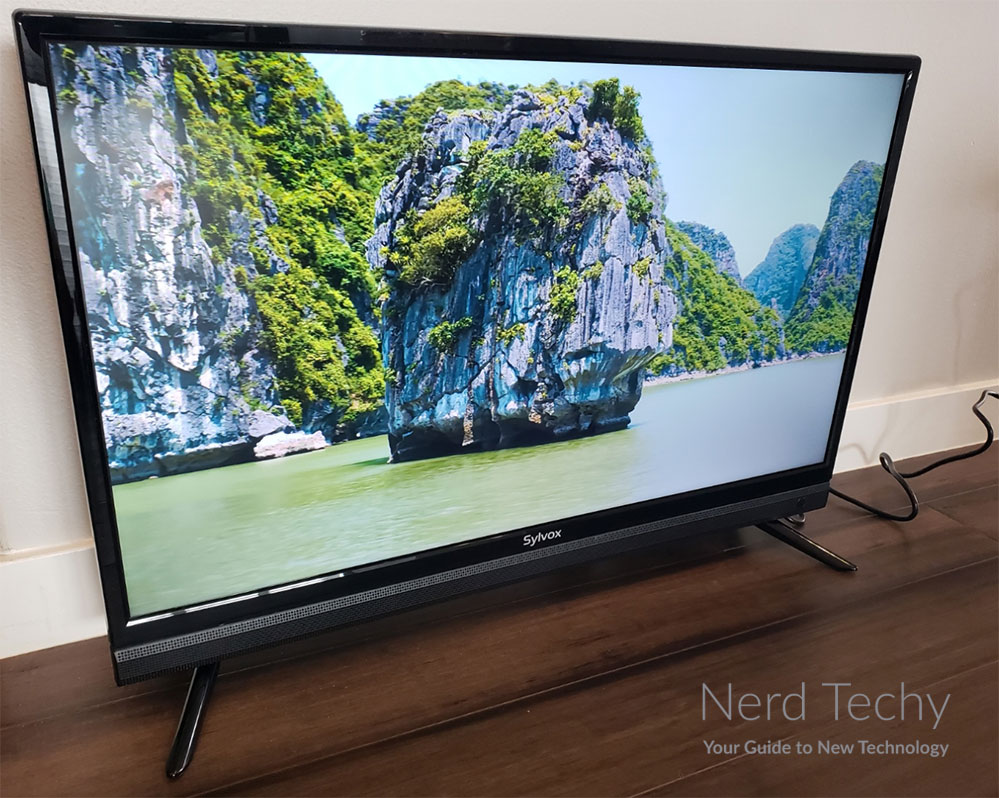 The latency of this TV is only 8ms. For watching movies or shows, this will be completely irrelevant. But when you're gaming, every millisecond of latency makes it harder to play. This is particularly true in multiplayer, where other players may have less latency. Regardless, 8ms is very fast, and helps to make you more competitive.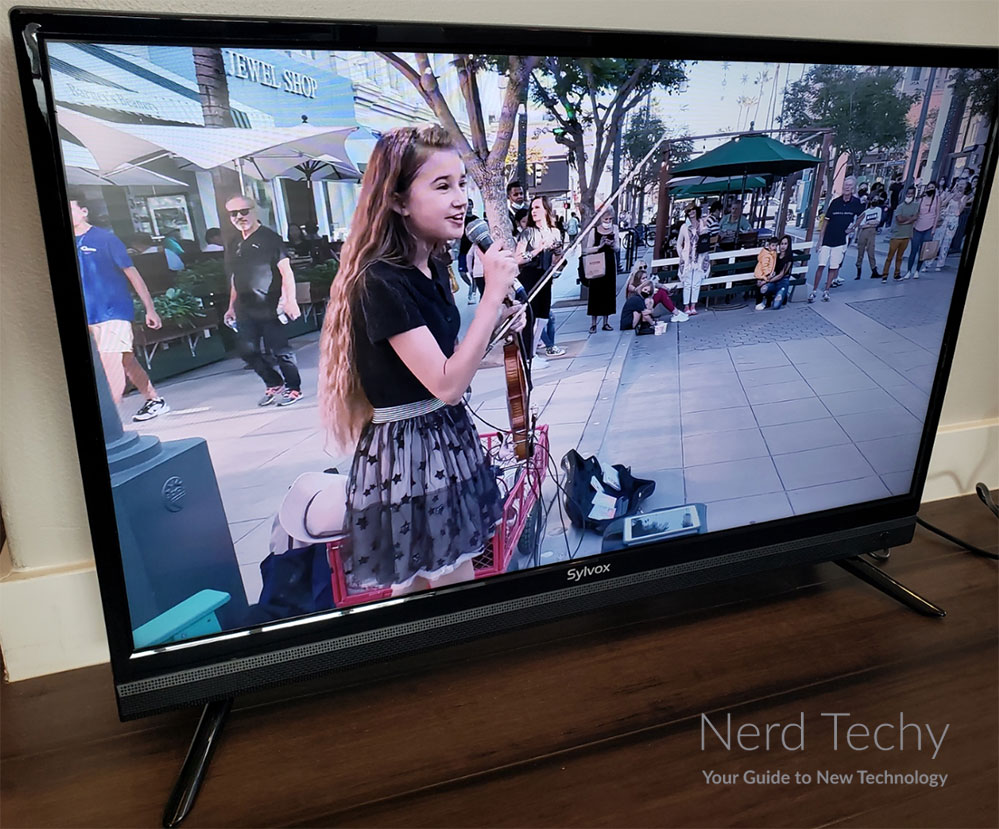 Sylvox' 32" TV also has an impressive 3,000:1 contrast ratio. This is the difference between the brightest and darkest shades on your screen. It doesn't matter when the video is well-lit, but for darker scenes, contrast ratio is hugely important. 3,000:1 is the highest contrast ratio that the average human eye can distinguish. Anything higher is just the manufacturer showing off for no reason. We certainly had no complaints, even in stealth games or while watching dark movies.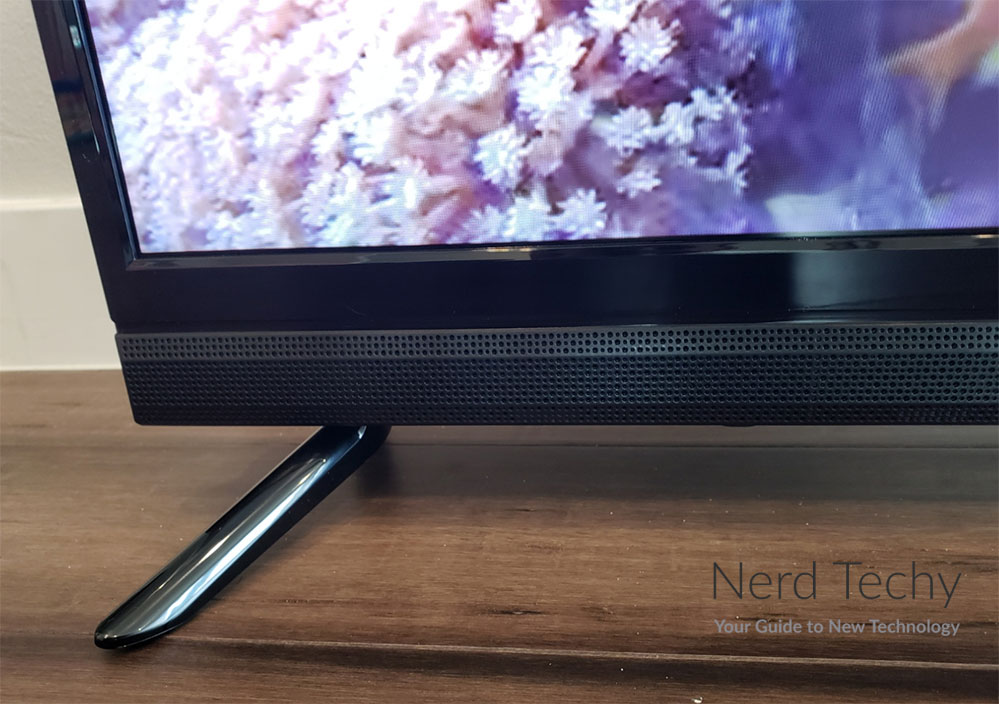 Sound Quality
Inside of the Sylvox 32" RV TV are a pair of 15-watt speakers. These are on par with the speakers you'll find in most TVs, and put out a reasonable amount of volume. You can crank them up all the way and they'll fill your entire RV with sound.
You'll likely even be able to hear your video from outside. To be clear, we're talking about built-in factory speakers. No matter what TV you buy, you'll always be better off with a soundbar or external speakers. But as far as built-in speakers go, these perform OK. The sound quality isn't truly impressive but it is acceptable.
This is a great TV for inside your RV, but what if you need something a little more weather-proof? In that case, check out the Sylvox Outdoor TV. It's waterproof and dust-proof, which makes it a perfect TV for your patio or deck. And with its WebOS operating system, it's easy to access all of your favorite streaming services. Just be prepared to buy your own speakers; the waterproofing technology limits the audio quality, especially at higher volumes.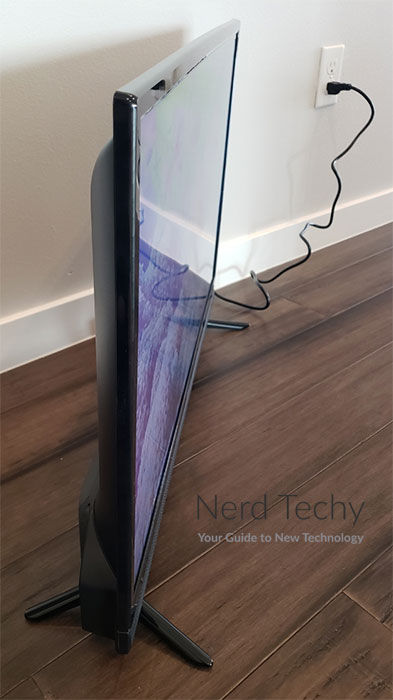 Features and Functionality
The Sylvox 32" TV runs on a Linux operating system. Besides basic functionality, this OS provides immediate access to several streaming apps. With the push of a button, you can access YouTube, Netflix, Amazon Prime Video, or Pandora. If you want to use other streaming apps, you won't be able to do it directly from the TV. However, the USB ports make this a non-issue. You can plug in a streaming stick like Amazon Fire or Roku and stream any app you want. You can watch Hulu, Disney+, HBO Max, Tubi, or any other apps your streaming stick supports.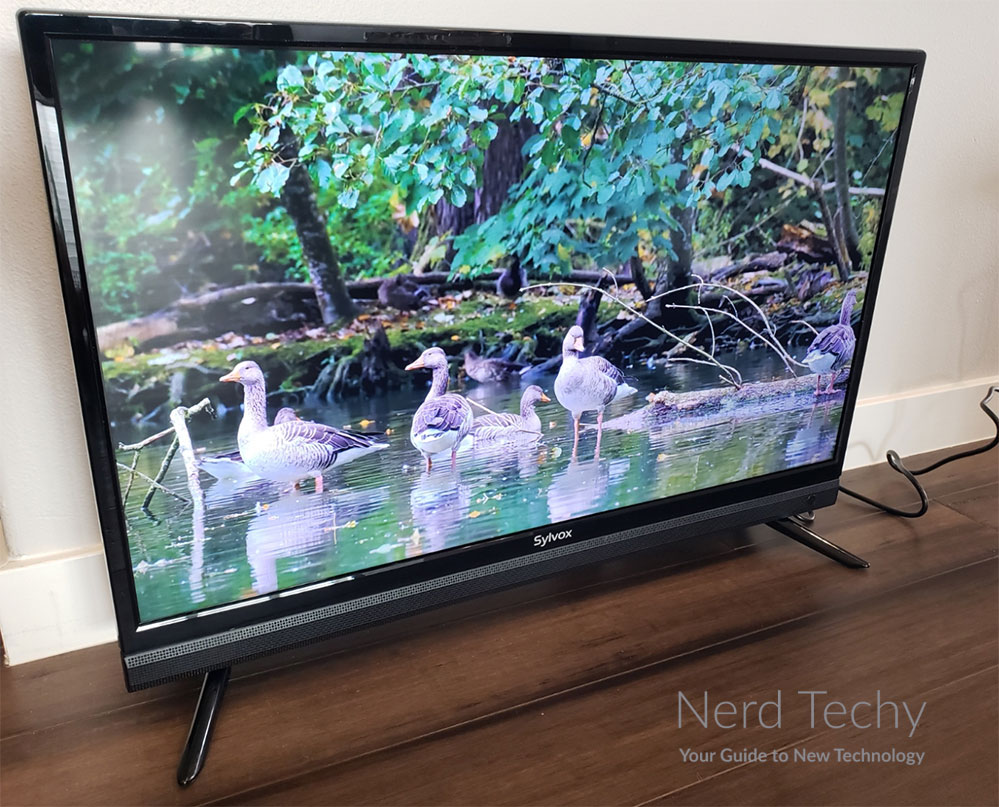 If that's not enough, you can transmit video via WiFi. If your TV is connected to your home network, you can simply press the "cast" button in your smartphone streaming app. Provided your app supports wireless casting, you can easily watch your videos in this way. You can also use the Sylvox smartphone app to cast your phone, tablet, or laptop screen. However, the app is a bit janky, and you might spend more time troubleshooting than you do watching your videos.
You also get the benefit of a Bluetooth connection. The TV can connect to Bluetooth soundbars, speakers, and other audio devices. This makes it easy to increase your audio quality over and above what you get from the built-in speakers.
Finally, the Sylvox TV comes ready-made for satellite TV. When you're on the road in your RV, you'll most likely be relying on a satellite dish for your signal. With this TV, you don't have to do any extra setup. You can change channels and access the system menu directly from the factory remote. There's no need to install extra apps or use a third-party remote.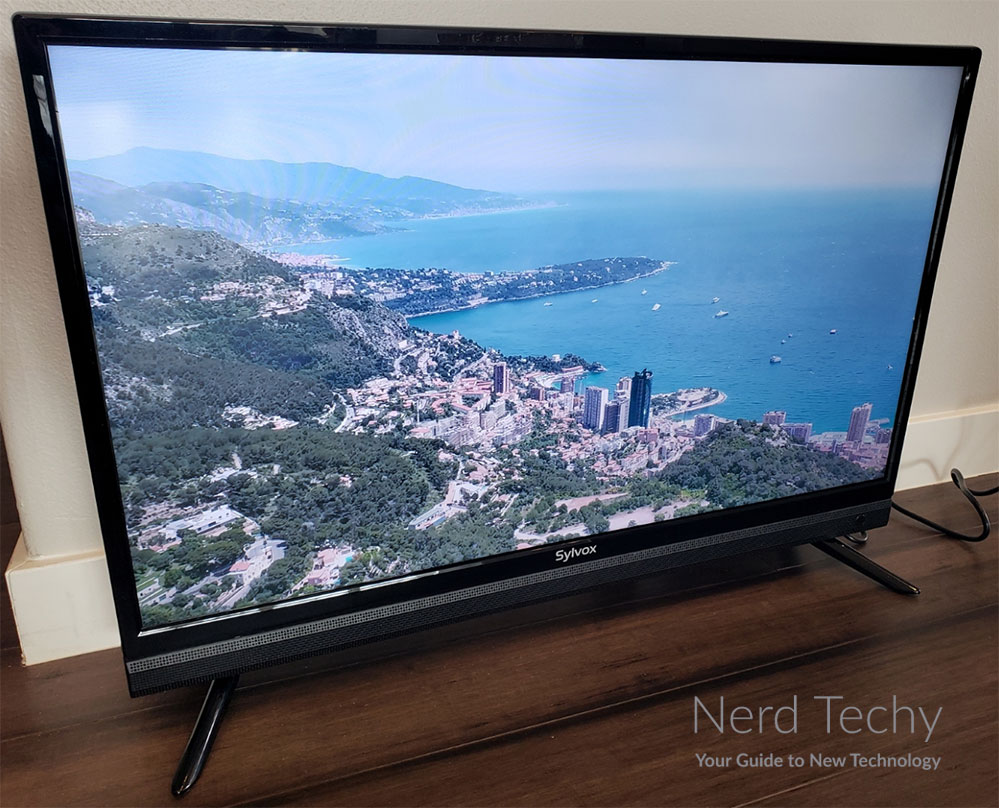 Final Verdict
The Sylvox 32" 12V Smart TV is an ideal TV for most RVing applications. At 32", it's the perfect size for viewing in a small space. It's easy to install and set up, and works seamlessly with any RV power supply. The controls are straightforward, and the video and audio quality are better than we'd expected. There are also many ways to connect your devices, including HDMI, Bluetooth, and WiFi.