Oclean X Pro Elite
Pros
Large touchscreen interface with full color.
Bluetooth connectivity for smart app features.
Extremely quiet operation.
Several charging methods available; all are fast.
Incredibly powerful with a 42k RPM motor.
Cons
A bit expensive, but less than Philips.
User reviews report some quality control issues.
Keeping your smile white has never been easier. New technology has allowed us to quickly and effectively clean without the fear of leaving any food, plaque or tartar behind.
Sure, you can use a traditional toothbrush and manually floss, but there's a better way. One thing is for certain; electric toothbrushes and water flossers are the way to go!
Recently released, the Oclean X Pro Elite is a professional-grade electric toothbrush that seems to have all the bells and whistles.
Paired with their W10 water flosser, it's an excellent combination. We were asked to test them out and provide our feedback in regards to the overall effectiveness, build quality and features. Today we're going to take a deep-dive and examine what makes them stand out and how they may fall short.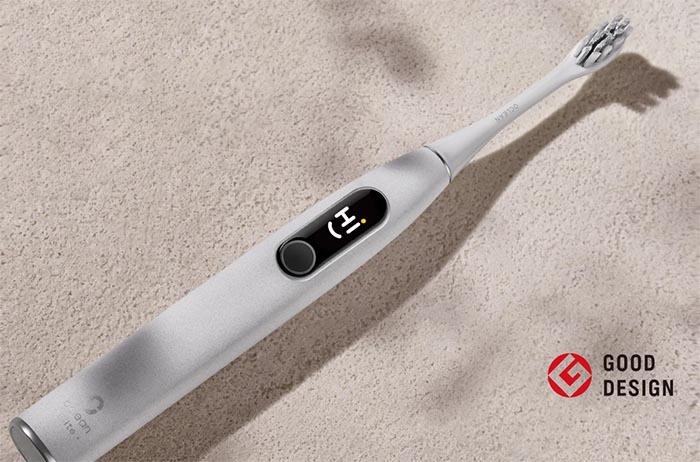 First Look
The Oclean X Pro Elite is their top-of-the-line offering in terms of electric toothbrushes. It boasts a smart touchscreen interface, incredibly quiet operation and an internal motor that delivers up to 42,000 RPM for superior cleaning.
From first glance, you'll notice that it carries a standard two-piece cylindrical design. The body is elongated and solid feeling with all of the electrical components sealed within. Each brush-head is completely detachable, enabling users to easily swap brush heads when necessary.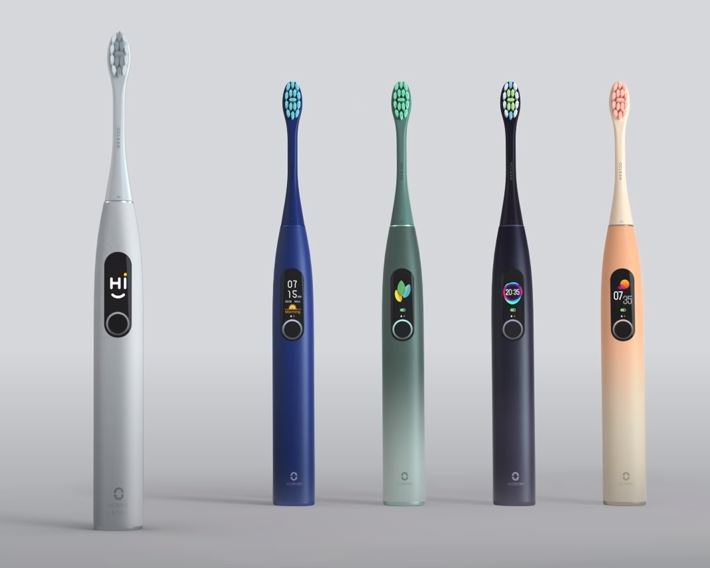 Color Touch Screen
Although the X Pro Elite is only available in white, it has a beautiful and robust, large, full-color touch screen. One may think this oversized screen is a bit over the top. However, we love it. It gives off a futuristic effect while enabling all of the functionality to be quickly accessible at your fingertips.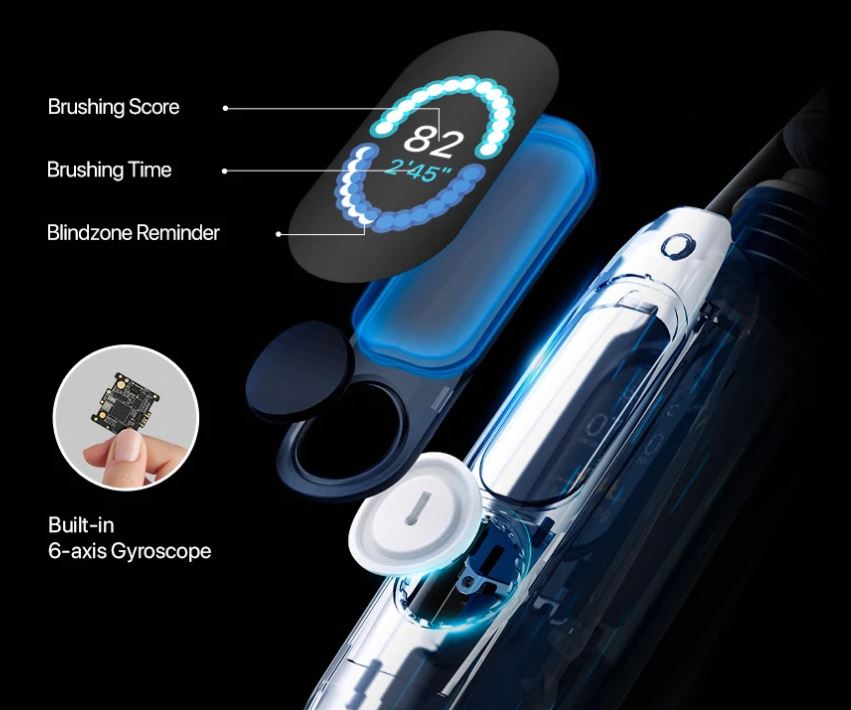 When you're using the X Pro Elite, you'll begin to get used to what's displayed on the screen. Once you push the button and begin brushing, a timer will be displayed. This will count the minutes and seconds of the current session in a large-format. Above the time, is a "brushing score". It gives you a number between 1 and 100 to indicate how complete your brushing session is. The toothbrush will intelligently detect which teeth you've completely brushed, and then calculate your score based on that. There's even a small map of your teeth that visually shows which areas need brushing.
Noise Level
The first thing we noticed about the Oclean X Pro Elite was the noise level. Simply put, this is one of the quietest toothbrushes we have ever tested. Although it may not seem too important at first, the low noise level provides a more enjoyable brushing experience.
Without an overly annoying buzz or vibration, the X Pro Elite actually utilizes a few different noise suppression algorithms. The motor is designed to deliver a quieter brushing experience because of this. In fact, the technology they use has actually been certified by Quiet Mark. Quiet Mark consists of a team of people who actively test and assess high performance, low-noise appliance and solutions in all categories. Seeing that they've verified the X Pro Elite is definitely a nice touch.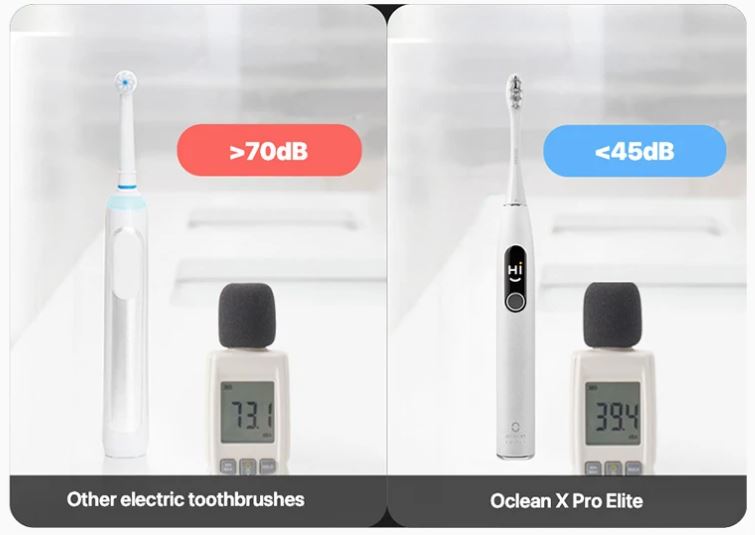 With an actual sound level meter, the X Pro Elite makes less than 45 decibels of noise. To give you an idea of what that is, a standard electric toothbrush typically emits over 70 decibels. As you can see, this is nearly a 50% reduction in noise; and it's apparent right when you turn it on!
Battery Life
Since this toothbrush is designed for on-the-go use, Oclean gave consumers multiple methods of charging. First, you're able to use the provided AC adapter and charging base. With it, you can stand the toothbrush upright, from the base, and let it freely charge. Within about 3.5 hours, a full capacity charge will complete. With a 2 minute session twice per day, this should last around 30-35 days of normal use before you need to charge it once again.
Oclean even provides their very own wall-mounted toothbrush holder for the X Pro Elite. With it, it magnetically attaches the center-back of the toothbrush and wireless charges it simultaneously. Not only does this provide a slick and attractive way to hold it upright when not in use, it assures that the bristles won't touch other objects. Most importantly, this will keep the toothbrush dry, ultimately preventing the growth of bacteria.
We feel that the provided battery life is fantastic. With a single charge and two sessions per day, you're given over a month of battery power. Re-charge times are very quick, so you can place it on the charger and go about your day. When the toothbrush is finished charging, the charger will intelligently know that the internal battery capacity is full, so it'll power-down and wait until you need it next. No need to worry about overcharging.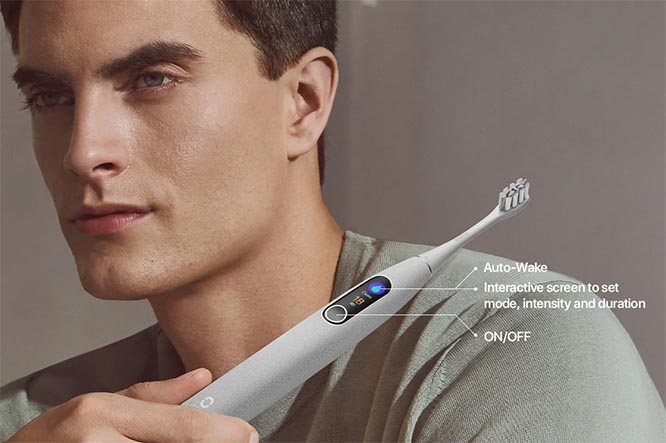 Brushing Intensity
While brushing, users are given up to 32 different levels of intensity. This small of a scale allows users to pinpoint their exact comfort level in regards to their gums and teeth. There's a great range, too. The low end, represented as any number below 10, seems super light. This is the perfect intensity level for those with sensitivity issues or receding gums. Crank it up to a range between 15-25 and the intensity is right in the middle. This level will suffice for the average person who wants a clean mouth, without any hesitation.
Turning the intensity beyond 25 is where the real power comes obvious. If you crank it to the maximum, don't push too hard and use it as gently as possible. In our opinion, the maximum intensity of 32 is extremely powerful. Most users probably won't find a need to increase it this much, but if you do, you know it's going to be strong!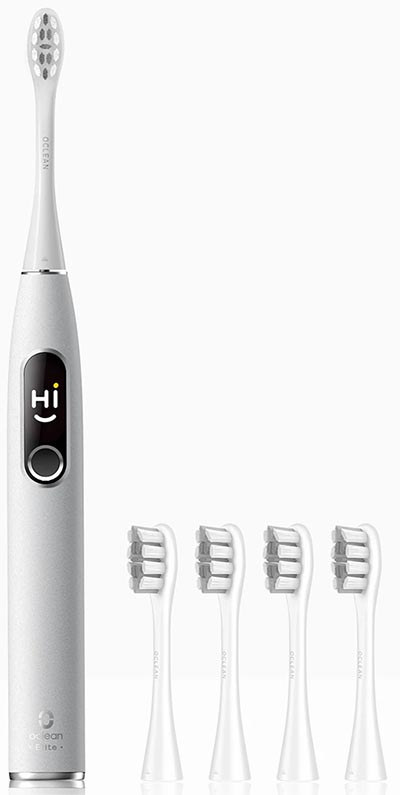 App
One of the coolest features is the Oclean X Pro Elite's ability to pair with your smartphone or tablet using Bluetooth. That's right, this toothbrush as a built-in Bluetooth chip that allows users to wirelessly access an individualized brushing analysis. Within the Oclean app, you're able to access a professional brushing report with a personalized brushing plan. It'll track and record your brushing sessions and put all of the data in an easy to read chart/graph. With this data, you can clearly see your brush times, scores and frequency.
What's best is that the app will even track the status of your brush head. When it detects that you've been using it for too long, it'll offer a reminder about replacement. In addition, users can check the status of the toothbrush's firmware to see if there are any recommended upgrades available.
Have more than one person in the household using an Oclean toothbrush? It's not a problem. With the app, you can access a family account for syncing multiple toothbrushes and tracking the status and reports of each one. Pretty awesome!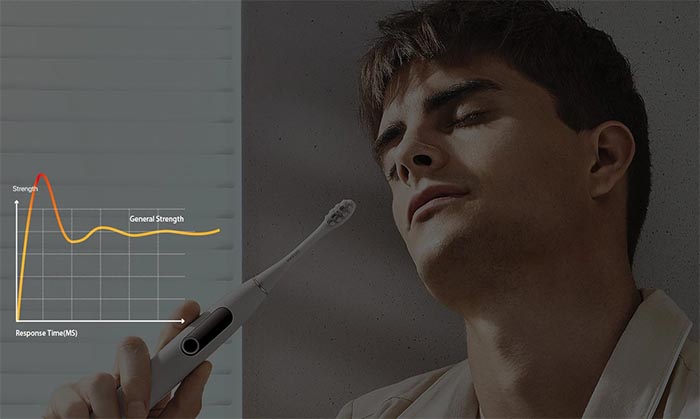 Durability
It goes without saying, the Oclean X Pro Elite will be used at least twice a day for eternity. Well, so we'd like to think. However, everything has a limit and things wear out in due time. It's the truth, but it doesn't mean that your electric toothbrush should be made on the cheap. Oclean took extra pre-caution by completely sealing-up the internal components. They've made the X Pro Elite completely waterproof. In fact, it's IPX7 rated. This means it can be submerged in up to 1 meter of water for up to 30 minutes, without any water intrusion.
Now we know most users won't go underwater to brush their teeth, but this IPX7 rating is overkill. It's a nice upgrade, don't get us wrong. However, likely nobody is going to find the need to expose the X Pro Elite to a pool. A bathtub, sure. But nothing that will be over 1 meter in depth. The nice thing about this rating is the durability it offers. Simply put, it assures that you won't need to worry about it when you expose it to constant moisture.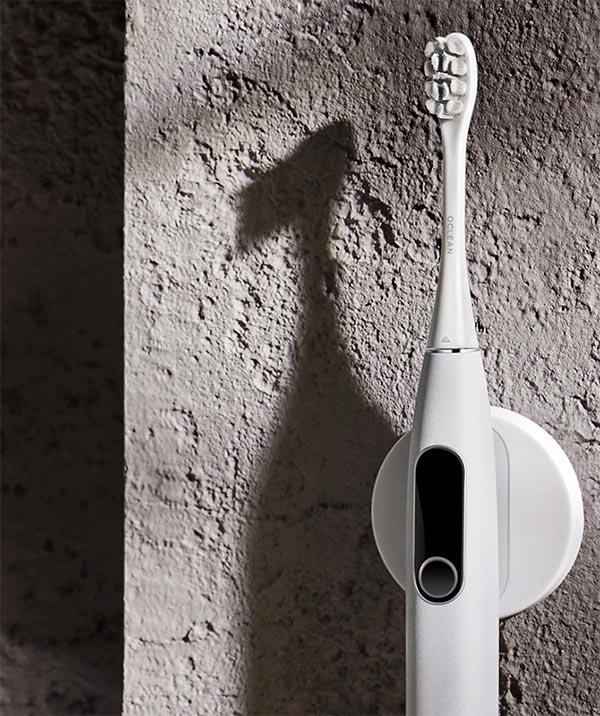 The overall build quality is on-point, too. Holding the X Pro Elite in your hands, you'll feel a solid piece of equipment without any crevices or areas for water ingress. Even the touchscreen is permanently sealed and totally OK if you expose it to the sink.
There's also something to say about the brushes themselves. The interchangeable brush heads are equipped with DuPont Diamond Bristles and each head has a dedicated tongue cleaner on the backside. These are premium-grade bristles that have been specifically designed to protect gums and enamel. In fact, these specific bristles are saif to provide 115% stronger cleaning power thanks to the small variations in the end of each bristle. What's best is that all of the materials are FDA approved, so there's no worry about safety or compromises.
W10 Water Flosser
Adding the W10 Water Flosser to the Oclean X Pro Elite is the most recommended advice we can give you. While this toothbrush cleans well and provides ample quality to users looking to upgrade their toothbrushing experience, it's still highly recommended that you commit to flossing twice per day.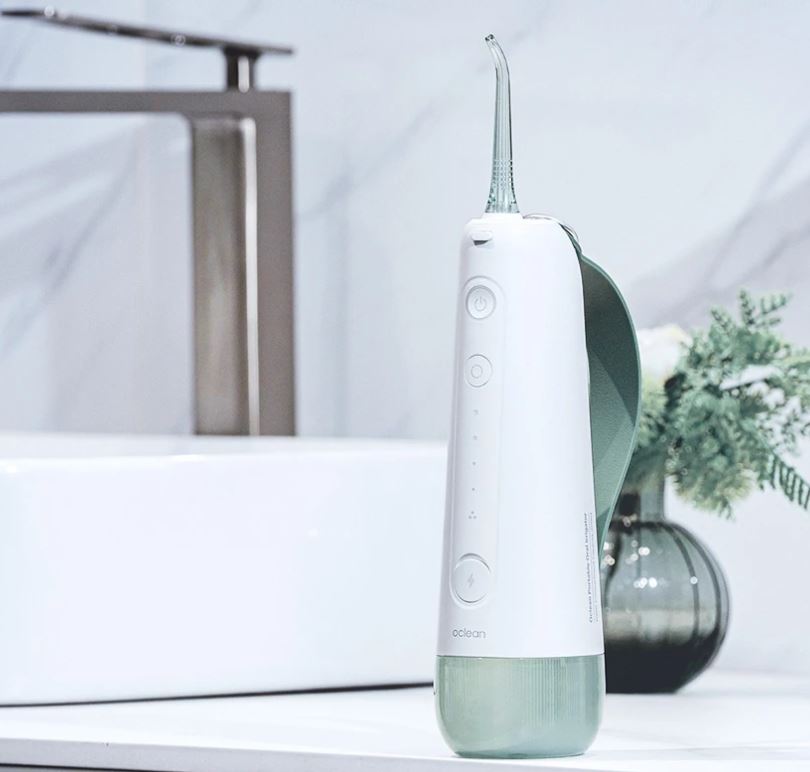 With the W10 water flosser, think of it as a personal, portable oral irrigator. Simply fill the 200ml tank with a bit of water and place the pointy tip in your mouth. Push the power button and a pulsating stream of high pressured water will emit. Moving the water flosser among your top and bottom teeth, be sure to move slowly and point it to every nook and cranny in your mouth. Capable of providing up to 1400 pulses per minute, if you water floss for several minutes per day, your oral health will be much better off.
The W10 contains 5 different, distinct flossing modes that are each designed to efficiently remove interdental and gumline food debris and plaque. Simply put, no matter the mode you choose, improved oral health will soon follow. Here's a quick rundown of the modes and what each of them does:
Intensive Mode: This is the seen as the most effective mode that provides the most thorough and deepest clean possible.
Standard Mode: The basic, middle-end mode that offers general cleaning intensity for average cleaning.
Gentle Mode: Ideal for those with gum or sensitivity issues, it turns the pressure down a bit to provide a much gentler experience.
Pulsating Mode: A rhythm-like gum massage that provides periods of intense cleaning with periods of gentle cleaning.
On-Demand Mode: This lets you "freestyle" and spray an average stream of water just the way you'd like.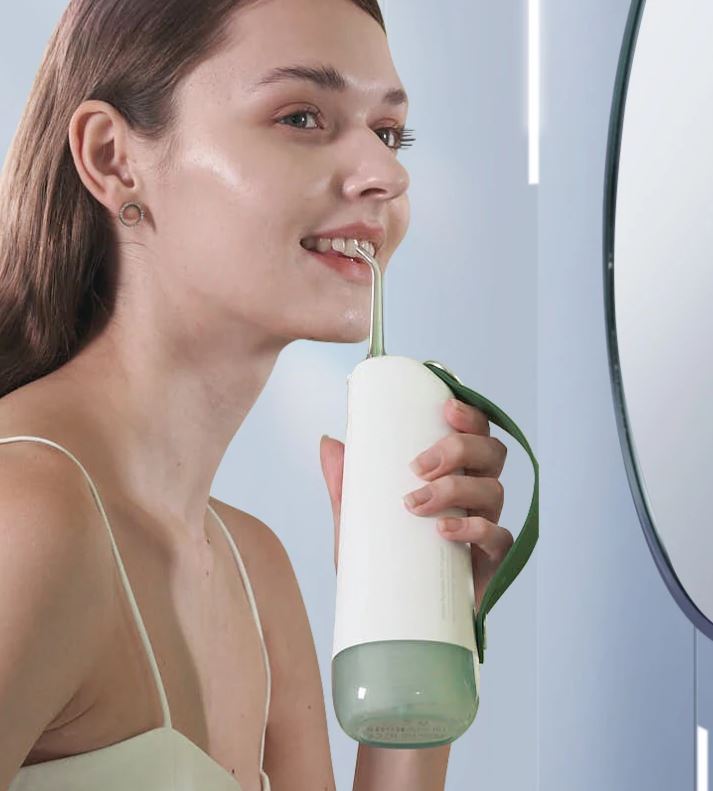 OClean even provides a variety of nozzles with the W10 water flosser. Swapping one out for another is a great way of achieving a customized cleaning experience. Here's a basic run-down of all the high performance nozzles that are at your disposal.
Standard Nozzle: Ideal for tight spaces between teeth. It's shaped with a tiny bent tip to aim pressurized water between teeth with ease.
Periodontal Pocket Nozzle: Sprays an even tinier propulsion of water, ideal for hard to reach areas around your gumline.
Orthodontics Nozzle: For those with braces or retainers, this nozzle is easier to move around metal gear that's in your mouth.
Tongue Scraping Nozzle: With a flat surface, it's ideal for scraping your tongue free from food and bacteria.
Since the Oclean W10 is cordless, just like their toothbrushes, it's reliant on a rechargeable internal battery. With easy charging via USB-C, it has enough capacity to last around 30 days from a single charge. Additionally, it's equipped with built-in memory that'll remember the settings you utilize the most.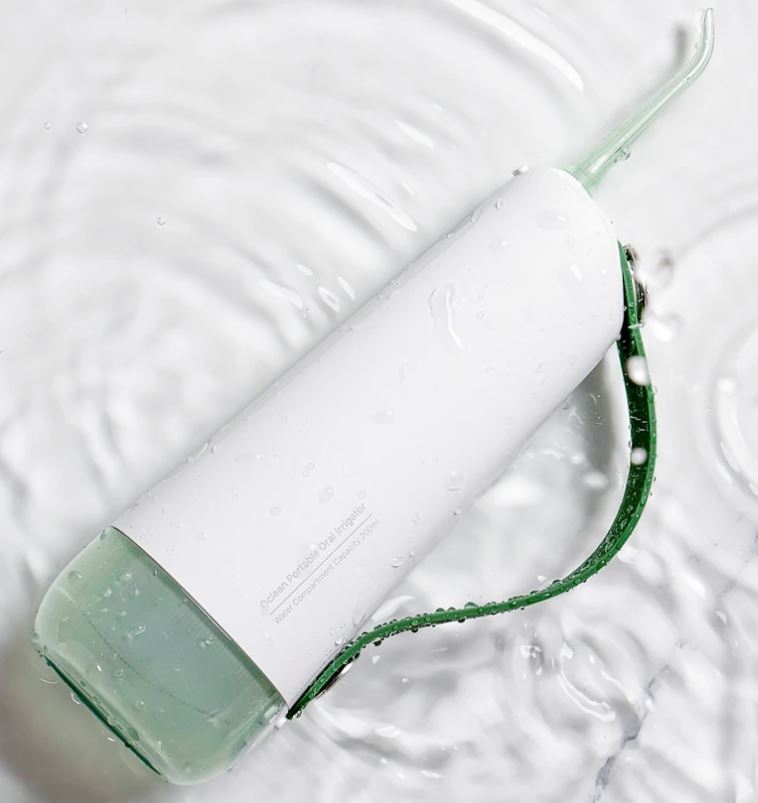 Best of all, we love to see that the W10 water flosser is built with integrity, just like their X Pro Elite. Namely, it's IPX7 waterproof and rated for full submersion in water. No worries if you expose it to prolonged wetness or accidently drop it into a tub of water.
Final Thoughts
All in all, Oclean provides a wonderful toothbrushing solution for proper oral health. Their X Pro Elite electric toothbrush is built like a tank with all of the features you could ever wish for. Several cleaning modes, durability to last, and wireless connectivity through Oclean's very own smart app. While it may not feel necessary for most people to track their oral health in such a smart way, once you do, you won't go back. Having the ability to fully analyze and understand your brushing habits through your tablet or smartphone is fantastic!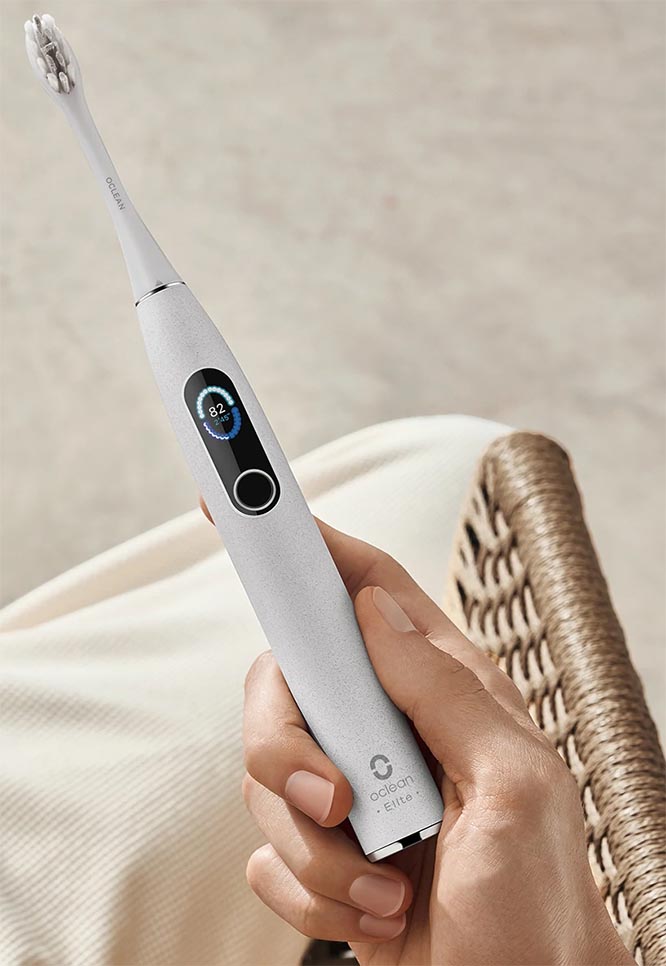 Pair the X Pro Elite with their W10 water flosser and you've got yourself a trusty combination that will surely make a difference in your overall oral health. This is a water flosser that's been designed well from the start. Sold with a variety of tips and capable of an assortment of flossing modes, we can almost ensure anyone will find it beneficial.
Meet Derek, "TechGuru," a 34-year-old technology enthusiast with a deep passion for tech innovations. With extensive experience, he specializes in gaming hardware and software, and has expertise in gadgets, custom PCs, and audio.
Besides writing about tech and reviewing new products, Derek enjoys traveling, hiking, and photography. Committed to keeping up with the latest industry trends, he aims to guide readers in making informed tech decisions.