Modern technology has significantly changed the way we create and record music. Go back a couple of decades, and a home recording was all-but-guaranteed to be low quality. Unless you had thousands of dollars to invest in expensive equipment, you had to book time at a studio. Go back 10 years, and you could capture a good recording with an average PC with Pro Tools installed.
Today, you don't even need that. Pretty much any computer can capture a recording, even a relatively cheap one. You can even record to a smartphone or tablet. If you have an iPhone, you can install Garage Band and do all your editing right there on the screen. This has opened a world of possibilities for aspiring musicians and professionals alike. All you need is the right connection cable.
Today, we're going to review the best USB to ¼" mono jack guitar and instrument cable. There are several details to go over about each option. Needless to say, there's a lot more we'll need to cover. Let's put these cables under the microscope, and see how they perform!
DETII 10FT USB Guitar Cable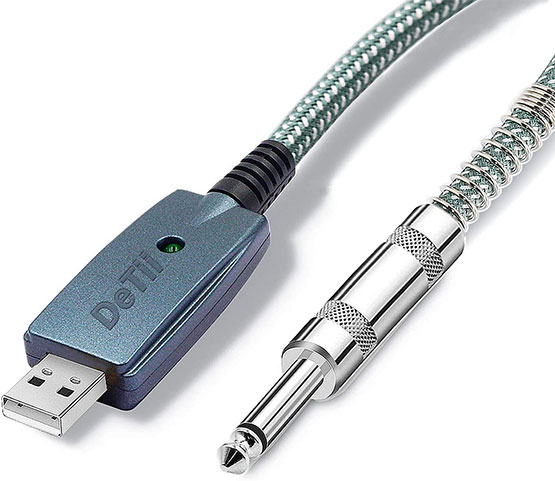 Key features:
10' long.
¼" to USB Type-A.
16-bit audio.
Compatible with Windows and Mac.
The DETII 10FT USB Guitar Cable, as its name implies, measures 10 feet in length. At one end is a ¼-inch mono audio plug, while the other end sports a USB Type-A plug. Both ends are silver-plated to provide a better connection, while the ¼-inch end has a spring that keeps it from kinking. At the USB end, there's a small LED pip that lets you know when it's connected.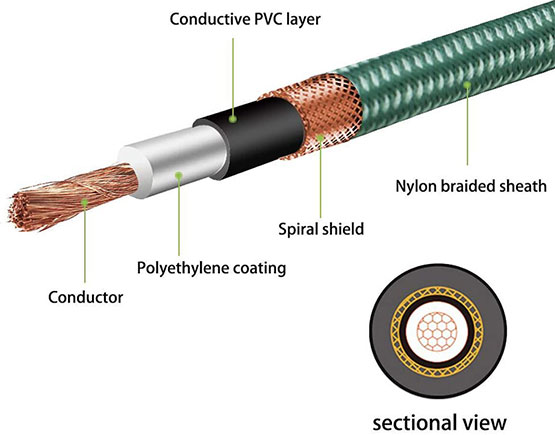 The cable itself has a multi-layered design. The copper core carries your audio signal, and is covered by a thin polyethylene coating. Around that is a conductive PVC sleeve that reduces interference. This is surrounded by a spiral copper mesh that provides even more shielding from interference. Everything is protected by a braided nylon outer core with a blend of white and light green fibers. It's capable of carrying audio at 16 bits, and at either 48 or 44.1kHz.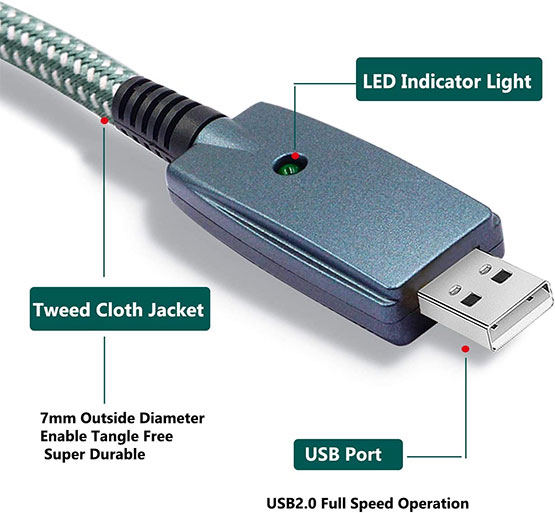 This cable is compatible with all versions of Windows dating all the way back to Windows 98 SE. It also works with Mac machines, provided they run OS X. You can connect any guitar, ¼-inch microphone, or other instruments with a ¼-inch jack. Meanwhile, you get excellent compatibility with almost any recording software. Your system will recognize it as a USB microphone. So as long as your software supports USB mics, you're good to go.
HOSONGIN USB Guitar Cable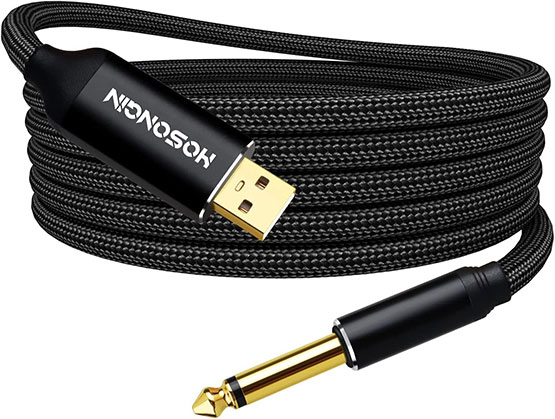 Key features:
10' long.
¼" to USB Type-A.
16-bit audio.
Compatible with Windows and Mac.
The HOSONGIN USB Guitar Cable is also 10-feet long. It has a black outer layer, which is constructed from a tough braided nylon. It seems very durable, and doesn't get kinked easily. The ¼-inch and USB Type-A tips are both gold plated. This drives up the price, but it also provides a superior connection to other types of materials. You also get a little velcro strap that can be used to keep the cable neatly coiled.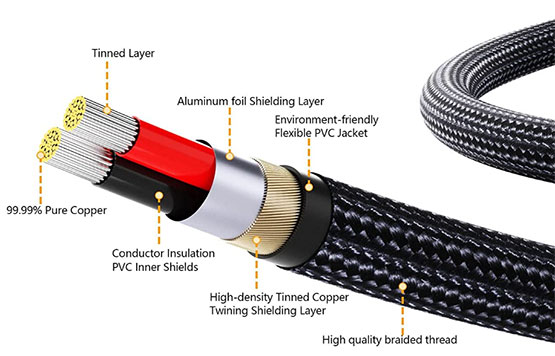 The copper cores consist of twisted copper strands, each of which has a tin coating. This further improves the reliability. Around each core is a PVC shield, and both cores are housed in a further layer of aluminum foil shielding. Not to be outdone, HOSONGIN surrounds this with yet another protective layer, made of spiraled tinned copper. As a result, the 16-bit, 44.1kHz signal is incredibly reliable, with near-zero interference.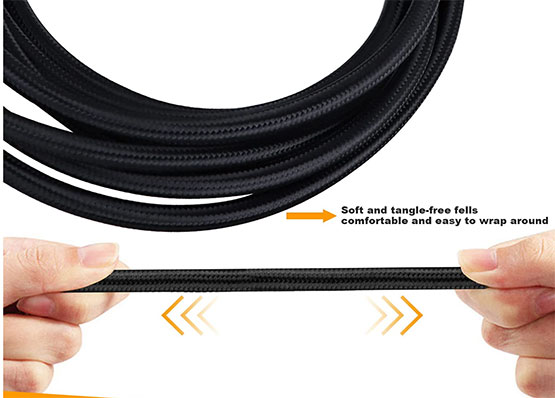 This cable is compatible with any ¼-inch audio source. It can connect to Windows systems running Windows XP and later. For Mac, you'll need to be running Mac OS X or later. You can even use it on Linux systems, provided they support USB audio inputs. Along the same lines, you can use most popular recording software, like Garage Band, Audacity, and Pro Tools.
Rocksmith Real Tone USB Audio Cable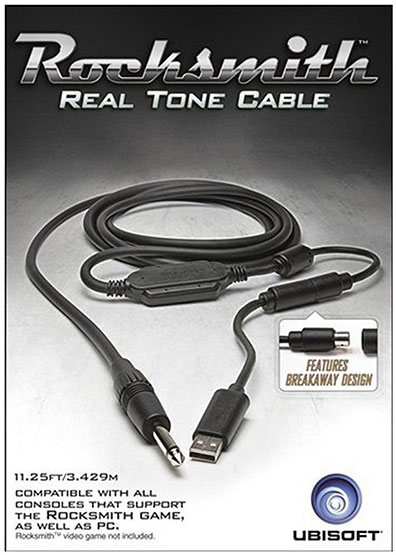 Key features:
11.25' long.
¼" to USB Type-A.
Compatible with Xbox 360 and later, PlayStation 3 and later, and PC.
Breakaway connection in the cable.
The Rocksmith Real Tone USB Audio Cable is 11.25 feet long, which gives you plenty of reach. Like the last two cables, it connects a ¼-inch audio source to a USB Type-A port. The inside of the cable is nothing terribly impressive. It has a copper core with a black PVC sleeve, with 16-bit audio at up to 48kHz.
That said, there's a breakaway connection near the USB end of the cable. This won't make a difference if you're just sitting and playing. But if you like to move and jump around while you play guitar, you can do that too. If you yank on the cord, it will just pull free at the breakaway instead of destroying your USB port.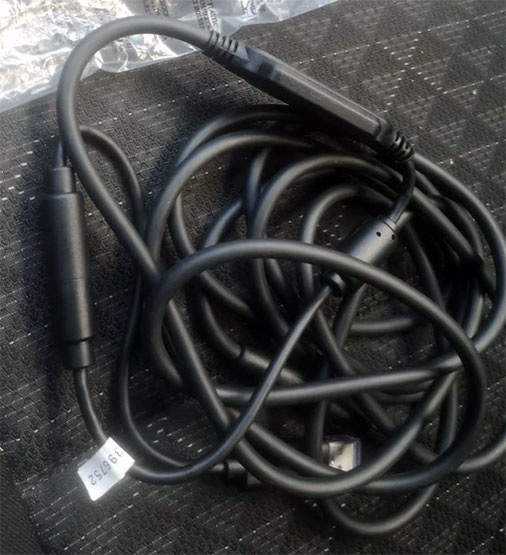 This cable was designed to go with the Rocksmith guitar playing video game. While the physical disc already ships with a cable, many people chose the downloadable version. So Ubisoft started selling the cable as a standalone item.
Why is this important? Because you're not just limited to connecting to your PC. You can also plug your guitar into any device that supports the Rocksmith game. This includes the PlayStation 3, 4, and 5, as well as the Xbox 360, One, and Series X/S. Admittedly, you probably won't be using these devices to record. But you can add a guitar riff to your gaming stream, which could always be fun.
MOSWAG USB-C to ¼" TRS Audio Stereo Cable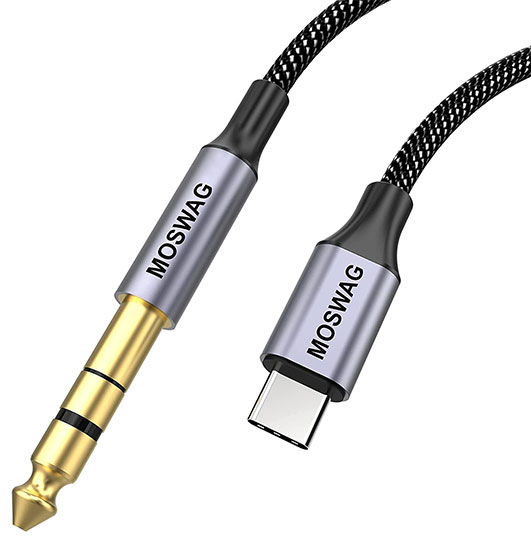 Key features:
6.6' long.
¼" to USB Type-C.
24-bit audio.
Compatible with most USB Type-C devices.
Works in both directions.
The MOSWAG USB-C to ¼" TRS Audio Stereo Cable measures 6.6 feet in length. At one end is a gold plated ¼-inch audio jack with a tough aluminum housing. The USB Type-C port isn't gold-plated, but it's also made of aluminum instead of plastic for better durability. Audio transmission is excellent, with a 24-bit signal at up to 96kHz.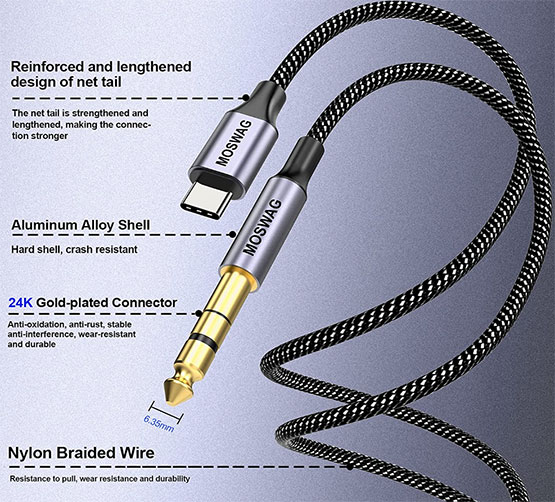 This cable is compatible with almost any USB Type-C device. You can use it with your USB smartphone, notebook, or tablet. It's compatible with PCs, too, as well as newer Mac laptops with USB Type-C ports. It can even be used with your Chromebook. So if you want to record straight to your smartphone, it's no problem.
The other neat thing about this cable is that it works in both directions. You can connect your guitar or other instrument to your computer and record your music. But you can also connect your computer, phone, or tablet to an external speaker. That way, you'll have a more stable signal than Bluetooth. You also won't be using power for your Bluetooth connection, so your battery will last longer.
USB Audio Basics
Before we finish, let's talk about the basics of USB audio. You might think that to deliver good audio, you'd need the latest and greatest USB format. But that's not actually the case. In fact, you can connect an entire mixer board via USB 2.0. A massive, 44-channel board requires just over 100Mbps of data transfer.
USB 2.0, by comparison, has a maximum transfer rate of 480Mbps. For a single audio channel, you're using less than 1% of the cable's total capacity. Furthermore, all USB 3.0 ports are backwards-compatible with USB 2.0. So you don't have to worry about backwards-compatibility.
That said, USB Type-C plugs still have a couple of benefits that are worth considering. For one thing, you can plug it in in either direction. You don't have to keep flipping it around like you do with USB Type-A. It's also smaller, which allows it to be integrated into smartphones and tablets.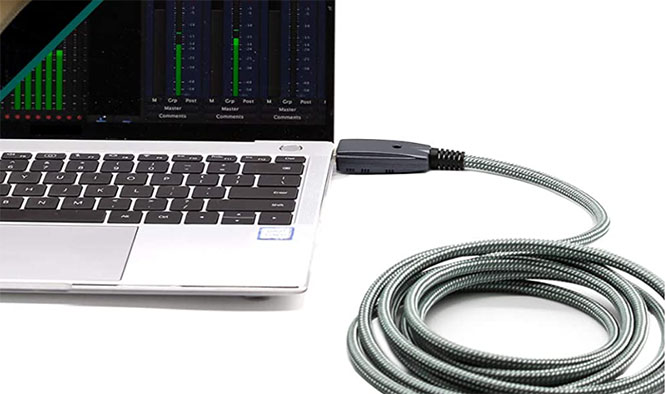 Final Verdict
As you can see, these are all good quality cables. But they all have different features and benefits that lend themselves towards different uses. So, which one is the ideal choice for you?
We started out by reviewing the DETII 10FT USB Guitar Cable. This cable provides excellent clarity, with a multi-layered design that keeps out almost all interference. The silver-plated tips allow for a stable connection. We also appreciated the ruggedness of the design, with a reinforcement spring around the ¼-inch plug. And with an indicator light on the USB end, you'll know when you have an active connection.
Next, we evaluated the HOSONGIN USB Guitar Cable. This cable is a bit more pricey, but it's easy to tell where the extra money went. Rather than silver, the tips are gold plated, which allows for even better connectivity. Along the same lines, the extra inner shielding and tinned wires are slightly better at resisting interference. We also liked the fact that you can use it with Linux systems.
After that, we took a look at the Rocksmith Real Tone USB Audio Cable. At 11.25 feet long, this is the longest cable of the bunch. The audio quality is marginal if you want to make a professional-grade recording. That said, it's compatible with PlayStation and Xbox game consoles. Even better, there's an in-line breakaway connection so you can safely move around while you play.
Finally, we checked out the MOSWAG USB-C to ¼" TRS Audio Stereo Cable. As its name implies, this cable has a USB Type-C connection instead of an ordinary Type-A plug. This allows you to connect it to a wider variety of devices, such as smartphones and tablets. The 24-bit audio is noticeably richer and clearer than from a 16-bit cable. And it can be used in either direction, so it also serves as a speaker cable for your phone.