We're often reviewing networking technology from the wireless side of the industry. Wireless networking is changing every day. We'll look at a router and determine that it's the fastest on the market, then three months later something better has come along. When you're sending data through the air, you're constantly battling a number of different issues. Signal quality, clarity, obstructions, and interference are all major factors. Your results in one situation won't always be comparable in another.
For this reason, hard-wired computer networks are still a very popular choice. Anytime you need reliability, they're the obvious choice. Generally, a network adapter that connects at a certain speed will continue to provide consistent performance in almost any environment, as long as the conditions are controlled.
The problem is that the majority of Ethernet adapters are not getting better. They're actually getting worse. As consumers move towards wireless solutions, many manufacturers are removing the hardware adapter and replacing it with a software emulator. This means that high volume applications, the very same ones that make wired networks appealing, now use plenty of unnecessary CPU cycles and degrade the performance of your machine.
If you're using a wired network, you should take a look and find out what kind of card you have. Unless you've specifically purchased a system designed for your needs, there is a good chance that your hardware is under-performing. Fortunately, there is a solution. For a low price, you can get access to a high-performance Gigabit Ethernet card that will bring your network up to the standard you demand. Let's look at the three best cards on the market. Then, we'll help you understand what you need to look for.
Intel Gigabit CT PCI-E Network Adapter
It goes without saying that Intel is the top brand when it comes to enterprise hardware. A network card is a very low level device. It interacts with the chipset and bus on a very simple level, so simplicity is key. Because Intel designs the chipsets for almost every major motherboard, nobody is better equipped than them to create a bulletproof piece of hardware.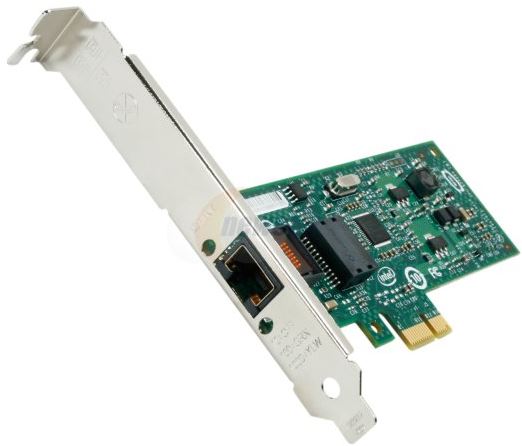 Hardware
At the heart of the Intel Gigabit CT PCI-E Network Adapter is the Intel 82574L Gigabit Ethernet Controller. This same controller is found in a lot of products. The top of the line server and gaming computers often have this chipset built right into their motherboard. What makes it so special? For starters, it uses very little power, making it highly efficient. Next, it has two queues for each Tx (transmit) and Rx (receive.) This allows the card to prioritize which data gets sent first. Large, intermittent packets will always be sent below compact, time sensitive ones. The end result is better performance, lower PING rates, and better handling of large loads.
It also supports all the advanced networking features that you might be interested in. Wake from LAN, network boot, (even directly off a server) and remote management are all included – something that is essential for businesses.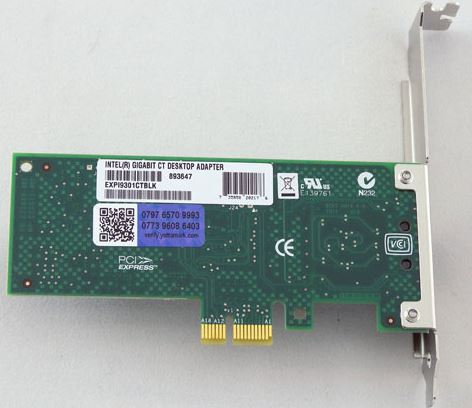 Compatibility
This chipset isn't considered new technology, but it is widely accepted as standard. While many other cards have the same technologies, Intel wrote the laws they operate by. This means that the card is supported by virtually any operating system out there. Every version of Windows from 98 onwards, all flavors of Linux, BSD forks like Solaris and, yes, even OSX all work perfectly. You'd be hard pressed to find a modern system that isn't compatible with this card.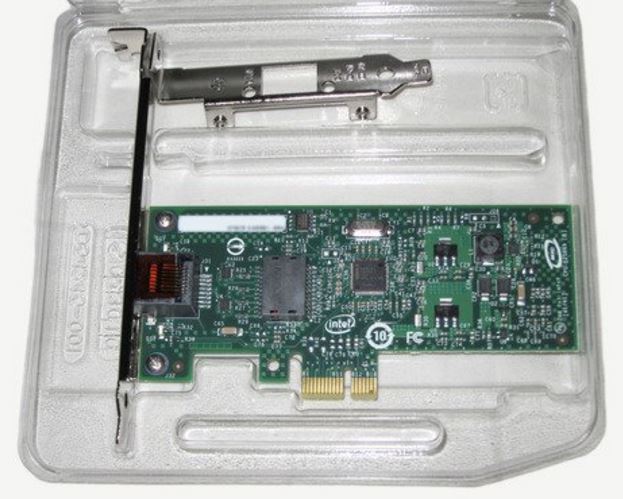 Performance
Performance isn't as easy to measure as it is with some products. For a single file transfer, this card approaches the theoretical limit of gigabit Ethernet just like any other. The performance improvements are a little hidden, but definitely present. Even though the CPU is no longer handling the networking, the card still needs to communicate with your processor. It does these through interrupts. Interrupts tell one core of your processor, "Hey! Stop what you're doing. We've got work to do." This NIC can group requests together, sending an interrupt only when necessary. This means that your CPU is free to do any other task you've assigned to it.
This card also has a higher signal to noise ration than any other on the market. This means less dropped packets, better ping speeds, and all around snappier performance.
StarTech Gigabit Ethernet Network Card
If you've ever shopped for an affordable cable or computer accessory, StarTech is likely one of the first brands that came to mind. Their focus is on affordable hardware that still uses high quality components. For this reason, they've become a first choice for businesses. Based on price alone, this Ethernet card might seem like a bargain basement model that is to be avoided. But once we saw the specs, we knew that it was going to be one serious piece of kit.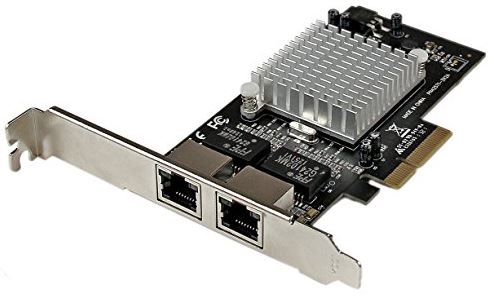 Hardware
The StarTech Gigabit Ethernet Network Card is available with either 1, 2, or 4 ports. They can also be purchased with 25W power over Ethernet (POE) hardware, something that is commonly used in industrial environments. Most users will just need the standard model. Regardless which one you choose; the power of this card comes from the Intel I210 controller.
The I210 is a popular choice because it takes many aspects of networking and offloads the responsibility from the CPU to its own dedicated piece of hardware. Tasks like VLAN management, traffic shaping, frame management, and filesystem interpretation (for PXE and iSCSI boot modes) are all handled right on this card.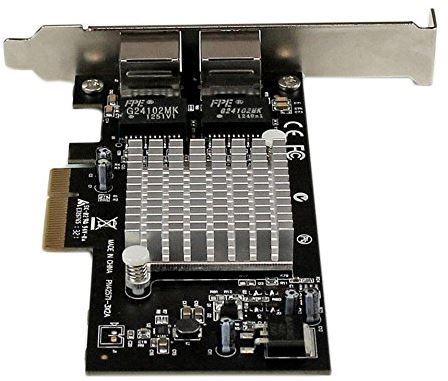 Compatibility
Intel's Gigabit CT card is popular because it's completely standard, and therefore supported by almost every operating system. In some ways, the I210 platform is the opposite. It supports technologies and systems that cannot be found on any other card. Instead of two TX and RX buffers, this one has four.
They can even be used in conjunction. You can manage two VLANs at the same time. You can use the card to connect to port-mirrored audio / video streams and rebroadcast over a buffered on-demand system. The second set of TX and RX buffers are software definable, so there is a lot of custom equipment that requires this card. As for its compatibility with modern operating systems, it will work flawlessly on any windows system starting with Vista, and most Linux boxes.
If you're looking to use enterprise grade software, you'll have no problems with these cards. They're plug and play on all versions of Windows Server from 2003 and up, ESXi 6.0, Hyper-V, and several other systems.

Performance
For standard users, the area where this card will excel is stability. It's designed for incredibly high bandwidth uses, often with custom firmware running. This means that if you're just using the standard network technology, you'll notice excellent ping times, even when there is a lot going on in the background. It also supports jumbo frames up to 8K in size, making it perfect for high volume data transfer. In the right environment, this is one of the most reliable cards you can get your hands on.
Rosewill Gigabit PCIe Network Adapter
Rosewill is another manufacturer that targets the business sector, although they take a radically different approach to their devices. Rosewill solutions are along the lines of "everything but the kitchen sink." If you're looking for the best in features, you'll be hard pressed to find something better than this option.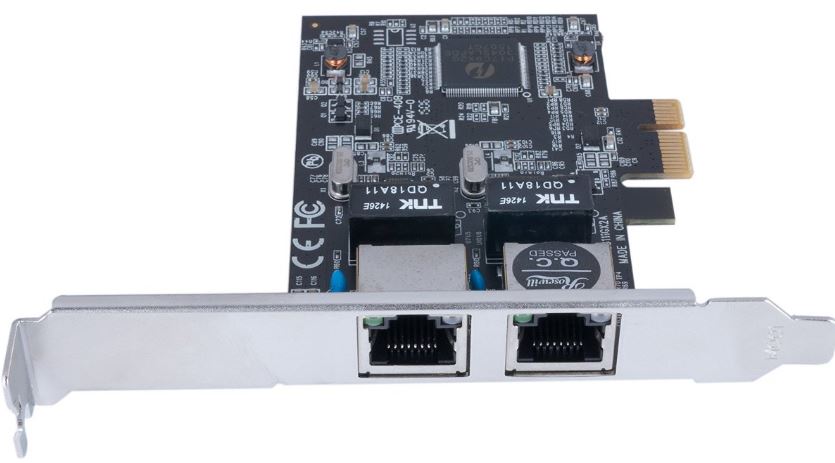 Hardware
With the Rosewill Gigabit PCIe Network Adapter, instead of going for brand name, they went for a programmable RC-411 standardized chipset. This chipset has been used in hundreds of different scenarios. The reason is that it's very powerful. Perhaps a little overkill for most networking applications, but Rosewill made sure that it had the firmware it needed for almost any situation. One of the most important features of this chipset is that features can be enabled or disabled depending on the environment. This has implications in both performance and compatibility.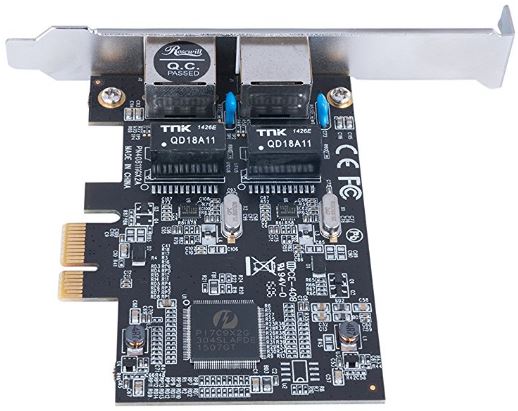 Compatibility
If you're using a PC with a PCIe port, then you can use this card. There is no question about it. Thanks to the flexible firmware, you're able to use it with every version of windows ever released except for early versions of NT. It even supports DOS, making it the first choice for those who need a card that is hardware addressable from within a legacy virtual machine.
But there is more to your network than the operating system, there are also dozens of communication protocols that may or may not be in place in your network. It supports all standards of IEEE 802.3 including u, ab, and x. You get 802.1q, CSMA/CD, and direct software addressable TCP/IP space. What does this mean? It means that no matter how your network is structured, this card will support it out of the box. It can use any type of Cat 5 cable, with an average maximum run of 100 meters. These are just the standards that are supported out of the box. There is more it can be used with, requiring only a little configuration. We'd list them here, but we'd just end up repeating the list of every Ethernet networking standard in place since the 90s.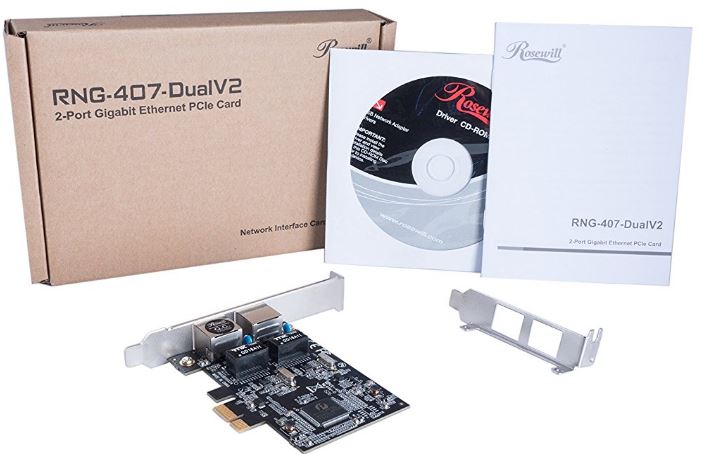 Performance
One of the most stand-out features of this card is its ability to support full duplex mode. Essentially, this refers to the rate that data is transferred. Half duplex used to be more reliable, although this is less of a problem with professional grade networking equipment. Most of the 10/100/1000 cards you see run this way. Full duplex transfers data twice as fast. You now get 20/200/2000 Mbps. Great deal, right?
The issue is that a full duplex card running in half duplex mode will constantly ping the router before it's ready. This puts a lot of extra traffic on your network. But this one has a feature called backpressure, allowing the timing to be synced with proper half-duplex networking equipment.
Alternately, you can run in half duplex mode and split the network in two. This is usually used in a VLAN, where the software sees two isolated networks over one cable. In this case, you're able to set up VLAN tagging, a software trick that tags important data so it's delivered first. This is great if you're running a piece of software that needs local access, as it will always operate uninhibited.
Which Gigabit Ethernet Card is Right for Me?
If you're unclear on what these specifications mean for your real-world performance, there is no reason to worry. Any one of these cards will likely outperform the onboard Ethernet that came with your motherboard.
The first thing you're going to want to do is determine what exactly you're looking to do. If you're purchasing this card for gaming, grab yourself an Intel Gigabit CT PCIe Network Adapter. This card is the most reliable on the market, and you're not going to be able to take advantage of the extra features in the other models on a home network.
If you're replacing the card is a workstation or non-essential PC, you've got two options. The Intel card can give you reliability, but we'd prefer the StarTech Gigabit Ethernet Network Card. There are a few extra features that are helpful to have in a business environment, and will help you improve the speed.
Lastly, the Rosewill Gigabit PCIe Network Adapter is best in servers or testing environments. It can be put to use in any computer system that is connected to from multiple sub-networks or VLANs, and is designed to be able to open a secure connection with any of your internal systems, no matter how old they may be. In fact, this card is commonly used by system administrators to move legacy software into a virtualized environment.
Chances are, most people will be reading this only looking for one specific thing. There is no reason you need to worry if you're missing out on features. At the end of the day, all of them provide a cheap and effective upgrade from the terrible software-based systems of today.
Looking For More?
Home users, if you're looking to squeeze the most out of your network, remember that the network card is only one of the pieces in the Pipeline. Just because some routers have a Gigabit Ethernet port on the back, doesn't mean they can handle the full volume. Make sure you take a look at a high-performance router such as the Netgear Nighthawk X10. You can also double check your cable modem and make sure it's up to snuff. You're not going to be transferring 1 Gbps data over the internet anytime soon, but a speed improvement is definitely noticeable with the right model.