Rack mounted servers have been around for years, and will probably be with us indefinitely. They're simply the most convenient way to organize large quantities of processing power. You can swap individual machines in and out with ease, and power and cable management are simplified. That said, a well set-up server rack contains more than just servers and switches. It should also include an uninterruptable power supply (UPS). After all, you've invested a lot of money in your equipment. You don't want to lose a server just because of a power outage, especially not when it's easily preventable.
An uninterruptable power supply consists of two essential components: a power strip and a backup battery. The power strip supplies normal AC power to your devices, while the battery steps in as needed. In the event of a blackout, this will buy you enough time to properly shut down your servers. Of course, a good UPS should include more than the basics. For example, almost every UPS on the market provides surge protection, another essential feature for server power. Power conditioning, voltage regulation, and remote monitoring are also important. With the right UPS, you'll have an all-in-one solution for powering your rack-mounted equipment.
We're about to review three of the best 1U and 2U rackmount UPS battery back-ups. We'll begin with the Tripp Lite Smart UPS Battery Back Up. This is a highly-efficient 2U UPS with an impressive three-year warranty and insurance policy. Next, we'll look at the APC Smart UPS. This is a long-running 2U UPS that comes with advanced online controls. Finally, we'll review the CyberPower Smart App LCD UPS System. This 1U UPS provides the same wattage as our previous two options, but in a slimmer package. Which backup system is the best? We're about to find out.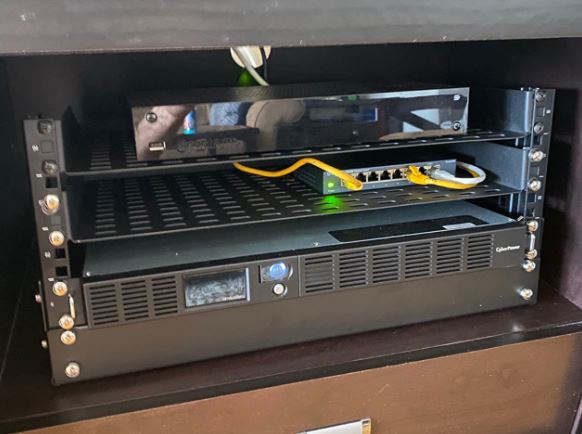 Different Types of Server Rack
In the early days, finding the right equipment for your server rack could be a rocky process. There were no universal standards! Thankfully, this has not been the case for some time. Modern server racks come in two widths: 19 and 23 inches. In addition, they come in two different heights: 1.75 inches and 3.5 inches. The 1.75-inch size is considered one "unit" tall, or "1U," while the thicker size is designated as "2U." As a result, there are four sizes of rack-mounted equipment: 19-inch 1U, 19-inch 2U, 23-inch 1U, and 23-inch 2U. And because of the way their built, you can install any 19-inch device on any 19-inch rack. The same is true for 23-inch devices. So basically, as long as you have the right width for your rack, any given machine will fit.
That said, it took longer for manufacturers to agree on a standardized hole type. Early server racks used pre-threaded holes, but manufacturers couldn't agree on threading. Depending on what you bought, you were using either M6, 10-32, or 12-24 screws. This isn't a big deal, but it does mean you have to keep a stash of your own screws for mounting. Threaded holes have long gone out of style on server racks. If you have them, you probably already know about it. Still, it's something you should be aware of.
In the late 90s, IBM started using round, unthreaded holes again. The idea was simple: you could use cage or clip nuts along with any kind of screw. In other words, installation was easier and faster. HP, Dell, and others soon started doing the same, and Dell built an entire new rail system, the Versa Rail.
Eventually, though, the industry settled on square cage nuts as the best option, necessitating square holes. The reasoning is that once inserted, a square cage nut doesn't have to be manually held in place. You can use one hand to support whatever you're mounting, and the other to turn your screw. Nuts can use a variety of threadings, but will always have an outside measurement of 3/8 x 3/8 inches. Square holes also allow a standard size for snap-in rails, although these vary by manufacturer.
Today, we'll be looking strictly at newer UPS battery back-ups designed for square holes. This means that if you have an older rack, you'll need to provide your own mounting hardware. All of today's options are 19 inches in width, as well. We chose this size as it's the most common, and 23-inch equipment is usually more specialized. Simply put, more people are using 19-inch racks. With that out of the way, let's take a closer look at each of these UPS systems!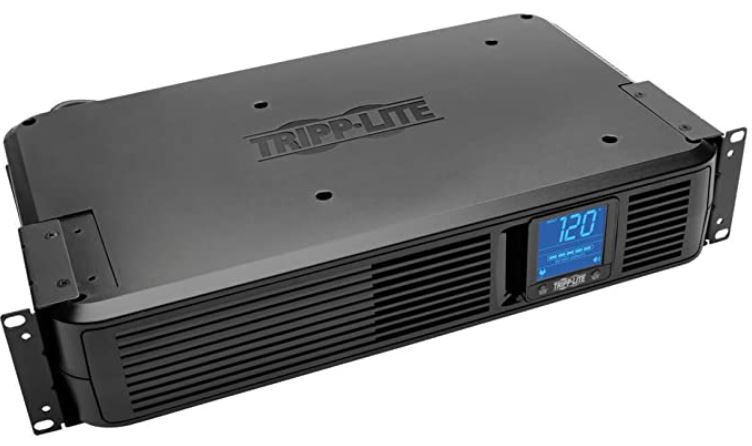 Tripp Lite Smart UPS Battery Back Up
Tripp Lite is a well-known manufacturer of power equipment. Among their other offerings, we've reviewed their rackmount surge protectors in the past. The Tripp Lite Smart UPS Battery Backup is even more full-featured, providing not just surge protection but emergency power. This is a fat, 2U battery backup with eight grounded electrical outlets on the backside. The housing is a durable polymer, and comes as a standalone unit by default. However, you can also order it with a shelf, with a secondary power strip, or as a floor-standing UPS.

The front of the housing sports a blue LCD display that keeps you posted on the current power status. The current voltage is shown in big, bold numbers, so you know whether you're getting sufficient juice. Underneath, you'll see a battery meter. This is a simple visual meter, nothing fancy. But in the event of an outage, it gives you a reasonably good idea of how much power is remaining.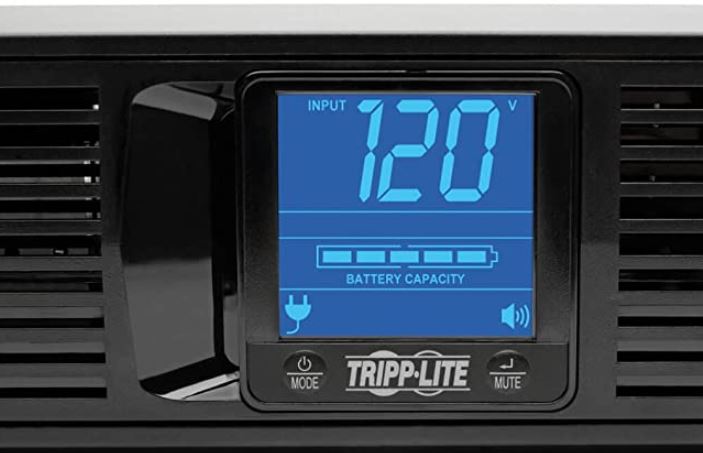 Battery Power and Extras
In total, the Tripp Lite UPS can provide up to 1,500VA of power. Because of the way computers are rated, this works out to 900 watts, not 1,500 as you might expect. Long story short, wattage = voltage x amperage, unless you're dealing with computers. Even so, you're looking at the full amount of power provided by a standard 15-amp outlet. At half load, the internal battery will provide enough power for 11.8 minutes of runtime. At full load, this drops to 4.4 minutes. But it's still long enough to shut down all your equipment, as long as you're not fooling around. To ensure that a power outage doesn't catch you by surprise, the system has an audible alarm. This will sound whenever power is lost, but can be turned off if you don't want it.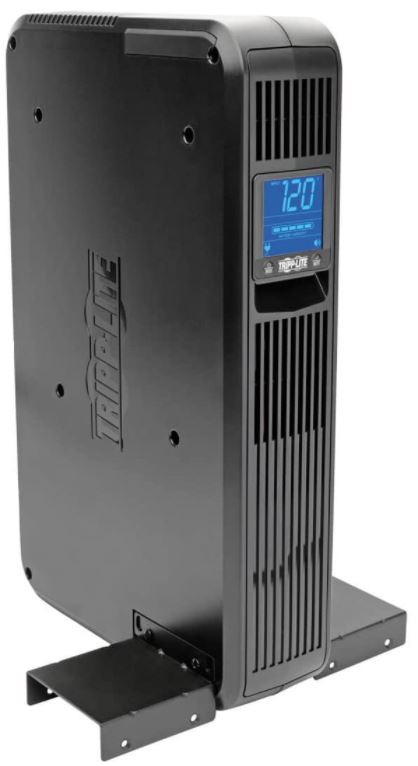 This UPS has an impressive efficiency rating of 98 percent. It also manages your power to ensure consistent voltage. During brownouts, the battery will compensate for any drop in power. During any power spike, the extra energy will be diverted either to the battery or to the ground. This automatic voltage regulation (AVR) is ideal for sensitive electronics, which can be damaged by small fluctuations. Not only that, but all eight outlets have built-in surge protection.
Using the companion software, you can connect the UPS to your servers via USB. When configured in this fashion, the Tripp Lite system will automatically save files and shut down during a blackout. There's no human intervention required to shut your computers down safely. Moreover, the Tripp Lite UPS is covered by a three-year manufacturer's warranty. In addition to replacing the UPS itself, Tripp Lite will also reimburse you up to $250,000 for any damaged equipment.

APC Smart UPS
APC is another company whose products we've reviewed in the past. In fact, we already reviewed their desktop uninterruptable power supply, and we liked how well it performed. Like the Tripp Lite UPS, the APC Smart UPS is a 2U machine. It's durably built, with a black aluminum front and sides and plain silver top and back. The six grounded outlets are less than the Tripp Lite's, but are also conveniently located on the back.

The front LCD panel displays all the same information as the Tripp Lite. You'll see the current incoming voltage, along with a battery meter. However, there's also a meter showing you the current load. You can see in real time exactly how much power is being delivered in total to all your devices. This is very useful if you're not sure how many watts your equipment is drawing.
Battery Power and Extras
The APC Smart UPS delivers 1,500VA, or 900 watts of power. This power is pure sine wave, which ensures that it's safe for even the most sensitive equipment. You also get a much more powerful battery than the Tripp Lite. Bizarrely, APC advertises its performance under 100 watts of draw (1 hour, 47 minutes). But who uses a rack-mounted UPS for 100 watts of power? At a full 900 watts, this battery will last for 11.8 minutes. That's more than enough time to save your work and safely shut down any connected equipment.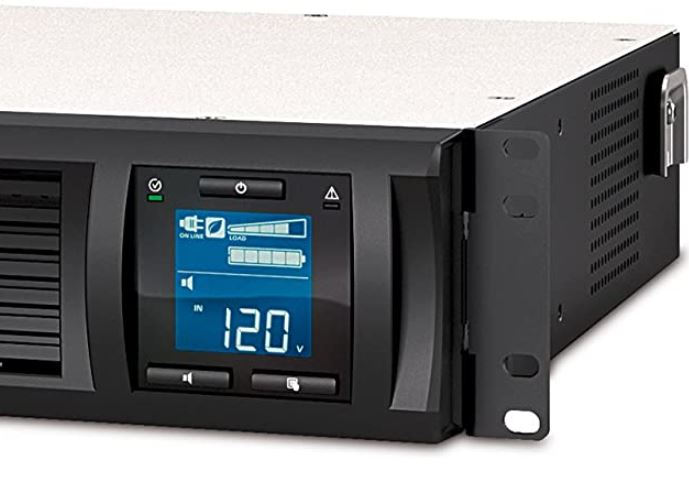 An AVR system keeps the power running at a consistent 120 volts, without any dips or spikes. It also protects the battery from overcharging, ensuring that it lasts for several years. In addition, there's an audible alarm, which can be deactivated by pressing the mute button on the front panel.
The most important feature of the APC Smart UPS, though, is its SmartConnect system. This is a cloud management app that allows you to monitor the UPS from anywhere in the world. The portal is encrypted, so hacking is not a concern. Meanwhile, you can receive alerts or check your system's status whenever you like. You'll also get manufacturer notifications for firmware upgrades, so you'll always be running the latest version.

CyberPower Smart App LCD UPS System
CyberPower is well known for their power systems, such as their wall-mounted surge protectors. Their Smart App LCD UPS System is a slim, 1U system designed to save space on your server rack. It has six grounded outlets, all of which are surge protected. However, only the four grey outlets on the left are connected to the battery backup. The two black outlets are surge protected only.
As with our first two UPS systems, the CyberPower has an LCD display. In addition to the voltage and battery meter, it also displays the current remaining runtime. In the event of a blackout, you'll know exactly how much time you have before power runs out.

Battery Power and Extras
Despite its small size, the CyberPower UPS can provide a full 900 watts of power across all six outlets. It also sports a reasonably-powerful internal battery. At half load, it can power your devices for 11 minutes, dropping to about 2 minutes under full load. That's cutting it a bit close, but remember, we're dealing with a compact unit.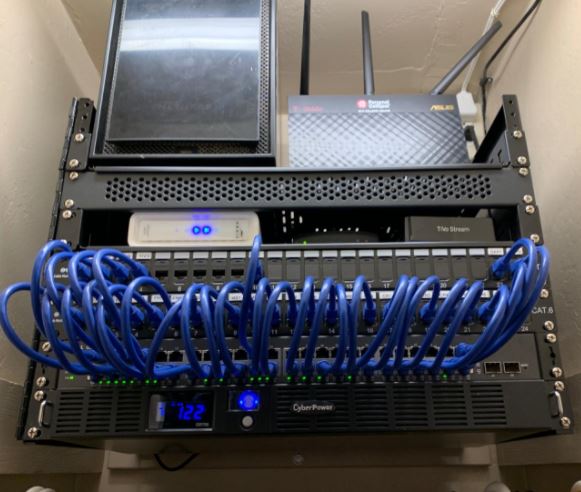 The AVR system delivers consistent power regardless of any minor fluctuations in the grid. It also delivers power as a simulated sine wave, so it won't damage sensitive devices. Everything is protected from under-voltage and over-voltage, and the battery is protected from overcharging. All of this, including the battery, is covered by a three-year manufacturer's warranty. To top it all off, you get a robust $300,000 insurance policy to cover any damaged equipment.
Final Verdict
So, which one of these rackmount UPS battery back-ups is your best choice? It largely depends on what you need. The Tripp Lite Smart UPS Battery Back Up is an affordable system that still has a lot to recommend it. It's efficient, its AVR system is effective, and it provides a full 900W. The only downside is the battery, which offers less than five minutes of power at full draw.
The APC Smart UPS is a bit more powerful, with enough juice to run for almost 12 minutes under full load. Not only that, but the cloud management app is a great extra feature. You don't have to be on site to always have eyes on this system.
The CyberPower Smart App LCD UPS System provides a full 900 watts in a slim, 1U package. The battery backup isn't as powerful as the others, but it's still enough to safely shut down any connected devices. Not only that, but the warranty is the most robust of the bunch, with $300,000 in insurance coverage.