For almost as long as there have been speakers, people have been trying to make them portable. For years, the limiting factor was battery capacity. People have had record players in their homes since Victorian times. But it wasn't until the 1970s that battery technology allowed you to carry a truly portable radio. Yes, there were earlier models. But the technology was neither reliable nor mainstream until the boom box. But boom boxes are unnecessarily bulky. The modern user doesn't need cassette decks or a CD player, and modern batteries are smaller than old D-cells. As a result, rechargeable Bluetooth speakers have become the new norm for portable audio.
In the past, we've reviewed many Bluetooth speakers. We've even talked about speakers for niche uses, like Bluetooth speaker bathroom fans. Today, we're going to stick with the basics, and compare two popular new portable speakers. We'll start with the Miatone Portable Bluetooth Speaker. This is a fun, colorful speaker with a long-range signal. Next, we'll review the Rienok Portable Bluetooth Speaker. This is a powerful stereo speaker with a long-lasting 30-hour battery. After we've looked at both of their features, we'll sum up what we've learned, and give our opinion. Let's see how these speakers stack up!
Note: At no extra cost to you, we may earn a commission for purchases using our links. Learn more.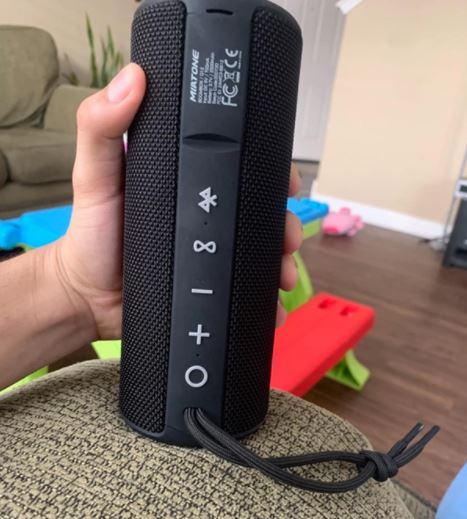 Miatone Portable Bluetooth Speaker
The first thing you'll notice about the Miatone Portable Bluetooth Speaker is its fun, playful vibe. Yes, it's available in plain old black, but you can also order it in grey, blue, mint green, or pale pink. In all cases, the entire unit will be a single color. This includes both the plastic frame and control panel and the textured mesh fabric speaker cover. It's cylindrical in shape, measuring 7.2 inches long and 2.83 inches in diameter. This is roughly the diameter of a Coke can and slightly taller, although the 15-ounce weight makes it feel heftier.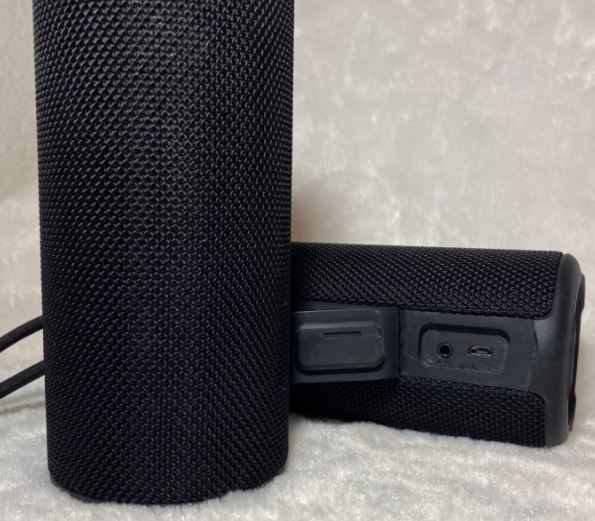 Despite the fun vibe, this speaker is no slouch when it comes to damage. The rubberized ends are heavy-duty enough to withstand drops, bumps, and everyday shocks. It's inevitable that a speaker like this will be dropped from time to time, so it's nice to see that it's sturdy. In addition, the Miatone speaker is IPX6-rated for water-resistance, enough to hose it down. Keep in mind, though, that it's not submersion-resistant. If you drop it in water, it will get ruined, so keep it away from the edge of your pool.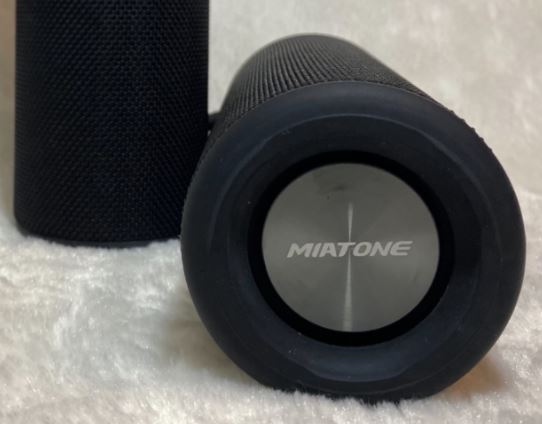 Most of the sides of the speaker are covered by mesh fabric. However, a plastic band on the side serves as a control panel. From here, you can adjust the volume, skip tracks, and turn the speaker on and off. You can also activate the Bluetooth connection, or reset it if you're having issues. The buttons are large and easy to read, so you won't have any trouble operating the speaker. There's also a lanyard above the controls, so you can tie the Miatone to your belt or backpack.
Battery & Connectivity
The Miatone Bluetooth speaker has a 2,500mAh internal battery with enough juice for 10 hours of playtime. This is a manufacturer's rating, and as with earbud ratings, it's based on playback at partial volume. If you usually have your speakers cranked all the way up, eight hours is a more realistic expectation. Still, that's a long time to use your speakers without having them plugged in. They'll have more than enough power to last through a barbecue, graduation party, or other gathering.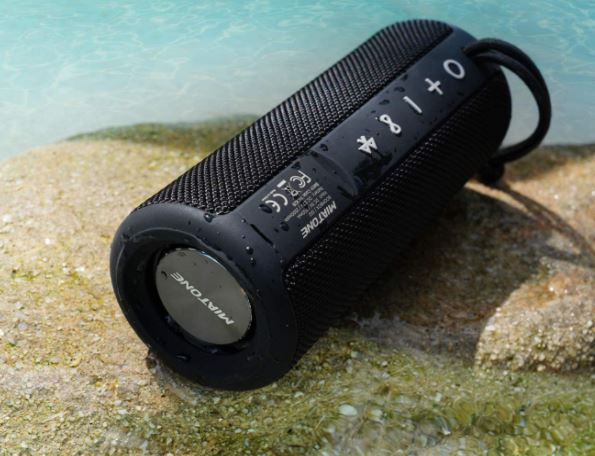 This speaker uses the Bluetooth 4.2 Bluetooth protocol, which was an interesting choice. On the one hand, Bluetooth 4.2 is an older protocol. It's not as stable as Bluetooth 5.0, and it has higher latency. This makes the Miatone speaker unsuitable for gaming or watching movies. On the other hand, Bluetooth 4.2 actually has a longer range than newer Bluetooth versions. You can pair the speaker from up to 100 feet away, assuming an unobstructed line of sight. In a cluttered environment like a house, the range will drop to between 30 and 50 feet. Exactly how far depends on how many obstructions there are.
As an alternative, you can connect the speaker with a 3.5mm aux cable, which is included in the package. This doesn't drain your batteries, since the power will come directly from your device. That said, you won't be able to use the on-board speaker controls, and you won't be able to pair two speakers.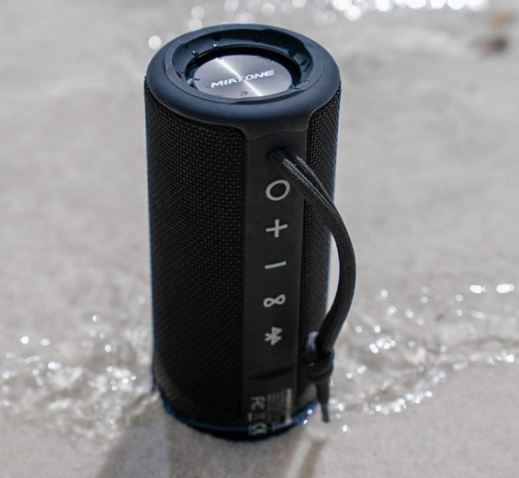 Audio Quality
The Miatone speaker draws 16 watts, which provides a decent amount of power. Obviously, the compact cones aren't capable of the same volumes as very large speakers. But for something you can hold in your hand, this is a decent amount of sound. The quality is generally good, particularly on the low end. The bass is nice and tight, without the slop you'll hear in a lot of cheaper speakers. That said, the treble frequencies favor volume over richness. Instead of sounding clean and shimmery, they sound a bit tinny, which is disappointing if your music leans heavily on higher frequencies.
If you like the Miatone speaker's design but want better-rounded audio, consider the Mpow R9. It has a comparable design and a similar 10-hour battery life, but it offers much richer audio. That said, it also costs a bit more.
If you want to cover a larger area with the Miatone speaker, you can. By pairing two speakers, you can put them in stereo mode. One will act as the left channel and the other will act as the right, and you can position them as needed. To return to single speaker mode, just turn off both speakers, then turn your primary speaker back on.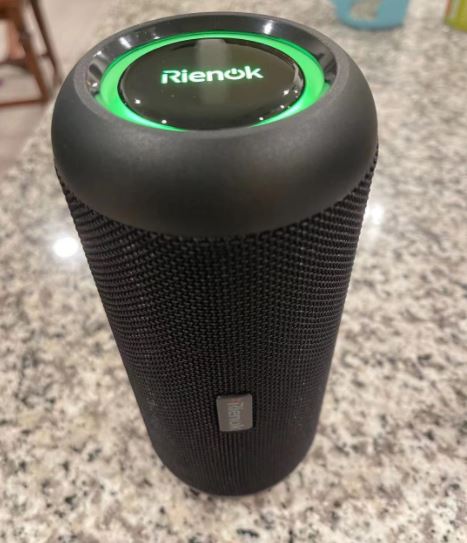 Rienok Portable Bluetooth Speaker
The Rienok Portable Bluetooth Speaker has a more staid design than the Miatone, and is only available in black. It's also a bit beefier, measuring 9.49 inches in length, with an oval profile between 4.88 and 3.9 inches in diameter. At just over a pound, it's correspondingly heavier than the Miatone, but it's also equally rugged. Rubber bumpers that it won't easily get damaged due to a drop. This isn't to say that the Rienok speaker is boring, though. Each end has a rainbow LED ring that pulses in time with your music.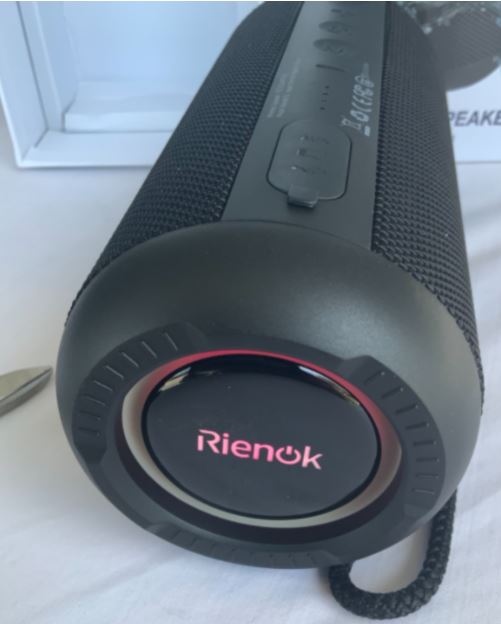 The speaker housing has a water-resistance rating of IP67, which means it's submersion resistant. It can stand up to submersion at a meter of depth for at least half an hour. So if you have a backyard pool, you don't have to worry about setting your speaker near the edge.
Like the Miatone, the Rienok speaker has a control panel built into the side. However, it offers additional functions, including hands-free calling. It also has an EQ function, which we'll discuss more in a second. By holding the EQ button down, you can even access your phone's voice assistant for more functionality.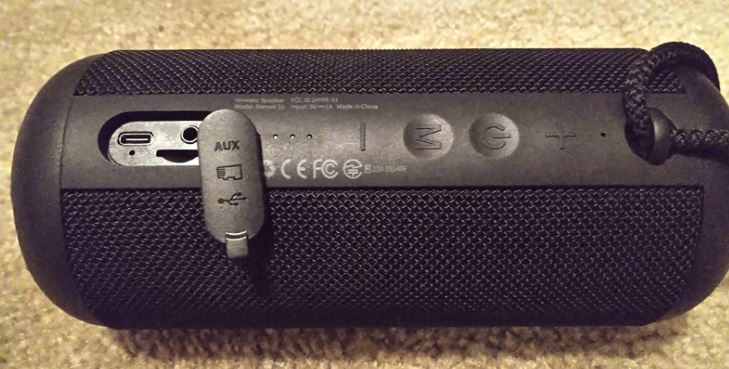 Battery & Connectivity
The Rienok speaker provides up to 24 hours of playback on a single charge. Admittedly, this is a manufacturer rating. 18-20 hours is a more reasonable estimate. Even so, it's hard to overstate just how fantastic this is. Most Bluetooth speakers last for six to eight hours. If they last for 10 or 12 hours, they're exceptionally long-lasting and already earn high marks in our review system. 25 hours is frankly ridiculous. Let's even be as harsh as possible, blast the music, leave the lights on, and pair two speakers together. Under those circumstances, you can still expect an absolute bare minimum of 20 hours' performance. "Insane" does not even begin to describe how impressive this battery is.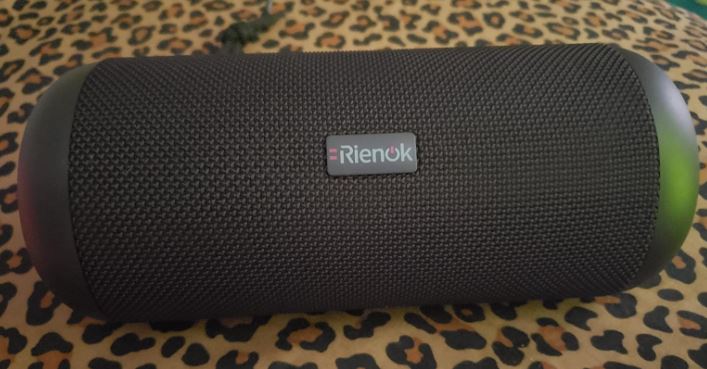 The Bluetooth chip uses the Bluetooth 5.0 protocol, which is the current standard. This allows for lower latency, which makes the Rienok well-suited for gaming or watching movies. It also allows slightly higher bitrates, and provides a more stable connection. That said, the signal range is shorter than Bluetooth 4.2. Your maximum outdoor range is about 66 feet, assuming an unobstructed line of sight. Indoors, 33 feet is the absolute maximum, and your range can be less from that with obstructions. This speaker can also be connected via a 3.5mm aux cable.
Audio Quality
The Rienok speaker provides 30 watts of sound, over 50 percent more than the Miatone. It does this with dual drivers and subwoofers, which doesn't just move more air. It also allows for a full stereo experience from a single speaker. Of course, the speakers are mere inches apart, so "stereo" is a bit generous. If you want true stereo sound, you'll need to pair two speakers, which spreads the sound out more. The process is the same as for the Miatone, as is the process of returning to solo mode.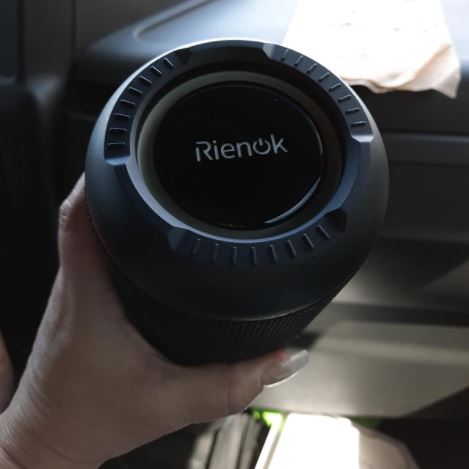 The audio profile is bass-heavy, which may or may not be a good thing depending on your tastes. It's certainly punchy, even at medium volume. Unfortunately, the speaker cones seem to be a bit sloppy. At higher volumes, bass will rattle the speakers, as well as anything in the environment. If you want higher volumes without all the rattle, you can use the EQ button to go into vocal mode. This provides a more even audio profile that's suitable for genres where bass is less central. There's also an alternative deep bass mode, but that should be unnecessary for most people.
For the maximum in power and range, it's tough to beat the Tronsmart Force 2. This is a very powerful, 30-watt speaker with an impressive, 100-foot range. However, it costs more than either of the speakers we looked at today.
Final Verdict
As you can see, these are two very different speakers, each with its own unique benefits and drawbacks. The Miatone Portable Bluetooth Speaker has an undeniably fun design, but it's also surprisingly rugged. The battery life is reasonable, albeit not impressive. The main drawback is the audio quality, which most definitely falls on the tinny side of things. On the other hand, the 100-foot Bluetooth range can be a huge benefit for outdoor events. It's enough to reach across most backyards, which can be problematic with newer Bluetooth protocols.
The Rienok Portable Bluetooth Speaker is a different animal entirely. Although it has a shorter range, it makes up for that with better-rounded audio and a wider stereo sound. It also offers an insane 24 hours of battery life, which makes it worth considering all by itself. The LED lights only tie together an already well-engineered package. That said, the bass tends to rattle, so it's by no means perfect.
Please consider sharing:
Note: At no extra cost to you, we may earn a commission for purchases using our links. Learn more.