Laptops are convenient for a number of reasons, first and foremost being their portability. Because they're collapsible, they're easy to take with you just about anywhere. You can use the same computer at your home, in the office, and on vacation.
But when you're using your laptop at a desk, the placement isn't always comfortable or convenient. It just sits there, flat, on your desk.
There's nothing wrong with that per se, but you might want more versatility. For instance, you might want more elevation, so you can type in a different position. You might want to be able to spin your laptop around, or adjust the keyboard angle.
For those and other reasons, it can be wise to consider a swiveling laptop stand. You won't be able to carry one with you – at least not conveniently. But if you spend a lot of time at the same desk, they can make a great companion.
You can use your laptop in a convenient mounting position, and take it with you at the end of the day. Swiveling stands can also be useful for other applications, such as retail. If you're trying to work with a customer across a counter, it can help to spin the screen back and forth. The same goes for lawyers, accountants, and anyone else who wants to share a screen.
Today, we're going to review three of the best 360-degree rotating swivel laptop riser stands. These stands are designed to swivel 360 degrees, and to support your laptop at an angle. But other than that, they each have their own unique features to talk about.
We'll need to evaluate the quality of construction – how well they're put together. We'll have to look at any adjustments or customizations you can make. In addition, we'll have to talk about cable management and other important features. Once we've taken a thorough look at all three options, we'll have a clearer picture. At that point, we'll be able to deliver our verdict. Let's get started!
Rain Design mStand360 Laptop Stand
The Rain Design mStand360 Laptop Stand is a roughly-wedge-shaped aluminum frame. The design is simple, elegant, and deceptively feature-rich. To begin with, you have your choice of finish. The stand can be ordered in silver, black, grey, or rose gold. The black and grey are more understated, perfect for almost any office. The silver and rose gold are a bit more flashy, but fit right in with many décor schemes.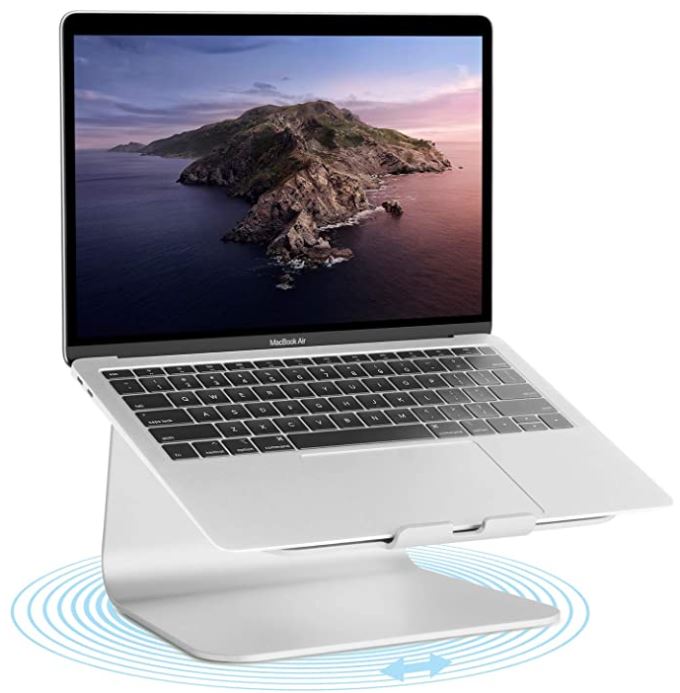 The shape is curvy rather than angled, with no sharp edges at any point. The base is flat, and curves into a vertical back. In the middle of the back, there's a round cutout, with a plastic ring around the inside. This cutout is designed for cable-management, and it's incredibly useful. By running all your cables through here, it keeps them from getting tangled when you swivel the stand.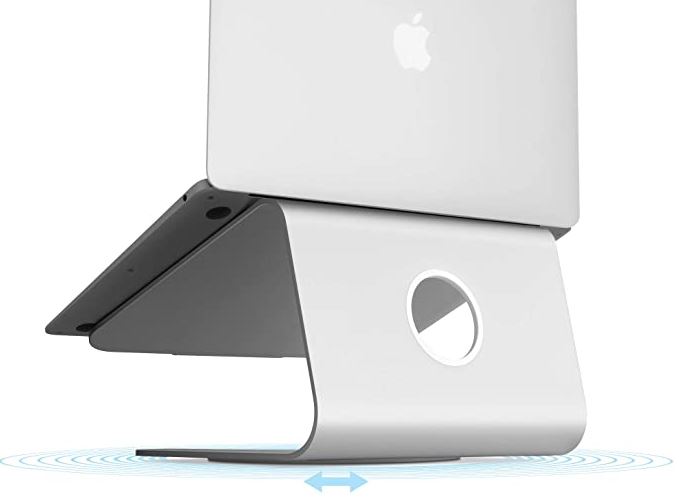 The top support panel has a slight forward tilt, so your keyboard will be sitting at an angle. At the front edge of this panel, there's a pair of flanges in the middle, which are padded on the inside. This way, they won't damage your laptop. Instead, they'll gently cradle it, so it doesn't slide forward.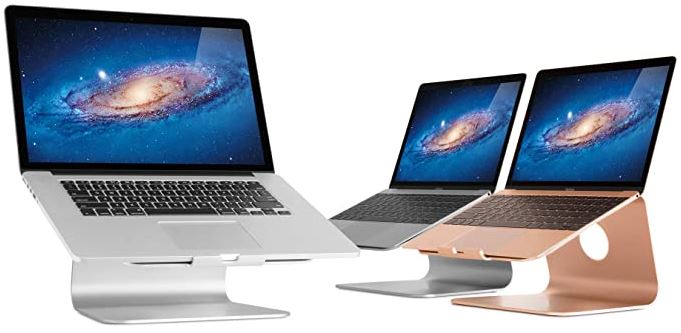 On the four corners of the top panel, there are little round rubber pads, which serve a similar function. The overall width of the top panel is 10.3 inches, and it's 10 inches in length. This allows it to support any laptop with a depth of 10 inches or less. The stand is 5.9 inches tall at the back, and it weighs only three pounds. So while it's hardly compact, it's light enough to be easy to carry.
The swiveling mechanism is hidden underneath the base, and you'll barely notice it. At less than a tenth of an inch thick, it's hardly visible at all. It's very effective, though. The stand rotates smoothly through all 360 degrees, and it's easy to turn with one hand.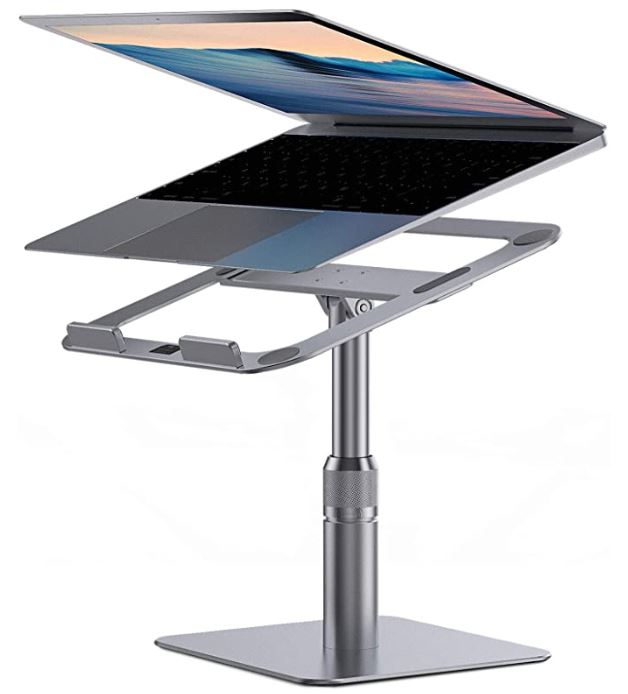 Almoz Swivel Laptop Stand
The Almoz Swivel Laptop Stand has a more complex design. It's constructed from durable aluminum, with a shiny silver finish. The rectangular base measures 7.8 inches in width, and 7.4 inches in depth. It's rounded off at the corners so there are no short points, and it provides plenty of stability.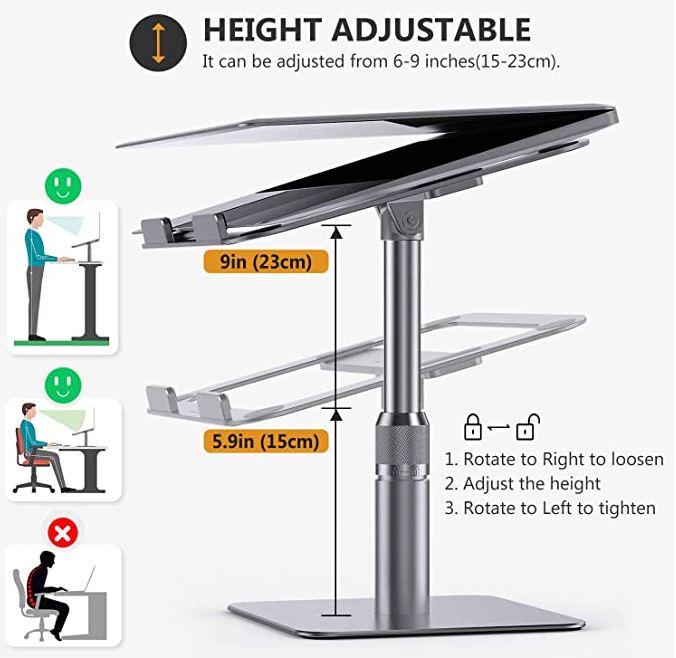 There's a vertical support rod located directly in the center of the base. This support has a locking collar halfway up, which is ridged to make it easy to grip. In the locked position, the rod remains rigid, and will support far more weight than a laptop. Twist the collar to the unlocked position, and you can adjust the height freely up and down. Let the collar snap back into the locked position, and the rod will once again remain firmly in place. In total, the height can be adjusted between 5.9 inches and 9 inches.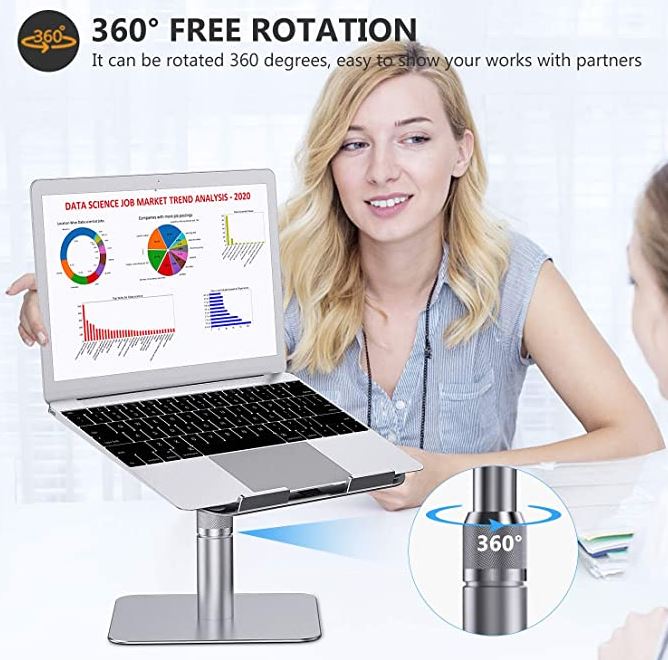 At the top of the support rod, there's a skeletonized laptop platform that's wide open in the center. This provides excellent air flow, and helps keep your laptop as cool as possible. However, it could be awkward for positioning smaller laptops.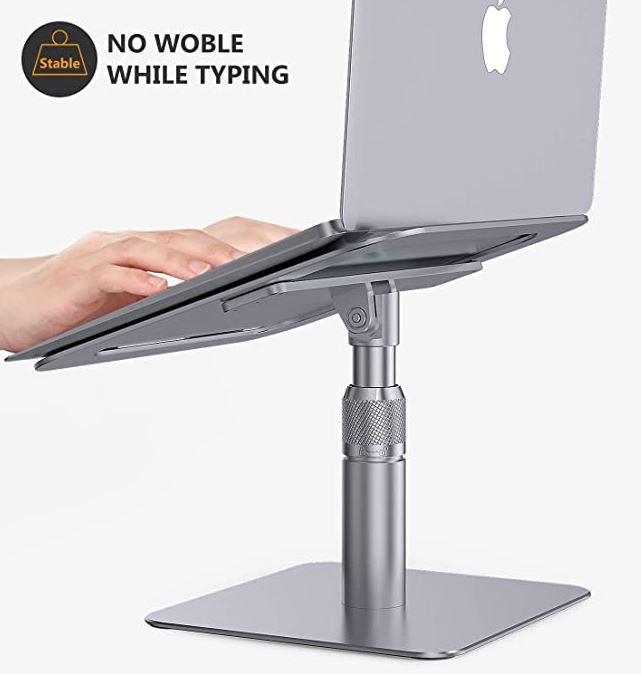 If you're using a small Chromebook or another undersized machine, this stand might be too big. The total size of the platform is 10.4 inches wide and 9.5 inches deep. The front support flanges are 0.59-inch tall, enough for pretty much any laptop. They're also well-padded, with additional rubber bumpers around the outside of the platform.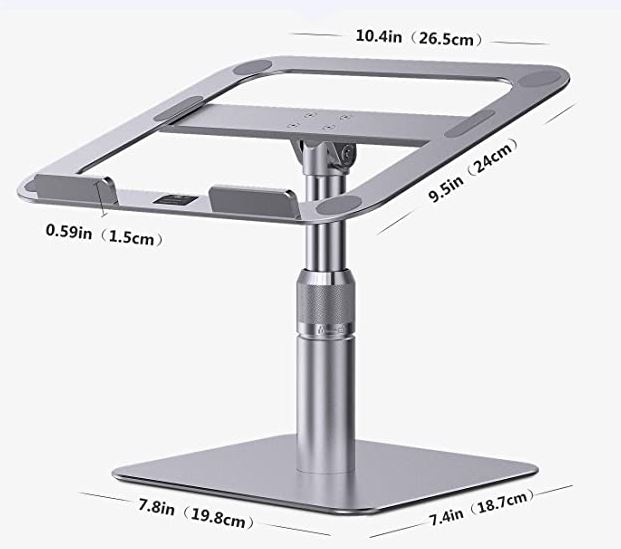 The Almoz stand weighs only 2.35 pounds, so it's easy to move around if you have to. The design by its very nature isn't all that portable, though. On the plus side, there are plenty of ways to adjust your laptop. To begin with, the support rod swivels where it meets the collar, and can be rotated 360 degrees. In addition, the top platform can pivot 60 degrees. It can be totally flat, or tilt steeply towards you. This gives you plenty of flexibility in terms of working position.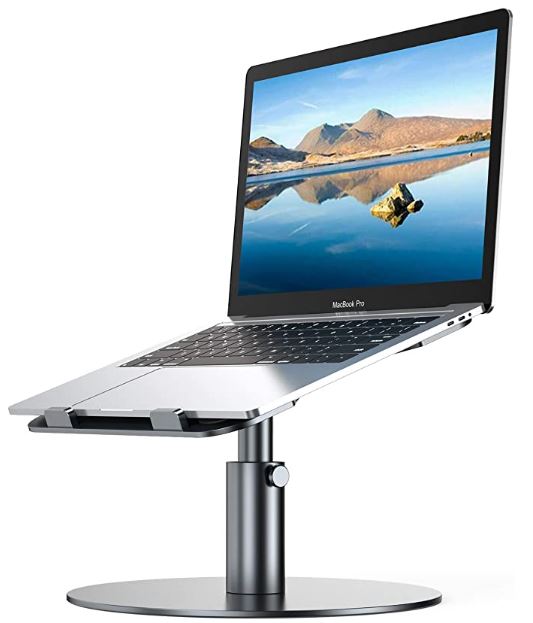 YoFeW Aluminum Laptop Riser
The YoFeW Aluminum Laptop Riser is also made from rugged, durable aluminum. It's available in three finishes: grey, silver, or rose gold. With these options, it can pair well with the décor in almost any office. The bottom of the stand is circular, and has a diameter of 3.9 inches. The overall weight is only 2.57 pounds, so it's not too heavy to carry. But as with the other stands, the design makes it impractical for carrying on your commute.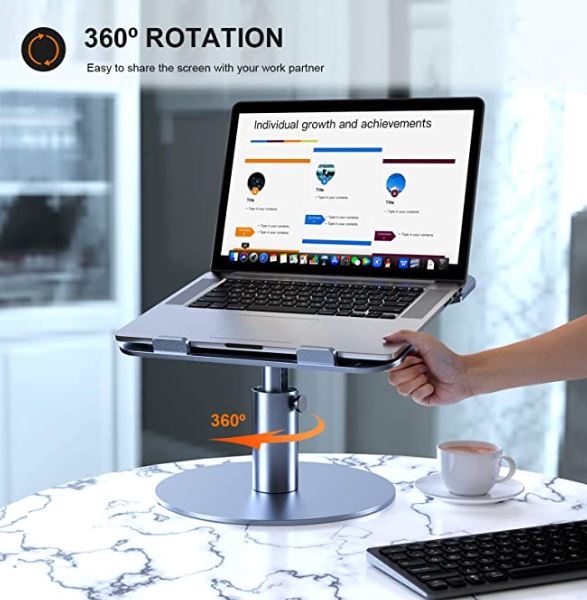 In the middle, there's a vertical support rod, similar to the rod on the Almoz stand. However, this support rod has a slightly different adjustment method. Instead of a locking collar, there's a button on the side. You hold the button down with one hand, and move the stand up and down with the other. When you release the button, the support locks into place. In total, the height can be adjusted between 5.9 and 7.8 inches.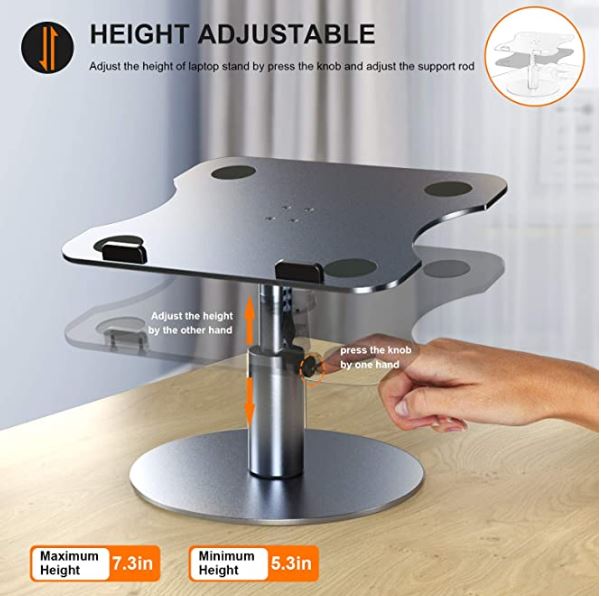 The laptop platform mounts directly to the top of the support rod. It has a roughly square shape, with measurements of 9.8 x 9.8 inches. This is big enough to fit a 17-inch laptop, among the largest on the market. Unless you have an oversized widescreen laptop, you aren't going to have any issues with the fit.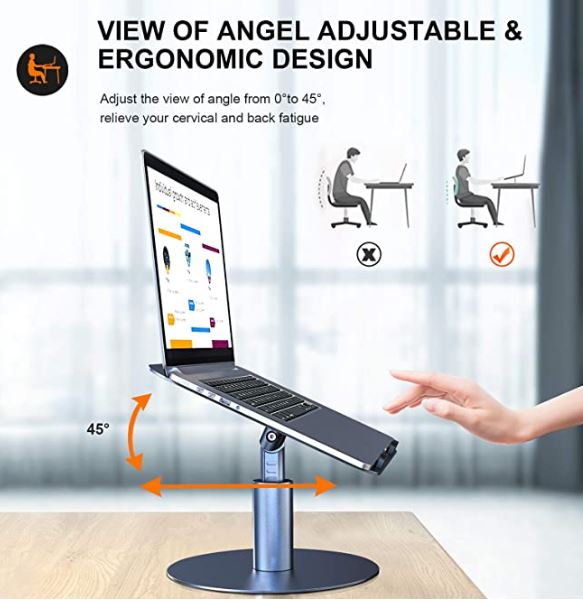 There are flanges at the front of the top, with soft foam padding on the inside to keep your machine safe. You'll notice rubber padding at the corners of the platform, which also helps protect your computer.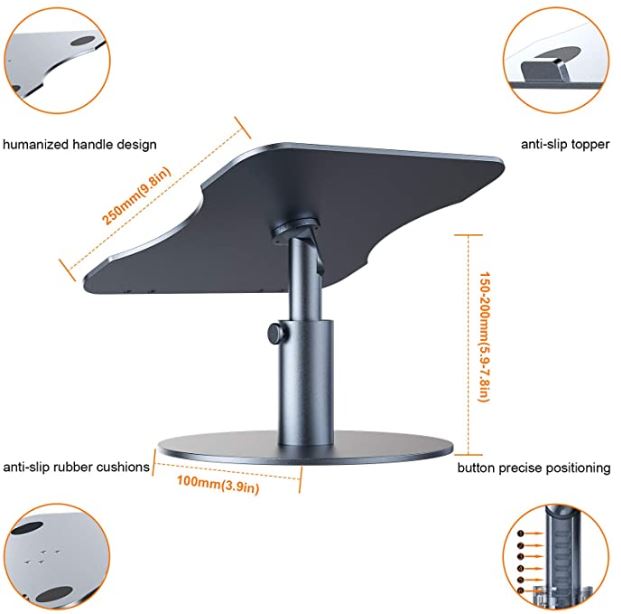 At the sides of the top platform, there are half moon-shaped cutouts. These cutouts are designed to provide improved air flow, to help out your laptop's fans. The platform is attached via a flexible hinge that can be tilted forwards by up to 45 degrees. Or, you can leave your laptop flat. The bottom of the base, meanwhile, serves as a rotating platform. Like the other stands we looked at, you can swivel it a full 360 degrees.
What are the Benefits of a Laptop Stand?
The main benefit of laptop stands is the improved ergonomics. Obviously, laptop keyboards and mice can feel cramped, and many people prefer an external mouse. But laptops also present issues for your posture. Picture your laptop, sitting on a desk. There's no way to type with your wrists straight and keep your head in an upright position simultaneously.
Because the monitor is so low to the desk, you end up hunching over. This is bad news for your back and neck, and can cause pain and stiffness. Sit in the wrong position for long enough, and you can even develop chronic pain issues. By elevating the screen, you prevent this from happening.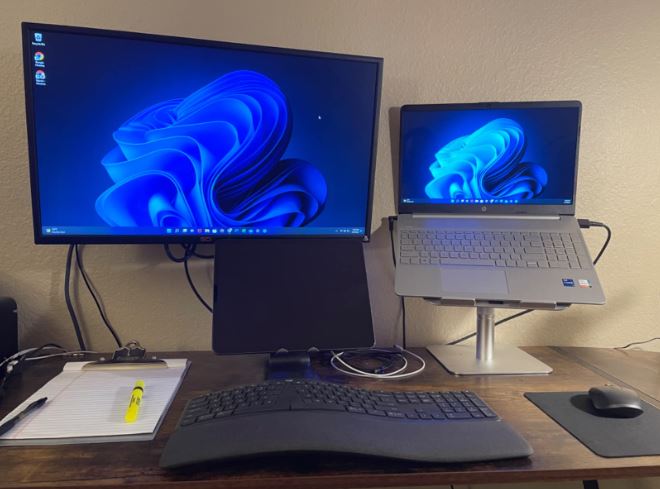 Laptop stands also frequently include cutouts and openings to allow for more air flow. This keeps your laptop cooler than it would be if it were sitting flat on your desk. In addition, your laptop stand may also have cable management features like wire holes. This can make it easier to keep your desk organized, and prevent cables from cluttering everything up.
If you use a standing desk, you'll very much appreciate having a laptop stand. Standing desks are typically designed with desktop PCs in mind, so you end up in an awkward position. By elevating the laptop, you solve the problem. Stands are also a great choice if you're using a second external monitor. Keeping both screens at the same height can cut down on eye strain, for more comfortable working conditions.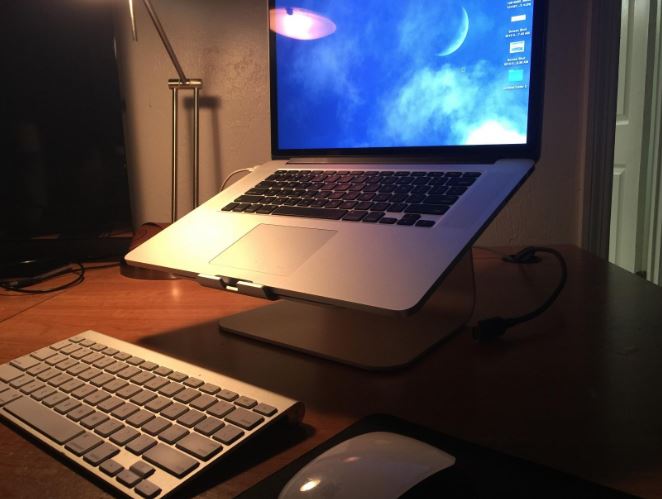 Essential Features
First and foremost, make sure that the stand will be compatible with your laptop. If the stand is too large, it will take up excess space. On some stands, your laptop might even fall through. If the stand is too small, on the other hand, your laptop won't be stable. You'll also notice that all of our selections are made from aluminum. You want a stand that's durable and reliable, and a plastic stand will only disappoint you.
A good stand should be easy to adjust. If you can tilt your laptop, this should be a simple process. The same for rotation, which should be effortless. Vertical adjustments, meanwhile, should have a locking mechanism, so the stand doesn't collapse by mistake.
If it hasn't become obvious by now, we're talking about stands for working with your laptop. If you want a stand for holding a closed laptop, there are more suitable options. Check out our list of the best vertical laptop stands to find some excellent ideas for slick, space-saving stands.
Which 360° Rotating Laptop Riser Stand is Best?
So, which one of these rotating swivel laptop riser stands is the right choice for you?
Let's go over what we've learned about each of them, starting with the Rain Design mStand360 Laptop Stand. This stand is the simplest of the bunch, as well as the lowest-profile. It doesn't have any adjustment options. You can't adjust the height or angle, although you can swivel it 360 degrees. We particularly liked the cable management cutout, especially the large size. We also appreciated the low-profile swivel base, and the fact that it's easy to carry.
The Almoz Swivel Laptop Stand has an entirely different design. It has a lot of moving parts, so you can make many adjustments. Your laptop can move up and down, even as high as 9 inches. And with a 60-degree forward tilt, it can give your laptop a steep typing angle. We also liked the locking collar, which is very easy to use.
The YoFeW Aluminum Laptop Riser has a similar design, but some key differences. On the one hand, you can't adjust the height as high, and the forward tilt is slightly reduced. However, the release button is easier to use than a locking collar. Not only that, but the cleaner aesthetic has a lot going in its favor.