The MacBook Air is one of the most popular laptops on today's market. It's ultra-compact, but it's insanely powerful for the size. The retina display is absolutely gorgeous, with brilliant colors and bright, vivid images.
The M1 processor is famous for its speed and efficiency, allowing you to use all of Apple's software. Speaking of which, the software is a big part of the package. Anyone who loves Mac machines knows how easy they are to use. Apple is famous for its slick, intuitive software that anyone can learn in just a few minutes. But no machine is perfect, not even the MacBook.
Note: At no extra cost to you, we may earn a commission for purchases using our links. Learn more.
One weakness of all laptops is the keyboard, and we're not talking about the layout. In that regard, the MacBook Air 13-inch is very well-designed. We're talking about the integrated design. This isn't really something laptop manufacturers can avoid.
If the keyboard isn't built into the computer, it's not a laptop! It's just a mini computer. But with a built-in keyboard, you run into a few issues. For one thing, you can easily destroy your laptop with a spill. It doesn't even have to be a bad one. Even a small spill that ruins a few keys will wreck your machine.
Laptop keyboards also tend to get dirty. And unlike an ordinary keyboard, you can't really pop off the keycaps and give them a thorough cleaning. The best you can do is wipe down the surface with some cotton swabs and rubbing alcohol.
For these and other reasons, many people opt to use a keyboard cover. With a good quality keyboard cover, you don't have to worry about a little splash or some finger grease. Instead, you have a nice, washable surface that keeps water out of your keys. Let's talk about some of the best choices for the MacBook Air 13-inch in particular.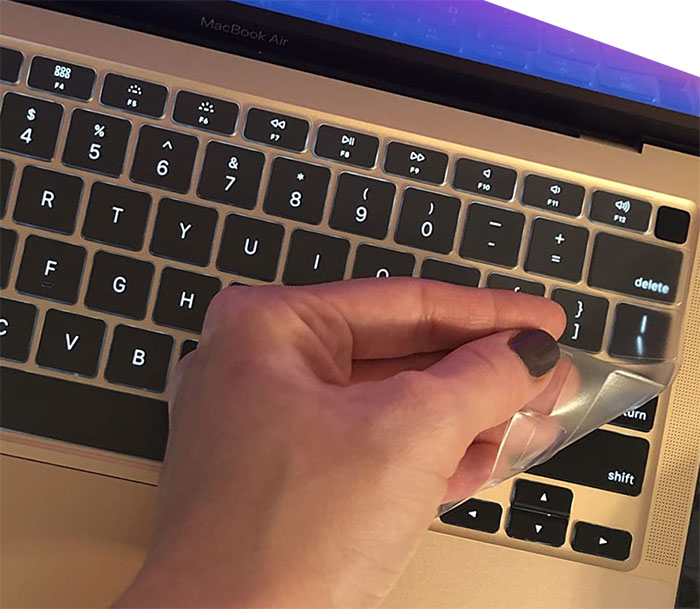 Choosing the Best Silicone Keyboard Cover for 13-inch MacBook Air
We're about to review three of the best silicone keyboard covers for the 13-inch MacBook Air. These keyboard covers are designed to be easy to apply and remove. They're meant to repel water, and they're supposed to be easy to clean. They're also meant to conform perfectly to the MacBook Air 13-Inch's unique configuration.
That said, we also need to consider some other factors. We'll have to discuss the material the keyboard covers are made from, and how good the engineering is. We'll need to talk about how they install, and how you go about removing them. And of course, we've got to evaluate the typing experience. At that point, we'll have a more complete picture, and we'll be ready to render our verdict. Let's get started!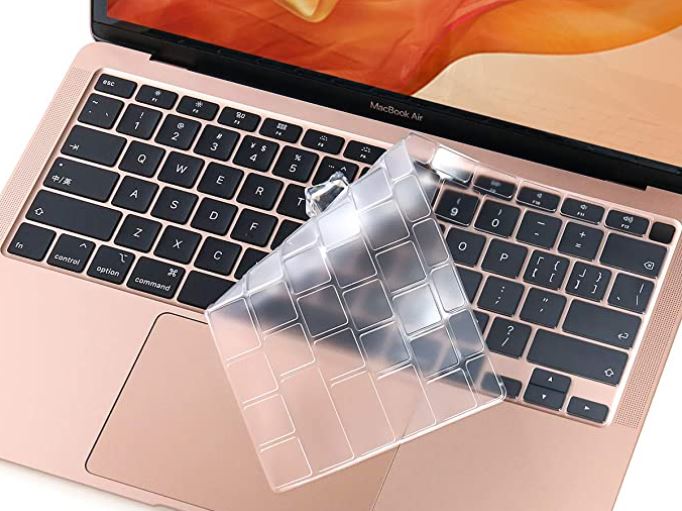 CaseBuy Premium Ultra Thin Keyboard Cover
The CaseBuy Premium Ultra Thin Keyboard Cover is made from thermoplastic polyurethane (TPU). TPU is known for its toughness and durability, which is a good thing in a keyboard cover.
You don't have to worry about it wearing out in a short period of time or developing soft spots. The material is also completely transparent, so you'll barely see it when it's properly installed.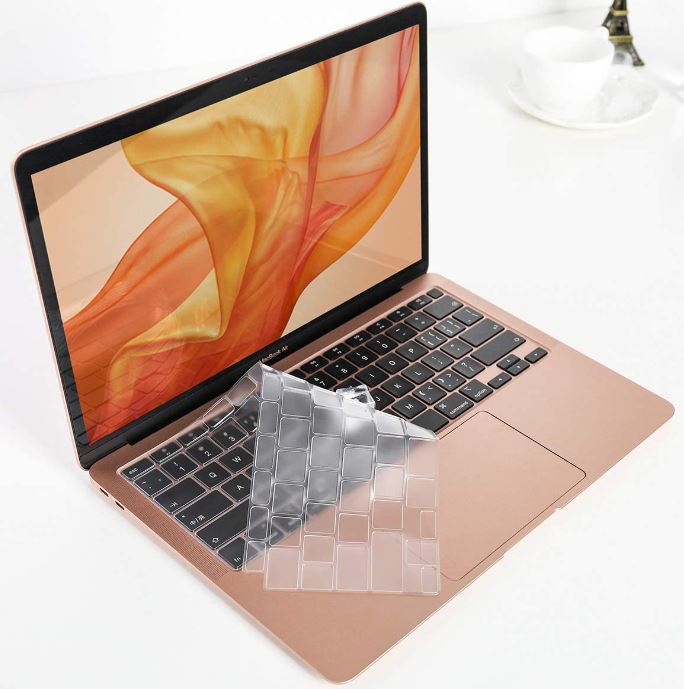 All in all, the design is well thought-out. The cover conforms nicely to your keycaps, and the material is flexible enough for easy installation. It's also easy to keep clean. The surface is very smooth, and dust will wipe right off. As for splashes or spills, only the worst will pose any danger to your laptop.
This keyboard cover is designed to fit the MacBook Air 13-inch, starting with models made in 2020. This includes the current model made in 2022. However, it's only designed for the US keyboard layout, not the EU layout. You can easily tell which is which by looking at the "Enter" key.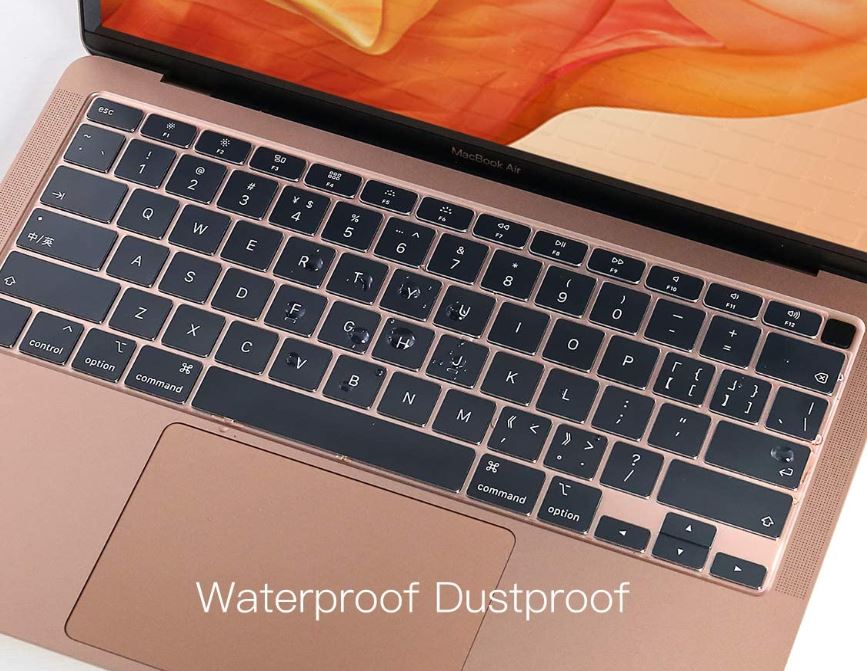 If it's rectangular, you have the US version. If it's shaped like the number "7," you have the EU version. The cover is also only compatible with the M1 processor version, not the newer M2 processor version. If all this sounds confusing, you can look at your model number. Then compare it to Apple's list to see which version you have.
If you're using a MacBook Air 13-inch, there's a good chance you're also an iPhone user. In that case, you'll also want to protect your phone screen. Check out our list of the best iPhone 13 Pro Max privacy screen protectors to see what's available.
Ease of Use
The CaseBuy keyboard cover is very easy to attach. It comes with a set of double-sided adhesive strips, which go on the bottom side. There are four little pieces that go on your Escape, End, Control, and Delete keys. A longer strip goes on your spacebar. These strips hold the cover in place, so it doesn't wiggle around or fall off when you're moving your laptop.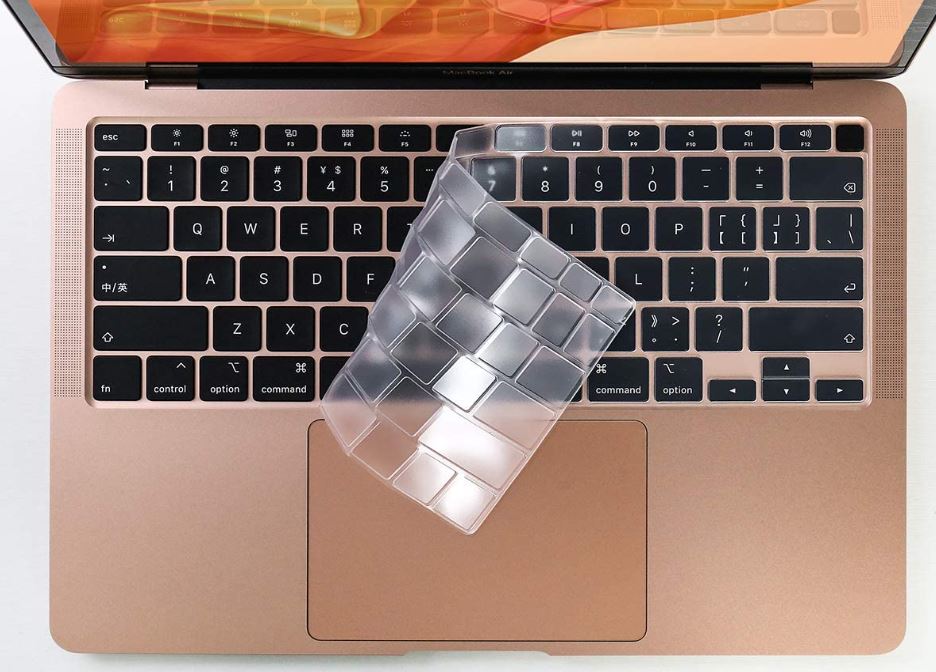 The material of this cover is only 0.12mm thick, which is barely noticeable. It's meant not to interfere with your typing or make your keys feel overly clunky. In this regard, it's successful. Unfortunately, the material design is both a blessing and a curse. There's no denying that it's very durable. But because TPU is a harder plastic, the keys can feel a bit stiff. This isn't a major problem if you're not typing too quickly or too often. But if you intend to do a lot of rapid-fire typing, you'll be better off with a traditional silicone cover.
One thing we should point out is the small cutout at the top right corner. This isn't a defect; it's a design feature. It's meant to allow you to access your touch bar and touch ID without having to peel away the cover.
We also liked how clear and transparent the material is. When your MacBook keys light up, it will shine right through the cover. This is particularly helpful when you're trying to work in a dark room.

MOSISO Keyboard Cover
The MOSISO Keyboard Cover is manufactured from a soft, flexible silicone. It's a translucent pad with a set of keys printed on the top. This allows you to customize your MacBook's appearance as well as protecting its keyboard. In total, you can choose between 15 different colors.
There's black and white to start out with. But you can also choose from multiple shades of green, blue, and red, as well as a couple of greys. Oddly enough, there's no yellow option. The keys have white lettering in the exact size and font of the real keys underneath. The only difference is the word "Mosiso" printed on the right of the spacebar.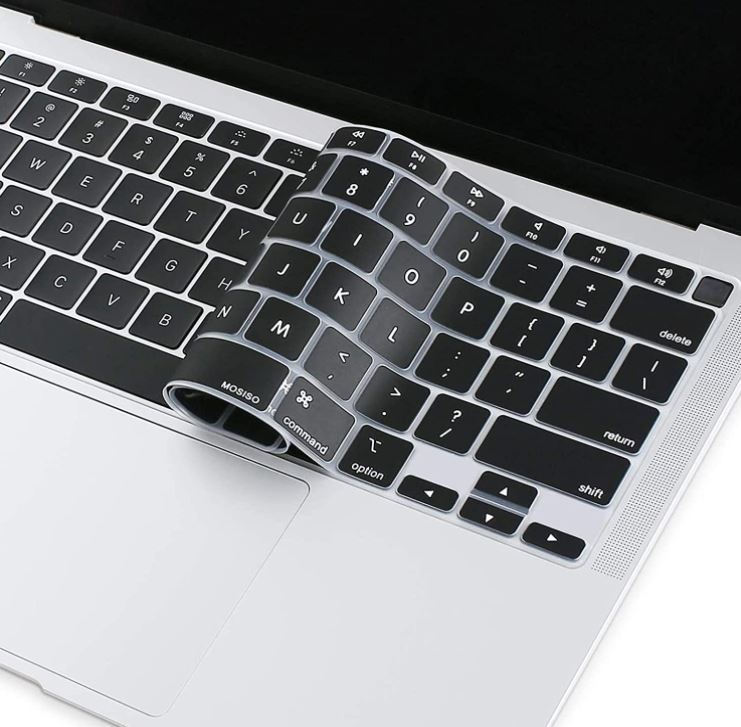 This cover does an excellent job of protecting your keys, and keeps them safe from dust and spills. The silicone doesn't wear as well as TPU, but it's still reasonably tough. It's meant to fit the M1 version of the MacBook Air, starting with the 2020 version. And it's covered by a 12-month manufacturer's warranty to protect against premature wear.
Ease of Use
The material is 0.3mm thick, which is enough for a bit of padding. At the same time, you'll still get plenty of tactile feedback. There's no adhesive for installation, but none is needed. The flexible material clings to your keys on its own.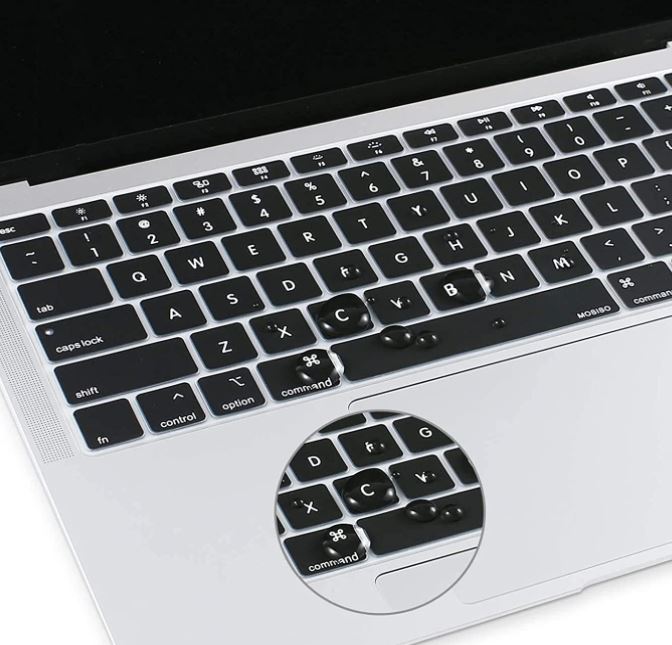 This makes it easy to apply, and easy to remove for cleaning. There's even a little cutout for your touch bar and touch ID. Our only minor gripe is that you can't see your lighting very well through the printed keys.
While you're protecting your MacBook keypad, why not show your iPad some love? The screen is vulnerable, and it's wise to invest in some protection. If you haven't already, take a look at our list of the best iPad Air 5 privacy screen protectors.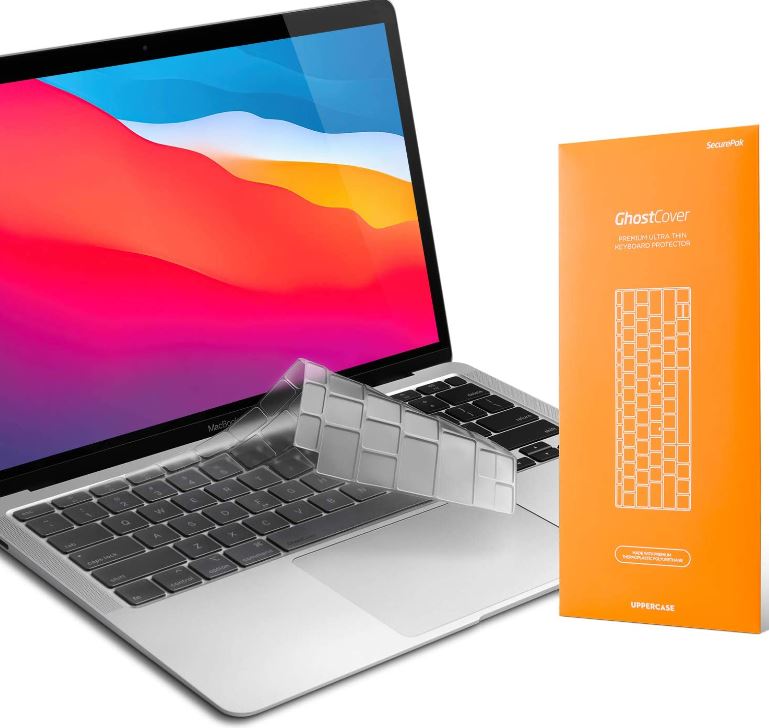 UPPERCASE GhostCover Premium Keyboard Cover
The UPPERCASE GhostCover Premium Keyboard Cover is constructed from TPU. This makes it similar to the CaseBuy cover in many ways. It's very tough and rugged, and provides long-lasting durability. It will probably last just as long as the keyboard. It's water-resistant, and flexible enough for easy installation. It's also easy to wipe down.
As for as compatibility goes, this is identical to the last two covers. It's compatible with any MacBook Air 13-inch with an M1 chip, sold in the US from 2020 onwards.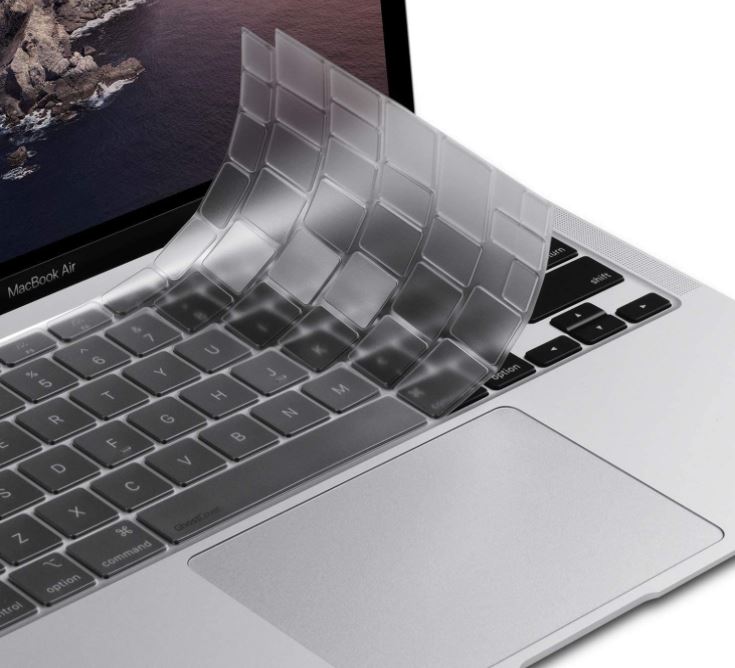 Ease of Use
The GhostCover comes with a set of double-sided adhesive pads for installation. These attach at the corners of the cover, as well as across the spacebar. The material is very thin, and conforms well to all of the keys. That said, it has similar issues to the CaseBuy cover. It's a bit stiff, which can make typing awkward at high speeds.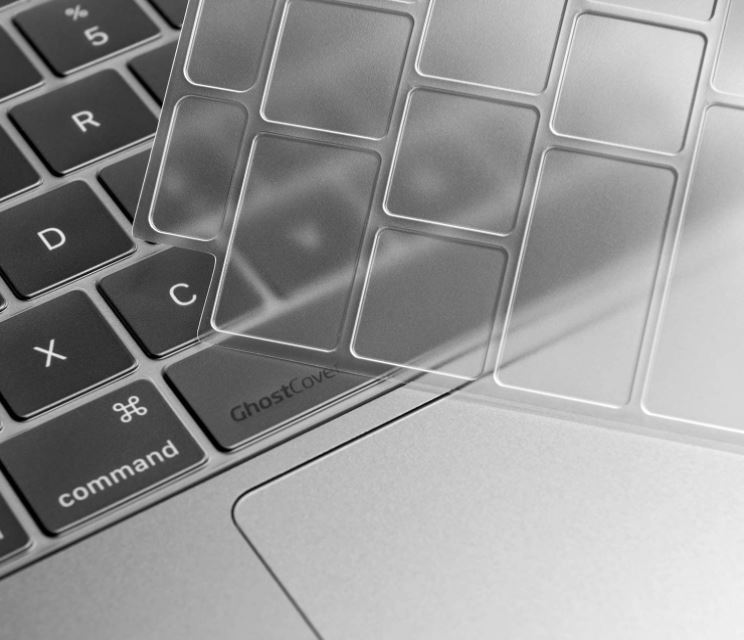 That said, it's also very well-engineered, with a cutout around the touch bar. This makes it very easy to use all your laptop's functions. In addition, the TPU material is exceptionally transparent; it looks like a thin sheet of glass. Your keyboard lights will shine right through.
Final Verdict
As you can see, all three of these 13-inch MacBook Air keyboard covers has something to offer. But which one is the best choice for you? Let's briefly recap what we've learned.
The CaseBuy Premium Ultra Thin Keyboard Cover is designed first and foremost for durability. The TPU material is very tough, and will last as long as any cover on the market. It's not ideal for heavy-duty typing, since it's a bit too rigid. But for anything short of that, it does a brilliant job. We also appreciated the fact that it lets your MacBook keys' lights shine through.
The MOSISO Keyboard Cover is made from silicone, which gives it a softer touch than the others. While silicone isn't quite as durable, it should still last for a few years without any issues. It's great for marathon typing sessions, and for anyone who wants a nice comfy keyboard. It also does a good job of protecting your laptop against water.
The UPPERCASE GhostCover Premium Keyboard Cover is similar in most respects to the CaseBuy cover. The only real difference is the clarity of the material, which is slightly improved. It also costs a touch more, but let's be honest; neither one is going to break the bank.
Please consider sharing:
Note: At no extra cost to you, we may earn a commission for purchases using our links. Learn more.