Some people can fall asleep anytime, anywhere. No matter the situation, they're able to close their eyes and nod off. Those people are lucky. For many of us, falling asleep can be a challenge. Maybe you require an elaborate routine. Maybe you need sleeping medication or a nightcap.
But for a lot of people, sound is the best way to fall asleep. For example, you might leave the TV on when you go to bed. Or maybe you listen to an audiobook, or a podcast, or even music. ASMR is another popular way to fall asleep. But regardless of your choice of audio, you're going to need an audio source.
This is a non-issue if you live by yourself. But a TV or music playing late at night can keep other people up. And if your partner needs complete silence to fall asleep, your listening habit is going to be a problem! A lot of people compensate with a pair of headphones or earbuds. If you're a back sleeper who doesn't get restless in the middle of the night, that will work.
But if you tend to flop around in your sleep, headphones can fall off. Earbuds can get lost in your bedding. And if you sleep on your side, headphones or earbuds will be horrendously uncomfortable.
Another solution is an under pillow speaker. These are small speakers that fit underneath your pillow. With the appropriate volume level, you can hear your audio just fine. The person a few feet away from you won't hear a thing. You get to fall asleep peacefully, without disturbing your partner. Of course, you'll need to choose the right speaker. You want the right volume level and good quality audio. Otherwise, you'll be back to fiddling around with your headphones.
Choosing the Best Under Pillow Speaker
Today, we'll be reviewing four of the best under pillow speakers that money can buy. All of these options are designed to work with the majority of audio sources. You'll need an adapter for your iPhone, but that's about it. They're also slim enough to fit in your pillowcase, so you don't have to worry about placement.
That said, each of these speakers has its own unique quirks, strengths, and weaknesses. We'll have to look at the physical design, and how they're put together. We'll need to listen to the audio quality, and get a sense for the volume. It's also important to consider the durability, as well as any extra features. Let's take a closer look, and see how they stack up!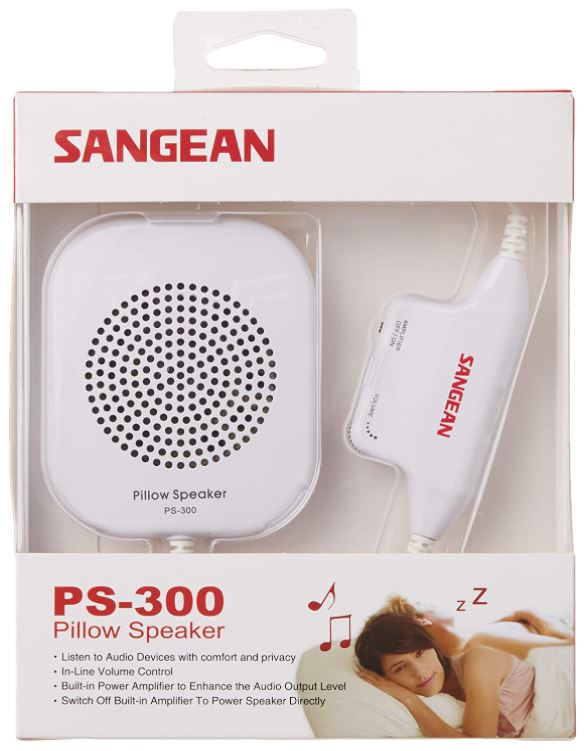 Sangean PS-300 Pillow Speaker
The Sangean PS-300 Pillow Speaker has a flat, rectangular shape with corners that are rounded off for comfort. It measures 3.4 inches long, 2.75 inches wide, and a mere 0.57-inch thick. When it's under your pillow, you'll barely notice it's there. The housing is constructed from a smooth white plastic, which is easy to keep clean.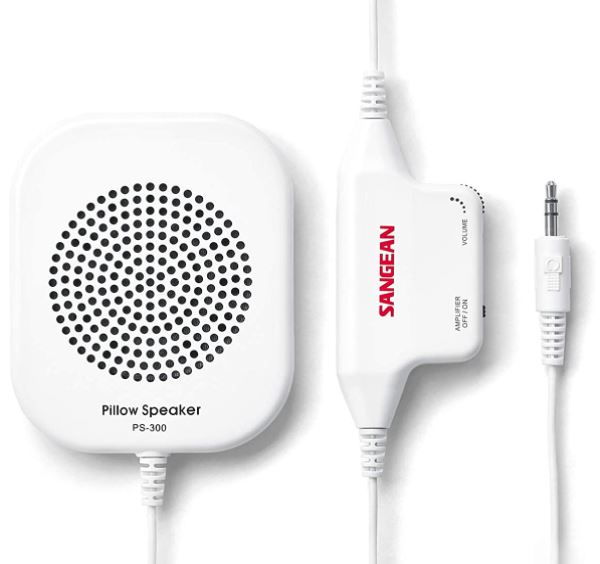 The cord is also white, with a durable rubbery outer layer. It's just under 48 inches long, which should be long enough to reach your nightstand. Partway down the cord is a fob with a little button to turn the amplifier on or off. The fob also sports a volume dial, which can be used when the amplifier is active. On the back, you'll find a removable cover, which conceals the battery compartment. You'll need to install your own AAA battery, although none is included in the package.
At the end of the cord is a 3.5mm aux plug. This will connect to almost any Android smartphone. If you're using a laptop or tablet, you'll have no issues. The same goes for any MP3 player. That said, if you're using an iPhone 7 or newer, there won't be any 3.5mm jack. You'll need to use a Lightning adapter.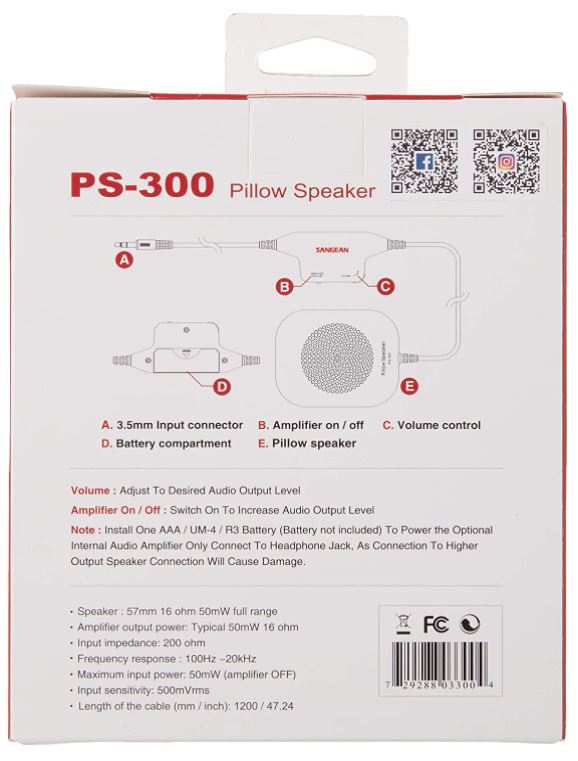 We should note that the PS-300 is also available in a non-amplified version. This version is oval in shape, and has no in-line controls It also doesn't require any battery, since there's no amplifier. On the downside, the maximum volume is limited to what your phone or MP3 player can supply.
Sangean backs their pillow speaker with a 12-month warranty on parts and labor. If your speaker fails prematurely, you'll get a refund or a free replacement.
Speakers and Audio Quality
The built-in driver is 57mm in diameter. To put that in perspective, a large headphone driver will measure around 40mm in diameter. So you're getting enough volume to hear it through your pillow. Moreover, when you're using the amplifier, it can even be loud enough to hear through two pillows. Just be careful. If you crank up the volume too loud, it can be loud enough that your partner will hear it. Regardless, you won't have any issues hearing your audio.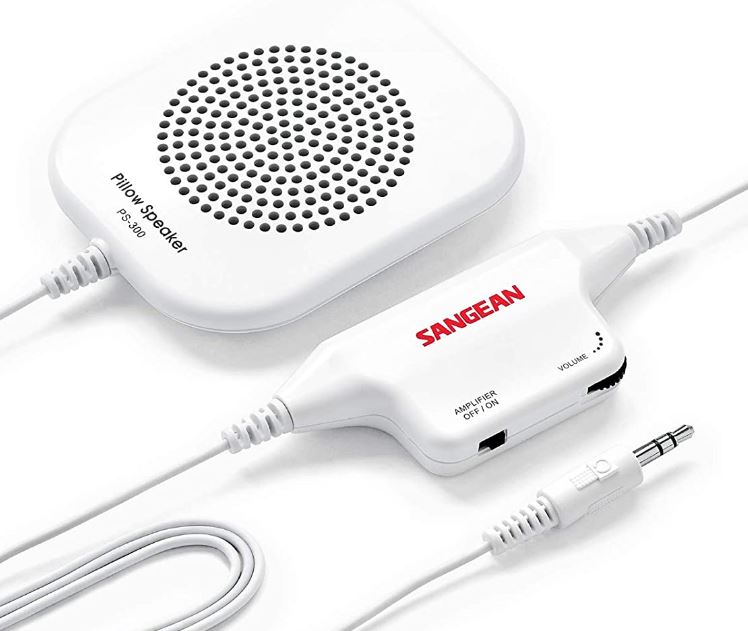 As for the quality of the audio, you need to temper your expectations. To begin with, it's a single speaker with one driver, so there's no stereo. You also don't get a ton of clarity, particularly when listening to music. Complex pieces will lose their texture, and you won't get any sense of space. But for watching TV or listening to spoken word content like an audiobook, it's more than good enough.
In powered mode, your performance will vary. If you're running your speaker all night long, a single battery will last for about two to three weeks. Exactly how long will depend on your volume level.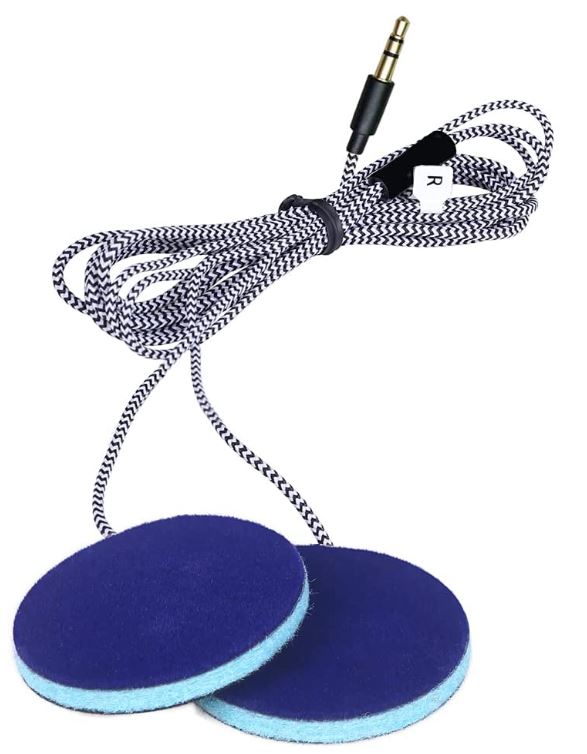 Sleep Ultra Thin Pillow Speakers
The Sleep Ultra Thin Pillow Speakers are indeed impressively thin. This is a pair of circular speakers that measure just 1/8 of an inch thick, with a 1.77-inch diameter. They're made of a dense blue foam that's exceptionally soft. You can slip the speakers into your pillowcase on top of your pillow and barely notice they're there.
We should point out that these speakers are actually designed as headphone replacements. So you can put them into an old pair of headphones and bring them back to life. Or you can wear them in a headband to create a quick pair of custom headphones.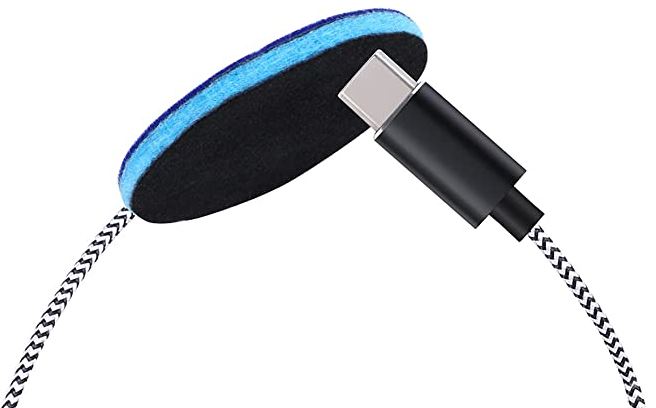 The cable has a zebra stripe pattern with a tough, woven cover. Not only is it durable, but it's virtually impossible to twist or tangle. Just be careful not to kink it. It's also fairly long, at 59 inches. That's enough to reach clear across a bed if you need it to. You can order it with a 3.5mm tip, or with a USB Type-C tip. USB Type-C can get you better audio quality and better volume on many Android phones.
Both versions have a little black fob in the middle of the cord with a pair of volume buttons. If you want to change your volume, you won't have to reach all the way to your device. Your controls will be at arm's length.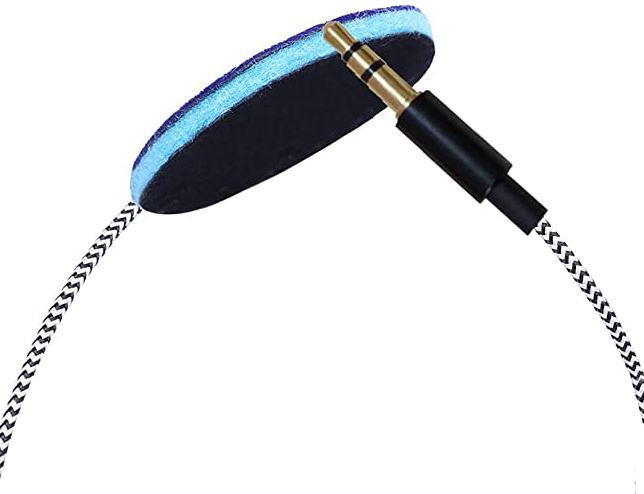 Speakers and Audio Quality
One thing we liked about the Sleep Ultra speakers is their stereo design. Since you get a pair of speakers instead of one, you get both the left and the right channels. The volume is a bit weak, since these are really designed for headphones. You won't be able to hear them through a pillow, but that's okay. Just put them on top of your pillow inside your pillowcase, and you'll be able to hear them just fine.
As for audio quality, we were pretty impressed. They're comparable to mid-grade headphones, which makes them a great choice for listening to music.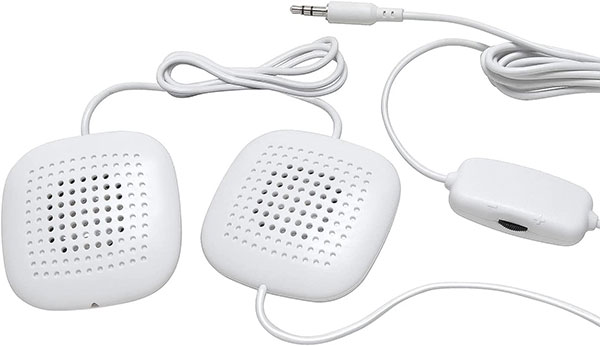 Sound Oasis SP-101 Sleep Therapy Pillow Speakers
The Sound Oasis SP-101 Sleep Therapy Pillow Speakers also come as a pair. They're made from a solid white plastic, and have a curved, but roughly square profile. They measure 2.48 inches across, so they're not oversized. At 0.79-inch thick, they're just a touch thick, but that may or may not be an issue depending on placement.
The cord runs five feet from the first speaker to your audio device, and is tipped with a 3.5mm plug. There's also a generous amount of cord between the two speakers. If you want to share with your partner, you can.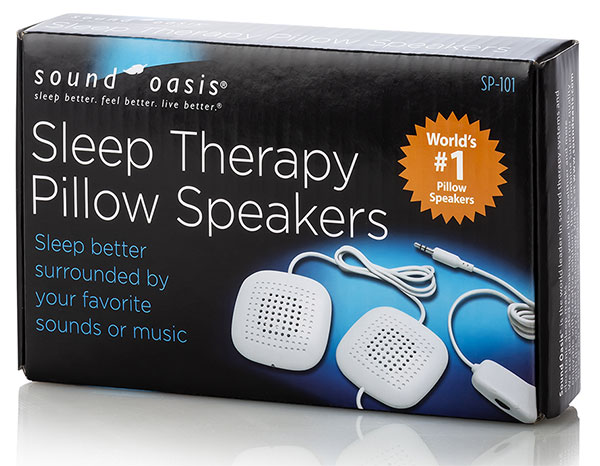 Partway down the cord is a small plastic fob with a volume wheel. There's no amplification function, but you at least get some control over your volume level.
Speakers and Audio Quality
Because the Sound Oasis speakers are a pair, you get stereo audio, not mono. The quality depends on what you're trying to do. For music and videos, the performance is pretty good. The highs and bass are both present, so you get the full spectrum of sound. Unfortunately, the midrange is a bit weak. This makes the speakers less than ideal for voice-only content.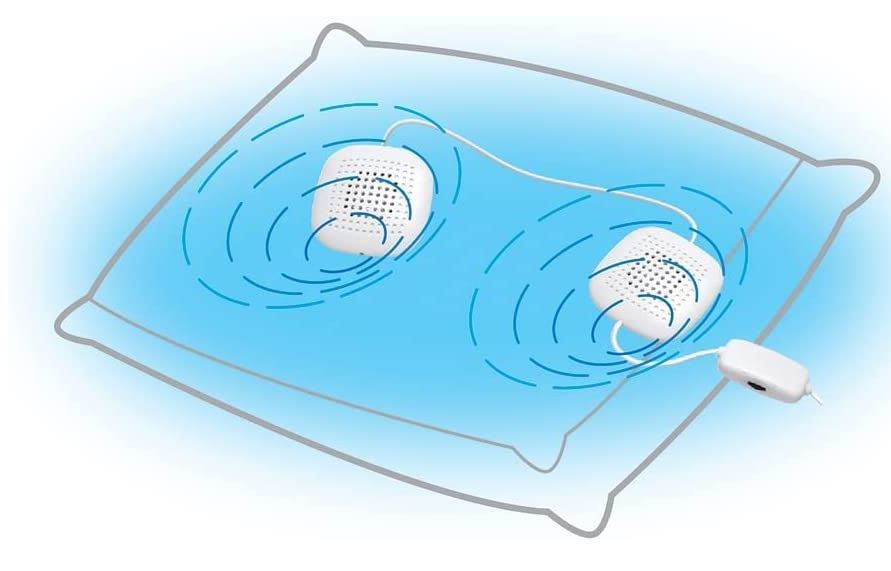 The volume is so-so. It's tough to hear if the speaker is muffled by your pillow. If it's on top of the pillow, you'll be able to hear it just fine. But the speaker housing is hard plastic, and it wouldn't be comfortable to roll over onto. Whether or not this is an issue will depend on how restless of a sleeper you are.
While you're thinking about pillows, you may want a device to take care of your neck and upper back. For example, take a look at the Alljoy massager pillow. It's a powerful shiatsu massager that's built right into a comfy neck pillow. It also sports a heating function that helps your muscles to relax.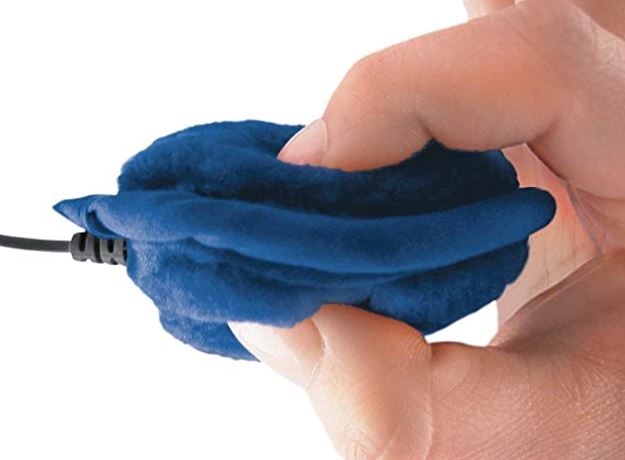 C Crane Company PS2 SoftSpeaker Pillow Speaker
The C Crane Company PS2 SoftSpeaker Pillow Speaker is the smallest of the bunch. This is a single, disc-shaped speaker with a black housing and a 2.76-inch diameter. The speaker is paired with an ultra-soft blue plush cover that offers excellent protection. The audio cord is a matching black, and measures seven feet in length. It's tipped with a 3.5mm tip, so compatibility is not a concern.
Speakers and Audio Quality
The Neodymium-ferrous-boron driver provides surprisingly good audio quality for the size. Because it's a single speaker, there's no stereo. You'll still get plenty of richness across all frequencies. The maximum volume is only moderate, but that's a minor concern. The SoftSpeaker is so small and soft that it can sit inside your case on top of your pillow. You'll barely notice it's there.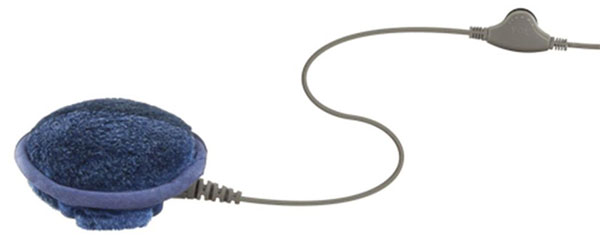 If you want a more robust way to fall asleep, consider the AllJoy Eye Massager G1. It's a rechargeable eye and forehead massager that also has a heating function. Not only that, but it can play music, and a sleep timer makes it perfect for bedtime.
Final Verdict
So, which one of these under pillow speakers is the right choice for you? Let's go over what we've learned. We began by reviewing the Sangean PS-300 Pillow Speaker. This is a single speaker that's designed to fit underneath your pillow. It's well-engineered, and the driver is fairly large. We particularly liked the in-line amplifier and volume control. If volume is your number one concern, this is the speaker for you.
After that, we checked out the Sleep Ultra Thin Pillow Speakers. These speakers aren't quite as durable as the others. But they're ultra-slim, and the foam-covered design makes them very comfortable inside your pillowcase. You get stereo audio, and the quality is surprisingly good. If you mostly listen to music at bedtime, these are the best choice.
Next, we examined the Sound Oasis SP-101 Sleep Therapy Pillow Speakers. These provide stereo sound, but they're big and fat, which can be uncomfortable. Then again, the long cord makes them easy to share with your partner. If that's what you want, you're looking at a solid choice.
We finished by looking at the C Crane Company PS2 SoftSpeaker Pillow Speaker. This is one of the most compact of the bunch, but still provides some pretty good audio. This is the ideal choice for anyone who wants the simplest option.