When you think of string lights, you probably think of slender, delicate cords and tiny bulbs. Either that, or you might have full-sized bulbs that ran at very low voltages. But LEDs have given us all kinds of new capabilities.
Old-school string light bulbs were incandescent. They had wire filaments which heated up and glowed when subjected to an electric current. That's the same technology that Thomas Edison used, and it wasn't very efficient. If you made a whole string of normal-powered bulbs, you'd overload your circuit. With LEDs, that's simply not a concern; you can run many full-sized bulbs on one circuit.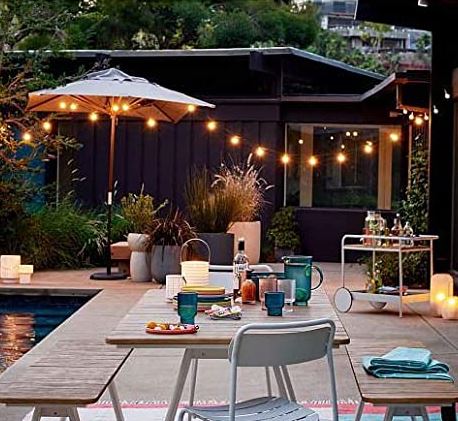 A set of LED string light bulbs has all kinds of useful applications. But primarily, we're talking about the ability to light up a large area. With a short, 20- or 40-foot string, you can light up a patio or outdoor dining area. With a longer string – or multiple connected strings – you can light up a large backyard.
Of course, you could do the same thing with a floodlight. But a floodlight is extremely bright, and doesn't create an inviting atmosphere. With a bunch of smaller bulbs of medium brightness, you spread the light out better. There's no harsh glare; just a warm, welcoming glow across your entire area.
Meanwhile, LEDs are far more survivable than old-school LED bulbs. They're easier to weatherproof, and they're harder to damage. They last for tens of thousands of hours, so they require less frequent changing. Finally, they produce almost zero heat. That's no big deal when you're outside. But if you're using your string lights indoors, the last thing you want is a ton of extra heat. With LEDs, that's simply not a concern.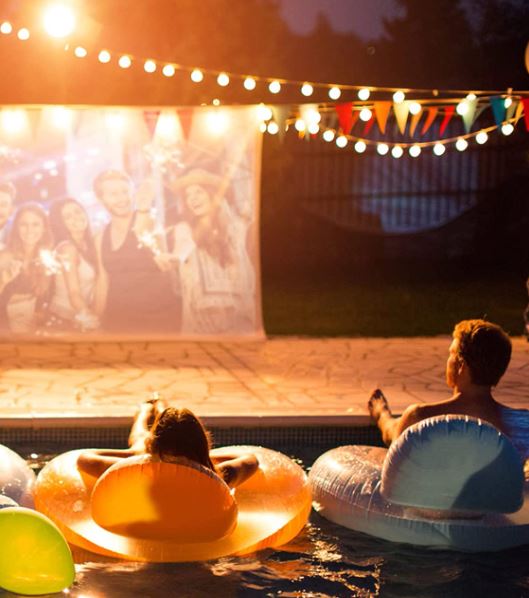 Choosing the Best Edison-Style LED Bulb String Lights for Outdoors
We're about to review four of the best Edison-style LED bulb string lights for outdoor use. These lights are all designed to take a beating, and to withstand the demands of weather. They all have something to recommend them, and will be a great choice for some people.
But to find out which light string is right for you, we'll need to dig a lot deeper. We'll have to talk about how they're designed, and how the lights are spaced. We'll need to look at the bulbs themselves, and how they're constructed.
And of course, we'll need to discuss the brightness and color temperature. After we've gone over those and other factors, we'll have a better idea of what we're dealing with. Let's dig in, and see what we come up with!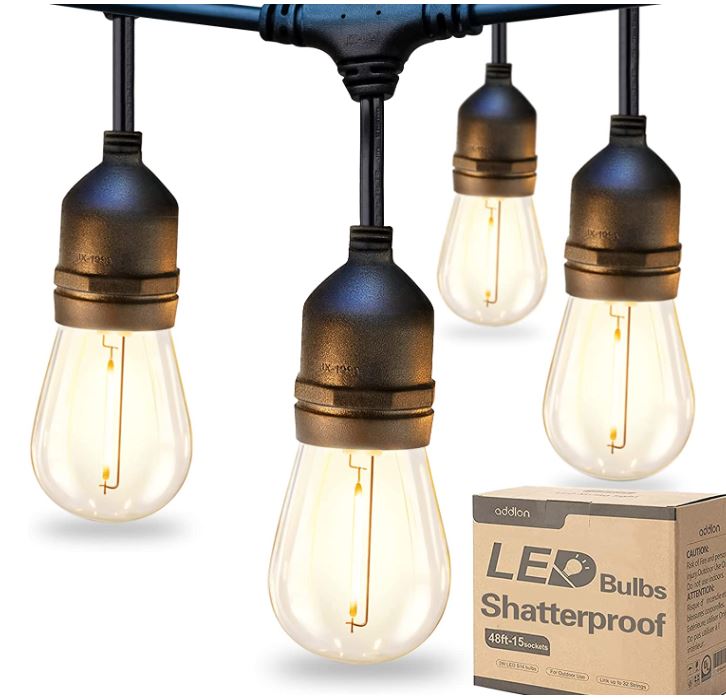 addlon Edison-Style LED Outdoor String Lights
The addlon Edison-Style LED Outdoor String Lights have a fat, double-insulated cord. It's tough and fat, like a cord you'll find on a power tool. It also comes in black or white, so you can order it to match your environment.
The one we looked at was 48 feet long in total. There's a two-prong plug at one end, with 20 inches of empty cord before the first bulb socket. After that, there are 15 consecutive sockets, spaced evenly at 37 inches apart. At the end is 33 inches of additional cord, with a two-prong power outlet at the end. Using this outlet, you can link up to 32 light strings together. That's enough for 1,536 feet of string light, with 480 bulbs!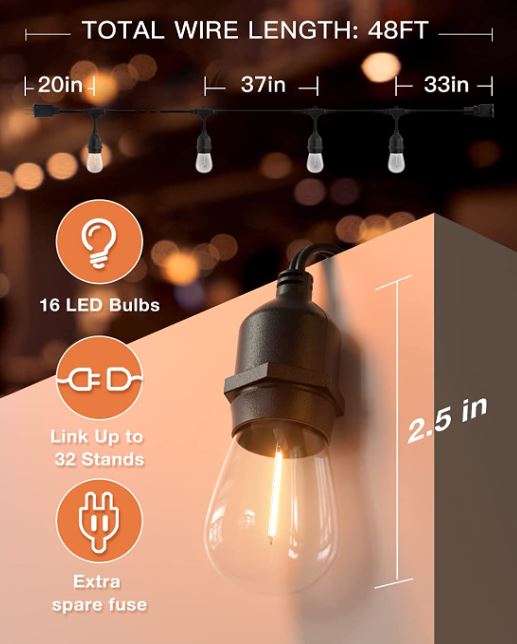 We should point out that there are other lengths available. In addition to the 48-foot version, you can order the addlon string lights in 24 or 96 feet.
These lights are weatherproof, and can stand up to foul weather. Addlon doesn't specify an IP rating, but we didn't run into any issues with rain or condensation.
The kit includes 16 LED bulbs, so you have an extra one in case one has been damaged. The bulbs are all dimmable, although you'll need to buy a dimmer to make that happen. You also get an extra fuse, which can replace the one in the plug if it blows out.
It's a standard fuse, so you can buy additional replacements for pennies at any hardware store. Not that you should need to, unless you're connecting too many light strings together.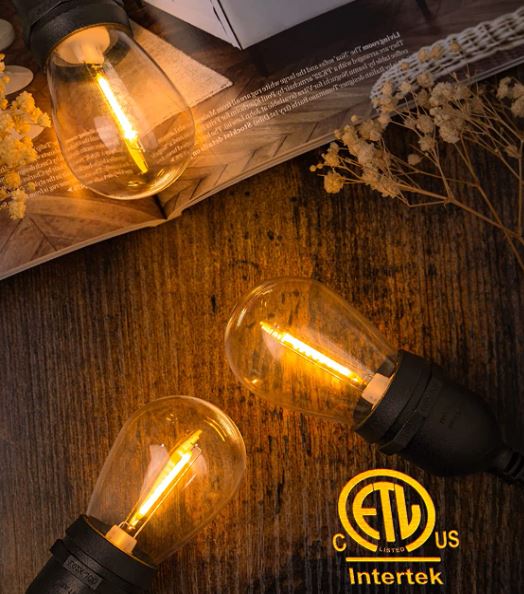 Bulbs and Light Quality
The addlon bulbs measure 2.5 inches from base to tip, and have a fat, bulbous design. They're narrow at the base and wider near the end, which is rounded like the bottom of a globe. The outer clear shell is plastic, and is almost completely drop-proof. Inside, you'll see a single long diode, which looks like an old-school light filament.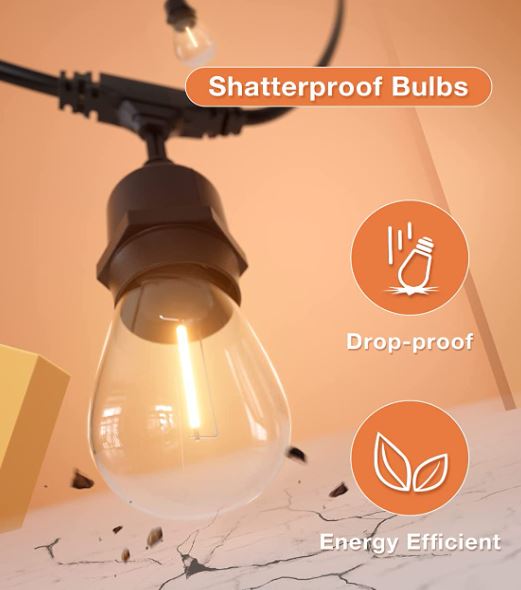 Each individual bulb draws two watts of power. That might not sound like a lot, but we're talking about LED bulbs, not incandescent bulbs. Each one will provide between 600 and 800 lumens of light. That's 800 lumens under normal conditions, but dimmable to 600 lumens. To put those numbers in perspective, you're looking at a little bit more brightness than your typical candelabra bulb.
The light has a color temperature of 2,700K. That's a warm white, which means it has a gentle reddish cast to it. It's easy on your eyes, and doesn't ruin your night vision as much as other white lights.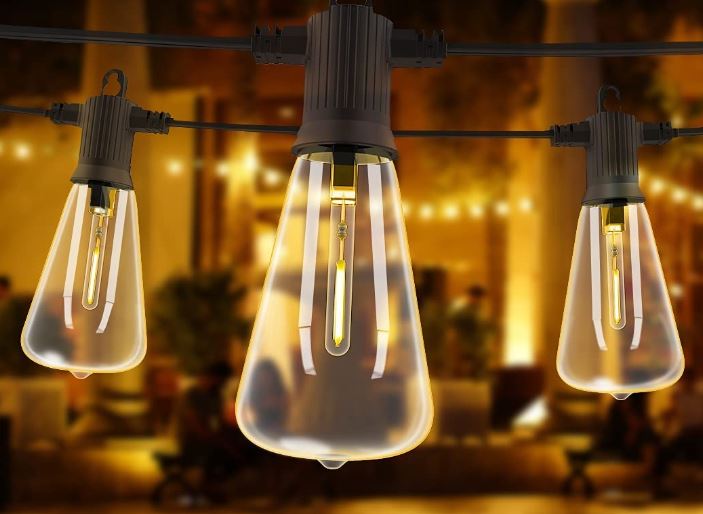 ZOTOYI Edison LED Outdoor String Lights
The ZOTOYI Edison LED Outdoor String Lights have a standard gauge cord, and come in black. The one we tested was 150 feet long, with a whopping 73 bulb sockets. There's a generous 11.48 feet of bare cord at the plug end, terminating in a two-prong plug.
After that, the lights are spaced out at 1.88 feet, about half as far apart as the addlon lights. At the far end of the string is an additional 2.67 feet of cord, which ends in a two-prong power socket.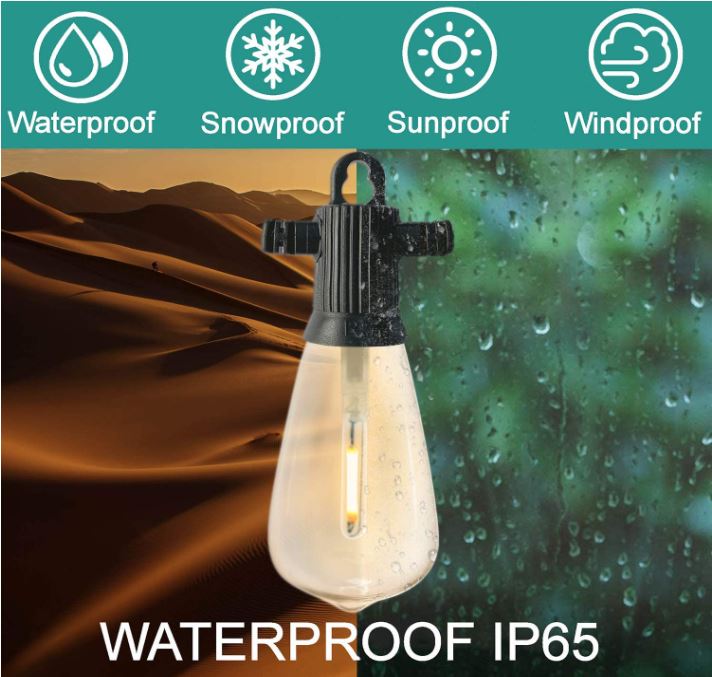 As with the last lights, the ZOTOYI lights can be daisy-chained to create a longer string. You can connect up to eight 150-foot cords, for a total length of 1,200 feet. That's less length than the addlon string, but with 584 densely-packed bulbs. You can order different lengths as well. It comes in 25, 50, 100, and 300-foot lengths.
This light string has a weather-resistance rating of IP65. The "6" means that it's entirely dust-proof, and can withstand even the driest environments. The "5" represents enough water-resistance to stand up to rain. Just don't shoot the lights with the jet setting on your hose, and you won't have any trouble.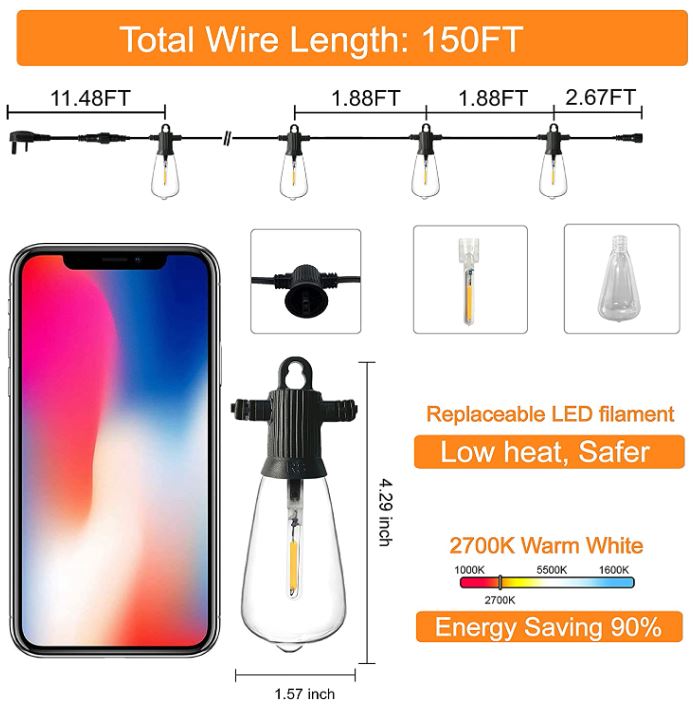 The ZOTOYI light string is dimmable, but does not include a dimmer. It does include 76 bulbs, which means you get three extras.
Bulbs and Light Quality
The bulbs are narrow at the base, then flare out to a wide, flat end that looks like a chemistry beaker. They're 4.29 inches long in total, and 1.57 inches in diameter at the end. They're plastic and shatter-proof, and come in a two-part design. The outer cover is removable, and the diode itself is replaceable. The diode is barrel-shaped, and looks like a little filament when everything is put together.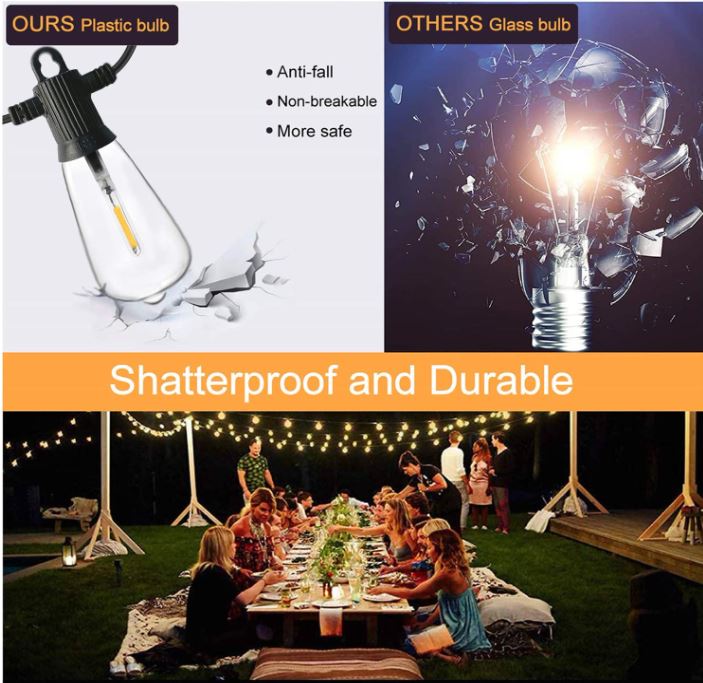 These are much dimmer lights, comparable to a dim candelabra. Each bulb draws less than a watt, and produces only 30 lumens of light. But when a bunch of them are spread out across an area, they create a pleasant atmospheric glow. And they shine at a temperature of 2,700K, so they're easy on the eyes.
If you want even more atmospheric lighting, take a look at our list of the best LED mason jar lights. They're great for table centerpieces, path lighting, and other applications.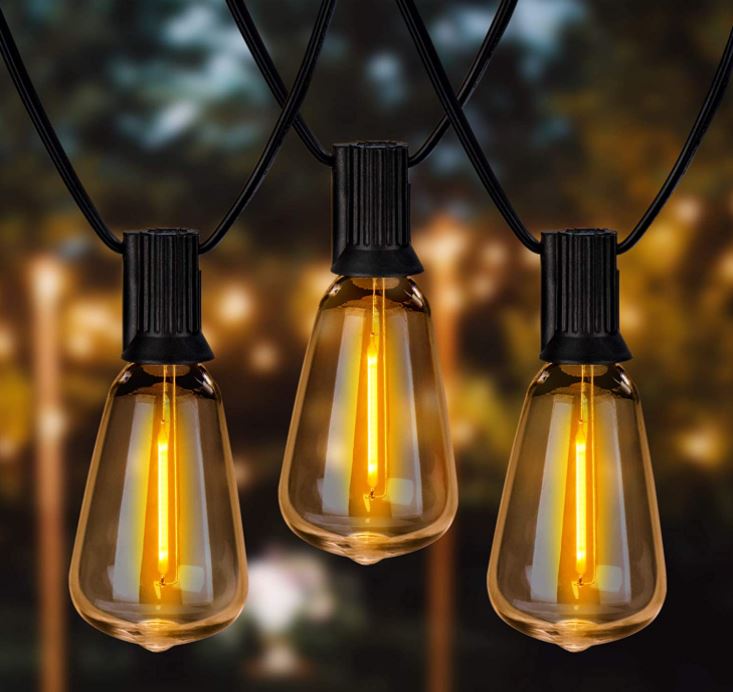 Newpow Edison Vintage Style Outdoor LED String Lights
The Newpow Edison Vintage Style Outdoor LED String Lights come in one length only: 36 feet. The first six feet of the cord is bare, followed by 30 bulb sockets, spaced at 1-foot intervals. The end of the cord has an additional bare foot, with a power socket for daisy-chaining. In total, you can link up to 20 strands together. That will achieve a total length of 720 feet, with a whopping 600 LED lights.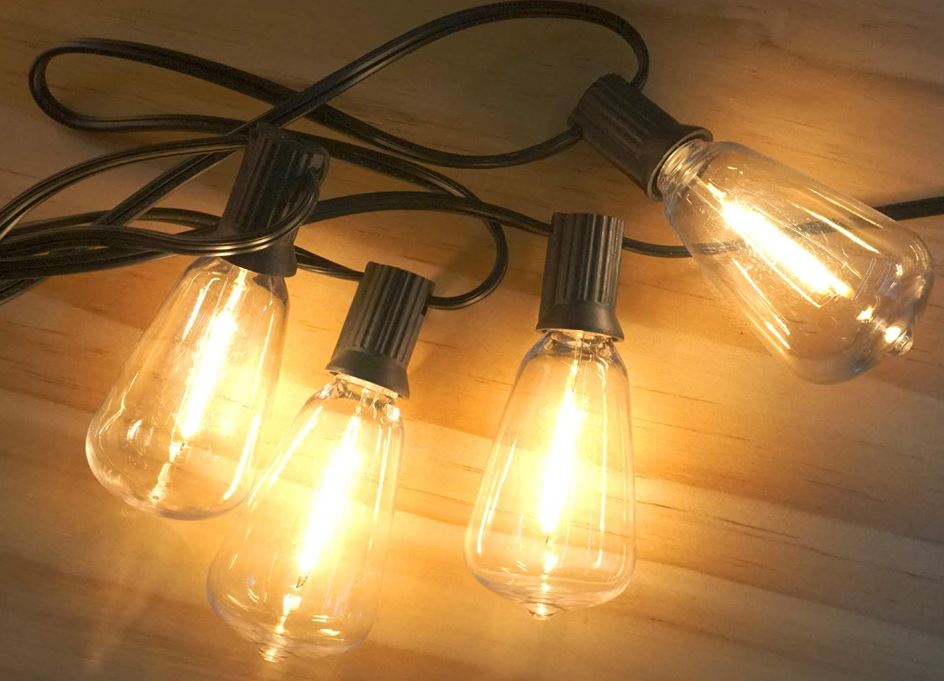 The lights are dimmable, although no dimmer is included. And you get 32 bulbs in the package, leaving you with a pair of extras. Unfortunately, the Newpow Edison string lights aren't water-resistant. But they do come with a 12-month warranty to protect you from any other type of damage.
Bulbs and Light Quality
The Newpow Edison string lights utilize standard E12 candelabra bulbs. These are a classic-style bulb with a little nub at the tip, as if they were made of blown glass. Don't worry – they're shatterproof, but they look old-school enough to fool most observers. Even the little LED diode looks like a filament. The total size is 3.2 inches long, and 1.6 inches wide at the fattest point.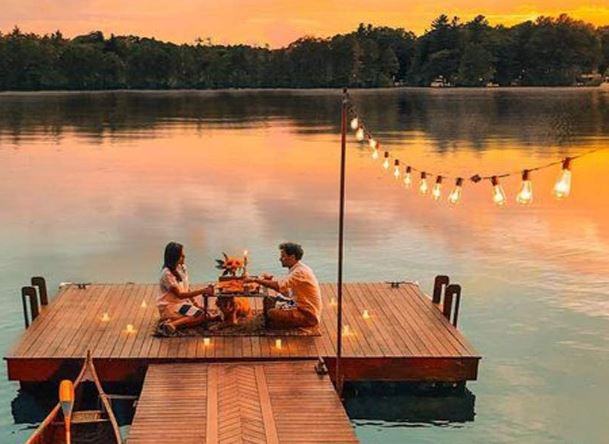 The light is a 2,200K warm white, even redder than a 2,700K bulb. There's no lumen rating, but they're fairly bright for candelabra bulbs. They're more than enough for ambient light in the evening.
The nice thing about using standard E12 bulbs is that it's easy to find replacements. You don't have to go back to the same manufacturer. Recently, we outlined the best E12 LED candelabra bulbs, if you'd like to learn more.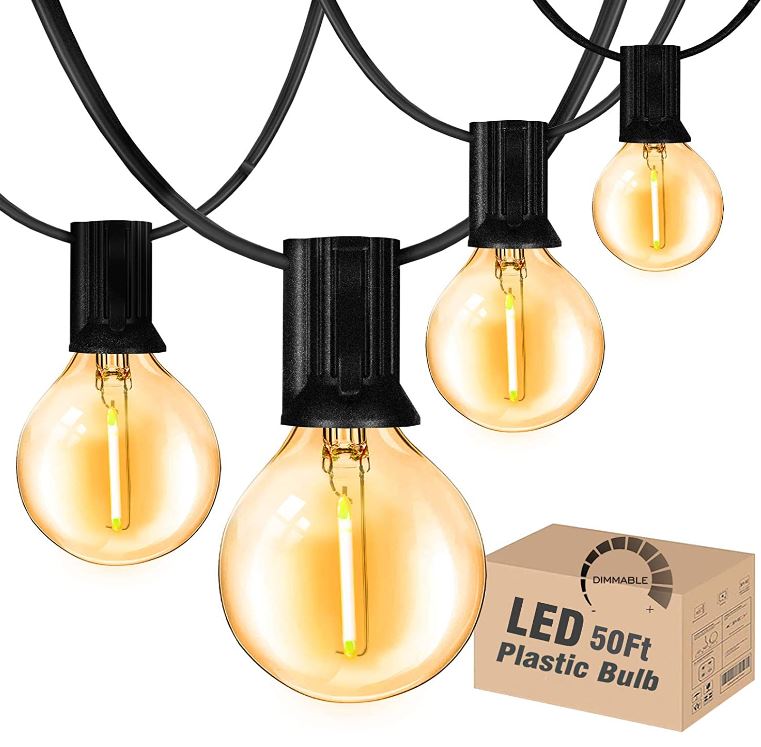 DAMAING Outdoor Edison-Style LED String Globe Lights
The DAMAING Outdoor Edison-Style LED String Globe Lights come in 29, 50, 100, 200, and 300-foot lengths. We tried the 50-foot version, which has 25 bulb sockets.
There's a 10-foot section of bare cord at the plug end. The sockets are spaced 19.6 inches apart, with 9.8 inches of cord at the socket end. You can link up to 15 cords together, for a length of 750 feet and a total of 375 bulbs.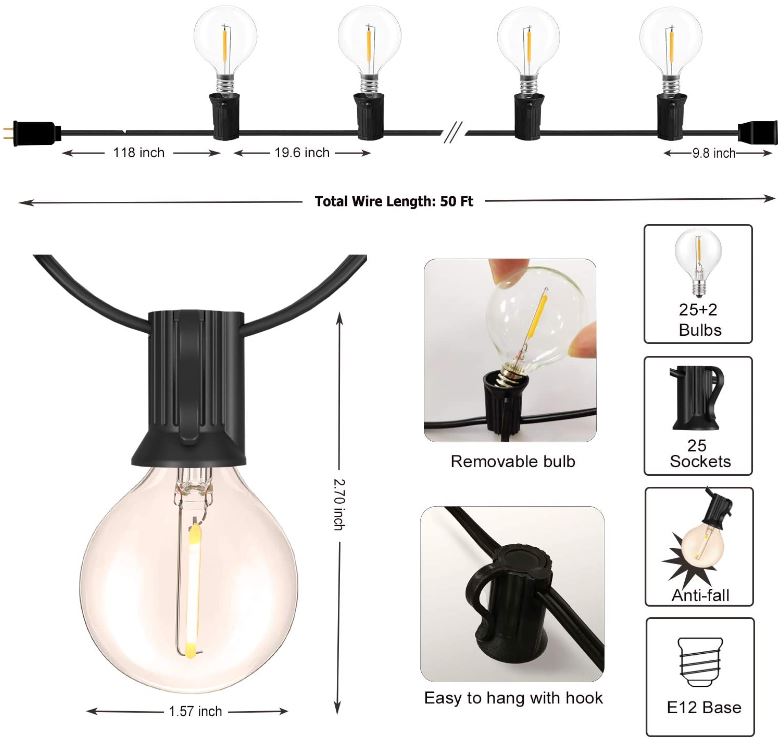 The weather-resistance rating of IP44 is adequate. You don't really have to worry about dust, and water is a non-issue. Just be careful about extreme winds, as you would with any string light. You're protected by a 12-month warranty, and you get a spare fuse. You also get 27 LED bulbs, including two spares.
Bulbs and Light Quality
The bulbs on the DAMAING light string are globe-shaped, with a diameter of 1.57 inches. This extends to 2.7 inches when you include the E12 base. Inside the shatterproof housing is a single bright filament that looks like an old-school incandescent bulb.
Each bulb draws one watt, and shines at a low-intensity 40 lumens. They produce a 2,700K warm white light, which is the most popular color temperature for this application.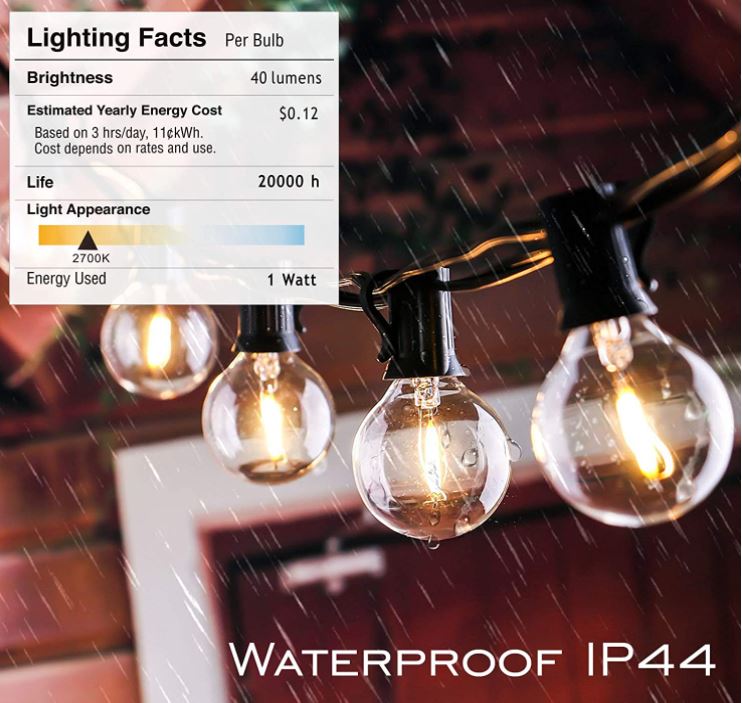 If you're trying to make your patio area more festive, why stop with string lights? A solar-powered LED patio umbrella can be a great way to add character. The lights also provide a pool of illumination directly over your table – perfect for mealtime!
Final Verdict
As you can see, there's a lot to be said in favor of all these lights. But which set is the optimal choice for your needs?
We began by looking at the addlon Edison-Style LED Outdoor String Lights. These lights provide plenty of brightness, and are separated by about three feet. They're probably the most durable of the bunch, thanks to the heavy-duty cord. And they're incredibly expandable, so you can cover a very large area.
Next, we evaluated the ZOTOYI Edison LED Outdoor String Lights. These lights are a bit more densely packed, but can't be extended quite as far. They have a broader, flatter design, and the individual bulbs aren't as bright. They also use modular bulbs, which reduces waste when changing an old diode.
After that, we reviewed the Newpow Edison Vintage Style Outdoor LED String Lights. These lights are the most densely-packed, even if you only get one length option. The E12 bulbs are easy to replace, and provide an ultra-warm 2,200K glow.
Fourth on our list were the DAMAING Outdoor Edison-Style LED String Globe Lights. These stand out from the bunch primarily for their spherical design. And since they have E12 sockets, you can use aftermarket globe bulbs as replacements.